Vencil Mares. This man is a legend in his own right and he is due respect for keeping his business going for so many years. At 85 years old he now has problems lifting the pit lids. His hands arthritic and clenched are a testament to his continuing work and his love of bbq. I originally saw this mans profile in peace Love and BBQ by Mike & Amy Mills. I was intrigued by the location and character of this man. HE didn't disappoint but I have this underlying sense that when he is gone so will Taylors. You may ask yourself seeing a man who's hands are so arthritic he is so hunched over using a walker why he is still there. I believe it is what gives him the sparkle in his eye. The essence of keeping him alive. I think if you were to take him away from this environment that it would be catastrophic for him.
the cafe itsel is as unique as him. Situated in an industrial section its a throwback to an older slower time. Where when the freight trains pass by you can't hear the person next to you or answer the phone.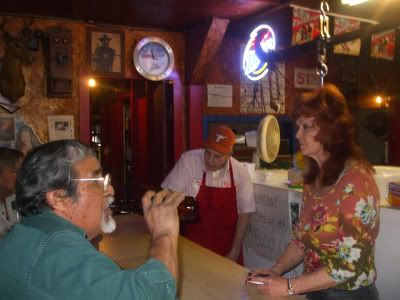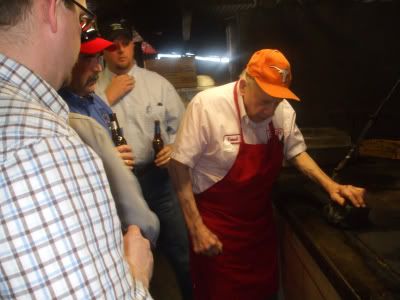 He took us around and showed us all his pits and wood. We even got to sit down and get some recipes from him. Dave (of Sweet Baby Rays fame) made a good observation. On one hand we wanted to listen to this man speak and see his Q however in the process we were worried that we were overwhelming him and taking up too much of his time. We listened to his stories of being a Vet as well. He was a medic and was part of D Day and the Battle of the Bulge. To listen to him is to hear history. Real Texas BBQ history that he is certainly proud to be a part of.
The food was just fine but once again it was not just about the food. Its about the history and the process. It was about the legend behind the food.