I had a terrific weekend! Spent the whole time at Deerhurst Resort for the Thrill of the Grill weekend.
If you have never been to Deerhurst you should go. I have seen this resort continually grow and improve over the years since the time that Shania was part of their show there.
The setting is gorgeous. Nestled into the hills and rock of Muskoka on beautiful lakefront property. It was an easy time to grill & BBQ there all weekend.
Paradigm events did an excellent job organizing this event. Full of grillers and local wares it was wonderful. President of Paradigm events Michelle Planche and Business Manager Renee Gouveia were on hand the entire weekend and provided a terrific experience for everyone.
We started out on Friday with a cocktail reception on the Eclipse Deck of the Resort. Traeger provided Moink Balls, Shrimp, Pulled Pork and other tidbits in addition to the fares offered by Oliver Ranch, Big Rock Brewery and many others.
We had a great time with the guests who came for their love of BBQ and fine foods and wines.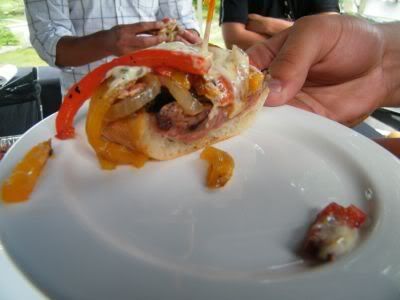 Rob Rainford was the host of the weekend and he mingled with the crowd discussing various grilling items and his general love of food. His brother Howard also came. Howard was funny as heck and a wonderful person to talk with. Really easy going genuine and just overall a great conversationalist. They enjoyed some of Deerhursts fine Golf courses. Gary Trotter owner of
Traeger East
and I had the opportunity to talk to the Rainford men for a few hours over the course of the evening. It was informative and interesting to understand Rob's current course of career path. We discussed various marinating techniques. He seems like an OK guy. Doesn't want to be just considered a griller just a food guy in general. I can understand his reservations on being boxed into the one category alone.
Big Rock Brewery
provided us with their outstanding Grasshopper beer as the libations for the evening. What a terrific beverage for sure!!!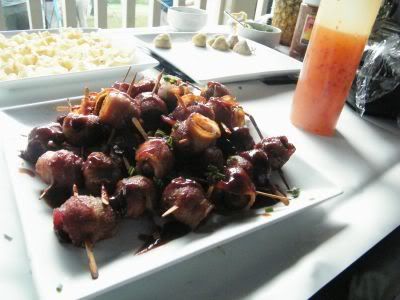 Day 2 of the weekend brought the outside grillers marketplace. It was a bit iffy in the morning as there were some big rain clouds in the air but overall it turned out to be wonderful. We were happy to serve up pulled pork lots of brisket and other items. It was a busy day for making people happy with our BBQ fare. Talked to many people about the Traeger grills. Had fun explaining the process.
The day also brought an opporunity to attend a meat camp with Carrie Oliver. Carrie Oliver is the president of Oliver Ranch Company. THe course: "Meat Camp" Beef Workshop & Burger Tasting Find out what makes great artisanal beef, plus how and where to find it, with Carrie Oliver's Artisan Beef Institute. ***I heard rave reviews about this and wish I had the time to have attended.
The evening also was a HUGE success. Incredible food with lovely wine pairings from Lifford Wines. We enjoyed Rob's demo on his Jamaican jerk shrimp (he told me he got the recipe from his grandmother) on the patio using a Traeger 150. I was lucky to have a great table of people to sit with for the dinner. The Hovey's Kathy & Mike from Hovey's Gourmet Meats, Gary & Elaine from Traeger Canada and Clee Varon, Deerhurst's director of sales & marketing.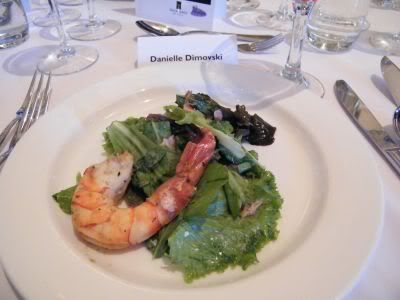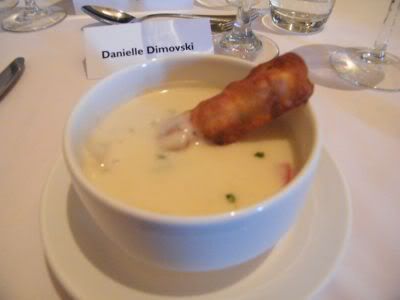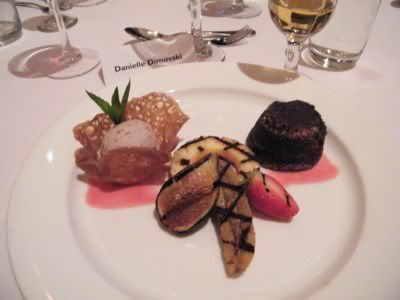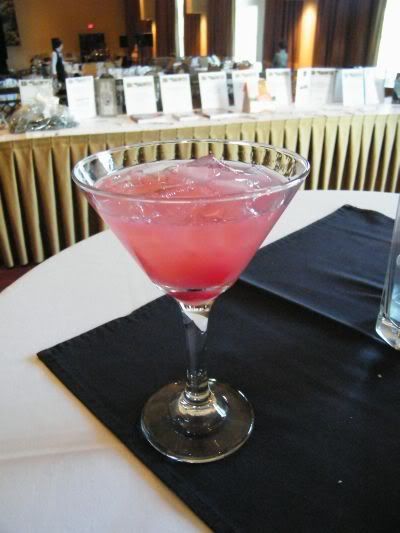 Additionally the evening also provided a silent auction of items donated by the various companies attending te event. The money raised went to the Ontario Association of Foodbanks in total the event raised almost $3000.00.
Sunday was a wonderful day weather wise. We once again did the grillers marketplace outside on the patio. Additionally I had the opportunity to hold a Diva Q rib class. It was well attended and the people attending were wonderful to talk with. The Power point presentation was well received and the access to the patio was great!!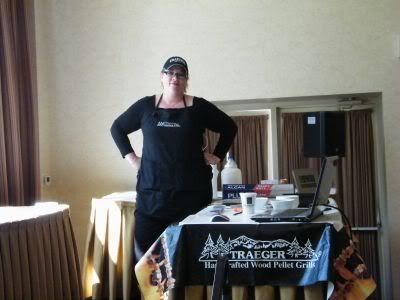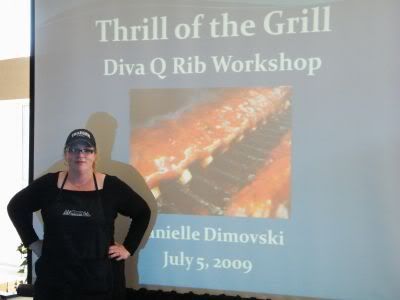 Overall a great weekend!! Thanks to all the great comments from the attendees and terrific staffing at Deerhurst Resort. We are looking forward to attending this event again int he future. Much thanks to Traeger Canada for the support!!