LOL so this is how it rolls. I was at the Home Hardware Trade show this past Sunday Monday and Tuesday. I love doing this show. Its loads of fun and hardwork rolled into one. It was a bit quieter on one of the afternoons and so a friend (Mark Bianco) of mine from another booth popped over with some chocolate. I just happened to have a pound of bacon and a great assortment of Traegers to work on !!!!!
So this is where it all began. With generous donations from the folks at the Cadbury booth & Hershey's (thanks very much Phil and Aaron) we got started on this program.
The day before we had done a preliminary run and I took things to a whole new level the following day tweaking our procedure.
Heres some pictures of how we got them done. They were wrapped in 3 layers of bacon in total. In the experiment we found that 3 types of chocolate (we tried all total 6 different types) came out on top for sure. Our favorite choices for bacon wrapped chocolate bars would be Crispy Crunch, it was awesome – seriously awesome. I was thrilled. For sure. Then came the Hershey'smilk chocolate bars. I stacked 4 of them together. It worked really well. But them the ultimate completely ultimate bacon and eggs occurred. I took the Cadbury creme eggs and wrapped them in bacon. Oh My GOODNESS!!!!!!!
Seriously insanely good. The gooey center combined with the chocolate covering topped with the bacon was just out of this world. I know this has been done by baking before but never has it been done on a BBQ!! The BBQ Crisps up the bacon so wonderfully and the light smoke flavor is just the icing on the cake. Wow.
Pictures of all these bacon goodness and chocolate adventures: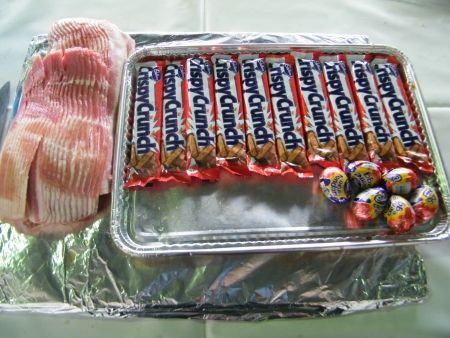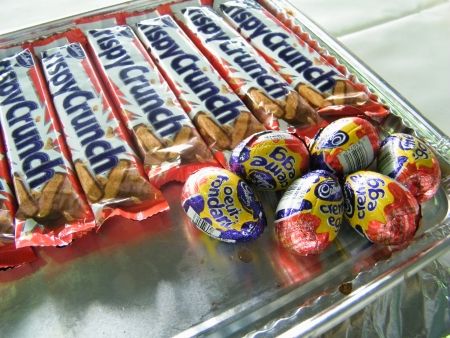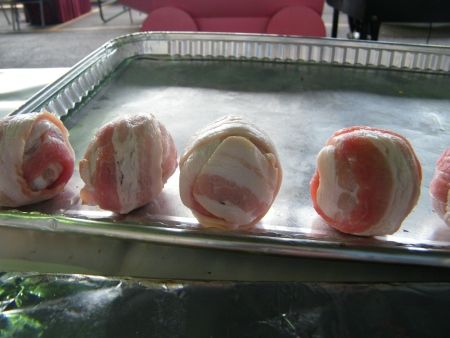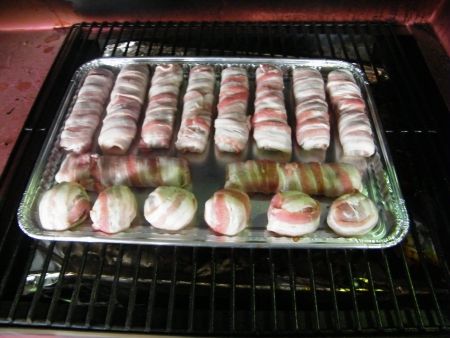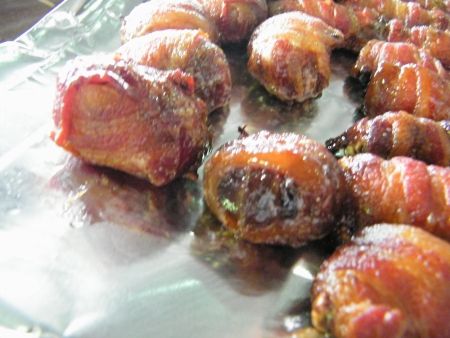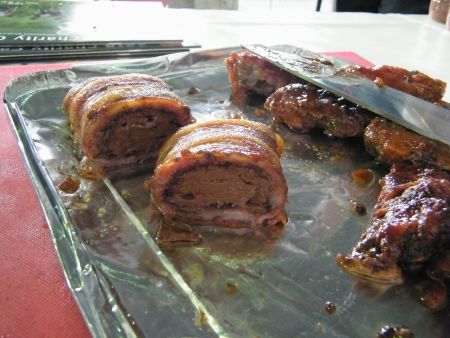 Please note the first 15-20 minutes the tray was on the grill then we removed them from the tray and put them directly on the grill. I would suggest if you do it use frozen chocolate bars or eggs to start. WE had the traegers at 225F and used Hickory pellets.
Also I would like to say the very first person to ever eat this creation was none other than Mike Holmes from Holmes on Homes. LOL now that was funny.
9 Responses to "The ULTIMATE DivaQ BBQ Bacon & Eggs Recipe"