Well things have been mighty busy around here so once again I will apologize for not updating the blog sooner.
We left last week to travel down to Lousia Virginia. It was an interesting trip to say the least.
The trip started out well as we had our two daughters with us Ella (5) and Lexi (11). They were a great addition to the Diva Q team of Vlad and I. On the way we stopped at the falls. Our youngest daughter had never seen them. Wow was she excited. that was worth the trip alone the look on her face was priceless. She was so excited to be going on a BIG trip.
We decided to fulfill one of our daughters requests. She loves Ace of Cakes and it wasn't much of a detour to Baltimore Maryland. We started out driving Wednesday night and drove through the night. Just for the record Vlad drove through the mountains at night and wow am I ever glad he did. IT is pretty scary when there is construction all around and concrete barriers down to one lane with an 18 wheeler on your bumper. I was relaly happy to let him drive and he did a great job.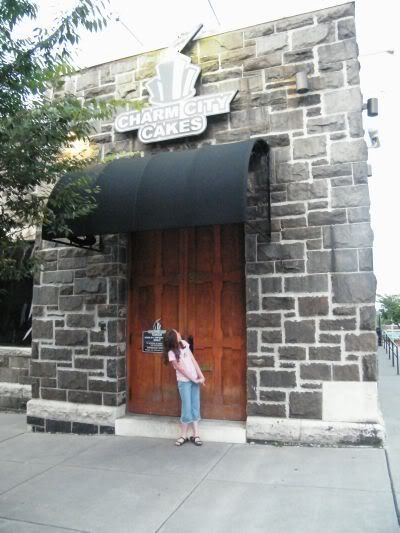 We got to ace of cakes at 6am. Took a few pictures and decided to go for breakfast at the bue moon cafe. It was featured in Diners Drive Ins and Dives. Baltimore is a GORGEOUS city. Just beautiful. Very clean with terrific murals and architecture.
But there is a problem with Baltimore. One way streets. Lots of them. Very limited downtown parking when you are hauling a trailer. Ugh. To top it off there are these HUGE metal plates in the pavement. As luck would have it as we went around one corner one of those LOVELY *ACK* steel plates had come up on the corner and drove a really great 3 inch gash in one of our tires. Terrific. So now we have a problem to fix. We called CAA and they had one of the AAA guys come over and replace it with the spare we always carry. IT only put us back about 2 hours and no breakfast.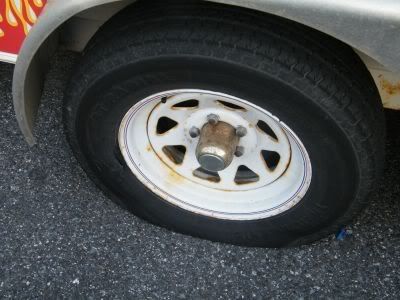 Off we went again. This time we decided to go to Q. As in Q Barbecue. That was our destination of choice. I have wanted to go since last year and this was our best opporunity. The inside and outside are well done. There is a consistent marketing of the logo throughout and Tuffy's awards are impressive for cool smoke. We tried about 80% of the menu. It was terrific and I would recommend the restaurant to anyone for sure. I will say my favorite was the chicken. It was the best retaurant BBQ chicken I have ever had.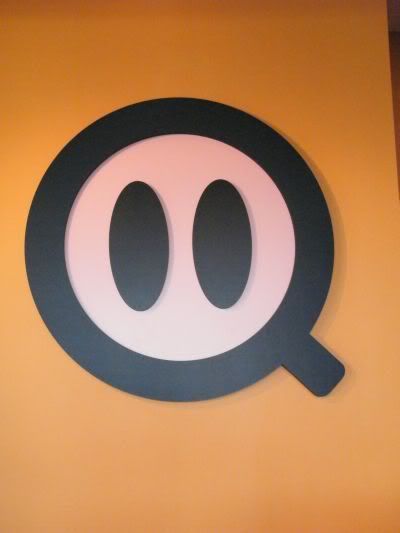 We made one last stop to Wally world to pick up things. The bill came to $201.17. We have a US Visa in addition to a regular Canadian Visa. It was an inconvenience when our US Visa was denied at the cash. Visa would not let the transaction go through and we could not figure out why. It has no balance we pay it off. Well about 1/2 hour later and a very expensive cell phone call I found out why. Apparently Visa has security alerts in place that if you shop in 4 states in less than 24 hours they don't allow it to go through. Visa apologized to us profusely and will be paying for the call and additionally the charges we will get for the conversion rates. Just another little kink in the day.
We got to our site at about 8pm and dropped off the trailer. We were all dead tired and feeling grimy from being in the truck so long. We really needed to get to the hotel and clean up plus take the kids to the pool. The hotel was nice and very new. We all had a great time in the pool and it made for a relaxing night for them. For me personally I spent two hours trimming chicken. It was so hot and humid that I decided to trim it in the comfort of the hotel. I really should apologize to their cleaning staff at the hotel. That was one really gross garbage can when I was done.
Now let me tell you all if you ever have the chance to do this comp do it. Don't even hesitate. The site Is AWESOME. The campground is so well suited to a BBQ competition. It is out in the middle of no where land but that jus tmakes it moreendearing and special. There are showers available with all the hot water you would ever need. So clean they were impressive. Electricity and water were never an issue as each site has their own. The pool makes for great quick dips and the people well there are just not enough words for me to describe how wonderful I truly think they are. Bill Small his family and the staff were terrific. Very very well organized. Our site was terrific and it even featured a firepit.
We got our stuff set up and had a great time meeting with out neighbours Big Ugly's BBQ and Dizzy Pig. Both of these teams are terrific and we were blessed to have them as neighbours for sure.
In and amongst this great time setting up was something I don't ever want to repeat in my lifetime. EVER. We have a half fridge in the trailer for milk etc and small stuff. Well apparently we left something in the freezer from the two weeks prior. I could nto tell you what it had been but I can tell you I spent two hours scrubbing every surface with bleach. Vile doesn't even begin to describe the smell. Putrid maybe. SO much so that when Tommy Houston a good bbq friend and his son Hunter stopped by they went and got us another HUGE fan to air it out. We poured coffee grinds all over the floor and even lit candles. Ugh. This sucked over 2 hours out of my day and I was really behind at this point.
Cooks meeting was at 5pm in the tent. It was a bit of a tick off. No actually it was a real tick off that the personal views of one of the Reps were broadcast to the cooks meeting. That was not appropriate and I didn't agree that was the right place to do it. I do support the candidate he discussed but still that wasn't fair to anyone else who would potentially be running. Cripes there are enough politics going on and posturing ont he other forums. I wish they would leave the cooks meeting alone at least. Ok moving on…..
We still had the butts briskets ribs Anything butt and dessert still to prep. While everyone was at the potluck etc I was still trying to get things done. When it came down to the Anything Butt category I was down to the second. We seated the judges and I was still plating. I was really happy with both of our entries for Anything Butt and Dessert but doing them on a friday night is a real challenge. I started trimming brisket at 9pm. Yes just starting. Ugh. I would like to mention that Big Ugly BBQ saved my a$$ by lending me their hand mixer as I had forgotten ours. Thank you all!!!
We got to try the Anything Butt entry from Can't stop grilling. WOW. It rocked it was incredible. It was flavorful and they were gorgeous. I won't tellyou what they made that would nto be fair but wow. I did not think we had a chance. Theirs was beyond impressive.
The night went fine enough but the hill that seperated us from a bunch of teams we really admire ( Cool Smoke , Checkered Pig Can't stop grilling) did put a damper on visiting. Since I was so behind there just wasn't time.
For the first time ever every single one of my butts came off at the same time in the morning. That was weird. They all hit the temp I like within seconds of each other. Brisket came off no problem as well. Actually the whole cook went really smoothly. Got to try a whole lot of Big Uglys food and it was AWESOME. Especially the chicken. Wow. We got our boxes in on time and then it was just about cleanup.
After a few refreshing beverages off we went to the awards with our girls. That was wonderful to have them with us.
We got to sit with one of our favorite groups of people Can't stop Grilling. Now Tim and his team have been kicking my butt this year royally. We have an ongoing friendly rivalry at every comp. He sure had some Zingers for me at this one. LOL
To hear them get called and us as well was terrific. To see our friends take their walks was great. Seeing Dizzy Pig and VA Pirates win their GC and RGC was cool. It was however a diappointment that we did not have our 180 acknowledged at the time. It was not until much later that we realized we had received the 180 for the Anything Butt. That was a big deal to us. I still think getting a 180 is a big deal for any team. It does not happen every day.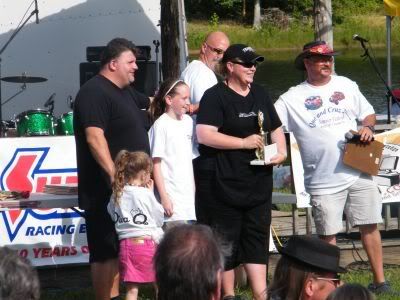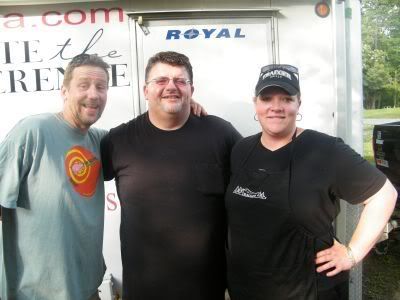 After looking at the scores while we were happy to come in fourth I will say I was relaly disappointed with our chicken and brisket scores. I thought we had nailed it for sure. Unfortunately the judges just did not agree with us lOL>
So I am off tomorrow flying into Saskatoon to do some promo work for Traeger Canada and also to compete in the first ever Smoke on the Water Saskatoon Competition. There are a lot of incredible BBQ'ers out that way so we will see how we do.
All the pictures from Louisa VA can be found here.