I am just going to put it out there. One of the best places I have ever eaten BBQ ever is at the Stockyards. Yes. It is. Period. But wait. Theres more. How about the sexiest damn burger, the best onion rings, the most flavorful porchetta, the best tasting limeade and some of the nicest sandwiches a girl could ask for. It was freaking awesome. That sums up the whole meal:  freaking awesome.
I have been wanting to go to this place for a year. Since they opened last April. I never got the chance till tonight. I was worried it would not live up to its reputation. I was hopeful that the hype was true. It did not disappoint. I think for anyone coming into Toronto missing The Stockyards would be a sin. Truly.
I got to enjoy this meal with Ben Kaplan a writer for the National Post. He had written a story about the Stockyards previously and knew the owner Tom Davis. Tom is a tall lanky guy who has an intensity about him and a true warmth and passion for all things BBQ. He was on a mission to feed us both enough food to kill us. He seemed to take a real delight in it.
As we sat through the meal and talked back and forth I was thinking about the episode with Anthony Bourdain where he visits Au Pied de Cochon in Montreal QC. Martin Picard serves Anthony dish after decadent dish of fois gras items. All more decadent than the one previous. It just about kills him with the deliciousness and indulgence of it all.
Now imagine that instead of fois gras you were served outstanding  BBQ. Then burgers, and in house made pastrami and andouille and bacon and well you get the picture. That was my culinary adventure for tonight. Oh my goodness.
I started out the night with a photo-shoot in the rain on the back of my truck with my super cute Traeger pig BBQ. Then I moved on to the culinary indulgences. Limeade. Ahh limeade. I love you limeade. It is a perfect pairing with BBQ in my opinion. Their limeade puts all others to shame. Crisp clean and not too sweet. Lovely. Just lovely.
Now the first taste of the night came with the onion rings. Too many places forget the onion and all you get is batter. These were the best I have ever had period. A good onion ring is soooo hard to find. These were delightfully crisp. The batter had a pepper kick that made you want them more and more. The integrity of the onion never got lost with the batter. It stood on its own still retaining its crisp. Deep fried perfection.
I'd like to thank the fly fry girl Allison. She is a very hospitable friendly lady who worked the fry station all night like a champ. She rocked.
Our seats were right at the full view of the kitchen. Prime real estate at the Stockyards considering there are only 14 seats . The lineups never cease for takeout and on a Tuesday night its all about ribs and chicken.  Their full menu is plentiful. Additionally all of their takeout containers are biodegradable. Even the straws are biodegradable. Kudos to them for being environmentally responsible with their packaging choices.
Before the onslaught of food started we took a tour of the back room and the smoker. Tom runs it on hickory and apple wood he sources from the Niagara region and sugar maple hardwood lump charcoal. Its no secret I am a HUGE fan of sugar maple hardwood lump charcoal. It really does add to the flavor of the food. The smoker itself is a J&R Clone. Its a fairly large smoker that can accommodate a lot of meat. Tom had it custom made to his specifications. After years of playing with smoke  fire wood and charcoal on a cheap $100.00 Canadian Tire Smoker he knew what he wanted. He got it and it runs beautifully. It was great to see it in action as he was still smoking chicken when we got there.
Getting back to our seats from the tour of the kitchen the first 6 dishes arrived. The smell was truly intoxicating to me.
Pastrami, ribs, pulled pork, andouille, brisket and coleslaw.
The pastrami they do in house. It was wonderfully tender and nicely spiced. I think it will soon rival Caplansky's.
The pulled pork had lots and lots of really great texture and definition. They do not serve it with sauce on –it is served on the side. Their sauce is not the syrupy sickly sweet consistency of so many other BBQ joints. It has twang and depth with apple cider vinegar and just a touch of sweetness. KUDOS to them. There are glorious shreds of bark through out. It was incredible. As we were doing a tasting it was served on its own. Truly a good pulled pork in my opinion should be able to stand on its own without sauce without a bun and without coleslaw. This pulled pork stands on its own and sings. Its that good.
Brisket. Oh my brisket. I love the point on brisket, all that delectable fat. My sandwich was full of delicious point.  This brisket was sliced thin and served on a French Baguette with caramelized onions garlic mayo and just a touch of their BBQ sauce. It was divine. Tender morsels of brisket that pulled apart with just a little tug. It was an incredible sandwich and the addition of the mayo and onions was just taking it to a whole other level.
Their slaw is different, in a good way. Its not some afterthought. It really has a great crunch factor and peppery bites with touches of celery seeds. Its a great accompaniment for any of the dishes.
The andouille was a really nice surprise. Its available on their brunch menu. The coarse grained meat had a wonderful smoky flavor and an abundance of defined texture. I can't wait to go back and try their brunch menu. I would not want to miss it. I may need a while to recoup from tonight though.
Tom smokes his spare ribs for 7 hours. You would think that after 7 hours that they would fall off the bone be mushy or be overdone. You would be wrong. These ribs were one of the best I have ever had and certainly one of the best in Canada. Seriously meaty they would rival any rib I have had any where in North America. They held their shape after biting through. The bone turned a nice whitish color and the meat was tender but not mushy. The rub is simple and effective  - it does not mask the actual flavor of the pork but compliments it thoroughly. Too often the rubs and sauces that are used by restaurants mask too much of the pork. This rub is like the best supporting actor ever. It just helped it along but didn't overshadow them. I loved how much of the rib was caramelized.  Goodness. Pure Pork Goodness.

If those dishes were not enough for a couple of foodies the next ones just about killed us with their decadence. It was like a foodie swan song and we almost bit the dust.

Fried Chicken, BAT, Porchetta Sandwich and the sexiest burger ever.
I am going to say this for the record I am jaded about fried chicken. After over indulging earlier this year on a couple of trips to Memphis and eating at Gus's fried chicken I never thought I would ever find anything close again. I was wrong. Now I am going to say this chicken is almost as good as Gus's. Almost. Pretty darn close in fact. The batter is awesome. The chicken is moist and succulent. However I think it needs more spice. Thats just a personal thing. It's an easy fix with a couple dashes of hot sauce. Thats all it takes to bring this chicken to just about the same level as Gus's. Once again its deep fried finger licking, lip smacking deep fried greatness. The chicken is not greasy at all. It is crunchy and savory and truly yummy.
BAT. What a name LOL. Its the Stockyards house cured bacon, Arugula, fried green Tomato, and lemon aioli on a ciabatta roll. Out of everything I had this was my least favorite. There is nothing bad about this sandwich. I just wanted to eat the bacon and nothing else. The bacon is so lovely with smoky overtones and full bodied flavor that it seems almost sacrilege to cover it up with anything.
I have now had the burger of my dreams. This burger was the sassiest, tastiest and sexiest burger I have ever had. It is a griddle smashed burger. This burger is unabashedly fierce. Smoked green chilies give it sass,pimento cheese gives it depth, the ground beef, brilliantly cooked and a buttered grilled bun like a perfect pillow. – I am in love with this burger. It was like sex on a bun. It was that amazing. I cannot wait to have another one. In fact I may go again Thursday when I am in Toronto again.

Last but most certainly not least is something I would recommend above everything else. It is their Porchetta sandwich.
I love porchetta when it is done right. Here is done exceptionally well. There is so much to love about this sandwich I do not know where to begin. It could be the fact that within the first bite you know there is a whole lotta love in the making of this wondrous sandwich. It is a fennel and garlic scented pork loin, belly,and cracklings served on a baguette, with garlic aioli.

This is truly a dream of a sandwich. While you are smelling the beautiful fennel and garlic you are experiencing the most satisfying crunch of the cracklings and while you are enjoying the cracklings your mouth is flooded with pure pork pleasure and if that wasn't enough the silkiness of the garlic aioli comes across your tongue like the caress of a lover. While their chili burger is unabashedly sexy this is more like the most incredibly orchestrated symphony of flavors, tastes, and textures. I could not dream a better sandwich that this.
It was a culinary adventure like no other.
Many thanks to my dining partner tonight Ben Kaplan.  His is an exceptionally smart guy who was funny as hell. Truly talented – I know everyone will be hearing about him and his writing accomplishments.
Many thanks to the staff of the Stockyards and to Tom Davis himself. Thank you for sharing your passions about BBQ.
I have no doubt I will be back. Soon. Very soon. Like maybe in 48 hours.
the Stockyards
Smokehouse & larder
416 658 9666
info@thestockyards.ca
HOURS
Monday closed
Tuesday 11:30 to 9:00pm
Wednesday 11:30 to 9:00pm
Thursday 11:30 to 9:00pm
Friday 11:30 to 9:00pm
Saturday 11:30 to 8:00pm
Sunday 11:30 to 8:00pm
NO RESERVATIONS
Well I have to tell you this was a challenging comp to do weather wise. The site is wonderful. Lots of room for future growth. We can really see it becoming premier BBQ event in Canada in future years.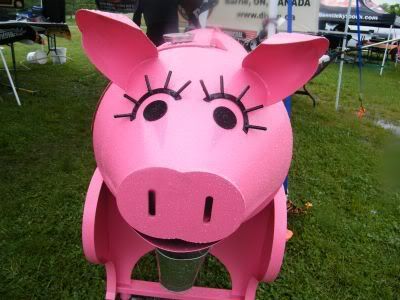 Our neighbours Good SMoke BBQ were terrific. They had the loveliest children and were great to be beside.
Next to us on the other side was Stanley's Smokehouse. Scott Stanley was a former member of another team and he has now moved on to his own team now. They are sponsored by Charlies Sticky Sauce. Well I guess they are still a little pissed at me for the review I did of their Mid Evil Sauce in April as the first thing out of the guys mouth was that we threw them under the bus. He seemed realy quite annoyed but I stand by what I said here. I reminded him that if he had actually read the post clearly that there were two sections when I stated that I really enjoyed the original. Apparently that was enough to set him off as he stomped away and said well what do I care we got more sales from it. Whatever. LOL
Friday was a gorgeous day and we went through the usual motions of setting up stuff etc. We were expecting some family from Europe that had flown in so we brought the awards out to show them. We have never brought all of our awards out before.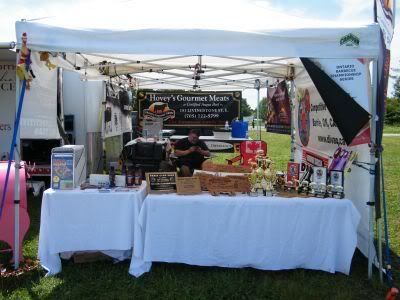 Friday night moved on and it was time for the potluck. WE made MOINK balls for the first time. IF you have not heard of MOINK balls please visit this
website
Larry does a terrific job. I enjoy that site a lot!
Here is how we prepped the MOINK balls. There are endless varieties this one worked for us. Really quite easy – Bacon Premade Frozen meatballs (Yes I know normally this would gross me out too but somehow it works) rub sauce and brown sugar.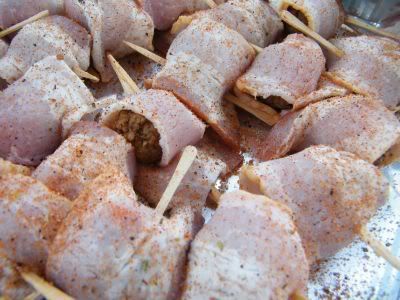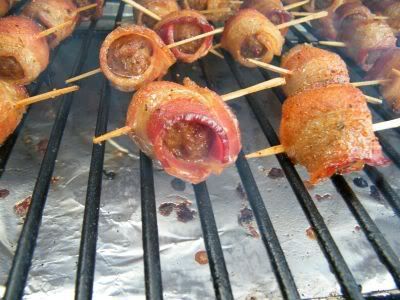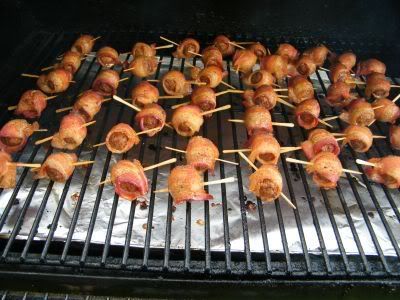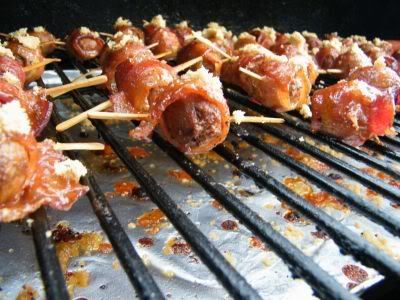 Really simple- Unthaw meatballs. Wrap with half slice of bacon. SEcure with toothpick. Sprinkle on favorite rub. BBQ until bacon is done. Sprinkle on some brown sugar and glaze with favorite BBQ sauce. Thats it.
We made 65 of them. They were gone fast. Best quote we ever saw about our MOINk balls came from a good BBQ friend- Darryl
BusterRhinosBBQ@DivaQBBQ gave me some Moink Balls tonight – I have only one thing to say – Holy Shit – my mouth had food sex in it tonight!!!
The potluck was great. Chili from BBQ effect, Hashbrown casserole from Can't Stop Grillin, Steak and pepper sammies from Bustin Loose, Venison from Stanleys Smokehouse, and a decadent bacon wrapped green apple with dipping sauces (Chocolate and Peanut butter) from Happy Smoke More.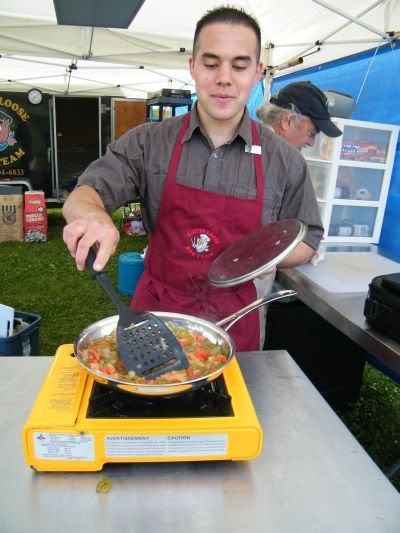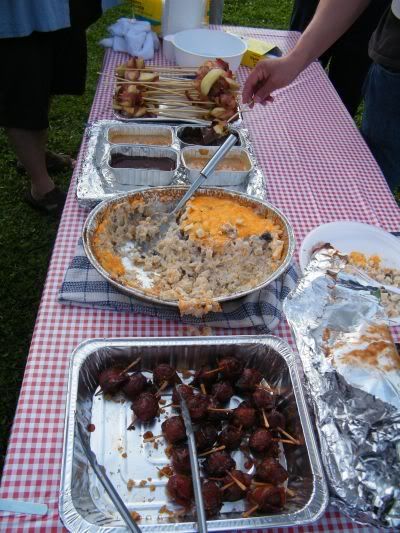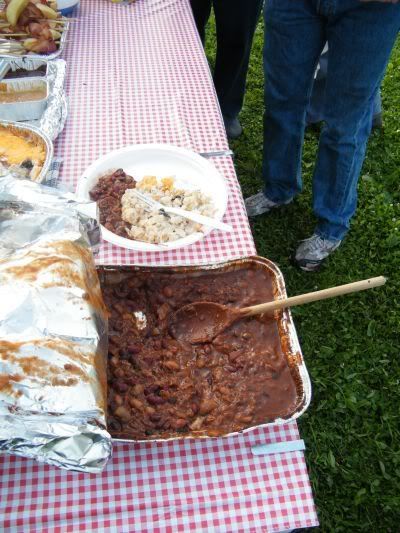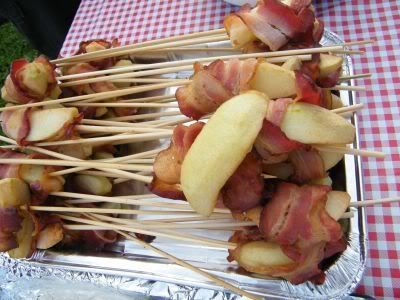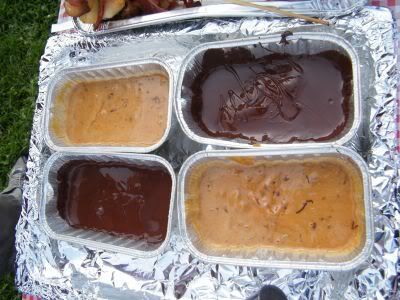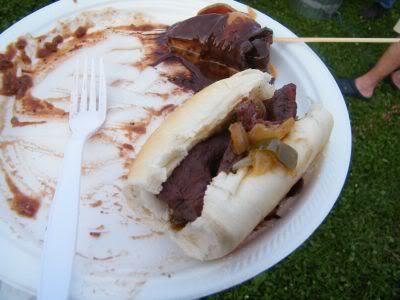 Also around potluck time we got a visit from a member of Happy Grillmore !!! We had a great chat about BBQ and living in Toronto. Then he went to pull out one of his business cards and wait….. what do I see??? BACON. YES!!! Bacon. A Bacon wallet. You just have to love that!!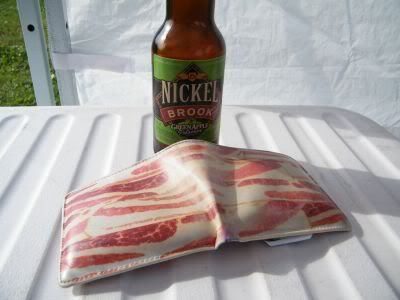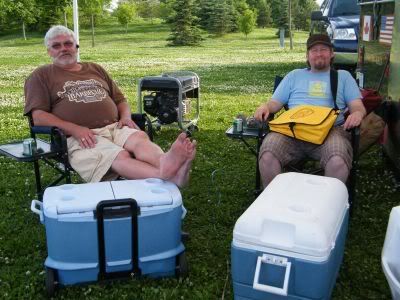 After the potluck I went right to bed after having a chat with Darryl owner of Buster Rhinos BBQ and Three Men and a Hog pitmaster Vince. Vince got a great idea for a 50/50 draw to raise money for breast cancer. This is the charity that the team Can't Stop Grillin raises money for this year. So happily we put in money and we were glad to be the winners too!
My briskets were small after trimming so going to bed early was the best option for me. Got up at about 11 om to check on the butts etc and we had a challenge with our biggest cooker. Just that sort of day. Everything eventually sorted itself out but it was a battle.
One of the best things about comps is the visiting you get to do with other teams. Some of the best BS stories come out and some really good heartfelt talks are had. Darrin from BBQ effect and I got to chat for a bit. Now this guy has a really deep love and affection for all things BBQ. HE and Dave his other team member have travelled extensively eating at just about every BBQ joint they can come across on their travels. I am really glad to see them at comps. They are a terrific team and a terrific representation of true love for BBQ!
At around 2ish am things changed for the worse. The winds picked up significantly. The rain started coming down in buckets and from then on till after turn in times not many people were around or visiting much.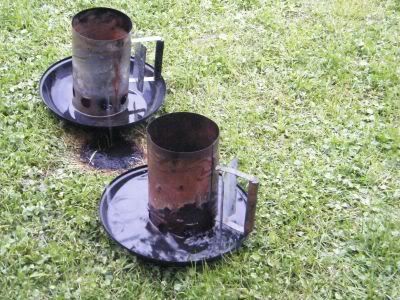 I would like to say two very very special thank yous to Vince for the expresso and to Earl for delivering breakfast in the pouring rain. This is just yet another reason why BBQ comps are awesome- the people make it wonderful to experience even if its pouring down rain, your cookers are not running well and you are having a hard go of it – the people always make it worthwhile win or lose.
And speaking of people the larger than life BBQer Ted Reader was on hand for the weekend. It was good to see him again- as always whenever you talk to Ted his passion for all things BBQ comes through! As we were standing there chatting I happened to see —– BACON—– on his wrist. YES BACON!!! He was wearing a BACON watch. You just gotta love that.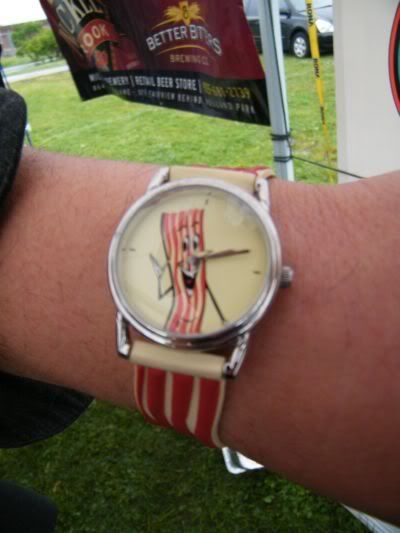 A highlight of the weekend for me was meeting Master Chef Olaf Mertens. He was a great person to discuss recipe compilation and his very successful restaurants and catering business. I probably talked and asked more questions then humanly possible in the short time we got to discuss with him but as I said to him there are not that many opportunities for me to have a face to face chat with a guy if his esteemed background. He and Ted after the competition was over were generous enough to give each of the teams signed copies of their cookbooks. That was lovely.
Back to the meat…..
Well everything came off in time to the coolers to relax, boxes were all prepped and everything got turned in on time. We thought our chicken was great. I am really happy with my comp chicken now. It has been very consistent and I am happy about getting to that level of comfort with them. NOw I still need to tweak them but so far so good. The ribs were good and I really thought the pork and brisket were not that great.
The scores reflected that. Ugh. It is what it is.
We ended up coming in 4th overall. Not bad. Not great. Middle of the pack. Not good enough. So it was back to the basics this week for me pracice wise. I also need my BBQ Karma back, tonight I did a brisket practice that was incredible. I was thrilled with the results and I am really looking forward to putting the new spin on things for this weekends competition in Boston Hills NY! Wish us luck.
Congratulations to Can't Stop grilling for the GC. They are a terrific team who has earned every accolade they have received in the last two weeks. They practice and practice just as much as I do if not more. Also a big congrats to Happy Smoke More a new team full of chefs. They are doing really well (even if Jeffrey looks like a complete goofball with that rag on his head) their first year competing. They travelled down and took Mike Davis class and it really seems to be helping them!!!
Well done to all who got calls.
As a last note to this weeks blog in the coming weeks I will try to blog more often. Thanks for the emails wondering where I have been. I am still here. Just not updating nearly enough apparently.
For the rest of the pictures from the 2009 Crazy Canuck BBQ Championships please click here
You can always catch me on twitter as well as facebook.
Next weekend I will be at Deerhurst Resort in Huntsville Ontario for the Thrill of the Grill with Rob Rainford from Food Network Canada Carrie Oliver from Oliver Ranch and of course Traeger Canada. I am looking forward to it !!!!