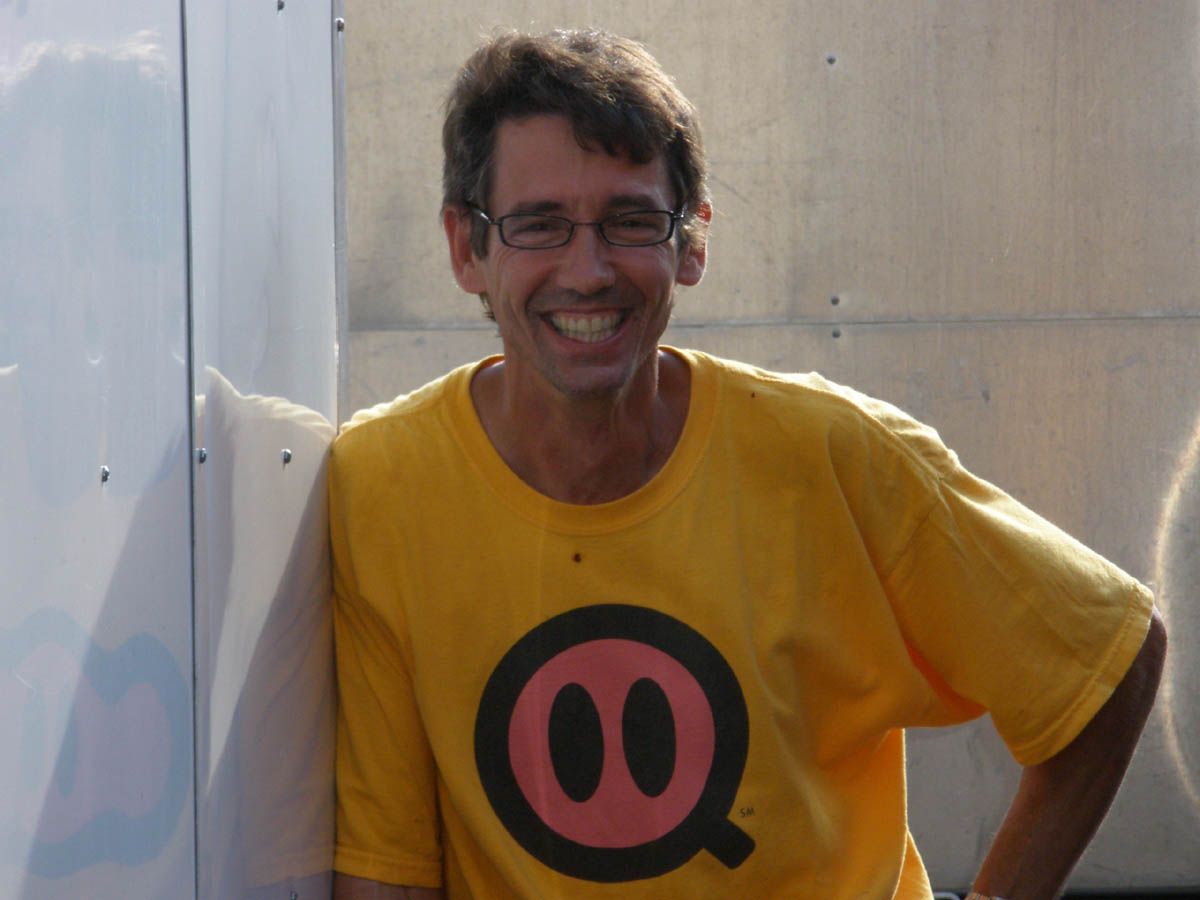 An in Depth interview with the ever so modest Tuffy Stone.
I first met Tuffy Stone at the Jack in 2008. I was setting up some stuff getting everything in order for a night of watching the pits when this lithe lanky guy strolls over with a genuine smile on his face. He sheepishly introduced himself and asked if I would be the first person to sign his Jack lid. I knew who he was well in advance of him coming over. I had read about him and his accomplishments many times prior to this first meeting. I could not believe the Tuffy Stone would take the time to come all the way over to the International section (well apart from all the US teams) and ask a Canadian Chick to sign his lid. To me that was incredibly cool.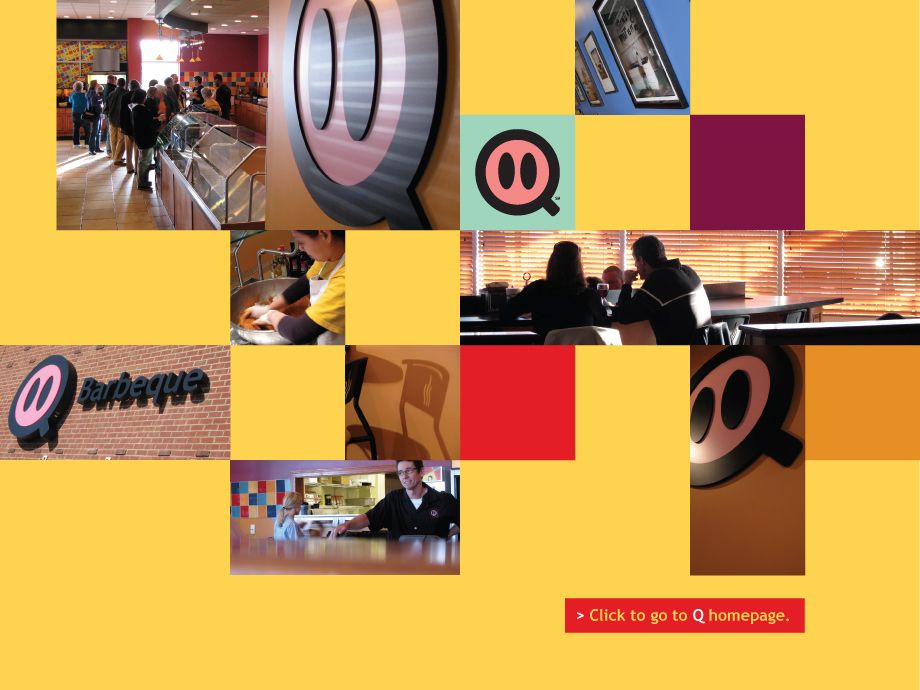 Since that first meeting I have had some truly heartfelt conversations with this incredibly humble man. I can proudly call him a friend and also a BBQ mentor. I have been blessed to have many BBQ mentors over the last 4 years. I have eaten at his restaurant
Q Barbeque
. Its terrific competition quality. More than ever he is a modest man with more Culinary skills that I could ever dream of. He has cooked with some of the finest chefs on the planet – Thomas Keller, Jacques Pepin, Julia Child……( Some whose restaurants are on my own personal bucket list. )
Ok just another warning Tuffy likes to talk. A lot. Its a good thing. It also makes it near impossible to leave out things. Get comfortable.
We begun our interview as he was leaving Richmond, VA to go to Hampton taking drawings to the health department and meeting with his partners. He has been pushing himself really hard the last few months. Juggling a successful restaurant (Q Barbecue) ,a Gourmet Catering Company (a Sharper Palate), Competitions, and now the TLC BBQ Pitmasters Series.
In his own words he says "I beat up the road pretty hard the last 3 months. To be in Richmond and not have to go anywhere has been a transition. It is becoming therapeutic. It's interesting. It was like when I first didn't have to go anywhere it was good – I feel healthy again. "
Q- How did you get the name Tuffy?
TS- My mother gave it to me when I was about two. When we opened A Sharper Palate, I thought I would put George on my business card, to be more professional. It lasted about a week, as everyone in Richmond already knew me as Tuffy. So Tuffy it is.
Q- What can you tell me about your new BBQ restaurant?
TS-Its going to be a really cool place. I am really excited. Located in Hampton Virginia Peninsula Town Centre. It will be a Lifestyle centre. We are working with an architectural group out of Ohio that has really enhanced and embraced our brand.
It is about 3500 S feet 120 seats indoors and about 32 outdoors. I am excited about the designs I think it's once again casual quick dining you order your food and we bring it to you. The smokers are going to be visible once again – in a glassed in room that will house two smokers so it will be once again a very visual maybe even more so that Q in Richmond.
It's comfortable it will appeal to grandmothers and grand babies – We are getting that at Q already. I love looking out in the dining room at Q seeing all ages and backgrounds.
I love a BBQ joint but I didn't envision Q to be a joint. All that being said – I have thought about what I wanted it to be… I wanted to have a farmer in one booth and a Doctor in another booth. I want it to appeal to everyone. The design is fresh and perhaps modern I don't want to scare anyone away.


Q-What made you decide to open another restaurant?
TS-We had a situation come to us. The developer for this town centre is very successful man who happens to have been one of the developers of two or three largest lifestyles centres in the Country Ohio. My partner and his reputation have brought the man around. When he saw Q he really wanted to put Q in this location. HE courted us and we struck up a good relationship and a good deal. It's probably sooner than I would have expected for us to do a second property but it makes sense to do it.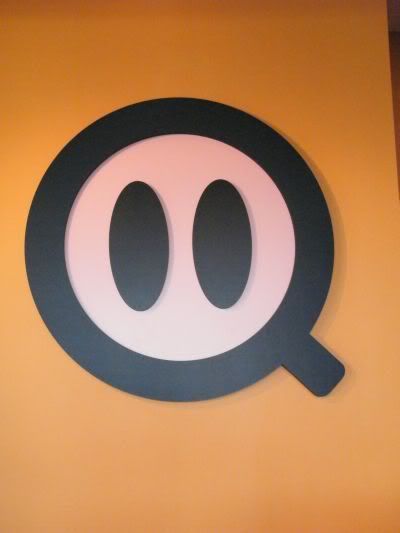 Q-When will it be opened and what will it be called?
TS-I believe it's going to be called Q. Our date for opening is March 11, 2010
I have lots of trademarks that have been in the works for a long time all of this stuff to should be coming to a close. It's a painful process. I have also thought of Cool Smoke as a name – it's close to my heart. But overall I think it will be Q.
Edward who has designed Q Has won lots of awards. He drips with talent. He has been featured in CA magazine. This whole thing is such a passion for both of us. We spend hours on the phone working on all sorts of cool stuff. Making it better. We have a new website going live on Thursday (Dec 3 2009) we are having fun together.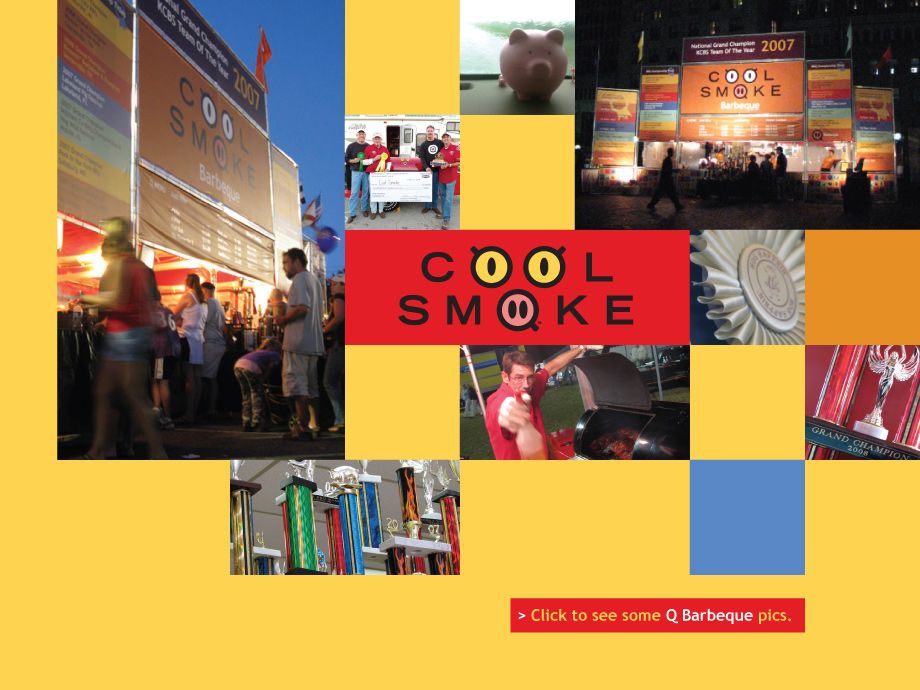 Q-How did you transition from being a gourmet cook to a BBQ'er
TS-My catering company A Sharper palate is so formal. I have been cooking for a living since the 80s. Sharper Palate is still alive and kicking and pays the mortgages for a lot of people. We are into the process of reinventing ourselves there for the next 15 years.
BBQ is how I got reconnected with cooking. It's fun and its refreshing and I can spend hours talking about why BBQ is so beautiful. BBQ came along… and you don't have anyone intimidated by BBQ.
BBQ initially kicked my ass. I came in there knowing how to make Beurre blancs but BBQ is harder than it looks.
Q- Do you see shades of yourself in Paul Petersen.
TS- I can relate to Paul Petersen. I never saw the Paul Petersen where he is cocky. He might have been there in the original stages (I can't relate to that part I am not cocky) I can relate we had a good conversation after Mesquite after awards in the first episode.
When I came in to BBQ with all of the things I had learned as a gourmet chef over the years I thought I would be able to apply those things and make it and define BBQ better. Demi glace on briskets. Or white truffle sauce so aromatic and sexy and lovely and that might be a nice flavour enhancer on brisket. The further I got away from the typical BBQ in the sense of flavour profile or expectations the worse I did. That being said the first competition I did I got a 2nd place pork and a 7th brisket call. I didn't do bad coming out but I did have to regroup. I had to try to figure out what people thought of BBQ. Plus what I think it takes to do well. Hopefully you should never get too far away from the traditional flavours. I told all this to Paul Petersen take the skills from the kitchen but do not reinvent BBQ or surprise them.
So I guess how I relate to Paul Petersen is having an interesting Gourmet food. I can relate in a lot of those kind of things. There is always a level to us.
Q-Seriously Smack talk?? From you? How hard was it for you as you are lovingly referred to as the professor, Mr Rogers and so beloved by the BBQ community.
TS-Well I was part of the sizzle reel . John has hinted around that he had cast me as the professor as I could speak easily about BBQ . John only wanted us to smack talk if it felt natural. Keeping things genuine. I thought about this. I gave it great thought. I figured it all in my head. I had to figure out how I would be in front of the camera in general.
What could I say to keep true to myself but also add to the show? It all panned out as far as they were concerned. I always thought or guessed that you always had to be too overly confident or held yourself in high regards to talk smack. I think my grandfather come out because I am much more humble than that. I said those things in good fun and good nature.
I have a good rapport with Johnny Trigg. You have to be able to take it and dish it out as well. It took me many years to dish it out to him. He dishes it out a lot more. He is much more proficient at smack talking that I am.
Q-How did you become involved with the show?
TS-John called me about the show. I have known John Markus for a bit now. I got to know him through Johnny Trigg mainly. John Markus is such a wonderful and interesting person. I love to read what he has to say and listen to what he has to say. I wish I could speak as well as he does he is so eloquent. His words are so eloquent.
It doesn't matter how brief a conversation may be with John Markus or what's talked about its always going to be that way with him. He always impresses me.
We have a rapport and I got to know him more then he got his Geer pit and in a couple of contests and giving him my thoughts on cooking on it and BBQ. Trying to hopefully help him with that process. We were neighbours in Dover Delaware one year and close at the GAB and those times cooking on the Geer pit. I know I am scolded sometimes for sharing or telling too much I can't help it just bubbles out.
He came down to a competition and he filmed a little bit and my thoughts about Myron . When he was leaving he said "I have something else to talk to you about." I was cooking by myself at Dillard Georgia and I got the call.
He sent me a text message one day while I was playing football with my son Sam. I had sent him a txt wishing him luck as I knew they would be doing the pitch to TLC on the Friday. Later I got a message back and they had picked up the show and at the time they had purchased 6 episodes that I helped sell the show and got a thank you from him.
I didn't want to come across unexcited so I sent him back a txt expressing my congratulations. He went on to give me more details. He didn't come out and say I was on the show and then later on John Markus said I was in. I didn't respond quickly. I had been playing football. I didn't want him thinking I was unappreciative.
Q- What were some of the Challenges of the show?
TS-The show has a lot of challenges I like them. I continuing to learn and grow- I am 47 now. I keep trying to take on new things in life. My perspective is just like the Nike tag line- just do it.
Q- What are some of the details on how you came to a life of BBQ and your first pit.
TS-I had already really worked hard to be a gourmet cook. But I had worked hard to raise my skills as a cook not to be just a cook but a great cook. My catering business is part of that. I would say that in mid 90s I used to volunteer to cook at an even at the masters of food & wine in Carmel CA (just some of the chefs names-Alice Waters ,Jacques Pepin, Charlie Trotter ,Julia Child_. I would do anything they asked (I would make tomato confit, I overcooked Jacques Pepin duck breast -thats a long story LOL) and fill my brain as much as I could after working 16 -18 hours and writing my journal. I wanted to make my impact. For some reason to be a chef owner of a Gourmet catering company- it's difficult to make a name for yourself like going into a James beard dinner , I really needed to have a public venue. While I had a successful company and food and provided good employment for myself and employees I needed to stop worrying about being in the Gourmet part. I had convinced myself of that. So I just tried to go to be about a good dad, employer, husband, son and cook.
Our business grew but I got disconnected with cooking. In this process for some reason I knew it would be with a wood fire. I spent all this time researching pits. Then through that process I found the BBQ forum in 2004. I asked all those questions. I got a load of hickory and my first pit was a Lang 84 I went off to my first contest Johnny Trigg was there- I was stuffing wood in my pit all night as I thought that's what you had to do and stick burners seemed to be the ones who had to stay up all night. He hadn't even lit his pit. I didn't know who he was. He had this big motor coach and this pretty pit. I was really curious. About 330 / 4am he was just getting his pit lit. I walked over and started talking to him. He won that contest and I fell in love with Geer pits.
I went down this path of BBQ. I love all the different pits out there. I think I cook on a stick burner (a Geer Pit) because its primal and basic. I think anyone who ever had to bake a cake with a wood burning oven could make it better than anyone. Having to run that fire clean is something. This whole world of BBQ turned me on to a whole new world of people. On a side note I have had to change my cell phone plans so many times because I get talking and its a $400.00 bill. The talk is always about BBQ. I want to keep talking everywhere. It's the way I feel.
This whole BBQ thing got me reconnected to cooking. I love the humility of it all. I like the fact that BBQ kicked my ass. You take modest cuts of meat and you have to coax out greatness. What seems so simple on the outside is so really complicated on the inside. I love that it appeals to everybody. I would probably say globally. There are so many wonderful things about it. The BBQ family is a beautiful thing. I love competing against my friends seeing them win and myself as well.
It's been one journey of a lifetime.
Q- When do you believe it is the right time to label yourself a pit master?
TS-Golly. You can ask that question many ways. I always had such a reverence for the word chef. Being called a pit master is like that. It was given to me by others before I was comfortable with it. If someone calls me a pit master today would I be comfortable? / I would just say I am just getting comfortable with the start of it. A couple or three years ago technically I think you could have called me a pit master but I think i may just be starting to get comfortable
Q- What's the definition of pit master to you?
TS-You have to have knowledge of your own pits but it needs to go beyond that – that you could step up to anyone's pit and figure it out and have the knowledge to do it. Reading can help but no teacher is better than doing it. You need to understand butchering. It wouldn't hurt to know how break down a pig or cow. You need to be able to know how to make a BBQ sauce or BBQ rub. So how to cook all the different meats to the right tenderness. How to retain good flavours and moisture.
Q- When will you teach a bbq class?
TS-I am not yet ready yet.
(He already has taught many culinary classes but when asked if he would do a BBQ class he pauses.)
I have hesitation due to my abstract thinking. I babble and I drift. To me subtleties and nuance and observation and things that move on you that you have to follow and watch I worry that if it was a class I would want to teach it would be a very abstract moving process. I would worry that too many people would want to know when and how to do things at an exact time. My cooks schedule is like that but it would be abstracted and I can talk a long time about smoke and cooking. I think there would be a population that would dig it and some people who would just say- what time do you put the rub on?
I know there is good money to be made and some of my friends are already doing it. For me though I think I am still learning so much.
I think I will want to share BBQ with people. I have always taught- I teach in Richmond all the time. I have been involved in a culinary arts program. I love what I am doing now. I see teaching a class at some point. I just hope the story I have to tell and what I want to convey will help people do really well. I am sure at some point I will.
Right now I am still digging in.
Q- What have been your observations about different pits (ie Charcoal and Pellets) since you are a stick burner.
TS-Charcoal cookers (stumps, wsm, backwoods -any small charcoal closed in pits) are different. I would have to become a real student of the fuels ahead of time so I could embrace and absorb that. I would want to learn all about them thoroughly.
Pellet cookers have to do what I do in reverse. Stick burners and charcoal cookers have to worry about too much smoke and too much flavour. Pellet cookers (because they burn so clean) they have to focus on how to get more smoke and more flavour in – it's the opposite.
Q-Do you think your modesty is a big hold back for you?
(He gives loads of credit to his Mom, Dad and Grandfather. He is uncomfortable with receiving compliments of any kind at all. He cringes at any mention of his accolades and his well thought of personality)
TS-My father is so funny and proud of the successes we have had at Cool Smoke, He is knocking on the door of 70 and this makes him happy. He embarrasses me sometimes when we are together. He likes to talk about it. When I am exposed to it I can't stand it. He laughs. For example – We are pumping gas going to some competition and someone will say- nice pit. My Dad is right in there saying this pit won 3rd place at such and such a competition. I'll turn to him and say "Dad why can't you just say thank you very much. He is so proud of me" One day he turned to me and said You know what Tuffy there's really not much fun in achieving so many things if you can't tell people. I really didn't have a response to that (he says with a chuckle).
For me, it's just a challenge it's the next contest not the last contest.
Now we have this TV show. It's funny they did a piece on me near Richmond. One of the producers called me the Clark Kent of BBQ. Here I am filming a TV show. However no one in Richmond knew. Going all over the country going BBQing and no one knew in my own town of Cool Smokes achievements.
It's interesting to me the second show we filmed was in Decatur. The first one I wasn't uncomfortable in Mesquite. I didn't know many people and we all were off to our own section. When I was in Decatur however a bunch of my friends were there. It seemed like everyone I knew was there. I was miked up and cameras were following me everywhere. I was so embarrassed all weekend. It goes back to my modesty. I want to make a difference in this life and I want to be humble. For me it was so weird having TV crews following me. I am still me.
A writer from Richmond asked me if I was going to have a big party for the premiere tonight. I said "no way." I am going to be holed up in my house all by myself. Why? She asked. I just want to see what it's like. She then asked comically-" Have you turned into a diva??" I just laughed that's so not me.
Q- Any contest in North America that you have never done before that you still want to do?
TS- I am going to go and cook Memphis in May this year.
Also until this year till this show I had never cooked a whole hog a couple of small suckling pigs but never a whole hog. Honestly speaking – (as a pitmaster) I always felt lacking as a BBQ person as I had not done a whole hog. This year I cooked a 165 lb hog. I bought a JOS (Jack's Old South) cooker to do it in and peach wood. That was in a contest setting. It was cool.
Q- Do you think it will be easier after the TLC Pitmasters show that the public will understand the love of our sport of BBQ
TS-The people making it think it will. I am sitting here waiting for what it will end up being. I hope it shows how cool it is – what we all love to do each weekend.
There is such a depth and character to the personalities of this show and of all BBQ'ers. They all have passion. That's what it is : passion.
I hope it gives it a really good face I hope its good TV. I think there are so many things that are depressing out there that I hope this is a really positive, joyful, experience. I Think the things that we do, the friends that we make is a really great group of people. I hope it gives them a good snapshot of this. I really think this show will do that.