Day 3 – 25 BBQ Blogposts for Christmas Part 1 – Harry Soo

Todays the day.
TLC BBQ Pitmasters
airs tonight for the very first time at 10pm EST. I'll be watching and I really hope everyone else does too. Today is the day where hopefully the rest of the world finally "gets" what Competitive BBQ'ers actually do at a contest. I think I can say that most of us are hoping that its an accurate picture of the challenges, the frustration, the glory, and the community and the BBQ family as a whole. I often get asked why I travel thousands of miles to BBQ in muddy fields, lugging equipment everywhere, spending thousands of dollars, loading and unloading, flying in wherever and whenever I can. My extended family of MIL, FIL, SIL, BIL and my own Dad & brother get my obsession. My friends for the most part just nod their heads and ask when I'll be back. They don't quite get it yet. I think I amuse them. Well that and they always like the leftovers.
I have been talking to some of my BBQ family in the past few days about the show. We are all excited for this. Excited to see some of our friends on TV. Happy that they will be getting some recognition. Hopeful for other great BBQ people (and there are so many great BBQ people out there this show in my opinion could run longer than the Simpsons with all the stories) to be featured in future episodes.
I hope this program does it justice. I have a lot of confidence in the executive producer John Markus and his team. I really have my own personal high hopes for this show.
Harry Soo- Slap Yo' Daddy BBQ
I have never met Harry Soo in person. He is the only pitmaster besides Paul Petersen that I have not met. I was interested in his team when I read about his amazing accomplishment of 4 – 1st place awards at one comp. That was front page news on the KCBS Bullsheet. Whats really cool is that they do it all on a couple of WSM's and a stoker. That in my books shows a heck of a lot of talent- I really respect him for that. It really does go to show you that it doesn't have to be a $15,000 pit to win awards. He even has a name for it Mary Poppins with a minivan LOL. They load up their WSM's and everything else and away they go. No fancy RV's no creature comforts.
Harry came to the USA in the 80′s. He says that BBQ is truly an American cuisine of lo and slo. It is a comfort food. It joins people on a common passion, bbq is a taste of the heavens to him. he says his passion lay dormant for 20 years and that it is now beyond his wildest dreams doing the TLC Pitmasters show.
Harry called me on the way from California to an IT convention in Las Vegas. That's what he does during the week. He's an IT guy. He has a full time job during the week and explores his passion for BBQ the rest of the weekends when he can.
Harry has a great story about how he got into BBQ. It all started with a personal bucket list. As in the list of things you want to accomplish before you die. His story can be read on his website here. His team (with his best friend of 43 years Mark Tung) competes in 8-10 competitions a year. He also thinks very highly of Gary Notley former ROY rival now turned best BBQ brother and roadie who drove his van 10,000 miles. He also has some sponsors:
John Jackson from Rocks BBQ Systems home of the Stoker, Roberto Lopez from T&H Meats and Sausage San Marcos, CA, and Steph from TheSlabs.com for their rubs. ( I have to say I am a BIG fan of the slabs products myself and one of these days I am going to have to get stoker to play with my WSM's)
Talking to Harry is really easy. His passion and love for BBQ come through loud and clear.
Here is an introduction to Harry from the TLC Video clips:
http://tlc.discovery.com/videos/bbq-pitmasters-slap-yo-daddy.html
Q-How did you become involved with the show?
H- Well its a funny story I was at a competition and I was working on my ribs. I got a call on my cell phone and there was this guy talking about it. I wasn't really paying attention. It was crunch time. I was focused on my ribs. I asked him if I could call him back. About 7 hours later as we were driving home I asked my teammate Mark if I had been hallucinating. Sure enough though there was a New York number on my cell. I called back and spoke with John Markus and 3 days later signed the contract.
Q- How did you feel when you found out that Carolyn Wells had recommended you?
H- I was blown away. I met her in 2008 at Stagecoach. We had one heart to heart conversation. I think the love for our sport of BBQ showed through. It goes to show how one single conversation can change your lives.
Q- What were some of the challenges of the show.
H- For us it was logistics and weather. Logistics since we are in California. One guy would drive out with all the equipment and one would fly. It was a challenge for sure to get everything we needed. We have our own laundry list of 97 items. It shows many times how we adapt to every situation. You see us going to Home Depot in one episode. We had to. You see us getting local meat in Kansas that we didn't like. You can see us losing our rhythm. It was all a challenge.
As for the weather well when we were in Mesquite there was beautiful warm weather during the day then it got really cold then it hailed and rained. You can see how much destruction there was. We didn't have an RV to get out of it. Just a 10×10 tent getting soaked. Anytime the weather is bad you have to take drastic measures. Improvisation for us is key.
http://tlc.discovery.com/videos/bbq-pitmasters-when-it-rains.html
Q- What was it like having cameras following you everywhere.
H- I was apprehensive at first. The little red light on the camera would come on telling you there is recording happening and I could not even remember my name. I am not sure why that would happen. There was a boom 30 ft in the air over us at times taking different angles. The production team was there and they got first dibs. They are following a particular storyline and you get preoccupied. I was used to just focusing on the meat. Having the cameras around makes you learn to talk and also to pay attention to the meat and be aware of the cameras.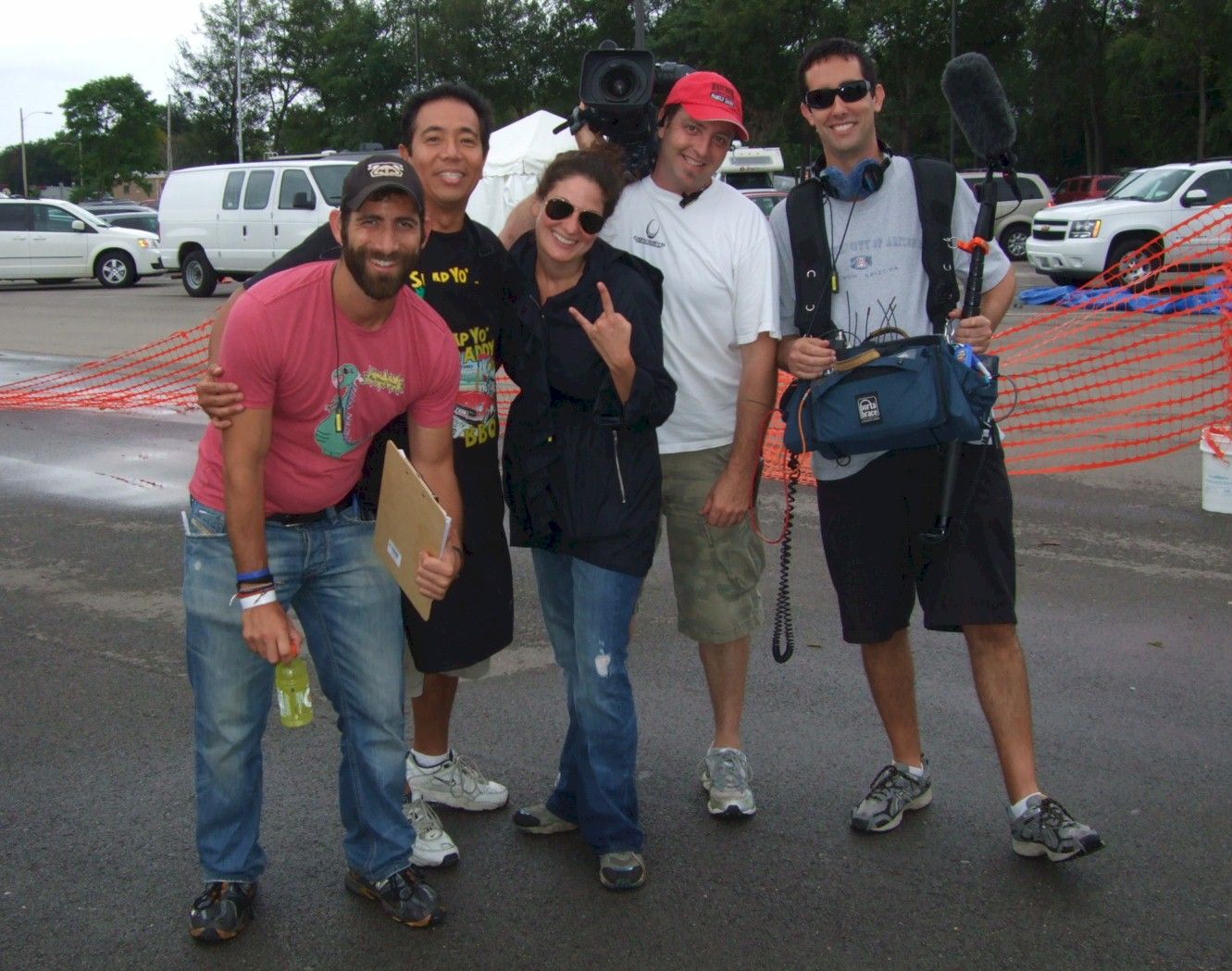 Q- How would you like to be viewed on the show?
H- We strive to be ourselves. We are not in it for the money or the glory. We are in it for the experience. We are having one hell of a time doing it. For us this show has been like Tiger Woods asking us to play with him. It has been a fantastic experience. There are also very few Asian teams out there on the BBQ circuit. I want people to see that we are constantly working for the judges. If standing on my head would help me get the perfect bite that I constantly pursue-I would do it.
Q- What did you like most about the show?
H- The people. IT was such a positive experience for me. The production crew and all of the rotations were terrific. They had it much harder than us often not sleeping or eating. They also learned about the camaraderie of BBQ as a whole. There are instances on the show where teams help each other out with equipment and even meat. They did not understand it at first. They do now. At the end of it all I got to make them a meal of a lifetime: Grilled lamb, porcini risotto, and many more dishes.
I also think that John Markus and Brian Catalina (co-executive producer) know what they are doing so well. They have captured the spirit of BBQ. This was my first TV experience and it was great. John was the buffer between the TV executives and us. He took care of our interests. As for the other pitmasters we became a family. At the end of the day they were a great bunch of people. I am learning from the BBQ greats. Competition BBQ has a wealth of interesting people.
Q- What was your worst BBQ disaster?
H- It happened at the Royal this past year. You will have to tune in to find out.
Q- Whats the key to your BBQ
H- For us its all about mastering the flavor profile. Its trial and error for us. it took us one year to develop that in California. Their preferences run bold and spicy. That doesn't work in the East. BBQ is like fashion. Sometimes things are in like grill marks on chicken and then they are out. We are like the little engine that could. We cook with love and from the heart always. We also cook with intention not expectations.

Q- How long do you think you will learn about BBQ
H- It will be my lifelong journey. On any given day the meat can be different. Its always a challenge.
Thanks so much to Harry for sharing his love of BBQ. It was a true pleasure to talk with you. Ill be looking forward to meeting along the BBQ trail.
OK so this post is at least a week old (in my drafts folder) but I just did not have time to do an update of the pictures since I have been travelling.
The road to New Paltz from Barrie is really long. Almost 9 hours travel time for us each way but it certainly is an interesting drive.
On our way there we made a very important stop in Syracuse at Dinosaur Bar Be Que. Well worth the trip for anyone going through the area. We pulled up at about 10pm and the place was rocking out big time. What a blast we had. Great music great beer and some terrific BBQ for sure.
It was probably the best chicken I have had all year the texture is incredible – its moist delicious and considering how much I hate chicken I was thrilled and surprised at the same time.
Here are some pictures of the joint. I would go back in a heartbeat.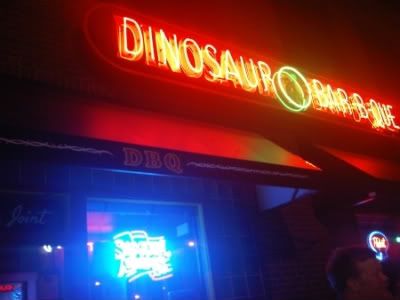 more pictures here
It was a great stop to our New York adventure in BBQ for sure.
Moving on to the competitions . This was the first time we had ever done a NEBS grilling contest. It was pretty interesting. The categories were steak, dessert, pizza, and shrimp. We did our best but we did not do well at all. We of course thought our steaks etc etc were awesome. I thought our presentations rocked it out. NExt to us Mr. Bobos did an excellent job as well and we got to sample some of their fine fare. Additionally we got really low marks on our shrimp as some of the judges thought the innards were a bit raw. We temped each at 125F (plus rested tented for 15minutes in a delicious roasted garlic and shallot butter) so not sure how that happened. Ugh. We had fun though and a friend of mine Bob came along to give us a hand. He is a terrific BBQ chef. Knows his stuff and has been a good resource for lots of ideas. We were thankful to have him around for sure!!!! Thanks Bob love ya lots buddy!
One of the best parts coming in early for the grilling part of the comp was getting the chance to unwind a bit (also know as shooting many tequila shots with Julie LOL) and socialize. I was smart enough to set up my bed in the comp trailer prior to the nights festivities. We were also really pleased to have Can't Stop grilling right beside us. We love to be around these guys. They are a class act. They are also a lot calmer than I am at Turn in time. LOL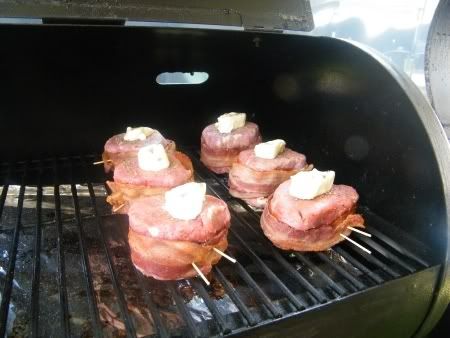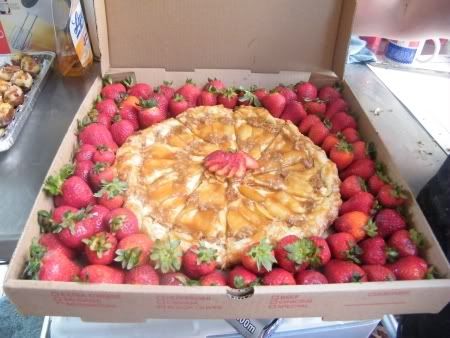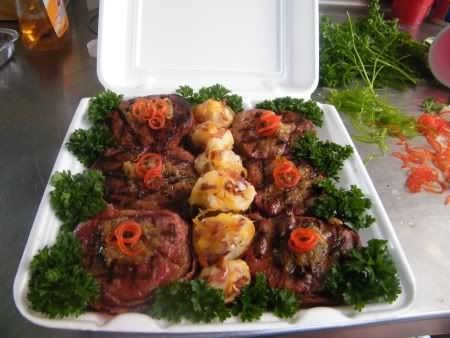 We had a great time seeing many of our friends at this competition. Between meeting many of the Brethren and of course visiting with new and old friends there never seemed to be enough time. We had a great time at the potluck and a big Happy Birthday to Vinny and the Grand Poobah himself Phil (seriously I think he has reached the depends stage of his life I heard there were caution stickers and items everywhere warnings of the OLD person). I did also get to try the famed HoDeHo potatoes. Kim (God Bless her) saw me in line (a very long line) she grabbed my plate ran off and disappeared. I then got to try the ultimate in potatoes. AWESOME!!!!
Once again I ended up trimming a whole lotta meat later on in the night. We ended up with a 1st in pork for the KCBS competition. I have to say this was a HUGE HUGE HUGE Thrill (With many thanks to Andy & Kim for their help – Did I mention how much I love PLOWBOYS>>>>>>>???????) 16th in chicken and 19th brisket and a jaw dropping so disappointing I can't even begin to tell you 44th in ribs. Seriously I can't figure it out. UGH. Lets just leave it at that. Overall we ended up placing 16th. Thats 6 places out of where I wanted to end up for sure.
It was a well organized competition. The volunteers that I met (Stephanie, Rolf etc) were terrific people however I will say I was mortified for the final awards presentation of the top 4. I found that the announcer did a serious disservice to the teams constantly reminding them of the "cheap plastic trophies" and dismissing them American Idol Style. It sucked royally for them and it should never be repeated. The amount of work and money the teams put into preparing attending and travelling to a competition deserves a hell of a lot more respect than that. The guy was thinking he was funny but ended up being a complete jerk in my opinion.
It was a long drive home after that and I needed a day to recover and sleep.

Here are all the pictures from

New Paltz