Posts Tagged 'Smoked Nuts'
I love party mix and most of my friends and family love it too.
Here is my basic recipe:
Dry Goods
1 box cheerios cereal
1 box life cereal
1 box shreddies cereal
2 boxes Cheez-its / Cheeze sticks / Cheddar goldfish
2 lbs pretzel sticks
2 lbs peanuts – smoked ** see below for recipe
1 lb almonds – smoked
1 lb pecans – smoked
Topping
1 cup peanut oil
1 cup clarified butter
2 tsp granulated garlic
2 tsp granulated onion powder
2 tsp Lawry's seasoning salt
1/8 cup Worcestershire sauce
Mix all topping  ingredients together.
Mix all the dry goods together then sprinkle on the topping making sure its covering as much of the dry good as possible. Spread out on 4 cookie sheets or 2 large roasting pans
Grill indirect at 225F  for 2 hours or in an oven turning every 15 minutes.
Savory Smoked Nuts recipe:
2 tbsp melted clarified butter
1 tsp toasted sesame oil
2 cups nuts (almonds, pecans, peanuts etc)
1 1/2 tsp smoked Chipotle Tabasco sauce
1 1/2 tsp Worcestershire sauce
1 tsp kosher salt
Mix all ingredients (except salt)  in a bowl and spread on a greased disposable aluminum pan in a single layer.
Fire up your grill to 300F .  You want to make sure these nuts are smoked indirect. I have used a variety of woods for smoking nuts: pecan, apple, cherry and hickory. You will want to use 1 or 2 chunks if using a charcoal grill. You will need to smoke these nuts for approximately 30-40 minutes turning the nuts every 10 minutes. When they are done remove from the grill and sprinkle on the salt. Store when cooled completely in an airtight container.
For a sweet & spicy smoked nut add 2 tbsp honey powder, 2 tsp cayenne powder and 1 tsp cinnamon.
Day 22- 25 Days of Christmas Blogging
Today was a day of prep work for Christmas eve. I needed to get some snacks ready. Holiday munchies should be special. I try to put as much effort as possible into my food for the holidays I try not to cut too many corners.
Smoked nuts are an easy item to fix up for giving as gifts or for having at your home.
Today I did 4 lbs of smoked Almonds on the Traeger. I let them smoke at 180F for the first couple of hours then up to 325F for the last 30 minutes.
Here is the recipe:
4 lbs Almonds raw
1/2 cup butter
1/2 cup brown sugar
2 tablespoons celery salt
I just melted the butter and added the brown sugar and celery salt. I used a whisk to make sure it was well incorporated.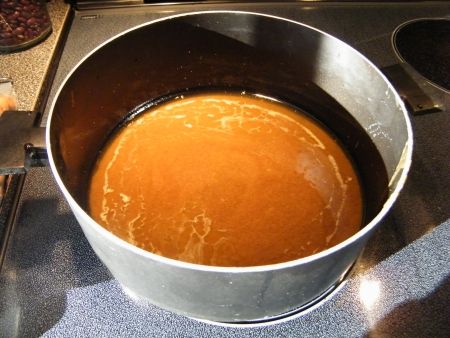 After that it is just a matter of mixing and getting them into a pan on the BBQ of your choice. Today I am using my workhorse – My black beauty as I call her a Traeger lil Tex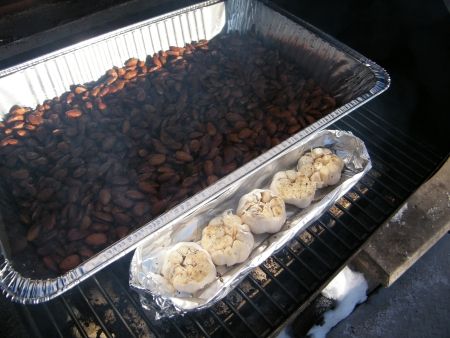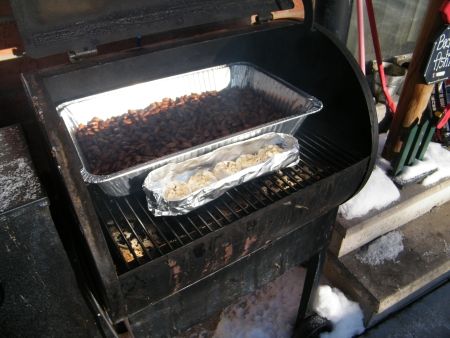 *you might notice the garlic. Thats for a terrific party favorite at our house brie topped with smoked garlic then back in the BBQ till the brie is soft and gooey. Perfect for dipping in toast points. The garlic takes on a wonderful smoky sweetness that matches so well with brie.
Now the next item was inspired by a friend of mine. She makes a great party mix however I wanted to put my own BBQ spin on it. Here are some of the items I used today for the recipe for Sweet n Spicy Party Mix: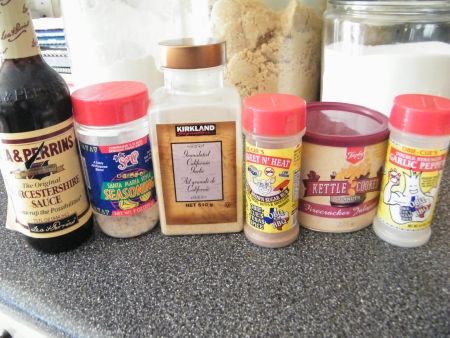 1 box shreddies ( I used the jumbo size boxes)
1 box cheerios
2 boxes cheese sticks
2 bag pretzel sticks
1 can firecracker jalapeno peanuts
1 lb pecans
1 lb almonds
Toppings:
1.5 cups melted butter
1.5 cups peanut oil
3 tablespoons worcestershire sauce
2 tablespoons each
obie cues sweet n heat
obie cues double strength garlic
granulated garlic
santa maria seasoning
homemade hickory smoked salt
Mix all of the toppings together in a bowl or in a non stick pot.
Once again this is really simple all you have to do is mix it. I use the top and bottom of my largest roaster pan to do this.
It can then go into a BBQ or oven at 200F for a couple of hours stirring every 20 minutes or so to make sure the topping mixture is absorbed fully into the cereals, nuts and pretzels.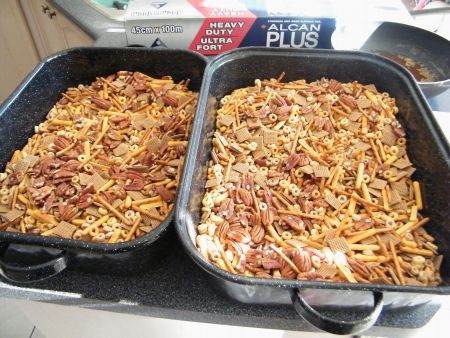 Taste test it after it comes out. you can adjust the seasoning a bit for your own liking if you would prefer it a bit saltier or spicier. This recipe does come with a warning this stuff is HIGHLY addictive. You will need to hide it like I have in some air tight containers. It will keep for a couple of weeks (good luck keeping it around that long).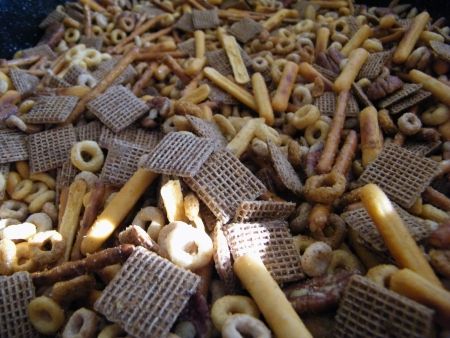 The last item I want to share today on the blog is a recipe I am sharing because I can't believe people still buy cranberry sauce in a can.
Cranberry sauce is one of the easiest dishes to make. When I set my holiday table I usually sprinkle some toasted almond slivers on top.
3 cups fresh cranberries
1 cup sugar
4 oranges zested and juiced
1/4 cup water
Throw it all into a pot over medium and when the cranberries start to pop I use a potato masher to crush some of them to release the pectin that will gel it up a bit. Seriously how much easier can a recipe get?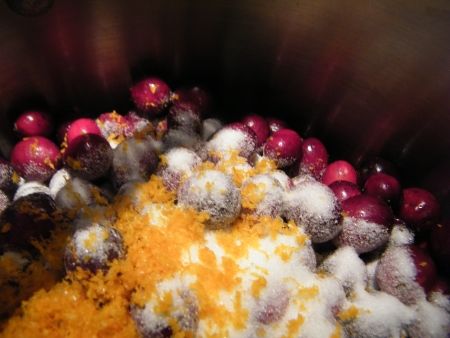 Thats it for todays prep. Hope you are all having a great time prepping for your Christmas holidays.