Barbecue Secrets Deluxe Ronnie Shewchuk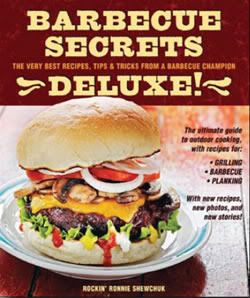 I received this cook book a while ago after winning it in a twitter online contest. To anyone in Canada in the competitive BBQ world
Rockin Ronnie Shewchuk
is a familiar name. He was a member of the first team (the Butt Shredders) to ever win a US BBQ Championship. Since then two other teams have joined that same rank Dizzy Pig Canada and my own team Diva Q (proud to say we are the only Canadian team to win 2 in one year!).
I have the distinct pleasure of owning a copy of the first BBQ Secrets Ronnie wrote. I have tried a lot of the recipes and have enjoyed them immensely. Now it just gets better with the Deluxe edition. More pictures more anecdotes, recipes and more humour. I love the columns from Kate Zimmerman (Ronnie's wife) The cookbook is truly a feast for the eyes. Gorgeous pictures throughout. They tug and pull you in and more than once you may find yourself wiping a bit of drool off the pages. Yes they are that captivating.
Behind the glossy pics is some sound BBQ advice. Terrific recipes. Good stories and a fun read. I will say that as a BBQ competition recipe book it is a little dated now but as a go to BBQ recipe book its solid. Since Ronnie competed there are lots of new techniques and some really interesting competition secrets widely available on the web. I would not however hesitate to recommend this book to anyone. It would be a welcome addition to anyone's culinary library.
Favorite Quote from the book pg. 80
I am drawn to barbeque for its purity, its simple meaning and a true feeling of job that brings me to a happier place. The smoky cocoon of the barbecue contest creates a relaxed, friendly community unlike anything in urban life today
I recently had a conversation about Rockin Ronnie with a Western BBQ competitor. I explained I had received the book but felt bad about not reviewing it sooner. Ronnie seems to be a lovely gent in emails. I asked if he really as nice as he seems. The answer was a resounding yes. I don't doubt it. The book comes across so genuine that you can't help but want to meet the man behind the book. I certainly hope to someday. I would love to kick back and enjoy a pop or two with this fine representation of Canadian BBQ history.