Day 5 – 25 Days of Christmas BBQ Blogging…..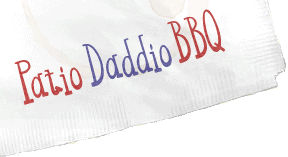 A bbq friend of mine John has a terrific website PatioDaddioBBQ.com . He recently did a review of the new TLC pitmasters show on TLC now airing Thursday nights 10pm E/9C. Johns blog gave me the idea to interview John and the cast of the TLC Pitmasters show.
Here is his review reprinted with his permission,
Tonight was the premier of the new eight-week docu-series, BBQ Pitmasters on TLC. I thought that I would offer a short review of each episode from the point of view of a fellow competitor.
The clip below gives you some idea of what happened in the first installment. I can say that it is an accurate portrayal of how weather can and does affect a competition. The conditions were reminiscent of a couple of the competitions I've participated in.

I

must say that the show is just about what I had envisioned based on my interview with Executive Producer, John Markus, and others I've read and heard. It is indeed faithful to what actually happens at a competition. It shows the mix of personalities, the conditions, the pressure, and the humility that is mercilessly dispensed at the awards ceremony. I'm sure that Paul Petersen can really relate to that last part. Some may think that falling asleep and ignoring a cook is far-fetched, but it is not at all unusual.
While I'm happy that the show was authentic in covering what really happens in competition barbecue, I was somewhat surprised and disappointed in the abundance of foul language, especially from Myron. I know it's part of the "reality", but it's sad when I can't relax and watch the show with my kids. In my view, it was completely unnecessary. This is a common sentiment from what I am seeing on some of the BBQ forums.

All in all, the show is outstanding so far. If it continues in the same vein I think it will serve competition barbecue well.
Now heres my opinion:
I loved it. Every single moment of it.
I waited along with everyone else in the Competition world to see if they could do it. I wanted them to succeed. I won't make any bones about it – I am biased completely. At some point I think they will need a Canadian Chick. LOL I wanted for them to produce a show and know that they "got" it. Did they get the real deal?
There are loads of reviews and critiques being written on all the BBQ forums. When it comes down to it though it gives people on the outside of this wonderful world of Competition BBQ a good glimpse of what really happens. Its good exposure for BBQ. I hope that the big companies out there take notice. That the competitions get more money. That KCBS, IBCA, PNWBA, FBA, NEBS and every other sanctioning body out there gets more bodies to their comps wanting to enter this unique "sport."
Each of the cast has been picked because of their unique personalities. It achieved the goal of making it interesting highly viewable TV. The sour grapes I have been reading about from some teams seems to be missing the point. The point is to follow these characters not follow everyone in the world of BBQ.
Its a docu-drama on what happens. Did I like Paul Petersens lack of prep and research – Nope in fact it made me cringe. Did I like Myrons foul language – Nope I wanted to wash his mouth out with soap and ask him if he talked to his Momma with that mouth.(Seriously Gordon Ramsay has nothing on him) However will I watch again – I wouldn't miss it for anything.
It makes you want to watch it. I want to know how Harry gets on, does Paul learn a bit, does Myron ever talk without a swear word, is Tuffy really that nice, where is Jamie Geer?, Can Lee Ann really cook BBQ ?, and finally does Captain parkay himself Johnny Trigg talk more? I want to watch period.
They did it. They created a Competition BBQ show that appeals to a vast audience.