Posts Tagged 'Myron Mixon'
Day 18-25 days of Christmas Blogging……

Last night we had our annual Christmas dinner party. Each year we have our local friends and their children over. I look forward to it every year. For the dinner I served up 10 racks of ribs (done on the Traegers with Cherry pellets) with Ole Rays Apple Cinnamon BBQ sauce on the side, potato salad, Greek pasta salad, mini corn muffins with jalapeños and aged cheddar, buns, spinach dip, marinated water chestnuts wrapped in bacon, devilled eggs with smoked paprika, Macedonian rice with grilled veggies, pate with pecans, veggies, brie with blackberry sauce, and a whole bunch of puff pastry appetizers. Dessert was a Pumpkin Caramel pecan cheesecake, homemade chocolates, and loads of cookies, tarts and squares I have been working on for a month. I really love to make this dinner. However I got so busy I did not take pictures. Ugh. Anytime you can cook for family and friends you love to be around is a good thing in my opinion.
It was a blast and conveniently everyone was gone by 9:50 pm. Just enough time for a BBQ phone call with a good friend of mine from the US and then to watch the latest episode of TLC BBQ Pitmasters. It was a relief the timing was good. I still have no clue how to record anything on the tv and I don't have one of those PVR thingy's. (Yes that is the technical term- thingy's).
IT was a really fun episode to watch. However once again I ended up talking to the TV (and don't think for a second I am the only one) saying to a cast member are you kidding me what are you doing – etc etc. There were 59 teams at this competition. Out of the TLC Cast here were the overall results:
6 -Jack's Old South
7- Cool Smoke
8-Jambo Pitts
9-Smokin' Triggers
I was looking for Harry and Jamie-but I only saw Jamie singing a song going into
Big Bob Gibsons
. Chris Lilly took it well in stride when Myron told him he used his books to start his pits. The menu at the round table dinner looked really nice. I liked the brisket wrapped scallops. I'll be trying that for sure.
I watched Pauls teammate lolly gag along not really caring about what time it was. Turning in Chicken and getting a DQ for lateness. Seriously buddy you should have moved your *ass a little faster. Sixteen seconds. Thats what he was late by. Not good. I really did think the chicken box looked decent.
Then it cracked me up to no end to see Myron go off on Paul for shigging his muffin pan idea. Hmm so I guess Myron may be frustrated with a vast majority of the cooks going in to this year. If the posts about muffin pans on the various forums are any indication a lot of cooks at home are trying this technique out in preparation for the 2010 season. I have some concerns that this technique could be considered sculpting. I won't do it myself. I won't risk getting a DQ because of sculpting. I think meat (whether it be chicken, beef, or pork) should still look like meat at the end of the day.
I would also like to say it was nice to see a variety of chicken. I saw legs and thighs and breast meat. I really liked the commentary from the judge. Judging is not easy. I did some judging before I started and I am a
KCBS certified judge
. It was a good decision to take the certification. I think any time you can get a glimpse of what goes on inside the minds of judges it can only help. I know there are some days when I think I have turned in my very best products and (I get scored poorly) I continually question what the judges want. (for the record I am usually not that polite about judges decisions about it but Ill leave the swearing up to Myron.)
I am still surprised that Myron offered up this muffin pan technique to the viewing audience.
As for shigging I think every single team out there pays attention to whats going on at other cook sites. Don't kid yourselves- everyone looks. You would be foolish not to. I don't think for a second that there is anything wrong with paying attention. I think if you see a team that has a little blue bottle on their cooker or a bottle of rub and they come in first in that category you might be wise to jot down a few notes. Even with this show watching a few episodes over a few times if you are paying attention there are some nice little tidbits of information. Now I am not going to point them out – go look your self. Research is never ending in the field of Competitive BBQ.
*please note for anyone looking to get me a Christmas present I want one of these cups or please donate here
I do however think its wrong to go into a cook site of a team you do not know without permission. This is one of the reasons I now do my prep and my cutting inside my trailer. Personally I don't want you to see what I am doing. As much as possible I try to hide my own techniques. Its also another reason we create a wall of Traegers and WSM's around my cook site. I don't want you walking in unless you are invited. I rarely invite anyone into my trailer unless you are a good friend. I am still so new (only going into my 4th year) to this competition style but I would like to think I have a couple of things figured out. We have an additional 10×10 tent set up for socializing. Thats where we do it.
I can certainly relate to Tuffy's schedule of events. Inconveniently (after I watched the clip on youtube about 10 times trying to decipher what was on his spreadsheet I realized it wasn't because I was needing my glasses) they have certain lines blurred out. Damn. . I have mine planned for every 15 minutes. My spreadsheet keeps me on track and it was another cook that helped me develop mine when I first started out. I also note the temperature and humidity levels and anything else I think may be affecting my cook.
It was great to see him get a first in his new found brisket technique. I enjoyed watching some of the background of him working in the kitchen of A Sharper Palate He knows so much about food in general. He works hard at it too. I loved the countdown he did on camera, 5 ,4 3, 2, and then he pulls out the first in brisket. Nice moment captured.
I have been at competitions where the power has gone out. However I always travel with a back up generator that can run everything. I don't leave home without it. This is why I was surprised to see Lee Ann get backed up on time due to power shortages. I wonder if that was for TV. …
Overall I am enjoying this series immensely. Next weeks episode is a repeat makes sense to do that during the holidays. I will be looking forward to the next episodes in the new year!

Heres a sneak Peak at this weeks TLC BBQ Pitmasters show:
THURS – 10pm
BBQ PITMASTERS
Cooking skills, nerves and patience are tested at the historic Riverfest Barbecue Cookoff in Decatur, AL as the Pitmasters battle for the $3,000 top prize. Paul tries to avoid last place placement, Lee Ann's schedule is threatened by a power outage and Tuffy Stone uses spreadsheets for BBQ?!?
Don't mess with Myrons Muffin pans LOL
Power Outtages …. LeeAnn Whippen
Paul Petersen Discussing being new to competition BBQ and coming in last place.
Day 10 – 25 Days of Christmas BBQ Blogging…

TLC BBQ Pitmasters
Clip
Talking to Myron is interesting to say the least. He has just won for the 8th time MIM TOY ..This interview took almost an hour and a half. To get that much time with him I think is truly rare as he is constantly on the go and busy. How to describe him is tough. He's the type of guy that would cuss at ya and yet at the same time be trying to teach you something of value because he cares. He is much more benevolent than he appears to be. He is more sensitive to other people's feelings than he lets on. He's not out to hurt anyone.
There is an underlying deep resounding care and love for his friends and a need to protect them and also those who are just beginning to start out. He has always been very polite every time I have met him. I have never been in his presence where he cussed more than damn. In fact he has always been the typical Southern Gentleman.
He calls a spade a spade. He doesn't mince words. He is most definitely a very proud man. His reasoning on his ego are sound. They make sense to me. He has won more than any other. I'd say he has a right to brag for sure. I will say this though with the exception of his family and close personal friends he really doesn't give a damn about what you think of him. He has his own moral compass (instilled by his own family) to be fair to be truthful and to be honorable. That's what matters to him well that and of course getting paid…..
Now truly I could list his accomplishments but Myron has some of them listed on his website.
Myron Mixon, chief cook of Jack's Old South Competition Bar-B-Que Team started Jacks Old South in 1996 as a way to promote the family Bar-B-Que sauce, which was made by his mother and father, Gaye and Jack Mixon. We competed in our first competition in Augusta, Ga. where we took 1st place in Whole Hog, 1st place in Pork Ribs and 3rd in Pork Shoulder. Since the beginning, we have won 140 plus grand championships resulting in over thousands of trophies, 30 state championships including wins in Georgia, Florida, Alabama, Virginia, Arkansas, Mississippi, Kentucky, Illinois, South Carolina, and Tennessee, team of the year six times, and 8 national championships. We have also taken three first place whole hogs at the Jack Daniels World Championship Invitational Barbeque Competition. Additionally, we have been the Grand Champion at the World Championship in Memphis three times, in 2001, 2004 and 2007. We have also taken first place in the Whole Hog category at the World Championship in 2001, 2003, 2004 and 2007. Jack's Old South has been the Memphis in May Team of the Year with the highest number of points for 7 years, from 1999 through 2004, and also 2007. We are also the only team to win Grand Championships in Memphis in May, Kansas City BBQ Society and Florida BBQ Association in the same year. As a result of all of our success on the various BBQ circuits, we have been featured on several television networks, including the Food Network, Discovery Channel, History Channel, Travel Channel and the Versus Network. Mastering the art of Bar-B-Que'ing has lead to the development of our own line of Jack's Old South products including sauces, rubs, grills and smokers, as well the Bar-B-Que Cooking School.
Q- Have you been online much since the premiere of TLC BBQ Pitmasters.
MM-I don't go online much. Unless its checking my email and seeing if I got paid from my internet store. Or if people are sending money for the cooking school or asking about the business of franchising Jacks Old South. Not big on Computers at all. Other than that the rest of that shit (forums etc) can just wait until I can. For me it's all about getting paid. This is my living.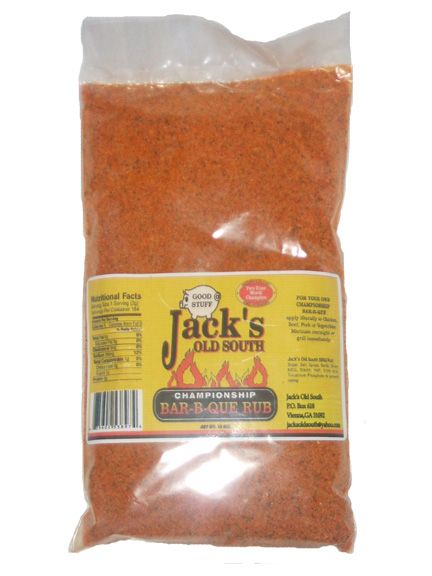 Q-Why are you now offering
Franchises
?
MM- To be truthful I'd rather let them have the damn worry of running a restaurant. I have been down that road. We made money don't get me wrong. We did real well with it. Over all I don't have the patience to deal with the employees. There sure is money but it's not my demeanor to deal with employees. My Daddy told me. – "If it takes more than more than you and one more person you are screwing up". Other people may want to work with employees. A lot people out there can get into and do well. We will give them the tools to make it happen.
Q-Was your Dad your biggest BBQ influence?
MM-Definitely. On how to BBQ yes he was. Most definitely. For the actual teaching of competition style BBQ it would have to be Pat Burke of Murphysboro ILL. He was my biggest competition BBQ influence. He is the other half with Apple City BBQ Gang with Mike Mills.
Q-Do you realize that could possibly be accountable for a lot of muffin tin sales in North America?
MM- I do a lot of contests and 3-4 schools I always try to improve. You can't keep pitching the same thing every year. What I did last year may not work this year. Your teaching has to change. I experiment at contests. Not at home. Now don't get me wrong I won't do it at $10000 grand prize purse competition but I will at a $2500. You're just not going to get the experiment you need at home. $2500 is still good money but I charge $750.00 for cooking school and I have to give them something new and fresh not the same old thing. This is just one of those things I tried.. If you keep the course or your stuff the same you won't keep winning. You have to constantly change not 180 degrees but you have to keep things fresh.
Q- Whats your opinion on BBQ Judges
MM- The BBQ judges drive what teams do period. At the end of the day actually they are the ones that write your check. Indirectly but they write the scores to get you that check.
Q- What has been your biggest winnings?
MM- $26000 Memphis in May 2001,2004,2007
Q- Whats your favorite Category to cook
MM- Brisket- KCBS,Whole Hog MBN I like cooking whole hog. (chuckling he says that) He is the king of whole hogs.
Myron Whole Hog
Q- Backs or sides Ribs
MM-I do baby backs I can build a nicer box with baby Backs. I know that's opposite from everyone else.
Everyone should use what you know and turn in whichever you are better at.
Q- What was your biggest splurge on yourself after a big check?
MM- I bought a log Splitter. Peach wood stumps are hard. The large stumps can be 20 years old 18-20 inch stumps its great wood. You can bust it with a maul and a wedge and let me tell you that gets real old. I had to take my money so I can bust those up. Best thing I ever bought.
Q- What does it take to garner your respect in BBQ in one of the TLC BBQ Pitmasters Premiere clips you can be seen stating you respect Lee Ann Whippen. That's high praise from you.
MM- This is simply predominantly a man's game. She does just what the guys do. She competes week in and week out. She doesn't ask for favours when she is out -she does the stuff herself. She hauls it around and loads it up just like any man out there.
Now I have seen some of those female teams and they want to wear their manicures and all that hoity toity stuff and then they want the boys to come over to cook for them and do their crap. She doesn't do that. She also wins. She has won some contests. She has my respect because of that.
Overall though it takes somebody that has continued to have success in the business. Not a one shot wonder. Somebody who has had some staying power. Over 5 years at least on top of their game and they keep winning. It's hard to do it and stay fresh. A lot of people come in, and win for the moment. They do very well and then you see them go away it's because they keep trying to do what they did- it just don't work. Too many other people are taking the time and spending the money whether it be from cooking classes or whatever books videos etc and the dollars for the equipment and you just can't keep complacent hoping that what you did 5 years ago works today. It aint gonna happen.
Q-Who is on your cooking team.?
MM- My wife Faye, David Hair (mostly with me) Nick Cochran, Wayne & Sandy Johnson, PJ also goes with me some. Ed Harris is also on the team he cuts my peach wood for me. I think we will see him on an episode.
I've got a Good Crib. I have been very lucky from the time I started in 1996 that the people that I have had working with me I haven't had the same cast of teammates but I have only had good teammates. I never had any slackers. They knew their jobs. They do it out of the fact they want to win.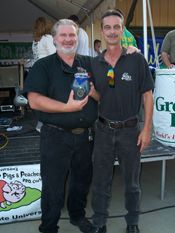 My team have loved to win. These people like to win. You know some people say I take the damn fun out of it but when I am winning I have fun. Even if it is a hobby for you and not what you do for a living every time you win a dollar -a dollar didn't have to come out of your pocket. They don't understand that
I mean I understand the camaraderie and they are looking forward to driving up in their motor homes getting into their little circles and having their little cocktails there is nothing wrong in the world with that.But this is my living. If I want to get drunk and have my friends over I want to do it on my patio beside my pool. I don't have to spend $2 grand to do it. You know what I am saying? You can't be with the party on Friday night and win the contest on Saturday -it does not work like that.
Q- Whats your favourite contest. Its the Big Pig Jig its my own home town Vienna Georgia. it where I got started.
But outside of my own town its the national Capital BBQ Battle
Probably one of the best I have been to. Unique at where the contest it . They close down 8 or 9 blocks of the street. Cooking right on the street right in the middle of it. You are amongst all of the history of your Country right there. That's pretty damn special. Plus now it's a dual MIM and KCBS.
Q- Which competition style do you prefer MIM or KCBS.
MM- My hearts always with Memphis style MIM it was my first love. I enjoy that. Best of both worlds. Blind plus on site. You have a lot of teams from KCBS now that say MIM is just too expensive. Now don't be telling me that if you are stepping out of your $300- $400000 Motor home. I don't want to hear that shit that's no excuse. Now you have some kcbs teams who used to call it a dog and pony show that have done the duals and they enjoy it with the interaction with the judges.
Q- Have you ever been to Canada?
MM-We went to Whistler. To do that contest. 2007. Dusty's bar and grill. Gorgeous Place. The restaurant, the decor – they spent some serious dollars there. It's the best looking BBQ restaurant I have ever seen. (High praise from Myron)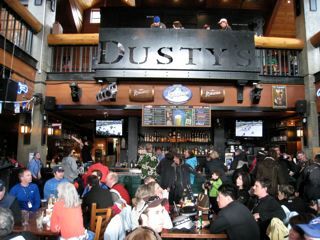 The outside has a steel sign they took and cut the words out. It's pretty damn nice.
Internationally I'd like to go to the WBA out of Switzerland I would love to go do some of those events. Schedule a couple of years ahead and set up. My schedule now is so damn hectic. I wouldn't want to sacrifice my own schools here- it would have to be feasible.
Q-Do your kids plan on continuing your BBQ legacy?
MM- On kid is in college and one in pharmacy school. No interest in continuing my BBQ legacy. Hell No. It's too much hard work. Hell no. I don't want them to have to work this hard.
I really don't want them to. Most kids don't work hard like this. Most kids aint gonna work like this. Like Lexington BBQ up there in North Carolina and they are showing the whole hog BBQ . Its all old folks.
(Myron really took a level of seriousness at this point of the conversation he has so much respect talking about this) Shoveling the coals is unique- it's good BBQ. It's not like it is today where you have to throw a couple of sticks in then you go off and have you a drink of coca cola. That isn't the way it is. It is very tedious. You can over fire it. You can fire up the whole bunch. It's very skilled. But it's very hard. That's why you don't see anybody doing it like that anymore.
Q-Was that a part of the reason that you agreed to do the documentary with John Markus? So there would be a record of your legacy?
MM-That had a lot to do with it. I wanted a record of what my Dad showed me.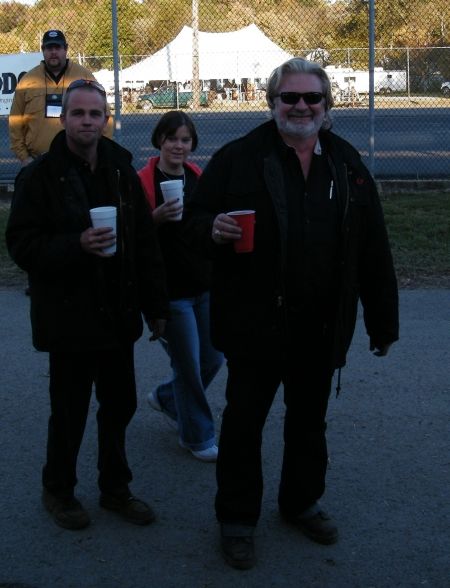 Q- How did you get involved with filming and becoming a cast member for TLC BBQ Pitmasters?
MM-Well John and I were going to hang out at the Harpoon BBQ festival. We had planned it already. This had been a plan of Johns for 3 or 4 years. Since the last Versus show in Reno he had this idea for a BBQ reality show. I was coming up to spend the weekend with John.
Jay Petersen had moved on and hooked up the production company (Original Media) and wanted John to come in and pitch it. He asked if they could shoot some sizzlers reels and would I mind doing some. They sent out a film crew – a camera guy and a producer and I would talk -it just went from there. Then they went off to other cooks and made some more. They made it happen. They made it happen really fast. This was July 2009 and we were filming the first show in Labour Day (Sept 1) pretty darn quick.
These people made their mind up to do it-they didn't play around.
Q-Have you seen any comments about the show …do you care?
I don't give two shits. It is what it is. Raise hell about my damn mouth and all that shit. They need to get real. Ever damn contest you ever been around has some cussing. The thing about it is if they are going to be honest with themselves they could do a lot worse than curse. There are a lot worse things that have happened at a contest. If I can get by and cussing is my worst deal I am happy.
Q-Do you talk to your Momma with that mouth?
MM-Oh I don't talk to my Momma like that with my damn mouth. She would bear down on my ass.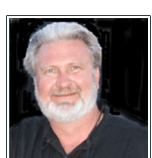 Q-Do you let anyone else touch your competition meat?
MM- As far as the injections and making up stuff I do all of that the pre-prep I do all that. In KCBS I do all of it. In MIM I got some guys that will inject the hogs and shoulders and stuff but they do what I tell them to do. As far as the sauces and everything else (rubs injections) that's strictly me I do every bit of that hands on.
Q-What's you first comp for 2010.
MM-Sebring FLA January FBA
Lakeland (KCBS)
Q-What's your take on garnish ?
MM-I don't feel it's necessary but you have too many teams (that like it) because that is one of their plusses in this game. It aint going anywhere. The damn board members can see that it's not going to happen. You better damn make sure if your meat is not perfect and tastes like crap that you are getting 8 or 9's in appearance. It should be a given. It better look the best it ought to be. Straight out of the gate it better get an 8 or 9.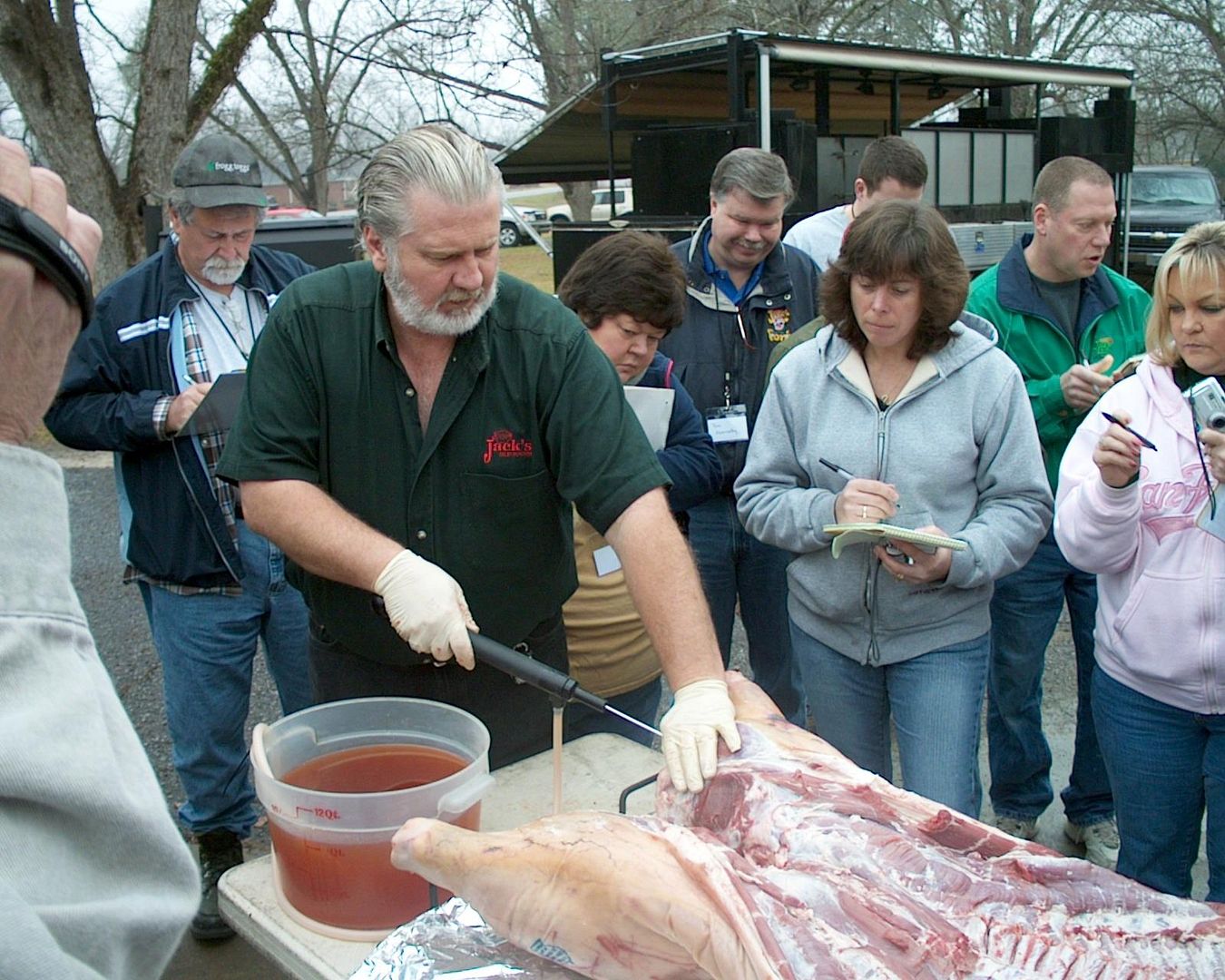 Q- Are you endorsing anyone who is running for the
KCBS
BOD?
MM- I try to stay out of the damn politics. I don't want to be drawn into it. I have enough problems keeping my own ass out of the fire. And with my own mouth. No I would not endorse anyone.
I wouldn't wish that shit on nobody. Not even my enemies it may seem glamorous and fun I was county commissioner for 6 years and I think they go in having these big hopes and plans on how they can change things that don't happen unless you get the rest of them to go along. They are too damn entrenched set in their own personal agendas. That's just the way it is.
Honestly how much has changed since the last time. We are supposed to have all this camaraderie and holding hands singing Kumbaya. It ain't happening. Whatever it is- it's the same thing own personal agendas. It doesn't matter whether it's the boardroom of KCBS or any other organization it's got its own little insights. It could be the same discussion about Coca cola or Colonial bread it's all the same its still infighting. It just happens to be about BBQ.
Q- Favorite BBQ food to to eat.
MM-Brisket. I have been around it so damn long with pork (hogs shoulders) it's still great but I don't want to eat it. Then chicken and BBQ turkey or smoked turkey.
Q- Favorite Drink on the road.
MM-Crown Royal and damn water. If we ever invaded Canada I want to invade the distillery.
2 years ago I was at the Jack we were RGC I was up at the stage and I had had quite a few cause we had had a great weekend vending I wasn't really giving a shit about the contest because win or not i had made some good money . I was hollering and cheering on the asses of the Canadians. Yelling Jack Daniels sucks and long live Canada. I had my blue bag in my hand (crown royal) Now I love the crown. I can spot crown out cause I drink it with water. I don't be mixing it. On ice or water I can tell if its crown.
I need to get Crown Royal to sponsor me. Every crown deserves a King and I am that.
Q- What do you think the biggest misconception about you is?
MM-They think I am a mean son of a bitch or I am arrogant. Which I aint.
Anyone who does this on a week in and out basis anybody has started on winning and peddling their own stuff (shirts rubs etc) have got egos. They are proud of their accomplishments. That's just the tip of the iceberg, In this game if you don't blow your own horn there ain't for damn sure nobody going to do it for you.
I am not a hardass for damn sure, if I was I wouldn't have helped people in the past. I mean anyone in this who says they have not been helped in BBQ is telling a damn lie. I have been helped. If I didn't want to help anyone I would not do the cooking schools I would be keeping it all to myself. But I pass it on it's just not for damn free. I wouldn't knock it if someone wants to give it away for free it's their loss. I mean if the people who are giving it away for free were landscapers I would like them to give it away for free and come landscape my damn yard for free.
This is what I do for a living. It aint free. They need to pay.
I am a big old teddy bear. (chuckling)
When the situation calls for it of course I can be a hardass. I mean everybody watching the show thinking that I am like that all the time- I damn am not. Comments are just that. When you are in the tent you have the pressure in your own site. I was wired for sound and video. The thing is I don't give a shit who heard me or who is hearing me. They aint going to kill me for cussing, and at the end of the day in 100 years who's really going to give a shit.
Q- What's your first memory of cooking with your Daddy?
MM-I didn't want to do it. He was working our asses off me and my brother. I was probably 12 yrs old. He had these two big old fire barrels and you had to keep them filled to get the coals to be able to keep them shoveled hot to fill the pit.
There was as much a job to keep those fire barrels filled as it was to shovel it into the pit and cooking. I remember he was sitting on a 5 gallon bucket (I'll never forget it) and he would walk up (we had tin across the tops of the pits) and run his had (just his hand no probes or thermometers)on the tin and he would tell us to get off our asses get over there and fire those pits.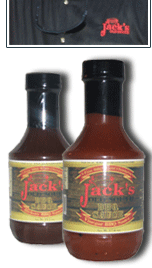 There were 3 big sections. We had to do that every 20 minutes or less. We had steel handles on these shovels and they were hot. 10 ft long sliding into the fire barrel so damn hot -trying to keep yourself from burning. If you got too close you would burn yourself getting all blistered. The heat was generating on ya like something fierce. That was my first impression of it. I didn't want to do it. I wasn't going to do this.
In January 1996 he passed away. Back in March 2009 for the documentary with John Markus we opened them up again. The hadn't been fired since he passed. We cleaned some stuff out and cleaned them up where we could cook on them again. We did a whole hog, 16 rib racks. 16 hams. He always cooked hams Full spareribs. He might of cooked a few hogs but for me I had to try just to see if I could do it.
Q- Are you trying to prove something to your Dads legacy?
MM-Pretty much. My Dad was pretty damn tough on us. People think I am hard they don't have a damn clue. Sometimes come around and ask if Jack is around. I tell them now he aint and you better be damn glad he isn't
He would not tolerate a lot of the shit that goes on in my life right now. I am constantly trying to prove I am as good as he is. I know I aint ever going to be as good. And the things that he did. Like the saying Jack of all trades and Master of none. Well my Daddy was the master of them all of them.
He could do anything he wanted to do. I just wanted to do this one part of his life as well as he did… BBQ. I am never going to profess or proclaim to do all the things he did but I want to do this part of it.
Q- Do you think you would ever come out of his shadow?
MM-Yes I think I can some. One thing about the documentary it was a big part of it. I don't think the connection to my Dad was ever known. I wanted to make sure that was told before I got out of this game if I ever do get out of it. I want to give credit where credit is due and that's my Dad and he got me started. That he was something . I don't think he was out there to cast a shadow. I just want them to know how I got started. What drove me to do this.
Q-Who was the first to call you the Man In black?
MM-Ron M. Sylacauga Alabama contest when I walked up to the stage in 1998
Q- How does your wife Faye feel about it all?
MM-She's fine with it. It's what I do for a living. Now it's at the point where she doesn't come out all the time (with exceptions for the Big Pig Jig, the Jack MIM ) to the other 25 or so I go to. She don't make them. She is so busy at her own job. It's hard but I enjoy it. 1300 miles to me in a day is nothing. Anybody else driving forever hauling a pit wouldn't be good- you have to be a diehard BBQ person to keep going.
Q-How many competitions have you competed in this year?
MM-Close to 30
Q- Whats been your favourite part shooting the TLC BBQ Pitmasters Show?
MM-Getting to know some of the teams better
Other than Paul and Harry I knew everyone else.
Johnny I have gotten to know him the last 3 or 4 years. Johnny doesn't try to be funny but his matter of fact Texas one liners tickled my ass.
Tuffy well I got to know him a lot better – he came to my school- that was funny.
Jamie and Pam Geer of Jambo pits. I really enjoyed and getting to be around him. We have a lot in common both of us selling pits. He is a walking damn clown. Funny as heck with his one liners. This guy doesn't have his own damn writers and he is better than Larry the cable guy. (Chuckling) Jamie just remembers all those one liners. He'd bust your damn gut from laughing so much. He is a good guy. Pam his wife -now she's a damn saint. That's about what I would say about my wife Faye too. She puts up with my Bullshit. Pam does that for Jamie.
Paul Petersen -First time I met him he comes across arrogant. He didn't have a damn clue. At the start you wanted to show him what for. Before the series was over I liked Paul. I kind of felt sorry for him because he was lost in this world. It wasn't what he thought it would be. I don't think coming in DAL helped promote his image it ain't going to do that. I am not making fun of him nor would I pity him. He got much better as it went on. That was good for him long term. Made me feel bad for him (not sorry like pity) but sometimes things just don't work out like you think they would have or planned out. I have been down that road myself. I just from personal experience I knew what he was going through. He has to ride that bull out on his own.
Harry Soo- Sleeper in the damn bunch. He wants to come across as a typical novice. That was a hell of a field in Mesquite. This is a whole helluva lot different deal than California. It's one thing to take 4 1st places in a contest in California with 17 teams (and that was one heck of a feat!) but he wasn't going to do that in Mesquite. It's a lot damn harder.
Pat Burke was my big influence.. Pat Burke was the man to beat. I would go to compete against him You don't get better by competing against teams you know you can beat. You get better by going up against better talent.
Kind of like Harry Soo. Nothing to take away from California. It just hasn't had the time that Tennessee has had and Kansas and Missouri etc and it will come along. The Mecaa of BBQ is where the southern and mid west are -its just the way it is. You have to be able to compete against them. He figured it out. He got better as the series went on.
Q-How much exposure do you think the TLC BBQ Pitmasters series will give to competition BBQ?
MM-Best prop BBQ has ever had. Nothing against the other shows. John Markus didn't want to do another festival show. It's been done to death He didn't do it. His vision was a reality show, the interactions amongst themselves, the family the other teams the crowds the organizers and whatever how it actually works. Being on TLC gets it out there to where people will really see it. People in it know about it of course but on the outside they had their eyes opened up to it.
Q- What's your advice to people wanting to start in competition BBQ?
MM- Do research. Take and utilize the available info -you have to wade through it and do what fits for you.
Guys now listen you don't buy a cooker just because it has a lot of chrome and fiddly things on it. Make sure the damn thing cooks right. Make sure it cooks the way you want it. A lot of time guys will buy something on sight. You put some aluminum on there and some diamond plate and they have to have it. Then, right then, they buy it. It's showy enough for them I guess. If it has a motor in it or a rotisserie on it they damn well be sure getting it. I am also not a fan of hotspots I am not smart enough that I remember to move stuff to each side. They make that mistake.
The internet is a good thing but there is so much information. I think the NBBQA Conference seminars are a good thing this year I'll be there. In 1996 there wasn't as much access to this type of information.
When I started out I worked hard I took 2 -1sts and a third. In my own way I studied the Big Pig Jig and walked through. I paid attention to the teams. If they do their homework and their pre work done before they jump in and buy their pit they will shorten their learning curve and the lack of winning money.
Q-What breaks apart teams?
MM-Teams that don't win is what breaks up teams most time. That leads to other shit backbiting to guessing who the leader is. I am just talking about getting calls not gcs. That makes people disband etc.
Q- In your opinion what makes your pits the best?
MM-You cooking above water each has a water steam effect and tenderizing.
Heat evenly no cold or hot spots. No shuffling around.
I can cook all 4 KCBS meats on one pit.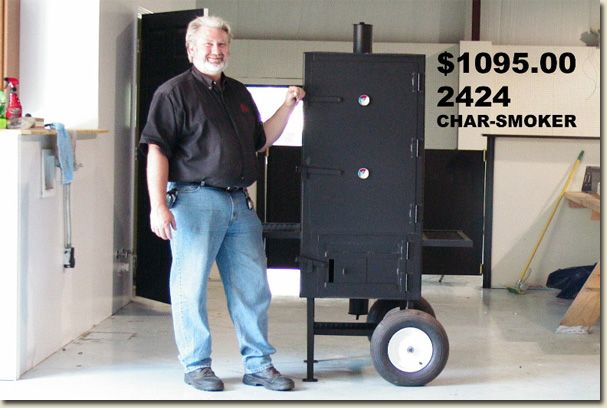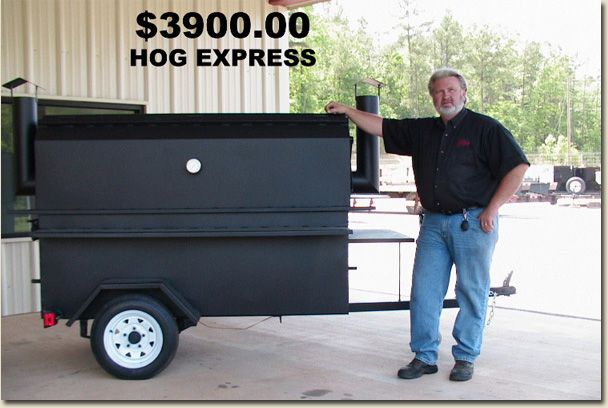 Q-Where are the pits built?
MM-Vienna, Georgia Jim Maxey Fabrication. In 1996 I got my first one that March and I haven't look back. I have never cooked on anything else.
Q- What's your take on Ron Cates announcement Nascar series?
MM-Money man -he is it. I got some in Arkansas (Smoke on the Water 2009 Clinton Presidential Center) and I was glad to get it. (Chuckles LOL)
You know that's the kind of people you need to keep coming up and being innovative because they want to get into organizing. It's no good with cooks sitting around saying you don't have to worry about the money the teams will come anyways. My ass they will. If you have a competition on the same day with $1000 dollar grand and one with a $5000 you go where the money is at .
Ron Cates figured it out early on. He can have his own sanctioning body. He has the money and more.
Q-Does the sanctioning of a competition matter to you whether its
KCBS
,
FBA
,
MIM
or
Cates
?
MM-I would not care as long as the checks are good. His are good. I don't care if it's the kcbs or Ron Cates as long as the money is there. It don't matter to me. BBQ is BBQ. I walk from one to the other FBA Memphis KCBS and if he gets his own sanctioning body I'll go cook it too.
Now here I am speaking to all the KCBS board members from top to bottom they better not be sitting on their asses because of their arrogance if the man right there (Ron Cates) starts his own organization he will put a cramp in their damn style. So they don't need to sit on their asses. They better get used to bending their knees a bit and kissing some asses instead of everyone having to kiss their ass.
Q- What else do you want people to know about you.
MM-I am a matter of fact type of person (understatement) what they see on TV isn't what I am about totally. Anyone who knows me knows it not the case. I would never tell you anything that would hurt you. I see these teams telling new people bad advice to younger teams. I don't know why they do this. To ensure their stature I guess. I would never tell you that. I don't like lying I don't like thieves and I damn well don't like treacherous sons of bitches.
I am not hard to get to know. I may not be as sociable as Tuffy wishing everybody luck like he does. I just don't have time with my schedule. When I roll up to a contest its mid Friday then you are cooking turning in awards then starting back again. I am not stuck up it's just my time schedule doesn't allow me to do that.
The flack I am hearing about the TV show about me is a lot of jealous people I think. I was picked to be on a TV show it just as easily could have been them.They want to sit back on their ass and bitch about why not I. Why not this guy or another. They just didn't get picked.
You should be glad for the ones that did get picked. Be glad mostly for the effects it will have on the whole damn deal- the sales of sauces, pits and rubs and t shirts and everything else. Be glad for it. You are never going to convince all of them. They will bitch about rain if the crops were burning up -no pleasing them all. We need more people to understand that it's good for everyone in BBQ.
Q-Anything new coming out for JOS?
MM-I may be coming out with a new line of muffin tins. (He says chuckling)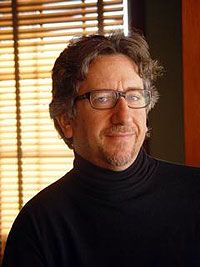 I had the distinct pleasure to interview John Markus Executive Producer of the new
TLC series BBQ Pitmasters
. John is an award winning writer and producer. He has won an Emmy, a Peabody and two Humanitas prizes. His filmography credits include the Cosby Show, The Larry Sanders Show, Taxi, The Facts of Life, The BBQ Championship Series and The All-Star BBQ Showdown. However the award he is most proud of is something given to very few people a- PhB. A PhB is an honorary doctorate of BBQ bestowed upon him by the
KCBS (Kansas City Barbecue Society
), Ardie Davis alter ego Remus Powers. It is the only award in John's home that has its own spotlight, the only one on display ,in its own special frame. It has a place of honor. I asked him where his other awards were. He answered well the Emmy is in the closet and I am not sure where the others are. This certainly endeared him to me with this statement.
He has apprenticed with BBQ legends. He can call Chris Lilly a close personal friend and has competed at the Royal with him many times with the Big Bob Gibson team. He has also learned the ropes from the Baron of Barbecue himself Paul Kirk. He has completed a documentary on the legendary 3 time World Champion Myron Mixon and his BBQ family. He even has his own team Central Pork West. He owns a big green egg, a WSM, a Backwoods, Jedmaster 3660, and a head turning gorgeous Jambo pit. He loves cooking on all of them. To him they all have wonderful strengths. He is well thought of by many of these legends for his honest and sincere and respectful approach to BBQ.
In his own words he says If it wasn't for the quality of the people in BBQ I would not be in it this long. I have met people who are going to be lifelong friends. I am proud to say that I am one of the few Yankees that have been called Bubba.
I had expected to have just a short interview but what evolved was more of an hour long conversation with a BBQ friend. Hearing him describe the show and answering questions was truly inspiring. Just a warning this is the complete and full version of the interview. Just a little over 3600 words. I suggest you get comfortable.
Q How hard was it to pitch the show to the TLC Network since this is such a new concept. This show doesn't involve redoing a house, having multiples of babies or Jon & Kate.
The show was pitched with 5-10 minutes of the Myron Mixon Documentary I had completed just to show an indepth look at what a BBQ person was. Plus some inspired footage of potential candidates it sold the show very quickly.
This is not a staged competition show. This is a docu drama (that's what we call it) this looks at the lives of the people who compete almost full time who are entrenched in the world of competitive BBQ. This is a reality show where there is real reality. I have to give a tremendous amount of credit to TLC for being in the market for doing food. That's how the show came about. TLC was asking how do we do a food show. Their minds were open. Then Original Media (Miami Ink, Stormchasers etc) have brilliant producers who work there – Jay Peterson, Charlie Corwin . They are virtuoso reality producers. They heard my take on the series and got it immediately -and knew where to go with it. They had been talking to some Networks that wanted a food show because they were ready. My first meeting with TLC and Original Media – I just said to them its Man Vs. Meat. That got their ears perked up. Then they were able to go into the world and subculture that is competition BBQ. What had been missing on TV (that TLC and Original Media got) was the idea that this is a passion, an obsession of people who practice something very artisanal. Just like American Chopper was a father & Son show they are building something. They are making something. My passion for this kind of TV is these people have to actually do something and do it well.

Q-How were the candidates chosen
They (the pitmasters Lee Ann Whippen, Johnny Triggs, Myron Mixon, Harry Soo, Paul Petersen, Tuffy Stone, Jamie Geer ) have been chosen as they are highly trained practitioners of this culinary art. To me they are folk heroes.
This is also why I did the documentary about Myron Mixon and his BBQ family . This is someone who lives to create something that pleases people. As Competitive BBQ'ers we understand what it means for people to look at you and say I have never tasted anything like this.
When I cast the show I cast it like I would a drama. I look at my cast as a big jigsaw puzzle. So if you look at the profiles there are 7 totally different types of people. They are different characters. They are comfortable with the cameras. The cameras are with them a week at a time. They are with them at their homes as they prep and then constantly at the competition. You need someone that can be themselves and give us their enthusiasm and eccentric character traits that make them oddball and real at the same time. They all have to be one family. Once I have that- I think I have a show. That's how I will continue to cast the show. I will be putting lines out after the show hoping we get more. We want every color of the rainbow on the show.
Q- How do you think the TLC Pitmasters Series and the "sport" of competitive BBQ will be received by the general public.
I am sure this will sound a bit ego centric here but this is how I envision this. This is my dream and my hopes for the show are that the phones at the KCBS don't stop ringing after this show airs. That anyone who sees it – will see it as being incredibly hard and incredibly challenging but so much damn fun. That they will go and spend whatever they have got on BBQ. I want them to understand that they can do it for a couple of hundred dollars. That they can start with a $200. pit and use Sams Club meat because they can possibly win with it. They don't need to spend $14,000. on a big pit. They can work up to it. That's my hope that people have the doors and windows opened up to a world they never knew existed. A world that looks enticing, that it looks friendly but looks really highly competitive. Plus at the end of the day they have bragging rights that no one can do this like you. All of our passion for the world of BBQ is going into this show.
TLC (to their credit)said to us as we edited this show please put a priority on explaining this world to the people who have never been in it. They are allowing us (and this is a first) to put the process on an equal level with the characters and story development. This is the direction we have been given.
As a comparison to another "reality" food competition- with all due respect to the Iron chefs it's all about pyrotechnics. How do they know how to have micro cilantro around?? This show has actual meat inspectors, actual cookers, actual wood, hail, snow rain sometimes. We have blown out tires; we have destruction, we have teammates not getting along. We have people talking smack. We have people stealing ideas. We have a whole shigging explanation in the series. It happens to one of our cast. It happens to one of our cookers and he gets shigged and someone defines it to him.
Q- What are some of the goals for this show:
I want to bring people (both men & Women) in and want them to be there every week with these pitmasters. Plus also those who are in it already – I want them to be able to watch the show and say we got it. I want to hear from them and their comments. If we missed something I want to hear about. This comes from my personal experience as a competition cooker. Every moment we have been doing we have been cautious not to create scenarios.
Q-Were all of the competitions real or were they fabricated?
They were all real competitions except one. The one competition is not sold as a real competition. This is the Johnny Trigg Invitational shoot out. He got to make the rules and set the stakes. We call him the Godfather. The location was a beautiful Ranch house in Mineral Wells Texas. We brought our 7 pitmasters in and they were judged by Master IBCA judges. This was a rib only contest. Baby Backs and Spares. The twist that we gave the show was something really new. We wanted to open the mystique of judges. We also had a couple of rookie judges come in. We taped their judging and encouraged to have them speak freely right after scoring. To talk openly and honestly about the food they ate. Then we brought in all our cooks and sat them in front of the TV set and showed them the tape. All I can say is that there is a lot of bleeping in that scene. There were some cooks that said they liked this and others who said they never want to see this again.
Q- What were some of the conditions of the competitions like?
When we were in Mesquite someone stuck a thermopen in the pavement it was 134 F That's when they started their cook in that and then it plummeted to 30F and then a huge hail storm rolled in. People were not sleeping, there was massive destruction. There were people pulling off meat at the last minute. Mentally and physically these competitions are really taxing. They require constant focus stamina and attention.
Q- General observations about competitive BBQ'ers
You get to know who is serious. You just need to look around and see who is not drinking. They learn from their mistakes and not personalize the defeat as well as well as their victories. You have a job to do. You can' be cursing judges. It's really all about being level headed and realistic about your gifts and how you get better.
This pursuit is a lifelong art. The learning curve is just years long.
Q- When is your next competition with your own team?
I would like to return to the Hudson Valley Ribfest for 2010.
Q- Who is on your team Central Pork West?
Well regularly, we have a Texan Cowgirl – Nicole Davenport plus Carpenter Bob Allan from the Catskills New York. We also have special appearances by various people who just want to come out and see what it is like.
Q- Why are there no pellet cookers in the series?
It's very simple to explain. The shows primary agenda for me as an exec producer is casting the cooks first and what they cook on second. It's not like I am saying I don't have a show unless there is a pellet cooker on it. In fact I have been keeping my eyes open and I want to show that type of BBQ on the show. I would like to say to everyone out there please get as many people to watch. We need to widen the show and include more demographics. I do have a goal to have a pellet cooker on the show. I would also like to have the debate of the pellet vs. other pits debate. There will ultimately be a pellet cooker on the show.
Pellet cookers are out there and they are winning and they are a legitimate part of BBQ.
Q- What was the pace of shooting the show:
As way of an explanation this show came together came at a breakneck pace. I have never worked on a project this fast. It's very rare in TV that the planets line up as they did for this show.
When I sat in the Man vs. Meat pitch meeting it was only 2 days later when TLC said they wanted this. With Original Medias help 5 camera crews fanned out into America to go meet everybody you see on the show. Two were in Virginia, two in Texas, one in Georgia and one in California. All of it in 6 weeks.
Carolyn Wells brought me Harry Soo and Slap Yo Daddy. Carol and I have had a long friendship since the first show I did. I don't think I am having a show until I tell Carolyn Wells. She is a very close friend and a very trusted friend and a real good eye about this world. She said John I don't know if you are done but there is one piece of your puzzle I want to help you with. This was prior to them coming out on the front page of the Bullsheet. They have proven a bounty of scenes and a really inspiring struggle. To be Champs in California and then come into that circuit was a challenge. They come into it still working on their flavour profile still struggling and then they slowly get better and better.
Q-What are some Highlights you can share from the episodes (this is from Episode #2)
We have all of these KCBS cookers come into an MBN contest. Johnny Triggs tok me aside right away and said he wasn't doing a dog and pony show. He did it though. Murphysboro is an extremely challenging contest. It is tough. Mr Triggs put up a little bit of a fuss in the cooks meeting about the tightness of the schedule. We did have somebody from that meeting who was a bit upset about the people who were new to the MBN who wanted changes to the schedule. One of those people (who was under the influence) confronted Mr. Triggs and it got a bit dicey. It happened on its own but we were lucky to be there to film it.
Q- Did you find since this is not scripted that you had enough interesting moments captured.
You have the comedy and drama built into these shows. When you are writing a script of the show you have to show the choices and the resolutions. Obstacles, choices and resolutions are part of any real drama or comedy show. As a competitive BBQ team I have had the disasters and the fighting with teammates and I have made mistakes. So they naturally occurred. There is a mistake made in Kansas. I was watching the rough cut of the first reel in Kansas and the great Tuffy Stone makes a mistake. I won't go into more details. Things have naturally unfolded in the show.
It also helps to include a rookie (Paul Petersen) out of Texas. He has gotten a lot of glowing reviews at his steak house and decided with his minimal BBQ experience he could come in and teach these masters a lesson. He is a great chef. I have had a couple of meals at Rick's Chophouse in McKinney Texas. He can really knock your socks off with a several course meal of steak and a great vegetable and wonderful dessert. He has learned (as Johnny Triggs told him) BBQ is not that. It really exercises a different set of muscles of cooking. We like seeing this happen. People at home may think it's a simple thing. Thinking that may kick you in the butt.
Q-Unknown facts about the show. Are there any surprises?
John Markus is in the show for every episode.
During an early discussion with the executives with TLC there was a conversation about how to get the world of BBQ across to people who don't know anything about it. There are so many subtleties to competition bbq as well as the art itself of cooking low and slow. TLC found a couple elements of the show a tad confusing and not properly explained. One of the execs during the conference call said we need somebody with the enthusiasm and the validity to narrate it. That's when the name John Markus came up. They all agreed it was a good idea to have him explain. None of them knew that I was on the call with the executives.
Looking back from episode #6 we tried to give color and explanations on behaviours and strategies and dilemmas I provided this commentary. I am in every show. I help bring people into the tent and to be their BBQ Ambassador to the world. They were editing me in the show and they asked how would I like to be listed..Award Winning Competition Cook, Certified Judge, but what I really wanted them to list me is that I have received the order of the Magic Mop. They asked to leave that out since no one will know what it means. If we do enough of these shows I will make sure they know what the Order of the Magic Mop is. I also have the dream to show Ardie Davis to confer on some recipient the Order. I explained to them it's like you are in England and you are knighted. They still want to wait to put it in the shows listing..
Additionally I would like to show is Remus Powers administering the judge's oath. He is a figure that looms large in competition BBQ.
Q- Which competition was your favourite?
I am a huge fan of the American Royal. I cooked it for many years with the Big Bob Gibson Team. I love the Big Pig Jig in Vienna Georgia. It is truly an old world BBQ contest it brings you back in time. It is not mobbed with people. It is very charming and very traditional.
Truthfully this is going to sound like showbiz prostitution. I like them all. I like them all because when you show up at the contest and you get that tingle when you arrive. When our cameras and tents arrived it was equally exciting every time. They all hold surprises. The traditional ones I love but these new ones I love too. I really like the Murphysborough contest for its daunting challenge, its location and for Amy & Mike Mills. True BBQ Royalty. That in itself captures the spirit of BBQ. The Royal for the spectacle. Dover for its great location. I just liked them all.
Q-What were some challenges for the show-
One of the difficulties of this show is that there are fantastic elements that are not going to be shown. We go in with 150 hours of tape and have to cut it down to 44 minutes. We have to find 44 minutes of story for the show. Some of our cast are not in each show. There will shows where you will go "where is Jamie Geer?" Then there will be a show though of this gorgeous Jambo pit and builder. Then there are people that have shot for us that are unfortunately not going to make it into the show.
Q-Who does the editing for the show?
Brian Catalina co-executive producer (show runner) produced the first season of Deadliest Catch. He really has the credentials of this task. He has marshalled armies of video and audio crew to get the ballet of the shot. Brian is masterful and he is strapped to the wheel. We have teams of editors who he commands. They begin to sift through everything. Bryan and I give them story lines on index cards for them to hunt down and find moments that service the story line. They all come from the world of reality television. (Survivor, Deadliest catch etc) They are really well schooled in finding these moments.
I see things in a rough cut, to a fine cut to a locked in cut. I don't get to see everything personally I get these great surprises when I see these videos. They are really skilled shooters and audio people to get it. I have become very impressed at the level of skill and resourcefulness that these reality crews have. They are up all night, with garbage bags covering their heads in bad weather continuing to get the shot…. really they are underpaid. They give us their all. I am going to make sure on the day it premieres they will be eating Gourmet BBQ even if I have to cook it myself. I am moved by their commitment to this.
Brian has gone from knowing nothing about this world to bringing a thermal carryon bag and taking home BBQ leftovers. Everyone is getting a true immersion to this world. They all love it. They can't stop talking about it. Everybody wants to talk about how talented and funny (the pitmasters) they are and how great their food is. That makes me feel so good inside. That a world they knew nothing about 6 weeks ago they now live. I also know some of these people will be competing.
Q- Why do you think at this point BBQ becoming more popular?
I think with the past year and a half the economy and the challenges we all face – BBQ represents a return a visceral comfort and simplicity of our approach to things. It is humble food and it is honest food. It really lands on several levels with people. It is also something you can do with your hands. With all of this falling down around you it is one of the things that can bring you joy. It can be done without a great deal of expense or sacrifice. I think the timing is right. It brings people together.
Q- What does BBQ mean to you personally?
BBQ is the elevation of something simple and humble to greatness. It unites people. It's community.
_______________________________________________________________________
Originally I had thought to cut this interview way down to a much more manageable amount of words however the more I read what John has to say the more I wanted to include it all. I hope you agree.
Much thanks to Dustin Smith Director of Publicity TLC and to John Markus Executive Producer BBQ Pitmasters series for his generosity in doing this interview.
.