Posts Tagged 'Myron Mixon'
Tonight on the BBQ Central Radio Show with Greg Rempe – MYRON Mixon.

The Man in Black himself will be on the show.


I have no doubt tonight will be a great listen.
Out of all the characters on the TLC BBQ Pitmasters show it is her that I relate to most. Her struggles as a Mom, Restaurant owner and competitor resonate with me. Being a female in a male dominated sport is incredibly difficult and challenging. We face a lot of unnecessary comments on our actual abilities. We get questioned and doubted despite our results. Rarely does the hard work get acknowledged by others.  However I believe that our focus and determination excels with each challenged faced and ultimately conquered.  Garnering respect is an uphill battle.
I would not let her smile, blond hair and demeanour fool you. She doesn't want your chivalry. Reality is – she really doesn't need it. She can haul her own pit set up her own site and do it all herself. Behind her beautiful appearance is a sharp, knowledgeable woman who knows how to fiercely compete, and she will do just about anything to beat your ass…
D-How did you learn how to BBQ?
LA-It has been a combination self taught and from my father Jim Tabb . I have competed almost my entire life without my Dad. He's a great guy. This doesn't take anything away from how much I love and respect him.  However he is not responsible for my competition accomplishments.
D-Favorite thing to cook on a BBQ?
LA-I used to hate to cook brisket and now it's turned into my favorite now. Because it's challenging.
It changes with the trends and challenges of whatever category and then it becomes my favourite item. It's never cooking the same thing the same way. Once you achieve and conquer then you move on to the next category.
D- What's the farthest you have traveled for a BBQ competition?
LA-Mesquite NV took 4 -12 hour days I don't think it can get much further than that.
D-How did you like Mesquite?
LA- The weather sucked. It was horrible dry hot and dry. I hate cooking in heat. The event itself was tremendously run. The caliber of teams was great and overall very well organized. If it wasn't for the trek I would go back.
D- What have been some of the challenges of doing the show?
LA- Aside from the time away – my trailer. I had to get new tires and new brakes just for Mesquite. I had the tires delivered to the site and had to get them on.  The trailer is  24 ft long. The pit (jedmaster) weighs a lot. It has a full kitchen with grey water tanks and of course all the rest of the equipment.
Jamie Geer advised me -I think your axles are off with the trailer. It will cost me close to $3000.00 to get it fixed and redone before the next long trek. I knew something was not right. When I am vending I am carrying tons of meat I am filled to the brim. I kept blowing tires. Overall I have had it for 7 years.
D-What are some of the challenges of being female at competitions-?
LA-Being a female I hate asking anyone for help. For example it's always a challenge backing up my trailer- I mean I will tell them thanks for being a gentleman but let me do it. I refuse to let them do it. I will back it up 50,000 times before I will ask.
D-Why do you think there are so few females in competitive BBQ?
LA-IF you look at these guys. It's like the guys getting together doing the guy thing. I think a lot of the guys -for them- it's an excuse to get out. Also I know from the aspect of doing catering and business in itself and it's a really heavy- lifting dirty job. A lot of women don't have any desire to do it. Cleaning pits is messy. For the women that are with the men they tend to do the dishes and the boxes. They seem to be content with that.
D-Do you think this show will change the impression of female competitive BBQ'ers?
LA-I don't really think so. Typically it's still the guys that come up and discuss BBQ. Women will come up and say go get em' girl more like a cheerleader.
When I was younger I was begging guys to let me cook with them. Just so I could learn. I have never had a woman come up to me and ask to cook with me. I can't put my finger on it completely. I just can't explain it.
I don't compete a lot but I think that women are more focused. They don't get as involved in the partying aspect. You have to know better.  The guys just sometimes get on the party trek maybe from peer pressure. Maybe it's the man thing the guys trying to outdo each other with drinks.
I don't start drinking more than maybe 1 or 2 for the whole night- until its 1:35pm and turn ins are done.  Then the tequila can come out. Not before.
I am seriously focused. I'll tell my staff if we are vending and competing from this time to this time stay the hell out of my way. I don't mean to be mean and I just want to concentrate and focus. Period. You spend money to be there. You don't want to screw up.
D- What do you think of some of the comments thrown your way?
LA- It surprises me sometimes what happens. I hear comments that the contests are fixed if I win. That is just a sorry bunch of crap. Its just crap talk.
Maybe they are scared about women winning.
D- Which competition was the most challenging from the series?
LA- Murphysboro was the most difficult. It had different turn in times for KCBS and MIM. It took me 2 hours to work out a time line for it.   Myron excells at it. He was the most experienced at that even in MIM.  However in KCBS – I did well. They are probably not going to show that. Myron is spectacular on TV.  It was an awesome experience. I would do it again for the challenge because I am so competitive. Took me out of my comfort zone.
D- How did you get involved with the show?
LA- I did the Versus show. John Markus called my Dad and got my number or maybe through Carolyn Wells. Also having prior experience with the Food Network they can see I am really serious about BBQ. On my phone even there is a box of sliced brisket instead of my children.
D- How many children do you have?
LA- 2 girls- 19 yr old in college and my 10 yr old who came with me to 3 events. She will be the one that takes over someday. I feel bad sometimes due to the time I am away from them. My photo albums are full of competitions  pictures.  Not enough pictures of my children. It is very difficult to juggle it all. Being a single mom is hard as heck. I worry about my 19 yr old -with her gone. My youngest will be 11 this year and she comes with me to work. She goes to school then she comes to the restaurant. She is occupied here and I try to get out at a reasonable time. I have to support myself and my family. I have to share the devotion to the business and to them. I live with the guilt every day that I may not be doing enough. My kids are both extremely independent.  For my youngest she doesn't think a whole lot about her Mom being on TV. It's just her personality. She is really mature. It's just normal for her.
D- What about your boyfriend Billy? Does he help you?
LA-He (Billy) made it through 5 episodes he became enthralled about competition BBQ but after 3 years we went our separate ways. I won't say the show had anything to do with it. It was just time.
D- What was your very first pit you took to your first competition?
LA- My first pit was my Dad's Oklahoma Joe. The first competition was in 1996 competing  in a Georgia state competition.  At that time I had just been through the judging school. Then I had WSMS along the way.
The big investment was the jedmaster on the trailer in 2002.  I was practicing a lot- I did not know how I was going to handle the pit for its first  competition in Bel Air Maryland and I ended up getting a RGC.
Over the years I have brought the bullet back in and the Big Green eggs came in due to Billy and its just part of the Artillery.
D- How much meat do you cook for a comp?
LA-  I am famous for cooking way too much meat. (she laughs when she says ) Typically for a contest 6-8 butts,2-3 briskets, 16 pieces chicken, 8 racks ribs both backs and spares . I believe in safety in numbers. I have the luxury of bringing it back to the restaurant for my staff to eat.
D- What has been your favorite contest?
LA– Danville VA, is great as well as Chesapeake Jubilee VA because it's a really nice event and everyone will attest it is really well organized right from the very first year. Well run. Home turf and lots of friends and family that's what it's about.
D- What was your favorite part about the series?
LA-Camaraderie -the whole group became so tight. Just like a family. I have this emptiness now a bit because we were really getting to know each other- due to the stress levels and the environment and how hard we all worked. We all hope overall will come out great for BBQ.
I really hope that this brings some of those corporate sponsors in and awareness about what we do. Overall we have become such good friends. No one seemed to be singled out. We were all so different. Plus the crew – Wow they were with us day in and day out. Shooting the last show and going to the goodbye party was difficult. It was really like walking away from family.
One of the nicest things that happened involved Myron Mixon.  I have a high respect for him.
I had won in Mesquite 2nd in dessert 2nd in steak.  SO here I was with these trophy cutting boards. I thought it would be nice if everyone from the show signed it:
Myron wrote:
Dear Lee Ann –You are the hardest working woman in BBQ. That meant so much to me. I work so hard and to have it acknowledged is great.
Wood Chicks Sauces and rubs are available on their website.
You can also become a Wood Chicks Facebook Fan
John's Markus article in National Lampoon about Lee Ann

Just a reminder its Thursday!! TLC BBQ Pitmasters on tonight at 9pmC 10EST
BBQ Pitmasters
Diamond State BBQ
TV-14 (L), CC
The competition heats up in the northeast, even as temperatures fall at the Diamond State BBQ Championship in Dover, DE. Harry's former teammate, Gary, competes on his own and Tuffy does Myron a favor, which could end up hurting his own chances.

From the JOS Facebook Fan page great news ! Myron Mixon will be on the Late Late Show with Craig Ferguson. Episode will air Wednesday January 27,2010

Tonights Episode will cover the American Royal Open  10pm EST on TLC
Just in time some great BBQ Side dish recipes posted
Well its a great night to be interested in BBQ!
First up at -9pm EST there is the BBQ Central Show
Tonights Live Episode will feature David Bouska from Butcher BBQ.
David is a really great guy. I speak from personal experience. He is an incredible BBQ'er and a terrific asset to the entire BBQ community. His team Butchers BBQ came in 7th on the TOY listings for the KCBS. He is a smart business man and his products are top notch.

I am looking forward to listening to this episode.
Additionally tonight on Jay Leno – Myron Mixon will be making an appearance. Very excited to see a fellow competitive BBQ'er on National TV. Looking forward to seeing if they have to use the Bleeps much.

Just a reminder for tonight NEW Episode TLC BBQ Pitmasters -

30th Annual American Royal/KC Masterpiece Invitational Contest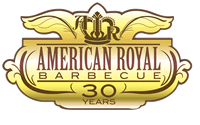 Some new teaser videos from TLC :
Chris Lilly Discusses his chicken for the Invitational. His Chicken came in 42nd

Tuffy makes a mistake (his pork still managed to come in 7th)
BBQ Pitmasters
American Royal Invitational Barbecue
TV-PG (L), CC
10pms EST 9pm C
Stakes are high when the best cook teams in the country are invited to the American Royal Invitational in Kansas City, Missouri. Myron faces his biggest rival on the circuit, restaurateur Chris Lilly. When Rookie Paul begs for help from pro Johnny Trigg.
The American Royal Invitational Qualifying Criteria:
Only Grand Champions are invited. No pass downs are accepted.

Invitations will be extended to the qualified team name/head cook combination. Should the team name or head cook change after qualifying, the team must enter the American Royal Invitational under the qualifying team name/head cook combination. Should the same head cook have qualified with more than one team, he/she may enter the American Royal/KC Masterpiece Invitational Contest only one time.

An invitation will be mailed from the American Royal to the qualifiers in mid August with a deadline for returning the application by September 1st. If an invitational team would like to also compete in the Open Contest, it is MANDATORY for that team to complete the Open Application ahead of time so a space can be reserved.

Qualifying Contests Include:

·Contests with a "qualifying state championship." A state championship is a contest with a state proclamation signed by the Governor with at least 15 competing teams the first year and 25 competing teams each subsequent year.

·Contests with a minimum of 50 competing teams are qualifiers and do not require a "state championship" proclamation.

·A state with only one contest must have a minimum of 15 competing teams to be considered but does not require a "state championship" proclamation.

To be considered a "competing team," teams must submit entries for all contest categories required to be the grand champion or overall winner of that event.

Automatic Entries Go To:

*Grand Champion of previous year's American Royal Open Contest

*Grand Champions of previous five (5) year's American Royal/KC Masterpiece Invitational Contest

*Grand Champion of previous year's Annual Jack Daniel's World Championship Invitational Barbecue

*Grand Champion of current year's Memphis in May World Championship Barbecue Contest

*Grand Champion of current year's Houston Livestock Show & Rodeo World Championship Bar-B-Que Contest

Exceptions to any of the above criteria must be approved in advance by the contest organizer.
Results from the American Royal Invitational OVERall results:
Cool Smoke 3rd
Wood Chicks 25th
Smokin Triggers 40th
Jacks Old SOuth 73rd
I can't wait~!!!
Its a New Year !!! All the best to you and yours!`
Well 2010 is shaping up already to be the busiest I have ever had. In one month I`ll be driving down to Memphis for the
NBBQA Conference
. I can`t wait t see some of my dear BBQ friends and to make another BBQ crawl. I`ll be eating a whole lotta salads between now and then (as soon as today is over) . It will be pure protein overload for sure. Additionally I will be attending the Myron Mixon class. Unfortunately due to time constraints his whole hog prep is not available. I'll have to pick that up on another time.
Then in just a few months we will be off for the first competition of the year
Smoke on the water
in Little Rock Arkansas. This time however instead of flying down we will be driving. That should be an interesting weekend for sure. Its being called the worlds richest contest – $100,000 is a lot of money. I have been trying a few new things practicing for this competition ahead of time. I hope to do better this year.
Our
schedule
is getting rapidly filled up for 2010 already. It will be an awesome year for BBQ.
To start my year off right I am taking an idea from Huck JR and Huck Sr. I did a radio interview with them on their show Hucks Hut a while back and they were talking about their New Years traditions.
They mentioned their love of black eyed peas cooked forever with pork and greens. Sounded great to me so I researched a bit on the net about this Southern tradition.
Wiki
has an interesting write up about this as does
about.com
.
One of my New Years resolutions is to stop running out to buy every ingredient if I am missing a few and substitute with what I already have. So I had the peas but what about the rest? A quick check of my freezers and cold room gave me some decent substitutions. I had bacon, chorizo, onions, lots of spices and I had a package of fresh baby spinach to substitute for the collard greens.
So here it is my homage to this lovely Southern tradition. Its goodness in a bowl. Comforting for a snow filled New Years day and delicious.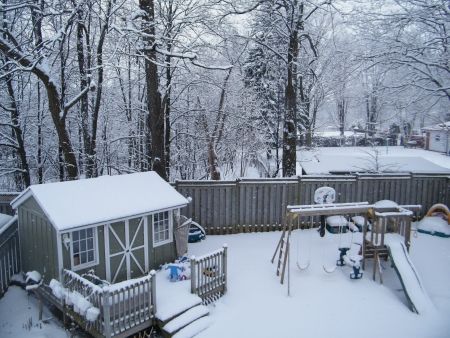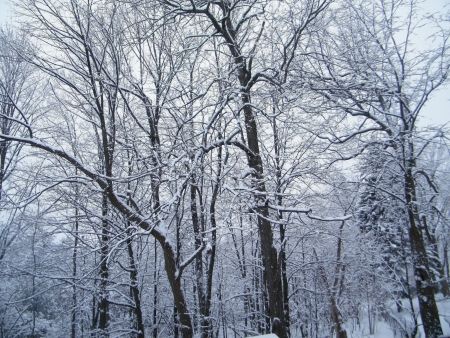 Heres the beautiful chorizo I have. I love chorizo. I love the way the oils and paprika ooze out of it when cooking. So flavorful.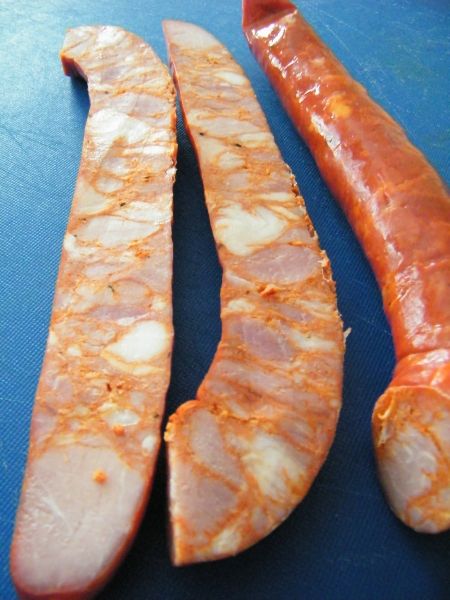 Chopped up the chorizo, a pound of bacon, and some onions.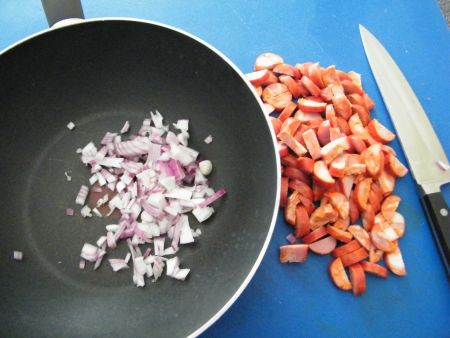 Peas got started yesterday, my advice to you is boil them forever but no salt in the pot till after they are tender. I do one fast boil, then change the water and another slower simmer. I also reserve the liquid from the second boil to add back in.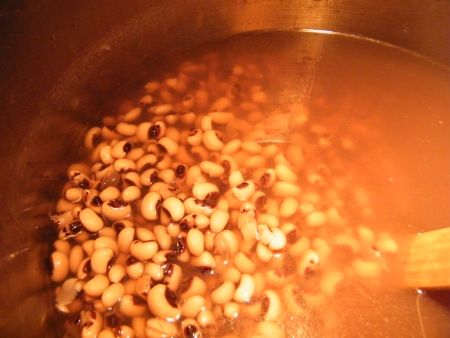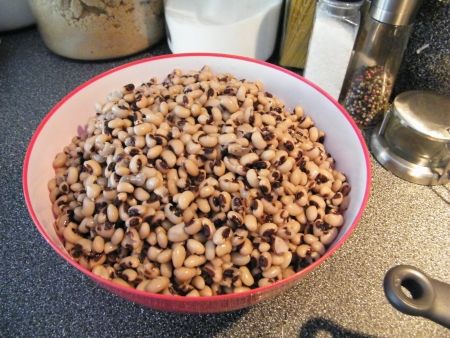 I fried up the chorizo onions and bacon together. MMM whole house smells great.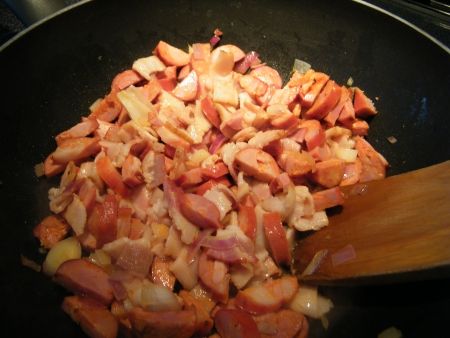 After this throw everything back into the pot. I added some salt, pepper, vegeta, dried chives, parsley as well as some celery salt. The amounts are up to you. This isn't a recipe. This is just using what I had around the house. Lastly I added the spinach. Just to wilt it. We served it up and everyone enjoyed our new favorite New Years tradition.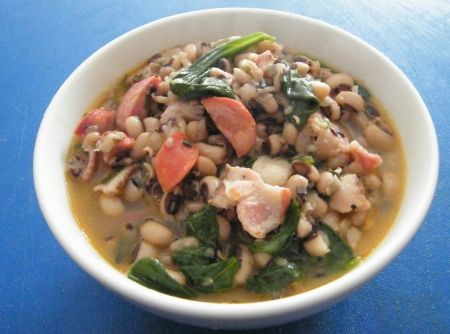 Day 20-25 Days of BBQ Blogging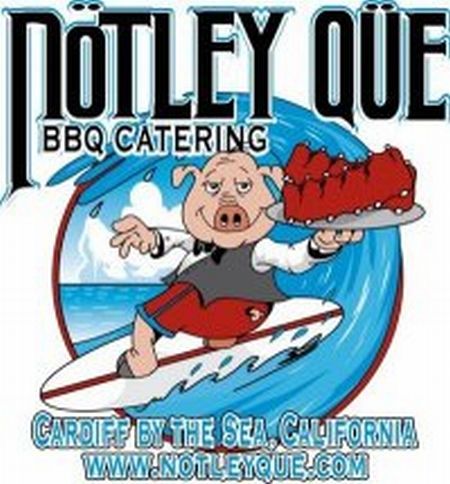 Gary was a fun guy to talk with. He really got a behind the scenes look at the whole show. He was the roadie for
Harry Soo`s Slap yo Daddy team
. He loved doing it and its clear he would do it again. I liked the perspective he has on a lot of the things from the show. I also know he is a straight talking rocking it out sort of guy that does not mince words. Whether it be on the
BBQ Brethren
forum where he posts or in an interview he says exactly what he thinks. He doe not edit out his thoughts.
He is a caterer to the stars. Located in Southern California he regularly caters TV shows, concert tour riders, and many other occasions with his outstanding BBQ. Additionally he competes as well with his own team
Notley Que.
I have a standing invitation to come cook with him at
Stagecoach
. I hope to get over there in the next couple of years.
Q- How did you meet Harry and get involved with him on the TLC BBQ Pitmasters?
GN- I first met Harry at a BBQ competition and we became friends from that moment. I am truly his biggest fan. Harry and I have worked together a few times. He was helping me out on a catering gig and he tells me about the TLC show. He was unsure of how he was going to get his stuff everywhere. So I told him I am not working (at a Company) right now. I can put my catering on hold. However I did ask him if an emergency arises- you fly me home. We worked it out and it just ended up being an awesome experience. Things are meant to happen for a reason. This was a once in a lifetime opportunity.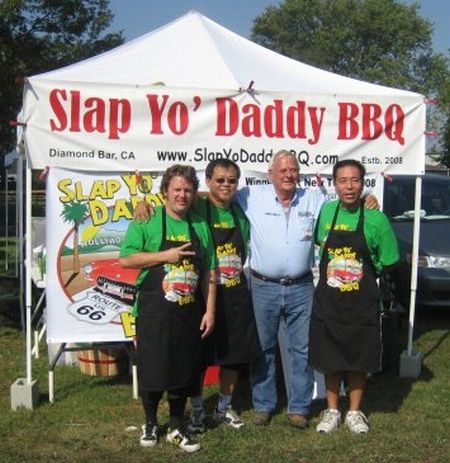 Q- How many miles did you drive Harry Soo's stuff?
GN-I drove just over 10,000 miles – from Mesquite NV class to where we ended at Myrons class. I didn't have time for special trips other than a trip up to Chicago when we were heading to Murphysboro to visit with my friend from Anthrax.
Q- What was your favorite contest out of all of them?
GN- It would have to be Dover because I cooked that one. However the most fun was Murphysboro. It was my first introduction to MIM style of cooking and I fell in love with that.
Q- What have you thought of some of the comments on the TLC BBQ Pitmasters show from the BBQ forums?
GN- It's not about just the best cooks. You have to be interesting. Reading about the complaints annoys me. First of all it's a TV show. It's not about every team out there. For example-I have no interest in wedding cakes or anything to do with cake but I love this show cake boss because it has nothing to do with the cake- but the people. Just like on this show- it is about the characters and BBQ. It keeps me interested. What we do is kind of boring (i.e.-watching a 16 hour brisket) and repetitive, however the people are what makes it interesting.
Q-Do you think Harry taught the other competitors anything?
GN- I can tell you this that Harry was able to show Jamie and Johnny something but I don't want to give it away. There are a lot of things competitive BBQ'ers could learn if they carefully watch the show.
Q-Do you think you learned anything from doing the show?
GN- Absolutely. There were lots of opportunities to learn. I did pick up a new cuisinart electric knife. I also liked learning of some of the stories on how to recover my meat. There are lots of tips and tricks you can learn from the show.
Q- How do you feel about Harry?
GN- Harry is the IT guy where everything is 123, abc. He is so smart. I think he is a terrific person. I would drop anything to help him out. He calls me his best BBQ brother. There have been some times were he has shared life wisdom. He makes me think of things. He is the wisest person I have ever known. I find it fascinating to hear his points of view. The average person can relate to Harry more than anyone else on the show. He doesn't have the huge expensive RV and the expensive pits. He has a mini van and WSM's. Everyone can relate to that.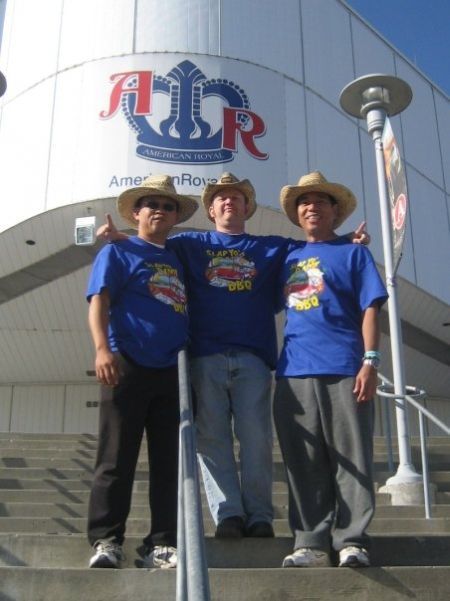 Q- Why do you believe in BBQ Karma?
GN- Its true and I do believe in it. Good things happen when you help each other out. In Dover I had a full set up of borrowed equipment. I put a call out on the Brethren forum. That's how it works. That's BBQ Karma. It's not a joke.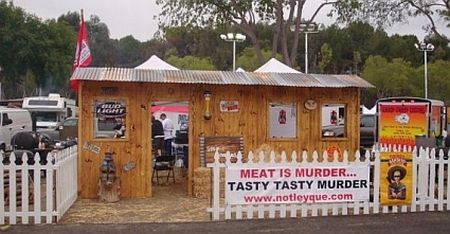 Q- What BBQ products do you like to use?
GN- I am a big fan of Mike Davis Lotta Bull products. He also really helped me with Strube ranch products. He is a fantastic guy that I think highly of. He is a straight shooter. He is such a good-hearted kind person.
Q- If there were any classes you would like to take?
GN- I would like to take Mike Davis, Plowboys and Johnny Triggs classes.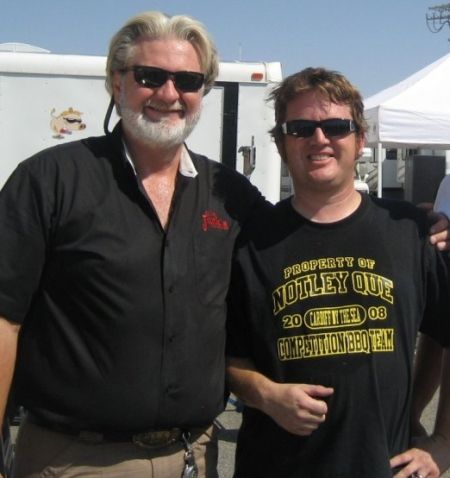 Q- Whose class has had the most impact on your results?
GN- I took Myron Mixon's Class and I had good immediate results with the instructions that I received.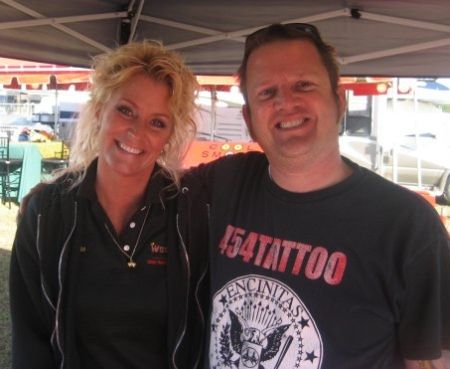 Q- How many competitions would you like to do this year?
GN- Depending on my catering schedule I would still like to do 10 this year. Due to the show I feel really that I want to get out there more. Actually my goal is always to get out there and beat Harry Soo. I am going to get you Harry Soo I want to mop the floor with him I am gunning for him (he says laughing).

Q- What are some of the challenges you have in competition BBQ?
GN- I have to still work on the one bite mentality. I am used to doing catering where a person will enjoy a whole plate of my food but not just one bite.
Q- What was one of the benefits in working with Harry Soo?
GN- I got to see most of Harry's prep and his procedures. I learned a lot.
Q- What is your goal for 2010 in competition?
GN- I just want to beat Harry Soo. He is so good. Actually I also want to be the #1 brisket cook in California. I would also like to get my first Grand Championship. I am the Grand Champion of partying at BBQ comps. I think I have learned now I can do it in my own backyard.
Q- Who did you want to meet the most and who were you closest with other than Harry?
GN- I wanted to meet Myron the first second I could. He is an awesome guy. He is like the Michael Jordan of BBQ. Out of everyone I would think that (besides Harry) I got along most with Paul. We are closer in age and we like the same types of music.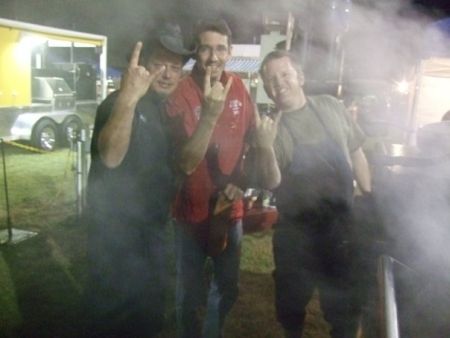 Q- What has frustrated you since doing the show?
GN- People that don't support it. I don't understand it. There are competitions that are no longer occurring there are comps that can't get people. We are still in a recession and this is going to draw people to the competitions, to the sauces and the rubs and everything else BBQ related. This is the best BBQ show there ever has been. We need to support it as much as possible.
Q- Were there any moments on the show you felt were staged?
GN- Absolutely not. I can say that from the moment I got up and saw everything that was going on nothing was staged. The only thing was that sometimes when we were having conversations (just a few of us talking sharing stories bs'ing )a producer would ask us to stop so they could bring over a camera man to shoot it. Another thing the Johnny Trigg and drunk guy part (Episode #2) was most definitely not staged. I was right there. I learned that day that drunk idiots are attracted to TV cameras like moths are to porch lights. It cracks me up to read that things were set up. I was there it wasn't.
Q- What moments from the show and travelling surprised you?
GN- I saw so many people going over to the Jambo pits getting their pictures taken with them. Jamies pits are gorgeous. I want a Jambo. Due to the catering I do it is so eye catching. It's awesome. It's like you are pulling up with a Lamborghini. They get noticed and they are great cookers. They are not nearly as expensive as people think they are. The paint jobs are amazing.
Q- How did you get started in BBQ?
GN- There was bad BBQ in San Diego. I got tired of paying for it.
Q- What was your first BBQ?
GN- An ECB (EL Cheapo Brinkman) I got it as a corporate gift for the company I was working from. I did mods to it. I got it to work well for me. Then I got a WSM. After that I built a UDS (ugly drum smoker) that was fun. Lastly I got a spicewine. I also use a lang I borrow from a friend for catering jobs.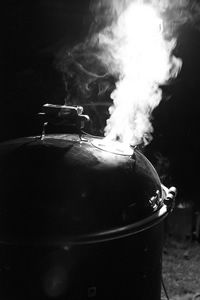 GN- Where did you learn about BBQ?
Q- I have no formal culinary training the internet has been a great resource. You have to source out the nuggets of gold from all the rest of the crap. Thank God for the internet.
Q- Do you have any sponsors for your BBQ team?
GN-Gringo Bandito Hot sauce. It is owned by Dexter Holland from the offspring.
Q- What kinds of wood do you like to use?
GN- I Like a little bit of hickory, cherry but mostly I use California Red Oak Charcoal that is made custom for me.
Q- What type of ribs do you use?
GN- Spares
Q- What are your favourite and least favourite types of meat to cook at a competition?
GN- I would say by far brisket is my favourite. My least would have to be ribs. They are so hard for me. Your window for perfection is so small. It's a challenge.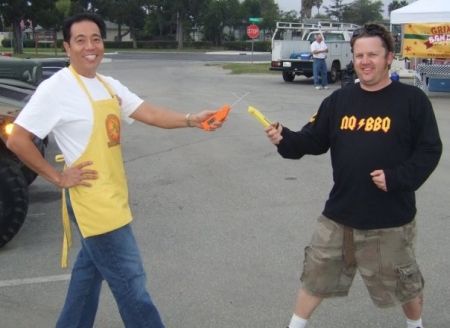 *someone needs to tell these guys that the RED thermapen is the fastest most accurate one.
Q- What did your family think of the
show
?
GN- My parents used to show dogs so they understood. My mom really said it best- You are paying for someone's opinion whether you like it or not. She really liked seeing other teams supportive of each other. My son doesn`t get it he has just turned 5 and a half. So hopefully this year he can come out with us competing. Then he will understand it more. My wife is really supportive and she gets that I have a need to do this. She likes it. I am lucky.
Q- How would you describe each of the cast members of the TLC BBQ Pitmasters show?
GN-
Tuffy- The Nicest Guy in the world. Comes around and wishes everyone luck. Fantastic cook & Chef. No ego whatsoever. Great Guy.
Paul Petersen- A phenomenal chef. A great BBQ'er despite what you see. Great guy
Lee Ann Whippen- A force to be reckoned with. Great Lady. She will kick your ass while you are still admiring how pretty she is.
Jamie Geer- Nicest Texan I have ever met. I have pages and pages of "Jamieisms" He is an absolute comedian.
Johnny Triggs- Kindest, wisest most intimidating BBQ cook out there. He and his wife are great people.
Myron Mixon- Absolute BBQ Genius. I am happy to call him my friend now. He has forgotten more about BBQ than anyone in the world.
Harry Soo- I could give you paragraphs about him. For a guy who is Asian and from California to do what he has done in 2 years. Wow. He will be the guy at some point he will win the Royal and the Jack in the same year. There will be at some point a Harry Soo method (like the minion method, or the Muffin pan method) I can see it happening. He is a legend in the making.
Gary Notley Facebook Fan Page
Notley Que BBQ on Twitter