Posts Tagged 'Lee Ann Whippen'
I figure its only right to finally post my own BBQ Pitmaster audition tape. No matter what I am happy that I submitted it and took a chance to be on the BBQ Pitmasters show. Since the beginning of the series I made no secret that I want to be on the show. I think TV needs more BBQ shows. It has only been good for all facets of BBQ from restaurants to products and all competitions. I think they need a Canadian Chick that knows how to BBQ.

For the next 4 weeks Ill be revisiting all of my competition notes, procedures and meat prep. Looking forward to the Little Rock competition I really want to just do better. Last year we came in 47 out of 129 teams. We got a 19th in chicken, 43rd in ribs, 55th in pork and a dismal 84th in brisket.
This year we are driving with all of our equipment to this comp. All 18 hours. Last year I used borrowed equipment that I had never used before and it really showed. My goal this year is to be in the top 20% or higher. I am going through my bx pictures form last year and the notes I made. I can really see lots of room for improvement.
This week I am focused on chicken. Just getting my timing down. I am still not sold on muffin pan chicken and I will stick to my own style of trimming. However I am going to modify my flavor profile.

Well it has been a terrific season of BBQ Pitmasters. I can only hope for more in the future. I have been writing about this series since the beginning and for me it has only improved over time. I have my own personal opinions on the editing but once again everyone would like to see certain people like their friends. I am happy for each of the Pitmasters Harry Soo, Paul Petersen, Tuffy Stone, Myron Mixon, Lee Ann Whippen, Johnny Trigg that they got the exposure. I hope it has been a positive experience for them all. I can only hope it will open lots more doors for themselves and many others.
Since I am at the NBBQA conference and just happen to be around a few fellow BBQ'ers I thought maybe getting their opinions on the show would be an interesting way to sum up todays article. So here are their own comments on the show. Ill be updating this throughout the day.
Dave Redmond Sweet Baby' Rays
When I first saw it I was dying to see it that I have been interested in and passionate about. Then when I saw it I was disappointed I saw arrogance and greed and all of things BBQ is not about it. I talked to Amy about that the Network chose the entertainment vs the educational. Then I saw the BBQ Challenge on the Food Network in the manner much more reflective of the goodness of KCBS then watching the show. As much I wanted that to be the good stuff it was not BBQ Pitmasters. As much as I would have liked to see that continue BBQ pitmasters is just pretty damn cool.
William Bubba Latimer – Bub-Ba-Q
I think the show has progressed since day 1. I did no like the first couple of shows as they did not portray the good guy vs. bad guy thing. One thing we can't forget is that there has to be an entertainment factor. I love the fact it has sparked in BBQ. I think the show has gotten a little more relaxed as far as the progression. I liked seeing the camaraderie since there is so much of that. That to me is BBQ. The show itself I have come to appreciate it more. I hope that it does continue. I love hearing people talk about the BBQ Pitmasters when they are coming into our restaurants.
Tommy Houston Checkered Pig BBQ
I think the biggest thing this show has done (whether you agree or disagree with content) was create interest. It has spurred a lot of interest in BBQ. Ordinary layman are talking about it. I have people coming in asking me if I know that white haired guy. It is good for BBQ.
Right now all of these BBQ shows could not have come at a better time for people who have restaurants due to the economic uncertainty. People gravitate to comfort. BBQ is comfort.
Randy Twyford – Twyford BBQ & Catering
It has had a major impact – and has made people realize there is much more to a BBQ contest than they see. It has increased the exposure for BBQ competitions and bbq in general.
Darren Warth- Smokey D's BBQ
It has been good for BBQ. I think they need to show more camaraderie . Show the side where people help each other more.
Chris Jones- Colins Creek Barbecue -BBQ Pitmasters is a show like no other. It has done a lot of good for BBQ and has opened up the eyes to the general public about what goes on at some of these competitions. It also shows that no matter what kind of equipment you have anyone can do this. I really wish they would make it a more family oriented show. I really enjoy competing with my family and would hate for people to be turned off because they have other interpretations of Competition BBQ.
Kell Phelps – NBBQA President I think the show has been great for showing BBQ. I will say though I really did not like the language. When the first episode was on I wanted my son to watch it with me. he is 10 and was so excited. He had told all of his friends since we knew most of them. Unfortunately after the first 10 minutes I took him to bed. It was not appropriate for him.
Kelly Wertz- 4 Legs Up BBQ
I thought the first episode was crap. I think after that it got better. It is still good for BBQ.

I have been regularly contributing to a terrific round table podcast presented by Hucks Hut. This episode was a great discussion with John Markus Executive Producer of BBQ Pitmasters on the TLC Network.
This weeks episode involves John answering a lot of questions about the show and himself in addition there was a great discussion on Super Bowl food!. Great recipes too!  Listen HERE
Also just a reminder this show is part of the BCRN The BBQ Central Radio Networks
Out of all the characters on the TLC BBQ Pitmasters show it is her that I relate to most. Her struggles as a Mom, Restaurant owner and competitor resonate with me. Being a female in a male dominated sport is incredibly difficult and challenging. We face a lot of unnecessary comments on our actual abilities. We get questioned and doubted despite our results. Rarely does the hard work get acknowledged by others.  However I believe that our focus and determination excels with each challenged faced and ultimately conquered.  Garnering respect is an uphill battle.
I would not let her smile, blond hair and demeanour fool you. She doesn't want your chivalry. Reality is – she really doesn't need it. She can haul her own pit set up her own site and do it all herself. Behind her beautiful appearance is a sharp, knowledgeable woman who knows how to fiercely compete, and she will do just about anything to beat your ass…
D-How did you learn how to BBQ?
LA-It has been a combination self taught and from my father Jim Tabb . I have competed almost my entire life without my Dad. He's a great guy. This doesn't take anything away from how much I love and respect him.  However he is not responsible for my competition accomplishments.
D-Favorite thing to cook on a BBQ?
LA-I used to hate to cook brisket and now it's turned into my favorite now. Because it's challenging.
It changes with the trends and challenges of whatever category and then it becomes my favourite item. It's never cooking the same thing the same way. Once you achieve and conquer then you move on to the next category.
D- What's the farthest you have traveled for a BBQ competition?
LA-Mesquite NV took 4 -12 hour days I don't think it can get much further than that.
D-How did you like Mesquite?
LA- The weather sucked. It was horrible dry hot and dry. I hate cooking in heat. The event itself was tremendously run. The caliber of teams was great and overall very well organized. If it wasn't for the trek I would go back.
D- What have been some of the challenges of doing the show?
LA- Aside from the time away – my trailer. I had to get new tires and new brakes just for Mesquite. I had the tires delivered to the site and had to get them on.  The trailer is  24 ft long. The pit (jedmaster) weighs a lot. It has a full kitchen with grey water tanks and of course all the rest of the equipment.
Jamie Geer advised me -I think your axles are off with the trailer. It will cost me close to $3000.00 to get it fixed and redone before the next long trek. I knew something was not right. When I am vending I am carrying tons of meat I am filled to the brim. I kept blowing tires. Overall I have had it for 7 years.
D-What are some of the challenges of being female at competitions-?
LA-Being a female I hate asking anyone for help. For example it's always a challenge backing up my trailer- I mean I will tell them thanks for being a gentleman but let me do it. I refuse to let them do it. I will back it up 50,000 times before I will ask.
D-Why do you think there are so few females in competitive BBQ?
LA-IF you look at these guys. It's like the guys getting together doing the guy thing. I think a lot of the guys -for them- it's an excuse to get out. Also I know from the aspect of doing catering and business in itself and it's a really heavy- lifting dirty job. A lot of women don't have any desire to do it. Cleaning pits is messy. For the women that are with the men they tend to do the dishes and the boxes. They seem to be content with that.
D-Do you think this show will change the impression of female competitive BBQ'ers?
LA-I don't really think so. Typically it's still the guys that come up and discuss BBQ. Women will come up and say go get em' girl more like a cheerleader.
When I was younger I was begging guys to let me cook with them. Just so I could learn. I have never had a woman come up to me and ask to cook with me. I can't put my finger on it completely. I just can't explain it.
I don't compete a lot but I think that women are more focused. They don't get as involved in the partying aspect. You have to know better.  The guys just sometimes get on the party trek maybe from peer pressure. Maybe it's the man thing the guys trying to outdo each other with drinks.
I don't start drinking more than maybe 1 or 2 for the whole night- until its 1:35pm and turn ins are done.  Then the tequila can come out. Not before.
I am seriously focused. I'll tell my staff if we are vending and competing from this time to this time stay the hell out of my way. I don't mean to be mean and I just want to concentrate and focus. Period. You spend money to be there. You don't want to screw up.
D- What do you think of some of the comments thrown your way?
LA- It surprises me sometimes what happens. I hear comments that the contests are fixed if I win. That is just a sorry bunch of crap. Its just crap talk.
Maybe they are scared about women winning.
D- Which competition was the most challenging from the series?
LA- Murphysboro was the most difficult. It had different turn in times for KCBS and MIM. It took me 2 hours to work out a time line for it.   Myron excells at it. He was the most experienced at that even in MIM.  However in KCBS – I did well. They are probably not going to show that. Myron is spectacular on TV.  It was an awesome experience. I would do it again for the challenge because I am so competitive. Took me out of my comfort zone.
D- How did you get involved with the show?
LA- I did the Versus show. John Markus called my Dad and got my number or maybe through Carolyn Wells. Also having prior experience with the Food Network they can see I am really serious about BBQ. On my phone even there is a box of sliced brisket instead of my children.
D- How many children do you have?
LA- 2 girls- 19 yr old in college and my 10 yr old who came with me to 3 events. She will be the one that takes over someday. I feel bad sometimes due to the time I am away from them. My photo albums are full of competitions  pictures.  Not enough pictures of my children. It is very difficult to juggle it all. Being a single mom is hard as heck. I worry about my 19 yr old -with her gone. My youngest will be 11 this year and she comes with me to work. She goes to school then she comes to the restaurant. She is occupied here and I try to get out at a reasonable time. I have to support myself and my family. I have to share the devotion to the business and to them. I live with the guilt every day that I may not be doing enough. My kids are both extremely independent.  For my youngest she doesn't think a whole lot about her Mom being on TV. It's just her personality. She is really mature. It's just normal for her.
D- What about your boyfriend Billy? Does he help you?
LA-He (Billy) made it through 5 episodes he became enthralled about competition BBQ but after 3 years we went our separate ways. I won't say the show had anything to do with it. It was just time.
D- What was your very first pit you took to your first competition?
LA- My first pit was my Dad's Oklahoma Joe. The first competition was in 1996 competing  in a Georgia state competition.  At that time I had just been through the judging school. Then I had WSMS along the way.
The big investment was the jedmaster on the trailer in 2002.  I was practicing a lot- I did not know how I was going to handle the pit for its first  competition in Bel Air Maryland and I ended up getting a RGC.
Over the years I have brought the bullet back in and the Big Green eggs came in due to Billy and its just part of the Artillery.
D- How much meat do you cook for a comp?
LA-  I am famous for cooking way too much meat. (she laughs when she says ) Typically for a contest 6-8 butts,2-3 briskets, 16 pieces chicken, 8 racks ribs both backs and spares . I believe in safety in numbers. I have the luxury of bringing it back to the restaurant for my staff to eat.
D- What has been your favorite contest?
LA– Danville VA, is great as well as Chesapeake Jubilee VA because it's a really nice event and everyone will attest it is really well organized right from the very first year. Well run. Home turf and lots of friends and family that's what it's about.
D- What was your favorite part about the series?
LA-Camaraderie -the whole group became so tight. Just like a family. I have this emptiness now a bit because we were really getting to know each other- due to the stress levels and the environment and how hard we all worked. We all hope overall will come out great for BBQ.
I really hope that this brings some of those corporate sponsors in and awareness about what we do. Overall we have become such good friends. No one seemed to be singled out. We were all so different. Plus the crew – Wow they were with us day in and day out. Shooting the last show and going to the goodbye party was difficult. It was really like walking away from family.
One of the nicest things that happened involved Myron Mixon.  I have a high respect for him.
I had won in Mesquite 2nd in dessert 2nd in steak.  SO here I was with these trophy cutting boards. I thought it would be nice if everyone from the show signed it:
Myron wrote:
Dear Lee Ann –You are the hardest working woman in BBQ. That meant so much to me. I work so hard and to have it acknowledged is great.
Wood Chicks Sauces and rubs are available on their website.
You can also become a Wood Chicks Facebook Fan
John's Markus article in National Lampoon about Lee Ann

Tonights Episode will cover the American Royal Open  10pm EST on TLC
Just in time some great BBQ Side dish recipes posted
Day 20-25 Days of BBQ Blogging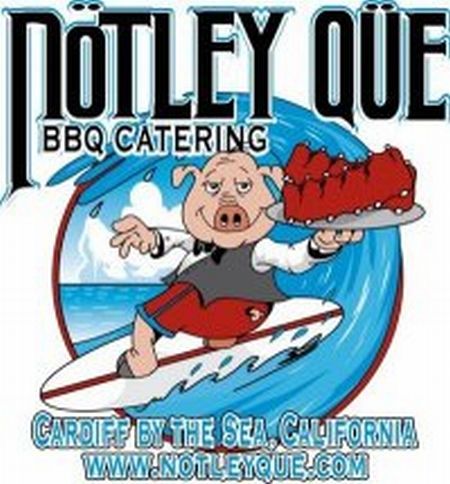 Gary was a fun guy to talk with. He really got a behind the scenes look at the whole show. He was the roadie for
Harry Soo`s Slap yo Daddy team
. He loved doing it and its clear he would do it again. I liked the perspective he has on a lot of the things from the show. I also know he is a straight talking rocking it out sort of guy that does not mince words. Whether it be on the
BBQ Brethren
forum where he posts or in an interview he says exactly what he thinks. He doe not edit out his thoughts.
He is a caterer to the stars. Located in Southern California he regularly caters TV shows, concert tour riders, and many other occasions with his outstanding BBQ. Additionally he competes as well with his own team
Notley Que.
I have a standing invitation to come cook with him at
Stagecoach
. I hope to get over there in the next couple of years.
Q- How did you meet Harry and get involved with him on the TLC BBQ Pitmasters?
GN- I first met Harry at a BBQ competition and we became friends from that moment. I am truly his biggest fan. Harry and I have worked together a few times. He was helping me out on a catering gig and he tells me about the TLC show. He was unsure of how he was going to get his stuff everywhere. So I told him I am not working (at a Company) right now. I can put my catering on hold. However I did ask him if an emergency arises- you fly me home. We worked it out and it just ended up being an awesome experience. Things are meant to happen for a reason. This was a once in a lifetime opportunity.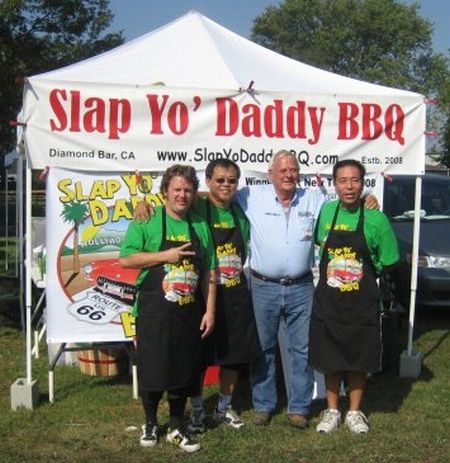 Q- How many miles did you drive Harry Soo's stuff?
GN-I drove just over 10,000 miles – from Mesquite NV class to where we ended at Myrons class. I didn't have time for special trips other than a trip up to Chicago when we were heading to Murphysboro to visit with my friend from Anthrax.
Q- What was your favorite contest out of all of them?
GN- It would have to be Dover because I cooked that one. However the most fun was Murphysboro. It was my first introduction to MIM style of cooking and I fell in love with that.
Q- What have you thought of some of the comments on the TLC BBQ Pitmasters show from the BBQ forums?
GN- It's not about just the best cooks. You have to be interesting. Reading about the complaints annoys me. First of all it's a TV show. It's not about every team out there. For example-I have no interest in wedding cakes or anything to do with cake but I love this show cake boss because it has nothing to do with the cake- but the people. Just like on this show- it is about the characters and BBQ. It keeps me interested. What we do is kind of boring (i.e.-watching a 16 hour brisket) and repetitive, however the people are what makes it interesting.
Q-Do you think Harry taught the other competitors anything?
GN- I can tell you this that Harry was able to show Jamie and Johnny something but I don't want to give it away. There are a lot of things competitive BBQ'ers could learn if they carefully watch the show.
Q-Do you think you learned anything from doing the show?
GN- Absolutely. There were lots of opportunities to learn. I did pick up a new cuisinart electric knife. I also liked learning of some of the stories on how to recover my meat. There are lots of tips and tricks you can learn from the show.
Q- How do you feel about Harry?
GN- Harry is the IT guy where everything is 123, abc. He is so smart. I think he is a terrific person. I would drop anything to help him out. He calls me his best BBQ brother. There have been some times were he has shared life wisdom. He makes me think of things. He is the wisest person I have ever known. I find it fascinating to hear his points of view. The average person can relate to Harry more than anyone else on the show. He doesn't have the huge expensive RV and the expensive pits. He has a mini van and WSM's. Everyone can relate to that.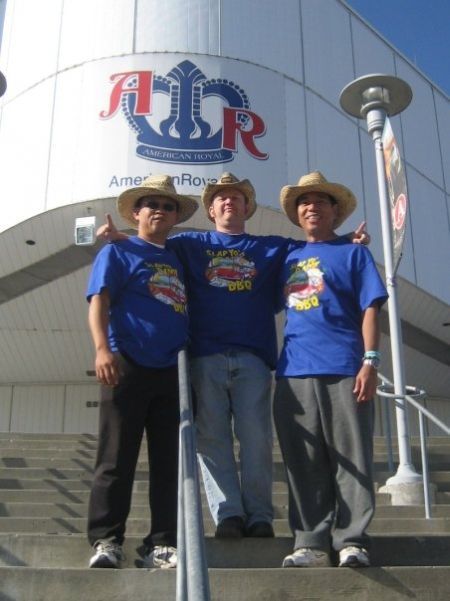 Q- Why do you believe in BBQ Karma?
GN- Its true and I do believe in it. Good things happen when you help each other out. In Dover I had a full set up of borrowed equipment. I put a call out on the Brethren forum. That's how it works. That's BBQ Karma. It's not a joke.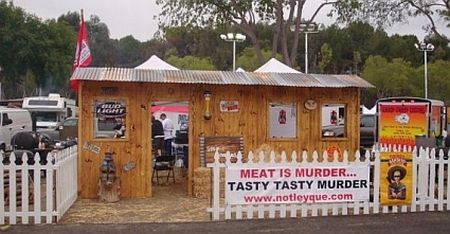 Q- What BBQ products do you like to use?
GN- I am a big fan of Mike Davis Lotta Bull products. He also really helped me with Strube ranch products. He is a fantastic guy that I think highly of. He is a straight shooter. He is such a good-hearted kind person.
Q- If there were any classes you would like to take?
GN- I would like to take Mike Davis, Plowboys and Johnny Triggs classes.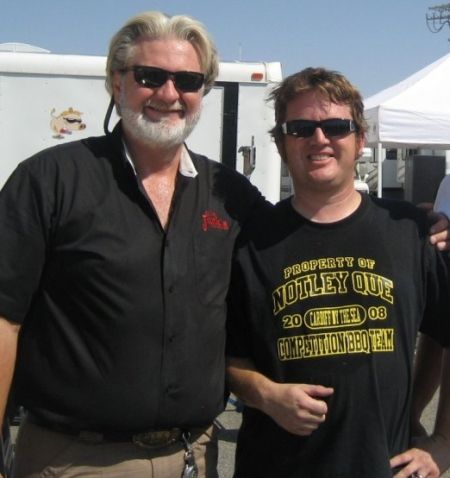 Q- Whose class has had the most impact on your results?
GN- I took Myron Mixon's Class and I had good immediate results with the instructions that I received.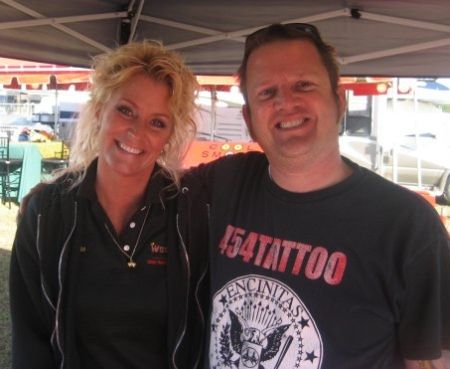 Q- How many competitions would you like to do this year?
GN- Depending on my catering schedule I would still like to do 10 this year. Due to the show I feel really that I want to get out there more. Actually my goal is always to get out there and beat Harry Soo. I am going to get you Harry Soo I want to mop the floor with him I am gunning for him (he says laughing).

Q- What are some of the challenges you have in competition BBQ?
GN- I have to still work on the one bite mentality. I am used to doing catering where a person will enjoy a whole plate of my food but not just one bite.
Q- What was one of the benefits in working with Harry Soo?
GN- I got to see most of Harry's prep and his procedures. I learned a lot.
Q- What is your goal for 2010 in competition?
GN- I just want to beat Harry Soo. He is so good. Actually I also want to be the #1 brisket cook in California. I would also like to get my first Grand Championship. I am the Grand Champion of partying at BBQ comps. I think I have learned now I can do it in my own backyard.
Q- Who did you want to meet the most and who were you closest with other than Harry?
GN- I wanted to meet Myron the first second I could. He is an awesome guy. He is like the Michael Jordan of BBQ. Out of everyone I would think that (besides Harry) I got along most with Paul. We are closer in age and we like the same types of music.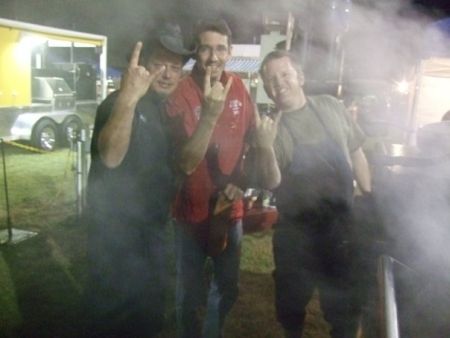 Q- What has frustrated you since doing the show?
GN- People that don't support it. I don't understand it. There are competitions that are no longer occurring there are comps that can't get people. We are still in a recession and this is going to draw people to the competitions, to the sauces and the rubs and everything else BBQ related. This is the best BBQ show there ever has been. We need to support it as much as possible.
Q- Were there any moments on the show you felt were staged?
GN- Absolutely not. I can say that from the moment I got up and saw everything that was going on nothing was staged. The only thing was that sometimes when we were having conversations (just a few of us talking sharing stories bs'ing )a producer would ask us to stop so they could bring over a camera man to shoot it. Another thing the Johnny Trigg and drunk guy part (Episode #2) was most definitely not staged. I was right there. I learned that day that drunk idiots are attracted to TV cameras like moths are to porch lights. It cracks me up to read that things were set up. I was there it wasn't.
Q- What moments from the show and travelling surprised you?
GN- I saw so many people going over to the Jambo pits getting their pictures taken with them. Jamies pits are gorgeous. I want a Jambo. Due to the catering I do it is so eye catching. It's awesome. It's like you are pulling up with a Lamborghini. They get noticed and they are great cookers. They are not nearly as expensive as people think they are. The paint jobs are amazing.
Q- How did you get started in BBQ?
GN- There was bad BBQ in San Diego. I got tired of paying for it.
Q- What was your first BBQ?
GN- An ECB (EL Cheapo Brinkman) I got it as a corporate gift for the company I was working from. I did mods to it. I got it to work well for me. Then I got a WSM. After that I built a UDS (ugly drum smoker) that was fun. Lastly I got a spicewine. I also use a lang I borrow from a friend for catering jobs.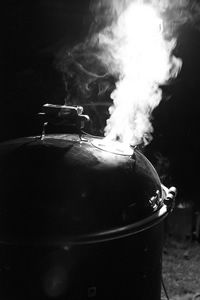 GN- Where did you learn about BBQ?
Q- I have no formal culinary training the internet has been a great resource. You have to source out the nuggets of gold from all the rest of the crap. Thank God for the internet.
Q- Do you have any sponsors for your BBQ team?
GN-Gringo Bandito Hot sauce. It is owned by Dexter Holland from the offspring.
Q- What kinds of wood do you like to use?
GN- I Like a little bit of hickory, cherry but mostly I use California Red Oak Charcoal that is made custom for me.
Q- What type of ribs do you use?
GN- Spares
Q- What are your favourite and least favourite types of meat to cook at a competition?
GN- I would say by far brisket is my favourite. My least would have to be ribs. They are so hard for me. Your window for perfection is so small. It's a challenge.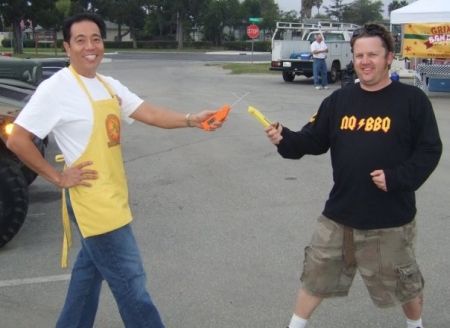 *someone needs to tell these guys that the RED thermapen is the fastest most accurate one.
Q- What did your family think of the
show
?
GN- My parents used to show dogs so they understood. My mom really said it best- You are paying for someone's opinion whether you like it or not. She really liked seeing other teams supportive of each other. My son doesn`t get it he has just turned 5 and a half. So hopefully this year he can come out with us competing. Then he will understand it more. My wife is really supportive and she gets that I have a need to do this. She likes it. I am lucky.
Q- How would you describe each of the cast members of the TLC BBQ Pitmasters show?
GN-
Tuffy- The Nicest Guy in the world. Comes around and wishes everyone luck. Fantastic cook & Chef. No ego whatsoever. Great Guy.
Paul Petersen- A phenomenal chef. A great BBQ'er despite what you see. Great guy
Lee Ann Whippen- A force to be reckoned with. Great Lady. She will kick your ass while you are still admiring how pretty she is.
Jamie Geer- Nicest Texan I have ever met. I have pages and pages of "Jamieisms" He is an absolute comedian.
Johnny Triggs- Kindest, wisest most intimidating BBQ cook out there. He and his wife are great people.
Myron Mixon- Absolute BBQ Genius. I am happy to call him my friend now. He has forgotten more about BBQ than anyone in the world.
Harry Soo- I could give you paragraphs about him. For a guy who is Asian and from California to do what he has done in 2 years. Wow. He will be the guy at some point he will win the Royal and the Jack in the same year. There will be at some point a Harry Soo method (like the minion method, or the Muffin pan method) I can see it happening. He is a legend in the making.
Gary Notley Facebook Fan Page
Notley Que BBQ on Twitter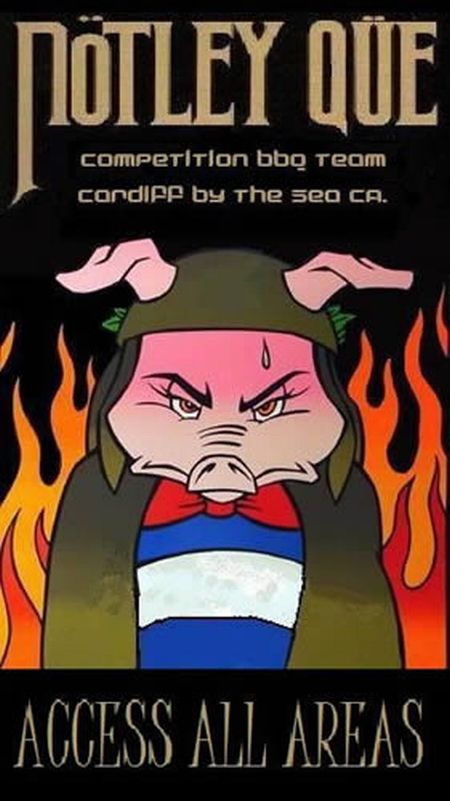 Day 18-25 days of Christmas Blogging……

Last night we had our annual Christmas dinner party. Each year we have our local friends and their children over. I look forward to it every year. For the dinner I served up 10 racks of ribs (done on the Traegers with Cherry pellets) with Ole Rays Apple Cinnamon BBQ sauce on the side, potato salad, Greek pasta salad, mini corn muffins with jalapeños and aged cheddar, buns, spinach dip, marinated water chestnuts wrapped in bacon, devilled eggs with smoked paprika, Macedonian rice with grilled veggies, pate with pecans, veggies, brie with blackberry sauce, and a whole bunch of puff pastry appetizers. Dessert was a Pumpkin Caramel pecan cheesecake, homemade chocolates, and loads of cookies, tarts and squares I have been working on for a month. I really love to make this dinner. However I got so busy I did not take pictures. Ugh. Anytime you can cook for family and friends you love to be around is a good thing in my opinion.
It was a blast and conveniently everyone was gone by 9:50 pm. Just enough time for a BBQ phone call with a good friend of mine from the US and then to watch the latest episode of TLC BBQ Pitmasters. It was a relief the timing was good. I still have no clue how to record anything on the tv and I don't have one of those PVR thingy's. (Yes that is the technical term- thingy's).
IT was a really fun episode to watch. However once again I ended up talking to the TV (and don't think for a second I am the only one) saying to a cast member are you kidding me what are you doing – etc etc. There were 59 teams at this competition. Out of the TLC Cast here were the overall results:
6 -Jack's Old South
7- Cool Smoke
8-Jambo Pitts
9-Smokin' Triggers
I was looking for Harry and Jamie-but I only saw Jamie singing a song going into
Big Bob Gibsons
. Chris Lilly took it well in stride when Myron told him he used his books to start his pits. The menu at the round table dinner looked really nice. I liked the brisket wrapped scallops. I'll be trying that for sure.
I watched Pauls teammate lolly gag along not really caring about what time it was. Turning in Chicken and getting a DQ for lateness. Seriously buddy you should have moved your *ass a little faster. Sixteen seconds. Thats what he was late by. Not good. I really did think the chicken box looked decent.
Then it cracked me up to no end to see Myron go off on Paul for shigging his muffin pan idea. Hmm so I guess Myron may be frustrated with a vast majority of the cooks going in to this year. If the posts about muffin pans on the various forums are any indication a lot of cooks at home are trying this technique out in preparation for the 2010 season. I have some concerns that this technique could be considered sculpting. I won't do it myself. I won't risk getting a DQ because of sculpting. I think meat (whether it be chicken, beef, or pork) should still look like meat at the end of the day.
I would also like to say it was nice to see a variety of chicken. I saw legs and thighs and breast meat. I really liked the commentary from the judge. Judging is not easy. I did some judging before I started and I am a
KCBS certified judge
. It was a good decision to take the certification. I think any time you can get a glimpse of what goes on inside the minds of judges it can only help. I know there are some days when I think I have turned in my very best products and (I get scored poorly) I continually question what the judges want. (for the record I am usually not that polite about judges decisions about it but Ill leave the swearing up to Myron.)
I am still surprised that Myron offered up this muffin pan technique to the viewing audience.
As for shigging I think every single team out there pays attention to whats going on at other cook sites. Don't kid yourselves- everyone looks. You would be foolish not to. I don't think for a second that there is anything wrong with paying attention. I think if you see a team that has a little blue bottle on their cooker or a bottle of rub and they come in first in that category you might be wise to jot down a few notes. Even with this show watching a few episodes over a few times if you are paying attention there are some nice little tidbits of information. Now I am not going to point them out – go look your self. Research is never ending in the field of Competitive BBQ.
*please note for anyone looking to get me a Christmas present I want one of these cups or please donate here
I do however think its wrong to go into a cook site of a team you do not know without permission. This is one of the reasons I now do my prep and my cutting inside my trailer. Personally I don't want you to see what I am doing. As much as possible I try to hide my own techniques. Its also another reason we create a wall of Traegers and WSM's around my cook site. I don't want you walking in unless you are invited. I rarely invite anyone into my trailer unless you are a good friend. I am still so new (only going into my 4th year) to this competition style but I would like to think I have a couple of things figured out. We have an additional 10×10 tent set up for socializing. Thats where we do it.
I can certainly relate to Tuffy's schedule of events. Inconveniently (after I watched the clip on youtube about 10 times trying to decipher what was on his spreadsheet I realized it wasn't because I was needing my glasses) they have certain lines blurred out. Damn. . I have mine planned for every 15 minutes. My spreadsheet keeps me on track and it was another cook that helped me develop mine when I first started out. I also note the temperature and humidity levels and anything else I think may be affecting my cook.
It was great to see him get a first in his new found brisket technique. I enjoyed watching some of the background of him working in the kitchen of A Sharper Palate He knows so much about food in general. He works hard at it too. I loved the countdown he did on camera, 5 ,4 3, 2, and then he pulls out the first in brisket. Nice moment captured.
I have been at competitions where the power has gone out. However I always travel with a back up generator that can run everything. I don't leave home without it. This is why I was surprised to see Lee Ann get backed up on time due to power shortages. I wonder if that was for TV. …
Overall I am enjoying this series immensely. Next weeks episode is a repeat makes sense to do that during the holidays. I will be looking forward to the next episodes in the new year!

Heres a sneak Peak at this weeks TLC BBQ Pitmasters show:
THURS – 10pm
BBQ PITMASTERS
Cooking skills, nerves and patience are tested at the historic Riverfest Barbecue Cookoff in Decatur, AL as the Pitmasters battle for the $3,000 top prize. Paul tries to avoid last place placement, Lee Ann's schedule is threatened by a power outage and Tuffy Stone uses spreadsheets for BBQ?!?
Don't mess with Myrons Muffin pans LOL
Power Outtages …. LeeAnn Whippen
Paul Petersen Discussing being new to competition BBQ and coming in last place.