Hi all just passing this on. I personally have signed it already.

To:  Kansas City BBQ Association

We, the undersigned KCBS members, formally petition the KCBS to allow members to have access to all non-executive session meetings via electronic media, including, but not limited to, pod-casts, web-casts and streaming audio. This is not to disparage the KCBS or any member of the Board of Directors, but to provide us, as members the fullest information on rules, standards and the agenda of the Board to make us more active participants and have a stronger and more informed participation in all KCBS related business and the promotion of BBQ throughout the world.
Sincerely,
I have had the Memphis BBQ experience I was looking for. The NBBQA conference is done for another year but those memories will certainly last a long time. In 4 days I ate lived and breathed BBQ with a few hundred other enthusiasts. However there was a core group of us again that went out on our own to seek out those unique Q & food experiences that are best experienced within a smaller group of friends.
Our group Dave from Sweet baby Rays, Rays Nephew Duce Raymond , Ron Nunes BBQ Organizer,   Kelly & Roni from 4 Legs Up, Chris Jones from Colins Creek Barbecue, Joey McManus from Joey Mac's Smoke Stax, Tim Clendenning from Windy City Smokers, Woody Steve Wasson & Brenda Grubb from Woody's Smoke Shack  all set out to experience some authentic Memphis Q and food.  I felt once again blessed to be with such great people.
Cozy Corner
We set out to a place I have been waiting to eat at since I read about it in Peace Love & BBQ – Cozy Corner.   It's in a less savoury part of Memphis where the  windows of derelict buildings are smashed out everywhere, a bit of desperation has set itself on the people and the poverty is overwhelming.  However when you pull up to this battered restaurant- you are greeted with nothing but pure Love & Sunshine by the owner Desiree.   This woman is a true light within this downtrodden area.  She puts her beliefs  in God on Display throughout the restaurant from the bibles next to the register and the menu board which proclaims they would not accept any tips and thanks God.
When I spoke with her she was warm and lovely readily giving anyone and everyone that walked through the doors a hug a word of encouragement and true sincere expressions of care and concern.  The restaurant itself was a relic in itself. The stained blue Berber carpet, missing ceiling tiles and flimsy wall panelling really does the place no justice.  However you don't need decor to have great BBQ. I have seen this time and time again. Cozy Corner is one of those places.
We decided as we usually have in the past to get one of everything on the menu.  This is really easy when you are traveling with a pack of 11.  When we received the tray I was shocked to see the huge amounts of sauce on the Cornish hen, the ribs and the pork in addition to the smoked bologna sandwich.  I am not a big fan of sauce and this looked as coated as an oil slick.
Everything at this place was wonderful. The hen was tender sweet tangy and spicy- I savoured the tiny little drum stick I had then the breast meat – intensely flavoured and spicier than the rest. My rib was perfectly cooked coming off the bone with just an easy tug of teeth once again surprisingly not overwhelmed by the sauce. The bologna cut into almost an inch thick slab was a throwback to my childhood. It was layered with sauce and coleslaw on a typical hamburger bun. It was awesome. The coleslaw and sauce really added to the overall flavour of the bologna sandwich.  I could imagine coming here with my children just for that Sammie alone.
Everyone that serves you or interacts with you in this iconic place-smiles. They thank you profusely. It is a wonderful experience to feel appreciated. They get it here. You can certainly understand why they are still there. It is perfect with all of its "imperfections"  Most of all what makes it perfect is the combination of Desiree's continuance of this wonderful BBQ joint and the warm fuzzy feeling you leave with  it.
Rendezvous
We stopped at Rendezvous in the downtown core as well. It's down an alley way near the Peabody in the same location it has been in for -well forever it seems. In 1948, Charlie Vergos cleaned out a basement below his diner, discovered a coal chute, and started a legend.  Charlie's kids run things now, and their kids are coming along, and their kids will follow.
The alley is full of dumpsters, trash and the smell of charcoal. Seedy would be one way to describe it. However as you stand there you see people from all walks of life heading into Rendezvous:  Ladies dressed to the nines with their Manolo Blahnik boots and Louis Vuitton purses, men in their sharp Ralph Lauren suits  and Brooks Brothers, everyday people in their Nikes and hoodies attire all carefully treading around the dumpsters to get to this place.  Not only people walking in but there is a constant flurry of vehicles driving up and dropping people off.
Now imagine yourself walking into an antique store jumbled full of treasures and timeless classics, full glass showcases containing lots of kitschy fun stuff. The floor is mottled and cracked there are people everywhere sitting at tables eating BBQ. Then take a walk to one of their antiquated back rooms full of signs and pictures from all over the world and you know you have arrived at Rendezvous.
Our party once again tried everything we could possibly partake in on the menu while still allowing us to remain upright without going into a protein coma.  We ordered a sample platter of all of their meats plus a couple of sides. However before I go into more detail on this I will have to tell you about my most favorite part about Rendezvous and that would be our server. To call him a server seems a bit of a disservice he is a Legend here at Rendezvous himself. Big Jack Dyson is a flurry of Southern comebacks and full on court press hospitality. He will have you laughing and feeling comfy in an instant. He has been at Rendezvous since 1969.  They don't have a lot of staff turnover issues at Rendezvous.
Big Jack brought us out some of their gumbo to try on the house. It was an interesting medley of flavours for sure. He also brought us some lamb ribs that were gamier than most I have tried. These were not what I was used to but it was just fine. The food overall at Rendezvous is not something I would go back for to be honest. I didn't like their ribs or the pulled pork at all.  I was really looking forward to some dry ribs but these were not it. They were just not my thing. I don't think many in our party liked them at all.  I don't think you go to Rendezvous for the food. You go for the experience. I would go again for the experience. It should not be missed. The ambiance and the cold beer were a great combo. However next time I think I would just stick with their ham & cheese plate.
Pig on Beale-Pork with an Attitude
From their website:
With the 1950s decor of checkerboard floors, formica tables and vintage movie posters mixes with live rockabilly, honky tonk or bluegrass music, a down-home happenin' hoopla should come as no surprise. The Pig on Beale's jukebox could easily be the best on Beale Street, with an eclectic mix of Memphis

music like the older Furry Lewis and Elvis to the Delta Blues of the Eric Hughes Band. The bar hosts live Blues and Americana music Thursday through Sunday from area Americana bands.
What they don't tell you on their homepage (they do in the about section though) is that their food rocks. I mean rocks out like being at the best concert of your life with the love of your life.. For me sharing their food with some incredibly dear BBQ people was an event I will cherish.
The food is top notch. Once again I have found competition quality BBQ at a restaurant. There are only 3 BBQ joints (Pig on Beale, Bub-Ba-Q, Q Restaurant) I have been to that I would be happy to serve their food in a turn in box and be proud to call it my own. From the creaminess of their potato salad to the wickedly good onion rings to the hickory kissed ribs and pulled pork perfection, great wings and the tender chicken the Beale Street BBQ super feast is awesome.  Even that description doesn't seem good enough to me.
What impressed me even more is that we were there during the down times. Not even close to lunch or dinner but right in between. Having top quality food at an off time is impressive. It was quiet when we were there with only 1 or 2 other patrons. They have most obviously taken great care to ensure what they serve is their very best at all times. Our server was great too. Very polite to all of us making sure we were well attended to.
Later on at the convention I ran into John the owner. Now John stands heads above me and he is a solid young man. Think the Stone Cold Steve Austin version of BBQ and you have a good picture of what he looks like. John actually owns both Pig on Beale and natural Born Grillers. They compete as well. Actually they win a LOT too with many of their impressive trophies in the windows of Pig On Beale. Their website lists their many competition accolades.  I was sorry we didn't have the time to make it out to their Southaven location.
My advice to anyone would be that going to Memphis and not eating BBQ at Pig on Beale would be akin to missing your first Anniversary, your kids birth or your own wedding – it's just something that should never ever be missed.  It was that good.
Gus's Fried Chicken
Now off to another joint we went just down a few blocks and around a corner. This was the second time in three days that I had eaten there. That should pretty much tell you something right there. I had extolled the virtues of Gus's fried chicken to our group and we all decided to give it a go.
We had the deep fried pickled fried green tomatoes and a whole lotta chicken and fries. Once again it did not disappoint.  Lip smacking finger licking can I get another piece even if I have just eaten at 3 other BBQQ joints chicken kind of food. I think to tell an outstanding place from a good one it is just this when you are so stuffed you can barely move but all you want to do is eat more you know you are in a place of greatness. I think that applies to both BBQ and chicken.
Jim Neely's Interstate BBQ
On the day I was leaving my friends Chris Jones and Tim Clendenning all headed to the airport together.  As we wandered around waiting for our flight we decided to have breakfast. Well of course that would mean having more BBQ. You just can't ever get enough. So we headed to Jim Neely's Interstate Bar-B-Que.  This was about 830am.
Gotta love Memphis where you can get BBQ at any time of the day or night. We ordered up BBQ Nachos, Pulled pork and BBQ Bologna. It was all great. Just really good decent BBQ that had good flavour, good texture, and nice sauce. The BBQ Bologna had a great char on it as well that was yummy.
The Pulled Pork Sammie had to have at least a ½ lb of pork on it. Extremely generous. We did also get the BBQ spaghetti I will say this it's not my thing. Just no. Just not going to ever order BBQ spaghetti again. Overall the food was really good. We even got to talk with Harold Neely. He wanted to pick up our check but Chris had already paid. Good people to talk with for sure. If you are in the Memphis airport stop by and eat. You will not be disappointed.
Well I could go on and tell you some really juicy stories about Myron "Damn" Mixon, or some of the other folks fables and tall tales or even my own new associations with some fine folks but I think I will take a lot of those stores and keep them to myself. While in Memphis I walked by a poster and it said this: What happens in Vegas started in Memphis.   I tend to agree with this sentiment. For the days I was there I was educated, libated and satiated with BBQ and food. We will leave it at that.
However as I end this rather long winded (and really if you have read the blog at any time you will know I tend to be a wee bit long winded) I have to tell you a story about our trip to Gus's and this goes towards the kindness and the type of people I am real proud to associate with. As we were walking in Memphis within our tight knit little group a homeless man approached my friends and asked for money. He ended up being invited to eat with us. None of us would ever like to see anyone go hungry. None of us would have wanted for this man to go without something to eat. So we had our meal with this man who was quite articulate and certainly added a deeper meaning to our meal. That is the breaking of bread with your fellow man is always a good thing. That we should always look out for each other.   That we should take care of each other.  That food whether it be BBQ in Memphis a hot dog in New York  or even poutine in Toronto has the capacity to bring us all together.  That is my Memphis story.
** A note of thanks to Kelly & Roni Wertz from 4 Legs up BBQ for some of the excellent pictures of the Memphis adventure.
Day 15 – 25 Days of Christmas BBQ Blogging
I can't wait for January 17th 2010- why>> Because it will be the premiere of the Great American BBQ Showdown on the Food Network!
Tommy and Dennis had told me about this a couple of months ago when they were filming in South Carolian and they just released the dates it will be aired. I am so happy to see more of my BBQ friends on TV. It's just even more great exposure in addition to the TLC BBQ Pitmasters show currently airing Thursday at 10pm E 9C.
Following 4 Competitive BBQ teams -
Checkered Pig (Tommy Houston)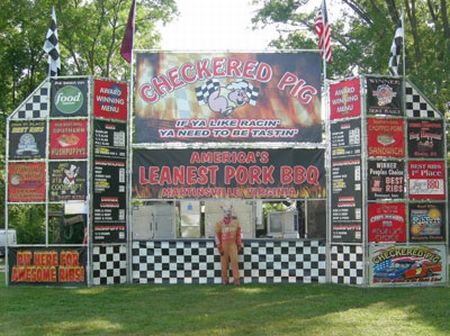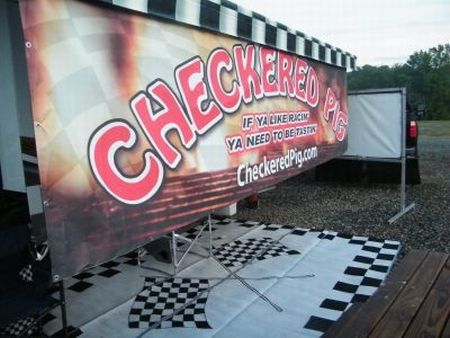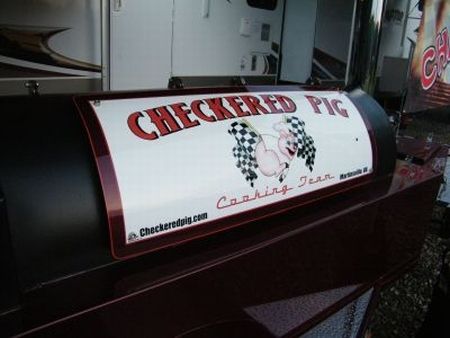 Bub-ba-Q (William Bubba Latimer)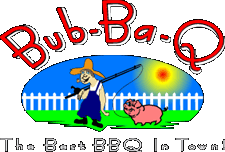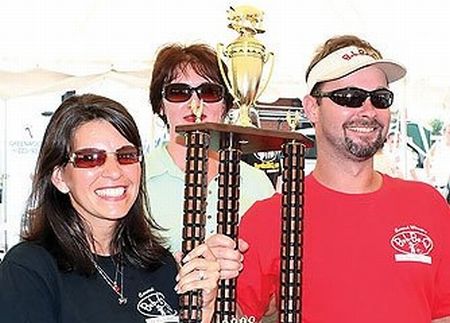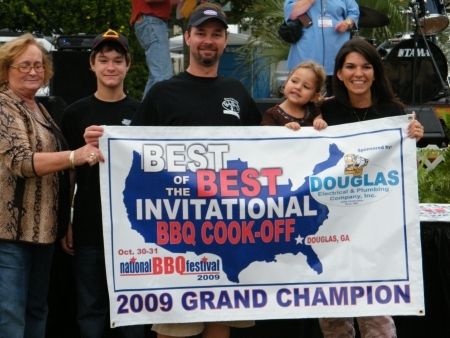 Divine Smoke (Debbie & Dennis Dill and friend David Hord)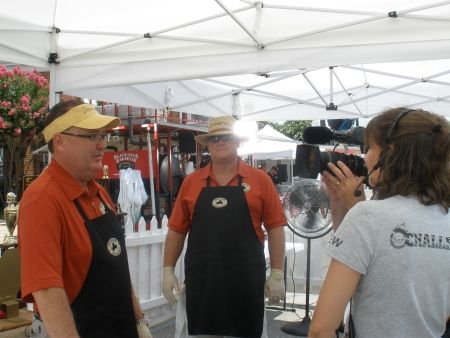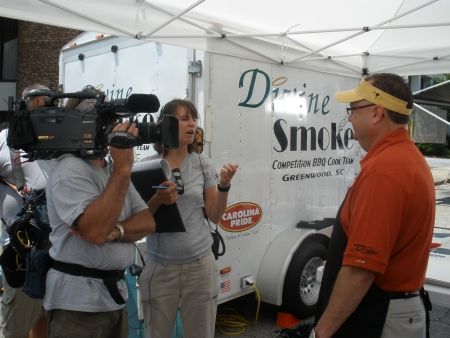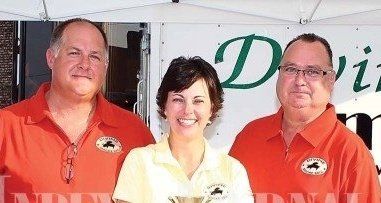 Black Jack Barbecue
(Jimmy Hagood)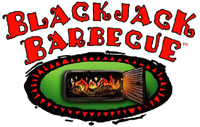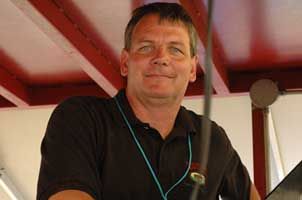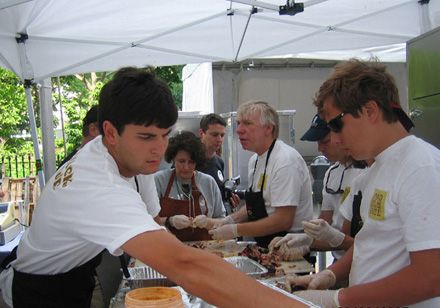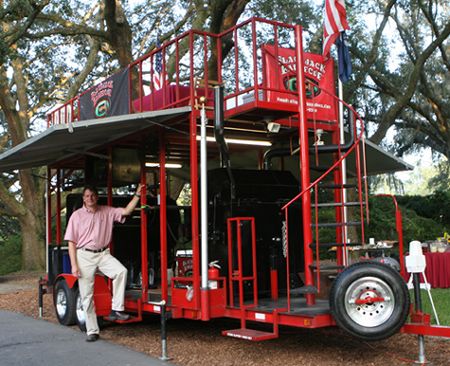 Pellet Envy
Team of the Year for 2009 KCBS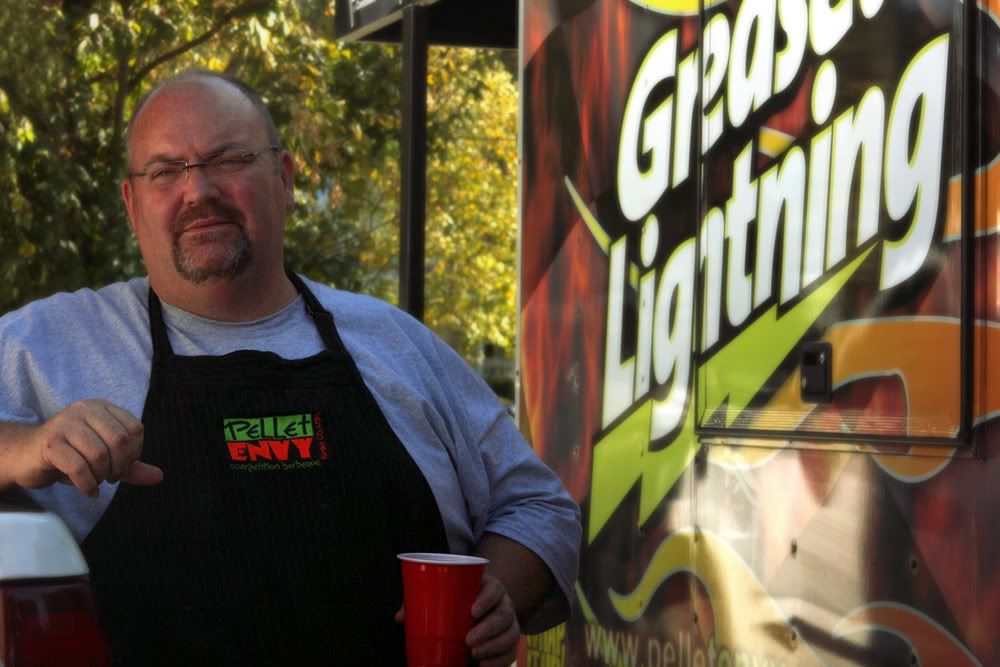 I met
Rod
a few years back now. I had read about him and seen him in action and wanted to learn more. I am one of the over 500 people he has taught along with Johnny Trigg for the
Old School vs. New School BBQ
cooking class. We travelled all the way from Barrie to Illinois for that class. It was worth it.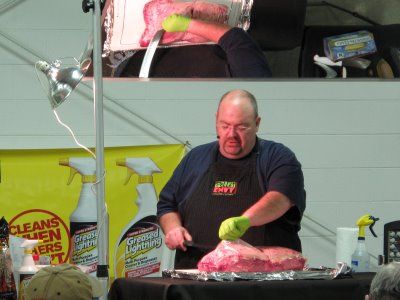 This year was Rod's year. He has just this past weekend been named
KCBS TOY
(Team of the year) in an exciting race to the finish. It was a nail biter for sure. Going down to the very
last competition
in Tempe Arizona- faced with two other teams hot on his heels ISS
I Smell Smoke
and
Smokey D's
. It sounds a bit like a movie.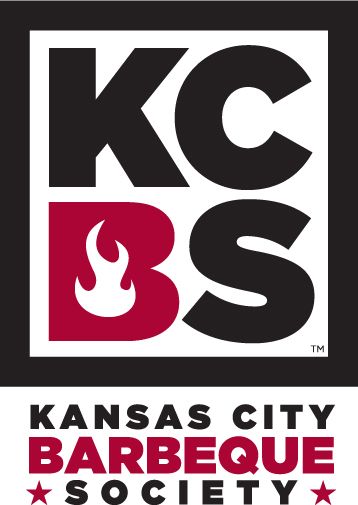 Both pitmasters for those teams are well respected by Rod. He says it could have been either of them to win the TOY.
Rod- "I have a lot of respect for Darren flying in finding his meat and rented vehicles and winning." I have a lot of respect for Steve travelling so much and accomplishing so much. They are both as deserving. I predicted in July that Darren would win it based on what he had done and caught on fire in the summer. As hot as he was I thought he would pull it off. He almost did.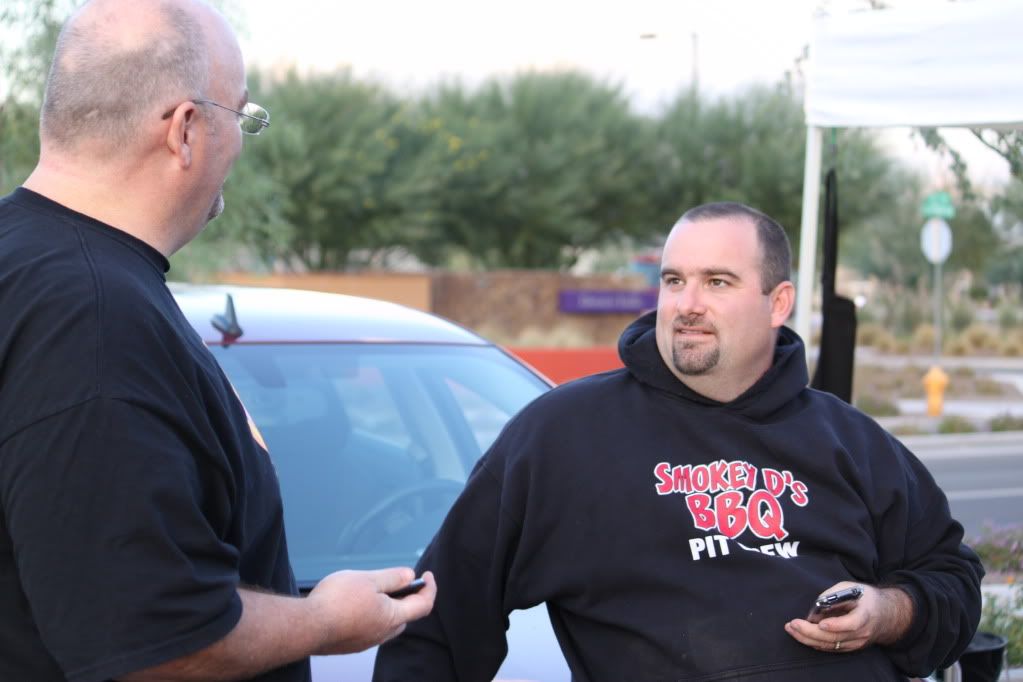 Find more videos like this on BBQ Thom
**Thanks To Thom Emery for allowing me to share his video clip.
His dry sense of humour and wit resonate with anyone who talks with him. I have had the pleasure to have a few BBQ meals in Texas and talks with him outside of the realm of competition. He can make me crack up laughing till I cry with most conversations. His sarcastic comments have on more than one occasion sent me to giggling. However you can have a real serious conversation with him (on some rare occasions) that gives you a small glimpse into the depth of his somewhat guarded character. He can seamlessly go from Rod the friend to Rod the BBQ guy who has some serious sponsors to represent.
He extols the virtues of his beloved wife Sheri. He talks about how much she supports him in his BBQ career. Personally I sort of think of him as a big BBQ brother. He looks out for his friends. He is always encouraging and continuously helpful. He also seems to have the memory of an elephant and can recall a lot of minute details.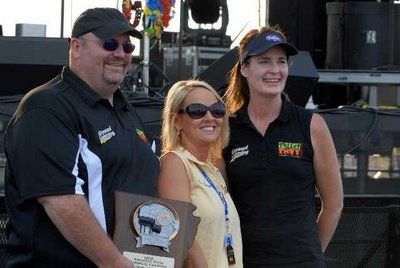 On his own personal plan for healthier living this year he let me know of his goals.
His motto now is there is no time to eat bad food and that he starts every day with breakfast. He recommends a couple of books that are helping him on his path: Eat this not that. One is for the grocery store and ones for those who eat out. I am so proud of him for being open and honest about his struggles. It's not without his own notice that being on the Dr. OZ show was good for the brand of Pellet Envy. He is sharp as a whip. I don't think much could get past him in any situation.
Q- How do you feel now that you have won TOY?
RG- I don't think it has really sunk in yet. I am numb. To be honest. I am tired and still driving home now. I am looking forward to taking some time off. Darren and I were across from each other. Steve was off in his own section. It worked out fine. (Understatement of the year) I think the guys were genuinely happy for me. I am not so sure I could have been as genuine as they were if the situation were reversed. Overall it's a great feeling. It's time for me to recharge and then go back to it.
Q-What's up next for you and Pellet Envy?
RG-I have to get unpacked. ( As we speak Rod is just a couple of hours from home) I have deadlines to get on for the Bullsheet and other things. I have to announce my classes for this year this week. My teaching partner is now a movie star (Captain Parkay – Johnny Trigg) so he can't commit (laughing he says this with some seriousness. I will be doing the classes solo. I have so many irons in the fire. Additionally I would love to take my wife to New York for a few days.
Q- What is your take on the proposed changes to how the TOY is calculated?
RG- You can't track who has sponsors and who doesn't. These are pieces of information impossible to track. It's all total crap. A Tiering system for team of the year is ludicrous. Truly if it aint broke don't fix it.
Q- Who were your major sponsors for the year?
RG- Greased Lightning and BBQ'ers delight. Greased lightening has been signed on for 2010 already. I am really glad to have them on board. Candy makes a great product and Greased Lightning is terrific for cleaning even on clothes. They have been very supportive of me and I am thankful for it.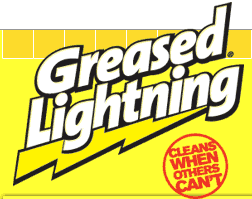 Q-Do you use a muffin pan to cook chicken ala Myron Mixon
RG- Laughing, he says no.
Q-What's you take on garnish. Garnish or no garnish- and proposed changes to the KCBS?
RG-Garnish is what sets KCBS apart from the other sanctioning bodies. It makes it more of a challenge. I believe it should stay the way it is. Garnish may not be my most favourite thing but it adds more difficulty. I think they need to leave it alone.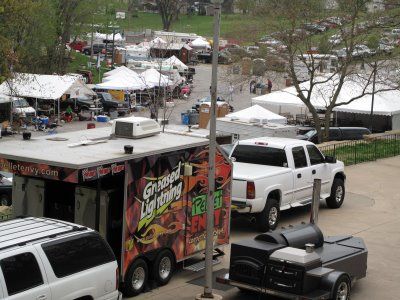 Q- What were your stats (miles comps, states- for the year?)
RG-Miles this year – 40,000 approximately
States – Somewhere in the neighbourhood 33
Competitions- I believe 33 total
Q-When you become TOY (team of the year) what do you do next.
RG-I am going to try to do it again. Take a break but then go back to it. 2010 is going to be a great year for BBQ I know it will be.
Q- Was there any point during the competition season where you felt the pressure >?
RG- The pressure was really on me on the way to Florida. I packed up as soon as I had done brisket and I left. I have never done that before. I had been gone 10 days and it was my anniversary. I won that contest.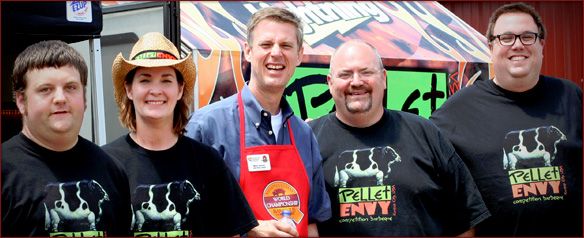 Q- As the most winning person in KCBS -Why are you not a part of the TLC BBQ Pitmasters series?
RG-I don't know the answer. I think they should have taken me.
Q- Are you endorsing any candidates for the BOD for KCBS?
RG- As of today -no. I have not done my research yet.
Q- Why are you not running for KCBS.
RG- I got away from the board in June. It was a difficult decision for me but I needed to get away from it. It's too much minutia. They are micro managing. Looking back to the previous contest is not the answer. The board should focus on the next 5, 10 15 years, of the KCBS and its future. They should be strategic in nature and currently they are not. Every once in a great while, I regret it- when I think of the people that put their trust in me. Ultimately I had to do what is best for me. Ultimately with the rest of the season it validates that I made the right decision to get off the board. It was a great choice for me to move on.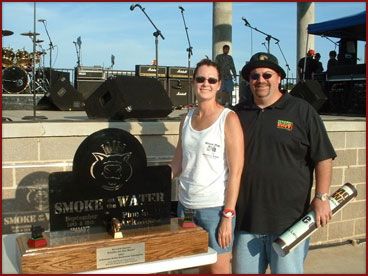 Q-Out of all the other teams besides the two that were on your heels who do you see in 2010 coming up the ranks of the TOY listing>?
RG-Wow. You know no matter what answer I give I will have left some deserving team out of the mix. I'll be disappointed in the answer I give. There are several teams that I think will rise though the ranks.
Q-What's the name of your GPS (I can hear his GPS giving him directions throughout the interview)
RG- I get asked that a lot… I don't really have a name (he chuckles a lot here) sometimes I call her b!tch if she takes me the wrong way.
Q-What's the biggest tip about Competition BBQ you can give people?
RG-Try to undersmoke your meat.
Q-What will be your first contest for 2010
RG- Lakeland Florida.
Q- Anything else you would like to share…………….

***** Exclusive you will read it here for the very first time *****
RG- Ok heres something to tell that I am sure will have an impact – We will be Pellet free in 2010. We will no longer be using pellets or any pellet BBQ's. We have a Geer pit (Jambo Pits) ordered for the back of trailer. I am in love with his pits. I will be returning to Texas to get it mounted. I will be Pellet Envy for 2010 and we will have a new name for 2011. Right now we have narrowed it down to 12 other names.
For the 2009 season I will still teach in 2010 both pellet and on the Jambo Pit. It will be a big challenge to do both but I will do it.

Q-Why are you changing from Pellets to a stick burner (
Jambo Pits
)
RG-It started with wear and tear. As much as I travel the gas is so much less with the Jambo Pit. Then it was my results in 2008 out of 8 contests that I used the Jambo pit contests 6 were won with the Jambo Pit. Then this year (2009) out of 8 contests where I used the Jambo pit I had a total of 7 wins. This gives me a new set of challenges it makes competition BBQ more interesting. Cooking on the Geer is now a challenge. It has brought me back to raising my level of focus and concentration in a contest.
*Note Rod had a bit of nervous laughter when reporting this and he admitted as so. This is a big deal to him and its news for the BBQ world. I really thank him for allowing us to share his announcement. This is going to be a huge step for Rod. I wish him all the very best with his new direction.
****
Jamie Geer tells me that the pit will be exactly the same size as the one he currently uses. Rod doesn't want to change a thing he wants it to be identical. The firebox has already been fabricated. It will be ready in time for Lakeland Florida.