Day 10 – 25 Days of Christmas BBQ Blogging…

TLC BBQ Pitmasters
Clip
Talking to Myron is interesting to say the least. He has just won for the 8th time MIM TOY ..This interview took almost an hour and a half. To get that much time with him I think is truly rare as he is constantly on the go and busy. How to describe him is tough. He's the type of guy that would cuss at ya and yet at the same time be trying to teach you something of value because he cares. He is much more benevolent than he appears to be. He is more sensitive to other people's feelings than he lets on. He's not out to hurt anyone.
There is an underlying deep resounding care and love for his friends and a need to protect them and also those who are just beginning to start out. He has always been very polite every time I have met him. I have never been in his presence where he cussed more than damn. In fact he has always been the typical Southern Gentleman.
He calls a spade a spade. He doesn't mince words. He is most definitely a very proud man. His reasoning on his ego are sound. They make sense to me. He has won more than any other. I'd say he has a right to brag for sure. I will say this though with the exception of his family and close personal friends he really doesn't give a damn about what you think of him. He has his own moral compass (instilled by his own family) to be fair to be truthful and to be honorable. That's what matters to him well that and of course getting paid…..
Now truly I could list his accomplishments but Myron has some of them listed on his website.
Myron Mixon, chief cook of Jack's Old South Competition Bar-B-Que Team started Jacks Old South in 1996 as a way to promote the family Bar-B-Que sauce, which was made by his mother and father, Gaye and Jack Mixon. We competed in our first competition in Augusta, Ga. where we took 1st place in Whole Hog, 1st place in Pork Ribs and 3rd in Pork Shoulder. Since the beginning, we have won 140 plus grand championships resulting in over thousands of trophies, 30 state championships including wins in Georgia, Florida, Alabama, Virginia, Arkansas, Mississippi, Kentucky, Illinois, South Carolina, and Tennessee, team of the year six times, and 8 national championships. We have also taken three first place whole hogs at the Jack Daniels World Championship Invitational Barbeque Competition. Additionally, we have been the Grand Champion at the World Championship in Memphis three times, in 2001, 2004 and 2007. We have also taken first place in the Whole Hog category at the World Championship in 2001, 2003, 2004 and 2007. Jack's Old South has been the Memphis in May Team of the Year with the highest number of points for 7 years, from 1999 through 2004, and also 2007. We are also the only team to win Grand Championships in Memphis in May, Kansas City BBQ Society and Florida BBQ Association in the same year. As a result of all of our success on the various BBQ circuits, we have been featured on several television networks, including the Food Network, Discovery Channel, History Channel, Travel Channel and the Versus Network. Mastering the art of Bar-B-Que'ing has lead to the development of our own line of Jack's Old South products including sauces, rubs, grills and smokers, as well the Bar-B-Que Cooking School.
Q- Have you been online much since the premiere of TLC BBQ Pitmasters.
MM-I don't go online much. Unless its checking my email and seeing if I got paid from my internet store. Or if people are sending money for the cooking school or asking about the business of franchising Jacks Old South. Not big on Computers at all. Other than that the rest of that shit (forums etc) can just wait until I can. For me it's all about getting paid. This is my living.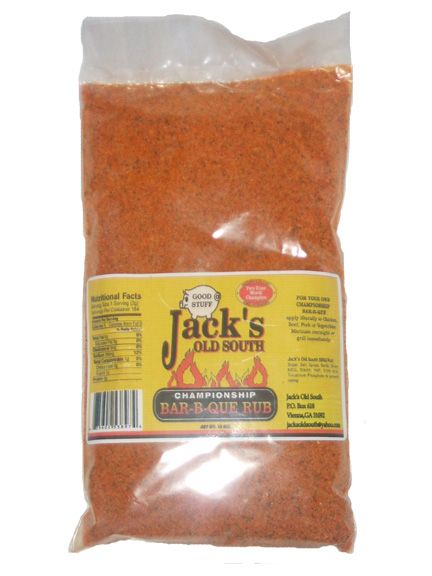 Q-Why are you now offering
Franchises
?
MM- To be truthful I'd rather let them have the damn worry of running a restaurant. I have been down that road. We made money don't get me wrong. We did real well with it. Over all I don't have the patience to deal with the employees. There sure is money but it's not my demeanor to deal with employees. My Daddy told me. – "If it takes more than more than you and one more person you are screwing up". Other people may want to work with employees. A lot people out there can get into and do well. We will give them the tools to make it happen.
Q-Was your Dad your biggest BBQ influence?
MM-Definitely. On how to BBQ yes he was. Most definitely. For the actual teaching of competition style BBQ it would have to be Pat Burke of Murphysboro ILL. He was my biggest competition BBQ influence. He is the other half with Apple City BBQ Gang with Mike Mills.
Q-Do you realize that could possibly be accountable for a lot of muffin tin sales in North America?
MM- I do a lot of contests and 3-4 schools I always try to improve. You can't keep pitching the same thing every year. What I did last year may not work this year. Your teaching has to change. I experiment at contests. Not at home. Now don't get me wrong I won't do it at $10000 grand prize purse competition but I will at a $2500. You're just not going to get the experiment you need at home. $2500 is still good money but I charge $750.00 for cooking school and I have to give them something new and fresh not the same old thing. This is just one of those things I tried.. If you keep the course or your stuff the same you won't keep winning. You have to constantly change not 180 degrees but you have to keep things fresh.
Q- Whats your opinion on BBQ Judges
MM- The BBQ judges drive what teams do period. At the end of the day actually they are the ones that write your check. Indirectly but they write the scores to get you that check.
Q- What has been your biggest winnings?
MM- $26000 Memphis in May 2001,2004,2007
Q- Whats your favorite Category to cook
MM- Brisket- KCBS,Whole Hog MBN I like cooking whole hog. (chuckling he says that) He is the king of whole hogs.
Myron Whole Hog
Q- Backs or sides Ribs
MM-I do baby backs I can build a nicer box with baby Backs. I know that's opposite from everyone else.
Everyone should use what you know and turn in whichever you are better at.
Q- What was your biggest splurge on yourself after a big check?
MM- I bought a log Splitter. Peach wood stumps are hard. The large stumps can be 20 years old 18-20 inch stumps its great wood. You can bust it with a maul and a wedge and let me tell you that gets real old. I had to take my money so I can bust those up. Best thing I ever bought.
Q- What does it take to garner your respect in BBQ in one of the TLC BBQ Pitmasters Premiere clips you can be seen stating you respect Lee Ann Whippen. That's high praise from you.
MM- This is simply predominantly a man's game. She does just what the guys do. She competes week in and week out. She doesn't ask for favours when she is out -she does the stuff herself. She hauls it around and loads it up just like any man out there.
Now I have seen some of those female teams and they want to wear their manicures and all that hoity toity stuff and then they want the boys to come over to cook for them and do their crap. She doesn't do that. She also wins. She has won some contests. She has my respect because of that.
Overall though it takes somebody that has continued to have success in the business. Not a one shot wonder. Somebody who has had some staying power. Over 5 years at least on top of their game and they keep winning. It's hard to do it and stay fresh. A lot of people come in, and win for the moment. They do very well and then you see them go away it's because they keep trying to do what they did- it just don't work. Too many other people are taking the time and spending the money whether it be from cooking classes or whatever books videos etc and the dollars for the equipment and you just can't keep complacent hoping that what you did 5 years ago works today. It aint gonna happen.
Q-Who is on your cooking team.?
MM- My wife Faye, David Hair (mostly with me) Nick Cochran, Wayne & Sandy Johnson, PJ also goes with me some. Ed Harris is also on the team he cuts my peach wood for me. I think we will see him on an episode.
I've got a Good Crib. I have been very lucky from the time I started in 1996 that the people that I have had working with me I haven't had the same cast of teammates but I have only had good teammates. I never had any slackers. They knew their jobs. They do it out of the fact they want to win.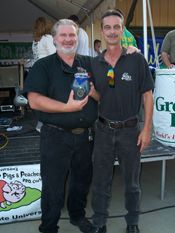 My team have loved to win. These people like to win. You know some people say I take the damn fun out of it but when I am winning I have fun. Even if it is a hobby for you and not what you do for a living every time you win a dollar -a dollar didn't have to come out of your pocket. They don't understand that
I mean I understand the camaraderie and they are looking forward to driving up in their motor homes getting into their little circles and having their little cocktails there is nothing wrong in the world with that.But this is my living. If I want to get drunk and have my friends over I want to do it on my patio beside my pool. I don't have to spend $2 grand to do it. You know what I am saying? You can't be with the party on Friday night and win the contest on Saturday -it does not work like that.
Q- Whats your favourite contest. Its the Big Pig Jig its my own home town Vienna Georgia. it where I got started.
But outside of my own town its the national Capital BBQ Battle
Probably one of the best I have been to. Unique at where the contest it . They close down 8 or 9 blocks of the street. Cooking right on the street right in the middle of it. You are amongst all of the history of your Country right there. That's pretty damn special. Plus now it's a dual MIM and KCBS.
Q- Which competition style do you prefer MIM or KCBS.
MM- My hearts always with Memphis style MIM it was my first love. I enjoy that. Best of both worlds. Blind plus on site. You have a lot of teams from KCBS now that say MIM is just too expensive. Now don't be telling me that if you are stepping out of your $300- $400000 Motor home. I don't want to hear that shit that's no excuse. Now you have some kcbs teams who used to call it a dog and pony show that have done the duals and they enjoy it with the interaction with the judges.
Q- Have you ever been to Canada?
MM-We went to Whistler. To do that contest. 2007. Dusty's bar and grill. Gorgeous Place. The restaurant, the decor – they spent some serious dollars there. It's the best looking BBQ restaurant I have ever seen. (High praise from Myron)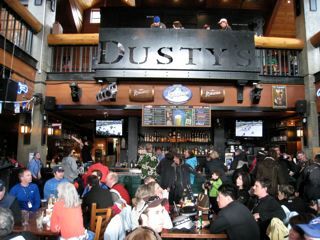 The outside has a steel sign they took and cut the words out. It's pretty damn nice.
Internationally I'd like to go to the WBA out of Switzerland I would love to go do some of those events. Schedule a couple of years ahead and set up. My schedule now is so damn hectic. I wouldn't want to sacrifice my own schools here- it would have to be feasible.
Q-Do your kids plan on continuing your BBQ legacy?
MM- On kid is in college and one in pharmacy school. No interest in continuing my BBQ legacy. Hell No. It's too much hard work. Hell no. I don't want them to have to work this hard.
I really don't want them to. Most kids don't work hard like this. Most kids aint gonna work like this. Like Lexington BBQ up there in North Carolina and they are showing the whole hog BBQ . Its all old folks.
(Myron really took a level of seriousness at this point of the conversation he has so much respect talking about this) Shoveling the coals is unique- it's good BBQ. It's not like it is today where you have to throw a couple of sticks in then you go off and have you a drink of coca cola. That isn't the way it is. It is very tedious. You can over fire it. You can fire up the whole bunch. It's very skilled. But it's very hard. That's why you don't see anybody doing it like that anymore.
Q-Was that a part of the reason that you agreed to do the documentary with John Markus? So there would be a record of your legacy?
MM-That had a lot to do with it. I wanted a record of what my Dad showed me.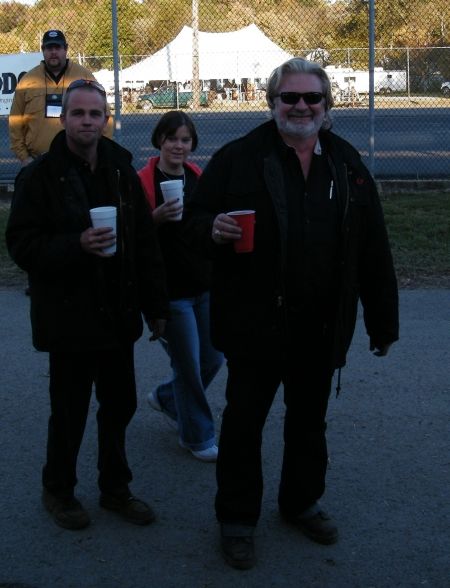 Q- How did you get involved with filming and becoming a cast member for TLC BBQ Pitmasters?
MM-Well John and I were going to hang out at the Harpoon BBQ festival. We had planned it already. This had been a plan of Johns for 3 or 4 years. Since the last Versus show in Reno he had this idea for a BBQ reality show. I was coming up to spend the weekend with John.
Jay Petersen had moved on and hooked up the production company (Original Media) and wanted John to come in and pitch it. He asked if they could shoot some sizzlers reels and would I mind doing some. They sent out a film crew – a camera guy and a producer and I would talk -it just went from there. Then they went off to other cooks and made some more. They made it happen. They made it happen really fast. This was July 2009 and we were filming the first show in Labour Day (Sept 1) pretty darn quick.
These people made their mind up to do it-they didn't play around.
Q-Have you seen any comments about the show …do you care?
I don't give two shits. It is what it is. Raise hell about my damn mouth and all that shit. They need to get real. Ever damn contest you ever been around has some cussing. The thing about it is if they are going to be honest with themselves they could do a lot worse than curse. There are a lot worse things that have happened at a contest. If I can get by and cussing is my worst deal I am happy.
Q-Do you talk to your Momma with that mouth?
MM-Oh I don't talk to my Momma like that with my damn mouth. She would bear down on my ass.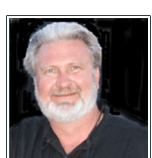 Q-Do you let anyone else touch your competition meat?
MM- As far as the injections and making up stuff I do all of that the pre-prep I do all that. In KCBS I do all of it. In MIM I got some guys that will inject the hogs and shoulders and stuff but they do what I tell them to do. As far as the sauces and everything else (rubs injections) that's strictly me I do every bit of that hands on.
Q-What's you first comp for 2010.
MM-Sebring FLA January FBA
Lakeland (KCBS)
Q-What's your take on garnish ?
MM-I don't feel it's necessary but you have too many teams (that like it) because that is one of their plusses in this game. It aint going anywhere. The damn board members can see that it's not going to happen. You better damn make sure if your meat is not perfect and tastes like crap that you are getting 8 or 9's in appearance. It should be a given. It better look the best it ought to be. Straight out of the gate it better get an 8 or 9.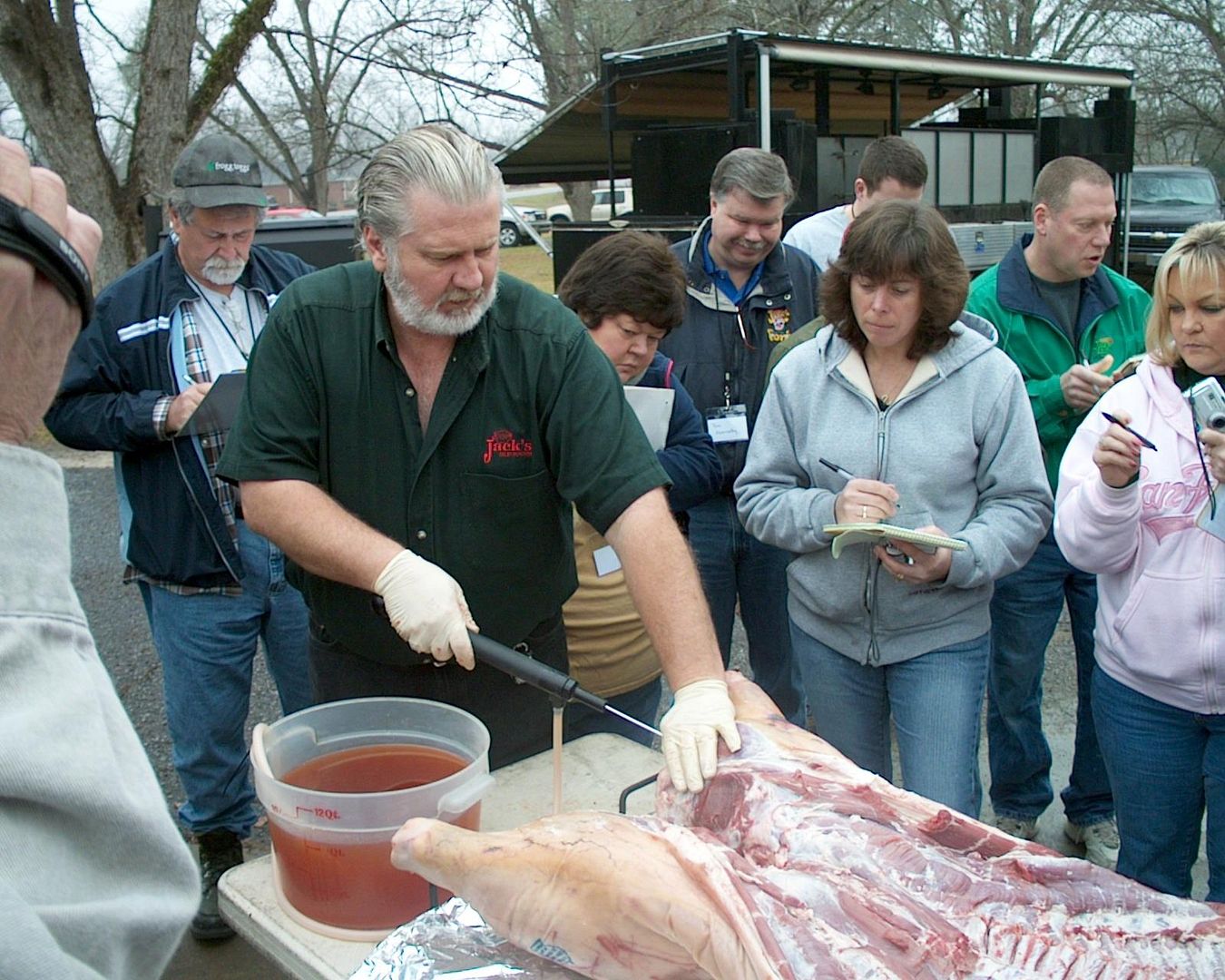 Q- Are you endorsing anyone who is running for the
KCBS
BOD?
MM- I try to stay out of the damn politics. I don't want to be drawn into it. I have enough problems keeping my own ass out of the fire. And with my own mouth. No I would not endorse anyone.
I wouldn't wish that shit on nobody. Not even my enemies it may seem glamorous and fun I was county commissioner for 6 years and I think they go in having these big hopes and plans on how they can change things that don't happen unless you get the rest of them to go along. They are too damn entrenched set in their own personal agendas. That's just the way it is.
Honestly how much has changed since the last time. We are supposed to have all this camaraderie and holding hands singing Kumbaya. It ain't happening. Whatever it is- it's the same thing own personal agendas. It doesn't matter whether it's the boardroom of KCBS or any other organization it's got its own little insights. It could be the same discussion about Coca cola or Colonial bread it's all the same its still infighting. It just happens to be about BBQ.
Q- Favorite BBQ food to to eat.
MM-Brisket. I have been around it so damn long with pork (hogs shoulders) it's still great but I don't want to eat it. Then chicken and BBQ turkey or smoked turkey.
Q- Favorite Drink on the road.
MM-Crown Royal and damn water. If we ever invaded Canada I want to invade the distillery.
2 years ago I was at the Jack we were RGC I was up at the stage and I had had quite a few cause we had had a great weekend vending I wasn't really giving a shit about the contest because win or not i had made some good money . I was hollering and cheering on the asses of the Canadians. Yelling Jack Daniels sucks and long live Canada. I had my blue bag in my hand (crown royal) Now I love the crown. I can spot crown out cause I drink it with water. I don't be mixing it. On ice or water I can tell if its crown.
I need to get Crown Royal to sponsor me. Every crown deserves a King and I am that.
Q- What do you think the biggest misconception about you is?
MM-They think I am a mean son of a bitch or I am arrogant. Which I aint.
Anyone who does this on a week in and out basis anybody has started on winning and peddling their own stuff (shirts rubs etc) have got egos. They are proud of their accomplishments. That's just the tip of the iceberg, In this game if you don't blow your own horn there ain't for damn sure nobody going to do it for you.
I am not a hardass for damn sure, if I was I wouldn't have helped people in the past. I mean anyone in this who says they have not been helped in BBQ is telling a damn lie. I have been helped. If I didn't want to help anyone I would not do the cooking schools I would be keeping it all to myself. But I pass it on it's just not for damn free. I wouldn't knock it if someone wants to give it away for free it's their loss. I mean if the people who are giving it away for free were landscapers I would like them to give it away for free and come landscape my damn yard for free.
This is what I do for a living. It aint free. They need to pay.
I am a big old teddy bear. (chuckling)
When the situation calls for it of course I can be a hardass. I mean everybody watching the show thinking that I am like that all the time- I damn am not. Comments are just that. When you are in the tent you have the pressure in your own site. I was wired for sound and video. The thing is I don't give a shit who heard me or who is hearing me. They aint going to kill me for cussing, and at the end of the day in 100 years who's really going to give a shit.
Q- What's your first memory of cooking with your Daddy?
MM-I didn't want to do it. He was working our asses off me and my brother. I was probably 12 yrs old. He had these two big old fire barrels and you had to keep them filled to get the coals to be able to keep them shoveled hot to fill the pit.
There was as much a job to keep those fire barrels filled as it was to shovel it into the pit and cooking. I remember he was sitting on a 5 gallon bucket (I'll never forget it) and he would walk up (we had tin across the tops of the pits) and run his had (just his hand no probes or thermometers)on the tin and he would tell us to get off our asses get over there and fire those pits.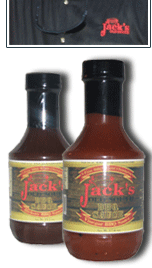 There were 3 big sections. We had to do that every 20 minutes or less. We had steel handles on these shovels and they were hot. 10 ft long sliding into the fire barrel so damn hot -trying to keep yourself from burning. If you got too close you would burn yourself getting all blistered. The heat was generating on ya like something fierce. That was my first impression of it. I didn't want to do it. I wasn't going to do this.
In January 1996 he passed away. Back in March 2009 for the documentary with John Markus we opened them up again. The hadn't been fired since he passed. We cleaned some stuff out and cleaned them up where we could cook on them again. We did a whole hog, 16 rib racks. 16 hams. He always cooked hams Full spareribs. He might of cooked a few hogs but for me I had to try just to see if I could do it.
Q- Are you trying to prove something to your Dads legacy?
MM-Pretty much. My Dad was pretty damn tough on us. People think I am hard they don't have a damn clue. Sometimes come around and ask if Jack is around. I tell them now he aint and you better be damn glad he isn't
He would not tolerate a lot of the shit that goes on in my life right now. I am constantly trying to prove I am as good as he is. I know I aint ever going to be as good. And the things that he did. Like the saying Jack of all trades and Master of none. Well my Daddy was the master of them all of them.
He could do anything he wanted to do. I just wanted to do this one part of his life as well as he did… BBQ. I am never going to profess or proclaim to do all the things he did but I want to do this part of it.
Q- Do you think you would ever come out of his shadow?
MM-Yes I think I can some. One thing about the documentary it was a big part of it. I don't think the connection to my Dad was ever known. I wanted to make sure that was told before I got out of this game if I ever do get out of it. I want to give credit where credit is due and that's my Dad and he got me started. That he was something . I don't think he was out there to cast a shadow. I just want them to know how I got started. What drove me to do this.
Q-Who was the first to call you the Man In black?
MM-Ron M. Sylacauga Alabama contest when I walked up to the stage in 1998
Q- How does your wife Faye feel about it all?
MM-She's fine with it. It's what I do for a living. Now it's at the point where she doesn't come out all the time (with exceptions for the Big Pig Jig, the Jack MIM ) to the other 25 or so I go to. She don't make them. She is so busy at her own job. It's hard but I enjoy it. 1300 miles to me in a day is nothing. Anybody else driving forever hauling a pit wouldn't be good- you have to be a diehard BBQ person to keep going.
Q-How many competitions have you competed in this year?
MM-Close to 30
Q- Whats been your favourite part shooting the TLC BBQ Pitmasters Show?
MM-Getting to know some of the teams better
Other than Paul and Harry I knew everyone else.
Johnny I have gotten to know him the last 3 or 4 years. Johnny doesn't try to be funny but his matter of fact Texas one liners tickled my ass.
Tuffy well I got to know him a lot better – he came to my school- that was funny.
Jamie and Pam Geer of Jambo pits. I really enjoyed and getting to be around him. We have a lot in common both of us selling pits. He is a walking damn clown. Funny as heck with his one liners. This guy doesn't have his own damn writers and he is better than Larry the cable guy. (Chuckling) Jamie just remembers all those one liners. He'd bust your damn gut from laughing so much. He is a good guy. Pam his wife -now she's a damn saint. That's about what I would say about my wife Faye too. She puts up with my Bullshit. Pam does that for Jamie.
Paul Petersen -First time I met him he comes across arrogant. He didn't have a damn clue. At the start you wanted to show him what for. Before the series was over I liked Paul. I kind of felt sorry for him because he was lost in this world. It wasn't what he thought it would be. I don't think coming in DAL helped promote his image it ain't going to do that. I am not making fun of him nor would I pity him. He got much better as it went on. That was good for him long term. Made me feel bad for him (not sorry like pity) but sometimes things just don't work out like you think they would have or planned out. I have been down that road myself. I just from personal experience I knew what he was going through. He has to ride that bull out on his own.
Harry Soo- Sleeper in the damn bunch. He wants to come across as a typical novice. That was a hell of a field in Mesquite. This is a whole helluva lot different deal than California. It's one thing to take 4 1st places in a contest in California with 17 teams (and that was one heck of a feat!) but he wasn't going to do that in Mesquite. It's a lot damn harder.
Pat Burke was my big influence.. Pat Burke was the man to beat. I would go to compete against him You don't get better by competing against teams you know you can beat. You get better by going up against better talent.
Kind of like Harry Soo. Nothing to take away from California. It just hasn't had the time that Tennessee has had and Kansas and Missouri etc and it will come along. The Mecaa of BBQ is where the southern and mid west are -its just the way it is. You have to be able to compete against them. He figured it out. He got better as the series went on.
Q-How much exposure do you think the TLC BBQ Pitmasters series will give to competition BBQ?
MM-Best prop BBQ has ever had. Nothing against the other shows. John Markus didn't want to do another festival show. It's been done to death He didn't do it. His vision was a reality show, the interactions amongst themselves, the family the other teams the crowds the organizers and whatever how it actually works. Being on TLC gets it out there to where people will really see it. People in it know about it of course but on the outside they had their eyes opened up to it.
Q- What's your advice to people wanting to start in competition BBQ?
MM- Do research. Take and utilize the available info -you have to wade through it and do what fits for you.
Guys now listen you don't buy a cooker just because it has a lot of chrome and fiddly things on it. Make sure the damn thing cooks right. Make sure it cooks the way you want it. A lot of time guys will buy something on sight. You put some aluminum on there and some diamond plate and they have to have it. Then, right then, they buy it. It's showy enough for them I guess. If it has a motor in it or a rotisserie on it they damn well be sure getting it. I am also not a fan of hotspots I am not smart enough that I remember to move stuff to each side. They make that mistake.
The internet is a good thing but there is so much information. I think the NBBQA Conference seminars are a good thing this year I'll be there. In 1996 there wasn't as much access to this type of information.
When I started out I worked hard I took 2 -1sts and a third. In my own way I studied the Big Pig Jig and walked through. I paid attention to the teams. If they do their homework and their pre work done before they jump in and buy their pit they will shorten their learning curve and the lack of winning money.
Q-What breaks apart teams?
MM-Teams that don't win is what breaks up teams most time. That leads to other shit backbiting to guessing who the leader is. I am just talking about getting calls not gcs. That makes people disband etc.
Q- In your opinion what makes your pits the best?
MM-You cooking above water each has a water steam effect and tenderizing.
Heat evenly no cold or hot spots. No shuffling around.
I can cook all 4 KCBS meats on one pit.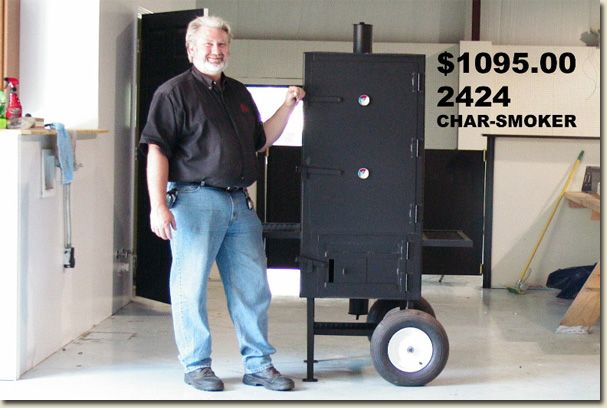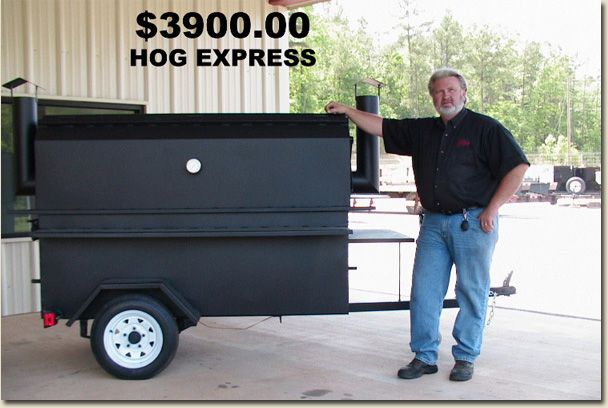 Q-Where are the pits built?
MM-Vienna, Georgia Jim Maxey Fabrication. In 1996 I got my first one that March and I haven't look back. I have never cooked on anything else.
Q- What's your take on Ron Cates announcement Nascar series?
MM-Money man -he is it. I got some in Arkansas (Smoke on the Water 2009 Clinton Presidential Center) and I was glad to get it. (Chuckles LOL)
You know that's the kind of people you need to keep coming up and being innovative because they want to get into organizing. It's no good with cooks sitting around saying you don't have to worry about the money the teams will come anyways. My ass they will. If you have a competition on the same day with $1000 dollar grand and one with a $5000 you go where the money is at .
Ron Cates figured it out early on. He can have his own sanctioning body. He has the money and more.
Q-Does the sanctioning of a competition matter to you whether its
KCBS
,
FBA
,
MIM
or
Cates
?
MM-I would not care as long as the checks are good. His are good. I don't care if it's the kcbs or Ron Cates as long as the money is there. It don't matter to me. BBQ is BBQ. I walk from one to the other FBA Memphis KCBS and if he gets his own sanctioning body I'll go cook it too.
Now here I am speaking to all the KCBS board members from top to bottom they better not be sitting on their asses because of their arrogance if the man right there (Ron Cates) starts his own organization he will put a cramp in their damn style. So they don't need to sit on their asses. They better get used to bending their knees a bit and kissing some asses instead of everyone having to kiss their ass.
Q- What else do you want people to know about you.
MM-I am a matter of fact type of person (understatement) what they see on TV isn't what I am about totally. Anyone who knows me knows it not the case. I would never tell you anything that would hurt you. I see these teams telling new people bad advice to younger teams. I don't know why they do this. To ensure their stature I guess. I would never tell you that. I don't like lying I don't like thieves and I damn well don't like treacherous sons of bitches.
I am not hard to get to know. I may not be as sociable as Tuffy wishing everybody luck like he does. I just don't have time with my schedule. When I roll up to a contest its mid Friday then you are cooking turning in awards then starting back again. I am not stuck up it's just my time schedule doesn't allow me to do that.
The flack I am hearing about the TV show about me is a lot of jealous people I think. I was picked to be on a TV show it just as easily could have been them.They want to sit back on their ass and bitch about why not I. Why not this guy or another. They just didn't get picked.
You should be glad for the ones that did get picked. Be glad mostly for the effects it will have on the whole damn deal- the sales of sauces, pits and rubs and t shirts and everything else. Be glad for it. You are never going to convince all of them. They will bitch about rain if the crops were burning up -no pleasing them all. We need more people to understand that it's good for everyone in BBQ.
Q-Anything new coming out for JOS?
MM-I may be coming out with a new line of muffin tins. (He says chuckling)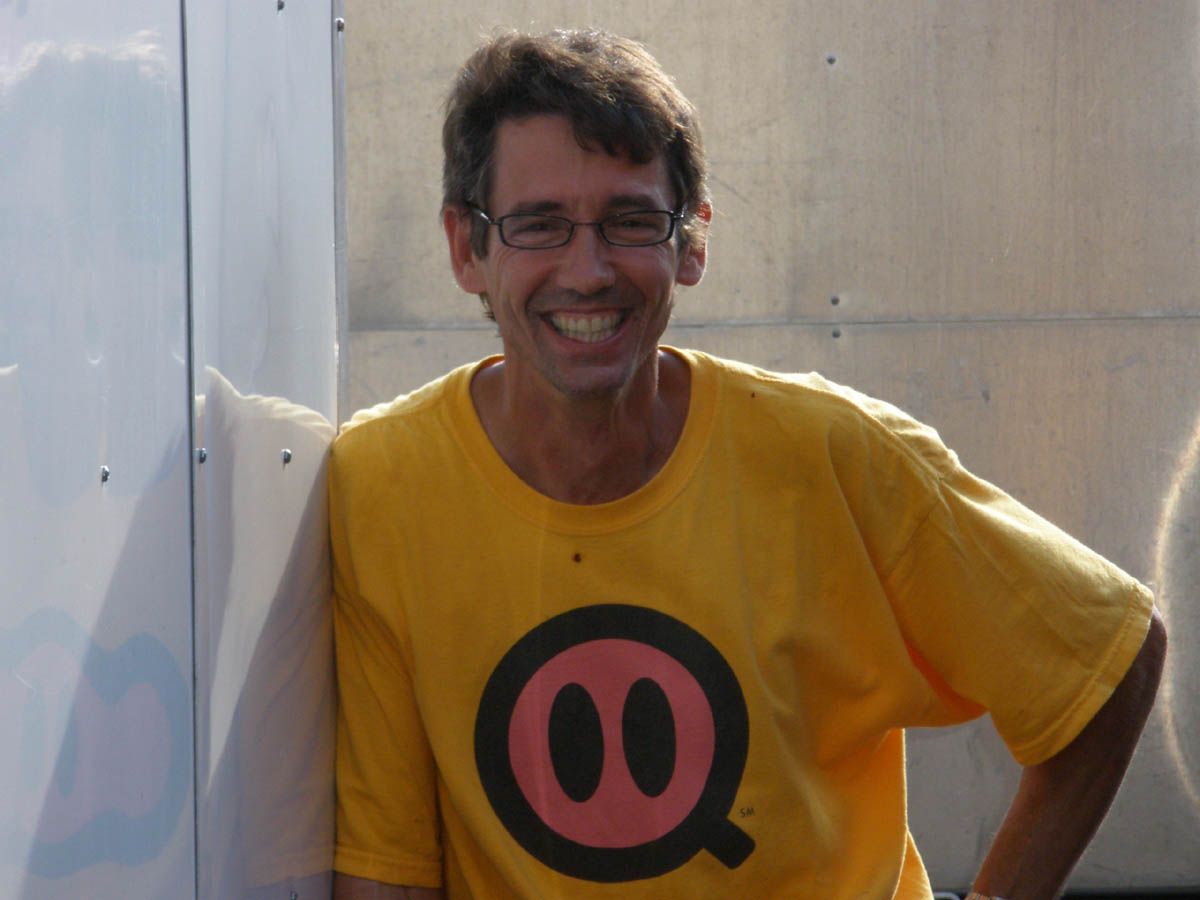 An in Depth interview with the ever so modest Tuffy Stone.
I first met Tuffy Stone at the Jack in 2008. I was setting up some stuff getting everything in order for a night of watching the pits when this lithe lanky guy strolls over with a genuine smile on his face. He sheepishly introduced himself and asked if I would be the first person to sign his Jack lid. I knew who he was well in advance of him coming over. I had read about him and his accomplishments many times prior to this first meeting. I could not believe the Tuffy Stone would take the time to come all the way over to the International section (well apart from all the US teams) and ask a Canadian Chick to sign his lid. To me that was incredibly cool.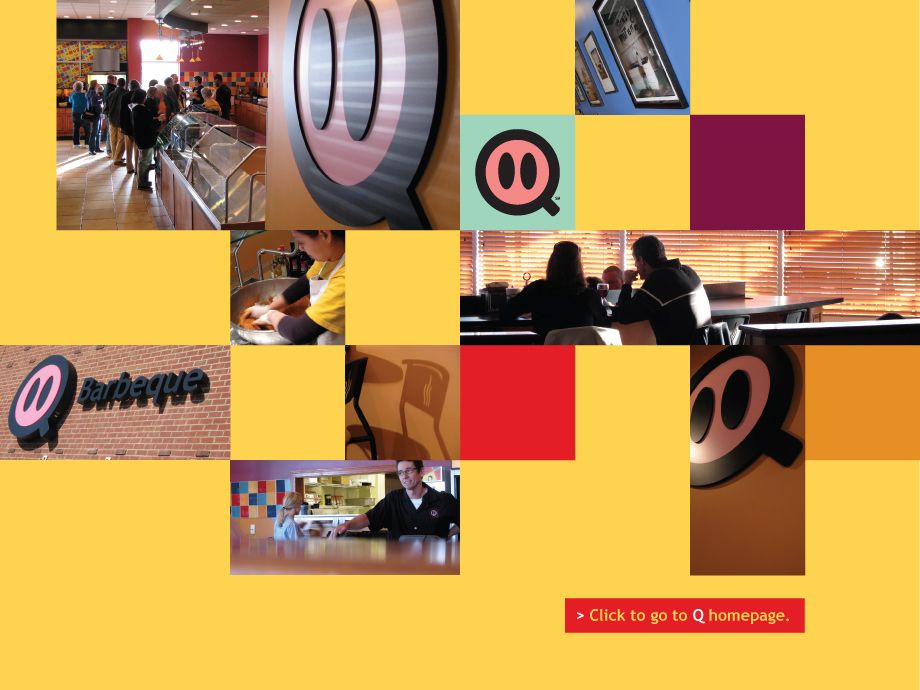 Since that first meeting I have had some truly heartfelt conversations with this incredibly humble man. I can proudly call him a friend and also a BBQ mentor. I have been blessed to have many BBQ mentors over the last 4 years. I have eaten at his restaurant
Q Barbeque
. Its terrific competition quality. More than ever he is a modest man with more Culinary skills that I could ever dream of. He has cooked with some of the finest chefs on the planet – Thomas Keller, Jacques Pepin, Julia Child……( Some whose restaurants are on my own personal bucket list. )
Ok just another warning Tuffy likes to talk. A lot. Its a good thing. It also makes it near impossible to leave out things. Get comfortable.
We begun our interview as he was leaving Richmond, VA to go to Hampton taking drawings to the health department and meeting with his partners. He has been pushing himself really hard the last few months. Juggling a successful restaurant (Q Barbecue) ,a Gourmet Catering Company (a Sharper Palate), Competitions, and now the TLC BBQ Pitmasters Series.
In his own words he says "I beat up the road pretty hard the last 3 months. To be in Richmond and not have to go anywhere has been a transition. It is becoming therapeutic. It's interesting. It was like when I first didn't have to go anywhere it was good – I feel healthy again. "
Q- How did you get the name Tuffy?
TS- My mother gave it to me when I was about two. When we opened A Sharper Palate, I thought I would put George on my business card, to be more professional. It lasted about a week, as everyone in Richmond already knew me as Tuffy. So Tuffy it is.
Q- What can you tell me about your new BBQ restaurant?
TS-Its going to be a really cool place. I am really excited. Located in Hampton Virginia Peninsula Town Centre. It will be a Lifestyle centre. We are working with an architectural group out of Ohio that has really enhanced and embraced our brand.
It is about 3500 S feet 120 seats indoors and about 32 outdoors. I am excited about the designs I think it's once again casual quick dining you order your food and we bring it to you. The smokers are going to be visible once again – in a glassed in room that will house two smokers so it will be once again a very visual maybe even more so that Q in Richmond.
It's comfortable it will appeal to grandmothers and grand babies – We are getting that at Q already. I love looking out in the dining room at Q seeing all ages and backgrounds.
I love a BBQ joint but I didn't envision Q to be a joint. All that being said – I have thought about what I wanted it to be… I wanted to have a farmer in one booth and a Doctor in another booth. I want it to appeal to everyone. The design is fresh and perhaps modern I don't want to scare anyone away.


Q-What made you decide to open another restaurant?
TS-We had a situation come to us. The developer for this town centre is very successful man who happens to have been one of the developers of two or three largest lifestyles centres in the Country Ohio. My partner and his reputation have brought the man around. When he saw Q he really wanted to put Q in this location. HE courted us and we struck up a good relationship and a good deal. It's probably sooner than I would have expected for us to do a second property but it makes sense to do it.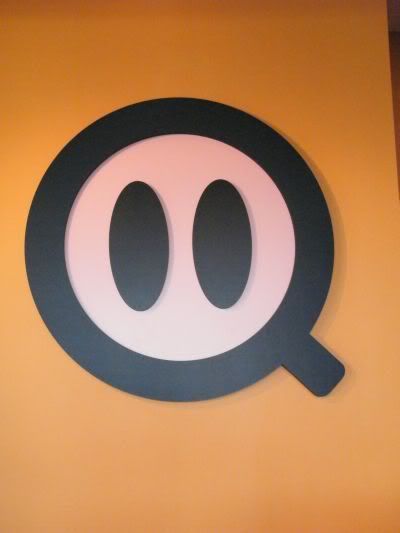 Q-When will it be opened and what will it be called?
TS-I believe it's going to be called Q. Our date for opening is March 11, 2010
I have lots of trademarks that have been in the works for a long time all of this stuff to should be coming to a close. It's a painful process. I have also thought of Cool Smoke as a name – it's close to my heart. But overall I think it will be Q.
Edward who has designed Q Has won lots of awards. He drips with talent. He has been featured in CA magazine. This whole thing is such a passion for both of us. We spend hours on the phone working on all sorts of cool stuff. Making it better. We have a new website going live on Thursday (Dec 3 2009) we are having fun together.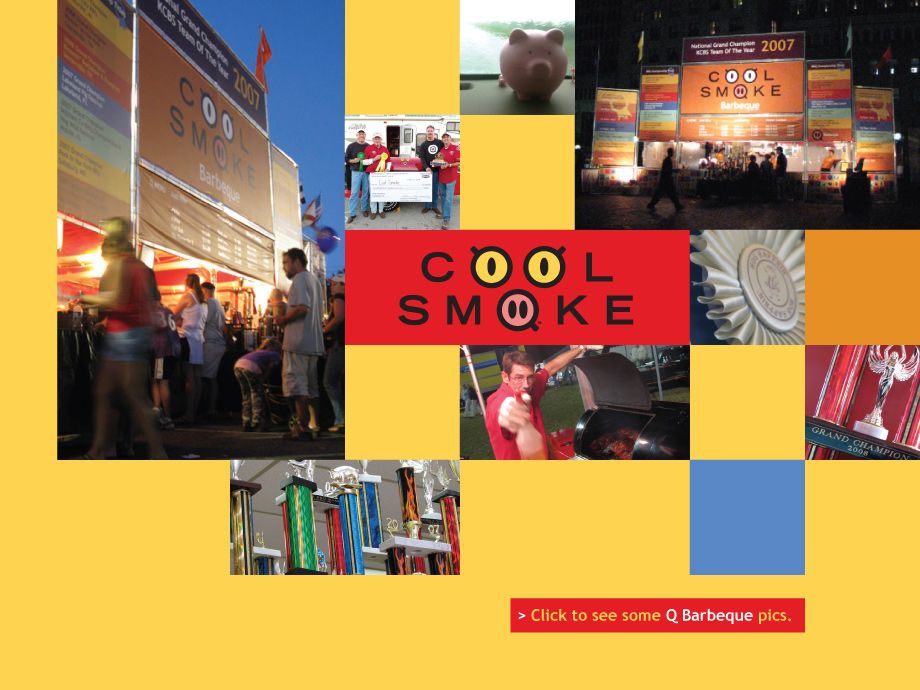 Q-How did you transition from being a gourmet cook to a BBQ'er
TS-My catering company A Sharper palate is so formal. I have been cooking for a living since the 80s. Sharper Palate is still alive and kicking and pays the mortgages for a lot of people. We are into the process of reinventing ourselves there for the next 15 years.
BBQ is how I got reconnected with cooking. It's fun and its refreshing and I can spend hours talking about why BBQ is so beautiful. BBQ came along… and you don't have anyone intimidated by BBQ.
BBQ initially kicked my ass. I came in there knowing how to make Beurre blancs but BBQ is harder than it looks.
Q- Do you see shades of yourself in Paul Petersen.
TS- I can relate to Paul Petersen. I never saw the Paul Petersen where he is cocky. He might have been there in the original stages (I can't relate to that part I am not cocky) I can relate we had a good conversation after Mesquite after awards in the first episode.
When I came in to BBQ with all of the things I had learned as a gourmet chef over the years I thought I would be able to apply those things and make it and define BBQ better. Demi glace on briskets. Or white truffle sauce so aromatic and sexy and lovely and that might be a nice flavour enhancer on brisket. The further I got away from the typical BBQ in the sense of flavour profile or expectations the worse I did. That being said the first competition I did I got a 2nd place pork and a 7th brisket call. I didn't do bad coming out but I did have to regroup. I had to try to figure out what people thought of BBQ. Plus what I think it takes to do well. Hopefully you should never get too far away from the traditional flavours. I told all this to Paul Petersen take the skills from the kitchen but do not reinvent BBQ or surprise them.
So I guess how I relate to Paul Petersen is having an interesting Gourmet food. I can relate in a lot of those kind of things. There is always a level to us.
Q-Seriously Smack talk?? From you? How hard was it for you as you are lovingly referred to as the professor, Mr Rogers and so beloved by the BBQ community.
TS-Well I was part of the sizzle reel . John has hinted around that he had cast me as the professor as I could speak easily about BBQ . John only wanted us to smack talk if it felt natural. Keeping things genuine. I thought about this. I gave it great thought. I figured it all in my head. I had to figure out how I would be in front of the camera in general.
What could I say to keep true to myself but also add to the show? It all panned out as far as they were concerned. I always thought or guessed that you always had to be too overly confident or held yourself in high regards to talk smack. I think my grandfather come out because I am much more humble than that. I said those things in good fun and good nature.
I have a good rapport with Johnny Trigg. You have to be able to take it and dish it out as well. It took me many years to dish it out to him. He dishes it out a lot more. He is much more proficient at smack talking that I am.
Q-How did you become involved with the show?
TS-John called me about the show. I have known John Markus for a bit now. I got to know him through Johnny Trigg mainly. John Markus is such a wonderful and interesting person. I love to read what he has to say and listen to what he has to say. I wish I could speak as well as he does he is so eloquent. His words are so eloquent.
It doesn't matter how brief a conversation may be with John Markus or what's talked about its always going to be that way with him. He always impresses me.
We have a rapport and I got to know him more then he got his Geer pit and in a couple of contests and giving him my thoughts on cooking on it and BBQ. Trying to hopefully help him with that process. We were neighbours in Dover Delaware one year and close at the GAB and those times cooking on the Geer pit. I know I am scolded sometimes for sharing or telling too much I can't help it just bubbles out.
He came down to a competition and he filmed a little bit and my thoughts about Myron . When he was leaving he said "I have something else to talk to you about." I was cooking by myself at Dillard Georgia and I got the call.
He sent me a text message one day while I was playing football with my son Sam. I had sent him a txt wishing him luck as I knew they would be doing the pitch to TLC on the Friday. Later I got a message back and they had picked up the show and at the time they had purchased 6 episodes that I helped sell the show and got a thank you from him.
I didn't want to come across unexcited so I sent him back a txt expressing my congratulations. He went on to give me more details. He didn't come out and say I was on the show and then later on John Markus said I was in. I didn't respond quickly. I had been playing football. I didn't want him thinking I was unappreciative.
Q- What were some of the Challenges of the show?
TS-The show has a lot of challenges I like them. I continuing to learn and grow- I am 47 now. I keep trying to take on new things in life. My perspective is just like the Nike tag line- just do it.
Q- What are some of the details on how you came to a life of BBQ and your first pit.
TS-I had already really worked hard to be a gourmet cook. But I had worked hard to raise my skills as a cook not to be just a cook but a great cook. My catering business is part of that. I would say that in mid 90s I used to volunteer to cook at an even at the masters of food & wine in Carmel CA (just some of the chefs names-Alice Waters ,Jacques Pepin, Charlie Trotter ,Julia Child_. I would do anything they asked (I would make tomato confit, I overcooked Jacques Pepin duck breast -thats a long story LOL) and fill my brain as much as I could after working 16 -18 hours and writing my journal. I wanted to make my impact. For some reason to be a chef owner of a Gourmet catering company- it's difficult to make a name for yourself like going into a James beard dinner , I really needed to have a public venue. While I had a successful company and food and provided good employment for myself and employees I needed to stop worrying about being in the Gourmet part. I had convinced myself of that. So I just tried to go to be about a good dad, employer, husband, son and cook.
Our business grew but I got disconnected with cooking. In this process for some reason I knew it would be with a wood fire. I spent all this time researching pits. Then through that process I found the BBQ forum in 2004. I asked all those questions. I got a load of hickory and my first pit was a Lang 84 I went off to my first contest Johnny Trigg was there- I was stuffing wood in my pit all night as I thought that's what you had to do and stick burners seemed to be the ones who had to stay up all night. He hadn't even lit his pit. I didn't know who he was. He had this big motor coach and this pretty pit. I was really curious. About 330 / 4am he was just getting his pit lit. I walked over and started talking to him. He won that contest and I fell in love with Geer pits.
I went down this path of BBQ. I love all the different pits out there. I think I cook on a stick burner (a Geer Pit) because its primal and basic. I think anyone who ever had to bake a cake with a wood burning oven could make it better than anyone. Having to run that fire clean is something. This whole world of BBQ turned me on to a whole new world of people. On a side note I have had to change my cell phone plans so many times because I get talking and its a $400.00 bill. The talk is always about BBQ. I want to keep talking everywhere. It's the way I feel.
This whole BBQ thing got me reconnected to cooking. I love the humility of it all. I like the fact that BBQ kicked my ass. You take modest cuts of meat and you have to coax out greatness. What seems so simple on the outside is so really complicated on the inside. I love that it appeals to everybody. I would probably say globally. There are so many wonderful things about it. The BBQ family is a beautiful thing. I love competing against my friends seeing them win and myself as well.
It's been one journey of a lifetime.
Q- When do you believe it is the right time to label yourself a pit master?
TS-Golly. You can ask that question many ways. I always had such a reverence for the word chef. Being called a pit master is like that. It was given to me by others before I was comfortable with it. If someone calls me a pit master today would I be comfortable? / I would just say I am just getting comfortable with the start of it. A couple or three years ago technically I think you could have called me a pit master but I think i may just be starting to get comfortable
Q- What's the definition of pit master to you?
TS-You have to have knowledge of your own pits but it needs to go beyond that – that you could step up to anyone's pit and figure it out and have the knowledge to do it. Reading can help but no teacher is better than doing it. You need to understand butchering. It wouldn't hurt to know how break down a pig or cow. You need to be able to know how to make a BBQ sauce or BBQ rub. So how to cook all the different meats to the right tenderness. How to retain good flavours and moisture.
Q- When will you teach a bbq class?
TS-I am not yet ready yet.
(He already has taught many culinary classes but when asked if he would do a BBQ class he pauses.)
I have hesitation due to my abstract thinking. I babble and I drift. To me subtleties and nuance and observation and things that move on you that you have to follow and watch I worry that if it was a class I would want to teach it would be a very abstract moving process. I would worry that too many people would want to know when and how to do things at an exact time. My cooks schedule is like that but it would be abstracted and I can talk a long time about smoke and cooking. I think there would be a population that would dig it and some people who would just say- what time do you put the rub on?
I know there is good money to be made and some of my friends are already doing it. For me though I think I am still learning so much.
I think I will want to share BBQ with people. I have always taught- I teach in Richmond all the time. I have been involved in a culinary arts program. I love what I am doing now. I see teaching a class at some point. I just hope the story I have to tell and what I want to convey will help people do really well. I am sure at some point I will.
Right now I am still digging in.
Q- What have been your observations about different pits (ie Charcoal and Pellets) since you are a stick burner.
TS-Charcoal cookers (stumps, wsm, backwoods -any small charcoal closed in pits) are different. I would have to become a real student of the fuels ahead of time so I could embrace and absorb that. I would want to learn all about them thoroughly.
Pellet cookers have to do what I do in reverse. Stick burners and charcoal cookers have to worry about too much smoke and too much flavour. Pellet cookers (because they burn so clean) they have to focus on how to get more smoke and more flavour in – it's the opposite.
Q-Do you think your modesty is a big hold back for you?
(He gives loads of credit to his Mom, Dad and Grandfather. He is uncomfortable with receiving compliments of any kind at all. He cringes at any mention of his accolades and his well thought of personality)
TS-My father is so funny and proud of the successes we have had at Cool Smoke, He is knocking on the door of 70 and this makes him happy. He embarrasses me sometimes when we are together. He likes to talk about it. When I am exposed to it I can't stand it. He laughs. For example – We are pumping gas going to some competition and someone will say- nice pit. My Dad is right in there saying this pit won 3rd place at such and such a competition. I'll turn to him and say "Dad why can't you just say thank you very much. He is so proud of me" One day he turned to me and said You know what Tuffy there's really not much fun in achieving so many things if you can't tell people. I really didn't have a response to that (he says with a chuckle).
For me, it's just a challenge it's the next contest not the last contest.
Now we have this TV show. It's funny they did a piece on me near Richmond. One of the producers called me the Clark Kent of BBQ. Here I am filming a TV show. However no one in Richmond knew. Going all over the country going BBQing and no one knew in my own town of Cool Smokes achievements.
It's interesting to me the second show we filmed was in Decatur. The first one I wasn't uncomfortable in Mesquite. I didn't know many people and we all were off to our own section. When I was in Decatur however a bunch of my friends were there. It seemed like everyone I knew was there. I was miked up and cameras were following me everywhere. I was so embarrassed all weekend. It goes back to my modesty. I want to make a difference in this life and I want to be humble. For me it was so weird having TV crews following me. I am still me.
A writer from Richmond asked me if I was going to have a big party for the premiere tonight. I said "no way." I am going to be holed up in my house all by myself. Why? She asked. I just want to see what it's like. She then asked comically-" Have you turned into a diva??" I just laughed that's so not me.
Q- Any contest in North America that you have never done before that you still want to do?
TS- I am going to go and cook Memphis in May this year.
Also until this year till this show I had never cooked a whole hog a couple of small suckling pigs but never a whole hog. Honestly speaking – (as a pitmaster) I always felt lacking as a BBQ person as I had not done a whole hog. This year I cooked a 165 lb hog. I bought a JOS (Jack's Old South) cooker to do it in and peach wood. That was in a contest setting. It was cool.
Q- Do you think it will be easier after the TLC Pitmasters show that the public will understand the love of our sport of BBQ
TS-The people making it think it will. I am sitting here waiting for what it will end up being. I hope it shows how cool it is – what we all love to do each weekend.
There is such a depth and character to the personalities of this show and of all BBQ'ers. They all have passion. That's what it is : passion.
I hope it gives it a really good face I hope its good TV. I think there are so many things that are depressing out there that I hope this is a really positive, joyful, experience. I Think the things that we do, the friends that we make is a really great group of people. I hope it gives them a good snapshot of this. I really think this show will do that.