Posts Tagged 'Johnny Trigg'
Day 20-25 Days of BBQ Blogging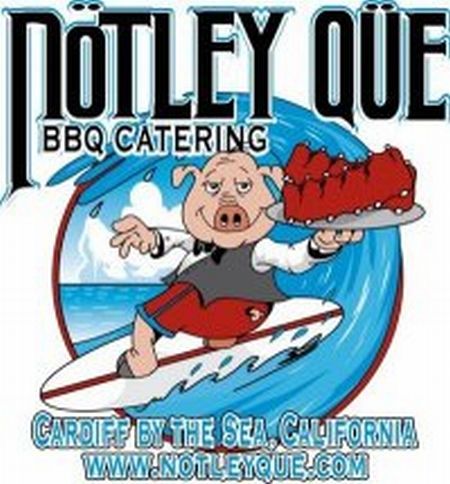 Gary was a fun guy to talk with. He really got a behind the scenes look at the whole show. He was the roadie for
Harry Soo`s Slap yo Daddy team
. He loved doing it and its clear he would do it again. I liked the perspective he has on a lot of the things from the show. I also know he is a straight talking rocking it out sort of guy that does not mince words. Whether it be on the
BBQ Brethren
forum where he posts or in an interview he says exactly what he thinks. He doe not edit out his thoughts.
He is a caterer to the stars. Located in Southern California he regularly caters TV shows, concert tour riders, and many other occasions with his outstanding BBQ. Additionally he competes as well with his own team
Notley Que.
I have a standing invitation to come cook with him at
Stagecoach
. I hope to get over there in the next couple of years.
Q- How did you meet Harry and get involved with him on the TLC BBQ Pitmasters?
GN- I first met Harry at a BBQ competition and we became friends from that moment. I am truly his biggest fan. Harry and I have worked together a few times. He was helping me out on a catering gig and he tells me about the TLC show. He was unsure of how he was going to get his stuff everywhere. So I told him I am not working (at a Company) right now. I can put my catering on hold. However I did ask him if an emergency arises- you fly me home. We worked it out and it just ended up being an awesome experience. Things are meant to happen for a reason. This was a once in a lifetime opportunity.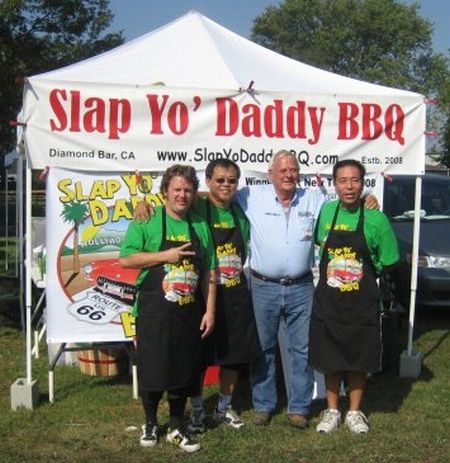 Q- How many miles did you drive Harry Soo's stuff?
GN-I drove just over 10,000 miles – from Mesquite NV class to where we ended at Myrons class. I didn't have time for special trips other than a trip up to Chicago when we were heading to Murphysboro to visit with my friend from Anthrax.
Q- What was your favorite contest out of all of them?
GN- It would have to be Dover because I cooked that one. However the most fun was Murphysboro. It was my first introduction to MIM style of cooking and I fell in love with that.
Q- What have you thought of some of the comments on the TLC BBQ Pitmasters show from the BBQ forums?
GN- It's not about just the best cooks. You have to be interesting. Reading about the complaints annoys me. First of all it's a TV show. It's not about every team out there. For example-I have no interest in wedding cakes or anything to do with cake but I love this show cake boss because it has nothing to do with the cake- but the people. Just like on this show- it is about the characters and BBQ. It keeps me interested. What we do is kind of boring (i.e.-watching a 16 hour brisket) and repetitive, however the people are what makes it interesting.
Q-Do you think Harry taught the other competitors anything?
GN- I can tell you this that Harry was able to show Jamie and Johnny something but I don't want to give it away. There are a lot of things competitive BBQ'ers could learn if they carefully watch the show.
Q-Do you think you learned anything from doing the show?
GN- Absolutely. There were lots of opportunities to learn. I did pick up a new cuisinart electric knife. I also liked learning of some of the stories on how to recover my meat. There are lots of tips and tricks you can learn from the show.
Q- How do you feel about Harry?
GN- Harry is the IT guy where everything is 123, abc. He is so smart. I think he is a terrific person. I would drop anything to help him out. He calls me his best BBQ brother. There have been some times were he has shared life wisdom. He makes me think of things. He is the wisest person I have ever known. I find it fascinating to hear his points of view. The average person can relate to Harry more than anyone else on the show. He doesn't have the huge expensive RV and the expensive pits. He has a mini van and WSM's. Everyone can relate to that.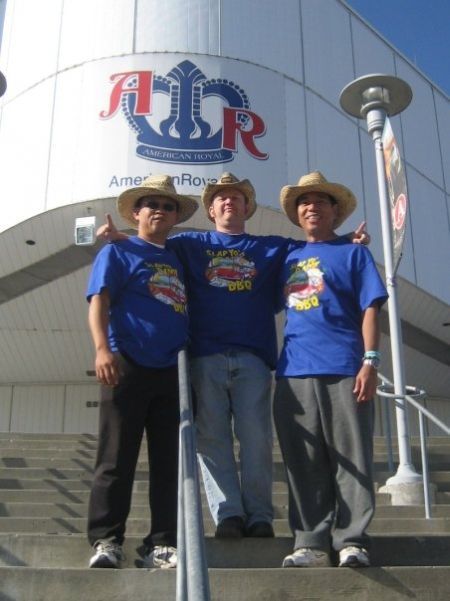 Q- Why do you believe in BBQ Karma?
GN- Its true and I do believe in it. Good things happen when you help each other out. In Dover I had a full set up of borrowed equipment. I put a call out on the Brethren forum. That's how it works. That's BBQ Karma. It's not a joke.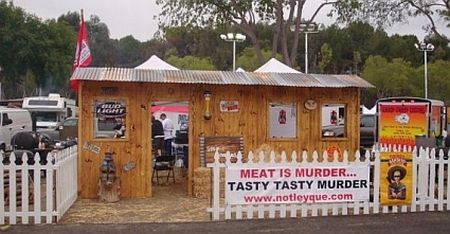 Q- What BBQ products do you like to use?
GN- I am a big fan of Mike Davis Lotta Bull products. He also really helped me with Strube ranch products. He is a fantastic guy that I think highly of. He is a straight shooter. He is such a good-hearted kind person.
Q- If there were any classes you would like to take?
GN- I would like to take Mike Davis, Plowboys and Johnny Triggs classes.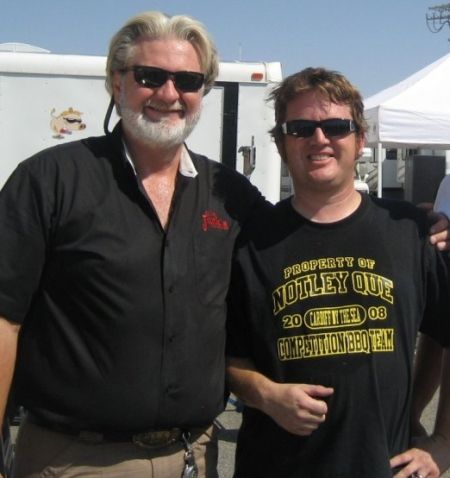 Q- Whose class has had the most impact on your results?
GN- I took Myron Mixon's Class and I had good immediate results with the instructions that I received.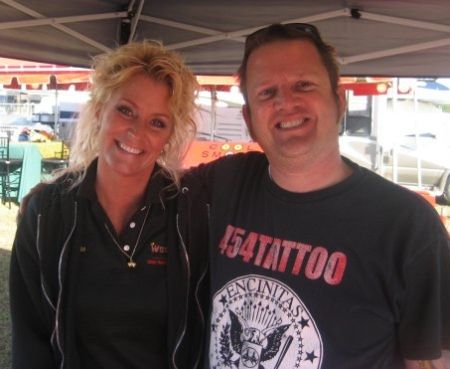 Q- How many competitions would you like to do this year?
GN- Depending on my catering schedule I would still like to do 10 this year. Due to the show I feel really that I want to get out there more. Actually my goal is always to get out there and beat Harry Soo. I am going to get you Harry Soo I want to mop the floor with him I am gunning for him (he says laughing).

Q- What are some of the challenges you have in competition BBQ?
GN- I have to still work on the one bite mentality. I am used to doing catering where a person will enjoy a whole plate of my food but not just one bite.
Q- What was one of the benefits in working with Harry Soo?
GN- I got to see most of Harry's prep and his procedures. I learned a lot.
Q- What is your goal for 2010 in competition?
GN- I just want to beat Harry Soo. He is so good. Actually I also want to be the #1 brisket cook in California. I would also like to get my first Grand Championship. I am the Grand Champion of partying at BBQ comps. I think I have learned now I can do it in my own backyard.
Q- Who did you want to meet the most and who were you closest with other than Harry?
GN- I wanted to meet Myron the first second I could. He is an awesome guy. He is like the Michael Jordan of BBQ. Out of everyone I would think that (besides Harry) I got along most with Paul. We are closer in age and we like the same types of music.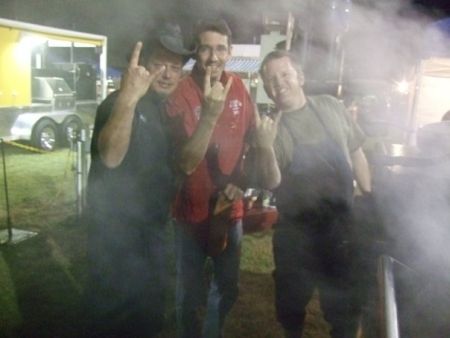 Q- What has frustrated you since doing the show?
GN- People that don't support it. I don't understand it. There are competitions that are no longer occurring there are comps that can't get people. We are still in a recession and this is going to draw people to the competitions, to the sauces and the rubs and everything else BBQ related. This is the best BBQ show there ever has been. We need to support it as much as possible.
Q- Were there any moments on the show you felt were staged?
GN- Absolutely not. I can say that from the moment I got up and saw everything that was going on nothing was staged. The only thing was that sometimes when we were having conversations (just a few of us talking sharing stories bs'ing )a producer would ask us to stop so they could bring over a camera man to shoot it. Another thing the Johnny Trigg and drunk guy part (Episode #2) was most definitely not staged. I was right there. I learned that day that drunk idiots are attracted to TV cameras like moths are to porch lights. It cracks me up to read that things were set up. I was there it wasn't.
Q- What moments from the show and travelling surprised you?
GN- I saw so many people going over to the Jambo pits getting their pictures taken with them. Jamies pits are gorgeous. I want a Jambo. Due to the catering I do it is so eye catching. It's awesome. It's like you are pulling up with a Lamborghini. They get noticed and they are great cookers. They are not nearly as expensive as people think they are. The paint jobs are amazing.
Q- How did you get started in BBQ?
GN- There was bad BBQ in San Diego. I got tired of paying for it.
Q- What was your first BBQ?
GN- An ECB (EL Cheapo Brinkman) I got it as a corporate gift for the company I was working from. I did mods to it. I got it to work well for me. Then I got a WSM. After that I built a UDS (ugly drum smoker) that was fun. Lastly I got a spicewine. I also use a lang I borrow from a friend for catering jobs.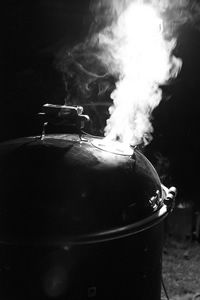 GN- Where did you learn about BBQ?
Q- I have no formal culinary training the internet has been a great resource. You have to source out the nuggets of gold from all the rest of the crap. Thank God for the internet.
Q- Do you have any sponsors for your BBQ team?
GN-Gringo Bandito Hot sauce. It is owned by Dexter Holland from the offspring.
Q- What kinds of wood do you like to use?
GN- I Like a little bit of hickory, cherry but mostly I use California Red Oak Charcoal that is made custom for me.
Q- What type of ribs do you use?
GN- Spares
Q- What are your favourite and least favourite types of meat to cook at a competition?
GN- I would say by far brisket is my favourite. My least would have to be ribs. They are so hard for me. Your window for perfection is so small. It's a challenge.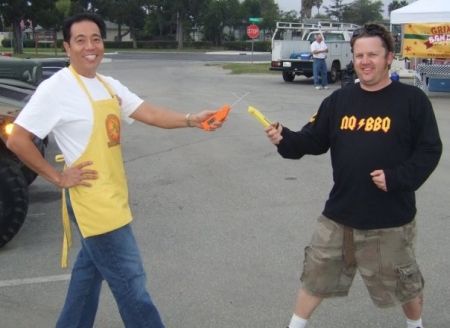 *someone needs to tell these guys that the RED thermapen is the fastest most accurate one.
Q- What did your family think of the
show
?
GN- My parents used to show dogs so they understood. My mom really said it best- You are paying for someone's opinion whether you like it or not. She really liked seeing other teams supportive of each other. My son doesn`t get it he has just turned 5 and a half. So hopefully this year he can come out with us competing. Then he will understand it more. My wife is really supportive and she gets that I have a need to do this. She likes it. I am lucky.
Q- How would you describe each of the cast members of the TLC BBQ Pitmasters show?
GN-
Tuffy- The Nicest Guy in the world. Comes around and wishes everyone luck. Fantastic cook & Chef. No ego whatsoever. Great Guy.
Paul Petersen- A phenomenal chef. A great BBQ'er despite what you see. Great guy
Lee Ann Whippen- A force to be reckoned with. Great Lady. She will kick your ass while you are still admiring how pretty she is.
Jamie Geer- Nicest Texan I have ever met. I have pages and pages of "Jamieisms" He is an absolute comedian.
Johnny Triggs- Kindest, wisest most intimidating BBQ cook out there. He and his wife are great people.
Myron Mixon- Absolute BBQ Genius. I am happy to call him my friend now. He has forgotten more about BBQ than anyone in the world.
Harry Soo- I could give you paragraphs about him. For a guy who is Asian and from California to do what he has done in 2 years. Wow. He will be the guy at some point he will win the Royal and the Jack in the same year. There will be at some point a Harry Soo method (like the minion method, or the Muffin pan method) I can see it happening. He is a legend in the making.
Gary Notley Facebook Fan Page
Notley Que BBQ on Twitter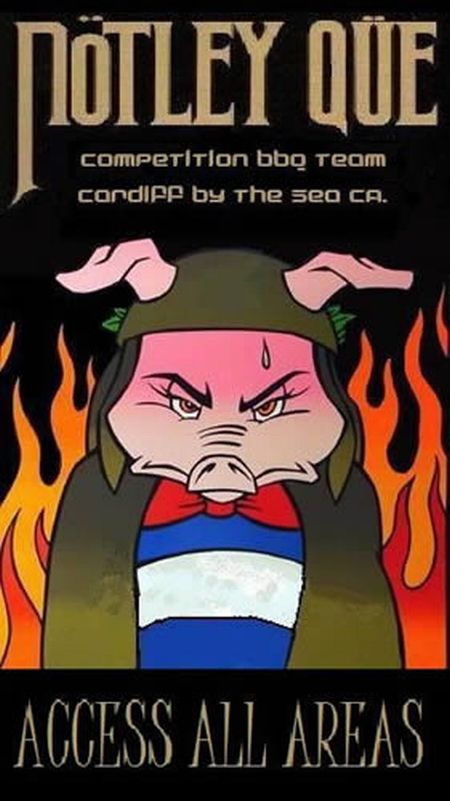 Day 19-25 Days of Christmas Blogging…

Paul Petersen is a dichotomy- he is a seemingly arrogant, brash know it all chef on the
TLC BBQ Pitmasters
show however he was a gracious friendly down to earth self humouring person I really enjoyed speaking with. I would never call him humble but he certainly has the culinary accolades to back up his bravado. He now has a sincere appreciation of the challenges of competition BBQ.
If you look back onto his career of work you would be surprised to find how many accolades have been bestowed upon him. He was the former drummer for San Antonio bands Gollum and Scary Manilow then decided to switch to cooking. He trained at the
CIA
in Hyde Park New York. After graduating from the institute he settled in New York City, working in and progressing successfully up the line at a series of popular spots:
Union Square Cafe
,
An American Place
,
The Red Cat.
He has been nominated for a
James Beard award
. He has been written up in many publications including being listed as #34 in
Esquires top 100
in 2007. He was Tobascos
Chef of the year
in 1998. Do a
google search
of Chef Paul Petersen and 119,000 hits will come back at you. He has run multiples of successful multi starred restaurants (little Texas Bistro, Gages/ Café Cenizo) and catering programs. He has taught culinary classes. He is a cookbook author. He is well thought of by many other chefs – Yet in the competitive BBQ world he is an unproven, unknown, DAL competitor (as of episode #3) who seems to have a lot of smack talk in him but not a whole lotta competitive BBQ knowledge. So why did he do it?
I know of a few chefs who have come into competitive BBQ just as he has done, brash arrogant and confident- thinking that their entire repartee of culinary knowledge will lead them to a Grand Championship on their very first turn out. I have also seen those same chefs seriously get their asses handed back to them on a platter. (I have personally had some pure moments of glee to see this happen first hand when I was on the receiving end of a chef who thought he was Gods gift to BBQ) They learn really quickly that while competition BBQ may seem so simple on the outset the complexities and nuances are vast and varied. It's not as easy as they think.
I caught up with Paul as he was preparing for an insane night. He had 400 covers to prep for. Two hundred of those at Ricks Chophouse, and the other two hundred were catered in their private rooms.
Paul runs not one but two restaurants. The first as mentioned above is a destination restaurant-
Ricks Chophouse
. An elegant restaurant with restored press tin ceilings an original lime stone wall (circa 1885) and deep mahogany walls throughout. It is combined with private dining rooms, a grand ballroom and Grand historical hotel. The other is
Sauce on the Square
just 60 paces away from Ricks Chophouse.
Sauce on the Square
– is an approachable Italian concept that looks towards more multiple visits during the week by its patrons.
*thanks to Lisa Reynolds from
Bubble Gems
for the picture
From the Sauce on the Square website:
Your culinary experience begins as you walk through the covered dining patio to the smell of dough rising in our Woodstone-fired ovens. Once inside, the dining room speaks immediately of the restaurant's unique charm and sense of communal gathering. Banquette seating lines the century-old exposed brick wall, while red and white checkered table cloths, stained concrete floors, and classic Italian art set the stage for an approachable family dining experience.
The menu is created by celebrated Executive Chef Paul Petersen, who uses local farm-raised ingredients and neatly incorporates them into traditional Italian specialties. House-made cheeses, imported Italian flour, fresh tomatoes, prosciutto DiParma, herbs, and pastas speak volumes of the flavors you will enjoy. And, absolutely everything is served family style, enhancing the warmth and camaraderie of your experience.

As you transition through the dining room into the bar area, your group can visit on high-top cocktail tables or line the bar and watch the action. The open kitchen makes for a fun place to split a pizza, share pasta, or enjoy a few signature Bellinis!

The wine list is also a home run-50 labels of the best wines in the world for under $50 make it easy to try something new. Each wine was chosen by our Sommelier Brad Pyle with an appreciation for the artisan farmer where each bottle began.

And to think, you didn't need a reservation! Located on Louisiana Street on the historic square, Sauce is open Monday through Saturday for lunch and dinner.
To say he is busy would be an understatement. He is extremely successful in his own world.
His quiet "office" where we did the telephone interview is outside at the back alley away from the hustle and bustle of the kitchen.
Q- How did you get involved with TLC BBQ Pitmasters?
PP- I had been approached a couple of years prior to TLC BBQ Pitmasters show to do an alternate BBQ related type of show. That didn't pan out but I was still interested. I had cooked for John Markus a couple of times about a year and a half ago. We did a couple of tasting menus for him and he was blown away. I liked John a lot he was really cool.
Q-Had you ever done a BBQ competition prior to TLC BBQ Pitmasters?
PP- I had done an IBCA competition prior to the show and had placed 10th in Chicken.
Q- What did you think of the first few competitions that you participated in?
PP- It's not my world. I am a hell of a Texan BBQer but it took a while to figure it out. The judges (where I competed) have not been exposed to my type of cuisine. I had to adapt to their style of cooking. It took a lot of change.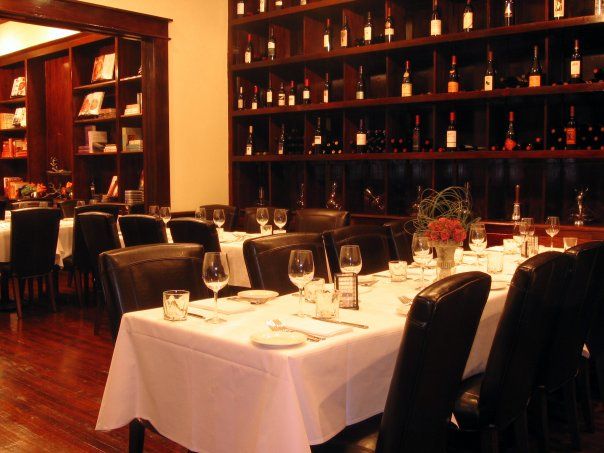 Q- If given the opportunity would you do the TLC BBQ Pitmasters show again>?
PP- I don't know. I would certainly like to go back and redeem myself and kick some asses. However my bosses have already been more than kind to allow me the 2 months I needed to do this show. With the additional restaurant and many other things coming down the line I just don't know. I have so much on my plate already. If I go out again these boys are going to be in trouble. I would want to go out with a Jambo. I have a lot of respect for them.
Q- What do you think of the comments that have been posted about you on the various BBQ forums and articles?
PP- Well there are the hecklers, there are people that hate me and people that love me. Overall it doesn't bother me. It's just a bunch of BS. The people that were with us on the show and the people who eat in my restaurants know my real culinary skills. It was really hard adapting to the world of competition BBQ but I really did like it.
Q- Who was the first pitmasters on the show that helped you?
PP- Tuffy was the first he helped me a lot. He is a bad ass cook (he says this with sincere appreciation of Tuffy's culinary skills as a BBQ'er and chef). So much he helped me. I appreciate it. He was the first who opened up to me. Told me I was cooking all wrong. He started helping me out. Listening to him for me was important.
Q- What was a favourite and least favourite part of shooting the show for you>?
PP- Meeting the people – it was great. The hailstorm was pretty wild. I did not sleep through that (he says laughing). I was hanging out with the people from the Slabs. We ended up holding their tent so it didn't blow away (this wasn't shown on the show). They were great people.
Overall the travelling was hard. It was a lot of travelling in 2 months. I have a 2007 Tahoe that now has over 100000 miles on it. I am going to get an F250.
Q- Any other special moments with people from the show you would care to talk about?
PP- Hanging out with Johnny and Trish Trigg was really special (Unfortunately I can't tell the rest of what he says because I don't want to ruin some possible future moments for the show.) I also really liked Jamie too he was funny, I loved his humour and he had the best lines. Overall we were this little gang of Texas people.
Q- As Texas is renowned for their BBQ Brisket – whose brisket did you like the most?
PP- Well I had Myrons brisket and to my taste- it was like Lipton soup mix. A lot of the competition brisket wasn't what I was used to. I was disappointed in my brisket a lot. However there was one who I thought rocked it Tommy from Checkered Pig. He is killer. I hold him in high regard. Best brisket ever on the BBQ tour out of anyone. At the competition we were at he only took 3rd. I was so confused by this his was far the best I had. He is so cool. He is a genuine guy. It didn't hurt that he also set me straight on a few things.
Q- How would you label yourself cocky? Arrogant? Confident?
PP-Confident – that's an accurate description cocky can come off as arrogant – I am just confident of my abilities. I am accomplished in my own world I just don't need to throw it in their faces. I was good at putting on what they wanted to see.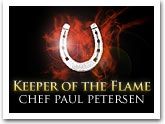 Q- What was the inspiration behind
keeper of the flame
(his interactive cookbook)?

PP-Keeper of the flame- The name came from an article from
Texas Monthly
.
It was a huge deal in Texas. It was a 7 page spread on me. Freaked me out they don't do it for chefs typically. It kind of stuck. The cookbook is very innovative – Online approach that gets updated frequently. Originally I had done a similar concept with 50 other Texas chefs. We pushed it out early to capitalize on the popularity of the TLC BBQ Pitmasters show.
Q- What's the biggest challenge in running a restaurant.?
PP- For us its consistency (just like in Competitive BBQ) we want the same product to go out the door. I have so many employees and we need to make sure everyone is on the same page.
Q- What is your favourite BBQ food to eat?
PP- Ribs are still my favourite. I like a good Texas brisket. Personal favourite Kreuz Market or Smitty's both of them. They are the same deal. Same family. However I have not eaten at Louie Mueller. It's all real BBQ.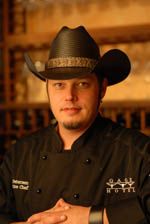 Q- Who do you think will be the next chef in Texas to come up the ranks since you are now established?
PP-I would have to say David Bull – He is my favourite Texas chef. I would put him up against anyone in North America.
Q- Do you still play drums?
PP-I don't take it as seriously as i used to. For me its stress relief. I am a precise drummer. I hit them with finesse and rock out.
Q- Other than the restaurants what else do you have in the New Year?
PP- I am really excited about an event we are doing on January 15th, 2009. We will be on a stage on jumbo trons and we are going to do a BBQ throwndown Texas Style. It will be a benefit for the sustainable food center.
Three of Texas' youngest and most acclaimed chefs – David Bull, Shawn Cirkiel, and Paul Petersen will go head to head in a high-energy, fun event with great food, live music and a competition that's interactive and exciting.
W/ DJ, el john Selector spinning bad-to-the-bone soul, funk and world beats
TIX $35
http://stubbs.frontgatetickets.com/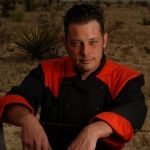 You can find Chef Paul Peterson on
Twitter
He also has a fan page on facebook.

Heres a sneak Peak at this weeks TLC BBQ Pitmasters show:
THURS – 10pm
BBQ PITMASTERS
Cooking skills, nerves and patience are tested at the historic Riverfest Barbecue Cookoff in Decatur, AL as the Pitmasters battle for the $3,000 top prize. Paul tries to avoid last place placement, Lee Ann's schedule is threatened by a power outage and Tuffy Stone uses spreadsheets for BBQ?!?
Don't mess with Myrons Muffin pans LOL
Power Outtages …. LeeAnn Whippen
Paul Petersen Discussing being new to competition BBQ and coming in last place.
Pellet Envy
Team of the Year for 2009 KCBS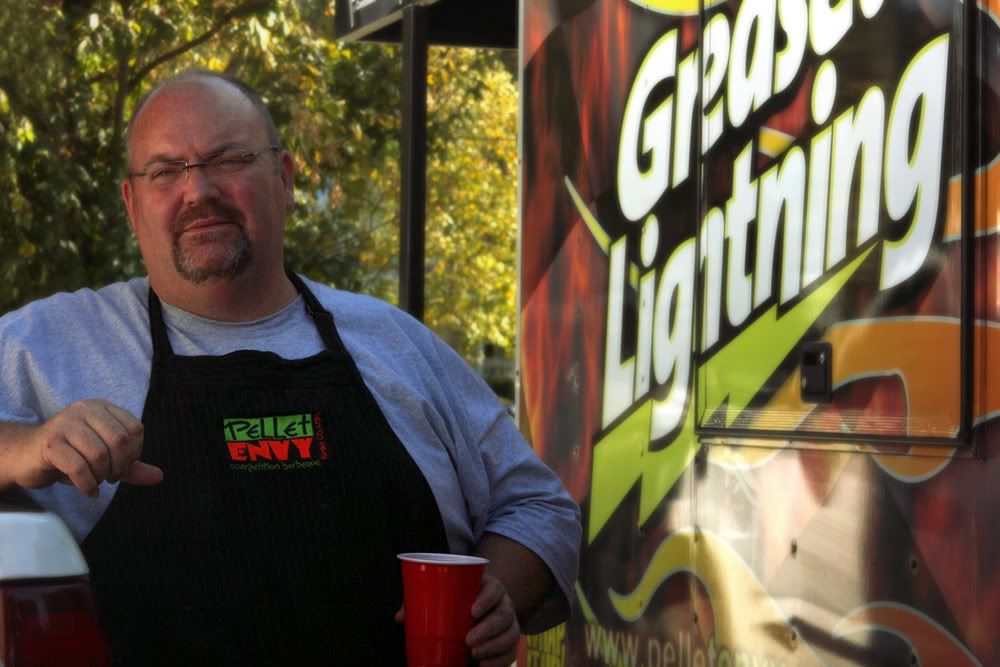 I met
Rod
a few years back now. I had read about him and seen him in action and wanted to learn more. I am one of the over 500 people he has taught along with Johnny Trigg for the
Old School vs. New School BBQ
cooking class. We travelled all the way from Barrie to Illinois for that class. It was worth it.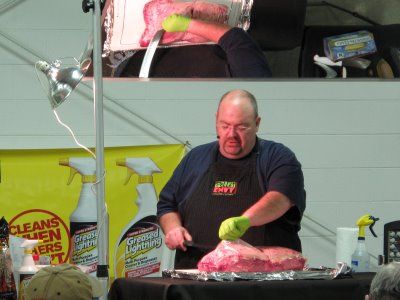 This year was Rod's year. He has just this past weekend been named
KCBS TOY
(Team of the year) in an exciting race to the finish. It was a nail biter for sure. Going down to the very
last competition
in Tempe Arizona- faced with two other teams hot on his heels ISS
I Smell Smoke
and
Smokey D's
. It sounds a bit like a movie.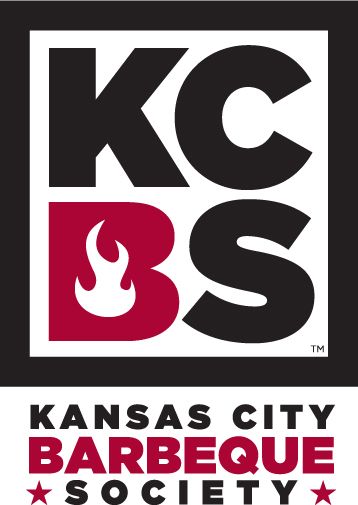 Both pitmasters for those teams are well respected by Rod. He says it could have been either of them to win the TOY.
Rod- "I have a lot of respect for Darren flying in finding his meat and rented vehicles and winning." I have a lot of respect for Steve travelling so much and accomplishing so much. They are both as deserving. I predicted in July that Darren would win it based on what he had done and caught on fire in the summer. As hot as he was I thought he would pull it off. He almost did.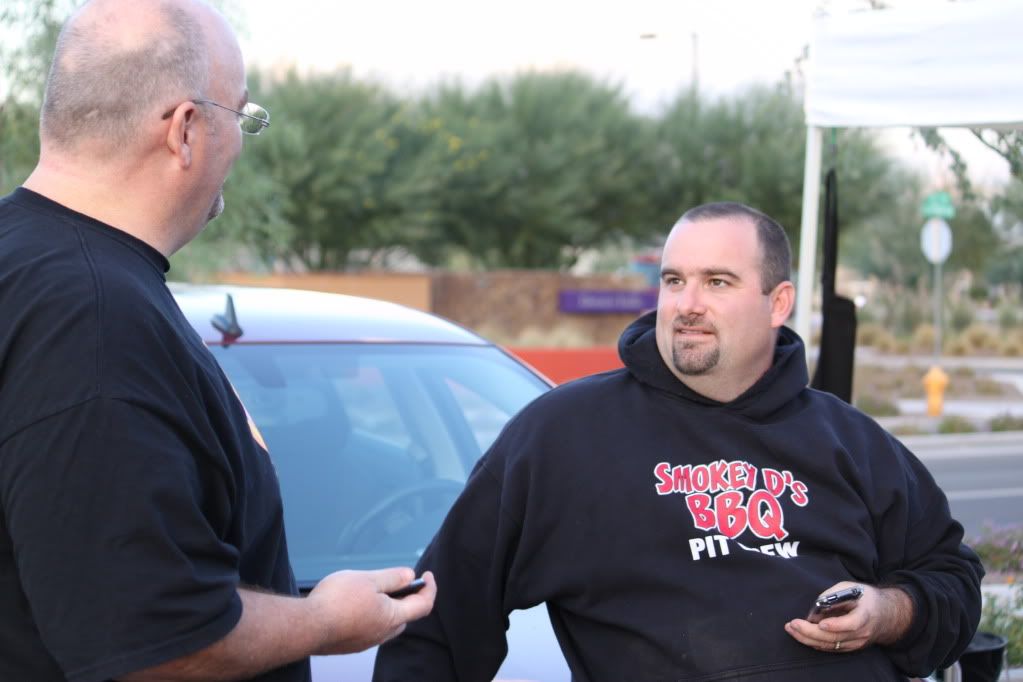 Find more videos like this on BBQ Thom
**Thanks To Thom Emery for allowing me to share his video clip.
His dry sense of humour and wit resonate with anyone who talks with him. I have had the pleasure to have a few BBQ meals in Texas and talks with him outside of the realm of competition. He can make me crack up laughing till I cry with most conversations. His sarcastic comments have on more than one occasion sent me to giggling. However you can have a real serious conversation with him (on some rare occasions) that gives you a small glimpse into the depth of his somewhat guarded character. He can seamlessly go from Rod the friend to Rod the BBQ guy who has some serious sponsors to represent.
He extols the virtues of his beloved wife Sheri. He talks about how much she supports him in his BBQ career. Personally I sort of think of him as a big BBQ brother. He looks out for his friends. He is always encouraging and continuously helpful. He also seems to have the memory of an elephant and can recall a lot of minute details.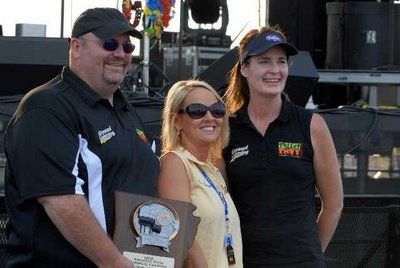 On his own personal plan for healthier living this year he let me know of his goals.
His motto now is there is no time to eat bad food and that he starts every day with breakfast. He recommends a couple of books that are helping him on his path: Eat this not that. One is for the grocery store and ones for those who eat out. I am so proud of him for being open and honest about his struggles. It's not without his own notice that being on the Dr. OZ show was good for the brand of Pellet Envy. He is sharp as a whip. I don't think much could get past him in any situation.
Q- How do you feel now that you have won TOY?
RG- I don't think it has really sunk in yet. I am numb. To be honest. I am tired and still driving home now. I am looking forward to taking some time off. Darren and I were across from each other. Steve was off in his own section. It worked out fine. (Understatement of the year) I think the guys were genuinely happy for me. I am not so sure I could have been as genuine as they were if the situation were reversed. Overall it's a great feeling. It's time for me to recharge and then go back to it.
Q-What's up next for you and Pellet Envy?
RG-I have to get unpacked. ( As we speak Rod is just a couple of hours from home) I have deadlines to get on for the Bullsheet and other things. I have to announce my classes for this year this week. My teaching partner is now a movie star (Captain Parkay – Johnny Trigg) so he can't commit (laughing he says this with some seriousness. I will be doing the classes solo. I have so many irons in the fire. Additionally I would love to take my wife to New York for a few days.
Q- What is your take on the proposed changes to how the TOY is calculated?
RG- You can't track who has sponsors and who doesn't. These are pieces of information impossible to track. It's all total crap. A Tiering system for team of the year is ludicrous. Truly if it aint broke don't fix it.
Q- Who were your major sponsors for the year?
RG- Greased Lightning and BBQ'ers delight. Greased lightening has been signed on for 2010 already. I am really glad to have them on board. Candy makes a great product and Greased Lightning is terrific for cleaning even on clothes. They have been very supportive of me and I am thankful for it.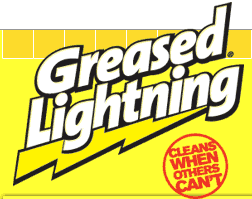 Q-Do you use a muffin pan to cook chicken ala Myron Mixon
RG- Laughing, he says no.
Q-What's you take on garnish. Garnish or no garnish- and proposed changes to the KCBS?
RG-Garnish is what sets KCBS apart from the other sanctioning bodies. It makes it more of a challenge. I believe it should stay the way it is. Garnish may not be my most favourite thing but it adds more difficulty. I think they need to leave it alone.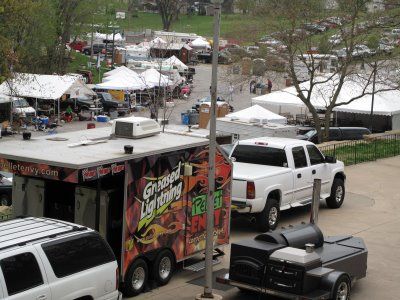 Q- What were your stats (miles comps, states- for the year?)
RG-Miles this year – 40,000 approximately
States – Somewhere in the neighbourhood 33
Competitions- I believe 33 total
Q-When you become TOY (team of the year) what do you do next.
RG-I am going to try to do it again. Take a break but then go back to it. 2010 is going to be a great year for BBQ I know it will be.
Q- Was there any point during the competition season where you felt the pressure >?
RG- The pressure was really on me on the way to Florida. I packed up as soon as I had done brisket and I left. I have never done that before. I had been gone 10 days and it was my anniversary. I won that contest.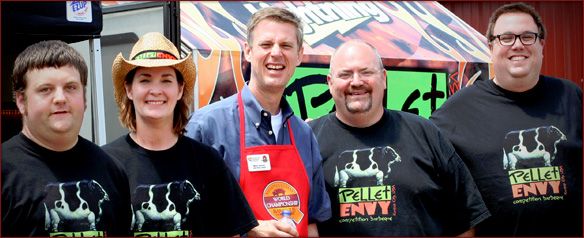 Q- As the most winning person in KCBS -Why are you not a part of the TLC BBQ Pitmasters series?
RG-I don't know the answer. I think they should have taken me.
Q- Are you endorsing any candidates for the BOD for KCBS?
RG- As of today -no. I have not done my research yet.
Q- Why are you not running for KCBS.
RG- I got away from the board in June. It was a difficult decision for me but I needed to get away from it. It's too much minutia. They are micro managing. Looking back to the previous contest is not the answer. The board should focus on the next 5, 10 15 years, of the KCBS and its future. They should be strategic in nature and currently they are not. Every once in a great while, I regret it- when I think of the people that put their trust in me. Ultimately I had to do what is best for me. Ultimately with the rest of the season it validates that I made the right decision to get off the board. It was a great choice for me to move on.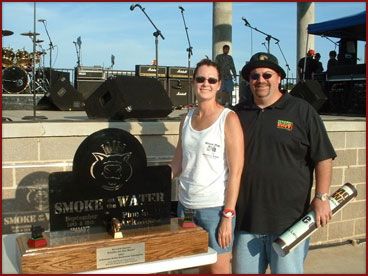 Q-Out of all the other teams besides the two that were on your heels who do you see in 2010 coming up the ranks of the TOY listing>?
RG-Wow. You know no matter what answer I give I will have left some deserving team out of the mix. I'll be disappointed in the answer I give. There are several teams that I think will rise though the ranks.
Q-What's the name of your GPS (I can hear his GPS giving him directions throughout the interview)
RG- I get asked that a lot… I don't really have a name (he chuckles a lot here) sometimes I call her b!tch if she takes me the wrong way.
Q-What's the biggest tip about Competition BBQ you can give people?
RG-Try to undersmoke your meat.
Q-What will be your first contest for 2010
RG- Lakeland Florida.
Q- Anything else you would like to share…………….

***** Exclusive you will read it here for the very first time *****
RG- Ok heres something to tell that I am sure will have an impact – We will be Pellet free in 2010. We will no longer be using pellets or any pellet BBQ's. We have a Geer pit (Jambo Pits) ordered for the back of trailer. I am in love with his pits. I will be returning to Texas to get it mounted. I will be Pellet Envy for 2010 and we will have a new name for 2011. Right now we have narrowed it down to 12 other names.
For the 2009 season I will still teach in 2010 both pellet and on the Jambo Pit. It will be a big challenge to do both but I will do it.

Q-Why are you changing from Pellets to a stick burner (
Jambo Pits
)
RG-It started with wear and tear. As much as I travel the gas is so much less with the Jambo Pit. Then it was my results in 2008 out of 8 contests that I used the Jambo pit contests 6 were won with the Jambo Pit. Then this year (2009) out of 8 contests where I used the Jambo pit I had a total of 7 wins. This gives me a new set of challenges it makes competition BBQ more interesting. Cooking on the Geer is now a challenge. It has brought me back to raising my level of focus and concentration in a contest.
*Note Rod had a bit of nervous laughter when reporting this and he admitted as so. This is a big deal to him and its news for the BBQ world. I really thank him for allowing us to share his announcement. This is going to be a huge step for Rod. I wish him all the very best with his new direction.
****
Jamie Geer tells me that the pit will be exactly the same size as the one he currently uses. Rod doesn't want to change a thing he wants it to be identical. The firebox has already been fabricated. It will be ready in time for Lakeland Florida.
Day 5 – 25 Days of Christmas BBQ Blogging…..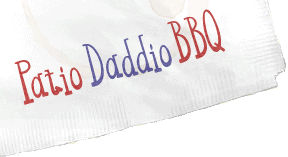 A bbq friend of mine John has a terrific website PatioDaddioBBQ.com . He recently did a review of the new TLC pitmasters show on TLC now airing Thursday nights 10pm E/9C. Johns blog gave me the idea to interview John and the cast of the TLC Pitmasters show.
Here is his review reprinted with his permission,
Tonight was the premier of the new eight-week docu-series, BBQ Pitmasters on TLC. I thought that I would offer a short review of each episode from the point of view of a fellow competitor.
The clip below gives you some idea of what happened in the first installment. I can say that it is an accurate portrayal of how weather can and does affect a competition. The conditions were reminiscent of a couple of the competitions I've participated in.

I

must say that the show is just about what I had envisioned based on my interview with Executive Producer, John Markus, and others I've read and heard. It is indeed faithful to what actually happens at a competition. It shows the mix of personalities, the conditions, the pressure, and the humility that is mercilessly dispensed at the awards ceremony. I'm sure that Paul Petersen can really relate to that last part. Some may think that falling asleep and ignoring a cook is far-fetched, but it is not at all unusual.
While I'm happy that the show was authentic in covering what really happens in competition barbecue, I was somewhat surprised and disappointed in the abundance of foul language, especially from Myron. I know it's part of the "reality", but it's sad when I can't relax and watch the show with my kids. In my view, it was completely unnecessary. This is a common sentiment from what I am seeing on some of the BBQ forums.

All in all, the show is outstanding so far. If it continues in the same vein I think it will serve competition barbecue well.
Now heres my opinion:
I loved it. Every single moment of it.
I waited along with everyone else in the Competition world to see if they could do it. I wanted them to succeed. I won't make any bones about it – I am biased completely. At some point I think they will need a Canadian Chick. LOL I wanted for them to produce a show and know that they "got" it. Did they get the real deal?
There are loads of reviews and critiques being written on all the BBQ forums. When it comes down to it though it gives people on the outside of this wonderful world of Competition BBQ a good glimpse of what really happens. Its good exposure for BBQ. I hope that the big companies out there take notice. That the competitions get more money. That KCBS, IBCA, PNWBA, FBA, NEBS and every other sanctioning body out there gets more bodies to their comps wanting to enter this unique "sport."
Each of the cast has been picked because of their unique personalities. It achieved the goal of making it interesting highly viewable TV. The sour grapes I have been reading about from some teams seems to be missing the point. The point is to follow these characters not follow everyone in the world of BBQ.
Its a docu-drama on what happens. Did I like Paul Petersens lack of prep and research – Nope in fact it made me cringe. Did I like Myrons foul language – Nope I wanted to wash his mouth out with soap and ask him if he talked to his Momma with that mouth.(Seriously Gordon Ramsay has nothing on him) However will I watch again – I wouldn't miss it for anything.
It makes you want to watch it. I want to know how Harry gets on, does Paul learn a bit, does Myron ever talk without a swear word, is Tuffy really that nice, where is Jamie Geer?, Can Lee Ann really cook BBQ ?, and finally does Captain parkay himself Johnny Trigg talk more? I want to watch period.
They did it. They created a Competition BBQ show that appeals to a vast audience.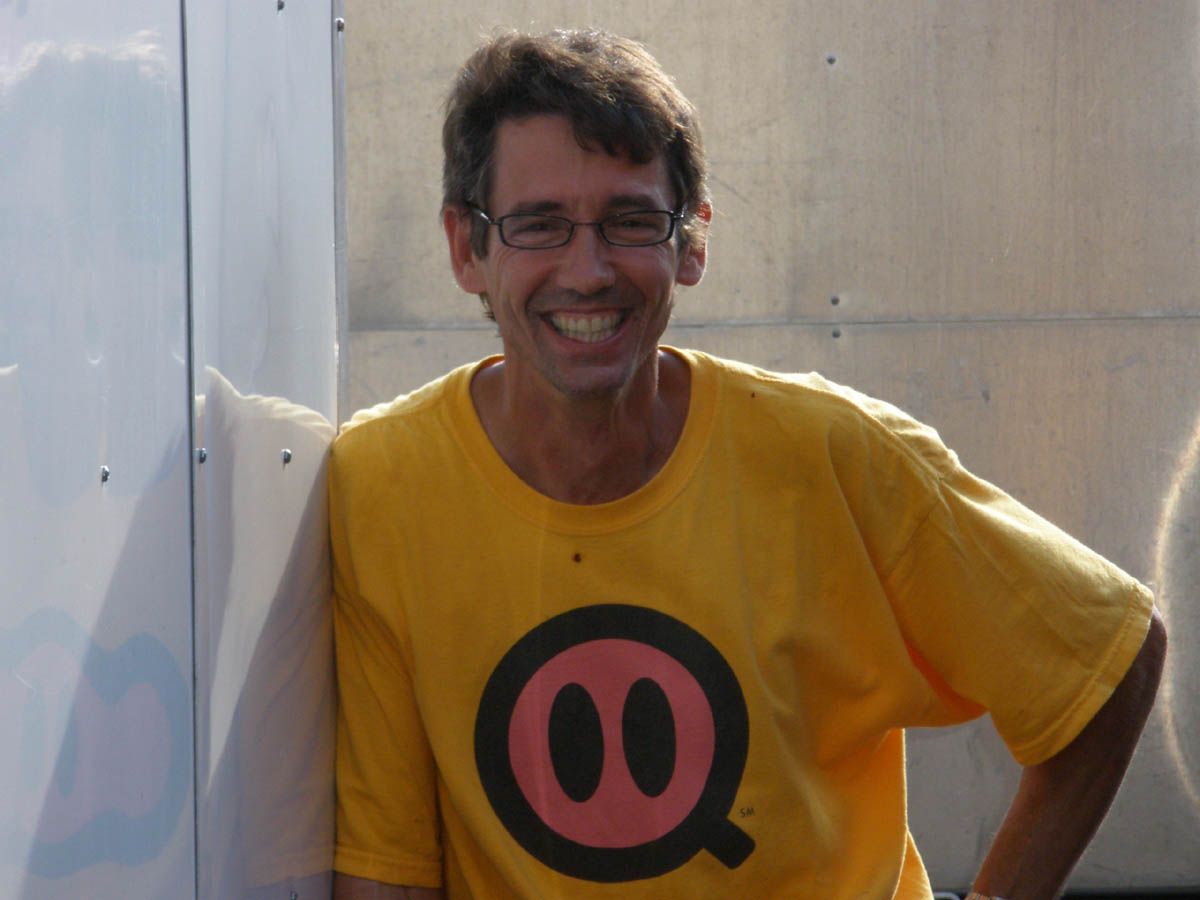 An in Depth interview with the ever so modest Tuffy Stone.
I first met Tuffy Stone at the Jack in 2008. I was setting up some stuff getting everything in order for a night of watching the pits when this lithe lanky guy strolls over with a genuine smile on his face. He sheepishly introduced himself and asked if I would be the first person to sign his Jack lid. I knew who he was well in advance of him coming over. I had read about him and his accomplishments many times prior to this first meeting. I could not believe the Tuffy Stone would take the time to come all the way over to the International section (well apart from all the US teams) and ask a Canadian Chick to sign his lid. To me that was incredibly cool.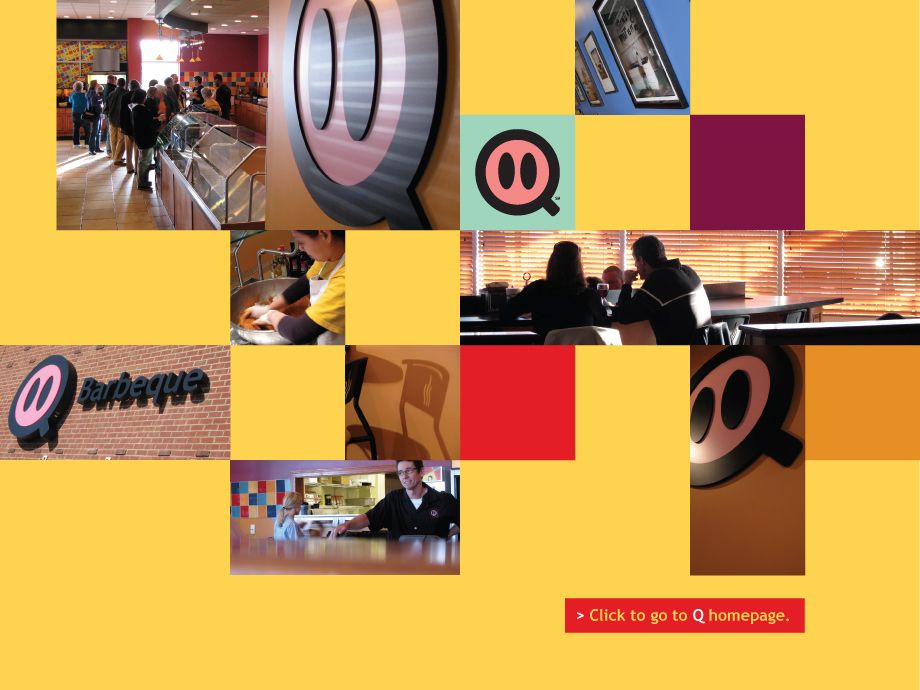 Since that first meeting I have had some truly heartfelt conversations with this incredibly humble man. I can proudly call him a friend and also a BBQ mentor. I have been blessed to have many BBQ mentors over the last 4 years. I have eaten at his restaurant
Q Barbeque
. Its terrific competition quality. More than ever he is a modest man with more Culinary skills that I could ever dream of. He has cooked with some of the finest chefs on the planet – Thomas Keller, Jacques Pepin, Julia Child……( Some whose restaurants are on my own personal bucket list. )
Ok just another warning Tuffy likes to talk. A lot. Its a good thing. It also makes it near impossible to leave out things. Get comfortable.
We begun our interview as he was leaving Richmond, VA to go to Hampton taking drawings to the health department and meeting with his partners. He has been pushing himself really hard the last few months. Juggling a successful restaurant (Q Barbecue) ,a Gourmet Catering Company (a Sharper Palate), Competitions, and now the TLC BBQ Pitmasters Series.
In his own words he says "I beat up the road pretty hard the last 3 months. To be in Richmond and not have to go anywhere has been a transition. It is becoming therapeutic. It's interesting. It was like when I first didn't have to go anywhere it was good – I feel healthy again. "
Q- How did you get the name Tuffy?
TS- My mother gave it to me when I was about two. When we opened A Sharper Palate, I thought I would put George on my business card, to be more professional. It lasted about a week, as everyone in Richmond already knew me as Tuffy. So Tuffy it is.
Q- What can you tell me about your new BBQ restaurant?
TS-Its going to be a really cool place. I am really excited. Located in Hampton Virginia Peninsula Town Centre. It will be a Lifestyle centre. We are working with an architectural group out of Ohio that has really enhanced and embraced our brand.
It is about 3500 S feet 120 seats indoors and about 32 outdoors. I am excited about the designs I think it's once again casual quick dining you order your food and we bring it to you. The smokers are going to be visible once again – in a glassed in room that will house two smokers so it will be once again a very visual maybe even more so that Q in Richmond.
It's comfortable it will appeal to grandmothers and grand babies – We are getting that at Q already. I love looking out in the dining room at Q seeing all ages and backgrounds.
I love a BBQ joint but I didn't envision Q to be a joint. All that being said – I have thought about what I wanted it to be… I wanted to have a farmer in one booth and a Doctor in another booth. I want it to appeal to everyone. The design is fresh and perhaps modern I don't want to scare anyone away.


Q-What made you decide to open another restaurant?
TS-We had a situation come to us. The developer for this town centre is very successful man who happens to have been one of the developers of two or three largest lifestyles centres in the Country Ohio. My partner and his reputation have brought the man around. When he saw Q he really wanted to put Q in this location. HE courted us and we struck up a good relationship and a good deal. It's probably sooner than I would have expected for us to do a second property but it makes sense to do it.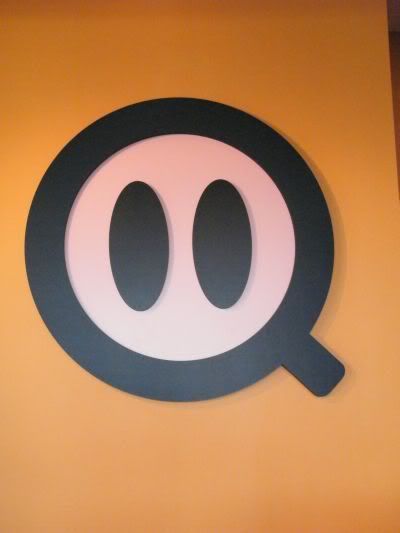 Q-When will it be opened and what will it be called?
TS-I believe it's going to be called Q. Our date for opening is March 11, 2010
I have lots of trademarks that have been in the works for a long time all of this stuff to should be coming to a close. It's a painful process. I have also thought of Cool Smoke as a name – it's close to my heart. But overall I think it will be Q.
Edward who has designed Q Has won lots of awards. He drips with talent. He has been featured in CA magazine. This whole thing is such a passion for both of us. We spend hours on the phone working on all sorts of cool stuff. Making it better. We have a new website going live on Thursday (Dec 3 2009) we are having fun together.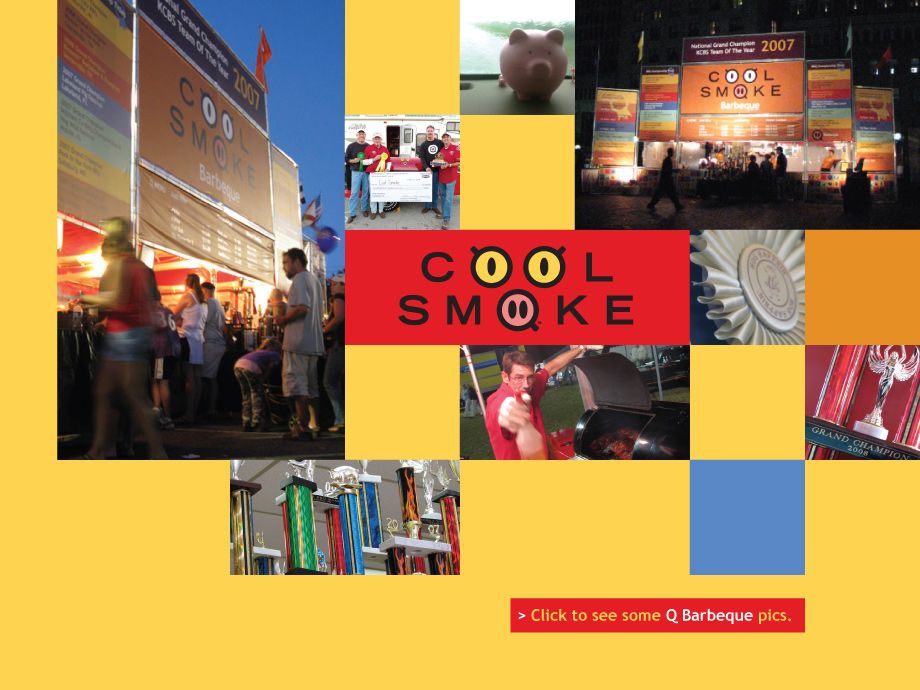 Q-How did you transition from being a gourmet cook to a BBQ'er
TS-My catering company A Sharper palate is so formal. I have been cooking for a living since the 80s. Sharper Palate is still alive and kicking and pays the mortgages for a lot of people. We are into the process of reinventing ourselves there for the next 15 years.
BBQ is how I got reconnected with cooking. It's fun and its refreshing and I can spend hours talking about why BBQ is so beautiful. BBQ came along… and you don't have anyone intimidated by BBQ.
BBQ initially kicked my ass. I came in there knowing how to make Beurre blancs but BBQ is harder than it looks.
Q- Do you see shades of yourself in Paul Petersen.
TS- I can relate to Paul Petersen. I never saw the Paul Petersen where he is cocky. He might have been there in the original stages (I can't relate to that part I am not cocky) I can relate we had a good conversation after Mesquite after awards in the first episode.
When I came in to BBQ with all of the things I had learned as a gourmet chef over the years I thought I would be able to apply those things and make it and define BBQ better. Demi glace on briskets. Or white truffle sauce so aromatic and sexy and lovely and that might be a nice flavour enhancer on brisket. The further I got away from the typical BBQ in the sense of flavour profile or expectations the worse I did. That being said the first competition I did I got a 2nd place pork and a 7th brisket call. I didn't do bad coming out but I did have to regroup. I had to try to figure out what people thought of BBQ. Plus what I think it takes to do well. Hopefully you should never get too far away from the traditional flavours. I told all this to Paul Petersen take the skills from the kitchen but do not reinvent BBQ or surprise them.
So I guess how I relate to Paul Petersen is having an interesting Gourmet food. I can relate in a lot of those kind of things. There is always a level to us.
Q-Seriously Smack talk?? From you? How hard was it for you as you are lovingly referred to as the professor, Mr Rogers and so beloved by the BBQ community.
TS-Well I was part of the sizzle reel . John has hinted around that he had cast me as the professor as I could speak easily about BBQ . John only wanted us to smack talk if it felt natural. Keeping things genuine. I thought about this. I gave it great thought. I figured it all in my head. I had to figure out how I would be in front of the camera in general.
What could I say to keep true to myself but also add to the show? It all panned out as far as they were concerned. I always thought or guessed that you always had to be too overly confident or held yourself in high regards to talk smack. I think my grandfather come out because I am much more humble than that. I said those things in good fun and good nature.
I have a good rapport with Johnny Trigg. You have to be able to take it and dish it out as well. It took me many years to dish it out to him. He dishes it out a lot more. He is much more proficient at smack talking that I am.
Q-How did you become involved with the show?
TS-John called me about the show. I have known John Markus for a bit now. I got to know him through Johnny Trigg mainly. John Markus is such a wonderful and interesting person. I love to read what he has to say and listen to what he has to say. I wish I could speak as well as he does he is so eloquent. His words are so eloquent.
It doesn't matter how brief a conversation may be with John Markus or what's talked about its always going to be that way with him. He always impresses me.
We have a rapport and I got to know him more then he got his Geer pit and in a couple of contests and giving him my thoughts on cooking on it and BBQ. Trying to hopefully help him with that process. We were neighbours in Dover Delaware one year and close at the GAB and those times cooking on the Geer pit. I know I am scolded sometimes for sharing or telling too much I can't help it just bubbles out.
He came down to a competition and he filmed a little bit and my thoughts about Myron . When he was leaving he said "I have something else to talk to you about." I was cooking by myself at Dillard Georgia and I got the call.
He sent me a text message one day while I was playing football with my son Sam. I had sent him a txt wishing him luck as I knew they would be doing the pitch to TLC on the Friday. Later I got a message back and they had picked up the show and at the time they had purchased 6 episodes that I helped sell the show and got a thank you from him.
I didn't want to come across unexcited so I sent him back a txt expressing my congratulations. He went on to give me more details. He didn't come out and say I was on the show and then later on John Markus said I was in. I didn't respond quickly. I had been playing football. I didn't want him thinking I was unappreciative.
Q- What were some of the Challenges of the show?
TS-The show has a lot of challenges I like them. I continuing to learn and grow- I am 47 now. I keep trying to take on new things in life. My perspective is just like the Nike tag line- just do it.
Q- What are some of the details on how you came to a life of BBQ and your first pit.
TS-I had already really worked hard to be a gourmet cook. But I had worked hard to raise my skills as a cook not to be just a cook but a great cook. My catering business is part of that. I would say that in mid 90s I used to volunteer to cook at an even at the masters of food & wine in Carmel CA (just some of the chefs names-Alice Waters ,Jacques Pepin, Charlie Trotter ,Julia Child_. I would do anything they asked (I would make tomato confit, I overcooked Jacques Pepin duck breast -thats a long story LOL) and fill my brain as much as I could after working 16 -18 hours and writing my journal. I wanted to make my impact. For some reason to be a chef owner of a Gourmet catering company- it's difficult to make a name for yourself like going into a James beard dinner , I really needed to have a public venue. While I had a successful company and food and provided good employment for myself and employees I needed to stop worrying about being in the Gourmet part. I had convinced myself of that. So I just tried to go to be about a good dad, employer, husband, son and cook.
Our business grew but I got disconnected with cooking. In this process for some reason I knew it would be with a wood fire. I spent all this time researching pits. Then through that process I found the BBQ forum in 2004. I asked all those questions. I got a load of hickory and my first pit was a Lang 84 I went off to my first contest Johnny Trigg was there- I was stuffing wood in my pit all night as I thought that's what you had to do and stick burners seemed to be the ones who had to stay up all night. He hadn't even lit his pit. I didn't know who he was. He had this big motor coach and this pretty pit. I was really curious. About 330 / 4am he was just getting his pit lit. I walked over and started talking to him. He won that contest and I fell in love with Geer pits.
I went down this path of BBQ. I love all the different pits out there. I think I cook on a stick burner (a Geer Pit) because its primal and basic. I think anyone who ever had to bake a cake with a wood burning oven could make it better than anyone. Having to run that fire clean is something. This whole world of BBQ turned me on to a whole new world of people. On a side note I have had to change my cell phone plans so many times because I get talking and its a $400.00 bill. The talk is always about BBQ. I want to keep talking everywhere. It's the way I feel.
This whole BBQ thing got me reconnected to cooking. I love the humility of it all. I like the fact that BBQ kicked my ass. You take modest cuts of meat and you have to coax out greatness. What seems so simple on the outside is so really complicated on the inside. I love that it appeals to everybody. I would probably say globally. There are so many wonderful things about it. The BBQ family is a beautiful thing. I love competing against my friends seeing them win and myself as well.
It's been one journey of a lifetime.
Q- When do you believe it is the right time to label yourself a pit master?
TS-Golly. You can ask that question many ways. I always had such a reverence for the word chef. Being called a pit master is like that. It was given to me by others before I was comfortable with it. If someone calls me a pit master today would I be comfortable? / I would just say I am just getting comfortable with the start of it. A couple or three years ago technically I think you could have called me a pit master but I think i may just be starting to get comfortable
Q- What's the definition of pit master to you?
TS-You have to have knowledge of your own pits but it needs to go beyond that – that you could step up to anyone's pit and figure it out and have the knowledge to do it. Reading can help but no teacher is better than doing it. You need to understand butchering. It wouldn't hurt to know how break down a pig or cow. You need to be able to know how to make a BBQ sauce or BBQ rub. So how to cook all the different meats to the right tenderness. How to retain good flavours and moisture.
Q- When will you teach a bbq class?
TS-I am not yet ready yet.
(He already has taught many culinary classes but when asked if he would do a BBQ class he pauses.)
I have hesitation due to my abstract thinking. I babble and I drift. To me subtleties and nuance and observation and things that move on you that you have to follow and watch I worry that if it was a class I would want to teach it would be a very abstract moving process. I would worry that too many people would want to know when and how to do things at an exact time. My cooks schedule is like that but it would be abstracted and I can talk a long time about smoke and cooking. I think there would be a population that would dig it and some people who would just say- what time do you put the rub on?
I know there is good money to be made and some of my friends are already doing it. For me though I think I am still learning so much.
I think I will want to share BBQ with people. I have always taught- I teach in Richmond all the time. I have been involved in a culinary arts program. I love what I am doing now. I see teaching a class at some point. I just hope the story I have to tell and what I want to convey will help people do really well. I am sure at some point I will.
Right now I am still digging in.
Q- What have been your observations about different pits (ie Charcoal and Pellets) since you are a stick burner.
TS-Charcoal cookers (stumps, wsm, backwoods -any small charcoal closed in pits) are different. I would have to become a real student of the fuels ahead of time so I could embrace and absorb that. I would want to learn all about them thoroughly.
Pellet cookers have to do what I do in reverse. Stick burners and charcoal cookers have to worry about too much smoke and too much flavour. Pellet cookers (because they burn so clean) they have to focus on how to get more smoke and more flavour in – it's the opposite.
Q-Do you think your modesty is a big hold back for you?
(He gives loads of credit to his Mom, Dad and Grandfather. He is uncomfortable with receiving compliments of any kind at all. He cringes at any mention of his accolades and his well thought of personality)
TS-My father is so funny and proud of the successes we have had at Cool Smoke, He is knocking on the door of 70 and this makes him happy. He embarrasses me sometimes when we are together. He likes to talk about it. When I am exposed to it I can't stand it. He laughs. For example – We are pumping gas going to some competition and someone will say- nice pit. My Dad is right in there saying this pit won 3rd place at such and such a competition. I'll turn to him and say "Dad why can't you just say thank you very much. He is so proud of me" One day he turned to me and said You know what Tuffy there's really not much fun in achieving so many things if you can't tell people. I really didn't have a response to that (he says with a chuckle).
For me, it's just a challenge it's the next contest not the last contest.
Now we have this TV show. It's funny they did a piece on me near Richmond. One of the producers called me the Clark Kent of BBQ. Here I am filming a TV show. However no one in Richmond knew. Going all over the country going BBQing and no one knew in my own town of Cool Smokes achievements.
It's interesting to me the second show we filmed was in Decatur. The first one I wasn't uncomfortable in Mesquite. I didn't know many people and we all were off to our own section. When I was in Decatur however a bunch of my friends were there. It seemed like everyone I knew was there. I was miked up and cameras were following me everywhere. I was so embarrassed all weekend. It goes back to my modesty. I want to make a difference in this life and I want to be humble. For me it was so weird having TV crews following me. I am still me.
A writer from Richmond asked me if I was going to have a big party for the premiere tonight. I said "no way." I am going to be holed up in my house all by myself. Why? She asked. I just want to see what it's like. She then asked comically-" Have you turned into a diva??" I just laughed that's so not me.
Q- Any contest in North America that you have never done before that you still want to do?
TS- I am going to go and cook Memphis in May this year.
Also until this year till this show I had never cooked a whole hog a couple of small suckling pigs but never a whole hog. Honestly speaking – (as a pitmaster) I always felt lacking as a BBQ person as I had not done a whole hog. This year I cooked a 165 lb hog. I bought a JOS (Jack's Old South) cooker to do it in and peach wood. That was in a contest setting. It was cool.
Q- Do you think it will be easier after the TLC Pitmasters show that the public will understand the love of our sport of BBQ
TS-The people making it think it will. I am sitting here waiting for what it will end up being. I hope it shows how cool it is – what we all love to do each weekend.
There is such a depth and character to the personalities of this show and of all BBQ'ers. They all have passion. That's what it is : passion.
I hope it gives it a really good face I hope its good TV. I think there are so many things that are depressing out there that I hope this is a really positive, joyful, experience. I Think the things that we do, the friends that we make is a really great group of people. I hope it gives them a good snapshot of this. I really think this show will do that.