Posts Tagged 'Jamie Geer'
I figure its only right to finally post my own BBQ Pitmaster audition tape. No matter what I am happy that I submitted it and took a chance to be on the BBQ Pitmasters show. Since the beginning of the series I made no secret that I want to be on the show. I think TV needs more BBQ shows. It has only been good for all facets of BBQ from restaurants to products and all competitions. I think they need a Canadian Chick that knows how to BBQ.

Well I never made any secret of it. I made a DVD and am submitting it to BBQ pitmasters today. I have no clue if I fit the bill or if I will get to be on it but I at least can say I tried. Its better to have tried and failed then never to have tried at all. Who knows if they want a mom of 3 from the suburbs. I don't come from a BBQ background. I didn't grow up in the South. I didn't even try really great BBQ until  a few short years ago.  Plus theres that whole I am a Canadian Chick in the pits thing. Oh and seriously I don't look a model. I don't own a jambo. I use pellets and charcoal. I don't have a fancy schmancy rv. I sleep on a military cot in my bare bones yet functional cargo trailer.   Hmmm. Oh well. At the end of the day no one knows if they have what they are looking for. This I do know for sure. I can talk well on TV. Cameras don't scare me, I am unlike anyone else out there and I know I make some really damn fine BBQ. I hope all my BBQ friends have submitted tapes. goodness knows there are a whole lot of really interesting personalities out there.

Over the last two weeks I have received tons of emails and talked to lots of BBQ folk about the new season. The responses are really varied. Some are very cynical and state they think JM already has his picks and he is doing this to keep people off his back. Others say this is just a ploy to get more attention. Personally I don't really care one way or another. I think its a good idea to ask for submissions. Makes sense to me.
Additionally some people have stated they hate the new format already. Um I am not sure I understand this since none of use really know what exactly the new format is. Right now its just a bunch of talk. A bunch of guesses.Seriously Ill reserve judgment for when I actually see the new format.
This is what was posted from John Markus Exec Producer BBQ Pitmasters:

It's official. Our new format features FOUR different pitmasters competing in EACH episode. We are looking to augment our cast from last season and welcome all interested cooks to throw their aprons in the ring. Send your audition tape/DVD, selling us on why you should be picked to compete against the best. To: Lindsay Freed c/o Original Media, 38 E. 29th St., 8th FL, NY, NY 10016. Or, you can email a file of your audition to bbqpitmasters@originalmedia.com. Send your ?'s there as well. Shooting schedule April 30th – June26th. Good luck and see you on the trail!
Then there are a few posts from JM on Twitter:
It's official. BBQ Pitmasters Season #2 picked up by TLC. Will be posting info on casting within the hour here and on various BBQ forums.
**
Audition tapes/DVDs, under 5 min! Sell us on you/your team! Lindsay Freed c/o Original Media, 38 E. 29th St. 8th FL. NY, NY 10016. GetGoin'!
**
Or, send a file of your audition to bbqpitmasters@originalmedia.com Shoot schedule runs from April 30 – June 27. Send ?'s there as well.
**
Going over the schedule for Pitmasters 2. Dammit man, we're putting the miles on. But I can truly say, we'll be at an event near you!
**
To all those hopefuls vying for a place on Pitmasters 2: BBQ Skills + Personality + Showmanship + Authenticity. In under five minutes!
**
Submissions for Pitmasters now arriving in waves. You ladies who 'Q, & I've seen all y'all, jump in already! Starting to screen tomorrow.
**
Screened all day. To all you cooks about to make audition tapes–ladies, ya listenin?–Don't just tap the bell. RING the bell! (Mel Brooks)
**
Saw some real keepers 2day. Hate 2 B a tease, 'Q'rs, but a few of U hit it outa the park. (Okay, I luv the tease part–sorry). Want more!
**
There was even a mention of the new format here:
TLC is hoping to add some sizzle to its freshman cooking reality series BBQ Pit Masters by changing its programming recipe from a docu-reality show to a competition-based series for its second season.
The series, which followed the exploits of several barbeque cooking experts, averaged 900,000 total viewers and posted double digit increases for the network among male viewers during its first season, which ended last month.
The new season will feature a weekly competition between several chefs, with each weekly winner eventually squaring off against each other in the final episode, according to TLC officials. The show will feature BBQ Pit Masters stars such as Myron Mixon and Le Ann Whippen in "some capacity" on the show, said TLC officials.
BBQ Masters joins Cake Boss, Ultimate Cake Off and Cupcake Sisters as cooking-related shows on the Discovery Communications-owned network this year.
Overall I think no matter what its just more exposure for competition BBQ and really I think thats whats most important. Get it out there to more of the public. Let them know how much fun it is. How great the people are.
There is going to be a Season 2 of BBQ Pitmasters!!!
Confirmed with John Markus today : Our new format features FOUR different pitmasters competing in EACH episode. We are looking to augment our cast from last season and welcome all interested cooks to throw their aprons in the ring!!! Great news for all those guys and gals who want to be on the show. Here is how you can apply! Good luck to all those who send in their DVD's!
For Season 2 BBQ Pitmaster Auditions: tapes/DVDs, under 5 min! Sell us on you/your team! Lindsay Freed c/o Original Media, 38 E. 29th St. 8th FL. NY, NY 10016. Get Goin'!
Or, send a file of your audition to bbqpitmasters@originalmedia.com Shoot schedule runs from April 30 – June 26. Send ?'s there as well.
Well it has been a terrific season of BBQ Pitmasters. I can only hope for more in the future. I have been writing about this series since the beginning and for me it has only improved over time. I have my own personal opinions on the editing but once again everyone would like to see certain people like their friends. I am happy for each of the Pitmasters Harry Soo, Paul Petersen, Tuffy Stone, Myron Mixon, Lee Ann Whippen, Johnny Trigg that they got the exposure. I hope it has been a positive experience for them all. I can only hope it will open lots more doors for themselves and many others.
Since I am at the NBBQA conference and just happen to be around a few fellow BBQ'ers I thought maybe getting their opinions on the show would be an interesting way to sum up todays article. So here are their own comments on the show. Ill be updating this throughout the day.
Dave Redmond Sweet Baby' Rays
When I first saw it I was dying to see it that I have been interested in and passionate about. Then when I saw it I was disappointed I saw arrogance and greed and all of things BBQ is not about it. I talked to Amy about that the Network chose the entertainment vs the educational. Then I saw the BBQ Challenge on the Food Network in the manner much more reflective of the goodness of KCBS then watching the show. As much I wanted that to be the good stuff it was not BBQ Pitmasters. As much as I would have liked to see that continue BBQ pitmasters is just pretty damn cool.
William Bubba Latimer – Bub-Ba-Q
I think the show has progressed since day 1. I did no like the first couple of shows as they did not portray the good guy vs. bad guy thing. One thing we can't forget is that there has to be an entertainment factor. I love the fact it has sparked in BBQ. I think the show has gotten a little more relaxed as far as the progression. I liked seeing the camaraderie since there is so much of that. That to me is BBQ. The show itself I have come to appreciate it more. I hope that it does continue. I love hearing people talk about the BBQ Pitmasters when they are coming into our restaurants.
Tommy Houston Checkered Pig BBQ
I think the biggest thing this show has done (whether you agree or disagree with content) was create interest. It has spurred a lot of interest in BBQ. Ordinary layman are talking about it. I have people coming in asking me if I know that white haired guy. It is good for BBQ.
Right now all of these BBQ shows could not have come at a better time for people who have restaurants due to the economic uncertainty. People gravitate to comfort. BBQ is comfort.
Randy Twyford – Twyford BBQ & Catering
It has had a major impact – and has made people realize there is much more to a BBQ contest than they see. It has increased the exposure for BBQ competitions and bbq in general.
Darren Warth- Smokey D's BBQ
It has been good for BBQ. I think they need to show more camaraderie . Show the side where people help each other more.
Chris Jones- Colins Creek Barbecue -BBQ Pitmasters is a show like no other. It has done a lot of good for BBQ and has opened up the eyes to the general public about what goes on at some of these competitions. It also shows that no matter what kind of equipment you have anyone can do this. I really wish they would make it a more family oriented show. I really enjoy competing with my family and would hate for people to be turned off because they have other interpretations of Competition BBQ.
Kell Phelps – NBBQA President I think the show has been great for showing BBQ. I will say though I really did not like the language. When the first episode was on I wanted my son to watch it with me. he is 10 and was so excited. He had told all of his friends since we knew most of them. Unfortunately after the first 10 minutes I took him to bed. It was not appropriate for him.
Kelly Wertz- 4 Legs Up BBQ
I thought the first episode was crap. I think after that it got better. It is still good for BBQ.

BBQ Pitmasters
The Big Pig Jig
TV-14 (L), CC
Pitmasters are going hog wild at the oldest BBQ event in Georgia – the Big Pig Jig. Myron's on his home turf defending his title as self-proclaimed king of hog while Tuffy faces a double challenge as he attempts his first whole hog on a new pit.
I have been regularly contributing to a terrific round table podcast presented by Hucks Hut. This episode was a great discussion with John Markus Executive Producer of BBQ Pitmasters on the TLC Network.
This weeks episode involves John answering a lot of questions about the show and himself in addition there was a great discussion on Super Bowl food!. Great recipes too!  Listen HERE
Also just a reminder this show is part of the BCRN The BBQ Central Radio Networks
Day 18-25 days of Christmas Blogging……

Last night we had our annual Christmas dinner party. Each year we have our local friends and their children over. I look forward to it every year. For the dinner I served up 10 racks of ribs (done on the Traegers with Cherry pellets) with Ole Rays Apple Cinnamon BBQ sauce on the side, potato salad, Greek pasta salad, mini corn muffins with jalapeños and aged cheddar, buns, spinach dip, marinated water chestnuts wrapped in bacon, devilled eggs with smoked paprika, Macedonian rice with grilled veggies, pate with pecans, veggies, brie with blackberry sauce, and a whole bunch of puff pastry appetizers. Dessert was a Pumpkin Caramel pecan cheesecake, homemade chocolates, and loads of cookies, tarts and squares I have been working on for a month. I really love to make this dinner. However I got so busy I did not take pictures. Ugh. Anytime you can cook for family and friends you love to be around is a good thing in my opinion.
It was a blast and conveniently everyone was gone by 9:50 pm. Just enough time for a BBQ phone call with a good friend of mine from the US and then to watch the latest episode of TLC BBQ Pitmasters. It was a relief the timing was good. I still have no clue how to record anything on the tv and I don't have one of those PVR thingy's. (Yes that is the technical term- thingy's).
IT was a really fun episode to watch. However once again I ended up talking to the TV (and don't think for a second I am the only one) saying to a cast member are you kidding me what are you doing – etc etc. There were 59 teams at this competition. Out of the TLC Cast here were the overall results:
6 -Jack's Old South
7- Cool Smoke
8-Jambo Pitts
9-Smokin' Triggers
I was looking for Harry and Jamie-but I only saw Jamie singing a song going into
Big Bob Gibsons
. Chris Lilly took it well in stride when Myron told him he used his books to start his pits. The menu at the round table dinner looked really nice. I liked the brisket wrapped scallops. I'll be trying that for sure.
I watched Pauls teammate lolly gag along not really caring about what time it was. Turning in Chicken and getting a DQ for lateness. Seriously buddy you should have moved your *ass a little faster. Sixteen seconds. Thats what he was late by. Not good. I really did think the chicken box looked decent.
Then it cracked me up to no end to see Myron go off on Paul for shigging his muffin pan idea. Hmm so I guess Myron may be frustrated with a vast majority of the cooks going in to this year. If the posts about muffin pans on the various forums are any indication a lot of cooks at home are trying this technique out in preparation for the 2010 season. I have some concerns that this technique could be considered sculpting. I won't do it myself. I won't risk getting a DQ because of sculpting. I think meat (whether it be chicken, beef, or pork) should still look like meat at the end of the day.
I would also like to say it was nice to see a variety of chicken. I saw legs and thighs and breast meat. I really liked the commentary from the judge. Judging is not easy. I did some judging before I started and I am a
KCBS certified judge
. It was a good decision to take the certification. I think any time you can get a glimpse of what goes on inside the minds of judges it can only help. I know there are some days when I think I have turned in my very best products and (I get scored poorly) I continually question what the judges want. (for the record I am usually not that polite about judges decisions about it but Ill leave the swearing up to Myron.)
I am still surprised that Myron offered up this muffin pan technique to the viewing audience.
As for shigging I think every single team out there pays attention to whats going on at other cook sites. Don't kid yourselves- everyone looks. You would be foolish not to. I don't think for a second that there is anything wrong with paying attention. I think if you see a team that has a little blue bottle on their cooker or a bottle of rub and they come in first in that category you might be wise to jot down a few notes. Even with this show watching a few episodes over a few times if you are paying attention there are some nice little tidbits of information. Now I am not going to point them out – go look your self. Research is never ending in the field of Competitive BBQ.
*please note for anyone looking to get me a Christmas present I want one of these cups or please donate here
I do however think its wrong to go into a cook site of a team you do not know without permission. This is one of the reasons I now do my prep and my cutting inside my trailer. Personally I don't want you to see what I am doing. As much as possible I try to hide my own techniques. Its also another reason we create a wall of Traegers and WSM's around my cook site. I don't want you walking in unless you are invited. I rarely invite anyone into my trailer unless you are a good friend. I am still so new (only going into my 4th year) to this competition style but I would like to think I have a couple of things figured out. We have an additional 10×10 tent set up for socializing. Thats where we do it.
I can certainly relate to Tuffy's schedule of events. Inconveniently (after I watched the clip on youtube about 10 times trying to decipher what was on his spreadsheet I realized it wasn't because I was needing my glasses) they have certain lines blurred out. Damn. . I have mine planned for every 15 minutes. My spreadsheet keeps me on track and it was another cook that helped me develop mine when I first started out. I also note the temperature and humidity levels and anything else I think may be affecting my cook.
It was great to see him get a first in his new found brisket technique. I enjoyed watching some of the background of him working in the kitchen of A Sharper Palate He knows so much about food in general. He works hard at it too. I loved the countdown he did on camera, 5 ,4 3, 2, and then he pulls out the first in brisket. Nice moment captured.
I have been at competitions where the power has gone out. However I always travel with a back up generator that can run everything. I don't leave home without it. This is why I was surprised to see Lee Ann get backed up on time due to power shortages. I wonder if that was for TV. …
Overall I am enjoying this series immensely. Next weeks episode is a repeat makes sense to do that during the holidays. I will be looking forward to the next episodes in the new year!

Heres a sneak Peak at this weeks TLC BBQ Pitmasters show:
THURS – 10pm
BBQ PITMASTERS
Cooking skills, nerves and patience are tested at the historic Riverfest Barbecue Cookoff in Decatur, AL as the Pitmasters battle for the $3,000 top prize. Paul tries to avoid last place placement, Lee Ann's schedule is threatened by a power outage and Tuffy Stone uses spreadsheets for BBQ?!?
Don't mess with Myrons Muffin pans LOL
Power Outtages …. LeeAnn Whippen
Paul Petersen Discussing being new to competition BBQ and coming in last place.
Pellet Envy
Team of the Year for 2009 KCBS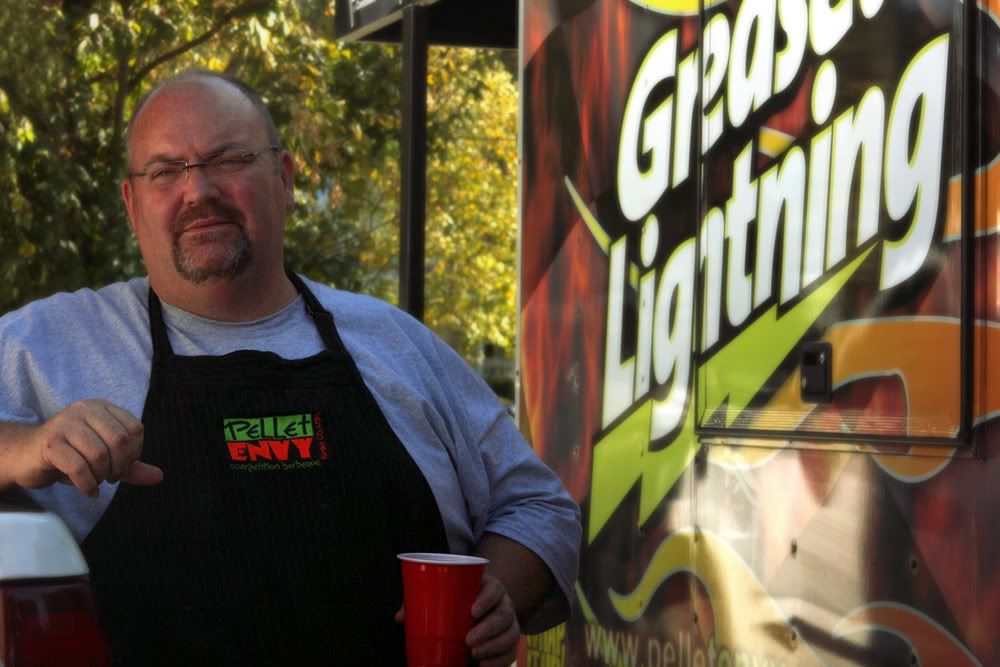 I met
Rod
a few years back now. I had read about him and seen him in action and wanted to learn more. I am one of the over 500 people he has taught along with Johnny Trigg for the
Old School vs. New School BBQ
cooking class. We travelled all the way from Barrie to Illinois for that class. It was worth it.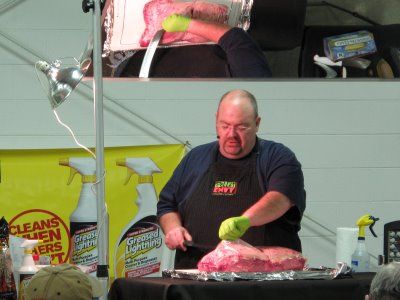 This year was Rod's year. He has just this past weekend been named
KCBS TOY
(Team of the year) in an exciting race to the finish. It was a nail biter for sure. Going down to the very
last competition
in Tempe Arizona- faced with two other teams hot on his heels ISS
I Smell Smoke
and
Smokey D's
. It sounds a bit like a movie.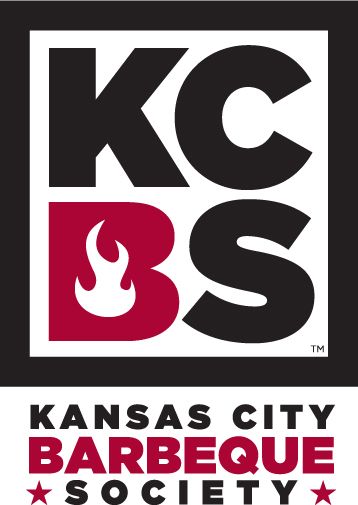 Both pitmasters for those teams are well respected by Rod. He says it could have been either of them to win the TOY.
Rod- "I have a lot of respect for Darren flying in finding his meat and rented vehicles and winning." I have a lot of respect for Steve travelling so much and accomplishing so much. They are both as deserving. I predicted in July that Darren would win it based on what he had done and caught on fire in the summer. As hot as he was I thought he would pull it off. He almost did.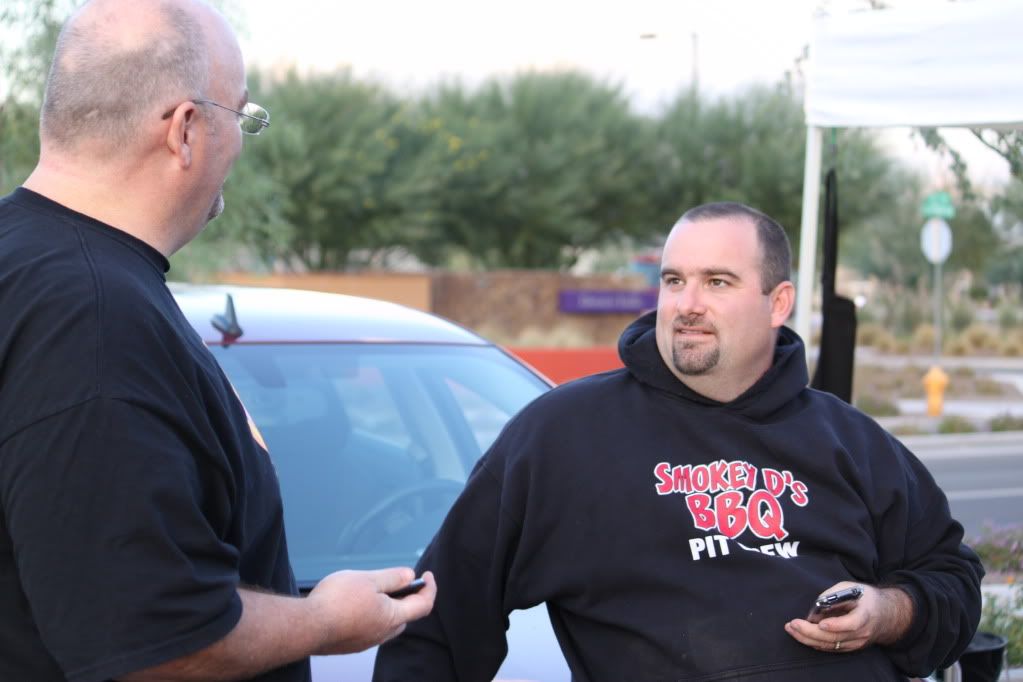 Find more videos like this on BBQ Thom
**Thanks To Thom Emery for allowing me to share his video clip.
His dry sense of humour and wit resonate with anyone who talks with him. I have had the pleasure to have a few BBQ meals in Texas and talks with him outside of the realm of competition. He can make me crack up laughing till I cry with most conversations. His sarcastic comments have on more than one occasion sent me to giggling. However you can have a real serious conversation with him (on some rare occasions) that gives you a small glimpse into the depth of his somewhat guarded character. He can seamlessly go from Rod the friend to Rod the BBQ guy who has some serious sponsors to represent.
He extols the virtues of his beloved wife Sheri. He talks about how much she supports him in his BBQ career. Personally I sort of think of him as a big BBQ brother. He looks out for his friends. He is always encouraging and continuously helpful. He also seems to have the memory of an elephant and can recall a lot of minute details.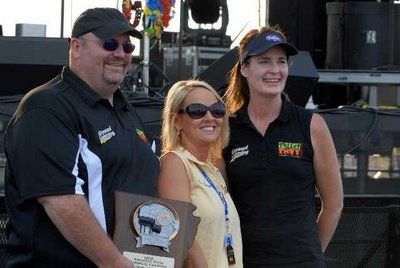 On his own personal plan for healthier living this year he let me know of his goals.
His motto now is there is no time to eat bad food and that he starts every day with breakfast. He recommends a couple of books that are helping him on his path: Eat this not that. One is for the grocery store and ones for those who eat out. I am so proud of him for being open and honest about his struggles. It's not without his own notice that being on the Dr. OZ show was good for the brand of Pellet Envy. He is sharp as a whip. I don't think much could get past him in any situation.
Q- How do you feel now that you have won TOY?
RG- I don't think it has really sunk in yet. I am numb. To be honest. I am tired and still driving home now. I am looking forward to taking some time off. Darren and I were across from each other. Steve was off in his own section. It worked out fine. (Understatement of the year) I think the guys were genuinely happy for me. I am not so sure I could have been as genuine as they were if the situation were reversed. Overall it's a great feeling. It's time for me to recharge and then go back to it.
Q-What's up next for you and Pellet Envy?
RG-I have to get unpacked. ( As we speak Rod is just a couple of hours from home) I have deadlines to get on for the Bullsheet and other things. I have to announce my classes for this year this week. My teaching partner is now a movie star (Captain Parkay – Johnny Trigg) so he can't commit (laughing he says this with some seriousness. I will be doing the classes solo. I have so many irons in the fire. Additionally I would love to take my wife to New York for a few days.
Q- What is your take on the proposed changes to how the TOY is calculated?
RG- You can't track who has sponsors and who doesn't. These are pieces of information impossible to track. It's all total crap. A Tiering system for team of the year is ludicrous. Truly if it aint broke don't fix it.
Q- Who were your major sponsors for the year?
RG- Greased Lightning and BBQ'ers delight. Greased lightening has been signed on for 2010 already. I am really glad to have them on board. Candy makes a great product and Greased Lightning is terrific for cleaning even on clothes. They have been very supportive of me and I am thankful for it.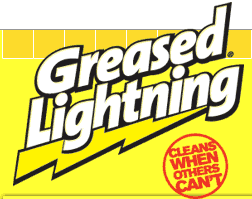 Q-Do you use a muffin pan to cook chicken ala Myron Mixon
RG- Laughing, he says no.
Q-What's you take on garnish. Garnish or no garnish- and proposed changes to the KCBS?
RG-Garnish is what sets KCBS apart from the other sanctioning bodies. It makes it more of a challenge. I believe it should stay the way it is. Garnish may not be my most favourite thing but it adds more difficulty. I think they need to leave it alone.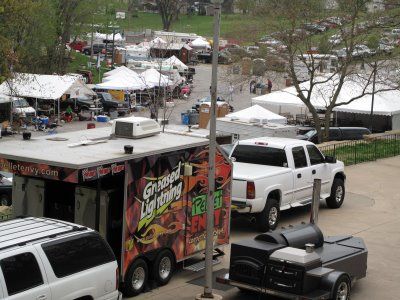 Q- What were your stats (miles comps, states- for the year?)
RG-Miles this year – 40,000 approximately
States – Somewhere in the neighbourhood 33
Competitions- I believe 33 total
Q-When you become TOY (team of the year) what do you do next.
RG-I am going to try to do it again. Take a break but then go back to it. 2010 is going to be a great year for BBQ I know it will be.
Q- Was there any point during the competition season where you felt the pressure >?
RG- The pressure was really on me on the way to Florida. I packed up as soon as I had done brisket and I left. I have never done that before. I had been gone 10 days and it was my anniversary. I won that contest.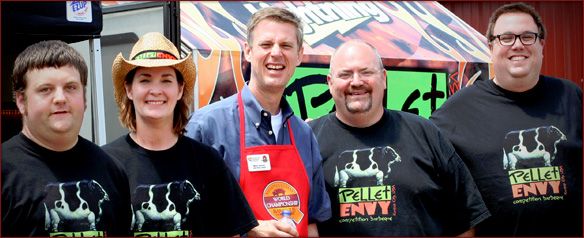 Q- As the most winning person in KCBS -Why are you not a part of the TLC BBQ Pitmasters series?
RG-I don't know the answer. I think they should have taken me.
Q- Are you endorsing any candidates for the BOD for KCBS?
RG- As of today -no. I have not done my research yet.
Q- Why are you not running for KCBS.
RG- I got away from the board in June. It was a difficult decision for me but I needed to get away from it. It's too much minutia. They are micro managing. Looking back to the previous contest is not the answer. The board should focus on the next 5, 10 15 years, of the KCBS and its future. They should be strategic in nature and currently they are not. Every once in a great while, I regret it- when I think of the people that put their trust in me. Ultimately I had to do what is best for me. Ultimately with the rest of the season it validates that I made the right decision to get off the board. It was a great choice for me to move on.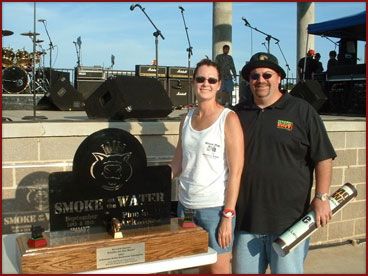 Q-Out of all the other teams besides the two that were on your heels who do you see in 2010 coming up the ranks of the TOY listing>?
RG-Wow. You know no matter what answer I give I will have left some deserving team out of the mix. I'll be disappointed in the answer I give. There are several teams that I think will rise though the ranks.
Q-What's the name of your GPS (I can hear his GPS giving him directions throughout the interview)
RG- I get asked that a lot… I don't really have a name (he chuckles a lot here) sometimes I call her b!tch if she takes me the wrong way.
Q-What's the biggest tip about Competition BBQ you can give people?
RG-Try to undersmoke your meat.
Q-What will be your first contest for 2010
RG- Lakeland Florida.
Q- Anything else you would like to share…………….

***** Exclusive you will read it here for the very first time *****
RG- Ok heres something to tell that I am sure will have an impact – We will be Pellet free in 2010. We will no longer be using pellets or any pellet BBQ's. We have a Geer pit (Jambo Pits) ordered for the back of trailer. I am in love with his pits. I will be returning to Texas to get it mounted. I will be Pellet Envy for 2010 and we will have a new name for 2011. Right now we have narrowed it down to 12 other names.
For the 2009 season I will still teach in 2010 both pellet and on the Jambo Pit. It will be a big challenge to do both but I will do it.

Q-Why are you changing from Pellets to a stick burner (
Jambo Pits
)
RG-It started with wear and tear. As much as I travel the gas is so much less with the Jambo Pit. Then it was my results in 2008 out of 8 contests that I used the Jambo pit contests 6 were won with the Jambo Pit. Then this year (2009) out of 8 contests where I used the Jambo pit I had a total of 7 wins. This gives me a new set of challenges it makes competition BBQ more interesting. Cooking on the Geer is now a challenge. It has brought me back to raising my level of focus and concentration in a contest.
*Note Rod had a bit of nervous laughter when reporting this and he admitted as so. This is a big deal to him and its news for the BBQ world. I really thank him for allowing us to share his announcement. This is going to be a huge step for Rod. I wish him all the very best with his new direction.
****
Jamie Geer tells me that the pit will be exactly the same size as the one he currently uses. Rod doesn't want to change a thing he wants it to be identical. The firebox has already been fabricated. It will be ready in time for Lakeland Florida.