Well you can never ever have enough BBQ's I don't believe that anyone should only have one bbq or grill. There are so many different types and they are all different with great capabilities.
Thanks to the folks at BGE Canada John & Brian who came by tonight with my newest addition the Big Green Egg.
I am sure to have fun playing on it.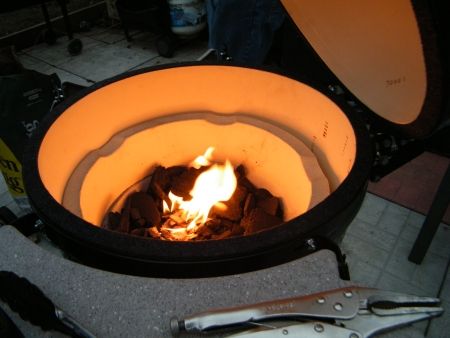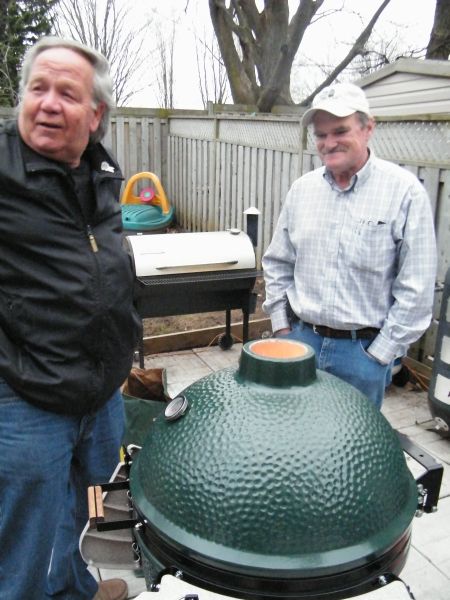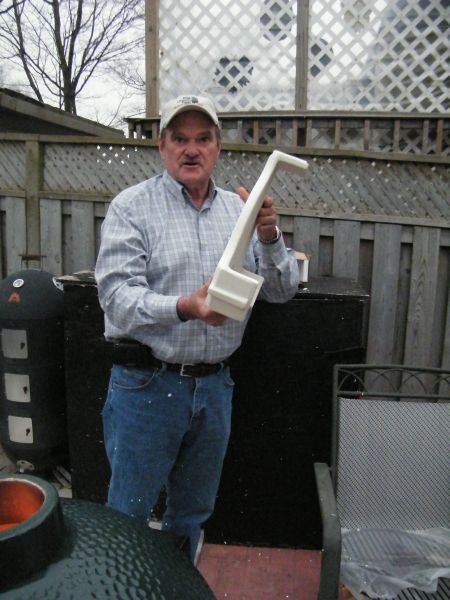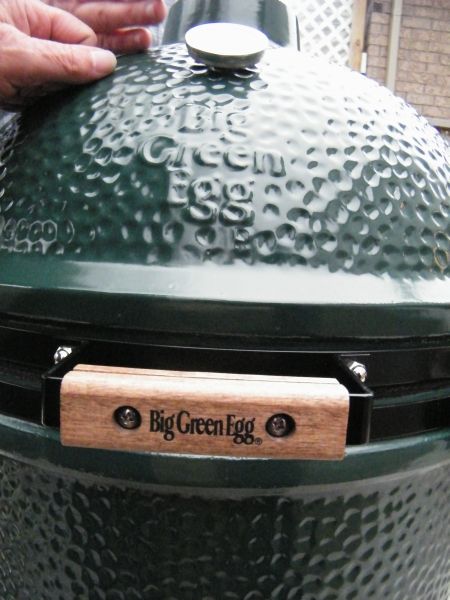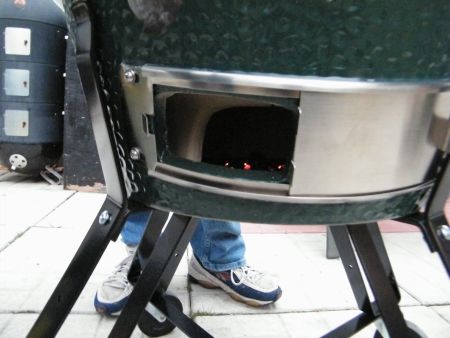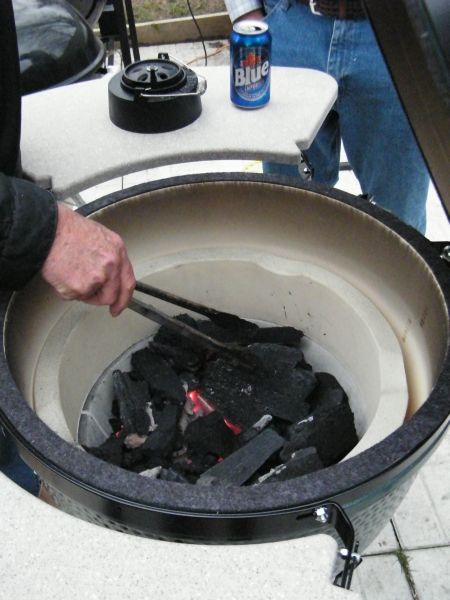 Theres a new website online for sharing videos, BBQ tips and creating more BBQ communities:
Check it out and upload, watch and share your BBQ!
Received this book in the mail for review. From amazon listing :
Product Description
The complete guide to starting your own competition bbq team, from your initial idea to cooking in your first full contest. It covers preliminary considerations, planning, equipping, set-up, and running your own team. George has gone where no other has before… he tells you how to compete in barbecue competitions. His book is a great read for anyone thinking of competing and for those already on the circuit. It's informative and funny! Mike Stines, Ph.B. Author of Mastering Barbecue I've cooked on a few teams in my time on the circuit, but we never had this kind of organized approach. Now that I have George's book, my next team will have a good plan to follow and we won't be stabbing each other with barbecue forks! Ray Lampe, a.k.a. "Dr. BBQ" Author of five barbecue books including The NFL Gameday Cookbook A masterful yet fun journal that will teach avid barbecuers the ins and outs of competition bbq; a must-have handbook for anyone who wishes to join the ranks of the bbq world's best practitioners. Rick Browne Host of the PBS-TV show Barbecue America
My Review.
Its 108 pages of  about all things starting  competition BBQ. It is an introduction to the world of Competition BBQ and some of the pitfalls to avoid. What they don't tell you is how funny this little book jam packed with valuable information is. I loved reading the stories from George's point of view. Don' t miss the psychological impacts of competition chicken overload. I have been there. I really related to these stories. Or even the sage advice offered on crotchel area issues on page 21.
This is not a serious book by any means. However there is some really serious decent advice and its an easy and fun read. If you are just beginning to contemplate starting a competition BBQ team you really should read this first.
You can buy a copy of the book here right on their site: www.watgbbq.com
Additionally you can always catch up with George and his teams adventures on the blog Who are those guys?  Competition BBQ Team Blog.
Ray (Dr. BBQ) was one of the first successful American Competition BBQ'ers I ever met. It was 2006 and he was the head judge for the Canadian Open. His BBQ class held in Detroit was the very first one I took. He is an extremely candid person. He never minces words.  He has no regrets about calling people out on things that are not right in his book. In the years since he has done a heck of a lot. He has 5 cookbooks published, taught multiples of classes, and has been on countless TV programs and is easily recognizable to anyone in competitive BBQ.
Who is Dr. BBQ?

Ray Lampe grew up in Chicago and after high school spent 25 years in the family trucking business. In 2000 the trucking business had run its course, and it was time for Ray to do something different. He had been participating in BBQ cook-offs as a hobby since 1982, so he decided to take a leap and try to turn his hobby into a career. In 2000 Ray moved to Lakeland, Florida and began his career as a BBQ man.
I caught up with Ray while he was prepping his gear for this weekends first KCBS competition of the year in Lakeland FLA.  I haven't had much time to catch up with Ray over the last few years. I have been busy and so has he. It certainly hit home that we need to talk a bit more often as the conversation we had ended up being about 2 and a half hours. It wasn't so much of an interview as it was just catching up with a friend.
D- So tell me about your new site Firecooker.com
RL-Well I am the resident Pitmaster of Firecooker.com. I want it to be a  comfortable backyard community of grillers and BBQ'ers. I wanted a place to showcase BBQ videos, awesome recipes and a great forum. I think its lots of fun and really informative for anyone out there whether they be a competitive BBQ'er looking for tips or a backyard guy or family that wants to see some great tips. It really is for everyone. Just go on and check it out then upload a video. Its really user friendly.
From the website:
FireCooker is a free service for BBQ and grilling fans. You can use FireCooker to rate and review BBQ and upload your own recipes and videos.  You can also keep track of BBQ you'd like to try and buy as well as subscribe to what your buddies have reviewed. The site was built by BBQ fans for BBQ fans.  Whether you're grilling or slow-cooking in the backyard, we want FireCooker to be the place where you can learn new grill skills, talk to other backyard chefs and rate their recipes and videos
D- How long have you been a member of KCBS?
RL- I have been a member of KCBS since 1991. I have seen a lot . I know where the bodies are buried. (he chuckles) I was there for a lot of it.
D- You have put out 4 books over the last few years when is the next book coming out?
RL- The next book to come out will be one I did for Williams Sonoma. Ribs Chops Steaks & Wings It will be available in April and is available for pre-order. So now I have done 5 books in 5 years.  I am already working on number 6.
D- Recently you made an announcement that you are no longer the Executive Chef for Southern Hospitality.  Was the split amicable?
RL- Absolutely it was amicable. Originally the plan was to open additional locations of Southern Hospitality. Unfortunately due to the economy this just didn't end up occurring. As such I want to be able to leave my options open. I know that's probably selfish but I was not a partner. I would like nothing more than to hear that they are expanding the business in the future. They are great guys. Good people to work with.  I would certainly like to work with them again in the future. I wish them only the very best.
D- Would you have liked to be on TLC BBQ Pitmasters?
RL- John Markus is a good friend of mine. We were in negotiations for me to do the show. Unfortunately at the time I was already doing Tailgate Warriors. John had such a tight schedule that I just could not be there for them. We just couldn't work it out. Its just business. It hurts me not to be on that show. I would have loved to be there with my good friends. I know Myron, Leeann, Tuffy, and Jamie. Myron is a ball-buster for sure ( he says laughing) he is a great business man. Its all good for BBQ.
D- You have had an agent now for about a year. How has that impacted your BBQ career?
RL- The opportunity came from Southern Hospitality. My agent was at IMG and has now moved on to another agency. Have an agent that represents me works well. I fill a niche. There are more opportunities.
Some of the things this BBQ man does:

* He's an expert judge on the Food Networks "Tailgate Warriors with Guy Fieri"
* He's featured on the Food Network's "Best Thing I Ever Ate"
* He travels the country as the Spokeschef for The Big Green Egg grill and smoker
* He's the featured BBQ Chef at The Greenbrier Resort in West Virginia
* He's a spokesman for The National Pork Board
* He's judged at the Jack Daniel's World Championship BBQ Cookoff
* He's judged at the Terlingua, Texas International Chili Cookoff
* He's judged at The Best of The West Rib Cookoff in Reno
* He served as Executive Chef at Southern Hospitality BBQ in NY 2008-2009
* He writes the "Ask Dr. BBQ Column" for Fiery Foods & BBQ Magazine
* He's been a guest chef at the Club Med Food and Wine Festival
* He's been a guest chef at the Woodford Reserve Distillery
D- Do you have any plans for the Superbowl?
RL- I am doing a corporate Tailgate Party. Ill be working with ribs chicken and all total I will have 4 dishes. I'll even make a Jack Daniels Pie. Whether I get to see the Superbowl live remains up in the air at this moment. I sure hope I get to.
Thanks to Todd at Plowboys BBQ for the use of this photo
D-What TV Projects are you currently involved in?
RL- Tailgate Warriors with Guy Fieri is something I have been involved in as an expert judge on the Food Network. I have to say that working with Guy is something. He is a real TV professional. Nothing with him is scripted. I really can't remember if he ever had to do a retake. He is that good at it.
Also I am featured on Food Networks Best thing I Ever Ate airing this Friday (today January 29) Look for the Meatfest show and me eating a Beef and Sausage Combo in Chicago
Ray Lampe: Dr. BBQ – Italian Beef and Sausage Sandwich – Joe Boston' Italian Beef

2932 W. Chicago Ave.

Chicago, IL 60622

(773) 486-9536

There are also other great TV programs currently in the works and as they come up Ill let you know

Dr. BBQ has appeared on:

* Food Network
* E! News
* HGTV
* The NFL Network
* The Discovery channel
* The Outdoor Life Network
* CNN
* Daytime Tampa Bay
* Good Morning Texas
* The Howard Stern Show
* Martha Stewart Living on Sirius
* NASCAR Sirius Radio
D- Will you be appearing on Guy Fieri's new game show Minute to win it?
Minute to Win It, scheduled to debut on NBC on March 14th 2010, at 8pm, challenges contestants to complete ordinary tasks in ten seconds or less. Each completed task earns money, with a maximum payout of $1,000,000 for ten successful completions.
RL- (Laughing) I have not been asked to .
D- Your classes in the past have also included the Greenbriar. Are there plans to continue teaching BBQ there?
RL-The Greenbriar classes we (Ray, Chris Lilly & Myron) did in the past were excellent.  I would expect them to continue in the future.
D-Whats on your agenda with Big green Egg?
RL- I'll be in Phoenix for the Eggs in the Desert Eggfest with Big Green Egg.  I'll be teaching there and hanging out with other eggheads.
D- What competitions do you plan on attending this year?
RL- I would like to get to more but I just can't anymore. I never have time to practice either. So far this year I will be at Lakeland this weekend, the American Royal, I am trying to get up to New York for the Grilling on the Bay. I will also be attending competitive BBQ'ers first $100,000 event in Little Rock Arkansas, Smoke on the Water. I always knew it would get to $100,000. I am glad I am able to attend the first one.  I am trying to put together a schedule that will also allow me to attend some of the other Nascar BBQ events.
D- Where else will you be this year?
RL- I'll be at the Houston livestock Finals show and the Dallas Pro Bowl event. Lots of other things and places as well. As the dates come up ill have them put on the website. Its going to be a really fun and interesting year. Check the website often for updates.
D-Whats the best advice you would give to people wanting to get into the business of BBQ?
RL- Just remember this. Have integrity. Don't screw people over. Don't back stab. If you say you are going to do something then commit to it. Above all BBQ is business. Just like any other business out there. This one just happens to be BBQ. Its not a mystical magical thing.  You can help people and that's great however you have to look out for your own business needs.   You have to still meet your commitments.  At the end of the day you have to understand  its a business.
You can find Dr. BBQ on twitter & Facebook
Also you can follow firecooker on twitter .
I have been regularly contributing to a terrific round table podcast presented by Hucks Hut. This episode was a great discussion with John Markus Executive Producer of BBQ Pitmasters on the TLC Network.
This weeks episode involves John answering a lot of questions about the show and himself in addition there was a great discussion on Super Bowl food!. Great recipes too!  Listen HERE
Also just a reminder this show is part of the BCRN The BBQ Central Radio Networks
OK so this post is at least a week old (in my drafts folder) but I just did not have time to do an update of the pictures since I have been travelling.
The road to New Paltz from Barrie is really long. Almost 9 hours travel time for us each way but it certainly is an interesting drive.
On our way there we made a very important stop in Syracuse at Dinosaur Bar Be Que. Well worth the trip for anyone going through the area. We pulled up at about 10pm and the place was rocking out big time. What a blast we had. Great music great beer and some terrific BBQ for sure.
It was probably the best chicken I have had all year the texture is incredible – its moist delicious and considering how much I hate chicken I was thrilled and surprised at the same time.
Here are some pictures of the joint. I would go back in a heartbeat.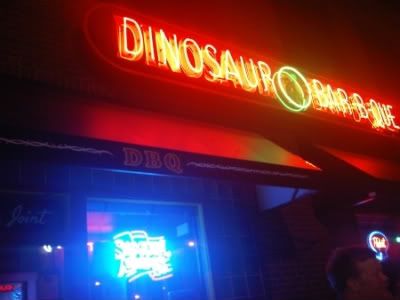 more pictures here
It was a great stop to our New York adventure in BBQ for sure.
Moving on to the competitions . This was the first time we had ever done a NEBS grilling contest. It was pretty interesting. The categories were steak, dessert, pizza, and shrimp. We did our best but we did not do well at all. We of course thought our steaks etc etc were awesome. I thought our presentations rocked it out. NExt to us Mr. Bobos did an excellent job as well and we got to sample some of their fine fare. Additionally we got really low marks on our shrimp as some of the judges thought the innards were a bit raw. We temped each at 125F (plus rested tented for 15minutes in a delicious roasted garlic and shallot butter) so not sure how that happened. Ugh. We had fun though and a friend of mine Bob came along to give us a hand. He is a terrific BBQ chef. Knows his stuff and has been a good resource for lots of ideas. We were thankful to have him around for sure!!!! Thanks Bob love ya lots buddy!
One of the best parts coming in early for the grilling part of the comp was getting the chance to unwind a bit (also know as shooting many tequila shots with Julie LOL) and socialize. I was smart enough to set up my bed in the comp trailer prior to the nights festivities. We were also really pleased to have Can't Stop grilling right beside us. We love to be around these guys. They are a class act. They are also a lot calmer than I am at Turn in time. LOL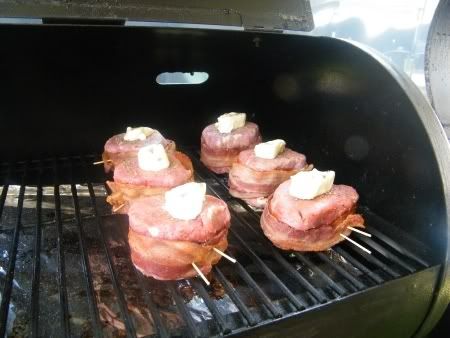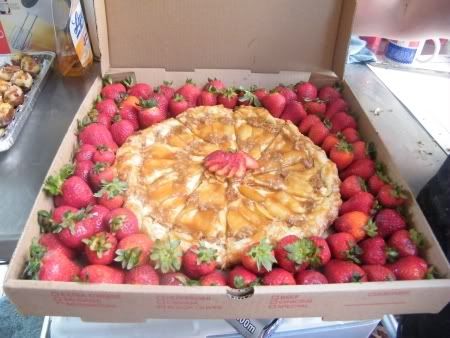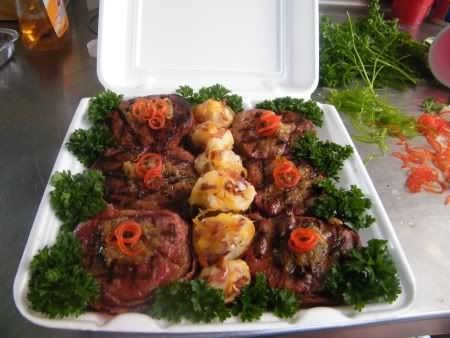 We had a great time seeing many of our friends at this competition. Between meeting many of the Brethren and of course visiting with new and old friends there never seemed to be enough time. We had a great time at the potluck and a big Happy Birthday to Vinny and the Grand Poobah himself Phil (seriously I think he has reached the depends stage of his life I heard there were caution stickers and items everywhere warnings of the OLD person). I did also get to try the famed HoDeHo potatoes. Kim (God Bless her) saw me in line (a very long line) she grabbed my plate ran off and disappeared. I then got to try the ultimate in potatoes. AWESOME!!!!
Once again I ended up trimming a whole lotta meat later on in the night. We ended up with a 1st in pork for the KCBS competition. I have to say this was a HUGE HUGE HUGE Thrill (With many thanks to Andy & Kim for their help – Did I mention how much I love PLOWBOYS>>>>>>>???????) 16th in chicken and 19th brisket and a jaw dropping so disappointing I can't even begin to tell you 44th in ribs. Seriously I can't figure it out. UGH. Lets just leave it at that. Overall we ended up placing 16th. Thats 6 places out of where I wanted to end up for sure.
It was a well organized competition. The volunteers that I met (Stephanie, Rolf etc) were terrific people however I will say I was mortified for the final awards presentation of the top 4. I found that the announcer did a serious disservice to the teams constantly reminding them of the "cheap plastic trophies" and dismissing them American Idol Style. It sucked royally for them and it should never be repeated. The amount of work and money the teams put into preparing attending and travelling to a competition deserves a hell of a lot more respect than that. The guy was thinking he was funny but ended up being a complete jerk in my opinion.
It was a long drive home after that and I needed a day to recover and sleep.

Here are all the pictures from

New Paltz