Well my day was filled with some lovely cold smoking.  Ian McKend sent me this unit to review.  See the above You tube video for more information about the product. Also here is the Company's website.
I chose 5 types of cheese I already had in the fridge. Haloumi, cream cheese, a Maclarens Imperial Aged cheddar, and a couple of inexpensive blocks of Marble and Old Cheddar.
For the cheese project I decided to use my own smokin dust. The kit comes with Oak however I am not a huge fan and thought for the cheese that something a little more delicate would be better. I had a couple of bags of Smokinlicious products in the garage, pecan and mango. I think they were an excellent combination.

The kit isn't very large at all. I will admit I really had my doubts about it effectiveness. How could such a simple tray filled with dust and a tea light impart that lovely smoky goodness on my cheese?

I filled in the two flavors of dust and got it started
So I loaded up my Traeger rib rack with the cheeses and set off for my nearest grill my little Tex. Its right at my backdoor. It has been heavily used over the years. I don't take this one on the road with me it is my home unit.
About an hour into it I went to check on the cheese. I realized I had made a critical mistake in the placement of the cheese. I had put my beloved Aged cheddar directly over the unit causing some of it to melt.
A quick rearrangement of the cheese and we were once again on the road to cold smoked cheese.
After another hour and a half I pulled the cheese off.
the temperature never varied much above 90F the entire time. At 2.5 hours I think I had enough smoke on it – however next time I will let the aged cheddar go longer.
I am really impressed with the simplicity of this unit and how wonderful the flavor is on the cheese.I am already planning on lots of experiments this summer with it.  I highly recommend this unit for how effective and its ease of use. Now if you will excuse me I have to go make some smoked cheese nachos in preparation for the Canadian US hockey game tonight. It will be fun to watch Canada WIN while enjoying some of this smoked cheese.
Ill be on the road for the next couple of days travelling to Memphis to attend the NBBQA conference. I had such a good time last year in Austin for the conference . I have been looking forward to this a LOT!! Also will be taking Myron Mixon's class while I am down there. Should be an interesting trip and I'll blog about it as much as I can.
Just wanted to pass along that we now have a working Facebook fan page. Thanks to everyone who let us know the first one did not allow people to join.  Please see the link on the top right of this screen or click here
We really appreciate our fans. This year we plan on running some fun fan contests where you can win some BBQ prizes!!
OK so this post is at least a week old (in my drafts folder) but I just did not have time to do an update of the pictures since I have been travelling.
The road to New Paltz from Barrie is really long. Almost 9 hours travel time for us each way but it certainly is an interesting drive.
On our way there we made a very important stop in Syracuse at Dinosaur Bar Be Que. Well worth the trip for anyone going through the area. We pulled up at about 10pm and the place was rocking out big time. What a blast we had. Great music great beer and some terrific BBQ for sure.
It was probably the best chicken I have had all year the texture is incredible – its moist delicious and considering how much I hate chicken I was thrilled and surprised at the same time.
Here are some pictures of the joint. I would go back in a heartbeat.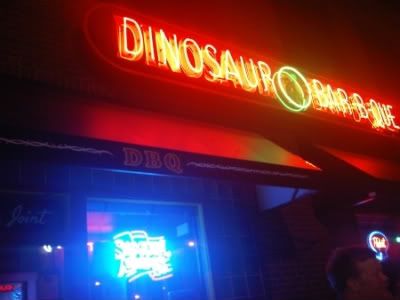 more pictures here
It was a great stop to our New York adventure in BBQ for sure.
Moving on to the competitions . This was the first time we had ever done a NEBS grilling contest. It was pretty interesting. The categories were steak, dessert, pizza, and shrimp. We did our best but we did not do well at all. We of course thought our steaks etc etc were awesome. I thought our presentations rocked it out. NExt to us Mr. Bobos did an excellent job as well and we got to sample some of their fine fare. Additionally we got really low marks on our shrimp as some of the judges thought the innards were a bit raw. We temped each at 125F (plus rested tented for 15minutes in a delicious roasted garlic and shallot butter) so not sure how that happened. Ugh. We had fun though and a friend of mine Bob came along to give us a hand. He is a terrific BBQ chef. Knows his stuff and has been a good resource for lots of ideas. We were thankful to have him around for sure!!!! Thanks Bob love ya lots buddy!
One of the best parts coming in early for the grilling part of the comp was getting the chance to unwind a bit (also know as shooting many tequila shots with Julie LOL) and socialize. I was smart enough to set up my bed in the comp trailer prior to the nights festivities. We were also really pleased to have Can't Stop grilling right beside us. We love to be around these guys. They are a class act. They are also a lot calmer than I am at Turn in time. LOL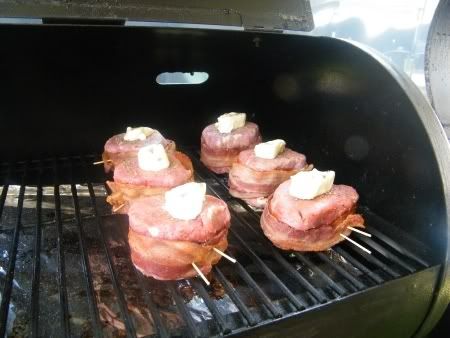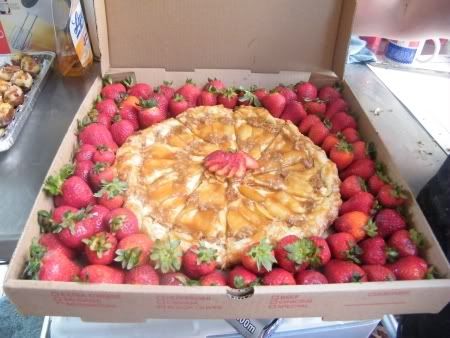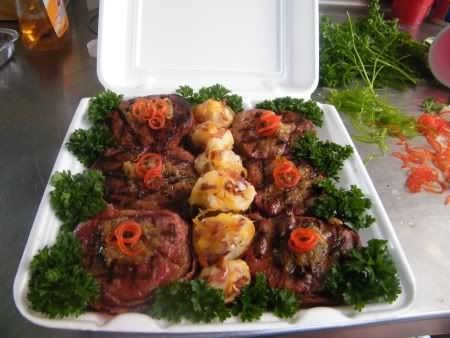 We had a great time seeing many of our friends at this competition. Between meeting many of the Brethren and of course visiting with new and old friends there never seemed to be enough time. We had a great time at the potluck and a big Happy Birthday to Vinny and the Grand Poobah himself Phil (seriously I think he has reached the depends stage of his life I heard there were caution stickers and items everywhere warnings of the OLD person). I did also get to try the famed HoDeHo potatoes. Kim (God Bless her) saw me in line (a very long line) she grabbed my plate ran off and disappeared. I then got to try the ultimate in potatoes. AWESOME!!!!
Once again I ended up trimming a whole lotta meat later on in the night. We ended up with a 1st in pork for the KCBS competition. I have to say this was a HUGE HUGE HUGE Thrill (With many thanks to Andy & Kim for their help – Did I mention how much I love PLOWBOYS>>>>>>>???????) 16th in chicken and 19th brisket and a jaw dropping so disappointing I can't even begin to tell you 44th in ribs. Seriously I can't figure it out. UGH. Lets just leave it at that. Overall we ended up placing 16th. Thats 6 places out of where I wanted to end up for sure.
It was a well organized competition. The volunteers that I met (Stephanie, Rolf etc) were terrific people however I will say I was mortified for the final awards presentation of the top 4. I found that the announcer did a serious disservice to the teams constantly reminding them of the "cheap plastic trophies" and dismissing them American Idol Style. It sucked royally for them and it should never be repeated. The amount of work and money the teams put into preparing attending and travelling to a competition deserves a hell of a lot more respect than that. The guy was thinking he was funny but ended up being a complete jerk in my opinion.
It was a long drive home after that and I needed a day to recover and sleep.

Here are all the pictures from

New Paltz