SO much fun!! Can't wait for you all to see it. Ill be live tweeting at 10pm EST. Thanks for watching.
When you have the time it is worth it to invest in a really wonderfully cooked steak. I love the reverse sear method. You end up with a very evenly cooked steak that is oh so juicy and delicious!!
Homemade spice rubs are all sorts of awesome. So easy to make and chenge it up to what you prefer. Check out this super video for my 9 ingredient Montreal Steak Spice and make sure you subscribe to my channel. We have a lot of goodness coming.
My two youngest kids entered their very first Kids Q contest last year. It was at Roc City Ribfest. This contest has it all – a World Bacon Championship, a KCBS contest, A Charity Rib Contest and a Kids Q Contest. It is one of my favorite contests and I never miss it.
I think anyone who does Competition BBQ gets a anxious at awards. All that hard focused work and waiting to hear your name called. However I have never ever been so nervous and on the edge of my seat as I have been waiting to see how our kids did. Glad to say they came in 3rd and they and all of us were so proud.
They asked over the March Break if they could do a guest blog post … so here it is. With a couple of videos…
This is Ella & Gabe's recipe for Bacon Wrapped Double Dogs.  They look forward to seeing your comments.
We started making the video with both of them…. ummm well lets say Gabe Tapped out after his funnybone took over.
Bacon Wrapped Double Dogs
Serves 6 o3 Super hungry people who each two each.
12 all beef wieners
18 pieces of thinly cut bacon
6 slices of cheddar (length and width of open sliced wiener  and 1/8″ thick)
6 hot dog buns toasted
Slice the wieners in half lengthwise careful not to cut all the way through. They should open like a book.
Open one of the sliced wieners and top with a slice of cheddar and additional wiener.
Wrap tightly with 1 to 1 1/2 slices of bacon.
Grill indirect at 275F for 15 minutes then flip to opposite side. Grill an additional 15 minutes. You may want to grill direct in the last couple of minutes or until the bacon is crispy and done to your liking. Serve them on a toasted hot dog bun.
Add condiments (Ella eats it with Ketchup- Gabe likes mustard & ketchup) and serve.
Well it was time for me to create a brand new Youtube Channel. Very excited to share it with you all. I am planning on lots of content uploads this year with how to videos, goofy vids I shoot on my BBQ adventure and so much more.
Please make sure to subscribe and check out this brand new Trailer for Season 2 of BBQ Crawl that will premiere April 1 on the Travel & Escape Channel
Here is the new Promotional Trailer for Season 2 BBQ Crawl! So much fun!
It all starts April 1 on Travel & Escape in Canada.
Just like the coaches in the NFL you need a game plan for the Superbowl!
For us that means having different areas of our house set up for distinct areas:
1. Beverage center- It doesn't have to be fancy make sure you have plenty of ice, beer, whisky (good luck shots always) and of course some non alcoholic sodas and water for designated drivers. We also usually have one designated cocktail that can be made in large batches. Smokin' Caesars always go over well.
Recommended Recipes:
2.Things on Sticks- Quick appetizers items as well. Grilled sausages on sticks, shrimp on sticks, or even abts.
Recommended Recipes:
3. The Main Event- More serious noshes go on this table – Big Sturdy disposable plates (this is not the time to be frugal with dollar store cheapos), BIG napkins, wet naps and cutlery first. Then hit up some greenery. A sturdy salad. Pick something hearty like asparagus, spinach or kale that won't wilt through the first few minutes after serving. Its a long game. Then move on to the ribs, the main meats and any starches like tater tots or hashbrown casserole. Large sammies loaded up and sliced would be great located here as well. Just make sure you put the extra sauces at the end of the table so the traffic flow of munchin people is not interrupted. 
4. Nacho bar, Mini beef slider bar - One year we did a mashed potato bar that went over well too.  This stuff takes time to assemble and layer in the toppings and condiments. Make sure you give this table area lots of space people will be crowding around.
Once the game is winding down it may be time to bring out some sweet finishes:
Recommended Recipes:
Blueberry Lemon Biscuit cobbler 
Depending on how many people are coming over you need to adjust your menu. Sometimes staggering and staging different items through the game works well too. Many of these items can be prepared well in advance. You don't want to be stuck in the kitchen or the backyard for the whole game.
Make sure to use the search button here on the site or the recipe tab at the top for even more tasty tidbits to get you all through the game.
Food Safety:
One final note. It is a long game. A very long Game. You need to be FOOD Safe. Check out these tips from the USDA on making sure you keep your guests safe
Make sure your guests travel home safely. Ensure you have cash on hand if needed for cabs or designated drivers. Cocktail responsibly, get your snack on and of course enjoy the big Game!!
So Christmas is done. New Years done.
It is the blah time of year people. Blah. Blah to the icky roads, blah to the I am over winter already just blah. This is the perfect time to make something sunny & bright.
This tasty salad will perk up your taste buds and your mood.
Start with picking the biggest and brightest peppers you can find.
Here is my step by step on how to make roasted peppers. 
After you have roasted your peppers cut them into long strips.  Arrange them in a starburst pattern on a large plate alternating colors. No you don't have to. You could just throw it all in a bowl and be done with it……  but c'mon it just makes it look pretty….. go with it.
Make sure to assemble the dressing in a small mason jar. There will be plenty leftover for another salad.
Sprinkle on some finely minced red onion, crumble on some feta, a few chopped scallions or herbs, then drizzle on the dressing. Seriously easy stuff.
Packed with flavor its a family favorite at our house. Its a blah buster. Enjoy.
 Roasted Pepper Starburst Salad
4 large peppers roasted & cut into strips
1/2 cup crumbled feta
1/4 cup finely minced red pepper
2 tablespoons assorted chopped herbs (thyme, parsley, chives, dill)
herb dressing (recipe below)
Herb Dressing:
3/4 cup canola oil
1/4 cup red wine vinegar
2 tablespoons dijon mustard
2 teaspoons dried dill
2 teaspoons dried oregano
1 teaspoons  dried basil
1/2 teaspoon onion powder
1/2 teaspoon salt
1/2 teaspoon black pepper
Assemble all dressing ingredients into a small mason jar. Secure the lid and shake vigorously. Refrigerate any unused dressing.
Frozen cherries are on sale this week at one of my local grocery stores. As soon as I saw them I knew I had to make this sauce again. It is a sweet with heat type of sauce. Like more heat ? Add more chipotles or reduce the amount for a sweeter sauce.
I'll be using this sauce on some ribs this weekend.  mmmmmm BBQ.
Cherry Chipotle BBQ Sauce 
3 cups Frozen Sweet Cherries
1 cup Ketchup
1/2 cup Brown Sugar
2 Chipotles in Adobo sauce (*Adjust to your heat preference)
2 tablespoons Worcestershire sauce
2 tablespoons Yellow mustard
2 tablespoons freshly squeezed lemon juice
1 tablespoon Granulated garlic
1 tablespoon Granulated onion
1 teaspoon freshly ground black pepper
1 teaspoon Kosher salt
Place all ingredients into a medium sized pot. Bring to a boil then simmer for 10-15 minutes. Set aside to cool then using a blender or food processor pulse until smooth. Great on pork.
So one of the things that I love at this time of the year are appetizers. Simple easy to execute appetizers.
This recipe is from a few years ago. It is not a definitive recipe but a simple method with delicious results.
Here is what you need:
Puff Pastry
Preserves (I used fig & walnut but anything you like will do)
Round of brie
Roasted Garlic
The rest is just a matter of assembly. This is not hard at all and best of all it can all be done the day ahead before it hits the grill.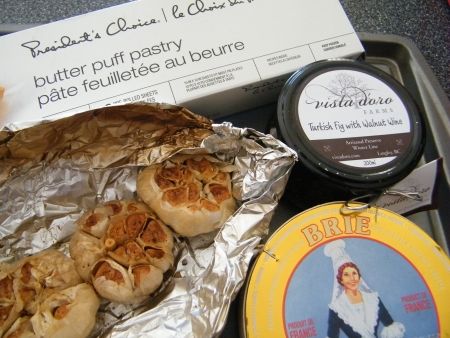 Roll out the puff pastry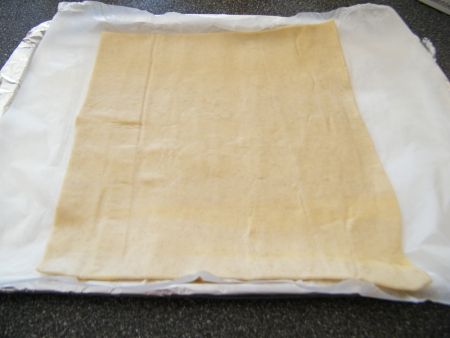 I scraped the top of the brie with a steak knife. I then spooned on some of the delicious fig and walnut wine preserves.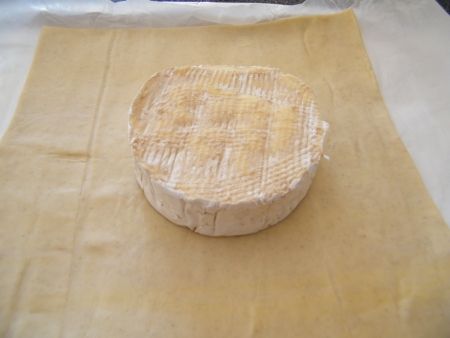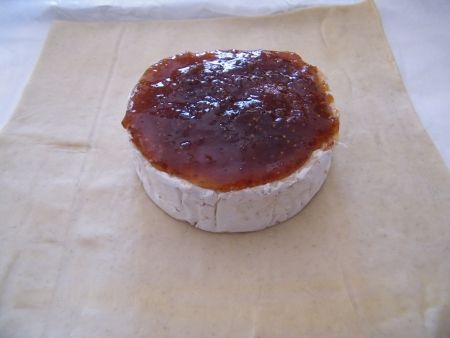 Pile on the individual cloves of smoked garlic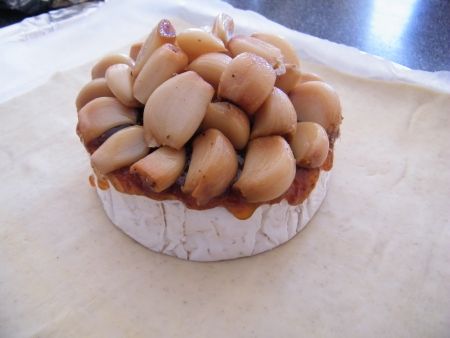 Wrapped all up in the puff pastry. I also gave it an egg wash so it will be shiny coming out of the grill or oven. Lastly I sprinkled on some smoked salt.
Smoke indirect until golden and flakey. Timing can be anything from 20-40 minutes depending on the size of your package and heat level. I used a an oven safe dish to place the brie package on. You could also do this in the oven baked at 350F till golden.  Serve with crackers, toast points or a baguette!