Day 12-25 Days of BBQ blogging.
Came across an interesting topic on twitter the other day. BBQ Cookies.
Now my dear BBQ buddy Angie Quaale from Well Seasoned has been making Bacon Chocolate Chip Cookies for some time and getting rave reviews for them. I don't doubt they taste fantastic since she is such a great BBQ'er and chef in general. Bacon in any recipe will get my attention.
However I have never come across a recipe that calls for BBQ sauce and pig candy in cookies…

This lead me to contacting Tom from Big Butz BBQ Sauce for the recipe and to find out the inspiration for them comes from. Gourmet Girl Magazine is one of my favorite twitter (@TheGourmetGirl) people outside of the BBQ world.


Straight from Tom here is his own words and recipes…
Big Butz Quekies
BBQ Sauce infused Shortbread with Pig Candy Crumbles Cookies.
Recently I heard about this thing called a Virtual Holiday Cookie Crawl that Gourmet Girl Magazine was doing . They said they were looking for people to post recipes of their favorite or unusual cookie recipes that they had come up with for other people to try and enjoy. Now, I am a BBQ Sauce maker, not a baker, so this wouldn't seem like something for me but, then I got to thinking, "Who says you can't make a BBQ Sauce flavored cookie?" After all, the way I looked at it, cookies are sweet, BBQ Sauce is sweet (especially our Cranberry flavored sauce), so it can't be impossible. After some research and thinking about the different flavors of cookies I've had over the years, I began to do some tinkering. Until finally I came up with Big Butz Quekies! At first glance these may sound like the strangest things ever but, just one bite and you'll be amazed. This is the entry that I came up with for Gourmet Girl Magazine's Virtual Holiday Cookie Crawl
Cookie Dough Mix
(Makes about 2 dozen)
1 ¼ cup All Purpose Flour
½ cup White Cornmeal
¼ cup Cornstarch
15 tbsp. Stick Butter
½ cup Confectioners Sugar
½ tsp. Salt
3 tbsp. BBQ Sauce (Big Butz BBQ Sauce preferred)
4 Strips Pig Candy (Recipe to follow)
First mix together the flour, cornmeal, cornstarch, and salt in a large mixing bowl. You can use a sifter to do this, I just use a fork to stir it around for a few minutes until there are no lumps and everything appears to be blended together evenly. In a separate bowl, start by creaming the butter (for easy figuring, it's one tablespoon shy of 2 sticks of butter). Once the butter is smooth, stir in the sugar. (It is best to leave your butter out for it to soften but, if you must, you can microwave it at 10 second intervals. Do not let it melt!) Add the BBQ Sauce to the butter and sugar mixture and stir until completely blended in. Take your butter mixture and add it to the dry mixture by cutting it in.

Continue stirring until the mixture takes on a dough like quality. Chop up the pig candy strips into bits and stir them into the dough. Once everything has been thoroughly mixed roll it out of the bowl onto some plastic wrap. Seal up the dough in the wrap, flattening it into a large puck shape in the process. Place the wrapped up dough in the fridge for an hour all the way up to overnight if you need to. When ready to bake, preheat your oven to 375° and take dough out of the fridge. Knead the dough and roll it out into a log shape that is about a 1 ½ inches in diameter. Cut the log in half with a knife and place half back in the fridge.

Start slicing pieces about ½ inch thick or divide over and over again until you get 12 even pieces. During the slicing process you may have to continue to rotate the log to keep the pieces as round as possible. Lay pieces out flat on cookie sheet. There is no need for greasing or spraying oil on the sheet. Place sheet in oven and cook for 13-15 minutes. Cookies will be brown around bottom edges when you take them out but the rest of the whole cookies should not be. While cookies are baking, lay out a sheet of wax paper.

When cookies are done, use a flipper and immediately remove them from the sheet, and place them on the wax paper to cool. Repeat the same process for the second log. Cookies will come out soft but will firm up as the cool and will really stiffen up if placed in the fridge inside a sealed bag. For serving, I recommend providing some BBQ Sauce for dipping the cookies into to really bring out the BBQ flavors. This recipe works with any of our BBQ Sauce and can bring a whole new dimension when using our Hot flavors. For those who are looking for the ultimate in making these cookies, one could attempt to use a Big Green Egg or Bubba Ho Keg type cooker to do it and would truly have made BBQ cookies.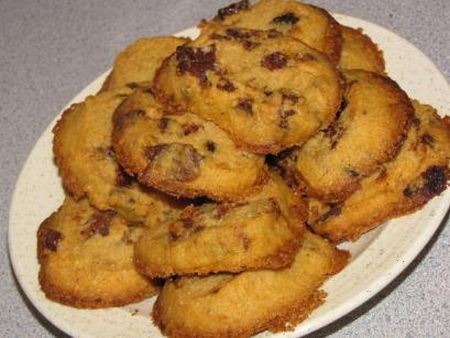 Pig Candy
(Makes enough for 2 batches of Big Butz Quekies.)
1 package Thick Cut Bacon
1 cup Brown Sugar
¼ cup Chile Powder
¼ cup Kosher Salt (or less)
Quite a few people already have their own recipe for Pig Candy. This is a quick and easy one that I came up with and can be made in the oven. Preheat your oven to 375°. Mix sugar, chile powder, and salt together in a bowl. Lay bacon out on a Jelly Roll Pan or standard backing sheet (there is going to be plenty of grease). Coat bacon evenly with mixture and place pan in the oven. Let cook for approximately 20 minutes or until bacon appears to be cooked and sugar mixture has caramelized on the bacon. Remove bacon from the oven and let cool for a few minutes. After bacon, or now Pig Candy, has cooled for a few minutes, place the strips on another baking sheet lined with paper towels to soak up the grease. You might have to do this a second time to get all the extra grease off. Once fully cooled, your Pig Candy is ready to be used in your Quekies! Or, you can always just eat it by itself.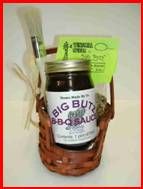 Thanks very much to Tom for sharing his recipes.