Posts Tagged 'Competition'
We are on the road again.
The other night after receiving many many emails and texts from our friends at the Jack we decided on a spur of the moment – can we get there on time for the awards – oh goodness my husband is giving me the shes off her rocker look – road trips. I just could not reconcile sitting at home another moment.
It was worth it.
So that was Friday night. Now fast forward 19.5 hours of driving and with 15 minutes to spare to awards we made it in time. It rocked.
One of the first people to spot us was team Belgium. LOL they were shocked. Then next was Kelly Wertz and he was shocked then on to our friends at House of Q. IT was awesome surprising our friends and worth every minute. And so on and so on. Fun as heck.
You know the Jack is just something special. Truly though the place is just one part. The friends are whats worth it. Its all about the BBQ. But its also all about the people.
Ill post more as we continue on our journey. Right now we have made it to Chattanooga Tennessee and we are trying some local BBQ joints tomorrow. Then on to a few other spots before we end up this week at some point in Douglas Georgia for the Best of the Best.
Its been a blast so far. We are truly blessed to be surrounded by so many people we love to be with.
______________
Choo Choo BBQ
So we ended up checking out 3 places in the Chattanooga area. The first was Choo Choo BBQ. We had an assortment of everything they have on the menu. We were really disappointed with the quality. The brisket was closer to an overdone pot roast. The chicken had good flavor but it was seriously dry. The pork was ok. IT was tender and flavorful and was moist. The worst however by far were the ribs. They were vile. There was so much oil dripping off of them it just turned your stomach. They were near impossible to pick up as well being mushy. No flavour at all. Now I understand there is a huge difference in comp BBQ vs. Commercial BBQ usually but this was just bad. We went right at lunch time so there should have been some decent quality. There seemed to be a constant stream of customers as well.
Porkers Bar-B-Que
We stopped by Porkers Bar-B-Que. Sadly they were not open. However I was really lucky when I went up to the door to check the hours and the owner was there. We got to talking about BBQ and then he took me and showed me his new pit (Southern Pride) and his restaurant. It was terrific. Great feel to the place. Its somewhere you want to have BBQ. They have fed presidents in the past as well. Then he handed me a rack of ribs all wrapped up for us to take home and enjoy. They were terrific. I wish I had the opportunity to try more of his BBQ. I was impressed. I would recommend this great place any time you are in the area.
Sugars Ribs
The last place was Sugars Ribs. Their billboards claim they were voted best in 2008. Hmm. Gotta wonder about that.
Tried their brisket, pulled pork, banana pudding, chicken, ribs, Texas pinto beans, cornbread, grilled corn and sausage rounds. We went right at dinner time. Once again the brisket tasted like pot roast. It was mushy pot roast. The pulled pork was decent, the chicken was really dry. Sahara desert dry. The ribs were so overdone and mushy you could not even pick them up and had to use a fork. The bones were cracking apart. I enjoyed the Texas Pinto beans a lot. The sausage rounds had really good flavour. However they are precooking them and reheating them on the grill and its drying them out. If they held them in a cambro or even an alto sham they would be terrific. The banana pudding looked really pretty with the nilla wafer and lots of whipped cream. It was a disappointment when you put the spoon in it and the pudding was not a pudding but the consistency of yellow banana milk. Ugh.. The worst though was the burnt cornbread we were served. I don't mean burnt around the edges I mean blacker than a lodge cast iron pan on the bottoms and some of the sides.
The highlight was their Carolina red sauce. It was terrific. Great balance of flavours. Good taste I enjoyed it a lot.
They have this thing at the restaurant. They have three goats in the back and ask any customers who eat their corn on the cob, or cornbread if they have any leftover to go feed it t the goats.
Lets just say the goats get a lot of food and are a happy lot of animals.
I would not go back unless it was just to order their Carolina red sauce.
—————————————–
Tennessee Aquarium Imax Ruby Falls and some kick a$$ pizza.
Having our two girls with us makes it an interesting trip. We decided to head over to Ruby Falls to check out the mountain and the Lookout Mountain cave system.
I found out just how claustrophobic I am. Not good. It was a fascinating trip going down in a packed elevator 1200 FT down. Then you get to walk for 1/2 mile to the Falls. I will say it is absolutely beautiful. Gorgeous. Incredible limestone, stalactites and stalagmites . But for the love of all things good and decent why does the tour guide have to tell you in the middle of the tour that you are directly under the earthquake fault line. I just about passed out when she said this. The most important thing was that the girls and my husband Vlado really loved it. I think next time I will just stay above ground.
The Tennessee Aquarium is awesome. If you ever get the chance and have your family with you please go. It is terrific from the penguins and the sharks to the operators it was a great experience. Lots and lots of information. We could have spent a couple of days easily.
The IMAX was another terrific venue to take the kids too. This is a true IMAX theatre. We thought the movie was great and so vivid. Another one to take the family to if you are ever in the area.
After the Aquarium and theatre we headed around the corner and went to a great pizze place. Mellow Mushroom. They hand toss all their pies. The crust is fantastic and their salads are terrific.
We had a capri salad with the most flavorful mozzarella and tomatoes. The Mighty Meaty did indeed live up to their name and expectations – fantastic pie with a wicked good crust.. The chicken and cheese calzone was enough to feed 3 people on its own.
They had an excellent selection of beers on tap and bottled. I had a Seadog Wild Blueberry- it was a really nice light and flavorfule pale ale.
If you get the chance go and visit this terrific pizza place. It was wonderful.
——————————
We headed on to Macon after Chattanooga. Did a bit of shopping and looking around. Just a nice relaxing evening. We stayed at the Country Inn & Suites. It was a great hotel. Ate at a place called sonic burger for a change of pace. They have this drink I think I now have an addiction to – Limeade. Its nice and tart and seriously refreshing.
——————————–
Jasper Georgia Bub-Ba-Que
It was a very exciting day to be able to go to a BBQ joint I have wanted to go to for the last few years Bub-Ba-Que
It did not disappoint at all.
Anyone who reads this blog knows I dont mince words when it comes to BBQ joints.
This has to be in my top 5 places of all time.
It is exceptional.
The ribs were some of the best I have ever had (and cut beautifully), the pork was tender but still had texture, the brisket was fantastic (so much so our 5 yr old turned to me and said Mommy I wish your brisket tasted like this and then ate 1/4 lb of it. I have to agree with her I wish I did too!). The sides are great too. The Mac n Cheese is creamy goodness. Then of course they had to deep fry it and as well their corn fritters and collard greens are awesome.
However the one that stood out was their deep fried pickles with a side of chipotle ranch. What a nice texture or crunchiness and sourness.
If you are within 2000 (yes I seriously mean 2000) miles of this place GO. Don't pass go, don't stop to do anything else just GO!
—————————————————————–
Sitting here in Douglas is fantastic. We are having a great time with all of the Canadian Teams (house of Q, Smoke and Bones, the BBQ effect) and all of the USA teams. There is even the team from Austria and Poland here.
OK so this post is at least a week old (in my drafts folder) but I just did not have time to do an update of the pictures since I have been travelling.
The road to New Paltz from Barrie is really long. Almost 9 hours travel time for us each way but it certainly is an interesting drive.
On our way there we made a very important stop in Syracuse at Dinosaur Bar Be Que. Well worth the trip for anyone going through the area. We pulled up at about 10pm and the place was rocking out big time. What a blast we had. Great music great beer and some terrific BBQ for sure.
It was probably the best chicken I have had all year the texture is incredible – its moist delicious and considering how much I hate chicken I was thrilled and surprised at the same time.
Here are some pictures of the joint. I would go back in a heartbeat.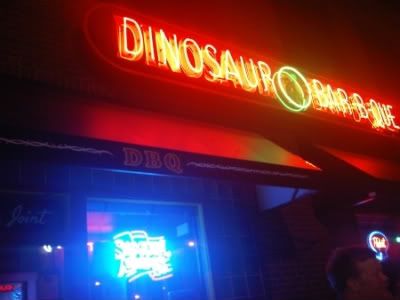 more pictures here
It was a great stop to our New York adventure in BBQ for sure.
Moving on to the competitions . This was the first time we had ever done a NEBS grilling contest. It was pretty interesting. The categories were steak, dessert, pizza, and shrimp. We did our best but we did not do well at all. We of course thought our steaks etc etc were awesome. I thought our presentations rocked it out. NExt to us Mr. Bobos did an excellent job as well and we got to sample some of their fine fare. Additionally we got really low marks on our shrimp as some of the judges thought the innards were a bit raw. We temped each at 125F (plus rested tented for 15minutes in a delicious roasted garlic and shallot butter) so not sure how that happened. Ugh. We had fun though and a friend of mine Bob came along to give us a hand. He is a terrific BBQ chef. Knows his stuff and has been a good resource for lots of ideas. We were thankful to have him around for sure!!!! Thanks Bob love ya lots buddy!
One of the best parts coming in early for the grilling part of the comp was getting the chance to unwind a bit (also know as shooting many tequila shots with Julie LOL) and socialize. I was smart enough to set up my bed in the comp trailer prior to the nights festivities. We were also really pleased to have Can't Stop grilling right beside us. We love to be around these guys. They are a class act. They are also a lot calmer than I am at Turn in time. LOL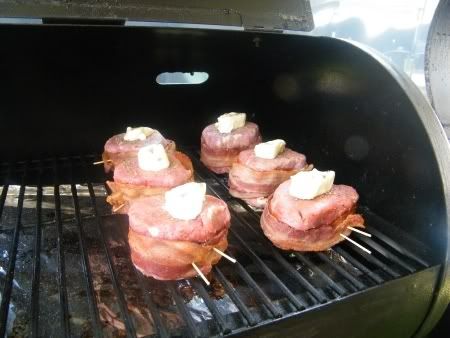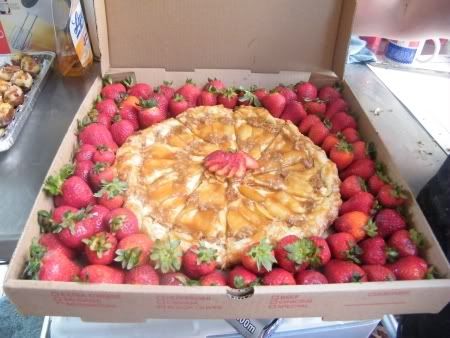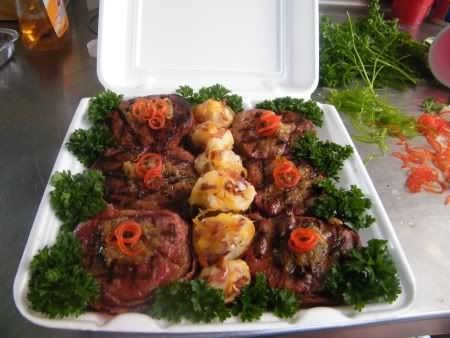 We had a great time seeing many of our friends at this competition. Between meeting many of the Brethren and of course visiting with new and old friends there never seemed to be enough time. We had a great time at the potluck and a big Happy Birthday to Vinny and the Grand Poobah himself Phil (seriously I think he has reached the depends stage of his life I heard there were caution stickers and items everywhere warnings of the OLD person). I did also get to try the famed HoDeHo potatoes. Kim (God Bless her) saw me in line (a very long line) she grabbed my plate ran off and disappeared. I then got to try the ultimate in potatoes. AWESOME!!!!
Once again I ended up trimming a whole lotta meat later on in the night. We ended up with a 1st in pork for the KCBS competition. I have to say this was a HUGE HUGE HUGE Thrill (With many thanks to Andy & Kim for their help – Did I mention how much I love PLOWBOYS>>>>>>>???????) 16th in chicken and 19th brisket and a jaw dropping so disappointing I can't even begin to tell you 44th in ribs. Seriously I can't figure it out. UGH. Lets just leave it at that. Overall we ended up placing 16th. Thats 6 places out of where I wanted to end up for sure.
It was a well organized competition. The volunteers that I met (Stephanie, Rolf etc) were terrific people however I will say I was mortified for the final awards presentation of the top 4. I found that the announcer did a serious disservice to the teams constantly reminding them of the "cheap plastic trophies" and dismissing them American Idol Style. It sucked royally for them and it should never be repeated. The amount of work and money the teams put into preparing attending and travelling to a competition deserves a hell of a lot more respect than that. The guy was thinking he was funny but ended up being a complete jerk in my opinion.
It was a long drive home after that and I needed a day to recover and sleep.

Here are all the pictures from

New Paltz
Barbecue Secrets Deluxe Ronnie Shewchuk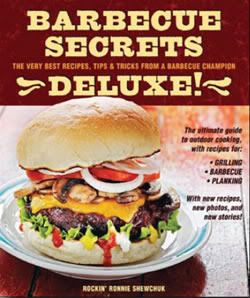 I received this cook book a while ago after winning it in a twitter online contest. To anyone in Canada in the competitive BBQ world
Rockin Ronnie Shewchuk
is a familiar name. He was a member of the first team (the Butt Shredders) to ever win a US BBQ Championship. Since then two other teams have joined that same rank Dizzy Pig Canada and my own team Diva Q (proud to say we are the only Canadian team to win 2 in one year!).
I have the distinct pleasure of owning a copy of the first BBQ Secrets Ronnie wrote. I have tried a lot of the recipes and have enjoyed them immensely. Now it just gets better with the Deluxe edition. More pictures more anecdotes, recipes and more humour. I love the columns from Kate Zimmerman (Ronnie's wife) The cookbook is truly a feast for the eyes. Gorgeous pictures throughout. They tug and pull you in and more than once you may find yourself wiping a bit of drool off the pages. Yes they are that captivating.
Behind the glossy pics is some sound BBQ advice. Terrific recipes. Good stories and a fun read. I will say that as a BBQ competition recipe book it is a little dated now but as a go to BBQ recipe book its solid. Since Ronnie competed there are lots of new techniques and some really interesting competition secrets widely available on the web. I would not however hesitate to recommend this book to anyone. It would be a welcome addition to anyone's culinary library.
Favorite Quote from the book pg. 80
I am drawn to barbeque for its purity, its simple meaning and a true feeling of job that brings me to a happier place. The smoky cocoon of the barbecue contest creates a relaxed, friendly community unlike anything in urban life today
I recently had a conversation about Rockin Ronnie with a Western BBQ competitor. I explained I had received the book but felt bad about not reviewing it sooner. Ronnie seems to be a lovely gent in emails. I asked if he really as nice as he seems. The answer was a resounding yes. I don't doubt it. The book comes across so genuine that you can't help but want to meet the man behind the book. I certainly hope to someday. I would love to kick back and enjoy a pop or two with this fine representation of Canadian BBQ history.
Well things have been mighty busy around here so once again I will apologize for not updating the blog sooner.
We left last week to travel down to Lousia Virginia. It was an interesting trip to say the least.
The trip started out well as we had our two daughters with us Ella (5) and Lexi (11). They were a great addition to the Diva Q team of Vlad and I. On the way we stopped at the falls. Our youngest daughter had never seen them. Wow was she excited. that was worth the trip alone the look on her face was priceless. She was so excited to be going on a BIG trip.
We decided to fulfill one of our daughters requests. She loves Ace of Cakes and it wasn't much of a detour to Baltimore Maryland. We started out driving Wednesday night and drove through the night. Just for the record Vlad drove through the mountains at night and wow am I ever glad he did. IT is pretty scary when there is construction all around and concrete barriers down to one lane with an 18 wheeler on your bumper. I was relaly happy to let him drive and he did a great job.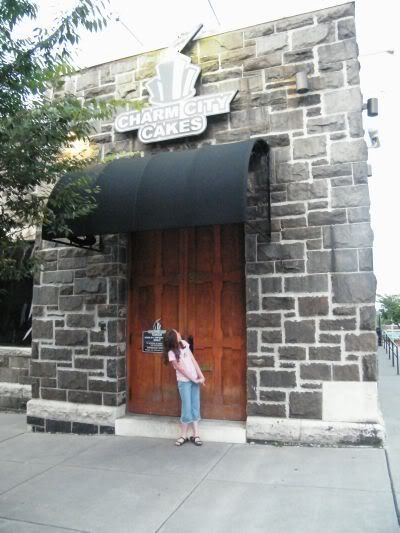 We got to ace of cakes at 6am. Took a few pictures and decided to go for breakfast at the bue moon cafe. It was featured in Diners Drive Ins and Dives. Baltimore is a GORGEOUS city. Just beautiful. Very clean with terrific murals and architecture.
But there is a problem with Baltimore. One way streets. Lots of them. Very limited downtown parking when you are hauling a trailer. Ugh. To top it off there are these HUGE metal plates in the pavement. As luck would have it as we went around one corner one of those LOVELY *ACK* steel plates had come up on the corner and drove a really great 3 inch gash in one of our tires. Terrific. So now we have a problem to fix. We called CAA and they had one of the AAA guys come over and replace it with the spare we always carry. IT only put us back about 2 hours and no breakfast.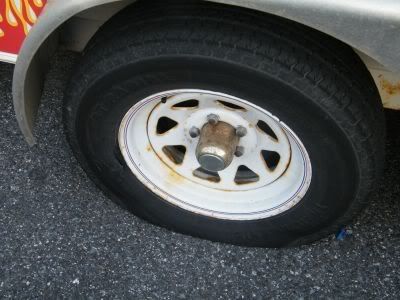 Off we went again. This time we decided to go to Q. As in Q Barbecue. That was our destination of choice. I have wanted to go since last year and this was our best opporunity. The inside and outside are well done. There is a consistent marketing of the logo throughout and Tuffy's awards are impressive for cool smoke. We tried about 80% of the menu. It was terrific and I would recommend the restaurant to anyone for sure. I will say my favorite was the chicken. It was the best retaurant BBQ chicken I have ever had.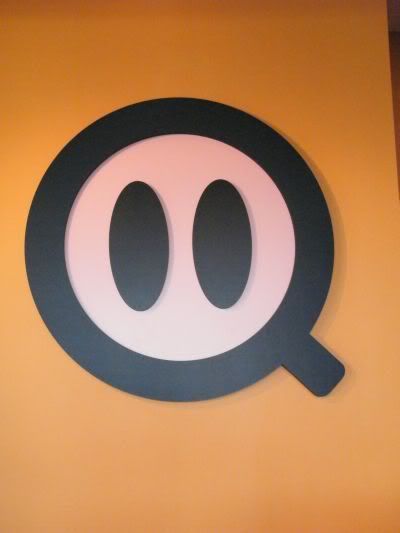 We made one last stop to Wally world to pick up things. The bill came to $201.17. We have a US Visa in addition to a regular Canadian Visa. It was an inconvenience when our US Visa was denied at the cash. Visa would not let the transaction go through and we could not figure out why. It has no balance we pay it off. Well about 1/2 hour later and a very expensive cell phone call I found out why. Apparently Visa has security alerts in place that if you shop in 4 states in less than 24 hours they don't allow it to go through. Visa apologized to us profusely and will be paying for the call and additionally the charges we will get for the conversion rates. Just another little kink in the day.
We got to our site at about 8pm and dropped off the trailer. We were all dead tired and feeling grimy from being in the truck so long. We really needed to get to the hotel and clean up plus take the kids to the pool. The hotel was nice and very new. We all had a great time in the pool and it made for a relaxing night for them. For me personally I spent two hours trimming chicken. It was so hot and humid that I decided to trim it in the comfort of the hotel. I really should apologize to their cleaning staff at the hotel. That was one really gross garbage can when I was done.
Now let me tell you all if you ever have the chance to do this comp do it. Don't even hesitate. The site Is AWESOME. The campground is so well suited to a BBQ competition. It is out in the middle of no where land but that jus tmakes it moreendearing and special. There are showers available with all the hot water you would ever need. So clean they were impressive. Electricity and water were never an issue as each site has their own. The pool makes for great quick dips and the people well there are just not enough words for me to describe how wonderful I truly think they are. Bill Small his family and the staff were terrific. Very very well organized. Our site was terrific and it even featured a firepit.
We got our stuff set up and had a great time meeting with out neighbours Big Ugly's BBQ and Dizzy Pig. Both of these teams are terrific and we were blessed to have them as neighbours for sure.
In and amongst this great time setting up was something I don't ever want to repeat in my lifetime. EVER. We have a half fridge in the trailer for milk etc and small stuff. Well apparently we left something in the freezer from the two weeks prior. I could nto tell you what it had been but I can tell you I spent two hours scrubbing every surface with bleach. Vile doesn't even begin to describe the smell. Putrid maybe. SO much so that when Tommy Houston a good bbq friend and his son Hunter stopped by they went and got us another HUGE fan to air it out. We poured coffee grinds all over the floor and even lit candles. Ugh. This sucked over 2 hours out of my day and I was really behind at this point.
Cooks meeting was at 5pm in the tent. It was a bit of a tick off. No actually it was a real tick off that the personal views of one of the Reps were broadcast to the cooks meeting. That was not appropriate and I didn't agree that was the right place to do it. I do support the candidate he discussed but still that wasn't fair to anyone else who would potentially be running. Cripes there are enough politics going on and posturing ont he other forums. I wish they would leave the cooks meeting alone at least. Ok moving on…..
We still had the butts briskets ribs Anything butt and dessert still to prep. While everyone was at the potluck etc I was still trying to get things done. When it came down to the Anything Butt category I was down to the second. We seated the judges and I was still plating. I was really happy with both of our entries for Anything Butt and Dessert but doing them on a friday night is a real challenge. I started trimming brisket at 9pm. Yes just starting. Ugh. I would like to mention that Big Ugly BBQ saved my a$$ by lending me their hand mixer as I had forgotten ours. Thank you all!!!
We got to try the Anything Butt entry from Can't stop grilling. WOW. It rocked it was incredible. It was flavorful and they were gorgeous. I won't tellyou what they made that would nto be fair but wow. I did not think we had a chance. Theirs was beyond impressive.
The night went fine enough but the hill that seperated us from a bunch of teams we really admire ( Cool Smoke , Checkered Pig Can't stop grilling) did put a damper on visiting. Since I was so behind there just wasn't time.
For the first time ever every single one of my butts came off at the same time in the morning. That was weird. They all hit the temp I like within seconds of each other. Brisket came off no problem as well. Actually the whole cook went really smoothly. Got to try a whole lot of Big Uglys food and it was AWESOME. Especially the chicken. Wow. We got our boxes in on time and then it was just about cleanup.
After a few refreshing beverages off we went to the awards with our girls. That was wonderful to have them with us.
We got to sit with one of our favorite groups of people Can't stop Grilling. Now Tim and his team have been kicking my butt this year royally. We have an ongoing friendly rivalry at every comp. He sure had some Zingers for me at this one. LOL
To hear them get called and us as well was terrific. To see our friends take their walks was great. Seeing Dizzy Pig and VA Pirates win their GC and RGC was cool. It was however a diappointment that we did not have our 180 acknowledged at the time. It was not until much later that we realized we had received the 180 for the Anything Butt. That was a big deal to us. I still think getting a 180 is a big deal for any team. It does not happen every day.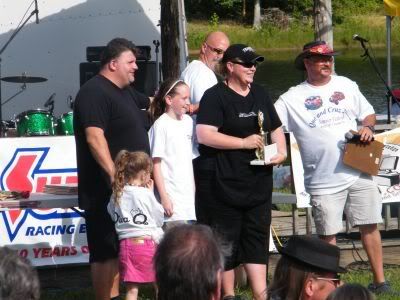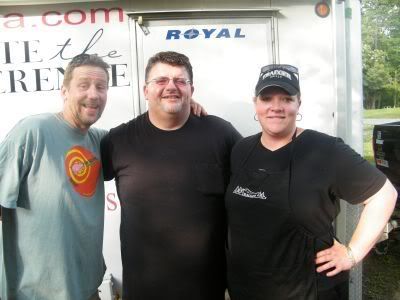 After looking at the scores while we were happy to come in fourth I will say I was relaly disappointed with our chicken and brisket scores. I thought we had nailed it for sure. Unfortunately the judges just did not agree with us lOL>
So I am off tomorrow flying into Saskatoon to do some promo work for Traeger Canada and also to compete in the first ever Smoke on the Water Saskatoon Competition. There are a lot of incredible BBQ'ers out that way so we will see how we do.
All the pictures from Louisa VA can be found here.
Well I have to tell you this was a challenging comp to do weather wise. The site is wonderful. Lots of room for future growth. We can really see it becoming premier BBQ event in Canada in future years.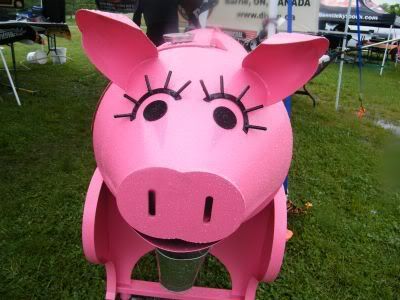 Our neighbours Good SMoke BBQ were terrific. They had the loveliest children and were great to be beside.
Next to us on the other side was Stanley's Smokehouse. Scott Stanley was a former member of another team and he has now moved on to his own team now. They are sponsored by Charlies Sticky Sauce. Well I guess they are still a little pissed at me for the review I did of their Mid Evil Sauce in April as the first thing out of the guys mouth was that we threw them under the bus. He seemed realy quite annoyed but I stand by what I said here. I reminded him that if he had actually read the post clearly that there were two sections when I stated that I really enjoyed the original. Apparently that was enough to set him off as he stomped away and said well what do I care we got more sales from it. Whatever. LOL
Friday was a gorgeous day and we went through the usual motions of setting up stuff etc. We were expecting some family from Europe that had flown in so we brought the awards out to show them. We have never brought all of our awards out before.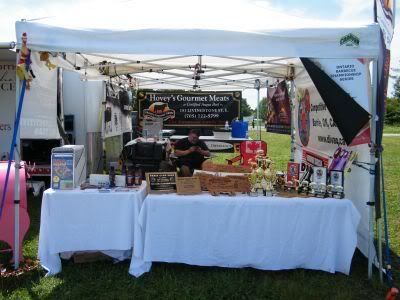 Friday night moved on and it was time for the potluck. WE made MOINK balls for the first time. IF you have not heard of MOINK balls please visit this
website
Larry does a terrific job. I enjoy that site a lot!
Here is how we prepped the MOINK balls. There are endless varieties this one worked for us. Really quite easy – Bacon Premade Frozen meatballs (Yes I know normally this would gross me out too but somehow it works) rub sauce and brown sugar.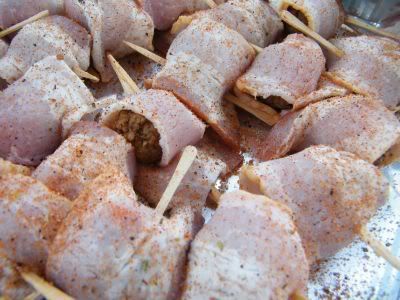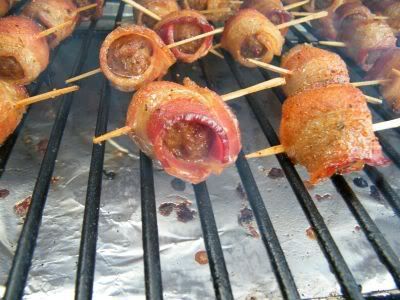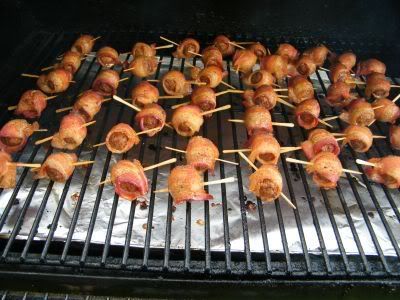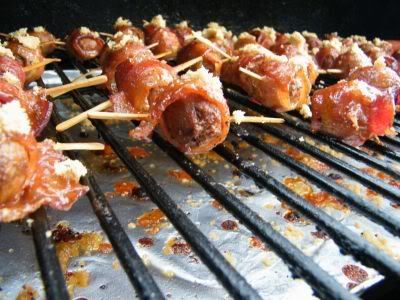 Really simple- Unthaw meatballs. Wrap with half slice of bacon. SEcure with toothpick. Sprinkle on favorite rub. BBQ until bacon is done. Sprinkle on some brown sugar and glaze with favorite BBQ sauce. Thats it.
We made 65 of them. They were gone fast. Best quote we ever saw about our MOINk balls came from a good BBQ friend- Darryl
BusterRhinosBBQ@DivaQBBQ gave me some Moink Balls tonight – I have only one thing to say – Holy Shit – my mouth had food sex in it tonight!!!
The potluck was great. Chili from BBQ effect, Hashbrown casserole from Can't Stop Grillin, Steak and pepper sammies from Bustin Loose, Venison from Stanleys Smokehouse, and a decadent bacon wrapped green apple with dipping sauces (Chocolate and Peanut butter) from Happy Smoke More.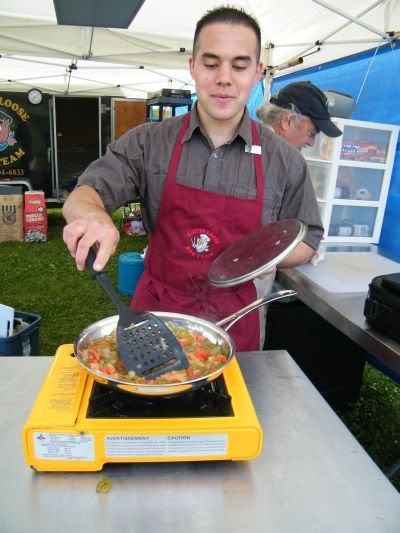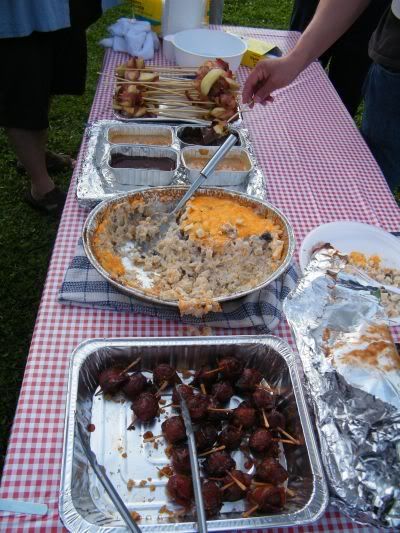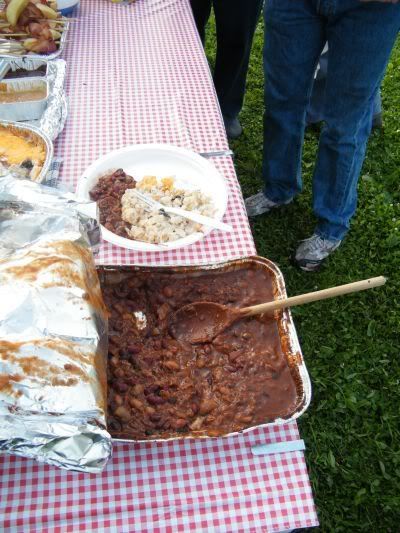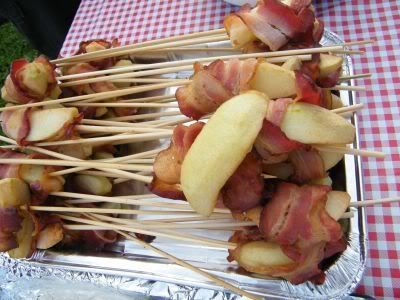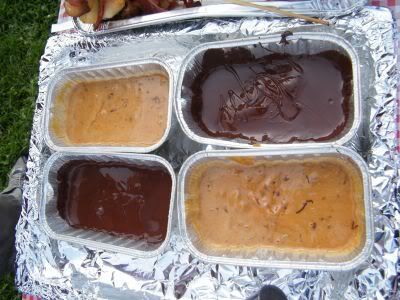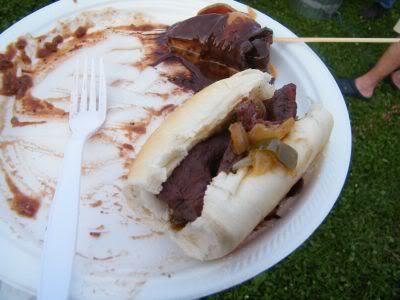 Also around potluck time we got a visit from a member of Happy Grillmore !!! We had a great chat about BBQ and living in Toronto. Then he went to pull out one of his business cards and wait….. what do I see??? BACON. YES!!! Bacon. A Bacon wallet. You just have to love that!!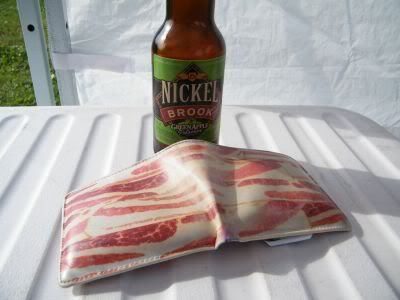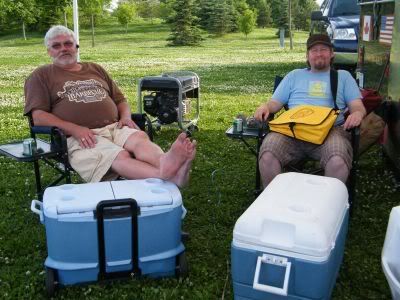 After the potluck I went right to bed after having a chat with Darryl owner of Buster Rhinos BBQ and Three Men and a Hog pitmaster Vince. Vince got a great idea for a 50/50 draw to raise money for breast cancer. This is the charity that the team Can't Stop Grillin raises money for this year. So happily we put in money and we were glad to be the winners too!
My briskets were small after trimming so going to bed early was the best option for me. Got up at about 11 om to check on the butts etc and we had a challenge with our biggest cooker. Just that sort of day. Everything eventually sorted itself out but it was a battle.
One of the best things about comps is the visiting you get to do with other teams. Some of the best BS stories come out and some really good heartfelt talks are had. Darrin from BBQ effect and I got to chat for a bit. Now this guy has a really deep love and affection for all things BBQ. HE and Dave his other team member have travelled extensively eating at just about every BBQ joint they can come across on their travels. I am really glad to see them at comps. They are a terrific team and a terrific representation of true love for BBQ!
At around 2ish am things changed for the worse. The winds picked up significantly. The rain started coming down in buckets and from then on till after turn in times not many people were around or visiting much.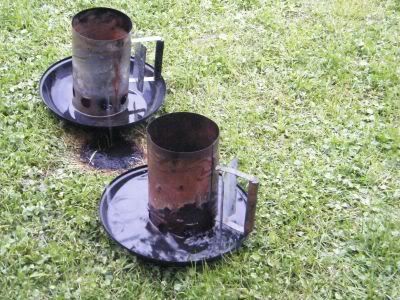 I would like to say two very very special thank yous to Vince for the expresso and to Earl for delivering breakfast in the pouring rain. This is just yet another reason why BBQ comps are awesome- the people make it wonderful to experience even if its pouring down rain, your cookers are not running well and you are having a hard go of it – the people always make it worthwhile win or lose.
And speaking of people the larger than life BBQer Ted Reader was on hand for the weekend. It was good to see him again- as always whenever you talk to Ted his passion for all things BBQ comes through! As we were standing there chatting I happened to see —– BACON—– on his wrist. YES BACON!!! He was wearing a BACON watch. You just gotta love that.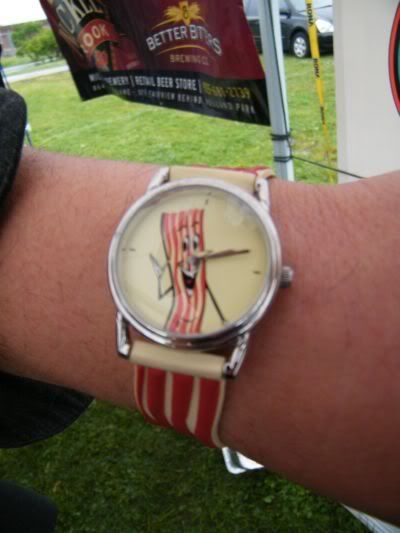 A highlight of the weekend for me was meeting Master Chef Olaf Mertens. He was a great person to discuss recipe compilation and his very successful restaurants and catering business. I probably talked and asked more questions then humanly possible in the short time we got to discuss with him but as I said to him there are not that many opportunities for me to have a face to face chat with a guy if his esteemed background. He and Ted after the competition was over were generous enough to give each of the teams signed copies of their cookbooks. That was lovely.
Back to the meat…..
Well everything came off in time to the coolers to relax, boxes were all prepped and everything got turned in on time. We thought our chicken was great. I am really happy with my comp chicken now. It has been very consistent and I am happy about getting to that level of comfort with them. NOw I still need to tweak them but so far so good. The ribs were good and I really thought the pork and brisket were not that great.
The scores reflected that. Ugh. It is what it is.
We ended up coming in 4th overall. Not bad. Not great. Middle of the pack. Not good enough. So it was back to the basics this week for me pracice wise. I also need my BBQ Karma back, tonight I did a brisket practice that was incredible. I was thrilled with the results and I am really looking forward to putting the new spin on things for this weekends competition in Boston Hills NY! Wish us luck.
Congratulations to Can't Stop grilling for the GC. They are a terrific team who has earned every accolade they have received in the last two weeks. They practice and practice just as much as I do if not more. Also a big congrats to Happy Smoke More a new team full of chefs. They are doing really well (even if Jeffrey looks like a complete goofball with that rag on his head) their first year competing. They travelled down and took Mike Davis class and it really seems to be helping them!!!
Well done to all who got calls.
As a last note to this weeks blog in the coming weeks I will try to blog more often. Thanks for the emails wondering where I have been. I am still here. Just not updating nearly enough apparently.
For the rest of the pictures from the 2009 Crazy Canuck BBQ Championships please click here
You can always catch me on twitter as well as facebook.
Next weekend I will be at Deerhurst Resort in Huntsville Ontario for the Thrill of the Grill with Rob Rainford from Food Network Canada Carrie Oliver from Oliver Ranch and of course Traeger Canada. I am looking forward to it !!!!