Posts Tagged 'Competition BBQ'
Yesterday was the cutoff date for submissions of videos for BBQ Pitmasters Season 3 !
The competition is really heating up for a spot on the hit show. Lots of great audition tapes posted to Youtube and Vimeo. Some are new faces and some are people you may have just seen before. Good Smoking Luck to all who applied!!

BBQ Pitmasters 2012 from chris hart on Vimeo.
Pitmaster's Audition from Bourbon Barrel BBQ on Vimeo.
Rod Gray Pitmasters Audition from Scott Jolley on Vimeo.
Making parsley turn in boxes or "the putting green" as it is commonly referred to as is time consuming to say the least. First you have to find parsley no easy task sometimes. You need to find parsley that is all the same shade of green – and that looks alike.  You may decide to do a combo lettuce and parsley box or straight up lettuce the choice is yours!  I personally do parsley boxes 100% of the time.  Our team is small – just my husband and I and the occasional friend that shows up. This task always falls on my lap. I have had many a night where myself and a few friends have had parsley parties working on the 4 turn in boxes for an hour or more. . However I have begun to get into the habit of doing them at home prior to a contest and transferring them on site.  I first saw a version of this on the Pickled Pig Forum.  This is how I do it.
Start with 4 turn in boxes and label them for each category – depending on how you present your food you may want a box that is fuller and or lower in height with the parsley.
Wash and rinse your parsley thoroughly.  Parsley is grown in super moist soil and it can be very gritty when you purchase it.
For 4 boxes I will use anywhere from 12- 18 heads of parsley depending on the size and quality. If you are attending a contest with friends consider splitting the cost of a case. I place my parsley in a bin with a couple inches of water at the bottom to keep it moist and hydrated. IF you are keeping the parsley in your fridge for a couple of days make sure to change out the water.
For those teams travelling to the US from Canada – I suggest you buy only US parsley. We have never had a problem at the border. I keep a couple of the tags from the parsley to show it is a US product.  This parsley is from Lil' Bear Produce grown in Edinburg, Texas.
You will need heavy duty plastic wrap for this. – This stuff doesn't stick to itself as much as a regular use plastic wrap. It is also much stronger.
Line a turn in box with plastic wrap leaving enough on each side to completely cover the turn in box.
Build your parsley box. For great instructions step by step you can visit the BBQ Brethren website.  I skip the base of lettuce and just pack in a lot of parsley. (Thanks to Kim Groneman from Smoke on Wheels for teaching me this great tip!)
When you are all done and complete spritz with water.
Layer on damp paper towels and then the excess plastic wrap from the sides.
Place in fridge until you are ready to transport to a competition. I have done this 4 days in advance and as long as the parsley is fresh and the fridge is cold- it keeps just fine.  A tip – each day ensure the paper towels are still moist. Not dripping just moist.
When you arrive on site and receive your real turn in boxes its time to transfer the parsley.. First spritz the plastic wrap with a bit of water to make the parsley slide easier.
Lift up one side and place your hand over the parsley.
Slide it all in. Make sure your plastic wrap is laying out smoothly to make the transfer easily.
Adjust any stray pieces and you are done. Cocktail time!
One of the challenges of being a competitive BBQ'er is trying to figure out what the heck the judges want. I know I have cursed many a judges score, scratched my head in disbelief and generally been frustrated to no end when on the receiving end of comment cards that say " Chicken was too juicy" " Looks too perfect".  ( I won't tell you what I said after reading those cards- lol it would involve a whole lot of bleeps!) Gut instinct takes and you are offended at first but more sensibly its another opportunity to learn.  I also have thanked the BBQ Judges on occasions where I thought I literally had turned in crap and gotten calls. I don't think I have ever seen anyone refuse to take an award.
In my never ending quest to improve my BBQ I search out lots of ways to get more information. Whether it be on the net or in person listening to what the judges and other competitors have to say- is important to me. As far as I am concerned I work for them. Everything I do is to get them to give me and my BBQ a better score. A wiser much more experienced BBQ'er once told me never leave any points on the table. I strive for that every time I turn in boxes.
Photo Credit  The burger Baroness: http://www.flickr.com/photos/jesswebb/
I am a certified BBQ judge with KCBS and PNWBA. I have not however judged many contests. On various forums ( BBQ Brethren one of my favs!) there are always posts that say rate my box. Feedback in appearance can be really helpful. The posts are usually answered by multiples of people and the answers can vary wildly. While it isn't a slam dunk it can sure help.  Thats probably why I like the site BBQ Critic. Lots of boxes posted with commentary from a wide variety of folks.
"I do solemnly swear to objectively and subjectively evaluate each Barbeque meat that is presented to my eyes, my nose, my hands and my palate. I accept my duty to be an Official KCBS Certified Judge, so that truth, justice, excellence in Barbeque and the American Way of Life may be strengthened and preserved forever."
Photo credit http://www.flickr.com/photos/anotherpintplease/
BBQ Critic invites people to come and judge the boxes presented. The teams are kept anonymous. It is really interesting to see the commentary.  Teams are invited to submit their boxes to be judged.
BBQ Critic is also on Facebook.
Great news for those of us in Ontario that compete. The first ever KCBS Sanctioned Event in Ontario - Smokin' for Gold BBQ Championship will take place Friday, July 8 and Saturday, July 9, 2011 Cedar Run Horse Park, Clarksburg.
Why is having a KCBS Sanctioned event good news?  Lets take this right from their website:
The benefits of having a sanctioned BBQ contest are numerous. The Kansas City Barbeque Society (KCBS) is the world's largest organization of barbeque and grilling enthusiasts. KCBS sanctions nearly 300 contests across the U.S. annually.

A sanctioned contest offers the organizer:

(1) Integrity,

(2) Experience,

(3) A built in base of cookers and judges, and

(4) A support system of other organizers and members.

For the teams, it offers the assurance that a contest will be conducted in a professional manner, the prize monies will be awarded as advertised, and that the rules will be followed. Some events start off non-sanctioned and work toward sanction. Generally, if you start off as a KCBS sanctioned event your contest will run smoother, have more trust from the teams, and have a higher success rate. A non-sanctioned event is not highly regarded, nor supported by teams if they are not aligned with a proven entity. However sanctioning alone cannot guaranty the number of teams competing or the success of your event
From the Smokin' For Gold BBQ Championship  Website :

Kansas City BBQ Society Rules

4 categories Ribs, Pork, Chicken and Brisket

$8,000 IN PRIZES - each category $75 or 4 categories for $200

Grand Champion $2,000.00 Plus Trophy (must enter all 4 BBQ categories)
Reserve Grand Champion $1,000.00 Plus Trophy (must enter all 4 BBQ categories)

Prizes for each category
First Place: $500.00 Plus Trophy
Second Place: $250.00 Plus Trophy
Third Place: $150.00 Plus Trophy
Fourth & Fifth Place: $75.00 Plus plaque
Sixth – 10th Place – plaque

CHILI COOKOFF

Texas Chili Tolbert Rules – Entry Fee $25

Open Division – Texas Chili – Entry Fee $50

1st place – $500 plus trophy
2nd place – $250 plus trophy
3rd place – $150 plus trophy
4th & 5th place – $50 plus plaque
6th-10th place – plaque
We are looking forward to participating in this event if at all possible and wish them all the best of success!!
Good Friends getting press always makes me smile. I was really thrilled to see Julie & Skip from Swamp Pit BBQ getting some press from Albany Alive at the Troy Pig out where they took a 2nd in pork and a 10th overall.
If you have ever been to a contest where they are at you probably met them. Socializing at BBQ comps is something they specialize in.
Team Swamp Pit : Skip, Robert, Julie, Lizzie, Mikey(Todd in Blue)
Additionally they are more often than not showing a new team how to make a parsley box, organize their camp or just in general helping out wherever they can!! I have witnessed their kindness and generosity to so many people on many an occasion and have been the recipient of it as well.
They also always have some seriously good tequila always served ice cold from one of their many cocktail shakers.
Photo Credit : Albany Alive
Once again they like many others show why Competition BBQ is such a great "sport" to get involved in. Its not always about the meat and the turn ins – its more often than not about the awesome people you meet.
This past weekend we traveled to Kettering Ohio for the first time. It was a really challenging competition as our son ended up getting sick on the way and we spent a lot of time during the competition cleaning up his vomit.  It was coming out of all ends of him and it was a hard battle to try to stay dually focused for the weekend. We did our best. We came in 7th overall with the only call of the weekend being Chicken (7th) out of 51 teams. It was a really nice location under some trees and we were well taken care of. we never experienced any issues with power, ice or having our questions answered. The organizers did a really good job!!!Also the breakfast was terrific from the Vets. They are an incredibly special bunch at this competition. We are thankful to have had the opportunity to go.
One of the highlights of the weekend had to be meeting with Curt McAdams from www.Livefireonline.com He is an incredibly accomplished photographer, bbq'er and all around a generally wonderfully thoughtful person. His blog is impressive and it has been given an accolade from Saveur as one of the sites they love.
Previously we had met Curt a few years ago at a Dr. BBQ class in Dettroit. It wasn't until we were chatting that we realized we had both attended the same class. Curt also made the first BBQ fatty I ever tried. It was a moment I will never forget.
Curt took some pictures and captured some moments at the competition here are a few of them to share.
All images copyright 2010 Livefire Photography.
He took others as well but these are just a few. Thank you Curt for capturing some of our competition moments and thank you for the Killer brownies from Dorothy Lane Market. Wow. They were awesome.
Figuring out what you need ahead of time and what tips and tricks you can use are a great time saver. Setting up your site is an important part of the whole process.  Each of these sites has helped me a lot.
Here are some great tips and checklists to make your life easier:
*Getting Started
*Tips
*Timelines
*Checklists
*Competition Checklists
Excellent resource for tips on all things competition and backyard BBQ.
*Excellent resource for competition and backyard BBQ.
Well you can never ever have enough BBQ's I don't believe that anyone should only have one bbq or grill. There are so many different types and they are all different with great capabilities.
Thanks to the folks at BGE Canada John & Brian who came by tonight with my newest addition the Big Green Egg.
I am sure to have fun playing on it.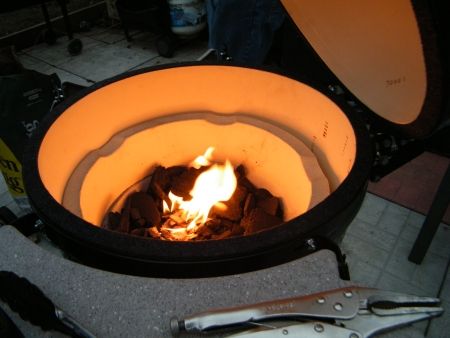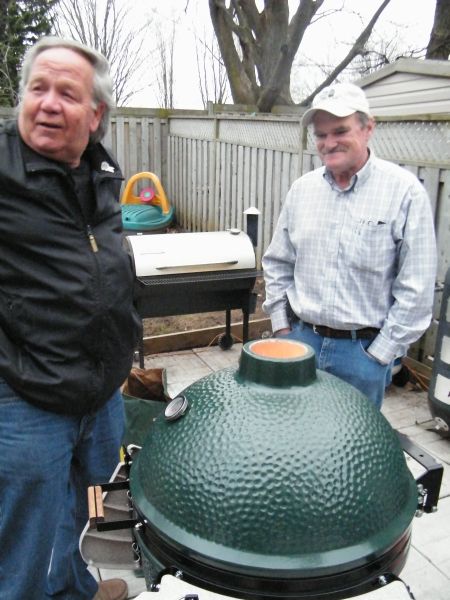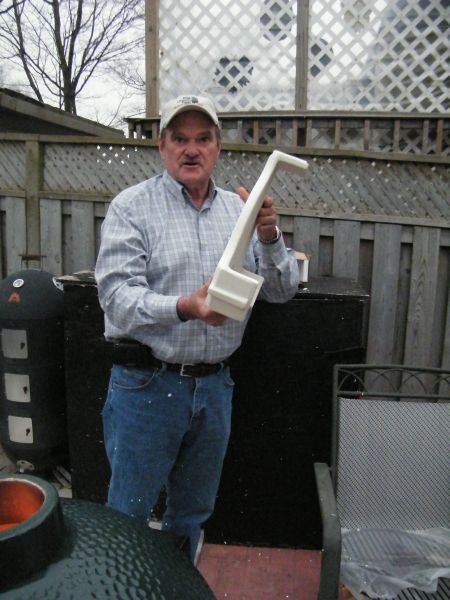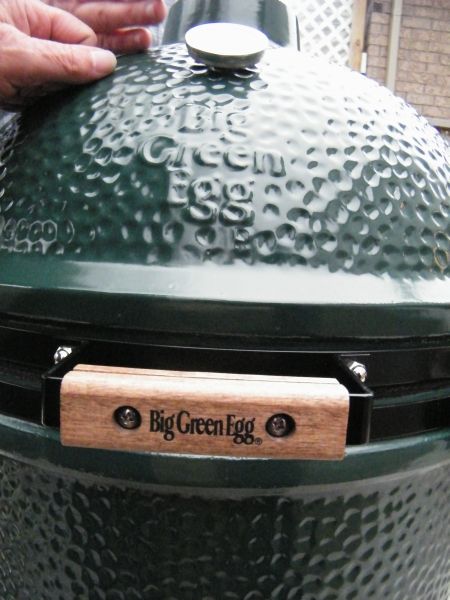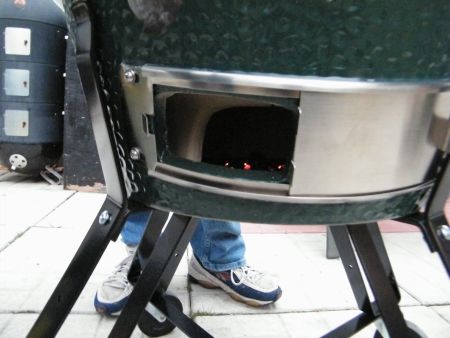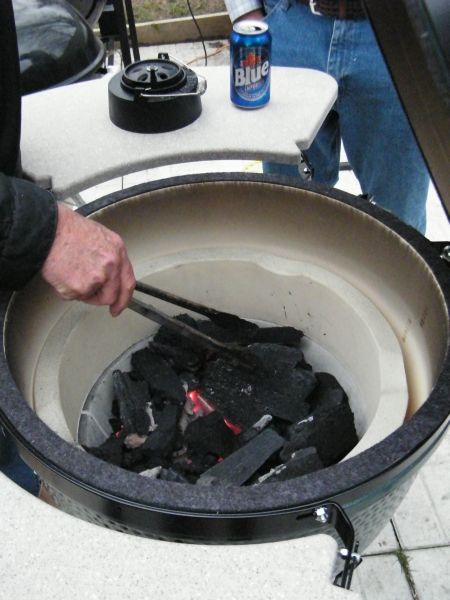 Found these interesting auditions on youtube & Vimeo for BBQ Pitmasters Season 2
And also on Vimeo
Submission Video from Ryan McLain on Vimeo.
Every Tuesday you can listen in on the BBQ Central Radio show part of the BCRN (BBQ Central Radio Network) . This weeks episode is a round table discussion with three of the top Chicken Cooks on the KCBS circuit:
Kelly Wertz – 4 Legs Up BBQ, previous winner of the Jack Daniels Invitational and in 2009 ranked #4 overall in Chicken and #6 Overall on the KCBS TOY Listings.
Joe Amore – Smokey Mountain Smokers, ranked #5 overall in Chicken and # 19 overall in the KCBS TOY listings. They also manufacture one of my favorite products disposable cutting boards.
Troy Black - Learn2Q.com, ranked #7 overall in Chicken and #15 overall in the KCBS TOY Listings. He also has a brand new DVD out Real BBQ Know How
Also tonight on the BBQ Central Show Mike Lake President of KCBS will be on at approx 10:05pm EST on the after dark segment of the show
It should be a great show! Make sure you tune in tonight at 9pm EST.