Posts Tagged 'Competition'
Received this book in the mail for review. From amazon listing :
Product Description
The complete guide to starting your own competition bbq team, from your initial idea to cooking in your first full contest. It covers preliminary considerations, planning, equipping, set-up, and running your own team. George has gone where no other has before… he tells you how to compete in barbecue competitions. His book is a great read for anyone thinking of competing and for those already on the circuit. It's informative and funny! Mike Stines, Ph.B. Author of Mastering Barbecue I've cooked on a few teams in my time on the circuit, but we never had this kind of organized approach. Now that I have George's book, my next team will have a good plan to follow and we won't be stabbing each other with barbecue forks! Ray Lampe, a.k.a. "Dr. BBQ" Author of five barbecue books including The NFL Gameday Cookbook A masterful yet fun journal that will teach avid barbecuers the ins and outs of competition bbq; a must-have handbook for anyone who wishes to join the ranks of the bbq world's best practitioners. Rick Browne Host of the PBS-TV show Barbecue America
My Review.
Its 108 pages of  about all things starting  competition BBQ. It is an introduction to the world of Competition BBQ and some of the pitfalls to avoid. What they don't tell you is how funny this little book jam packed with valuable information is. I loved reading the stories from George's point of view. Don' t miss the psychological impacts of competition chicken overload. I have been there. I really related to these stories. Or even the sage advice offered on crotchel area issues on page 21.
This is not a serious book by any means. However there is some really serious decent advice and its an easy and fun read. If you are just beginning to contemplate starting a competition BBQ team you really should read this first.
You can buy a copy of the book here right on their site: www.watgbbq.com
Additionally you can always catch up with George and his teams adventures on the blog Who are those guys?  Competition BBQ Team Blog.
For the next 4 weeks Ill be revisiting all of my competition notes, procedures and meat prep. Looking forward to the Little Rock competition I really want to just do better. Last year we came in 47 out of 129 teams. We got a 19th in chicken, 43rd in ribs, 55th in pork and a dismal 84th in brisket.
This year we are driving with all of our equipment to this comp. All 18 hours. Last year I used borrowed equipment that I had never used before and it really showed. My goal this year is to be in the top 20% or higher. I am going through my bx pictures form last year and the notes I made. I can really see lots of room for improvement.
This week I am focused on chicken. Just getting my timing down. I am still not sold on muffin pan chicken and I will stick to my own style of trimming. However I am going to modify my flavor profile.

Hi all just passing this on. I personally have signed it already.

To:  Kansas City BBQ Association

We, the undersigned KCBS members, formally petition the KCBS to allow members to have access to all non-executive session meetings via electronic media, including, but not limited to, pod-casts, web-casts and streaming audio. This is not to disparage the KCBS or any member of the Board of Directors, but to provide us, as members the fullest information on rules, standards and the agenda of the Board to make us more active participants and have a stronger and more informed participation in all KCBS related business and the promotion of BBQ throughout the world.
Sincerely,
Heres the clip from last nights Late Late Show with Craig Ferguson featuring Myron Mixon from BBQ Pitmasters. Eddie and the Barbecue guy. Hmmmm Myron dancing around with an injector. Now theres something you don't see every day.
David Bouska is the creator of Butcher BBQ- injections,  and rubs from Chandler Oklahoma. He also happens to be an award winning BBQ Champion coming in this year with a 7th overall finish in the KCBS TOY standings out of 4700+ teams .  Additionally in the rankings he came in 9th in chicken and 2nd in brisket!!!  His injections have a huge following. Some of the top teams in BBQ are part of his winners circle including Tuffy Stone (TLC BBQ Pitmasters, owner of Q, sharper Palate) and the American Royal Invitational Winner- Pork Pullin' Plowboys.  He has over 28 years of meat experience. When he talks about meat people notice and pay attention. He has a great respect for competition. I have no doubt he will be working really hard to move that 7th to first.
D-How did you begin comp BBQ?
DB-I have been hand in hand with the meat world.  For 28 years. Either running meat markets running sausage markets wholesaling to restaurants always had that in the back of my head. The wife and I were sitting in the house reading a paper. We saw a KCBS Comp in Enid Oklahoma. I thought to myself – I would like to do that. I looked it up on the website.  Realized there was a lot of interest in it.
For me the competitive juices have run in my blood for a long time. I was a competitive archer. I was formerly 10th at the worlds in archery shooting being only 5 pts out of 1st place. I had lots of sponsors and that was the life. So I have competed in different areas.
So we went to see the competition. . I took an inventory of cooks. Realized what I needed to compete.  That was Friday night then I drove back the next morning at 7am.  Just to watch them compete.  I even stuck around for the awards.
My first competition was a month and a half later in Stillwater.  I took 9th place in chicken. I have been hooked ever since.
First I had to finish my obligations were finished in the Archery world then I pursued my competition BBQ life.
D-How many years have you competed?
DB- I have been competing since 2004
D-Would you consider ever doing a television show?
DB- Yes at this point. I would want to see everything laid out on the table.  I would have to know the ins and out. Then I would make my decision.
With the parts of the show – you have to show some of the behind the scenes, secret brewings. Etc. I am not against it. What I do is simple and revolves around with meat knowledge. I do the exact same thing at the exact same time.
For me the last 2.5 hours is as or more important that the first 14 hours. If you change your process or deviate from your procedure when the last 2.5 hours are there you don't know if you are off or not. A good pitmaster knows when to adjust. Or what to tweak. That's when the cream will rise to the top.
All those things play into that timing and your turn in your box. . I how to get to the end because I know how to get from the beginning.
D-What do you think of the TLC BBQ Pitmasters?
DB- I think it is good for BBQ. We have to promote the whole gamut of BBQ. Whatever it may be – catering, competition, or restaurants.  We need to keep the three little letters BBQ not cake decorating at the fore front. I get a lot of comments from people who now understand what I do. It's a shame they are not starting a series now. I know the food network always show the repeats of the BBQ shows in the spring. I wish they would start in February and keep it rolling. The sponsors would see that and say "hey let me get involved in competitions."
Think of it as this. The only show I can think of is like the old time Western tv shows You always have the good guys the Gene Autrys etc. However whenever you wanted to make "big" news- it was a black hat guy that came in. You had to have a bit of a bad guy or scoundrel you might say. I would not say he is doing anything wrong. He is just out there promoting his name. Name is everything. I am sure it would be standing room only to eat his food. My hats off to him he is wonderful at self promoting. I think half the guys and girls that are complaining don't be jealous – well get out there and do something yourselves.
D-Who is on your team?
DB-It's mostly just me and my brother Martin Bouska. My wife does come out when we are at closer competitions. However we have a miniature horse farm and it's hard to leave them with people.  They need tending to. You know I have a good family. Great parents.  I live 3 miles from where I was raised at. Raised on a small farm. Martin lives two more miles past me and my other brother lives in Amarillo Texas. Just up the road. Everyone is close.
D- Will you be holding any future competitive BBQ classes?
DB- We had planned on doing one in the spring however it just fell through due to the dates. We have about 70 or so people on the waiting list. Hopefully in the future we can come up with something. We will just have to wait and see.
D-What mad you decide to compose your own butcher BBQ injections?
DB- Originally I was making my own stuff. It was comprised of the same components. I injected everything due to the meat business and history. I just took the moisture out of the play. I didn't have to worry about it. But I didn't have the right product yet I used this and that.
I was doing that about a year. Then I took fast Eddy's class and he was using fab. I said to myself I know what this is. I have dealt with this type of product lots of times and marinated with vacuum tumblers. I started playing for about the next year. The guys around me asked about it. I just kept tweaking at it.  Then I gave it to a couple guys.
Two of them were at the American Royal. They did well. So we kept going at it with the same guys- I was finished playing with it. It wasn't a magic bullet. That's actually how it came about.
The next year I started playing with the pork product. The basic ingredients are about the same just tweaked a bit differently. So I came out with it. My main ingredient is hydrolyzed vegetable protein.  The injections have come from the same suppliers. Everything stays the same and the consistency of the product is good.
D-How did you formulate the rubs?
DB- It's the very same rub since I started. It's a balanced rub with 4 different peppers. The different peppers hit you in different parts of your taste buds.  I formulated with my injections. This last year I wanted something that was toned down a bit. I wanted to come up with a sweeter rub. So we came out with the honey rub- it's great for chicken and ribs.  At one point I was eating rub morning noon and night. I would be sitting there with my coffee and tasting rub. I tinkered with that religiously.  I had all these Dixie cups with plastic wrap on them on the counter. All of the cups had different ingredients. It's just the process I went through.
D- How did you feel with your results this year 7th place KCBS TOY?
DB- I was honoured. Oh my gosh. Oh heck who doesn't want to be up there?  It was awesome. It is hard to wrap your head around it. That being said I really want to get those 6 places. I am That's just my competitive nature.  I have been working on my ribs now. I have been cooking ribs nonstop. I am trying so many different things. I think I need to work on my method. Just going back tweaking it.
D- Does it matter to you if an event is sanctioned?
DB– I believe it needs something to tell the BBQ cooks what to be cooking for. I would not slam one sanctioning body over another. The parts that I do like (about KCBS) are that there is a nationally set of rules and instructed the judges to them. They have explained it.
When you go to a non sanctioned event you don't know what they consider perfect. I think it needs something laid out front.  I like that they teach the judges.  Around here most are KCBS so I will cook to the events to get the points.
D- Do you think there should be a monetary prize for KCBS toy of the year?
DB-Yes I do. I think it should stay the same. A professional is the best at what he does.  They should be rewarded. I think they should be the best cook. Look at ISS 22 or 23 contests for the year.  That means they cooked fewer contests than us and did better. I think it should be set aside for money $2000.00 is a joke. They need to get a National sponsor for TOY. Flat out. I think it should be HUGE and it will promote people to cook more.
Butcher BBQ Injections and rubs are available on their website.
Additionally Butcher BBQ also has a fan page on facebook.

Just a reminder its Thursday!! TLC BBQ Pitmasters on tonight at 9pmC 10EST
BBQ Pitmasters
Diamond State BBQ
TV-14 (L), CC
The competition heats up in the northeast, even as temperatures fall at the Diamond State BBQ Championship in Dover, DE. Harry's former teammate, Gary, competes on his own and Tuffy does Myron a favor, which could end up hurting his own chances.
Pellet Envy
Team of the Year for 2009 KCBS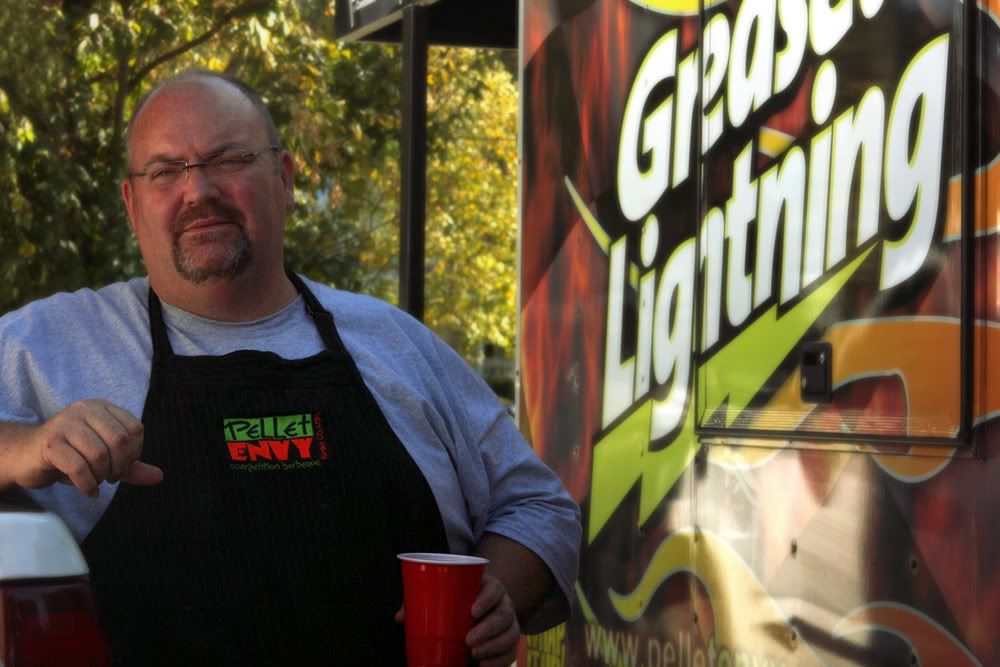 I met
Rod
a few years back now. I had read about him and seen him in action and wanted to learn more. I am one of the over 500 people he has taught along with Johnny Trigg for the
Old School vs. New School BBQ
cooking class. We travelled all the way from Barrie to Illinois for that class. It was worth it.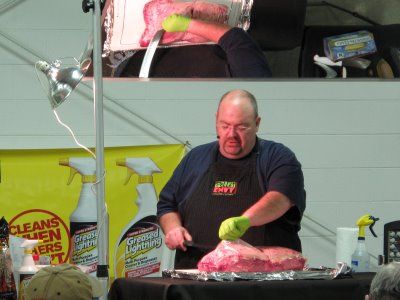 This year was Rod's year. He has just this past weekend been named
KCBS TOY
(Team of the year) in an exciting race to the finish. It was a nail biter for sure. Going down to the very
last competition
in Tempe Arizona- faced with two other teams hot on his heels ISS
I Smell Smoke
and
Smokey D's
. It sounds a bit like a movie.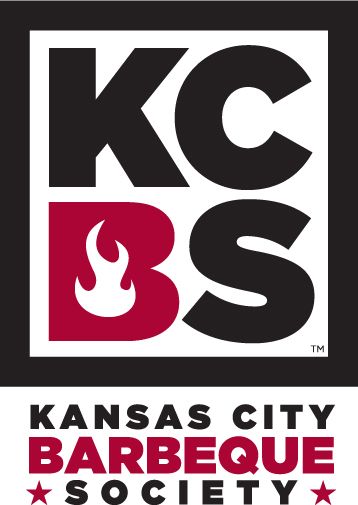 Both pitmasters for those teams are well respected by Rod. He says it could have been either of them to win the TOY.
Rod- "I have a lot of respect for Darren flying in finding his meat and rented vehicles and winning." I have a lot of respect for Steve travelling so much and accomplishing so much. They are both as deserving. I predicted in July that Darren would win it based on what he had done and caught on fire in the summer. As hot as he was I thought he would pull it off. He almost did.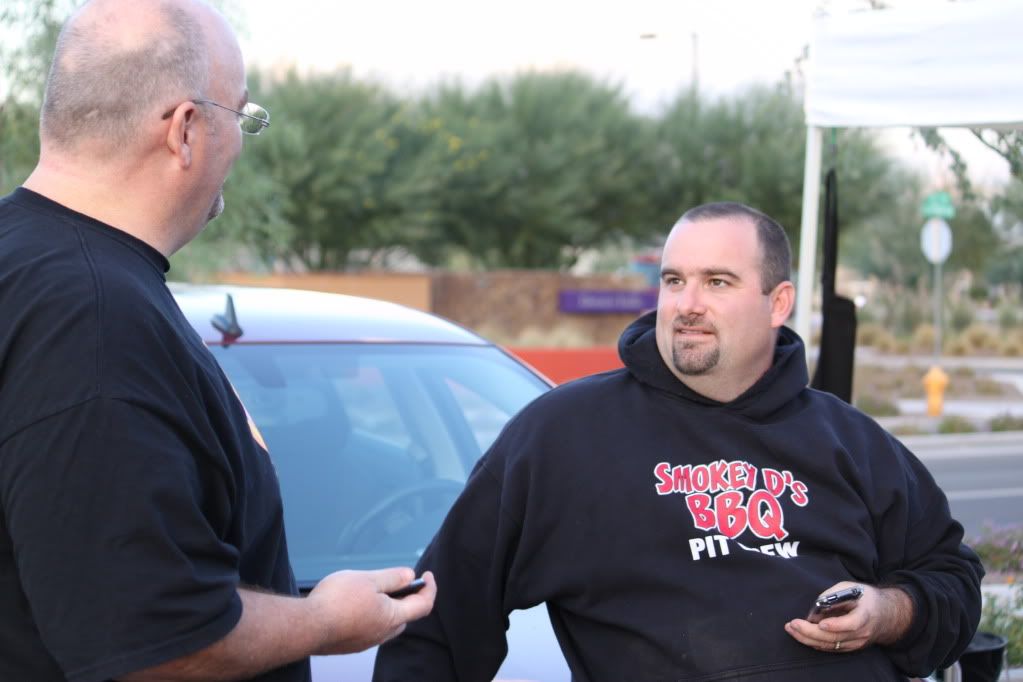 Find more videos like this on BBQ Thom
**Thanks To Thom Emery for allowing me to share his video clip.
His dry sense of humour and wit resonate with anyone who talks with him. I have had the pleasure to have a few BBQ meals in Texas and talks with him outside of the realm of competition. He can make me crack up laughing till I cry with most conversations. His sarcastic comments have on more than one occasion sent me to giggling. However you can have a real serious conversation with him (on some rare occasions) that gives you a small glimpse into the depth of his somewhat guarded character. He can seamlessly go from Rod the friend to Rod the BBQ guy who has some serious sponsors to represent.
He extols the virtues of his beloved wife Sheri. He talks about how much she supports him in his BBQ career. Personally I sort of think of him as a big BBQ brother. He looks out for his friends. He is always encouraging and continuously helpful. He also seems to have the memory of an elephant and can recall a lot of minute details.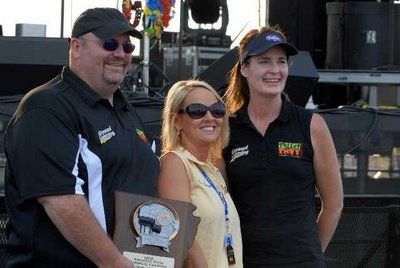 On his own personal plan for healthier living this year he let me know of his goals.
His motto now is there is no time to eat bad food and that he starts every day with breakfast. He recommends a couple of books that are helping him on his path: Eat this not that. One is for the grocery store and ones for those who eat out. I am so proud of him for being open and honest about his struggles. It's not without his own notice that being on the Dr. OZ show was good for the brand of Pellet Envy. He is sharp as a whip. I don't think much could get past him in any situation.
Q- How do you feel now that you have won TOY?
RG- I don't think it has really sunk in yet. I am numb. To be honest. I am tired and still driving home now. I am looking forward to taking some time off. Darren and I were across from each other. Steve was off in his own section. It worked out fine. (Understatement of the year) I think the guys were genuinely happy for me. I am not so sure I could have been as genuine as they were if the situation were reversed. Overall it's a great feeling. It's time for me to recharge and then go back to it.
Q-What's up next for you and Pellet Envy?
RG-I have to get unpacked. ( As we speak Rod is just a couple of hours from home) I have deadlines to get on for the Bullsheet and other things. I have to announce my classes for this year this week. My teaching partner is now a movie star (Captain Parkay – Johnny Trigg) so he can't commit (laughing he says this with some seriousness. I will be doing the classes solo. I have so many irons in the fire. Additionally I would love to take my wife to New York for a few days.
Q- What is your take on the proposed changes to how the TOY is calculated?
RG- You can't track who has sponsors and who doesn't. These are pieces of information impossible to track. It's all total crap. A Tiering system for team of the year is ludicrous. Truly if it aint broke don't fix it.
Q- Who were your major sponsors for the year?
RG- Greased Lightning and BBQ'ers delight. Greased lightening has been signed on for 2010 already. I am really glad to have them on board. Candy makes a great product and Greased Lightning is terrific for cleaning even on clothes. They have been very supportive of me and I am thankful for it.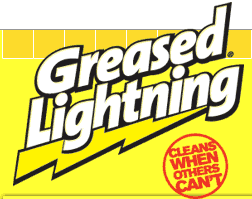 Q-Do you use a muffin pan to cook chicken ala Myron Mixon
RG- Laughing, he says no.
Q-What's you take on garnish. Garnish or no garnish- and proposed changes to the KCBS?
RG-Garnish is what sets KCBS apart from the other sanctioning bodies. It makes it more of a challenge. I believe it should stay the way it is. Garnish may not be my most favourite thing but it adds more difficulty. I think they need to leave it alone.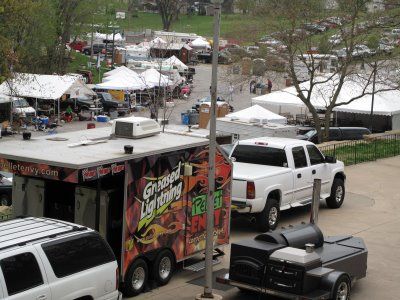 Q- What were your stats (miles comps, states- for the year?)
RG-Miles this year – 40,000 approximately
States – Somewhere in the neighbourhood 33
Competitions- I believe 33 total
Q-When you become TOY (team of the year) what do you do next.
RG-I am going to try to do it again. Take a break but then go back to it. 2010 is going to be a great year for BBQ I know it will be.
Q- Was there any point during the competition season where you felt the pressure >?
RG- The pressure was really on me on the way to Florida. I packed up as soon as I had done brisket and I left. I have never done that before. I had been gone 10 days and it was my anniversary. I won that contest.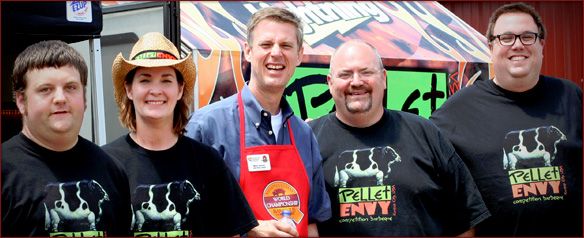 Q- As the most winning person in KCBS -Why are you not a part of the TLC BBQ Pitmasters series?
RG-I don't know the answer. I think they should have taken me.
Q- Are you endorsing any candidates for the BOD for KCBS?
RG- As of today -no. I have not done my research yet.
Q- Why are you not running for KCBS.
RG- I got away from the board in June. It was a difficult decision for me but I needed to get away from it. It's too much minutia. They are micro managing. Looking back to the previous contest is not the answer. The board should focus on the next 5, 10 15 years, of the KCBS and its future. They should be strategic in nature and currently they are not. Every once in a great while, I regret it- when I think of the people that put their trust in me. Ultimately I had to do what is best for me. Ultimately with the rest of the season it validates that I made the right decision to get off the board. It was a great choice for me to move on.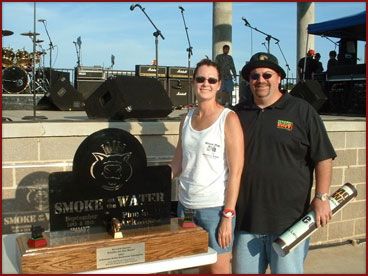 Q-Out of all the other teams besides the two that were on your heels who do you see in 2010 coming up the ranks of the TOY listing>?
RG-Wow. You know no matter what answer I give I will have left some deserving team out of the mix. I'll be disappointed in the answer I give. There are several teams that I think will rise though the ranks.
Q-What's the name of your GPS (I can hear his GPS giving him directions throughout the interview)
RG- I get asked that a lot… I don't really have a name (he chuckles a lot here) sometimes I call her b!tch if she takes me the wrong way.
Q-What's the biggest tip about Competition BBQ you can give people?
RG-Try to undersmoke your meat.
Q-What will be your first contest for 2010
RG- Lakeland Florida.
Q- Anything else you would like to share…………….

***** Exclusive you will read it here for the very first time *****
RG- Ok heres something to tell that I am sure will have an impact – We will be Pellet free in 2010. We will no longer be using pellets or any pellet BBQ's. We have a Geer pit (Jambo Pits) ordered for the back of trailer. I am in love with his pits. I will be returning to Texas to get it mounted. I will be Pellet Envy for 2010 and we will have a new name for 2011. Right now we have narrowed it down to 12 other names.
For the 2009 season I will still teach in 2010 both pellet and on the Jambo Pit. It will be a big challenge to do both but I will do it.

Q-Why are you changing from Pellets to a stick burner (
Jambo Pits
)
RG-It started with wear and tear. As much as I travel the gas is so much less with the Jambo Pit. Then it was my results in 2008 out of 8 contests that I used the Jambo pit contests 6 were won with the Jambo Pit. Then this year (2009) out of 8 contests where I used the Jambo pit I had a total of 7 wins. This gives me a new set of challenges it makes competition BBQ more interesting. Cooking on the Geer is now a challenge. It has brought me back to raising my level of focus and concentration in a contest.
*Note Rod had a bit of nervous laughter when reporting this and he admitted as so. This is a big deal to him and its news for the BBQ world. I really thank him for allowing us to share his announcement. This is going to be a huge step for Rod. I wish him all the very best with his new direction.
****
Jamie Geer tells me that the pit will be exactly the same size as the one he currently uses. Rod doesn't want to change a thing he wants it to be identical. The firebox has already been fabricated. It will be ready in time for Lakeland Florida.