Posts Tagged 'black eyed peas'

Happy New Year!!
A couple years ago I was reading some friends posts and they all were talking about making black eyed peas & rice dish called Hoppin John and Collard greens for their New Years day menu. For me New Years day menus in the past usually meant something with heavy duty carbs to combat the post libations festivity pain from the revelry the night before. Since then for the last couple of years I have been making this meal hoping to fortify my good luck for the upcoming year. It is completely soul satisfying to me to make and consume this dish.
It starts the night before I soak a couple cups of black eyed peas in a large bowl of water. Then head off to whatever party you have been invited to celebrate with copious amounts of libations and ring in the new year.
Once you roll out of bed the next day (pounding headache aside) and grab a few glasses of water, pickle juice, and in my case a few bottles of Gatorade you need to get on with the meal. Please note this is also the time you should realize that you are no longer 19 and that jello shots combined with copious amounts of sparkling wine are never a good idea period.
There are countless variations on this recipe on the net. This can be modified in many ways by adding hot sauce, kielbasa, smoked sausages or pieces of ham.  Add what you like to customize it to your preferences.
I start with an onion sauteed with some evoo & 1/2 pound of bacon sliced into strips.
Add the black eyed peas drained from the water once the onions have softened and the bacon has rendered out some fat.  You can also use a ham hock instead of the bacon. I would add some bacon fat if just using the ham hock a tablespoon or two is a great addition.
Add a couple of bay leaves, a pinch or two of red pepper flakes and a few pinches of dried thyme.  Also add 1 1/2 cups raw uncooked long grain brown rice. Season with salt & pepper.  Cover with water completely.
Simmer until the rice is cooked and the beans are soft enough to your liking.  I like to wait until the dish is creamy from the starches in the peas and rice.
Then its as simple as putting a lid on it removing from the heat and forgetting about them till dinner time.
Moving on to the greens. I ♥ collard greens. I order them whenever I see them on a menu. I don't make them often enough.
I started with three large bunches of collard greens.  I trim them of all the hard stalks and tough veins. Then I chop them roughly and soak them for an hour. * Please note this is a great time to take a New Years Day nap. Recovery from the night before is still ongoing.
Once the greens have soaked thoroughly and all signs of grit is gone – rinse them once again  in cold water and strain them out.
At this point I add copious amounts of vegetable stock to a large pot and add something I love dearly….. Willowgrove Hill Farms Pork belly. This is my last piece until I visit the farm…. I have had the distinct pleasure to get to know the Hills this past year and they are just lovely people. I have been enjoying their pork all year.  This piece was about 2 pounds. I sliced it into three large pieces and added it to the stock pot.
Then its a matter of getting all the chopped greens into the pot as well as another sauteed onion, a few pinches of salt and a splash or two of apple cider vinegar.  Personally I like adding the vinegar to the cooking water (or pot likker as it is called in the South) versus adding it after.
Then its time to let the vegetable and time do its magic. Simmer for an hour then test the greens to make sure they are soft enough to your liking. Remove the large pieces of pork belly. Cool the belly until you can slice it into manageable bite size pieces.  I like to sautee the slices of belly until they are nice and crispy.
While you are waiting for the belly to crisp up you may also want to make a batch of cornbread to go with your meal…. Its a perfect addition and great to sopping up the collard green liquid.
Then its just a matter of putting together your New Years dinner plate. A pile of black eyed peas, a mound of collard greens topped with some crispy pieces of belly and a warm piece of cornbread.
This dish is apparently eaten to promote good fortune and prosperity for the New Year. I sure hope it works.
For other Lucky foods for the New Year check out this link from Epicurious.
All the best to you and yours for the upcoming year. May it bring you all peace prosperity good fortune, love and of course lots of BBQ!
Danielle
Its a New Year !!! All the best to you and yours!`
Well 2010 is shaping up already to be the busiest I have ever had. In one month I`ll be driving down to Memphis for the
NBBQA Conference
. I can`t wait t see some of my dear BBQ friends and to make another BBQ crawl. I`ll be eating a whole lotta salads between now and then (as soon as today is over) . It will be pure protein overload for sure. Additionally I will be attending the Myron Mixon class. Unfortunately due to time constraints his whole hog prep is not available. I'll have to pick that up on another time.
Then in just a few months we will be off for the first competition of the year
Smoke on the water
in Little Rock Arkansas. This time however instead of flying down we will be driving. That should be an interesting weekend for sure. Its being called the worlds richest contest – $100,000 is a lot of money. I have been trying a few new things practicing for this competition ahead of time. I hope to do better this year.
Our
schedule
is getting rapidly filled up for 2010 already. It will be an awesome year for BBQ.
To start my year off right I am taking an idea from Huck JR and Huck Sr. I did a radio interview with them on their show Hucks Hut a while back and they were talking about their New Years traditions.
They mentioned their love of black eyed peas cooked forever with pork and greens. Sounded great to me so I researched a bit on the net about this Southern tradition.
Wiki
has an interesting write up about this as does
about.com
.
One of my New Years resolutions is to stop running out to buy every ingredient if I am missing a few and substitute with what I already have. So I had the peas but what about the rest? A quick check of my freezers and cold room gave me some decent substitutions. I had bacon, chorizo, onions, lots of spices and I had a package of fresh baby spinach to substitute for the collard greens.
So here it is my homage to this lovely Southern tradition. Its goodness in a bowl. Comforting for a snow filled New Years day and delicious.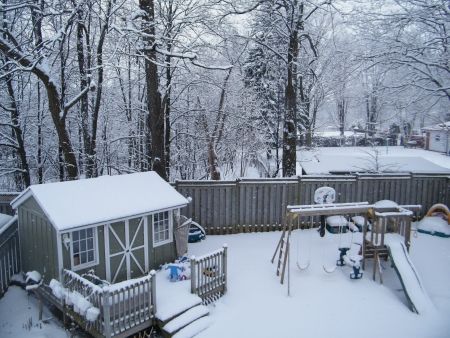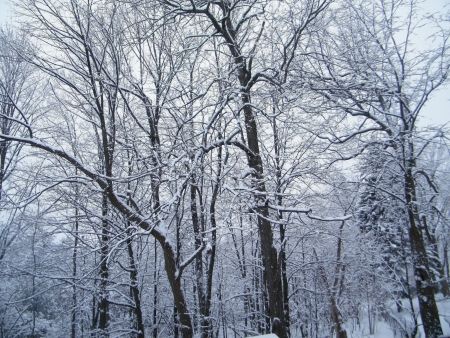 Heres the beautiful chorizo I have. I love chorizo. I love the way the oils and paprika ooze out of it when cooking. So flavorful.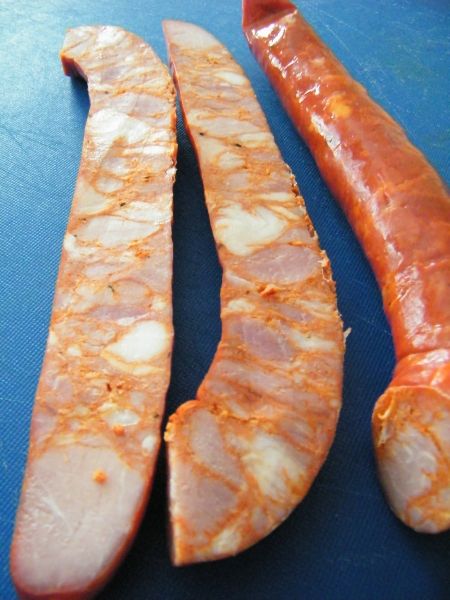 Chopped up the chorizo, a pound of bacon, and some onions.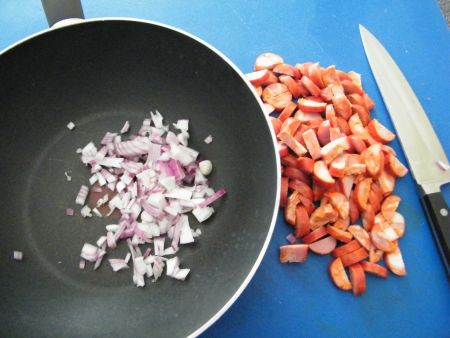 Peas got started yesterday, my advice to you is boil them forever but no salt in the pot till after they are tender. I do one fast boil, then change the water and another slower simmer. I also reserve the liquid from the second boil to add back in.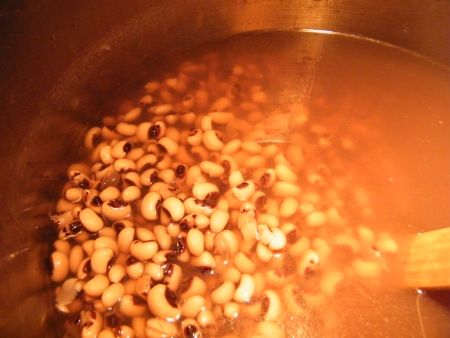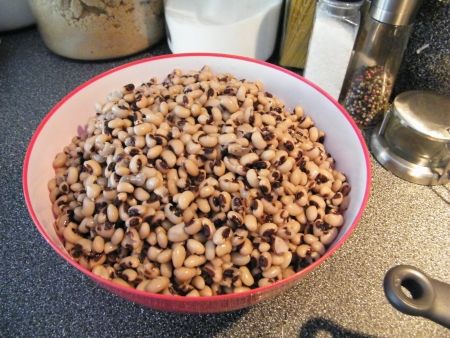 I fried up the chorizo onions and bacon together. MMM whole house smells great.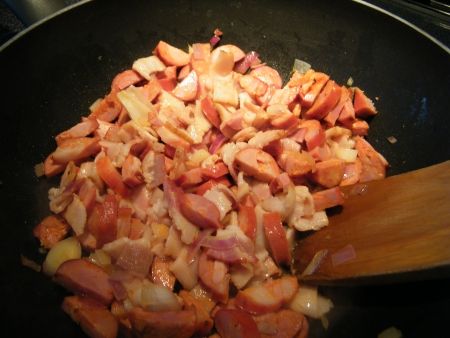 After this throw everything back into the pot. I added some salt, pepper, vegeta, dried chives, parsley as well as some celery salt. The amounts are up to you. This isn't a recipe. This is just using what I had around the house. Lastly I added the spinach. Just to wilt it. We served it up and everyone enjoyed our new favorite New Years tradition.