Pellet Envy
Team of the Year for 2009 KCBS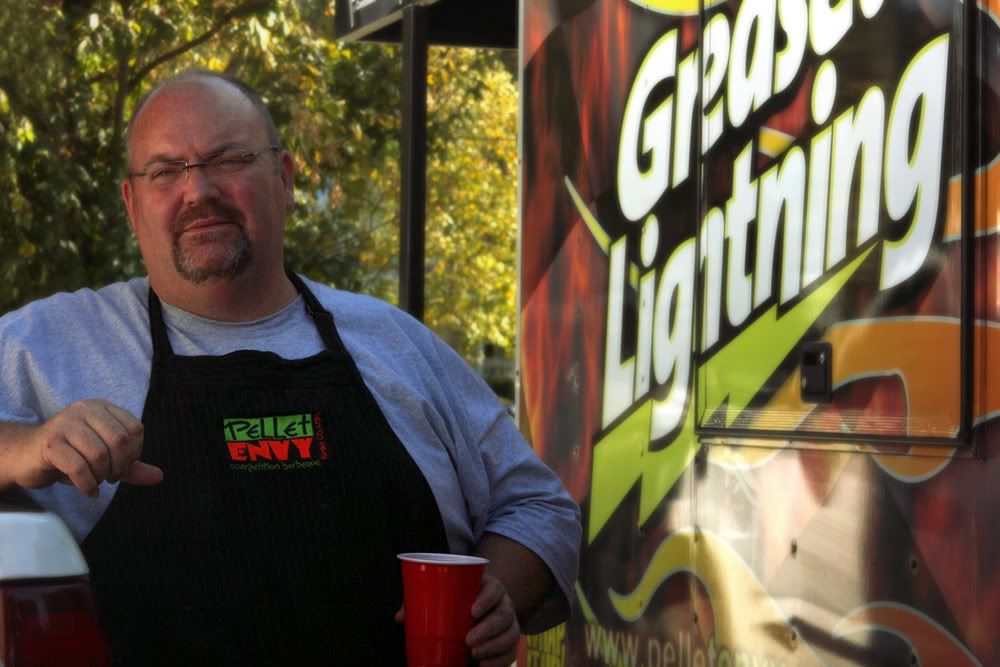 I met
Rod
a few years back now. I had read about him and seen him in action and wanted to learn more. I am one of the over 500 people he has taught along with Johnny Trigg for the
Old School vs. New School BBQ
cooking class. We travelled all the way from Barrie to Illinois for that class. It was worth it.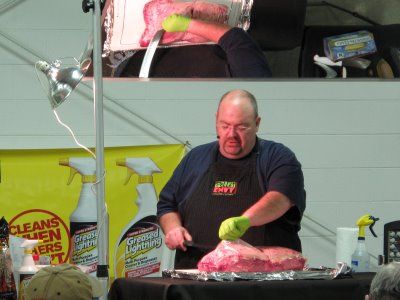 This year was Rod's year. He has just this past weekend been named
KCBS TOY
(Team of the year) in an exciting race to the finish. It was a nail biter for sure. Going down to the very
last competition
in Tempe Arizona- faced with two other teams hot on his heels ISS
I Smell Smoke
and
Smokey D's
. It sounds a bit like a movie.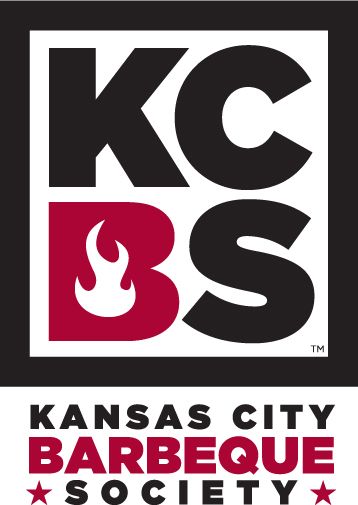 Both pitmasters for those teams are well respected by Rod. He says it could have been either of them to win the TOY.
Rod- "I have a lot of respect for Darren flying in finding his meat and rented vehicles and winning." I have a lot of respect for Steve travelling so much and accomplishing so much. They are both as deserving. I predicted in July that Darren would win it based on what he had done and caught on fire in the summer. As hot as he was I thought he would pull it off. He almost did.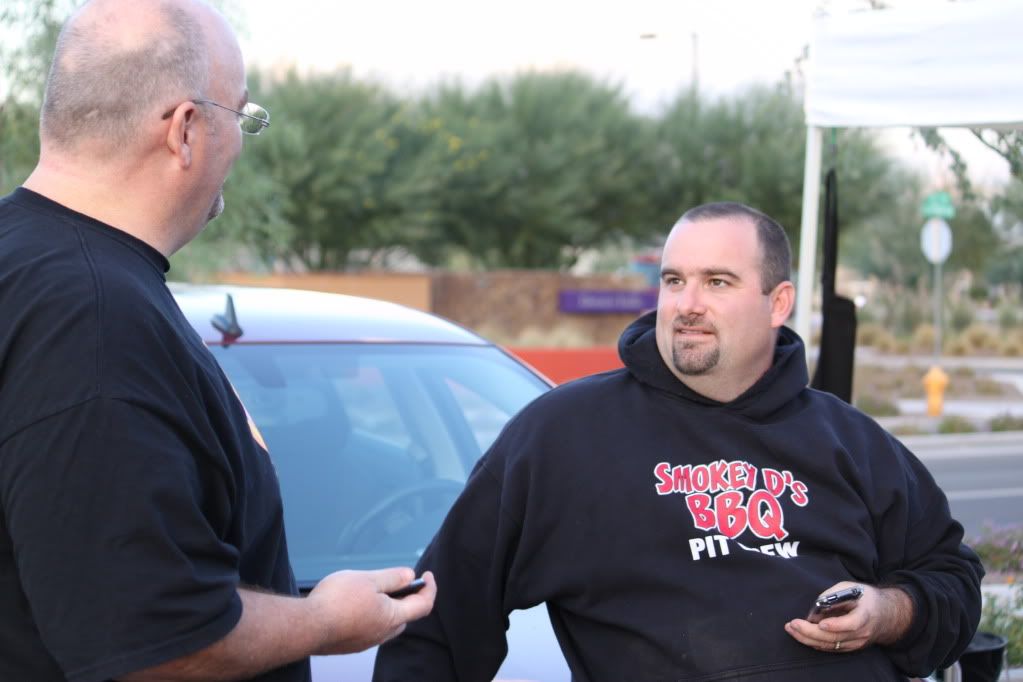 Find more videos like this on BBQ Thom
**Thanks To Thom Emery for allowing me to share his video clip.
His dry sense of humour and wit resonate with anyone who talks with him. I have had the pleasure to have a few BBQ meals in Texas and talks with him outside of the realm of competition. He can make me crack up laughing till I cry with most conversations. His sarcastic comments have on more than one occasion sent me to giggling. However you can have a real serious conversation with him (on some rare occasions) that gives you a small glimpse into the depth of his somewhat guarded character. He can seamlessly go from Rod the friend to Rod the BBQ guy who has some serious sponsors to represent.
He extols the virtues of his beloved wife Sheri. He talks about how much she supports him in his BBQ career. Personally I sort of think of him as a big BBQ brother. He looks out for his friends. He is always encouraging and continuously helpful. He also seems to have the memory of an elephant and can recall a lot of minute details.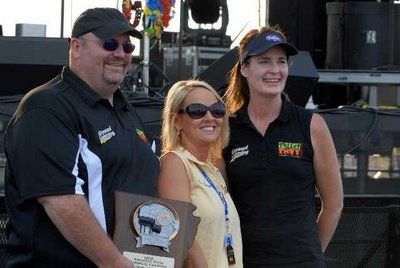 On his own personal plan for healthier living this year he let me know of his goals.
His motto now is there is no time to eat bad food and that he starts every day with breakfast. He recommends a couple of books that are helping him on his path: Eat this not that. One is for the grocery store and ones for those who eat out. I am so proud of him for being open and honest about his struggles. It's not without his own notice that being on the Dr. OZ show was good for the brand of Pellet Envy. He is sharp as a whip. I don't think much could get past him in any situation.
Q- How do you feel now that you have won TOY?
RG- I don't think it has really sunk in yet. I am numb. To be honest. I am tired and still driving home now. I am looking forward to taking some time off. Darren and I were across from each other. Steve was off in his own section. It worked out fine. (Understatement of the year) I think the guys were genuinely happy for me. I am not so sure I could have been as genuine as they were if the situation were reversed. Overall it's a great feeling. It's time for me to recharge and then go back to it.
Q-What's up next for you and Pellet Envy?
RG-I have to get unpacked. ( As we speak Rod is just a couple of hours from home) I have deadlines to get on for the Bullsheet and other things. I have to announce my classes for this year this week. My teaching partner is now a movie star (Captain Parkay – Johnny Trigg) so he can't commit (laughing he says this with some seriousness. I will be doing the classes solo. I have so many irons in the fire. Additionally I would love to take my wife to New York for a few days.
Q- What is your take on the proposed changes to how the TOY is calculated?
RG- You can't track who has sponsors and who doesn't. These are pieces of information impossible to track. It's all total crap. A Tiering system for team of the year is ludicrous. Truly if it aint broke don't fix it.
Q- Who were your major sponsors for the year?
RG- Greased Lightning and BBQ'ers delight. Greased lightening has been signed on for 2010 already. I am really glad to have them on board. Candy makes a great product and Greased Lightning is terrific for cleaning even on clothes. They have been very supportive of me and I am thankful for it.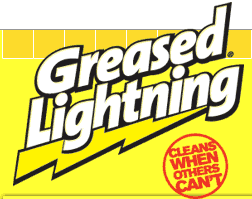 Q-Do you use a muffin pan to cook chicken ala Myron Mixon
RG- Laughing, he says no.
Q-What's you take on garnish. Garnish or no garnish- and proposed changes to the KCBS?
RG-Garnish is what sets KCBS apart from the other sanctioning bodies. It makes it more of a challenge. I believe it should stay the way it is. Garnish may not be my most favourite thing but it adds more difficulty. I think they need to leave it alone.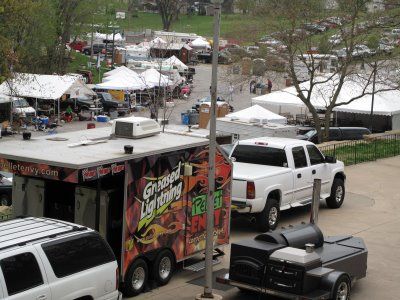 Q- What were your stats (miles comps, states- for the year?)
RG-Miles this year – 40,000 approximately
States – Somewhere in the neighbourhood 33
Competitions- I believe 33 total
Q-When you become TOY (team of the year) what do you do next.
RG-I am going to try to do it again. Take a break but then go back to it. 2010 is going to be a great year for BBQ I know it will be.
Q- Was there any point during the competition season where you felt the pressure >?
RG- The pressure was really on me on the way to Florida. I packed up as soon as I had done brisket and I left. I have never done that before. I had been gone 10 days and it was my anniversary. I won that contest.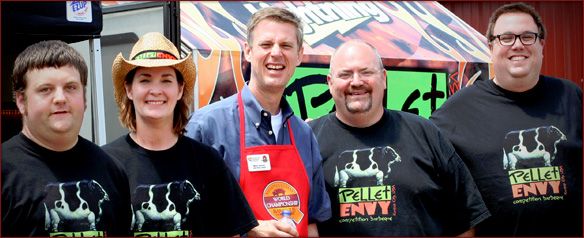 Q- As the most winning person in KCBS -Why are you not a part of the TLC BBQ Pitmasters series?
RG-I don't know the answer. I think they should have taken me.
Q- Are you endorsing any candidates for the BOD for KCBS?
RG- As of today -no. I have not done my research yet.
Q- Why are you not running for KCBS.
RG- I got away from the board in June. It was a difficult decision for me but I needed to get away from it. It's too much minutia. They are micro managing. Looking back to the previous contest is not the answer. The board should focus on the next 5, 10 15 years, of the KCBS and its future. They should be strategic in nature and currently they are not. Every once in a great while, I regret it- when I think of the people that put their trust in me. Ultimately I had to do what is best for me. Ultimately with the rest of the season it validates that I made the right decision to get off the board. It was a great choice for me to move on.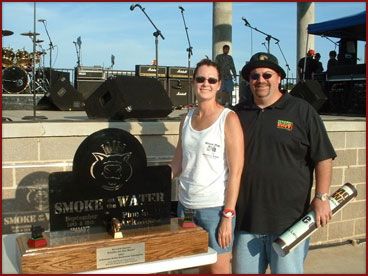 Q-Out of all the other teams besides the two that were on your heels who do you see in 2010 coming up the ranks of the TOY listing>?
RG-Wow. You know no matter what answer I give I will have left some deserving team out of the mix. I'll be disappointed in the answer I give. There are several teams that I think will rise though the ranks.
Q-What's the name of your GPS (I can hear his GPS giving him directions throughout the interview)
RG- I get asked that a lot… I don't really have a name (he chuckles a lot here) sometimes I call her b!tch if she takes me the wrong way.
Q-What's the biggest tip about Competition BBQ you can give people?
RG-Try to undersmoke your meat.
Q-What will be your first contest for 2010
RG- Lakeland Florida.
Q- Anything else you would like to share…………….

***** Exclusive you will read it here for the very first time *****
RG- Ok heres something to tell that I am sure will have an impact – We will be Pellet free in 2010. We will no longer be using pellets or any pellet BBQ's. We have a Geer pit (Jambo Pits) ordered for the back of trailer. I am in love with his pits. I will be returning to Texas to get it mounted. I will be Pellet Envy for 2010 and we will have a new name for 2011. Right now we have narrowed it down to 12 other names.
For the 2009 season I will still teach in 2010 both pellet and on the Jambo Pit. It will be a big challenge to do both but I will do it.

Q-Why are you changing from Pellets to a stick burner (
Jambo Pits
)
RG-It started with wear and tear. As much as I travel the gas is so much less with the Jambo Pit. Then it was my results in 2008 out of 8 contests that I used the Jambo pit contests 6 were won with the Jambo Pit. Then this year (2009) out of 8 contests where I used the Jambo pit I had a total of 7 wins. This gives me a new set of challenges it makes competition BBQ more interesting. Cooking on the Geer is now a challenge. It has brought me back to raising my level of focus and concentration in a contest.
*Note Rod had a bit of nervous laughter when reporting this and he admitted as so. This is a big deal to him and its news for the BBQ world. I really thank him for allowing us to share his announcement. This is going to be a huge step for Rod. I wish him all the very best with his new direction.
****
Jamie Geer tells me that the pit will be exactly the same size as the one he currently uses. Rod doesn't want to change a thing he wants it to be identical. The firebox has already been fabricated. It will be ready in time for Lakeland Florida.