Posts Tagged 'BBQ in Canada'
I often get asked for advice about starting a Competition BBQ Team. Its a never ending process. I learn something at every contest.
Here are a few forms I use for each and every competition
Diva Q Competition Checklist 2012
Here are some helpful tips to get you started as a competition team. Remember Having fun is a big part of it but planning it can make it a whole lot better.
Practical tips & advice for new competition BBQ teams
Keep practicing until you get completely comfortable within competition timelines. Practice until you are sick of eating bbq. When you practice at home follow the same timelines as a real competition. Set up like you would a real competition (no running back into the house).
Ask your friends to critique your food. Ask them to rate it just like at a competition. Give them score cards. After a competition analyze your scores. Find out what the judges didn't like. It's not personal. It's just competition. Learn from it.
Good Notes are worth their weight in gold
At every contest and for every test cook keep notes and take lots of pictures. In addition your expenses should be tracked as well. How much you spend on all of the items you need and what it cost to get there. Be practical. You can't do every contest (unless you are a millionaire) so pick and choose carefully based on your income and comfort level in spending money on a hobby.
Things to take note of:
Temperature outside, and inside your grill
Humidity levels
Placement on the grill
Holding times
Rubs
Sauces
Finishing glazes
Presentation
Cooking times
Wind direction
Change one thing at a time.
When making changes to your flavor profiles, cooking temperature or any other competition change – only change one thing at a time. Measure the results and adjust accordingly. If you change too much you don't know what you are measuring.
When you finish a turn in clean up and set up again for the next category. Don't leave this till the last minute. A clean and de-cluttered competition table makes for an easier environment to work in.
For easier cleanup I like to use Smoky Mountain Smokers Disposable Cutting Boards- they make cleanup  lot easier and there is much less chance for cross contamination.
Consistency  Consistency  Consistency
Set up the same at every contest. Set your grills up, your tables up even the drink coolers in the same location. Do things on schedule at the same time. You should plan what you are doing every hour of the contest. Saves valuable time when it comes to turn in crunch time.
If you use electrical based grills- have a generator and make sure you have gas.  Same for electrical appliances – be prepared. If the contest runs out of power how do you recover? Make a plan.
Be Considerate, have fun and play nice.
Introduce yourself and your team to other teams. Don't play your music too loud. Don't encroach on your neighbours' competition site. Ask before entering anyone's site or wait to be invited. Share electricity and water fairly. Mind your own kids- don't let them run all over other people's sites. Offer to help someone if you can. Ask general questions but don't ask specifics i.e. – what's in a competitor's sauce or rub. Everyone remembers the idiots.
It's a lot cheaper to party at home.
Drinking to excess at a contest really doesn't make that much sense. It is a pretty darn expensive party. Save the liquid libations for after the last turn in time and when the packing and cleaning is done. It's not a pretty sight to have to clean up BBQ gunk and grease when you are hung over.  Plus if you play make sure you stay the night or have a designated driver.
Taste is the #1 most important factor in scoring for KCBS. Keep that always in mind that you should be spending more time on taste than appearance- always.
Find out what the weather is going to be like well in advance. Search the contest location on Google maps. Take note of where the water and electricity is. Find out who you should contact in case of an emergency.
Have an inventory list of all the items you use in competition. For sauces and rubs make sure you have enough for each contest.  Order regularly to ensure freshness.
Share with your competition neighbors.
Wherever possible try other competitor's entries. Write down what you taste.  Make notes on their turn ins. Ask for honest feedback from them. Its good – doesn't tell you much. Ask them to be specific.
Shorten the learning curve.
Before the contest read the Competition forums on the net. Watch you tube videos. There is lots of great information out there on box presentations, rubs, how to videos and sauces. Take a class from an experienced competitor. Take a judging class. Judge a contest. See what is being turned in. All of these will help shorten the learning curve.
Shut up Pay attention and listen.
Pay attention to your competitors and what they are doing. Listen to experienced bbq'ers on the competition circuit. Ask the contest reps for advice. You have two ears and one mouth. Use them in that proportion. Often the best advice received is not the advice that was solicited.
After a contest take a look at what you packed and what you actually used. Always go back and edit your notes, delete anything unnecessary and remove anything you didn't use. Packing too many just in case items just adds up to a much longer competition clean-up. For example I love these heavy duty bus pans. They serve multiples of purposes. i use them to pack items in them. Then when I arrive at a contest I line them with bags to prep- then finally as a dish pan. Three purposes one item to pack.
Remember that you don't write the check. You don't give out the scores. What you like to eat and the flavor profile you enjoy- doesn't matter. The only people that matter are the judges. It's their opinions and taste buds that put you on the podium.  You should taste test everything with a clean palette (no smoking or drinking anything but water) but remember just because you love 5 spice powder with a heavy hot sauce doesn't mean the judges will.
Well that was a weekend to remember.
This past year I have been struggling a lot with my BBQ at competitions. Up and down and everywhere in the middle my scores landed and brisket was my nemesis. This weekend sure made up for it.
The venue was the 1st ever Blue Mountains Chili & Ribfest held in the gorgeous town of Clarksburg Ontario. Not only was it a 1st time contest it was also the very 1st time there has been a KCBS contest in Ontario. I am a huge fan of the KCBS and how they sanction contests. It removes all doubt about integrity and fairness in judging and how the contests are run. To me personally it gives me an assurance that I am going to get a fair shake at it.  I may not be the best but I just want to be treated fairly and not have rules change after I arrive at an event.
The weather was perfect and so was our site at Cedar Run Horse Park . It was half in the shade and half in the sun. Perfect for setting up our kids tent and just generally enjoying the surroundings. The entire competition site was incredible. From a few miles out (lots of clearly marked signs) the organizer uber chef and BBQ lover Steve Perrin and his endless line of volunteers and crew did an outstanding job.  Water and electricity and the ever important porta potty's were already set up. Team sites were clearly marked. Each volunteer was easily recognizable for their red shirts. We were greeted shortly after arriving by Steve and some of their crew.
There were vendors and rides and an entire chili cook-off as well. Each area uber well maintained by maintenance staff and an endless supply of security personnel.  There was also a HUGE sound stage that featured a variety of musical acts throughout the weekend. To say this 1st year contest was well run would do it a disservice. This was one of the very best organized competitions I have seen period.
Shortly after arriving we were advised there was a Feast for all competitors and VIPS that evening. Its really nice to not have to worry about what to do for dinner when you are competing. The Cooks meeting was first and it went off without a hitch. Bill and Debby Gage were the contest reps for this event. They spent a LOT of time with the new teams and made sure they knew what the expectations were. I was asked to show them a turn in box that I had already prepared and to talk about turn in boxes in general.  I think its always important to help new teams. I am more than willing to show them my box prep and help them get the best out of their meats.
Off to dinner we went and wow they were right it was a feast for sure!!  Prime Rib, pork roast, BBQ chicken, salads, corn on the cob, pasta salads and much more. Each person manning the feast was so friendly it was excellent. Our kids love the food too as there was so much variety !!
The food was delicious!
After dinner we socialized a bit with some teams we have not seen in some time. We have not competed in Ontario in 2 years since our last win in St. Thomas. It was really great to see some folks we have missed. I didn't not however have a single cocktail. It was a 100% diet coke night for me.  The meats went on without a hitch and we settled in for the night.. OK that's really not accurate I didn't sleep much at all. In fact I haven't slept much since we got back from Ottawa I admit it. I have been over-analyzing this contest since I found out it was an auto to the Jack.  I wanted to go back to the Jack.  I want to finally go up the hill and look over the valley. I missed out on that the 1st time round and I wanted to actually experience that. So what did I do ? I went back and re-read every single BBQ note I have taken, reviewed every single class note I have written and emailed a few very good friends of mine asking for their advice.  I made a plan and stuck to the time lines. I made sure I wasn't changing things.  I actually followed the advice I give out -stick to the plan you make and from a friend of mine who always advises run with what brung ya.
Getting all the BBQ's ready to go 3 Traegers 1 Onyx Oven from the BBQ Guru and a Weber Performer.
My husband did an excellent job setting up the site and keeping things at the right temp for the hour and a bit nap I had. I just couldn't sleep.  I drank I think about 9 or 10 coffees in a row then my hands started shaking so bad I ate a PB sammie to balance the caffeine.  I took a walk around the competition site and watched the sun come up over the Blue Mountains and Georgian Bay. It was a gorgeous and beautiful day for a BBQ competition.  I said a few prayers and gave a lot of thanks for my family and friends.  I think its really important to be thankful.  I would not be here if it wasn't for the help support and love of my family and friends. They mean the world to me.
Such a beautiful location for a contest. We will for sure be back next year !!
Then I had a not so great thing happen right before I foiled my ribs. My son (aka chaos) knocked over the potty bucket in their tent. Yes that bucket. The one my son had generously used through the night and my youngest daughter had taken a dump in.  Yes the same bucket they had not put the lid on. Because nothing says being a Mom 1st and a competition BBQ chick more than having to clean up poo and pee (all the while doing everything you can to not hurl and add to the vile mess) then scrubbing the tent floor with bleach spray. I believe I could have won an award for the fastest clean up ever. So after thoroughly scrubbing the floor and then myself off it was time to finally get the ribs foiled.
Then it was game time.  Chicken came off the grill and I loved the color and the flavor throughout. I was really pleased with the box styling and I was super proud how it came together. Ribs came off and I had more good racks then ok racks and that was thrilling. I turned in the best ones out of the lot and was super thankful none were over or undercooked. Pork got all sorted out and placed into the box. It was one of the best boxes we have done. Then I started to panic.  I was thrilled with 3 categories already turned in. Brisket has broken me more times than any other category.   Nervously I opened up my resting briskets.  Slicing into the first one I could feel my heart racing and the adrenalin pumping.  This is why I think competition BBQ is a real sport. It takes endurance it takes a lot out of you and it takes a whole lotta balls to go up against the big boys and girls.
Our site set up.
Sometime before slicing into the briskets a friend texted me. She wished me good luck. I told her I had my big ass girl panties on. For those of you reading this you know who I was texting….  Well that helped the mojo for sure. So did the Divagator. Plus all the really super nice emails I got from friends encouraging me.
Lots of happy people serving food at the Friday Feast.
The brisket was delicious. It tasted like BBQ. Not freaking pot roast but BBQ. Really good brisket. Holy crap did that ever scare me. I remember getting the box done closing the lid and thinking if this doesn't score well I think I may be done with competing. So thats where I was. Praying like every other competitor does after you turn in your boxes. Hoping that it would land on good tables and beyond exhausted. Then I did something I have never done after turn ins I had a diet coke and then crawled into my kids tent mentally and physically exhausted. I don't remember my head even hitting their blow up mattress. I was done in.
Daryl Maybanks from the super successful team Q'N Canucks catching up on a few Zzzz's
Sometime a couple hours later…. I woke up and my beloved husband had packed up everything and I mean everything other than the tent. The grills were put away the pop ups the food the electrical cords I mean everything. He knew I didn't have anything left in me. That's why we made such a great team for this event.  We really worked with each others strengths and weaknesses.
Stanley's Smokehouse
I packed up the tent the sleeping bags and the odds and sods and off we went to the awards ceremony. On the way we stopped to see our friends the Pork Ninjas and Jamie asked if I liked my boxes. Truthfully I told him I would have been proud to turn those boxes in anywhere. Whether it was the Royal or the Jack I was happy with the food we made.
Pork Ninjas Jason Rees out enjoying the sunrise too!
Waiting at the awards we relaxed a tiny bit and then they started to call from 10th on up.  Chicken came in at 7th and I was disappointed. Wow. I thought this is not going to be a good day. My husband said he was surprised too. Even our daughter Lexi the best taste tester we have loved the chicken and she is more critical than anyone.  I prepped myself for a disappointing finish and cheered on the other teams. Congrats was given to Big Grill Catering & BBQ for their 1st place win.  I hope they post their chicken recipe sometime.
Earl Whyte from Bustin Loose!
Ribs was next.  We tied for 2nd place but lost the tie and moved to 3rd. It was really great to hear us get called in ribs. Its been a really inconsistent category for us. Taking on some advice from friends in this category really paid off. We stuck to a recipe we know like the back of our hand and didn't make any last minute changes.  HUGE congrats to the 1st time competitors Tornado Alley Barbeque . They were really awesome people to meet. A nice family out to compete for the first time.  Also I have to say I really loved the announcer that did the entire awards ceremony. HE was terrific.
Schultz from Happy Grillmore!
Pork came and we really loved what we turned in and so did the judges. 1st place with a 179.4 one appearance mark away from perfect. Pork has always been our best category. I feel zen like when working with Pork Butts I just love working with them. I love the way they change so much in the cookers.  They are my favorite meat to BBQ by far.
You need to come to this contest next year!!
Then I sat back and took a breath or two. Seeing our friends walking to the stage gives me great joy. Watching friends win (even when we don't) is awesome. You know how hard they worked.  Brisket. ….. Ugh. They called out that there was a 180. I was 100% convinced it was Can't Stop Grilling. Truly their brisket has been taking names. They have been winning everywhere. Tim their pitmaster however turned to me and said its you. I shook my head and said no way. Not in brisket. Maybe in pork, dessert or anything butt but never ever would I have dreamed a 180 in brisket.
2 of our tiny terrorists enjoying the feast!
In the end I just about had a heart attack.  I sat there and heard them call the teams up to 2nd. I still didn't think it was going to happen. I have been in this spot before 3 calls and tanking in brisket. When they called us for the brisket -a perfect 180- I shed a few tears (pfft so flippin girly it was pitiful) I have never been so shocked at a contest anywhere ever. I knew it tasted good but I sure didn't expect a 180. I remember repeating to myself (apparently I said it out loud too!) that it was a protein that it wasn't a dessert 180 finally!! I really wasn't sure if my now jello legs would walk to the stage with my kids and husband.

So we did it. Grand Champion.  We finally got our Mojo back, our BBQ karma or whatever you call it. We got it back. While this is only 1 Grand Champion win this year – it feels good and we will once again will have an opportunity to represent Canada at the Jack Daniels Invitational BBQ competition in Lynchburg Tennessee.  This time I will make sure to go up the hill and it will be with my beloved husband and my Sister in Smoke BFF Angie Quaale and the boy and a few other people I owe a lot of thanks to. I can't wait. For full contest results check out the KCBS website  Congratulations to the RGC Black Pig and all of the other competitors as well.
PS- You see its been a rough and extremely frustrating year. When you consistently have been challenged both in your professional and personal life you really start to doubt the fairness of life sometimes. Call it whatever you want but I sure as heck wasn't in a good place for a while.  So those friends and family that lift your spirits and continue to encourage you are worth everything in the world. This competition wasn't just a win for my team it was a win for all of them. I am eternally grateful to some fine folks who sponsor and helped us as well:
Harvey White Auto Glass & Detailing
Gotta love this. I got a shout out on another teams Pitmasters tape. I thank them for that. Very cool!!! Hope they make it on the show. Good people. Great BBQ'ers!!! Paul Huff & Mike Galasso  (** Also best of luck to Fat Angel they are an awesome team as well!!! ***)
If you are in their area give them a shout for all your BBQ catering needs!!
Deciding to change my logo was a very hard decision. I knew it was coming it was just a matter of time. I love my pig. I love the way she looks and I love her attitude and sass.  For merchandising though she is not so great she is a complicated piggie. Sooo many colors and so much going on. I tried to streamline her. In the end though it was time for a change.
I had to define who what where and when all about Diva Q. I had to figure out where I was going to go with the logo.  That lead me to having a couple of conversations with some folks who have logos I really like- Ray Lampe (Dr. BBQ) Jason Day ( Burnt Finger BBQ  + BBQ Addicts), Darren (Smokey D's) Joey Mac's Smoke Stax, Dave Raymond (Sweet Baby Rays) and a few others.  In addition I contacted some terrific people I know who excel at marketing in BBQ and other areas.
The entire process has been really all encompassing. Jason Day recommended  a site called 99designs.com.  It is a really interesting concept where you run a design contest.  You decide how much your budget can handle. You write an entire summary about yourself or your Company and what your requirements are. Some of the designs were really out there. Some I wish I liked more because the designer put a lot of thought into the process. I made the decision to post some of the 240 design submissions I received on my facebook fan page. Some of the feedback was really helpful. I wanted to ensure that whatever logo I picked would be well received by both males and females. My target audience has always been both however at the end of the day Men are still the primary purchasers of BBQ items .
Also taking a look at myself I would never ever want to put a tiara or bling on anything. Thats just not me. I think of the Diva part of the name as being a woman that is really determined. That is me- determined to get better at BBQ.  I never really associated it with the pink crown and tiara program.  Also I wear black 100% of the time on the circuit and a lot at home too.
So here it is the new Diva Q logo. Its pretty straightforward. Simple, easy to read, recognizable and with just a bit of sass.  Just like me.
Well you can never ever have enough BBQ's I don't believe that anyone should only have one bbq or grill. There are so many different types and they are all different with great capabilities.
Thanks to the folks at BGE Canada John & Brian who came by tonight with my newest addition the Big Green Egg.
I am sure to have fun playing on it.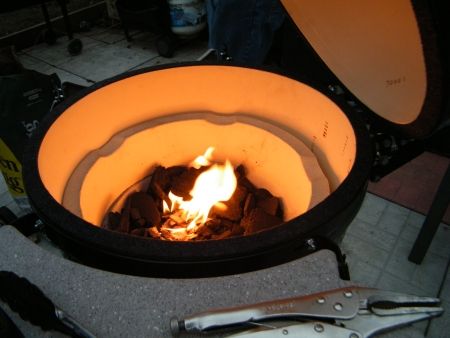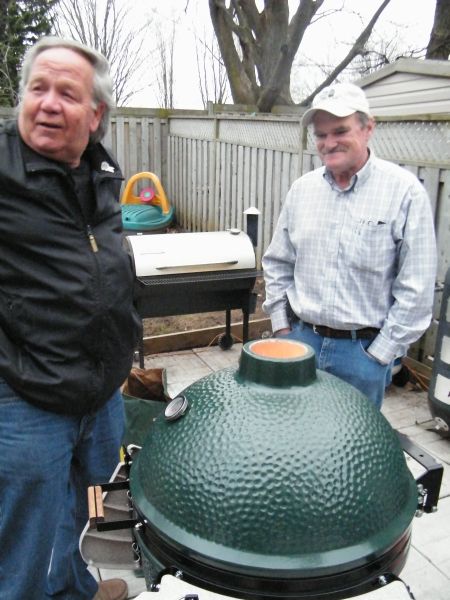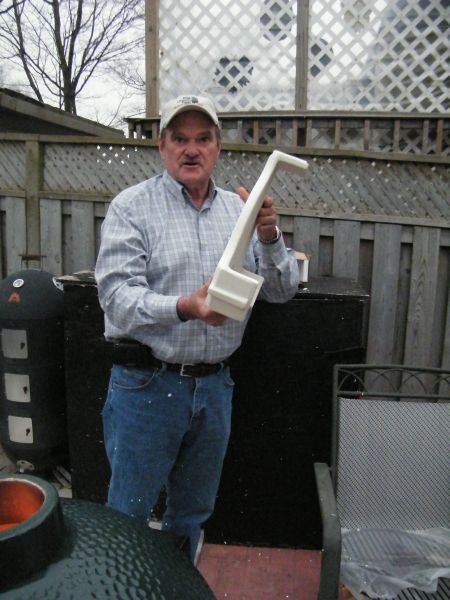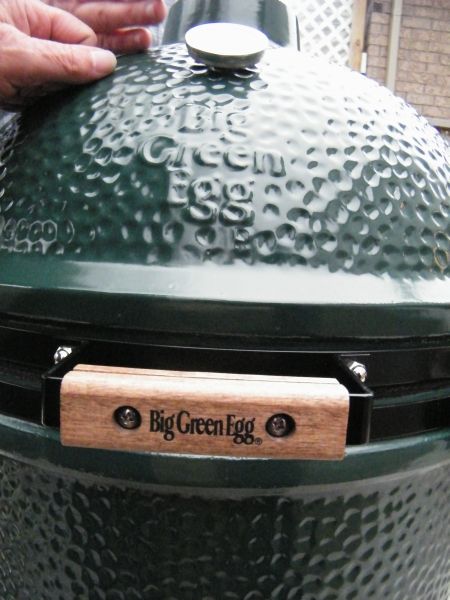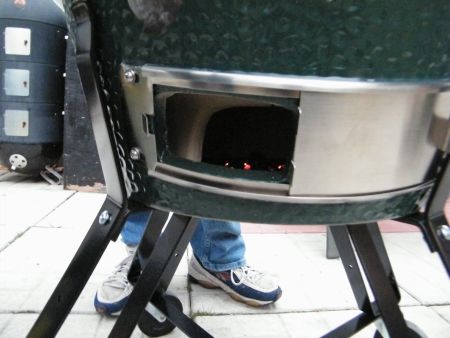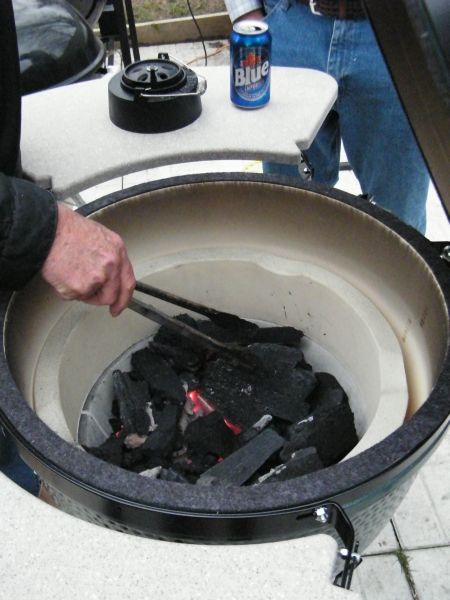 Found these interesting auditions on youtube & Vimeo for BBQ Pitmasters Season 2
And also on Vimeo
Submission Video from Ryan McLain on Vimeo.
New Cookbook that is available this month on Amazon.I was asked a while back to submit some recipes for the upcoming KCBS cookbook 25th Anniversary edition. I was surprised and delighted to receive my copy today. They included all of the recipes I submitted. These are truly some of my all time favorites.
About the authors of this latest KCBS Cookbook:
A charter member of KCBS and former three-term member of the Board of Directors, Ardie Davis founded the American Royal International BBQ Sauce, Rub, and Baste Contest and the Great American Barbecue Sauce, Baste, and Rub Contest. He is the author of five barbeque cookbooks.
Paul Kirk, a charter member of the KCBS and member of the Board of Directors, operates the Baron's School of Pitmasters. The author of six barbeque cookbooks, he has won more than 475 cooking and barbequing awards, among them seven world championships, including the prestigious American Royal Open, the world's largest barbeque contest.
Carolyn Wells and her late husband, Gary, were two of the original founders of the Kansas City Barbeque Society. Carolyn is the Executive Director and continues to dedicate her time as an ambassador for the KCBS and for barbeque itself.
The book is chock full of recipes (over 200) from lots of terrific teams and backyard cooks. I had to laugh at page 209 title page Cross Dressing at BBQ & Chili Events. So funny. I won't ruin the surprise by posting it here but don't miss that page. Also a fav recipe of mine from a friend Paul Seabrook is featured on page 17 . There are so many interesting and varied recipes throughout this book. It will be fun to experiment with some of them.
At the front of the book there is also a section on the KCBS 4 meats for competition making this an ideal book for any starter team as well.
Lots of fun and loaded up with contributions from so many this makes an ideal BBQ book purchase or gift for any on your list.
DIG IN!!!
Just wanted to share something I am finally able to post… had to wait till this weekend as it is being unveiled at the Traeger HPBA expo booth.
This is the picture of the brand new Traeger 300. It is really cool and I get to play on one next month. I can't wait. Monday I'll post more specs on it. Its going to be awesome.
Received this book in the mail for review. From amazon listing :
Product Description
The complete guide to starting your own competition bbq team, from your initial idea to cooking in your first full contest. It covers preliminary considerations, planning, equipping, set-up, and running your own team. George has gone where no other has before… he tells you how to compete in barbecue competitions. His book is a great read for anyone thinking of competing and for those already on the circuit. It's informative and funny! Mike Stines, Ph.B. Author of Mastering Barbecue I've cooked on a few teams in my time on the circuit, but we never had this kind of organized approach. Now that I have George's book, my next team will have a good plan to follow and we won't be stabbing each other with barbecue forks! Ray Lampe, a.k.a. "Dr. BBQ" Author of five barbecue books including The NFL Gameday Cookbook A masterful yet fun journal that will teach avid barbecuers the ins and outs of competition bbq; a must-have handbook for anyone who wishes to join the ranks of the bbq world's best practitioners. Rick Browne Host of the PBS-TV show Barbecue America
My Review.
Its 108 pages of  about all things starting  competition BBQ. It is an introduction to the world of Competition BBQ and some of the pitfalls to avoid. What they don't tell you is how funny this little book jam packed with valuable information is. I loved reading the stories from George's point of view. Don' t miss the psychological impacts of competition chicken overload. I have been there. I really related to these stories. Or even the sage advice offered on crotchel area issues on page 21.
This is not a serious book by any means. However there is some really serious decent advice and its an easy and fun read. If you are just beginning to contemplate starting a competition BBQ team you really should read this first.
You can buy a copy of the book here right on their site: www.watgbbq.com
Additionally you can always catch up with George and his teams adventures on the blog Who are those guys?  Competition BBQ Team Blog.
I want to share one of  my most favorite sauces that I make regularly for home use.
Its not mine. I did not come up with it but my friend Mike Kerslake head chef for Carolinian Winery and Foley Farms has always been very generous in allowing me to share it with people:
•2 cups brown sugar
•2 teaspoon ginger
•1 teaspoon cayenne
•1/2 cup white wine vinegar
•2/3 cup bourbon (Jim Beam preferred)
•1/2 teaspoon salt
•8 tablespoons maple vinegar
•2 tablespoon white sugar
•2/3 cup maple syrup
•1 cup ketsup
•1/2 teaspoon vanilla extract
•Combine all ingredients in saucepan.  Simmer until smooth and thickened to desired consistency; about 15 minutes should do it.