Posts Tagged 'BBQ Competition'
Heres the clip from last nights Late Late Show with Craig Ferguson featuring Myron Mixon from BBQ Pitmasters. Eddie and the Barbecue guy. Hmmmm Myron dancing around with an injector. Now theres something you don't see every day.
David Bouska is the creator of Butcher BBQ- injections,  and rubs from Chandler Oklahoma. He also happens to be an award winning BBQ Champion coming in this year with a 7th overall finish in the KCBS TOY standings out of 4700+ teams .  Additionally in the rankings he came in 9th in chicken and 2nd in brisket!!!  His injections have a huge following. Some of the top teams in BBQ are part of his winners circle including Tuffy Stone (TLC BBQ Pitmasters, owner of Q, sharper Palate) and the American Royal Invitational Winner- Pork Pullin' Plowboys.  He has over 28 years of meat experience. When he talks about meat people notice and pay attention. He has a great respect for competition. I have no doubt he will be working really hard to move that 7th to first.
D-How did you begin comp BBQ?
DB-I have been hand in hand with the meat world.  For 28 years. Either running meat markets running sausage markets wholesaling to restaurants always had that in the back of my head. The wife and I were sitting in the house reading a paper. We saw a KCBS Comp in Enid Oklahoma. I thought to myself – I would like to do that. I looked it up on the website.  Realized there was a lot of interest in it.
For me the competitive juices have run in my blood for a long time. I was a competitive archer. I was formerly 10th at the worlds in archery shooting being only 5 pts out of 1st place. I had lots of sponsors and that was the life. So I have competed in different areas.
So we went to see the competition. . I took an inventory of cooks. Realized what I needed to compete.  That was Friday night then I drove back the next morning at 7am.  Just to watch them compete.  I even stuck around for the awards.
My first competition was a month and a half later in Stillwater.  I took 9th place in chicken. I have been hooked ever since.
First I had to finish my obligations were finished in the Archery world then I pursued my competition BBQ life.
D-How many years have you competed?
DB- I have been competing since 2004
D-Would you consider ever doing a television show?
DB- Yes at this point. I would want to see everything laid out on the table.  I would have to know the ins and out. Then I would make my decision.
With the parts of the show – you have to show some of the behind the scenes, secret brewings. Etc. I am not against it. What I do is simple and revolves around with meat knowledge. I do the exact same thing at the exact same time.
For me the last 2.5 hours is as or more important that the first 14 hours. If you change your process or deviate from your procedure when the last 2.5 hours are there you don't know if you are off or not. A good pitmaster knows when to adjust. Or what to tweak. That's when the cream will rise to the top.
All those things play into that timing and your turn in your box. . I how to get to the end because I know how to get from the beginning.
D-What do you think of the TLC BBQ Pitmasters?
DB- I think it is good for BBQ. We have to promote the whole gamut of BBQ. Whatever it may be – catering, competition, or restaurants.  We need to keep the three little letters BBQ not cake decorating at the fore front. I get a lot of comments from people who now understand what I do. It's a shame they are not starting a series now. I know the food network always show the repeats of the BBQ shows in the spring. I wish they would start in February and keep it rolling. The sponsors would see that and say "hey let me get involved in competitions."
Think of it as this. The only show I can think of is like the old time Western tv shows You always have the good guys the Gene Autrys etc. However whenever you wanted to make "big" news- it was a black hat guy that came in. You had to have a bit of a bad guy or scoundrel you might say. I would not say he is doing anything wrong. He is just out there promoting his name. Name is everything. I am sure it would be standing room only to eat his food. My hats off to him he is wonderful at self promoting. I think half the guys and girls that are complaining don't be jealous – well get out there and do something yourselves.
D-Who is on your team?
DB-It's mostly just me and my brother Martin Bouska. My wife does come out when we are at closer competitions. However we have a miniature horse farm and it's hard to leave them with people.  They need tending to. You know I have a good family. Great parents.  I live 3 miles from where I was raised at. Raised on a small farm. Martin lives two more miles past me and my other brother lives in Amarillo Texas. Just up the road. Everyone is close.
D- Will you be holding any future competitive BBQ classes?
DB- We had planned on doing one in the spring however it just fell through due to the dates. We have about 70 or so people on the waiting list. Hopefully in the future we can come up with something. We will just have to wait and see.
D-What mad you decide to compose your own butcher BBQ injections?
DB- Originally I was making my own stuff. It was comprised of the same components. I injected everything due to the meat business and history. I just took the moisture out of the play. I didn't have to worry about it. But I didn't have the right product yet I used this and that.
I was doing that about a year. Then I took fast Eddy's class and he was using fab. I said to myself I know what this is. I have dealt with this type of product lots of times and marinated with vacuum tumblers. I started playing for about the next year. The guys around me asked about it. I just kept tweaking at it.  Then I gave it to a couple guys.
Two of them were at the American Royal. They did well. So we kept going at it with the same guys- I was finished playing with it. It wasn't a magic bullet. That's actually how it came about.
The next year I started playing with the pork product. The basic ingredients are about the same just tweaked a bit differently. So I came out with it. My main ingredient is hydrolyzed vegetable protein.  The injections have come from the same suppliers. Everything stays the same and the consistency of the product is good.
D-How did you formulate the rubs?
DB- It's the very same rub since I started. It's a balanced rub with 4 different peppers. The different peppers hit you in different parts of your taste buds.  I formulated with my injections. This last year I wanted something that was toned down a bit. I wanted to come up with a sweeter rub. So we came out with the honey rub- it's great for chicken and ribs.  At one point I was eating rub morning noon and night. I would be sitting there with my coffee and tasting rub. I tinkered with that religiously.  I had all these Dixie cups with plastic wrap on them on the counter. All of the cups had different ingredients. It's just the process I went through.
D- How did you feel with your results this year 7th place KCBS TOY?
DB- I was honoured. Oh my gosh. Oh heck who doesn't want to be up there?  It was awesome. It is hard to wrap your head around it. That being said I really want to get those 6 places. I am That's just my competitive nature.  I have been working on my ribs now. I have been cooking ribs nonstop. I am trying so many different things. I think I need to work on my method. Just going back tweaking it.
D- Does it matter to you if an event is sanctioned?
DB– I believe it needs something to tell the BBQ cooks what to be cooking for. I would not slam one sanctioning body over another. The parts that I do like (about KCBS) are that there is a nationally set of rules and instructed the judges to them. They have explained it.
When you go to a non sanctioned event you don't know what they consider perfect. I think it needs something laid out front.  I like that they teach the judges.  Around here most are KCBS so I will cook to the events to get the points.
D- Do you think there should be a monetary prize for KCBS toy of the year?
DB-Yes I do. I think it should stay the same. A professional is the best at what he does.  They should be rewarded. I think they should be the best cook. Look at ISS 22 or 23 contests for the year.  That means they cooked fewer contests than us and did better. I think it should be set aside for money $2000.00 is a joke. They need to get a National sponsor for TOY. Flat out. I think it should be HUGE and it will promote people to cook more.
Butcher BBQ Injections and rubs are available on their website.
Additionally Butcher BBQ also has a fan page on facebook.
Now this is some funny stuff.
I have been lucky to have been written up by a few newspapers, magazines, and blogs such as Toronto Life, The Toronto Star and the Toronto Sun. However most comment on my passion for BBQ and love of competition.
Todays writeup that I found out about from a post on the BBQ Brethren Forum is quite funny, its a site called Suicide Food.


It talks about my logo. I get three nooses that's perverse in their categories.
I also see quite a few other BBQ teams I know on this list. Take a look just for amusement.
Its a New Year !!! All the best to you and yours!`
Well 2010 is shaping up already to be the busiest I have ever had. In one month I`ll be driving down to Memphis for the
NBBQA Conference
. I can`t wait t see some of my dear BBQ friends and to make another BBQ crawl. I`ll be eating a whole lotta salads between now and then (as soon as today is over) . It will be pure protein overload for sure. Additionally I will be attending the Myron Mixon class. Unfortunately due to time constraints his whole hog prep is not available. I'll have to pick that up on another time.
Then in just a few months we will be off for the first competition of the year
Smoke on the water
in Little Rock Arkansas. This time however instead of flying down we will be driving. That should be an interesting weekend for sure. Its being called the worlds richest contest – $100,000 is a lot of money. I have been trying a few new things practicing for this competition ahead of time. I hope to do better this year.
Our
schedule
is getting rapidly filled up for 2010 already. It will be an awesome year for BBQ.
To start my year off right I am taking an idea from Huck JR and Huck Sr. I did a radio interview with them on their show Hucks Hut a while back and they were talking about their New Years traditions.
They mentioned their love of black eyed peas cooked forever with pork and greens. Sounded great to me so I researched a bit on the net about this Southern tradition.
Wiki
has an interesting write up about this as does
about.com
.
One of my New Years resolutions is to stop running out to buy every ingredient if I am missing a few and substitute with what I already have. So I had the peas but what about the rest? A quick check of my freezers and cold room gave me some decent substitutions. I had bacon, chorizo, onions, lots of spices and I had a package of fresh baby spinach to substitute for the collard greens.
So here it is my homage to this lovely Southern tradition. Its goodness in a bowl. Comforting for a snow filled New Years day and delicious.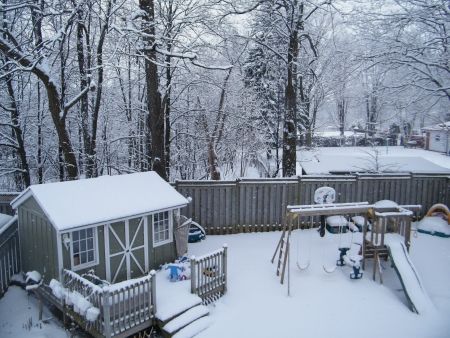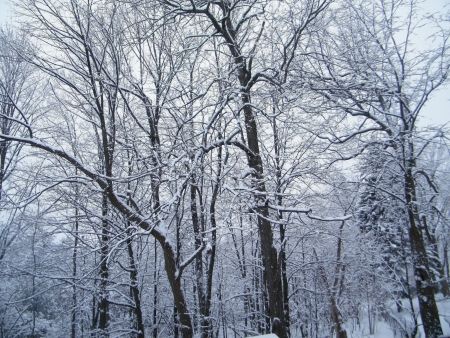 Heres the beautiful chorizo I have. I love chorizo. I love the way the oils and paprika ooze out of it when cooking. So flavorful.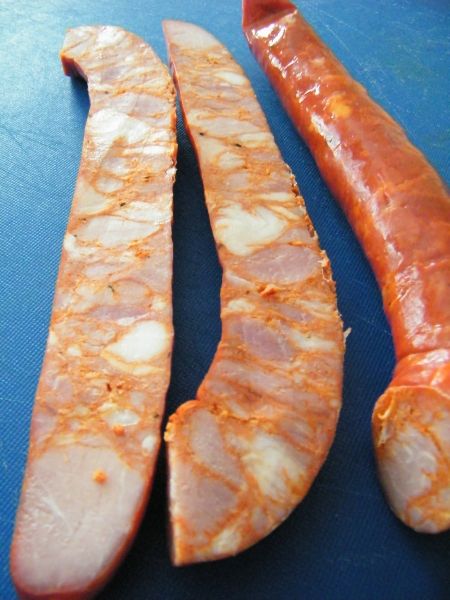 Chopped up the chorizo, a pound of bacon, and some onions.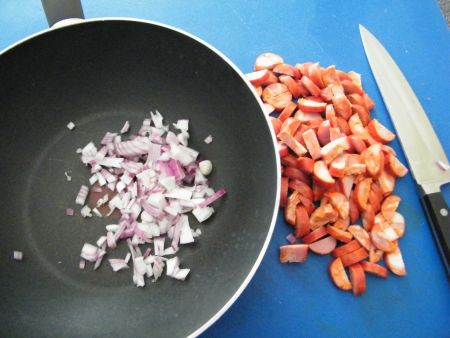 Peas got started yesterday, my advice to you is boil them forever but no salt in the pot till after they are tender. I do one fast boil, then change the water and another slower simmer. I also reserve the liquid from the second boil to add back in.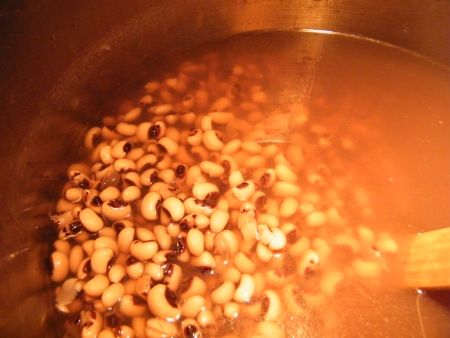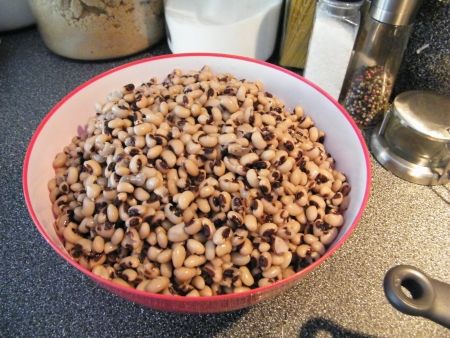 I fried up the chorizo onions and bacon together. MMM whole house smells great.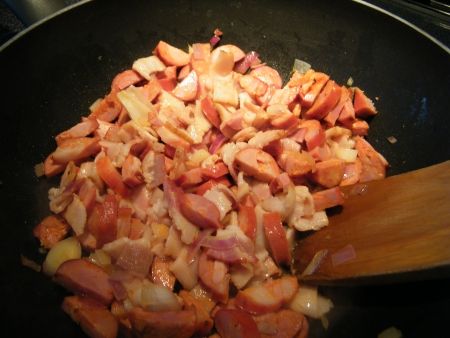 After this throw everything back into the pot. I added some salt, pepper, vegeta, dried chives, parsley as well as some celery salt. The amounts are up to you. This isn't a recipe. This is just using what I had around the house. Lastly I added the spinach. Just to wilt it. We served it up and everyone enjoyed our new favorite New Years tradition.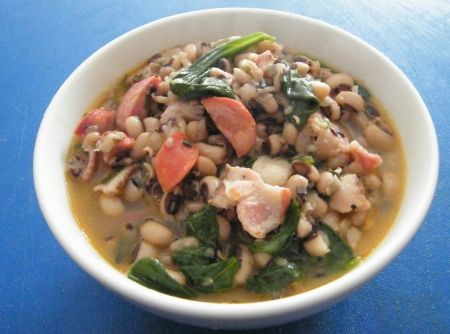 Day 19-25 Days of Christmas Blogging…

Paul Petersen is a dichotomy- he is a seemingly arrogant, brash know it all chef on the
TLC BBQ Pitmasters
show however he was a gracious friendly down to earth self humouring person I really enjoyed speaking with. I would never call him humble but he certainly has the culinary accolades to back up his bravado. He now has a sincere appreciation of the challenges of competition BBQ.
If you look back onto his career of work you would be surprised to find how many accolades have been bestowed upon him. He was the former drummer for San Antonio bands Gollum and Scary Manilow then decided to switch to cooking. He trained at the
CIA
in Hyde Park New York. After graduating from the institute he settled in New York City, working in and progressing successfully up the line at a series of popular spots:
Union Square Cafe
,
An American Place
,
The Red Cat.
He has been nominated for a
James Beard award
. He has been written up in many publications including being listed as #34 in
Esquires top 100
in 2007. He was Tobascos
Chef of the year
in 1998. Do a
google search
of Chef Paul Petersen and 119,000 hits will come back at you. He has run multiples of successful multi starred restaurants (little Texas Bistro, Gages/ Café Cenizo) and catering programs. He has taught culinary classes. He is a cookbook author. He is well thought of by many other chefs – Yet in the competitive BBQ world he is an unproven, unknown, DAL competitor (as of episode #3) who seems to have a lot of smack talk in him but not a whole lotta competitive BBQ knowledge. So why did he do it?
I know of a few chefs who have come into competitive BBQ just as he has done, brash arrogant and confident- thinking that their entire repartee of culinary knowledge will lead them to a Grand Championship on their very first turn out. I have also seen those same chefs seriously get their asses handed back to them on a platter. (I have personally had some pure moments of glee to see this happen first hand when I was on the receiving end of a chef who thought he was Gods gift to BBQ) They learn really quickly that while competition BBQ may seem so simple on the outset the complexities and nuances are vast and varied. It's not as easy as they think.
I caught up with Paul as he was preparing for an insane night. He had 400 covers to prep for. Two hundred of those at Ricks Chophouse, and the other two hundred were catered in their private rooms.
Paul runs not one but two restaurants. The first as mentioned above is a destination restaurant-
Ricks Chophouse
. An elegant restaurant with restored press tin ceilings an original lime stone wall (circa 1885) and deep mahogany walls throughout. It is combined with private dining rooms, a grand ballroom and Grand historical hotel. The other is
Sauce on the Square
just 60 paces away from Ricks Chophouse.
Sauce on the Square
– is an approachable Italian concept that looks towards more multiple visits during the week by its patrons.
*thanks to Lisa Reynolds from
Bubble Gems
for the picture
From the Sauce on the Square website:
Your culinary experience begins as you walk through the covered dining patio to the smell of dough rising in our Woodstone-fired ovens. Once inside, the dining room speaks immediately of the restaurant's unique charm and sense of communal gathering. Banquette seating lines the century-old exposed brick wall, while red and white checkered table cloths, stained concrete floors, and classic Italian art set the stage for an approachable family dining experience.
The menu is created by celebrated Executive Chef Paul Petersen, who uses local farm-raised ingredients and neatly incorporates them into traditional Italian specialties. House-made cheeses, imported Italian flour, fresh tomatoes, prosciutto DiParma, herbs, and pastas speak volumes of the flavors you will enjoy. And, absolutely everything is served family style, enhancing the warmth and camaraderie of your experience.

As you transition through the dining room into the bar area, your group can visit on high-top cocktail tables or line the bar and watch the action. The open kitchen makes for a fun place to split a pizza, share pasta, or enjoy a few signature Bellinis!

The wine list is also a home run-50 labels of the best wines in the world for under $50 make it easy to try something new. Each wine was chosen by our Sommelier Brad Pyle with an appreciation for the artisan farmer where each bottle began.

And to think, you didn't need a reservation! Located on Louisiana Street on the historic square, Sauce is open Monday through Saturday for lunch and dinner.
To say he is busy would be an understatement. He is extremely successful in his own world.
His quiet "office" where we did the telephone interview is outside at the back alley away from the hustle and bustle of the kitchen.
Q- How did you get involved with TLC BBQ Pitmasters?
PP- I had been approached a couple of years prior to TLC BBQ Pitmasters show to do an alternate BBQ related type of show. That didn't pan out but I was still interested. I had cooked for John Markus a couple of times about a year and a half ago. We did a couple of tasting menus for him and he was blown away. I liked John a lot he was really cool.
Q-Had you ever done a BBQ competition prior to TLC BBQ Pitmasters?
PP- I had done an IBCA competition prior to the show and had placed 10th in Chicken.
Q- What did you think of the first few competitions that you participated in?
PP- It's not my world. I am a hell of a Texan BBQer but it took a while to figure it out. The judges (where I competed) have not been exposed to my type of cuisine. I had to adapt to their style of cooking. It took a lot of change.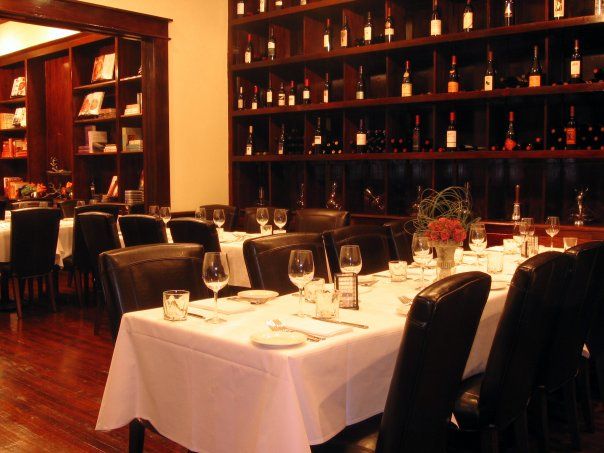 Q- If given the opportunity would you do the TLC BBQ Pitmasters show again>?
PP- I don't know. I would certainly like to go back and redeem myself and kick some asses. However my bosses have already been more than kind to allow me the 2 months I needed to do this show. With the additional restaurant and many other things coming down the line I just don't know. I have so much on my plate already. If I go out again these boys are going to be in trouble. I would want to go out with a Jambo. I have a lot of respect for them.
Q- What do you think of the comments that have been posted about you on the various BBQ forums and articles?
PP- Well there are the hecklers, there are people that hate me and people that love me. Overall it doesn't bother me. It's just a bunch of BS. The people that were with us on the show and the people who eat in my restaurants know my real culinary skills. It was really hard adapting to the world of competition BBQ but I really did like it.
Q- Who was the first pitmasters on the show that helped you?
PP- Tuffy was the first he helped me a lot. He is a bad ass cook (he says this with sincere appreciation of Tuffy's culinary skills as a BBQ'er and chef). So much he helped me. I appreciate it. He was the first who opened up to me. Told me I was cooking all wrong. He started helping me out. Listening to him for me was important.
Q- What was a favourite and least favourite part of shooting the show for you>?
PP- Meeting the people – it was great. The hailstorm was pretty wild. I did not sleep through that (he says laughing). I was hanging out with the people from the Slabs. We ended up holding their tent so it didn't blow away (this wasn't shown on the show). They were great people.
Overall the travelling was hard. It was a lot of travelling in 2 months. I have a 2007 Tahoe that now has over 100000 miles on it. I am going to get an F250.
Q- Any other special moments with people from the show you would care to talk about?
PP- Hanging out with Johnny and Trish Trigg was really special (Unfortunately I can't tell the rest of what he says because I don't want to ruin some possible future moments for the show.) I also really liked Jamie too he was funny, I loved his humour and he had the best lines. Overall we were this little gang of Texas people.
Q- As Texas is renowned for their BBQ Brisket – whose brisket did you like the most?
PP- Well I had Myrons brisket and to my taste- it was like Lipton soup mix. A lot of the competition brisket wasn't what I was used to. I was disappointed in my brisket a lot. However there was one who I thought rocked it Tommy from Checkered Pig. He is killer. I hold him in high regard. Best brisket ever on the BBQ tour out of anyone. At the competition we were at he only took 3rd. I was so confused by this his was far the best I had. He is so cool. He is a genuine guy. It didn't hurt that he also set me straight on a few things.
Q- How would you label yourself cocky? Arrogant? Confident?
PP-Confident – that's an accurate description cocky can come off as arrogant – I am just confident of my abilities. I am accomplished in my own world I just don't need to throw it in their faces. I was good at putting on what they wanted to see.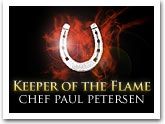 Q- What was the inspiration behind
keeper of the flame
(his interactive cookbook)?

PP-Keeper of the flame- The name came from an article from
Texas Monthly
.
It was a huge deal in Texas. It was a 7 page spread on me. Freaked me out they don't do it for chefs typically. It kind of stuck. The cookbook is very innovative – Online approach that gets updated frequently. Originally I had done a similar concept with 50 other Texas chefs. We pushed it out early to capitalize on the popularity of the TLC BBQ Pitmasters show.
Q- What's the biggest challenge in running a restaurant.?
PP- For us its consistency (just like in Competitive BBQ) we want the same product to go out the door. I have so many employees and we need to make sure everyone is on the same page.
Q- What is your favourite BBQ food to eat?
PP- Ribs are still my favourite. I like a good Texas brisket. Personal favourite Kreuz Market or Smitty's both of them. They are the same deal. Same family. However I have not eaten at Louie Mueller. It's all real BBQ.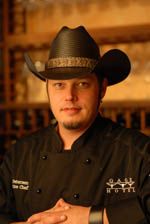 Q- Who do you think will be the next chef in Texas to come up the ranks since you are now established?
PP-I would have to say David Bull – He is my favourite Texas chef. I would put him up against anyone in North America.
Q- Do you still play drums?
PP-I don't take it as seriously as i used to. For me its stress relief. I am a precise drummer. I hit them with finesse and rock out.
Q- Other than the restaurants what else do you have in the New Year?
PP- I am really excited about an event we are doing on January 15th, 2009. We will be on a stage on jumbo trons and we are going to do a BBQ throwndown Texas Style. It will be a benefit for the sustainable food center.
Three of Texas' youngest and most acclaimed chefs – David Bull, Shawn Cirkiel, and Paul Petersen will go head to head in a high-energy, fun event with great food, live music and a competition that's interactive and exciting.
W/ DJ, el john Selector spinning bad-to-the-bone soul, funk and world beats
TIX $35
http://stubbs.frontgatetickets.com/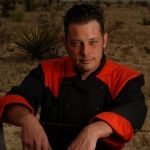 You can find Chef Paul Peterson on
Twitter
He also has a fan page on facebook.
Day 17- 25 Days of Christmas Blogging….
On December 7th an announcement was made on a forum by Ron Cates that could potentially mean Millions in the future for Competitive BBQ'ing. Here was the announcement:

NASCAR King of the PIT Series Announced

Commenting on the TOY threads I've been reading. Smoke on the Water productions has confirmed we have three firm events with NASCAR racetracks in 2010, Michigan International Speedway June 11, Daytona July 4 weekend and Talladega Halloween weekend. A fourth track will be finalized by end of next week. Contracts are not finalized for prize money yet, we're working to get $50,000 for each with a $10,000 bonus split and paid through top three places in the points chase from each event.
Counting our $100,000 event in North Little Rock, Arkansas in March and three other contests in Hot Springs National Park, Isle of Capri Casino and Springdale,AR, we will be giving away close to $500,000 in prize money. We're skimping on bowling trophies and splurging on cash. Entry fees are kept low and everybody has a shot at the big dollars.
This announcement made from Ron Cates from Smoke on the Water productions has been highly anticipated. These things don't happen overnight.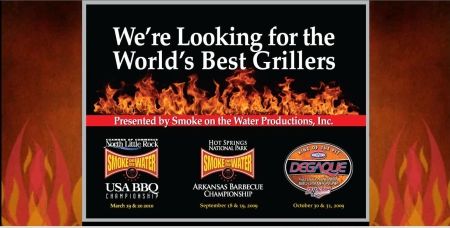 Last year
I flew into Arkansas for the
Smoke on the Water
Arkansas BBQ Championship at the Clinton Presidential Center. It was the coldest wettest competition I have ever been to. It was a very well run competition. I enjoyed it-other than our 47th overall placement. This year we are going back but this time driving down with our own equipment? Why drive?? (almost 19 hours) Its all about the MONEY. This year its $100,000.00 and its moved to across the road. With that kind of money I would rather have my own equipment with me. I don't have any illusions of winning GC but I would certainly expect to place much better this year. Plus they are paying to 40th (yes 40th!) place. I like this concept of spreading the wealth.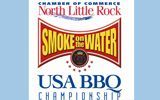 I talked to Ron about his thoughts on competition the exciting news of the Nascar series and where he sees competition BBQ going.
The first thing we discussed were the confirmed events so far for this year from the Smoke on the Water Productions:
North Little Rock, AR March 19 & 20
Isle of Capri, Lula MS April 16&17
Michigan International Speedway August 13&14
Daytona International Speedway July 2&3
Springdale, AR August 27&28
Hot Springs, AR September 17&18
Talladega Superspeedway Oct 29&30
All are $50k except North Little Rock which is $100k.
There will be 4 NASCAR events in 2010 with $400K total prize money
He is also not done with the 2010 schedule yet.
There may still be some additional locations confirmed.

Q-How did you come up with the series?
RC-How everything got started was that we took a look at the demographics of Nascar. The demographics for Nascar and BBQ are almost identical. They go hand in hand. I have been trying for 13 years to get this point. Then last year Daytona contacted me. Unfortunately when the lawyers got involved it was just too short of time on contracts. So we decided on Talladega.
In Talladega- 123 teams attended. We had a lot of teams doing a wait and see. They wanted to make sure that these were for real competitions. The traffic was run well. We had the teams registered before the races, and they left when the concert was over inside the track- so no traffic issues.
We will have more teams for 2010. It proved to be important to the KCBS TOY race. I Smell Smoke won and jumped a lot of spaces. They (ISS, Pellet Envy & Smokey D's) all had to go to Arizona because of the results.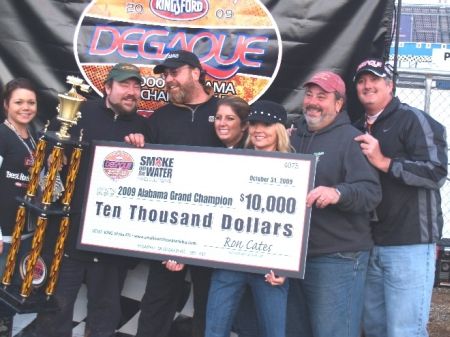 Q- How did you start organizing contests?
RC- I started when I thought we could really do it better. I have experience in strategic planning and marketing. I just tried to put on a good event.
The first one just about kills you but the infrastructure keeps getting better. It gets much easier each time you do it.
The advertising and promotions for the competitions are bringing money into the areas. You need to know the economic impact. That way you can approach the areas with a proper business plan and get the support. You have to hold viable events. Establishing a business plan is key.
People also need to think outside the box.
We (Cates & Company) handle tourism accounts. Knowing the inside has helped the organization of the competitions. You need to go above and beyond. We don't like to take no as an answer (i'll find a door thats open and a yes). You have to make things happen and get things done. If I went away every time someone said no to me -none of this would have happened.
Amazing how many calls I have received to take over other contests over due to lack of infrastructure. It is essential so you don't end up at the end of the competition owing money.
Our goals have been always the same pay the cooks what they are worth and reward the cooks accordingly. We listen to the teams and the cooks who are out there. What do they want?? The answer is simple they want money. Trophies are fine but its cash that helps the most. We are on a Quest for the best.
You have to have the money in place first. Not money and prizes but just money. I don't agree with competitions that post money & prizes it is misleading. You could end up with a cheap grill they over inflate the value of. It should be money only first and foremost and if there are prizes they should be specifically listed. There should be a guarantee on the money.
We try to cut our costs in everything else and we do that so that we can give more money. For example in Little Rock we wanted to make sure the teams had hot coffee and donuts but instead of us shelling out money for it we had Krispy Kreme sponsor that. The cooks are happy with donuts and coffee, Krispy Kreme is happy with the exposure and we have not given up any money towards the teams.
All of our contests are open. There is no invitational. We're just looking for the best competitors and barbecue in the land. We are skimping on trophies and splurging on cash.


Q-Why tie in with Nascar besides the demographics?
RC- Its all about exposure. These teams are going to be with over 200,000 other people attending the event. There are multiple news station coverage and exposure for sponsors. Additionally we will have a backyard division to access those participants who may not be able to enter the pro series. These Competitive BBQ teams that have sponsors will have better impressions for them at events of this level.
Q- What are your thoughts on the new TLC BBQ Pitmasters series>
RC- TLC BBQ Pitmasters is doing for BBQ what American choppers did for Motorcycles.
It's all about marketing. The show is revolutionizing this. This is TV high drama. Its not staged its exposure. It works.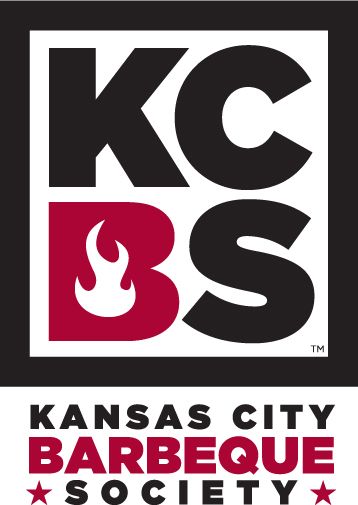 Q- What are your thoughts on the
KCBS
?
RC- KCBS when I started with them in 2000 it was totally different then. The people in the office wanted to be more proactive. There are a couple of people on the BOD that have turned it upside down. Just a fact. Gotten away from doing what they should be doing. Planning for the future.
I think of myself as an independent contractor-the KCBS they should be helping us. I am their customer – I pay sanctioning fees ++ plus $13.00 a head. Smoke on the Water Productions has 112 avg teams per competition. I am giving them $13.00 a head and what are they doing for me.?? Giving me grief..
For example I was trying to get a press releases announcing our competition and they wanted to charge me for it.
Then they told me I had to advertise it in the Bullsheet.
I don't need the KCBS Bullsheet. I have a database of 10,000 names and can get the word out on my own. E-news letter for example. I can control my own costs.
They are micro managed beyond a doubt. Without calling names it seems they are more concerned with covering their ass and their absurd rules. The people in the office are scared to do anything because of that.
We may have to start our own sanctioning body. Similar to KCBS blind judging but with a different scoring system and ruled. Also the garnish issue. I have heard from many teams that they don't need it or want the hassle. We listen to the cooks.
I would rather have advisers instead of a BOD -they would not get bogged down in micro management. I would rather give away points and money for TOY (team of the year). Also if I run it it's a dictatorship. We would make the decisions best for the cooks. I believe this would extend the viability (business plan) of competition BBQ. There is no doubt about it. We listen. We react better.
I have talked to as many cook teams as possible. You have to listen to them. Money talks. Integrity matters. We have had 100% certified judges since I began. We treat them nice. They travel on their own time. We make sure to take care of them. That's what should be done. We must be doing something right as we already have 240 certified Judges registered for Smoke on the Water, Little Rock.
KCBS TOY race – I have a problem with the way it is run as well.
We had probably some of the best top teams that were registered for Smoke on the Water then they backed out (with their own "excuses") to do smaller contests and the points were still allocated. We are attracting National Sponsors. Instead of buying a $5.00 bowling trophy lets get a $30,000 sponsor and give it to the TOY.
KCBS seems too narrowly focused – not aggressively marketed themselves. KCBS has so much potential to take it further and they haven't. KCBS is in a rut. You have to keep evolving. Or else you will stagnate. They are doing nothing cutting edge.
I really don't care what the current board is doing. I will continue to do what is going to attract people. If they are upset with us-oh well.
IF we can work with the new BOD and get back to the way it used to be then I will work with them absolutely. Here is my problem though – its all about the money. We put on these $100,000 events with music (300,000 ppl per event) and more……
It all adds up to what is KCBS doing for me?
Q- Are you endorsing anyone running for the next BOD of the KCBS?
The Nominees are:
Randy Bigler
John Kirby
Paul Kirk *
Mike Lake *
Barbara Milroy
Linda Mullane *
Jim Stancil
Jeff Stith
Candy Weaver
(* Indicates current board member)
RC-In all fairness I don't know the others- however I will endorse Candy Weaver and Randy Bigler.
Candy started a couple years ago – She is a business person and has a cooks perspective. She takes no shit off nobody. She will put them in their place.
Q- What is your answer to those people who state you are ruining the purity of BBQ contests?
RC- We are not trying to put the small contests out of business. There is still a place for them.
When you are playing football you play no matter what. Same with BBQ you have to play in all conditions. Only the strong will survive. Our marketing plan is very simple we listen to what the cooks want and we bring the money. Period.
At the bottom of it all – if you don't like what we are doing don't come. We will bring the big boys out. The integrity of the sport is not gone – viability is in the Money – it has to be viable to make it last.
To quote Myron "to be the best you have to beat the best"
Our contests will attract the best.
Day 15 – 25 Days of Christmas BBQ Blogging
I can't wait for January 17th 2010- why>> Because it will be the premiere of the Great American BBQ Showdown on the Food Network!
Tommy and Dennis had told me about this a couple of months ago when they were filming in South Carolian and they just released the dates it will be aired. I am so happy to see more of my BBQ friends on TV. It's just even more great exposure in addition to the TLC BBQ Pitmasters show currently airing Thursday at 10pm E 9C.
Following 4 Competitive BBQ teams -
Checkered Pig (Tommy Houston)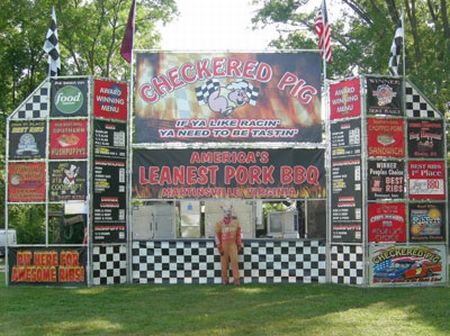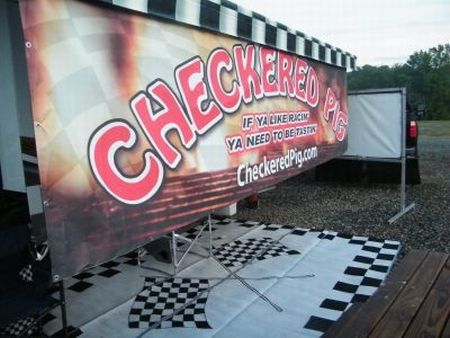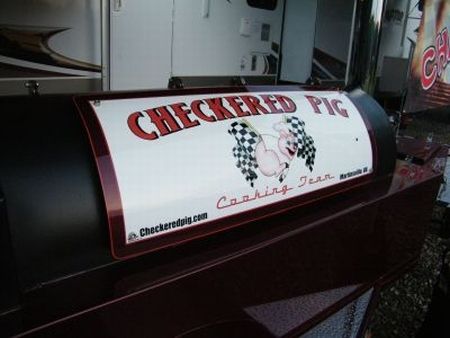 Bub-ba-Q (William Bubba Latimer)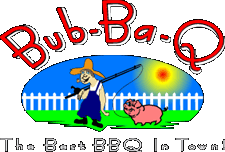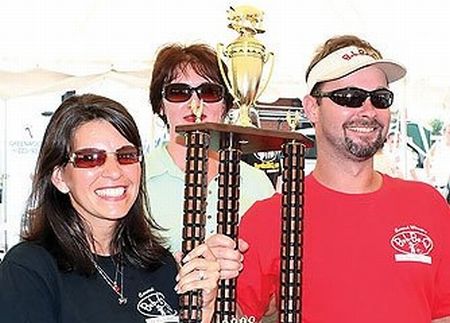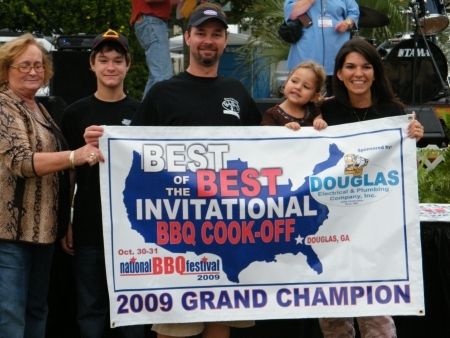 Divine Smoke (Debbie & Dennis Dill and friend David Hord)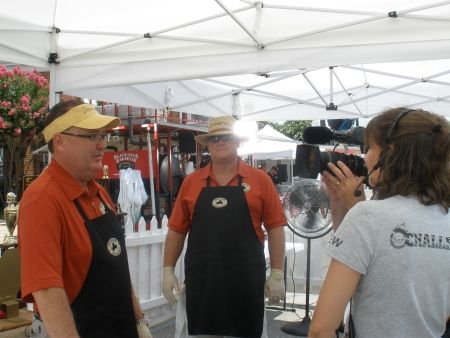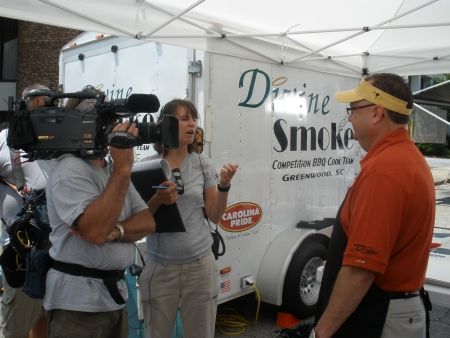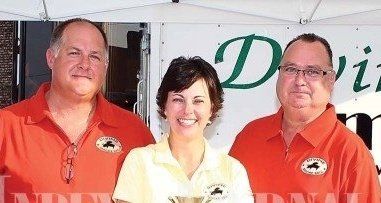 Black Jack Barbecue
(Jimmy Hagood)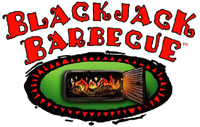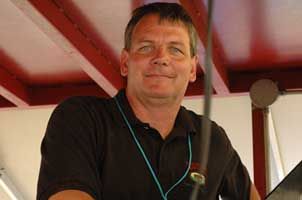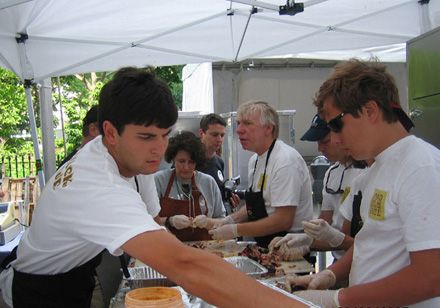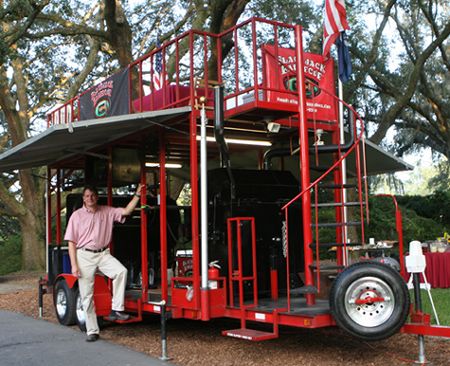 Day 10 – 25 Days of Christmas BBQ Blogging…

TLC BBQ Pitmasters
Clip
Talking to Myron is interesting to say the least. He has just won for the 8th time MIM TOY ..This interview took almost an hour and a half. To get that much time with him I think is truly rare as he is constantly on the go and busy. How to describe him is tough. He's the type of guy that would cuss at ya and yet at the same time be trying to teach you something of value because he cares. He is much more benevolent than he appears to be. He is more sensitive to other people's feelings than he lets on. He's not out to hurt anyone.
There is an underlying deep resounding care and love for his friends and a need to protect them and also those who are just beginning to start out. He has always been very polite every time I have met him. I have never been in his presence where he cussed more than damn. In fact he has always been the typical Southern Gentleman.
He calls a spade a spade. He doesn't mince words. He is most definitely a very proud man. His reasoning on his ego are sound. They make sense to me. He has won more than any other. I'd say he has a right to brag for sure. I will say this though with the exception of his family and close personal friends he really doesn't give a damn about what you think of him. He has his own moral compass (instilled by his own family) to be fair to be truthful and to be honorable. That's what matters to him well that and of course getting paid…..
Now truly I could list his accomplishments but Myron has some of them listed on his website.
Myron Mixon, chief cook of Jack's Old South Competition Bar-B-Que Team started Jacks Old South in 1996 as a way to promote the family Bar-B-Que sauce, which was made by his mother and father, Gaye and Jack Mixon. We competed in our first competition in Augusta, Ga. where we took 1st place in Whole Hog, 1st place in Pork Ribs and 3rd in Pork Shoulder. Since the beginning, we have won 140 plus grand championships resulting in over thousands of trophies, 30 state championships including wins in Georgia, Florida, Alabama, Virginia, Arkansas, Mississippi, Kentucky, Illinois, South Carolina, and Tennessee, team of the year six times, and 8 national championships. We have also taken three first place whole hogs at the Jack Daniels World Championship Invitational Barbeque Competition. Additionally, we have been the Grand Champion at the World Championship in Memphis three times, in 2001, 2004 and 2007. We have also taken first place in the Whole Hog category at the World Championship in 2001, 2003, 2004 and 2007. Jack's Old South has been the Memphis in May Team of the Year with the highest number of points for 7 years, from 1999 through 2004, and also 2007. We are also the only team to win Grand Championships in Memphis in May, Kansas City BBQ Society and Florida BBQ Association in the same year. As a result of all of our success on the various BBQ circuits, we have been featured on several television networks, including the Food Network, Discovery Channel, History Channel, Travel Channel and the Versus Network. Mastering the art of Bar-B-Que'ing has lead to the development of our own line of Jack's Old South products including sauces, rubs, grills and smokers, as well the Bar-B-Que Cooking School.
Q- Have you been online much since the premiere of TLC BBQ Pitmasters.
MM-I don't go online much. Unless its checking my email and seeing if I got paid from my internet store. Or if people are sending money for the cooking school or asking about the business of franchising Jacks Old South. Not big on Computers at all. Other than that the rest of that shit (forums etc) can just wait until I can. For me it's all about getting paid. This is my living.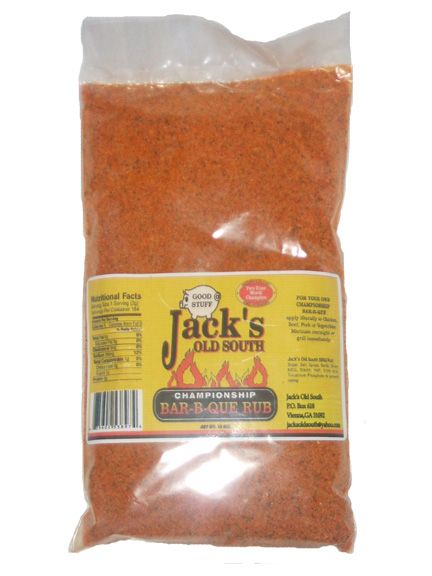 Q-Why are you now offering
Franchises
?
MM- To be truthful I'd rather let them have the damn worry of running a restaurant. I have been down that road. We made money don't get me wrong. We did real well with it. Over all I don't have the patience to deal with the employees. There sure is money but it's not my demeanor to deal with employees. My Daddy told me. – "If it takes more than more than you and one more person you are screwing up". Other people may want to work with employees. A lot people out there can get into and do well. We will give them the tools to make it happen.
Q-Was your Dad your biggest BBQ influence?
MM-Definitely. On how to BBQ yes he was. Most definitely. For the actual teaching of competition style BBQ it would have to be Pat Burke of Murphysboro ILL. He was my biggest competition BBQ influence. He is the other half with Apple City BBQ Gang with Mike Mills.
Q-Do you realize that could possibly be accountable for a lot of muffin tin sales in North America?
MM- I do a lot of contests and 3-4 schools I always try to improve. You can't keep pitching the same thing every year. What I did last year may not work this year. Your teaching has to change. I experiment at contests. Not at home. Now don't get me wrong I won't do it at $10000 grand prize purse competition but I will at a $2500. You're just not going to get the experiment you need at home. $2500 is still good money but I charge $750.00 for cooking school and I have to give them something new and fresh not the same old thing. This is just one of those things I tried.. If you keep the course or your stuff the same you won't keep winning. You have to constantly change not 180 degrees but you have to keep things fresh.
Q- Whats your opinion on BBQ Judges
MM- The BBQ judges drive what teams do period. At the end of the day actually they are the ones that write your check. Indirectly but they write the scores to get you that check.
Q- What has been your biggest winnings?
MM- $26000 Memphis in May 2001,2004,2007
Q- Whats your favorite Category to cook
MM- Brisket- KCBS,Whole Hog MBN I like cooking whole hog. (chuckling he says that) He is the king of whole hogs.
Myron Whole Hog
Q- Backs or sides Ribs
MM-I do baby backs I can build a nicer box with baby Backs. I know that's opposite from everyone else.
Everyone should use what you know and turn in whichever you are better at.
Q- What was your biggest splurge on yourself after a big check?
MM- I bought a log Splitter. Peach wood stumps are hard. The large stumps can be 20 years old 18-20 inch stumps its great wood. You can bust it with a maul and a wedge and let me tell you that gets real old. I had to take my money so I can bust those up. Best thing I ever bought.
Q- What does it take to garner your respect in BBQ in one of the TLC BBQ Pitmasters Premiere clips you can be seen stating you respect Lee Ann Whippen. That's high praise from you.
MM- This is simply predominantly a man's game. She does just what the guys do. She competes week in and week out. She doesn't ask for favours when she is out -she does the stuff herself. She hauls it around and loads it up just like any man out there.
Now I have seen some of those female teams and they want to wear their manicures and all that hoity toity stuff and then they want the boys to come over to cook for them and do their crap. She doesn't do that. She also wins. She has won some contests. She has my respect because of that.
Overall though it takes somebody that has continued to have success in the business. Not a one shot wonder. Somebody who has had some staying power. Over 5 years at least on top of their game and they keep winning. It's hard to do it and stay fresh. A lot of people come in, and win for the moment. They do very well and then you see them go away it's because they keep trying to do what they did- it just don't work. Too many other people are taking the time and spending the money whether it be from cooking classes or whatever books videos etc and the dollars for the equipment and you just can't keep complacent hoping that what you did 5 years ago works today. It aint gonna happen.
Q-Who is on your cooking team.?
MM- My wife Faye, David Hair (mostly with me) Nick Cochran, Wayne & Sandy Johnson, PJ also goes with me some. Ed Harris is also on the team he cuts my peach wood for me. I think we will see him on an episode.
I've got a Good Crib. I have been very lucky from the time I started in 1996 that the people that I have had working with me I haven't had the same cast of teammates but I have only had good teammates. I never had any slackers. They knew their jobs. They do it out of the fact they want to win.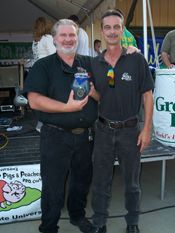 My team have loved to win. These people like to win. You know some people say I take the damn fun out of it but when I am winning I have fun. Even if it is a hobby for you and not what you do for a living every time you win a dollar -a dollar didn't have to come out of your pocket. They don't understand that
I mean I understand the camaraderie and they are looking forward to driving up in their motor homes getting into their little circles and having their little cocktails there is nothing wrong in the world with that.But this is my living. If I want to get drunk and have my friends over I want to do it on my patio beside my pool. I don't have to spend $2 grand to do it. You know what I am saying? You can't be with the party on Friday night and win the contest on Saturday -it does not work like that.
Q- Whats your favourite contest. Its the Big Pig Jig its my own home town Vienna Georgia. it where I got started.
But outside of my own town its the national Capital BBQ Battle
Probably one of the best I have been to. Unique at where the contest it . They close down 8 or 9 blocks of the street. Cooking right on the street right in the middle of it. You are amongst all of the history of your Country right there. That's pretty damn special. Plus now it's a dual MIM and KCBS.
Q- Which competition style do you prefer MIM or KCBS.
MM- My hearts always with Memphis style MIM it was my first love. I enjoy that. Best of both worlds. Blind plus on site. You have a lot of teams from KCBS now that say MIM is just too expensive. Now don't be telling me that if you are stepping out of your $300- $400000 Motor home. I don't want to hear that shit that's no excuse. Now you have some kcbs teams who used to call it a dog and pony show that have done the duals and they enjoy it with the interaction with the judges.
Q- Have you ever been to Canada?
MM-We went to Whistler. To do that contest. 2007. Dusty's bar and grill. Gorgeous Place. The restaurant, the decor – they spent some serious dollars there. It's the best looking BBQ restaurant I have ever seen. (High praise from Myron)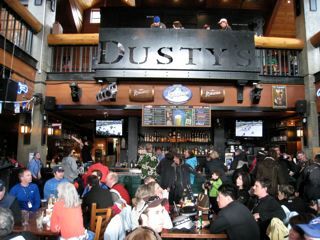 The outside has a steel sign they took and cut the words out. It's pretty damn nice.
Internationally I'd like to go to the WBA out of Switzerland I would love to go do some of those events. Schedule a couple of years ahead and set up. My schedule now is so damn hectic. I wouldn't want to sacrifice my own schools here- it would have to be feasible.
Q-Do your kids plan on continuing your BBQ legacy?
MM- On kid is in college and one in pharmacy school. No interest in continuing my BBQ legacy. Hell No. It's too much hard work. Hell no. I don't want them to have to work this hard.
I really don't want them to. Most kids don't work hard like this. Most kids aint gonna work like this. Like Lexington BBQ up there in North Carolina and they are showing the whole hog BBQ . Its all old folks.
(Myron really took a level of seriousness at this point of the conversation he has so much respect talking about this) Shoveling the coals is unique- it's good BBQ. It's not like it is today where you have to throw a couple of sticks in then you go off and have you a drink of coca cola. That isn't the way it is. It is very tedious. You can over fire it. You can fire up the whole bunch. It's very skilled. But it's very hard. That's why you don't see anybody doing it like that anymore.
Q-Was that a part of the reason that you agreed to do the documentary with John Markus? So there would be a record of your legacy?
MM-That had a lot to do with it. I wanted a record of what my Dad showed me.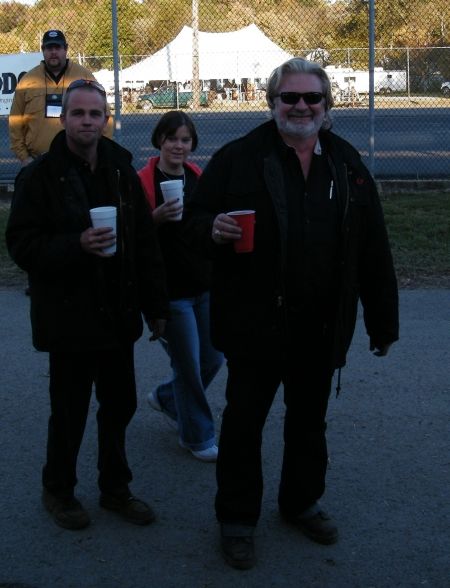 Q- How did you get involved with filming and becoming a cast member for TLC BBQ Pitmasters?
MM-Well John and I were going to hang out at the Harpoon BBQ festival. We had planned it already. This had been a plan of Johns for 3 or 4 years. Since the last Versus show in Reno he had this idea for a BBQ reality show. I was coming up to spend the weekend with John.
Jay Petersen had moved on and hooked up the production company (Original Media) and wanted John to come in and pitch it. He asked if they could shoot some sizzlers reels and would I mind doing some. They sent out a film crew – a camera guy and a producer and I would talk -it just went from there. Then they went off to other cooks and made some more. They made it happen. They made it happen really fast. This was July 2009 and we were filming the first show in Labour Day (Sept 1) pretty darn quick.
These people made their mind up to do it-they didn't play around.
Q-Have you seen any comments about the show …do you care?
I don't give two shits. It is what it is. Raise hell about my damn mouth and all that shit. They need to get real. Ever damn contest you ever been around has some cussing. The thing about it is if they are going to be honest with themselves they could do a lot worse than curse. There are a lot worse things that have happened at a contest. If I can get by and cussing is my worst deal I am happy.
Q-Do you talk to your Momma with that mouth?
MM-Oh I don't talk to my Momma like that with my damn mouth. She would bear down on my ass.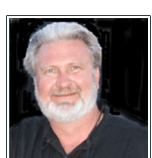 Q-Do you let anyone else touch your competition meat?
MM- As far as the injections and making up stuff I do all of that the pre-prep I do all that. In KCBS I do all of it. In MIM I got some guys that will inject the hogs and shoulders and stuff but they do what I tell them to do. As far as the sauces and everything else (rubs injections) that's strictly me I do every bit of that hands on.
Q-What's you first comp for 2010.
MM-Sebring FLA January FBA
Lakeland (KCBS)
Q-What's your take on garnish ?
MM-I don't feel it's necessary but you have too many teams (that like it) because that is one of their plusses in this game. It aint going anywhere. The damn board members can see that it's not going to happen. You better damn make sure if your meat is not perfect and tastes like crap that you are getting 8 or 9's in appearance. It should be a given. It better look the best it ought to be. Straight out of the gate it better get an 8 or 9.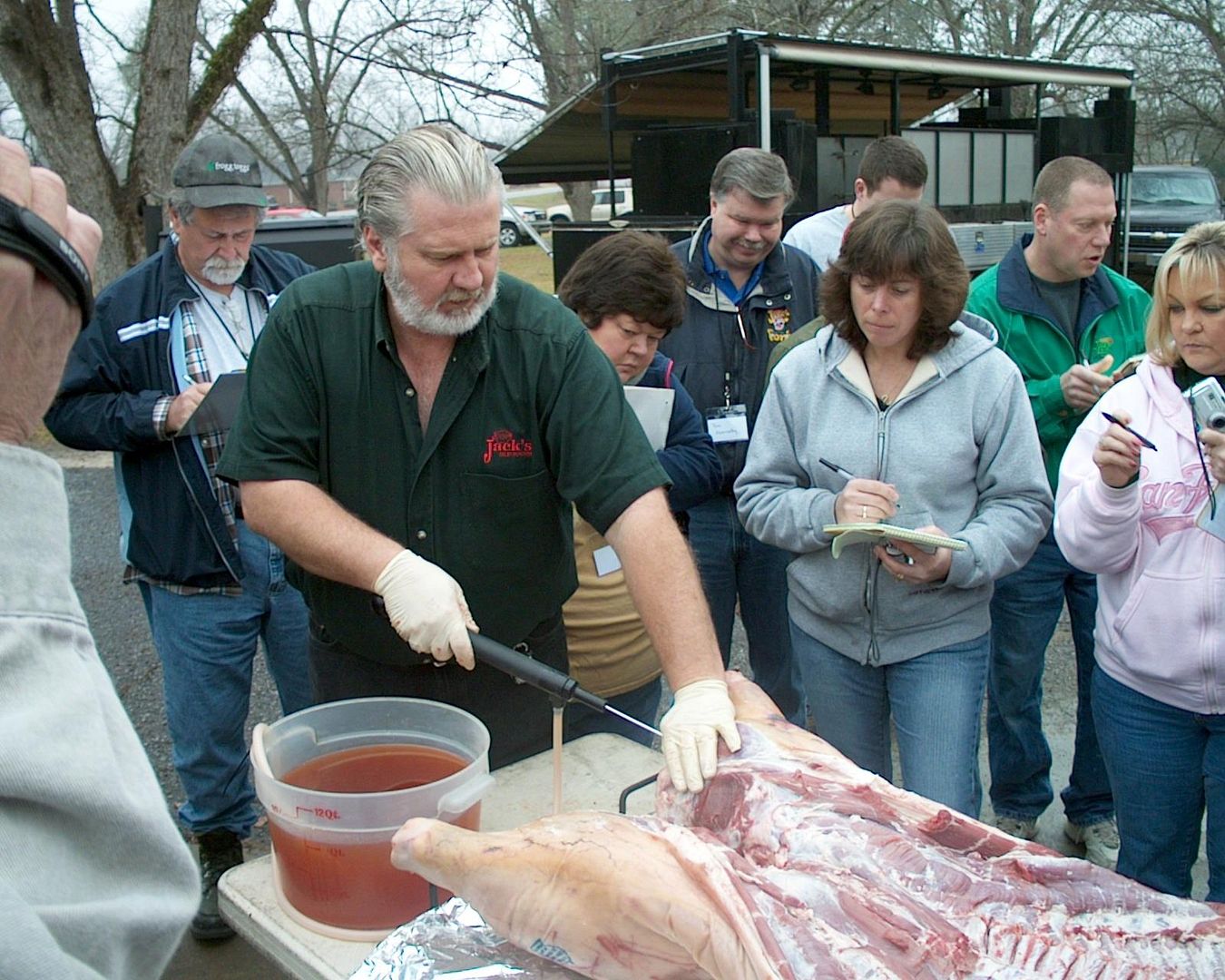 Q- Are you endorsing anyone who is running for the
KCBS
BOD?
MM- I try to stay out of the damn politics. I don't want to be drawn into it. I have enough problems keeping my own ass out of the fire. And with my own mouth. No I would not endorse anyone.
I wouldn't wish that shit on nobody. Not even my enemies it may seem glamorous and fun I was county commissioner for 6 years and I think they go in having these big hopes and plans on how they can change things that don't happen unless you get the rest of them to go along. They are too damn entrenched set in their own personal agendas. That's just the way it is.
Honestly how much has changed since the last time. We are supposed to have all this camaraderie and holding hands singing Kumbaya. It ain't happening. Whatever it is- it's the same thing own personal agendas. It doesn't matter whether it's the boardroom of KCBS or any other organization it's got its own little insights. It could be the same discussion about Coca cola or Colonial bread it's all the same its still infighting. It just happens to be about BBQ.
Q- Favorite BBQ food to to eat.
MM-Brisket. I have been around it so damn long with pork (hogs shoulders) it's still great but I don't want to eat it. Then chicken and BBQ turkey or smoked turkey.
Q- Favorite Drink on the road.
MM-Crown Royal and damn water. If we ever invaded Canada I want to invade the distillery.
2 years ago I was at the Jack we were RGC I was up at the stage and I had had quite a few cause we had had a great weekend vending I wasn't really giving a shit about the contest because win or not i had made some good money . I was hollering and cheering on the asses of the Canadians. Yelling Jack Daniels sucks and long live Canada. I had my blue bag in my hand (crown royal) Now I love the crown. I can spot crown out cause I drink it with water. I don't be mixing it. On ice or water I can tell if its crown.
I need to get Crown Royal to sponsor me. Every crown deserves a King and I am that.
Q- What do you think the biggest misconception about you is?
MM-They think I am a mean son of a bitch or I am arrogant. Which I aint.
Anyone who does this on a week in and out basis anybody has started on winning and peddling their own stuff (shirts rubs etc) have got egos. They are proud of their accomplishments. That's just the tip of the iceberg, In this game if you don't blow your own horn there ain't for damn sure nobody going to do it for you.
I am not a hardass for damn sure, if I was I wouldn't have helped people in the past. I mean anyone in this who says they have not been helped in BBQ is telling a damn lie. I have been helped. If I didn't want to help anyone I would not do the cooking schools I would be keeping it all to myself. But I pass it on it's just not for damn free. I wouldn't knock it if someone wants to give it away for free it's their loss. I mean if the people who are giving it away for free were landscapers I would like them to give it away for free and come landscape my damn yard for free.
This is what I do for a living. It aint free. They need to pay.
I am a big old teddy bear. (chuckling)
When the situation calls for it of course I can be a hardass. I mean everybody watching the show thinking that I am like that all the time- I damn am not. Comments are just that. When you are in the tent you have the pressure in your own site. I was wired for sound and video. The thing is I don't give a shit who heard me or who is hearing me. They aint going to kill me for cussing, and at the end of the day in 100 years who's really going to give a shit.
Q- What's your first memory of cooking with your Daddy?
MM-I didn't want to do it. He was working our asses off me and my brother. I was probably 12 yrs old. He had these two big old fire barrels and you had to keep them filled to get the coals to be able to keep them shoveled hot to fill the pit.
There was as much a job to keep those fire barrels filled as it was to shovel it into the pit and cooking. I remember he was sitting on a 5 gallon bucket (I'll never forget it) and he would walk up (we had tin across the tops of the pits) and run his had (just his hand no probes or thermometers)on the tin and he would tell us to get off our asses get over there and fire those pits.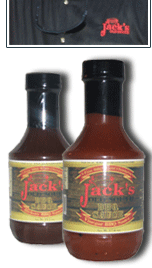 There were 3 big sections. We had to do that every 20 minutes or less. We had steel handles on these shovels and they were hot. 10 ft long sliding into the fire barrel so damn hot -trying to keep yourself from burning. If you got too close you would burn yourself getting all blistered. The heat was generating on ya like something fierce. That was my first impression of it. I didn't want to do it. I wasn't going to do this.
In January 1996 he passed away. Back in March 2009 for the documentary with John Markus we opened them up again. The hadn't been fired since he passed. We cleaned some stuff out and cleaned them up where we could cook on them again. We did a whole hog, 16 rib racks. 16 hams. He always cooked hams Full spareribs. He might of cooked a few hogs but for me I had to try just to see if I could do it.
Q- Are you trying to prove something to your Dads legacy?
MM-Pretty much. My Dad was pretty damn tough on us. People think I am hard they don't have a damn clue. Sometimes come around and ask if Jack is around. I tell them now he aint and you better be damn glad he isn't
He would not tolerate a lot of the shit that goes on in my life right now. I am constantly trying to prove I am as good as he is. I know I aint ever going to be as good. And the things that he did. Like the saying Jack of all trades and Master of none. Well my Daddy was the master of them all of them.
He could do anything he wanted to do. I just wanted to do this one part of his life as well as he did… BBQ. I am never going to profess or proclaim to do all the things he did but I want to do this part of it.
Q- Do you think you would ever come out of his shadow?
MM-Yes I think I can some. One thing about the documentary it was a big part of it. I don't think the connection to my Dad was ever known. I wanted to make sure that was told before I got out of this game if I ever do get out of it. I want to give credit where credit is due and that's my Dad and he got me started. That he was something . I don't think he was out there to cast a shadow. I just want them to know how I got started. What drove me to do this.
Q-Who was the first to call you the Man In black?
MM-Ron M. Sylacauga Alabama contest when I walked up to the stage in 1998
Q- How does your wife Faye feel about it all?
MM-She's fine with it. It's what I do for a living. Now it's at the point where she doesn't come out all the time (with exceptions for the Big Pig Jig, the Jack MIM ) to the other 25 or so I go to. She don't make them. She is so busy at her own job. It's hard but I enjoy it. 1300 miles to me in a day is nothing. Anybody else driving forever hauling a pit wouldn't be good- you have to be a diehard BBQ person to keep going.
Q-How many competitions have you competed in this year?
MM-Close to 30
Q- Whats been your favourite part shooting the TLC BBQ Pitmasters Show?
MM-Getting to know some of the teams better
Other than Paul and Harry I knew everyone else.
Johnny I have gotten to know him the last 3 or 4 years. Johnny doesn't try to be funny but his matter of fact Texas one liners tickled my ass.
Tuffy well I got to know him a lot better – he came to my school- that was funny.
Jamie and Pam Geer of Jambo pits. I really enjoyed and getting to be around him. We have a lot in common both of us selling pits. He is a walking damn clown. Funny as heck with his one liners. This guy doesn't have his own damn writers and he is better than Larry the cable guy. (Chuckling) Jamie just remembers all those one liners. He'd bust your damn gut from laughing so much. He is a good guy. Pam his wife -now she's a damn saint. That's about what I would say about my wife Faye too. She puts up with my Bullshit. Pam does that for Jamie.
Paul Petersen -First time I met him he comes across arrogant. He didn't have a damn clue. At the start you wanted to show him what for. Before the series was over I liked Paul. I kind of felt sorry for him because he was lost in this world. It wasn't what he thought it would be. I don't think coming in DAL helped promote his image it ain't going to do that. I am not making fun of him nor would I pity him. He got much better as it went on. That was good for him long term. Made me feel bad for him (not sorry like pity) but sometimes things just don't work out like you think they would have or planned out. I have been down that road myself. I just from personal experience I knew what he was going through. He has to ride that bull out on his own.
Harry Soo- Sleeper in the damn bunch. He wants to come across as a typical novice. That was a hell of a field in Mesquite. This is a whole helluva lot different deal than California. It's one thing to take 4 1st places in a contest in California with 17 teams (and that was one heck of a feat!) but he wasn't going to do that in Mesquite. It's a lot damn harder.
Pat Burke was my big influence.. Pat Burke was the man to beat. I would go to compete against him You don't get better by competing against teams you know you can beat. You get better by going up against better talent.
Kind of like Harry Soo. Nothing to take away from California. It just hasn't had the time that Tennessee has had and Kansas and Missouri etc and it will come along. The Mecaa of BBQ is where the southern and mid west are -its just the way it is. You have to be able to compete against them. He figured it out. He got better as the series went on.
Q-How much exposure do you think the TLC BBQ Pitmasters series will give to competition BBQ?
MM-Best prop BBQ has ever had. Nothing against the other shows. John Markus didn't want to do another festival show. It's been done to death He didn't do it. His vision was a reality show, the interactions amongst themselves, the family the other teams the crowds the organizers and whatever how it actually works. Being on TLC gets it out there to where people will really see it. People in it know about it of course but on the outside they had their eyes opened up to it.
Q- What's your advice to people wanting to start in competition BBQ?
MM- Do research. Take and utilize the available info -you have to wade through it and do what fits for you.
Guys now listen you don't buy a cooker just because it has a lot of chrome and fiddly things on it. Make sure the damn thing cooks right. Make sure it cooks the way you want it. A lot of time guys will buy something on sight. You put some aluminum on there and some diamond plate and they have to have it. Then, right then, they buy it. It's showy enough for them I guess. If it has a motor in it or a rotisserie on it they damn well be sure getting it. I am also not a fan of hotspots I am not smart enough that I remember to move stuff to each side. They make that mistake.
The internet is a good thing but there is so much information. I think the NBBQA Conference seminars are a good thing this year I'll be there. In 1996 there wasn't as much access to this type of information.
When I started out I worked hard I took 2 -1sts and a third. In my own way I studied the Big Pig Jig and walked through. I paid attention to the teams. If they do their homework and their pre work done before they jump in and buy their pit they will shorten their learning curve and the lack of winning money.
Q-What breaks apart teams?
MM-Teams that don't win is what breaks up teams most time. That leads to other shit backbiting to guessing who the leader is. I am just talking about getting calls not gcs. That makes people disband etc.
Q- In your opinion what makes your pits the best?
MM-You cooking above water each has a water steam effect and tenderizing.
Heat evenly no cold or hot spots. No shuffling around.
I can cook all 4 KCBS meats on one pit.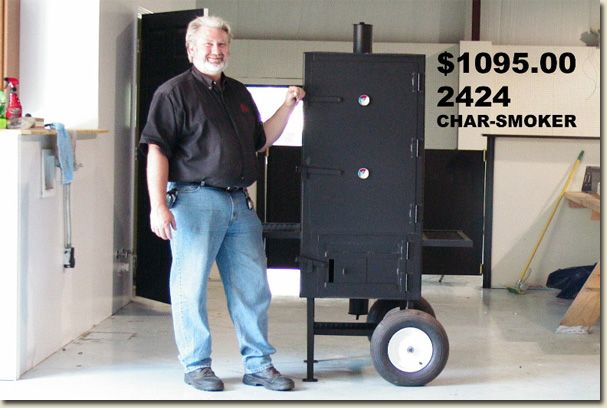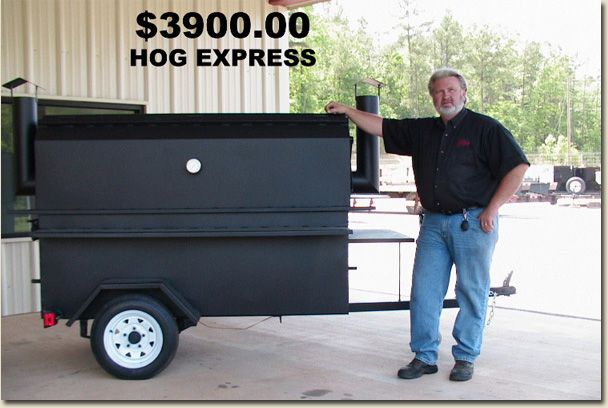 Q-Where are the pits built?
MM-Vienna, Georgia Jim Maxey Fabrication. In 1996 I got my first one that March and I haven't look back. I have never cooked on anything else.
Q- What's your take on Ron Cates announcement Nascar series?
MM-Money man -he is it. I got some in Arkansas (Smoke on the Water 2009 Clinton Presidential Center) and I was glad to get it. (Chuckles LOL)
You know that's the kind of people you need to keep coming up and being innovative because they want to get into organizing. It's no good with cooks sitting around saying you don't have to worry about the money the teams will come anyways. My ass they will. If you have a competition on the same day with $1000 dollar grand and one with a $5000 you go where the money is at .
Ron Cates figured it out early on. He can have his own sanctioning body. He has the money and more.
Q-Does the sanctioning of a competition matter to you whether its
KCBS
,
FBA
,
MIM
or
Cates
?
MM-I would not care as long as the checks are good. His are good. I don't care if it's the kcbs or Ron Cates as long as the money is there. It don't matter to me. BBQ is BBQ. I walk from one to the other FBA Memphis KCBS and if he gets his own sanctioning body I'll go cook it too.
Now here I am speaking to all the KCBS board members from top to bottom they better not be sitting on their asses because of their arrogance if the man right there (Ron Cates) starts his own organization he will put a cramp in their damn style. So they don't need to sit on their asses. They better get used to bending their knees a bit and kissing some asses instead of everyone having to kiss their ass.
Q- What else do you want people to know about you.
MM-I am a matter of fact type of person (understatement) what they see on TV isn't what I am about totally. Anyone who knows me knows it not the case. I would never tell you anything that would hurt you. I see these teams telling new people bad advice to younger teams. I don't know why they do this. To ensure their stature I guess. I would never tell you that. I don't like lying I don't like thieves and I damn well don't like treacherous sons of bitches.
I am not hard to get to know. I may not be as sociable as Tuffy wishing everybody luck like he does. I just don't have time with my schedule. When I roll up to a contest its mid Friday then you are cooking turning in awards then starting back again. I am not stuck up it's just my time schedule doesn't allow me to do that.
The flack I am hearing about the TV show about me is a lot of jealous people I think. I was picked to be on a TV show it just as easily could have been them.They want to sit back on their ass and bitch about why not I. Why not this guy or another. They just didn't get picked.
You should be glad for the ones that did get picked. Be glad mostly for the effects it will have on the whole damn deal- the sales of sauces, pits and rubs and t shirts and everything else. Be glad for it. You are never going to convince all of them. They will bitch about rain if the crops were burning up -no pleasing them all. We need more people to understand that it's good for everyone in BBQ.
Q-Anything new coming out for JOS?
MM-I may be coming out with a new line of muffin tins. (He says chuckling)
Got an email today thought it would be worthwhile to share:
I have just launched a brand new Website! www.thebbqguru.com. Please visit us and take advantage of our holiday promotions! We have 10% off all BBQ sauces and rubs as well as deals on control packages and storages cases and bags!
Thank you and happy holidays from The BBQ Guru!
I know many who use the gurus with great success!!
Here is a video about the BBQ guru on you tube!

Pellet Envy
Team of the Year for 2009 KCBS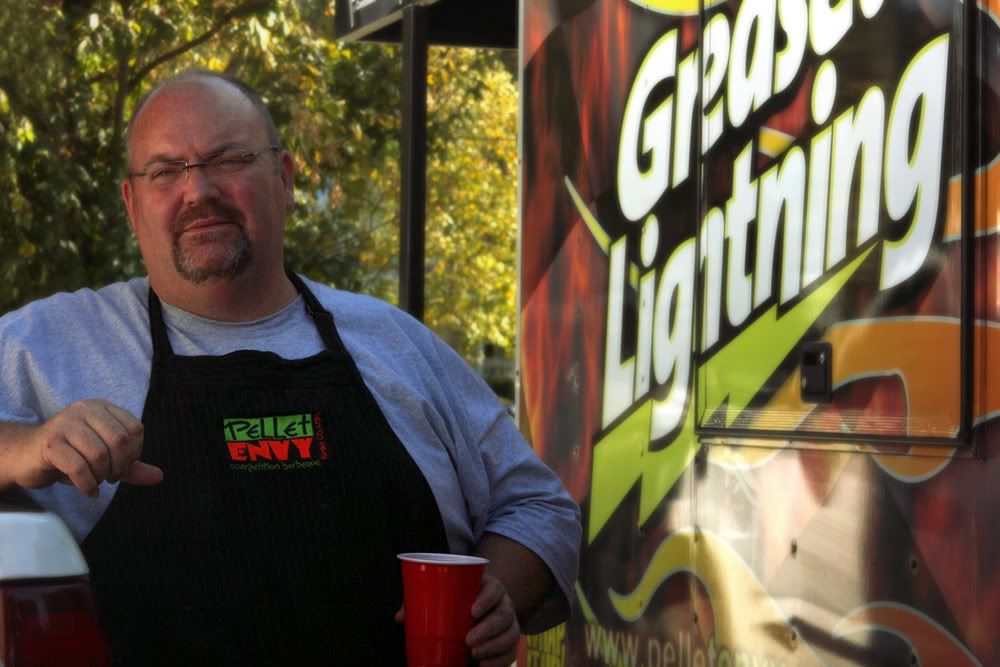 I met
Rod
a few years back now. I had read about him and seen him in action and wanted to learn more. I am one of the over 500 people he has taught along with Johnny Trigg for the
Old School vs. New School BBQ
cooking class. We travelled all the way from Barrie to Illinois for that class. It was worth it.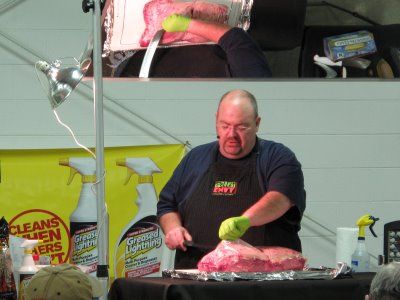 This year was Rod's year. He has just this past weekend been named
KCBS TOY
(Team of the year) in an exciting race to the finish. It was a nail biter for sure. Going down to the very
last competition
in Tempe Arizona- faced with two other teams hot on his heels ISS
I Smell Smoke
and
Smokey D's
. It sounds a bit like a movie.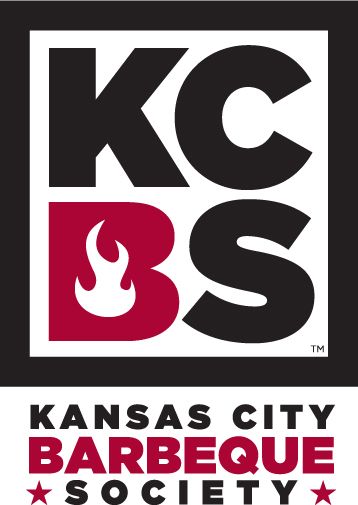 Both pitmasters for those teams are well respected by Rod. He says it could have been either of them to win the TOY.
Rod- "I have a lot of respect for Darren flying in finding his meat and rented vehicles and winning." I have a lot of respect for Steve travelling so much and accomplishing so much. They are both as deserving. I predicted in July that Darren would win it based on what he had done and caught on fire in the summer. As hot as he was I thought he would pull it off. He almost did.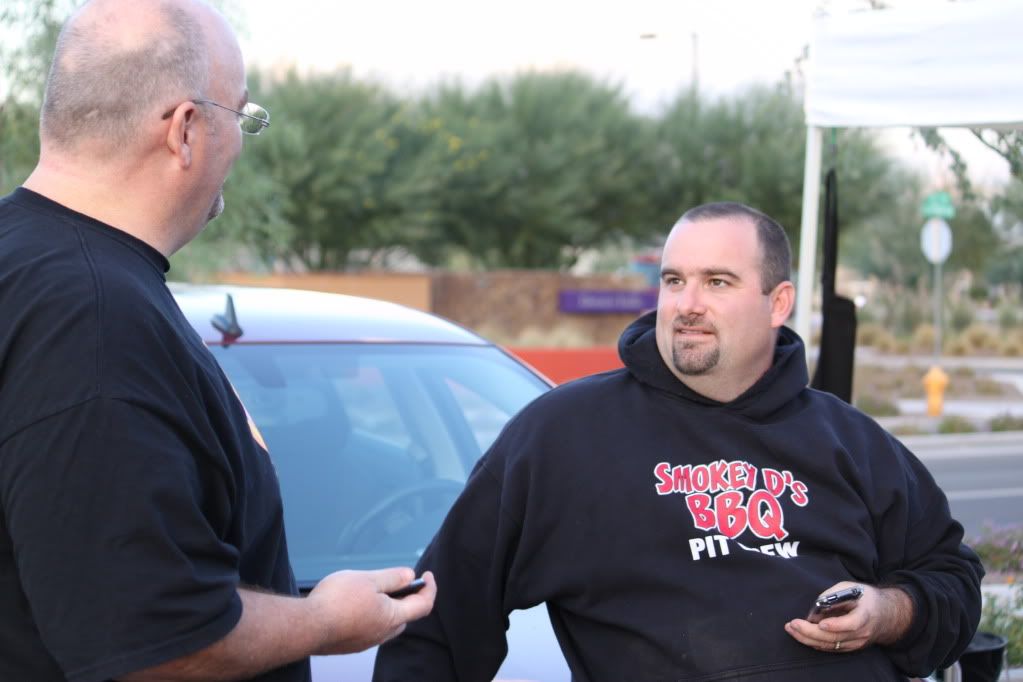 Find more videos like this on BBQ Thom
**Thanks To Thom Emery for allowing me to share his video clip.
His dry sense of humour and wit resonate with anyone who talks with him. I have had the pleasure to have a few BBQ meals in Texas and talks with him outside of the realm of competition. He can make me crack up laughing till I cry with most conversations. His sarcastic comments have on more than one occasion sent me to giggling. However you can have a real serious conversation with him (on some rare occasions) that gives you a small glimpse into the depth of his somewhat guarded character. He can seamlessly go from Rod the friend to Rod the BBQ guy who has some serious sponsors to represent.
He extols the virtues of his beloved wife Sheri. He talks about how much she supports him in his BBQ career. Personally I sort of think of him as a big BBQ brother. He looks out for his friends. He is always encouraging and continuously helpful. He also seems to have the memory of an elephant and can recall a lot of minute details.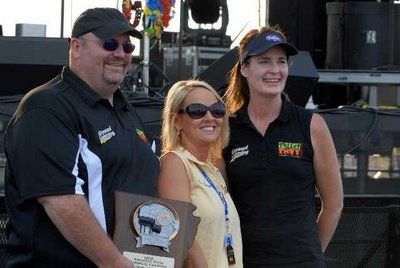 On his own personal plan for healthier living this year he let me know of his goals.
His motto now is there is no time to eat bad food and that he starts every day with breakfast. He recommends a couple of books that are helping him on his path: Eat this not that. One is for the grocery store and ones for those who eat out. I am so proud of him for being open and honest about his struggles. It's not without his own notice that being on the Dr. OZ show was good for the brand of Pellet Envy. He is sharp as a whip. I don't think much could get past him in any situation.
Q- How do you feel now that you have won TOY?
RG- I don't think it has really sunk in yet. I am numb. To be honest. I am tired and still driving home now. I am looking forward to taking some time off. Darren and I were across from each other. Steve was off in his own section. It worked out fine. (Understatement of the year) I think the guys were genuinely happy for me. I am not so sure I could have been as genuine as they were if the situation were reversed. Overall it's a great feeling. It's time for me to recharge and then go back to it.
Q-What's up next for you and Pellet Envy?
RG-I have to get unpacked. ( As we speak Rod is just a couple of hours from home) I have deadlines to get on for the Bullsheet and other things. I have to announce my classes for this year this week. My teaching partner is now a movie star (Captain Parkay – Johnny Trigg) so he can't commit (laughing he says this with some seriousness. I will be doing the classes solo. I have so many irons in the fire. Additionally I would love to take my wife to New York for a few days.
Q- What is your take on the proposed changes to how the TOY is calculated?
RG- You can't track who has sponsors and who doesn't. These are pieces of information impossible to track. It's all total crap. A Tiering system for team of the year is ludicrous. Truly if it aint broke don't fix it.
Q- Who were your major sponsors for the year?
RG- Greased Lightning and BBQ'ers delight. Greased lightening has been signed on for 2010 already. I am really glad to have them on board. Candy makes a great product and Greased Lightning is terrific for cleaning even on clothes. They have been very supportive of me and I am thankful for it.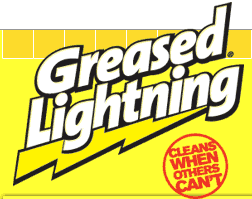 Q-Do you use a muffin pan to cook chicken ala Myron Mixon
RG- Laughing, he says no.
Q-What's you take on garnish. Garnish or no garnish- and proposed changes to the KCBS?
RG-Garnish is what sets KCBS apart from the other sanctioning bodies. It makes it more of a challenge. I believe it should stay the way it is. Garnish may not be my most favourite thing but it adds more difficulty. I think they need to leave it alone.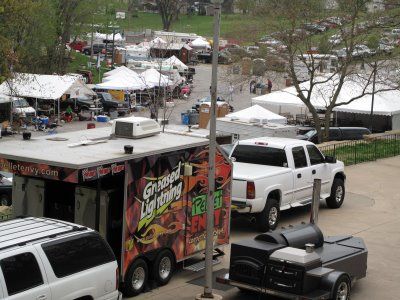 Q- What were your stats (miles comps, states- for the year?)
RG-Miles this year – 40,000 approximately
States – Somewhere in the neighbourhood 33
Competitions- I believe 33 total
Q-When you become TOY (team of the year) what do you do next.
RG-I am going to try to do it again. Take a break but then go back to it. 2010 is going to be a great year for BBQ I know it will be.
Q- Was there any point during the competition season where you felt the pressure >?
RG- The pressure was really on me on the way to Florida. I packed up as soon as I had done brisket and I left. I have never done that before. I had been gone 10 days and it was my anniversary. I won that contest.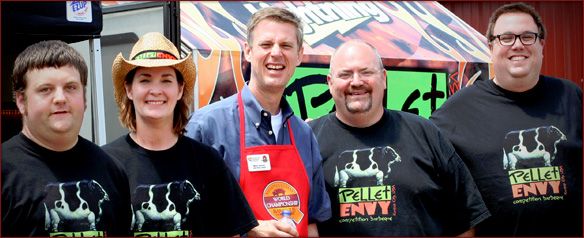 Q- As the most winning person in KCBS -Why are you not a part of the TLC BBQ Pitmasters series?
RG-I don't know the answer. I think they should have taken me.
Q- Are you endorsing any candidates for the BOD for KCBS?
RG- As of today -no. I have not done my research yet.
Q- Why are you not running for KCBS.
RG- I got away from the board in June. It was a difficult decision for me but I needed to get away from it. It's too much minutia. They are micro managing. Looking back to the previous contest is not the answer. The board should focus on the next 5, 10 15 years, of the KCBS and its future. They should be strategic in nature and currently they are not. Every once in a great while, I regret it- when I think of the people that put their trust in me. Ultimately I had to do what is best for me. Ultimately with the rest of the season it validates that I made the right decision to get off the board. It was a great choice for me to move on.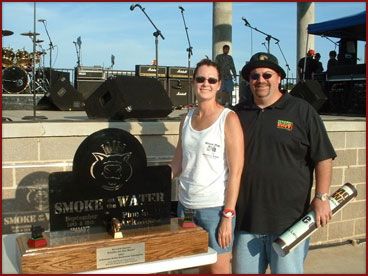 Q-Out of all the other teams besides the two that were on your heels who do you see in 2010 coming up the ranks of the TOY listing>?
RG-Wow. You know no matter what answer I give I will have left some deserving team out of the mix. I'll be disappointed in the answer I give. There are several teams that I think will rise though the ranks.
Q-What's the name of your GPS (I can hear his GPS giving him directions throughout the interview)
RG- I get asked that a lot… I don't really have a name (he chuckles a lot here) sometimes I call her b!tch if she takes me the wrong way.
Q-What's the biggest tip about Competition BBQ you can give people?
RG-Try to undersmoke your meat.
Q-What will be your first contest for 2010
RG- Lakeland Florida.
Q- Anything else you would like to share…………….

***** Exclusive you will read it here for the very first time *****
RG- Ok heres something to tell that I am sure will have an impact – We will be Pellet free in 2010. We will no longer be using pellets or any pellet BBQ's. We have a Geer pit (Jambo Pits) ordered for the back of trailer. I am in love with his pits. I will be returning to Texas to get it mounted. I will be Pellet Envy for 2010 and we will have a new name for 2011. Right now we have narrowed it down to 12 other names.
For the 2009 season I will still teach in 2010 both pellet and on the Jambo Pit. It will be a big challenge to do both but I will do it.

Q-Why are you changing from Pellets to a stick burner (
Jambo Pits
)
RG-It started with wear and tear. As much as I travel the gas is so much less with the Jambo Pit. Then it was my results in 2008 out of 8 contests that I used the Jambo pit contests 6 were won with the Jambo Pit. Then this year (2009) out of 8 contests where I used the Jambo pit I had a total of 7 wins. This gives me a new set of challenges it makes competition BBQ more interesting. Cooking on the Geer is now a challenge. It has brought me back to raising my level of focus and concentration in a contest.
*Note Rod had a bit of nervous laughter when reporting this and he admitted as so. This is a big deal to him and its news for the BBQ world. I really thank him for allowing us to share his announcement. This is going to be a huge step for Rod. I wish him all the very best with his new direction.
****
Jamie Geer tells me that the pit will be exactly the same size as the one he currently uses. Rod doesn't want to change a thing he wants it to be identical. The firebox has already been fabricated. It will be ready in time for Lakeland Florida.