I have to do this comp. Amy has told me two years now to go. I really need to make it out there.
Great family great comp. Fun times. If you are in the area (heck even if you are not) GO.
Last year while attending the Home Hardware show I walked by a really nice display of planks. I enjoy planking. Its fun. I like to infuse food whatever it my be – mashed potatoes, salmon, shrimp etc etc. So I though I would share my favorite brand. The company is Montana Grilling Gear. Their president for the Canadian Distribution is Masoud Mafi. He is a great guy and always on the look out for great BBQ products.
I love the cross cut grilling planks. They make a terrific presentation and are full of wonderful flavours
Here are some pics of their planks.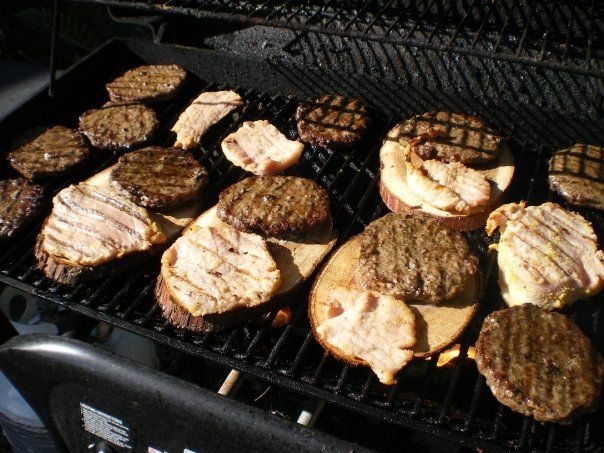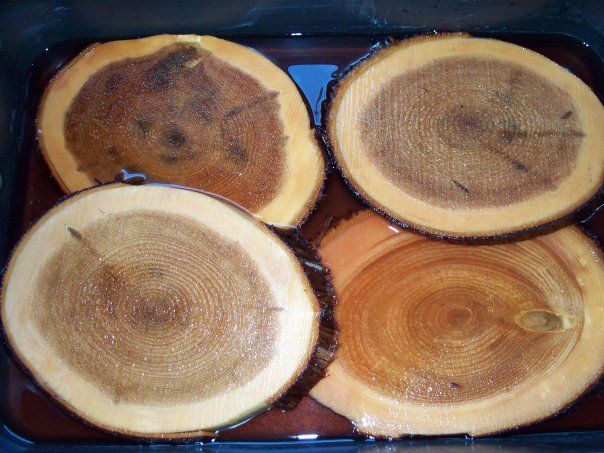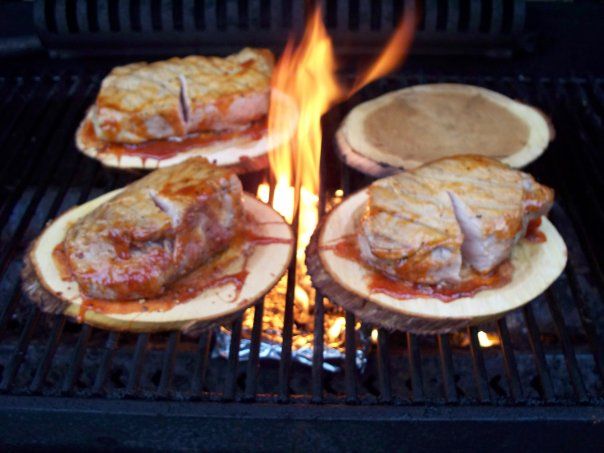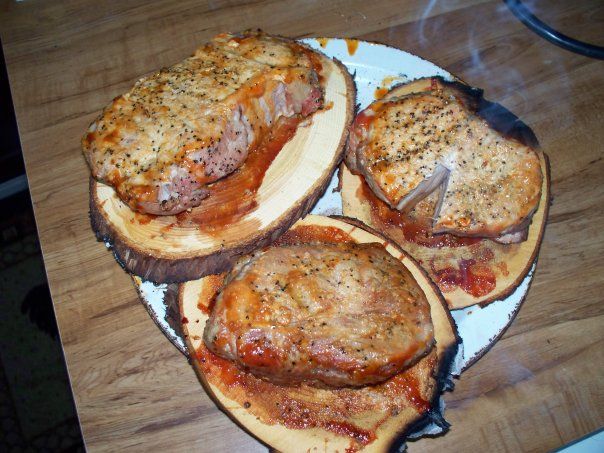 Also a favorite recipe of mine:
20 large shrimp,(16/20 or higher) peeled and deveined
20 slices bacon (I have used maple cured, hickory smoked)
1/4 cup gorgonzola cheese crumbled
1 pkg cream cheese
2 tsp cajun BBQ rub
*please note if not using a Traeger you will need to soak your plank in water submerged for at least an hour before grill time
Directions
1. Preheat grill for medium heat.
2. Mix Cheeses together.
3. Take a tablespoon of cheese mixture and spread on back of shrimp and wrap in bacon. Secure with toothpick if necessary.
4. Sprinkle all of the shrimp with the cajun rub
3. Arrange shrimp on a sugar maple cross cut plank(s) , place on grill rack. Cook for 15 to 20 minutes, turning once.
Was listening to the BBQ Central Show tonight and heard a mention of a new website from Ray Lampe. I am a fan of Rays as he was one of the first guys who was really supportive of Diva Q!
This new website is sure to be a success. Its going to become a terrific resource for recipes and it has a great forum as well. I encourage all of you BBQ foodies to sign up and post your recipes.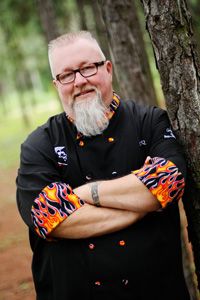 WWW.Firecooker.com
Well this is going to be quick update to the blog for sure! I am currently doing a 3 day Traeger demo at the Home Hardware show in St. Jacobs. I am beyond busy.
Back to the comp:
WE arrived in St. Thomas. The site was well laid out. Volunteers everywhere. Ice on site. (They need a couple more porta potties) and overall a really well organized comp. Lots and lots of opportunities for the future for sure. I really enjoyed our neighbours BBQ Effect and especially seeing Jean Claude Bacle from Basques Charcoal.
Everything went smoothly. I was terrified. Any time we have had a night where everything has gone smoothly and I liked all the boxes we have bombed. However we did it. We finally got anther GC in Canada. Team Can't Stop Grilling took the RGC and it was a reallllly close race to the win for us. Very exciting to have it come down to the wire. Super sweet.
Overall

1st in Anything Butt – Chefs Choice

1st in Pork (woot this was a really high score too!)

2nd in Ribs

3rd in Brisket

3rd in Chicken

GRAND CHAMPION
This was especially a great win as it gave us something we really wanted an Invite to the Americal Royal for 2010.
Our daughters Lexi and Ella were also with us. That was a wonderful thing to share with them. They are our princesses and we are blessed.
Our son Gabe as he is 3 yrs old stays with the Inlaws and he was spoilt rotten all week so he was happy too!
It was a wonderful weekend. I was thrilled to see the Canadian Teams come out and Good Smoke BBQ from the USA.
BIG COngratulations to Can't Stop Grilling for the RGC.
Overall it was a great relief to know we can still win in Canada.
MANY MANY MANY Thanks to our Sponsors for their ongoing support:
Traeger Canada
Hovey's Gourmet Meats
Big Rock Brewery (I am seriously lovin the grasshopper!)
Basques Charcoal
Alcan (Novelis)
But above all once again we would like to sincerely thank our families and friends for their love and support. God Bless you all. We would not be able to do this without you.
Here are some videos that were shot from last weekends competition in Category
Brian Misko – House of Q (Kissing a pig and lying about Gatorade LOL)
Jim Williams – Pigsicle (seriously these guys have the most expensive comp shirts I have ever seen)
talking about his new $30,000 pit. Its a bit of bling for sure. (On a personal note though you don't have to spend $30,000 to make good Q thats for sure I have seen and eaten some of the best Q out of a UDS and garbage can smoker)
Alberta Pork – Chef Justin Chatlain We were given some terrific pork tenderloins that were incredible! Put Pork on your fork!

Grilling Vegetables – Nanthan Brock
Vegetables are great on the grill for sure!
Chefs Challenge – Anything butt preparation Grillers in the Mist, Sean Lynn
Caprese salad & Avocado multi color tomato, couscous, chilean sea bass with prosciutto, saffron pine nut couscous, butterscotch upside down apple cake – WOW
Day 1
Well we have arrived and have been enjoying the last couple of days in Calgary.
What a gorgeous city this is. Full of terrific friendly people and a welcoming atmosphere. Got a bit of shopping done on my first day as our flight arrived really early in the morning . Overall the downtown core is one of the nicest I have ever seen. This is a great walking and biking city as well. Exploring the downtown core we saw lots of incredible artwork.
Our hotel here is literally 100ft from our comp site. Now think about that for a minute. WE are so close to our suite that our typical 3 hour nap on a military cot will now be in a nicely appointed hotel room with a comfy duvet and good pillows. * Sigh* I think I could very well get spoiled during this competition.
Our first night proceeded with meeting up with some teams we just adore. Prairie Smoke & Spice, Completely Q Less and House of Q. We all enjoyed a nice meal and well I wont deny it a heck of a lot of alcohol was consumed at a downtown bar. I did however introduce the Western teams to my favourite shot – Chocolate Cake (I have Rich from Lost Smoke Nation and Kenny from Dizzy Pig to thank for introducing this shot to me at Oinktoberfest a few years ago)
Chocolate Cake Shot Recipe
1 part Grey Goose
1 part Frangelico
Sugared lemon slices.
Suck on the lemon take the shot and you would swear you have just eaten a slice of chocolate cake.
Angie Quaale from Completely Q-Less and owner of the incredible store Well Seasoned (www.wellseasoned.ca) and I did manage to also close an additional pub as well that night. Lets just say we will keep the rest of the night to ourselves. Good Times. Great friends.
Day 2/3
The competition is pretty fierce out here. They run by PNWBA rules. They have an agreement with the KCBS and they have got their crap together out here. The contest is very well organized. This is probably the easiest competition we have ever flown in to. The tents tables and chairs are all provided by the city of Calgary so that's a relief to us. Our hockey bag and cooler full of meat (Gotta bring my HOVEYS gourmet meats!!) all came through customs no problem so we are good to go here. So many friends here that everything we need is right at our doorstop so to speak. Angie ran me all over town to stock up on supplies even so no car rental required either.
We had lots of opportunities to talk with teams. Had the best chowder EVER from Pigasaurus Morley. Wo w. Still craving more. Saw pigsicles new giant pit. Its nice looking. Saw 4 incredible BBQ's though. They are hydrogen tanks that have been converted to cabinets. Really neat idea. Great execution .
My big meats went on without a hitch – huge thanks to Gene from Western Air Fireplace & BBQs who is providing all of our BBQ's this weekend. We are thrilled to be using 3 Traegers this comp. In addition we are blessed to be in the hometown of our Beer sponsor BIG Rock. Tom Stuart made sure we were adequately stocked on lime and also my personal favourite Grasshoppper. Its all good.
My boxes were done ahead of time no problems there either. I went off for my 3 hour nap and stared at the ceiling for an hour. LOL that comfy cushy nap was apparently too much for me to handle. Whereas if I had my military cot I would have been passed out in seconds. Go figure.
So now as I sit here we are at 6:30 am the birds just woke up and Ill be pulling a few things off shortly. I am so close the hotel that I have my laptop on site and I am tapping into their WIFI from the parking lot. Seriously. I am spoiled here as well – my all time favourite coffee kicking horse is in abundance. Life is good. BBQ people rock.
Off to take care of meat.
Final Day:
Well it was a great contest and I had a lot of fun with my husband Vlado and the many terrific teams. We didn't do as well overall as we had hoped for but we did get to see our friends Jacy and Rob from Prairie Smoke n Spice get another GC. They are truly a terrific couple and we were thrilled for them. In addition we saw other friends House of Q and completely Q less take walks.
We were thrilled however on receiving a 1st in brisket. This year has been brutal for us in the brisket category and this was nice especially since we were in Alberta of all places. It really did pay off to bring our Ribs and brisket from Hovey's Gourmet meats in Barrie all the way to Calgary. They are the only two categories we got calls in.
Additionally as usual the comment cards were odd. One comment card said the pork was lovely great color tender and juicy another said the pork was dry and tough and too salty all of our comment cards were this way. Ugh Seriouslty. Not good.
Overall we came in 4th (1st brisket, 3rd ribs, 13th chicken 14th pork)
It is what it is.
We wish all out Western BbQ friends all the very best at the Langley BC competition this weekend. It is being run by Angie and Dennis Quaale from www.wellseasoned.ca and team COmpletely Q-less
This weekend we are off to St. Thomas Ontario for the Canadian Southern BBQ Championships – sadly they are 2 teams short of a Jack Qualifier. Seriously this is not good at all for any of the teams going. After that we are off to St. Jacobs area for the 3 day Fall Home Hardware show with Traeger Canada. ITs going to be an insane week of packing and BBQing in preparation.
Here are pictures from the Calgary trip:
CAlgary BBQ on the Bow
Once again many thanks to our trip sponsors Traeger Canada, Hovey's Gourmet meats and BIg Rock Brewery (Much appreciation to Tom Stuart to make sure we were adequately stocked!)
The Ottawa Folk festival is a blast for sure. What a great event and venue to have Big Rock Brewery and Traeger Canada participate in.
We arrived on Friday to a really festive atmosphere. We did have a bit of rain but it did not last. THere was music in the air and a real grass roots environment. Loved seeing all of the Big Rock signs everywhere. Plus who can resist a cold glass of Grasshopper.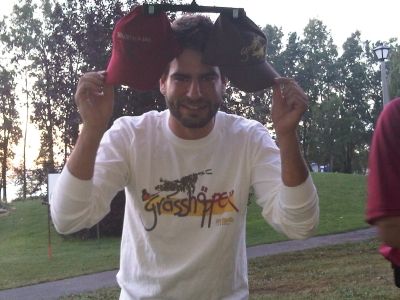 I will admit I certainly indulged in a few of those and of course their to die for Cider over the course of the weekend. The Traegers were set up and I started BBQing a lot of tasty morsels and grilling some vegetables and pineapple for the Vegan set. There were a lot of vegans and vegetarians at this event and I really wanted to be inclusive for all the attendants in our food selections.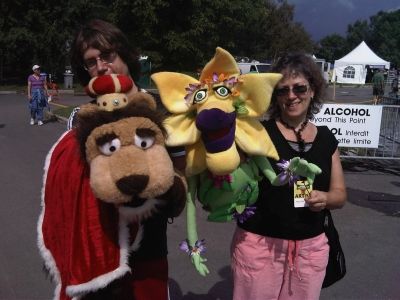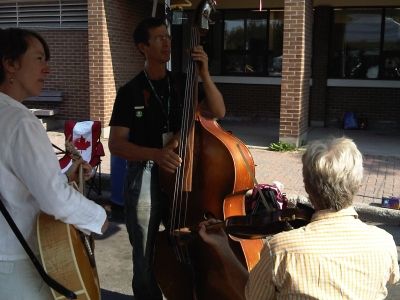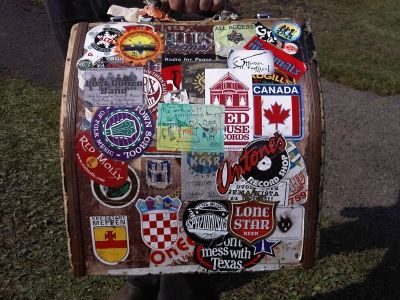 One of the highlights for me over the course of the weekend was spending time with
Ron Eade
. He is a terrific food writer for the Ottawa Citizen and his own terrific
blog
. He is though a 100% absolute foodie first and foremost. I love chatting with him about food and his thoughts on different trends restaurants and anything in general.
I was blessed this morning to receive a copy of a really complimentary article he wrote on the
event.
We had a blast for 3 days and got to listen to some fine musice from Bruce Cockburn, Joel Plaskett, Steven Paige the Good Lovelies and so many many more.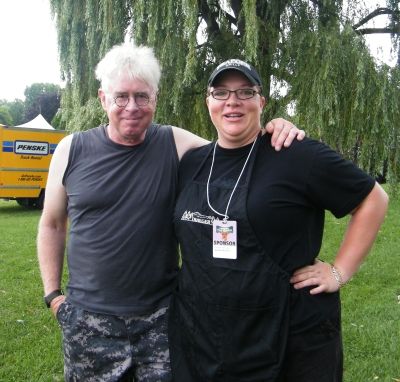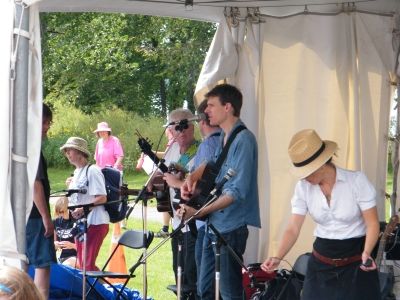 Whenever we had a chance we enjoyed the atmosphere. I even had a chance to see a complete Authentic Japanese tea ceremony. I learned a lot from this beautiful ceremony. THe ladies were so incredibly elegant in their movements.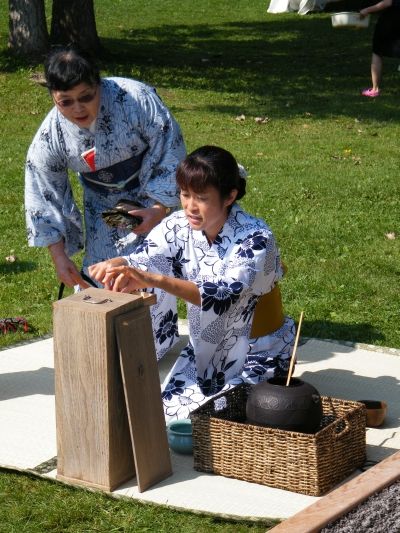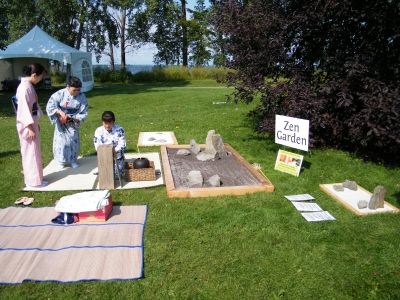 Everywhere people were enjoying
Big Rock Brews
. It was great. Additionally all of the cups were carefully sorted out as they were from a special biodegradeable material. There is so much packed into this festival that it is family friendly and all age appropriate. The weather ended up being really hot and humid – perfect beer drinking weather!
My weekend was a memorable one for sure. Getting to meet so many terrific and interesting people, enjoying the Big Rock line of beers and BBQing and grilling on the Traegers made it just about perfect in my books.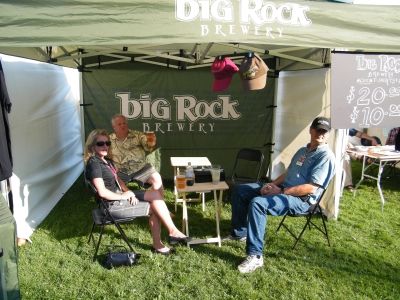 Lots more pictures here.
Well we took off last week and went camping had a great time and BBQ'ed everyday. However due to some technical camera picture problems not much to share.
Here is however a blog post written for www.bbqaddicts.com
BBQ in Canada
To talk about traditional low & slow BBQ most people would assume that it ends just at the Canada US border. However the Canadian Competitive BBQ scene though is alive and well. From coast to coast Canadians are putting their own unique spin on traditional low and slow style of BBQ.
One of biggest drawbacks is the lack of a universal Canadian Association. There is the Western Canadian BBQ Association which runs with an agreement with the Pacific North West BBQ Association (PNWBA) under agreement with the Kansas City BBQ Society KCBS. In the East there are no associations right now (The Canadian BBQ Association –CBA now defunct) and most competitions are run independently. There is a challenge in making sure you have the right times and turn in orders as they vary depending on where you are. This just covers the organizations though and certainly not the food itself.
Canada and its BBQ is a melting pot. There are some regional differences like the US but not as much as a difference as a tweaking from province to province. I have yet to find any team up here who uses a vinegar based or Alabama white sauce in their turn ins. At least none who admitted it. What I have found though is that Canadians overall still like their sweet. This includes brisket which I have now seen chopped pulled and shredded for turn ins. The underlying message seems to be anything goes as long as it tastes good. The love of pot-roast brisket still irks me though for sure. I prefer a Texas style brisket straight up but it doesn't do so well in Canada.
Canadians are much more apt to be out there with a smile on their face and a beer in hand in -25 degree weather. Snow acts as a great insulator as many of us know up here that BBQ all year round. There is still the intermingling of BBQ and grill as terms but as long as we are cooking something the wording doesn't mean much. BBQ is slowly starting to appear up here on our restaurants as well. We don't have BBQ joints on every corner like they do in the US. I doubt you would be able to find any family of BBQ'ers that goes back more than 2 generations or brick pits. However what you do get from us is a whole lotta passion and love of the food that is BBQ. Canadians overall just seem to have to travel a lot more to get it.
Many of the restaurants that are now putting out BBQ are using Fast Eddy's or Southern Prides. Heck even Fast Eddy's new pellet grill is being made in Alberta by the Danson company. Traeger Canada has an east and west location as well. It's growing. Slowly but surely it is growing. I can with pride say that the largest BBQ store in the world is located in Canada. www.bbqs.com has the ultimate collection for any BBQ'ers when it comes to grills and accessories.
Our charcoal is also rated some of the best in the world. For example our Natures Own Basques all natural lump is made from hardwood sugar maple trees. This is made in Quebec. Having tried many other lump charcoals I have to agree it's one of the best on the market for sure. In fact this lump happens to be one that many of the top rated restaurants in Canada and the US use because of its density, longevity, heat and overall pleasing flavour profile.
There are some drawbacks for Canadians who like to BBQ. The accessibility of many of the rubs spices and injections is an ongoing pain in the butt. The expense of getting them through customs and the additionally brokerage fees levied by those men in little brown outfits can be outrageous. I am lucky to have some friends in the Northern states that I ship to regularly. I love to experiment and try out new things and thankfully they don't mind being my shipping depot.
We have challenges in regards to the accessibility to more competitions. Right now there are less that 20 competitions from coast to coast that include the 4 meats. That means travel and lots of it. Often it is a lot more economical to travel south to the US to compete that it is to travel across Canada. Lucky for us -that we can – and have travelled to many competitions south of the border.
There is one universal truth for BBQ'ers though. No matter if you are in Saskatoon Saskatchewan, Louisa Virginia, Austin Texas, or Toronto Ontario BBQ people are the best type of people in the world. They are willing to give you anything if you forgot something. They will do anything to help you get to a competition. They will feed you and supply you with beer (I will admit Canada has much much better beer though) and at the end of the weekend you will have a friend for life. That is real BBQ not so much about the food but about the passion and the people behind the BBQ.
The competition set up went well although the total team count was low. I had a few bumps along the way. I was well aided this weekend by the very competent sidekick Kathy from Traeger. She really did an outstanding job of taking care of me on site. I was also spoiled rotten by the entire Traeger team of Don Derek and also Wendy wife of Terry Busa. I never wanted for anything the entire weekend. Coffee was delivered regularly and I even had a terrific trailer to work out of (Thanks Don!!). Beer was even delivered by Big Rock Brewery. Additionally I will say that Angie Quaale the head judge probably was surprised at the level of pain in the a$$ I could be LOL>
I say this with a whole lot of humour as I knew things were just going way too well. I had just about finished all my prep and was doing some last minute chicken trimming when *ack* I sliced my finger. Not just any slice I mean one of those get your butt to the hospital sort of slices. Now. This posed quite a problem. My glove filled up with blood. The cut was right on the knuckle and I knew it was really really deep. I sure felt like a complete fool standing there with blood dripping everywhere. Well Kathy and I wrapped it up as best we could and I finished up a couple of things debating what to do next. Looking for a non existent first aid kit I sent Kathy to one of the teams to get one. She came back and Angie came back in with the first aid kit. I knew Angie would really know how bad it was. I think the first thing out of her mouth was you need to get to a hospital.
Negotiations then commenced. LOL In the end I did have to go. I would like to thank the staff at St. Pauls and Wendy who knew the best place to get seen quickly. So in came Dr. Iverson who said yes it needs to get stitched but you will need a splint or some sort of light cast to keep it straight. Then there was my answer. No. I can't get a glove on if you do that. Then I explained to him why I was there etc etc. I really did not have time to be in a hospital. Thankfully Dr. Iverson is a HUGE food network fan and really understood the importance of timing. So off I went back to the site (all within 40 minutes!!!) loaded up with enough gauze and steri strips to support a small town and the promise to return to get stitches when done (um sort of not really forgot to do this part)
The traegers hummed along all night just fine. It was time to do some visiting. Off to the teams made a few rounds then settled in with the crew at Prairie Smoke and Spice. Good People. Great conversation. This is the type of team that is warm funny and just generally great people.
Then it was cake time. God Bless these people. Angie grilled up some angel food cake. Then it was layered with a whole lot of whipped cream and berries. Yum. Divine. I have done this before with pound cake but never angel food cake. One to try again for sure.
I managed to get a few hours of sleep. The turn ins went just fine and we had a great time doing the chefs choice. Kathy did an outstanding job making sure everything got there on time.
And in the end we came up just a little short. Taking reserve Grand champion – 1st in pork 2nd in ribs, 4th in brisket and chicken and 1st in Chefs choice. I could not be disappointed though losing to Prairie Smoke and Spice getting the GC! . Good things happen to good people.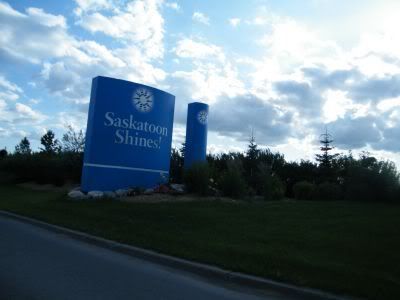 There must be something in the water here. Everywhere I have been in Saskatoon people are nice. I mean Mayberry sort of nice. (ok other than the one hotel clerk guy who was really a smug twit when they had no coffee at 5 am- I don't think he understood how much danger his life was in at that moment) The city is really lovely. A city of bridges. Lots of beautiful architecture and churches. There are no real high rises here. I was shocked when we took a tour of the city and we were in the downtown core and there were lots of trees and open spaces. The population here is well over 200,000 but it feels like a small town.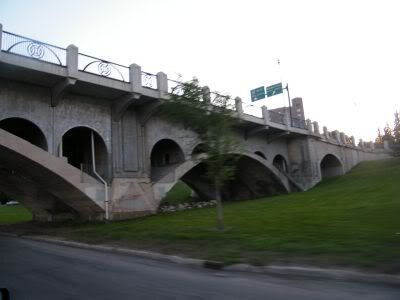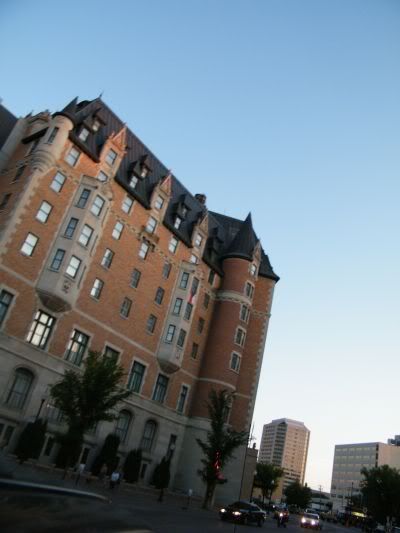 When I arrived I was out of the airport and into Terry Busa's (Owner
Traeger Canada
West) vehicle in less than 5 minutes. I would really like to thank the lovely lady at the Air Canada Counter who made my bags priority and also labeled my meats fragile. They came off the plane first. I have never moved out of an airport that fast.
Terry and his wife Wendy were gracious hosts and we took a tour of the city and headed out for dinner at their local Chinese place. They are really nice people and I genuinely like spending time with them. Wendy has recently "retired" after a 33 year career as a School principal. She is the busiest retired lady I have ever met. She has many projects on the go including a newly acquired cottage renovation.
In the Morning I was greeted at my hotel by Rick from Premium spas and billiards who is one of Traeger West's best dealers. He is literally a very cool guy. He looks like a hippie and is rocking his own really personal sense of style. From the shoes to the hair he has got his look down pat. Behind his style is a really super smart intelligent guy – it's easy to understand why he is one of Traegers best dealers. He really understands the connection of repetitive business and customer service. He took me to the two radio stations where I had to do some interviews all about BBQ and Traegers and Premium Spas and Billiards.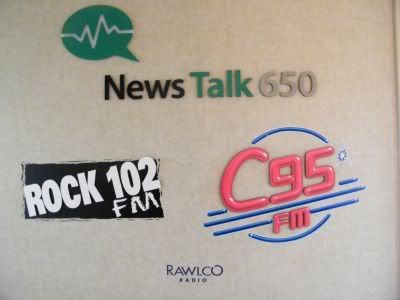 The first radio station was C95. Now I have to tell you that since I have arrived here I have been listening to this station nonstop. It has a terrific mix of music. The mix of Rob Shauna and Dave is really good – they have great chemistry working the show. Enjoyed the interview and I believe I only said um a couple of times. LOL Gotta work on that. Dave already has a
Traeger
and he is really passionate about it. Made for an easy interview for sure.
The next up was Rock 102 with Chad McDonald. Fun interview, easy to do. Rick and Chad enjoy a lot of Saskatoon's music scene. This is the guy to call to find out where and when anything would be happening! Fun times.
Rick then took me to Premium Spas and Billiards to check out the store. Fantastic store. Great layout, lots and lots of traffic as it is on a really busy city corner. Good exposure for sure. They are also the designated Saskatchewan Roughriders merchandise store. This provides a lot of foot traffic as well.
Then we headed over to the Traeger Warehouse so I could meet Kathy, their office manager, pick up some supplies, and see the guys, Derek and Don, whom I have had a few fun food adventures with in the past.
The Warehouse is really well organized and it is at a good location. After a bit of chatting I needed to find some stuff for the comp.
Team Prairie Smoke (thanks ROB!!!!) is bringing in my butts, however, I still needed to find chicken. Wendy was my designated chauffeur for the day. Off to Costco and Sobeys and I had everything I needed. Gracious was a word I used earlier to describe my hosts. That really doesn't cover it. They are terrific people.
Back at the hotel I took a nice relaxing lunch and read a bit. It was a good bit of down time for me. Took a nap. Seriously how great it that) I am working on Central time here. I didn't think 2 hours would affect me but it does. Woke up late but with just enough time to get ready for dinner. Was working a fierce pair of stilettos. I miss my stilettos. Crocs sometimes don't exactly convey the Diva within LOL.
Dinner was fantastic. There were 8 of us all total. Charlie and Marge, Don and his wife Charlene, Wendy, Terry, Kathy and I. A whole table of Traeger people in some part LOL. The dinner was a great meal (Alexander's Restaurant) and we sat on the patio. It was a perfect night. Great people and great conversation – we all laughed a lot. Not a cloud in the sky and not too windy – just great. Had a simple pasta and salad with a couple of drinks, one of which is called broken down golf cart? I would drink that again.
We stopped at Shreyers BBQ on the way out for the evening. We were to have drinks there but sadly they had no beer. No beer? BBQ joint with no beer. Out of beer. Seriously. OMG.
They run with Traeger 200′s and a Fast Eddy. They even have a small cabinet Bradley smoker. But no beer. Hard to support them with no beer. Did I mention they had NO beer. None, nada, zip, zilch – dry as the Sahara.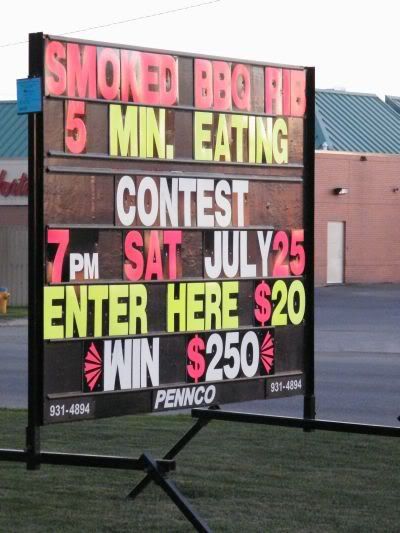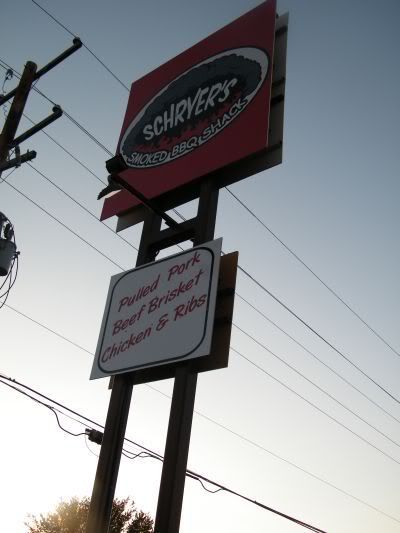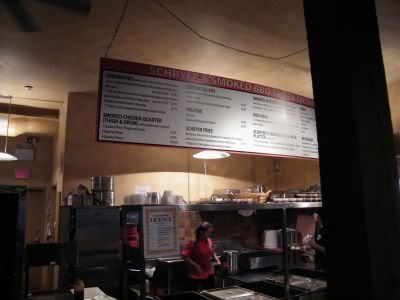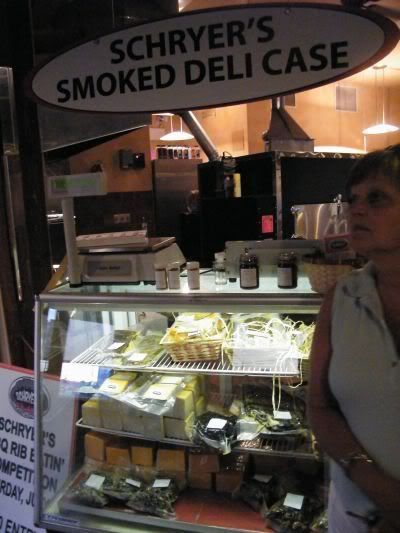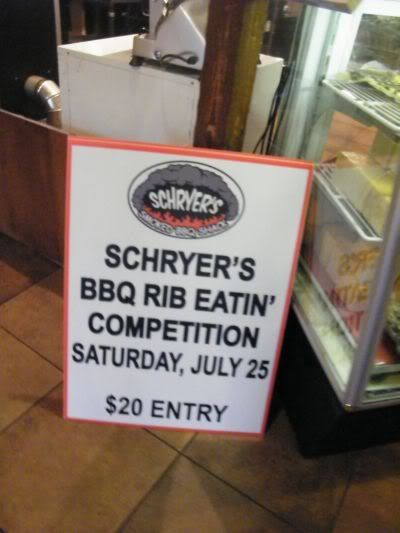 Off from there we headed to a bar to meet up some of the BBQ competitors that had come. Got to meet
Prairie Fire BBQ
,
Prairie Smoke & Spice
(Rob and his lovely wife- congrats on the recent GC!!) and
Angie Quaale from wellseasoned.ca
who is the head judge for the weekend. I know I am missing some names and I apologize but at that point in the night I had 3 drinks and that was well enough.
Came back to the hotel and trimmed up chicken. Got it all prepped for today. Ugh. I feel like I should once again apologize to the hotel staff. That is one disgusting garbage can. Raided 3 floors of the hotel for ice I needed for the cooler. I felt like a stealth ice stealer LOL. Normally I would just go out and buy a few bags but with no vehicle my options are limited.
Today I am off first of all to do a BBQ Demo at Premium Spas & Billiards till about 3pm then I am off to the first Annual Smoke on the Water Saskatoon competition. They are setting up the Traegers and a Trailer that Don has generously lent me for the weekend. I am really grateful for the trailer as it is expected to reach 32C here today and I am really going to want that A/C. I am so spoiled out here. Love it.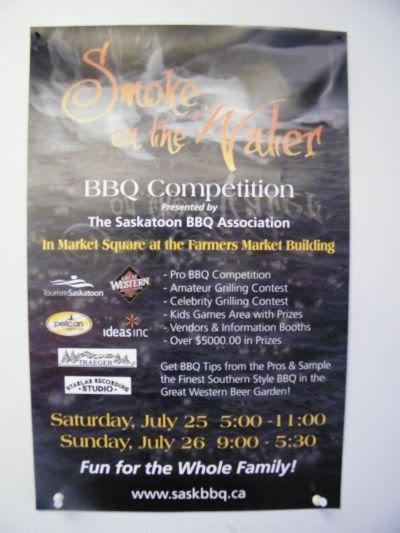 On a completely personal note. Today would have been my Mom's 64th birthday. I miss her much and wish she was here to experience it all. She was a fierce strong woman. I just miss her terribly. It will be 2 years in August since she passed and not a day goes by that I do not think of her. Love you Miss you wish you were here Mom.