I have had the pleasure of using this rub and BBQ sauce on a few occasions. I just wanted to share with everyone how great I think they are. This past weekend I had a catering job for 50 people. All of the rub and sauce on the ribs (15 racks) were Full throttle. All of the people raved about how tasty they were.
While I know this may sound like a shameless plug I think it is important to support those products that we all use regularly. I met Paul Yesersky a couple of years ago. HE is an avid competitor and an all around great guy to chat BBQ with. He is also a huge Motorcycle fan.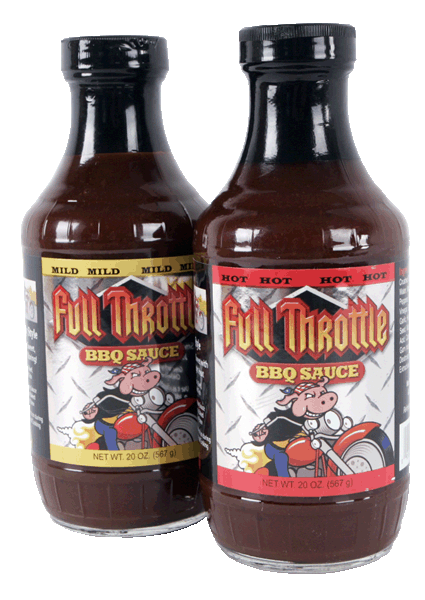 For the ribs I used the Hog Rub and their Mild sauce. Started with the 15 racks meat side down – rubbed them generously then flipped em over and rubbed the meat side. These were smoked lo & slow for 5 hours using hickory pellets in our Traegers. We glazed them when we arrived on site and brought them back up to temp. They were tasty. Not too spicy. The rub and sauce are a beautiful compliment to each other.
Its a rare evening when we can go out with some dear friends in the city without the kids. Our restaurant of choice rarely changes. We like On the Curve. a LOT.
I have had more get togethers in this restaurant that any other. I had my bachelorette (many years ago) evening of debauchery here as well. It is no surprise to me that this restaurant has received many awards for their food, drinks and club.There were 6 of us this evening for our getogether. My beloved husband Vlado, my SIL Mary my BIL Johnny and our dear friends Ken & Jen. All of us have been many times before together.
HIP Restaurants, an acronym for; Hospitality Inspired People was founded in 1999 by Brian Meikle, President and Master Chef Olaf Mertens, Vice President. Since then, along with co-owner and Director of Operations, Mark Williams they have opened up a total of 3 restaurants: On the Curve, Ten, and West50 Pourhouse & Grille
I had not been back to On the Curve since their renovation in August. I wanted to try out some of their new menu items and see what they had done to the interior. I also wanted to be reassured that our favorite place had not gone on to become too high end or too trendy. I personally like they have a dress code and have managed to keep it upscale without feeling like I needed the newest Gucci purse or Louboutins to fit in. On the Curve has always achieved the delicate balance of being an upscale restaurant with a great menu -that seamlessly transitions into an upscale club in the evening.
I have always loved their drink selection. We started the evening with some nice cocktails. I opted for their Sex and the City – Vodka, Triple Sec, Champagne, cranberry juice, and fresh lime. I love any drink that has fresh lime in it. My drink of choice is typically a Vodka tonic with lots of lime. I am not a fan of sugary sweet drinks.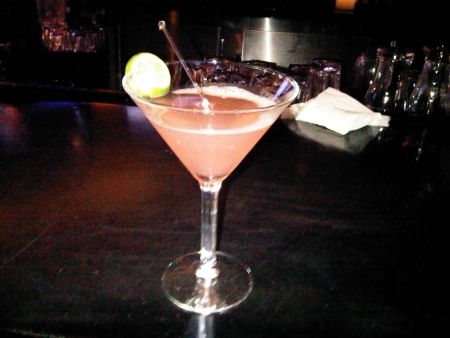 This was a really nice drink. Wasn't too sweet. However throughout the night this drink changed into something more resembling cherry cool aid. Each time (4 times) it was ordered it changed completely. We started joking we wondered what it would look like next. At first it was served with lime slices had a tart edge to it and was pale pale pink. By the end of the night it was served with lots of cherries and was super sweet. Not sure whats going on there.
The menu has a good selection. It is not a huge menu. I don't like places that offer 100 items. I would much rather have a smaller menu where the quality is better.
Our starters for the evening were:
Coconut Shrimp: with orange horseradish marmalade sauce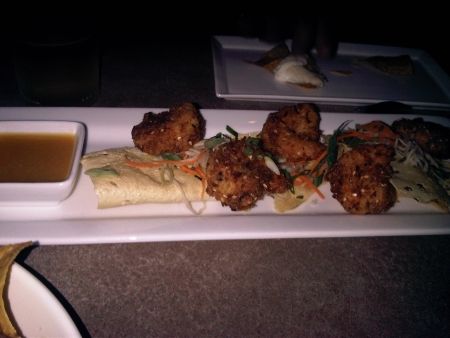 The big fat shrimp were cooked perfectly. The shrimp were not overly sweet. The texture of the coconut was lovely. The sauce was fine but I wanted to taste the horseradish. There was no kick to it.
Falafel Funnel Cake: chickpea polenta is fried & then topped with chopped tomato salsa,parsley, chili sauce & garlic cream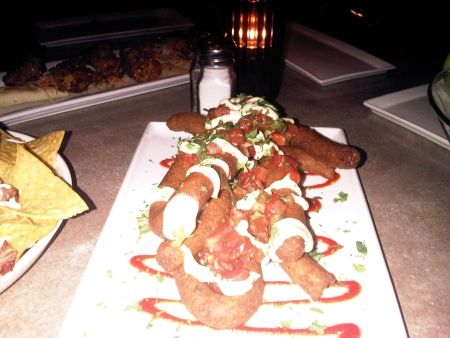 This is much heavier than a funnel cake. Not the most visually appealing either. To put it bluntly one in our party said it looked like a pile of poop with toppings. So once you throw those comments and expectation of lightness out the window this dish rocks. By far my favorite flavor wise. The chili sauce on this rocks. Great bite to it. The garlic cream is awesome. The balance between the freshness of the tomato salsa, and sauces is heavenly. The texture of the polenta is meaty. I would eat this as a vegetarian entree in a heartbeat. It is very substantial.I think the biggest problem with this dish just lies in the name. It was closer to looking like a pile of Churro versus looking like a funnel cake. Funnel cake also gives the impression it will be light and airy.
Nacho Plate: roasted chicken or smoked beef brisket topped with cheese, jalapeños, green salsa, tomato salsa & sour cream (we opted for the brisket)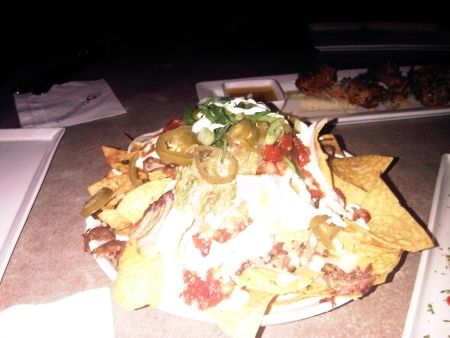 This was the guys choice to have. They had enjoyed Nachos here before. Now we think they have improved on them. Everyone agreed these nachos were killer. The brisket was sliced paper thin. My only lament would be I wanted more brisket on it. Considering that I like meat so much this should not come as a shock to anyone.
Charcuterie: House pate, cured meats, & artisan cheese served with burnt
honey & thyme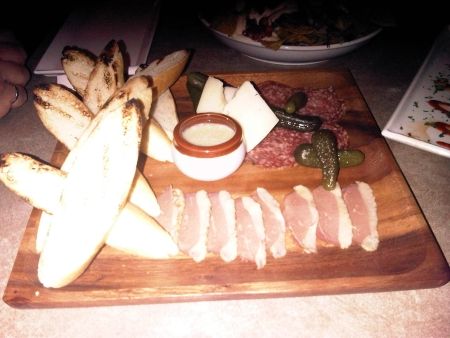 With my love of meat I was not going to pass up their charcuterie platter. I realize everyone is doing this these days. There is a reason for that. Its all about the meat. Yummy. The house pate has a really lovely layer of delicious fat on top. Cracking into it I was so pleased to see the beautiful pale pink smooth as silk pate. It was divine on the lightly toasted breads. The meats were fine on their own. I think however the waitstaff should know about the meats and cheeses they are serving on the platter. Not knowing where the artisnal cheeses came from I asked. Unfortunately the gentleman could not tell me but it was soon rectified and he returned telling me the locations. As you can see from the picture there was no honey or thyme (there were pickles though) on the platter. I would have loved a drizzle of honey on the platter. They were MIA should have asked for it but the natives were getting restless. I was taking my time enjoying this platter
.
I am going to apologize right here for the quality of the pictures. Using a blackberry in the restaurant is not the most ideal. Especially since they dim the lights and use candles everywhere.
Moving on to dinner I knew what I wanted before arriving. I had looked online at their menu and had emailed Olaf about his recommendations. Figured if anyone would steer me in the right direction it would be him. He is a passionate foodie I have had the pleasure of meeting. He also loves BBQ.
Personally my dinner was
Beef Tenderloin: organic beef crusted in peppercorns & served with
Abbot's Gold cheddar, poached egg & Canadian smoked bacon $37.00

The beef ordered medium rare was cooked perfectly. The flavor of the beef was very nice. However I could not find any peppercorns on it. None. Nada. Zip. If you look at the picture you can see there were none on it. Don't get me wrong it was a well cared for piece of tenderloin but it was lacking in spice. Ugh. I like the bite of peppercorns and tenderloin. Two of us ordered this dish and neither of us had the crust of pepper we were looking for. The poached egg was cooked perfectly. I love eggs. Eggs and beef belong together in my world and bacon well it just makes everything better. I'd like to direct your attention however to the picture once again. That pile of mashed potatoes was the surprise of the night for the entire table. We all LOVED them. Now you would think something as simple as mashed potatoes would not be the talk of the table but it was.The secret to their incredibly delicious potatoes is cheese curds. That beloved ingredient mostly found in poutine has made it into their mashed potatoes. I would go again just for them. They are seriously amazing.
Here were the other dinners of the night that I got to sample. (its a good thing we are close friends everyone was trying each others dishes)
OTC Pot Roast: slow-braised beef chunk & vegetables served in its own juices & topped with horseradish cream & crispy onions with our cheese curd mashed potatoes $21.31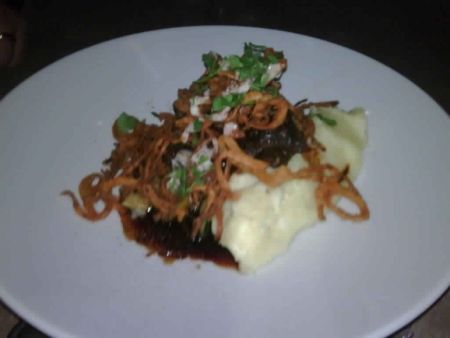 The beef was fall apart tender moist and scrumptious. An awesome dish with a nice cream and crispy onion straws. Great hearty dish.
NY Strip Loin: grilled 10 oz. AAA steak served on our cheese curd mashed potatoes &
signature ragout sauce & then topped with crispy red onions $28.96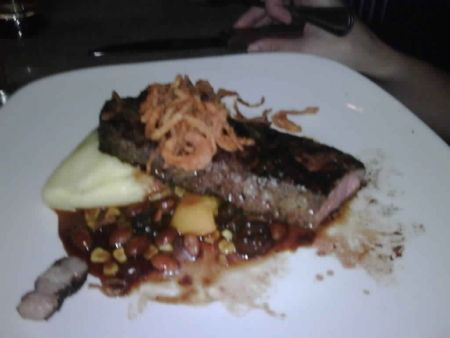 The two people who had their steak loved them and I can understand why. The steaks were well cooked and they tasted just like you would expect a top notch steak to taste. The ragout was very flavorful. Lots of texture as well. Once again those yummy mashed potatoes were served and they were excellent with the ragout.
Penne: "Bourbon street" spicy blackened chicken, pork andouille sausage, shrimp & a trilogy of vegetables tossed in a creamy sambuca sauce $18.93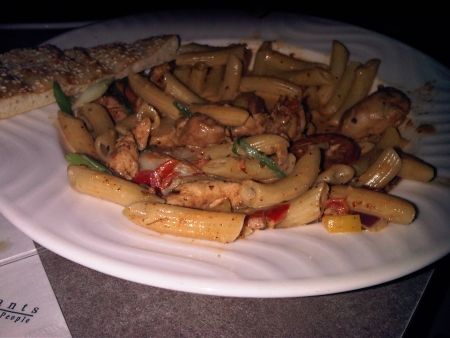 This was one of the best and worst dishes of the night. Let me just begin by saying that we had to send the original version of this dish back. My SIL Mary had ordered this dish. Mary being one of the most polite people I know did not want to but I insisted. It is one thing to forget the peppercorn crust, to forget the honey drizzle and thyme you can still eat …but her pasta was not cooked. Period. Now before you go thinking that we like our pasta overcooked and mushy let me just say that Mary is Italian. Her mother still makes the absolute best pasta I have ever had al dente as it should be cooked. This pasta was not cooked at all I could not get a picture of the bite we took. It was still white and hard. So off it went back to the kitchen for another round. Many apologies were given. I don't ever think it is wrong to send a dish back. As long as it is done while being polite and being understanding to the time it will take to remake it. It is not the servers fault. This is a kitchen issue. I hate seeing people take things out on the waitstaff for the kitchen. That's just wrong. Period.
So the dish returns and it is great terrific wonderful even. The perfectly cooked sausage, shrimp and chicken each add their own unique flavor to this dish. It has a tangy sweet with a bit of heat flavor profile. The veggies added a nice bit f crunch. The Sambuca sauce is worth the drive alone from Barrie to Mississauga. I wish I had ordered it. So much flavor in one bowl all married together beautifully. I am so glad I got to taste it. WOW!
I enjoyed all of these entrees with Inniskillin 'Niagara Series', Reisling – VQA Niagara Peninsula It was a very nice wine. I'll be buying it at the LCBO for sure.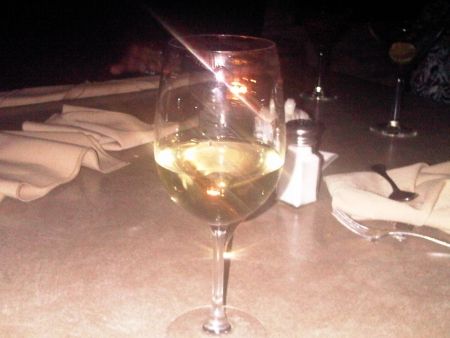 Now on to another favorite part of the meal…dessert we ordered two off the menu for the table
Banana Pecan Egg Rolls: crispy fried bananas rolled in pecans & white chocolate then
topped with a toffee caramel sauce $7.61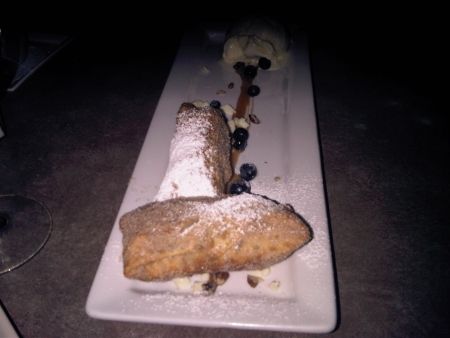 Just order it. That would be my advice. I am having a serious love affair with this dessert. Its just so appealing to me. MMMM Caramel. The texture contrast between the creaminess of the bananas and the crispy outer shell along with the pecans just works beautifully. It was also served with a scoop of one of the most delicious vanilla ice creams I have ever had. It was like eating silk. Really really great tasting. What I didn't get was the scattering of fresh blueberries. They were horribly sour. They just don't need to be there. They don't fit. The pecans and the caramel sauce do this wonderful dessert enough justice.
Now as we received this dish I asked for what their home spun ice cream flavour of the week was. Problem was the server did not know. She didn't even offer to find out. She said she thought it was some chocolate and cookie thing she wasn't sure at all and then she admitted to us she didn't pay attention to what the chef had told her. Ugh.
The last dessert was quite the showstopper visually.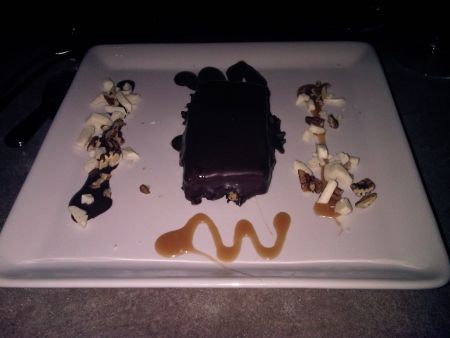 Homemade Chocolate Bar: our version of an old favorite – peanut nougat mousse, salted
peanuts, burnt caramel & then covered in dark chocolate $8.73
Once we all hacked into this dish.. it was great. But it takes a lot of work to break into the dark chocolate shell. There is no way to eat this without impailing it with a steak knife to get to the goodness within. Inside you have a decadent but light mousse. The chocolate was of good quality but there was a lot of it. Very thick. Loved the salted peanuts with the caramel. Now I know salted caramels have been done in lots of places but there is once again a reason it tastes good. This was a nice end to the meal. Considering the amount of chocolate the salt and the peanuts balanced everything out wonderfully.
That ended our lovely meal. I really should have asked about the honey, thyme and peppercorns. It would have given the restaurant an opportunity to correct it or to explain it at least. They can't fix what they don't know about. They were really minor blips in the night. The meal overall was great. Other than lack of knowledge the waitstaff were extremely attentive. Not hovering just attentive. From the front of the house (the hostess who took our coats) to the back of the house (security and bar) they aim to please. Even the busboy (who looked like a young Buddy Holly) was incredibly polite and unobtrusive when clearing our table. It is what we expect when we go there. It was a Saturday when we went and as per usual it was PACKED. Wall to wall people. Every single table was full plus two Christmas parties. Thats a lot of covers in one night. Other than that the waitstaff just needs to learn their menu. They may have been new. It is in their best interests.
Now I have to tell you about the inside since their new reno. In the restaurant section it is so comfortable to eat there. The sumptuous booth we shared was awesome. The lighting is beautiful and the ambiance is lovely. The woods are rich and the walls are a variety of deep shades. It was a great reno.
Moving on to the club and bar area the new sound system rocks the house. The multi flat screen tvs are turned off later into the night and the graphics display was great. Everything is understated elegance but none of the stuffiness. It is a big evening for us to go out like this. To come out enjoying it time and time again says something about the ownership. They take utmost care of you when you are there.
We will be back. For sure. You can bet on it.
Unless you have been living under a rock (or you just don't follow competitive BBQ really I understand) a while back you would have heard that Plowboys BBQ was the 2009 American Royal Invitational Grand Champion. This is a HUGE deal. Here are two videos where Todd discusses his BBQ succes for 2009.
On another exciting note the Plowboys line of rubs and sauces are coming to CANADA!!!! I am a big fan of their stuff. It is top notch high quality with proven outstanding results. It will be carried at Bass Pro Shops.
Was heading out the door yesterday morning hustling the tiny terrorists into the truck to get them off to school when I received a phone call. Now I knew that whoever was calling did not know me. So I hurried to the phone. It was a lovely gentleman who was booking for the BBQ Christmas class on Dec. 6. I asked where he had heard of us (I alway like to know) and he said the Toronto Star?? I was pleasantly surprised to find out that Jennifer Bain (Food Editor) aka The Saucy Lady from the Toronto Star had included the Diva Q Christmas BBQ Class in the Food section. That was really cool. Thanks so much. It is appreciated. Sadly she will not be able to attend. Wish she could have. I love talking to her about all things food. The picture they ran was the very first professional picture I had taken. I was leaning over a 300F WSM to get the smoke. Our old logo was in the back. It was the first big article written about Diva Q. The article was entitled Chicks in the Pit. Brings back memories of our first year. Wow. We have come a long way since then. I am proud of our accomplishments.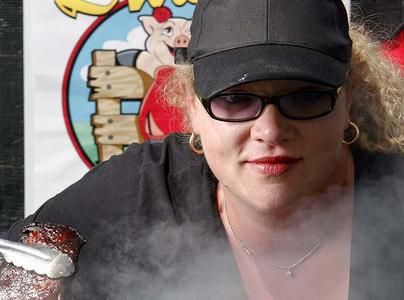 You know we all have those days where we wake up craving something or another. Today being Sunday I wasn't feeling the normal pancakes for breakfast routine, the break out the good coffee program (I can't drink Kicking horse everyday) or even the lazy read on the couch for a few hours and hang out with the kids sort of day. I wanted meat. Specifically I wanted smoked meat. Now I know I have an overabundance of great equipment in my backyard and yes it wouldn't have killed me to throw on a brisket or what not. Goodness knows my freezer is always stocked and there is always Hovey's Gourmet meats a short drive away to fill my carnivorous cravings. However none of that would have cut it today. I wanted Caplansky's Smoked Meats.
I had read Corey Mintzes last review of Caplansky's . I figured it was about time I finally went now that the new location settled down.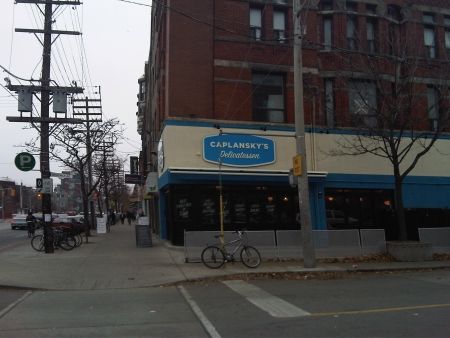 So the 5 of us (yup the whole entourage 3 kids – 3,5,11 and Hubby)arrived in the early afternoon hours. The place was full but a table large enough to accomodate our brood emptied out shortly. Each waitstaff greeted us warmly. Nice. Its always great to walk into a place with 3 rambunctious children and feel comfortable.
Nice and clean with terrific ambiance. Additionally I got to meet Zane the owner. He is very personable and chats openly about the restaurant. The flooring is original. The light fixtures original and the ceiling is awesome. Just a great feel overall. Not tacky not overdone just a good deli feel.
I knew the menu ahead of time. I knew what I wanted to try which was almost the whole menu. First of all though must make the tiny terrorists happy. Sadly they don't have their beverage of choice milk (why don't you have milk??) yet but they settled for some delicious freshly squeezed orange juice. Then of course they must have Kosher hot dogs. They arrived very quickly however due to a shortage of Hot dog buns it was served on a bun large enough to accomodate 4 wieners. No worries though. Our kids rarely eat the bun. (Zane told me he ran out just after we were served the dogs to buy some more proportionate buns) The hot dog had a nice snap to it. Good flavour. Decent dog for sure.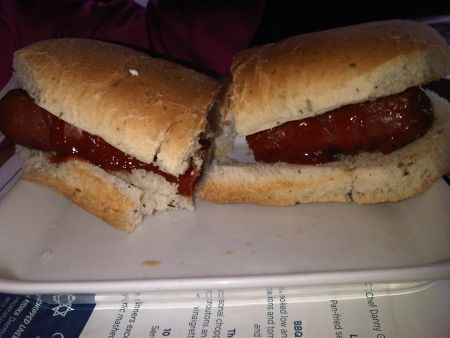 Then something I wanted to try but I admit was leery of for a couple of reasons.. The smoked meat poutine. I had read on some other forums about the lack of squeaky curds on the poutine. Seriously ?? I have no idea what these people were referring to. As anyone who imbibes in that O so Canadian delightful dish of fresh cheese curds, fries and gravy — the curds always loosen up and lose their squeak when warm. Ugh… Can't stand BS crap reviewing like that (if the lack of squeaky curds leads you to dislike a place then please do us all a favour and crawl under a rock) . Back to this poutine….. My concern was the level of salt and the ratio or curds fries and gravy. Smoked meat has never been known to be in the reduced salt category. Then with the additional bits of fries and gravy could it be done???
Hell YEAH!
It was damn good. Yup. Damn good. The ratio of curds to perfectly cooked fries to the decadently indulgent gravy (awash with succulent morsels of smoked meat) was in my opinion completely perfect. I personally like the texture of the gravy – it sticks to the fries and the curds. The balance of this humble dish is to be applauded. We finished it off mumbling (after I will admit a bit of a tug of war on who would get the plate next happened) to each other how good it was. I do believe the hubby guy licked part of the plate off in secret. It sure looked clean when we were done.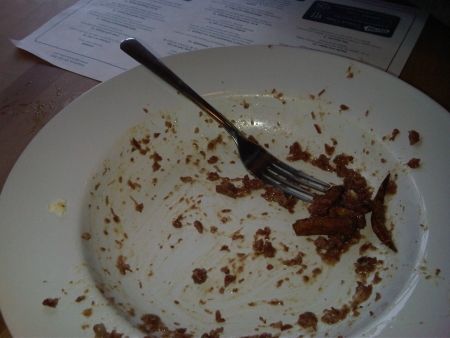 Next up was our oldest daughters choice – BBQ brisket on a bun. I will fully admit I am a complete brisket snob. Texas brisket is another carnivorous category I crave. There has rarely been a brisket that I have enjoyed near as much as the simplicity of a salt, pepper and garlic brisket from Texas. I also hate sauce on brisket preferring the meat to stand on its own merits. Caplanskys unfortunately (to me and my snobbish attitude) serves theirs with sauce.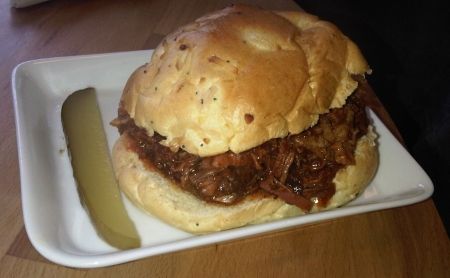 The other part that annoys me about brisket is that a lot of so called BBQ joints make it taste like pot roast. Thankfully (even though it has sauce on it) at
Caplansky's
they do not treat it like potroast. It tastes like BBQ. The sammie was a great combination of the point and the flat. Since they are such distinctive parts of a whole flat of brisket it was great to see them both included. The fat was sublime. Melting in your mout due to the thin slices. (Hand cut or deli sliced I could care less as long as it tastes good) Their Southern Pride Smoker is certainly doing its part of the job well. It is not mushy. It has nice pull and good texture with a light smoke flavour. The addition of the onions is a wonderful accompaniement. It is an extremely generous portion of brisket served with a simple non offensive BBQ sauce on a pleasantly plump onion bun. I still think it should be served without sauce. Or at least give the option. I do believe this BBQ brisket could have stood on its own without the addition of sauce. I always say I am not here for the sauce I am here for the meat. Let me decide about the addition of sauce.
Moving on…
Zane recommended the Smoked meat hash. In his words all his cheffy friends like it and thought I would too. He was right.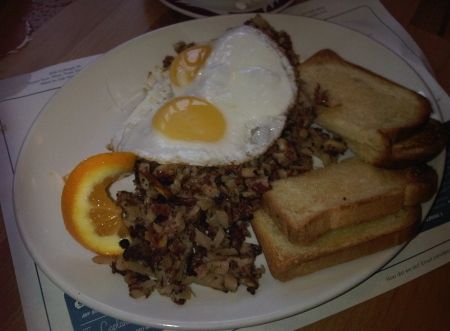 I dont think there are enough places that serve a good hash these days. More often than not the hashes arrive soggy with little texture. Thankfully Caplanskys has elevated their hash to a complete delight. Mine was served with some great challah. The eggs were perfectly cooked sunny side up and the resulting ribbons of beautiful golden yolk when impaled by my ready fork added to the incredible texture contrasts to the onions potato and board leftovers. Ahhh now this was a dish you could get lost in. It was like a warm hug on a cold fall day. It was my Grandmother in her kitchen telling me to come try her hash all over again. I think I am in love with this dish. It was lovely. I am sure I could wax poetic even more so about this dish but darn it – just go your self and get it. You won't be disappointed.
You would think that would have been enough but this being a lazy Sunday and a gluttonous one at that we didn't end there. (Ok the fact is we were also on our way to pick up an eliptical machine and somehow in my brain I figured well anything else I eat Ill just work off this week. Yes I know this is fantasy. Ill live with my own reality pfft like I would miss out on trying more meat.)
No we went even further in our taste of Caplansky's we got the Caplansky's Combo Now this is a great assortment of their Smoked Meats (Montreal, Tongue, Chopped liver, Turkey, Salami) and some terrific Rye bread. We also ordered the latkes.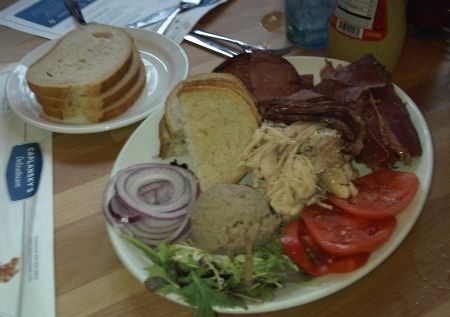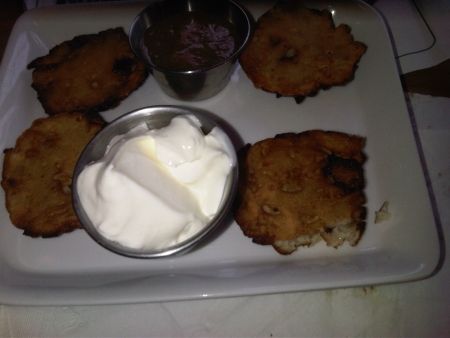 Let me discuss the latkes first. I was disappointed in them. They are served with a decent enough apple sauce and we asked for sour cream as well. They are not offensive in any way – they are just not memorable. For some reason I had high hopes of the ultimate latkes being served. The size is fine, they were cooked properly but they were nothing special. They lacked the oomph. The oomph that the meat is bringing to the place.
The Caplanskys Combo is a great way to try many of their meats. The tongue was melt in your mouth delicious. The texture was akin to a silken beef. Lovely. The Montreal (or should it be Zane) smoke meat was awesome. Truly awesome. The crustiness of the edges gives such a great mouth feel. Zane said he had been working on the consistency and was very pleased with the meat for the day. Once again he was right. The cure is great. Not too salty not to offensive just right. I don't know what other accolades I could heap on it. The same goes for the Chopped Liver. Sheesh all I could think of as we were smearing gobs of it on the rye was how much I wished both my Mother and Grandmother were still alive so I could bring them here. We shared such a love of smoked meats and I remember as a kid going to the original Shopsey's on Spadina. They would adore this place. The Chopped liver has an incredible depth of flavour. It has a gamier edge than most I have had. It works though. I wanted some slices of hard boiled eggs with it . Just the way I always ate it. The rye bread (Silverstein's) doesn't take anything away from any of the meats. In the end it adds to the overall enjoyment factor with its texture. The salami was really decent with a bit of char and crusting. It and all of the other meats received an additional oomph with the mustard assortment: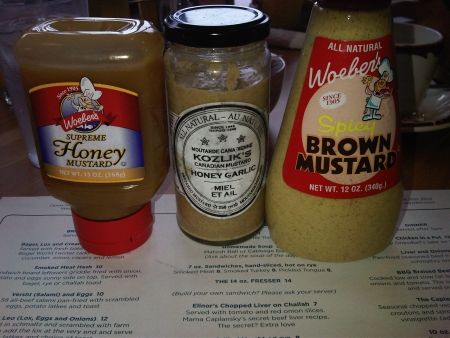 I've left out one of the meats from the combo platter– the smoked turkey. Now I have done loads of smoked turkeys. I know how hard it is to keep it moist at the best of times I have often brined first then smoked to give myself that insurance that it would be moist. This turkey at
Caplansky's
rocks. I asked Zane how they hold it. He says they simply keep it in their own juices on the steamer. Its a very mildly smoked turkey with great flavour. Turkey can be oversmoked very easily. I was shocked to learn that in his combo of woods he uses Mesquite. I have had lots of spectacularly oversmoked food using mesquite. I was thoroughly impressed with the delicate flavours of the turkey considering the wood used. Kudos to them.
Last but not least we tried some desserts that they do in house.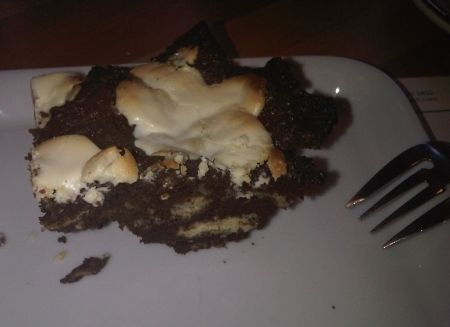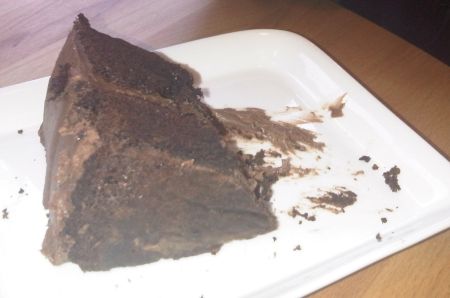 Bread pudding is one of my all time favorite desserts and since they had a chocolate bread pudding on the menu I had to try. Unfortunately it was one of the last remaining pieces and was not that good. It was burnt on the edges and the texture was gritty. Ill just leave it at that. ugh.
The last item was their fudge chocolate cake. Now this is a dessert I would go back for. It is extremely dense however it is not overly cloying with sweetness. It was a nice end to the meal but I wish we could have ordered a glass of milk or 3 (it was a huge slice and none of us had room for more than a couple of bites) to go with it.
The service we received was just fine. The waitstaff did not make us feel rushed or hurried in any way. Our waters were refilled, additional coffee brought out and everyone was asked more than once if everything was ok. Something to note though- out of the two tables next to us one table was largely ignored (against the window) and the other was visited regularly. Had I been the couple at the table near the window I would have been really ticked. I found it to be good value for the money. Its not cheap its not expensive. Good food deserves fair prices and I think they charge that.
Zane sat with me for a bit at the end of the meal and we discussed the meats and the meal in general. I did not know Zane before we walked in but I am sure I will be getting to see him again in the future. I have promised to bring him a BBQ care package (ribs, ABTS, and I am sure more tidbits of course) the next time I am in town. There are still many other terrific looking dishes I saw being delivered to other tables. (So many I wanted to try – that if I could have come back in a couple of hours I would have LOL) If I lived in this neighborhood I can see how I could eat 3 meals a day there and be content.
It was the perfect way to spend a Sunday as a family. I am so glad we went.
Its getting to be that time of year already.
Just in time for Christmas we are going to hold a Diva Q BBQ Christmas Class.
We will be giving the class once again at the Traeger Canada Warehouse in Barrie, Ontario from 10am till 3pm. We will be teaching how to brine, spatchcock, inject and BBQ turkey just in time for the holiday season. Hope you can join us for some great BBQ turkey, appetizers and a fun class!!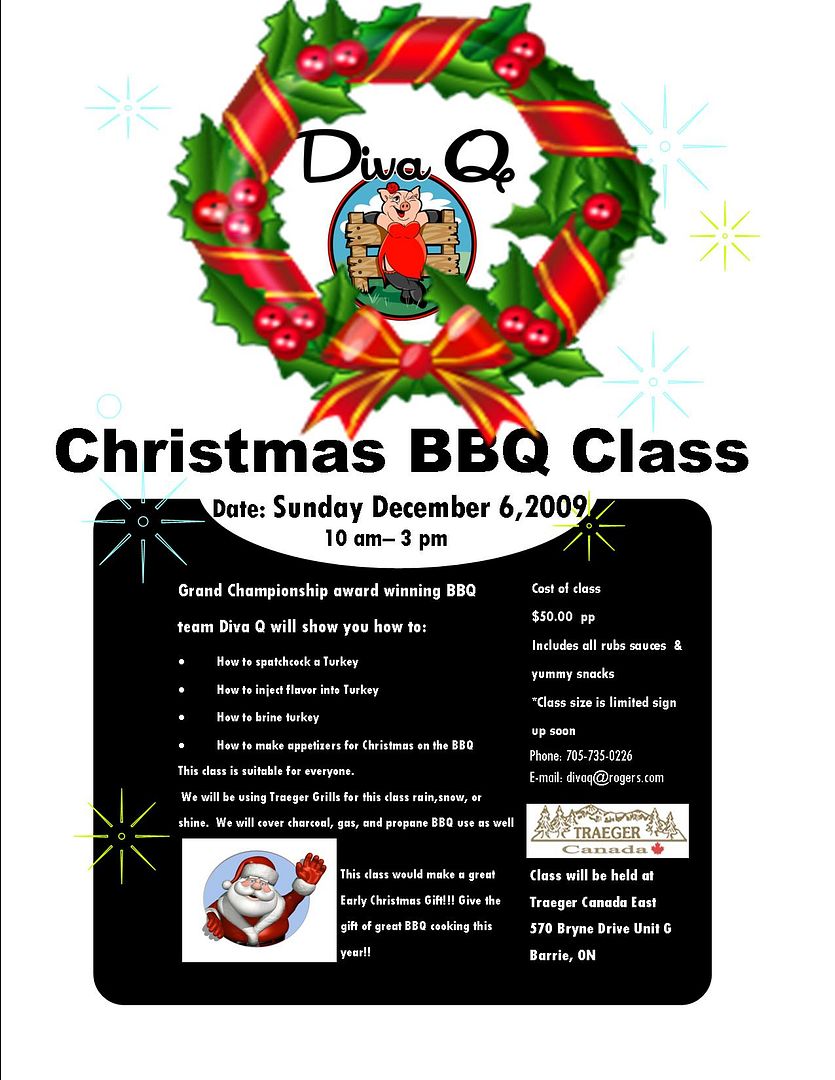 Cost of class is $50.00 pp, this includes sampling of appetizers, a selection of different turkeys and non alcoholic beverages, please email divaq@rogers.com or call 705-735-0226 to book your reservation.
Click this pic for the larger poster size!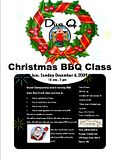 Received this very exciting email from Caiti McLelland
Director, Beach Ribfest & The Canadian Open BBQ Championships

(reprinted with permission)

I would first like to start off by thanking those that took part at Beach
Ribfest this past year in the Crazy Canuck BBQ Championships on Father`s Day
Weekend. Your support is greatly appreciated. It was fantastic to have
everyone out to our new home, Woodbine Park, in the City of Toronto. It may
have rained on the Saturday but that sure did not put dampen the spirit
which you all brought.

As previously mentioned to all teams, Beach Ribfest will once again be
happening Father`s Day Weekend 2010 – June 18-20! We are looking forward to
having those teams back who participated this year and very much look
forward to those who will be attending in 2010.

In the first year of Beach Ribfest, the Crazy Canuck BBQ Championships ran
on the Saturday of the event but we are certainly expanding the competition
for 2010. After watching the BBQ Event in Barrie dissolve, for various
reasons, it was a sad year for me. We worked hard to ensure that a
competition still happened by adding the Crazy Canuck BBQ Championships to
this new event. And we would say with only 7 weeks of planning we were very
successful.

That being said, after many meetings and discussions, the Canadian Open BBQ
Championships will officially be brought back to life!

I am pleased to announce that the Canadian Open BBQ Championships home will
be Toronto`s Beach Ribfest. Backed by the City of Toronto and the Beaches
Community the Championships are sure to be a continued hit. The competition
will run just as it once did in Barrie, but at its new home Woodbine Park.

***Teams from around the world, judges from across North America, blind &
onsite judging, 7 categories, incredible prize money & trophies, as well as
an automatic entry to The Jack!

The BBQ competition will be better than ever. Sponsored by just some of the
following Jack Daniel's, Napoleon Gourmet Grills, Canadian Tire, Wellington
Brewery & more!!!

Please, join us (and mark on your calendars now!) to compete in the Canadian
Open BBQ Championships: Friday, June 18 – Sunday, June 20 (for a full 2 day
competition)
More information on the Canadian Open BBQ Championships will be coming soon
This is really terrific news for us in Ontario !!! We hope to see our friends from Britain, Belgium, Switzerland come back for the venue as well as any new teams!!!
We will be spending the winter prepping for this comp now!! WOOOT!!!!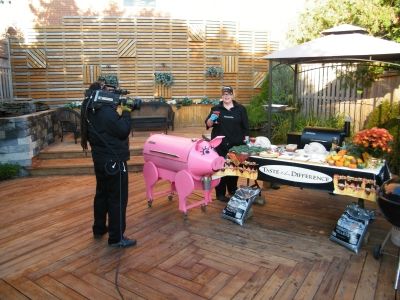 We got the chance once again to go back and do a segment on CTV Canada AM. For our American friends and followers this is Canadas equivalent to the Today show. They are a great bunch of people to be with and we enjoy going there each and every time. I wish we could have had more time but it is TV and you can only get so much! We also featured my favorite hard cider of all time Rock Creek. IF your LCBO does not carry it ask them to!!
Here is the link to the Clip CTV Canada AM
Here is the list of todays dishes:
Spicy Cajun injected Turkey
Traditional Turkey
Turkey Brine
PLanked Sweet potato casserole
Grilled brussel sprouts
Pumpkin Cheesecake
For all of the recipes from todays show visit the Diva Q website.
Many thanks to our sponsors:
Traeger Canada
Big Rock Brewery
Hoveys Gourmet Meats
Basques Charcoal
Alcan/Novelis

Just got home from attending Oinktoberfest for the third time.
IT was cold. I mean freezing your butt off cold. IT made for an interesting cook and not too much socializing at night.
We took our three children with us this time. We have previously taken Ella and Lexi our daughters out with us but this time we also included our son Gabe. Also known as chaos. He is walking chaos. He is 3 and he is a non stop going concern full of more energy than a power plant. It proved to be a very challenging contest to mind him and the meat.
I will say I struggled on timing this weekend. Having to split my focus as a Mom and a BBQer is something I am going to have to work on. I had a really challenging time. I knew my brisket chicken and ribs were off. I was right for sure. Overall we placed a disappointing 6th. Our highest protein was a 4th call in pork. It is what it is.
I will say that Oinktoberfest was better run this year. I liked the Las Vegas theme and some of the teams did an amazing job decorating their cook sites. Really fun to see. We did not have any problems with power and that was a relief. Our neighbours were great as well. Would like to be beside them for any future comps.
It was great to see everyone at the potluck and the food was fantastic. Tuscan bean salad, venison, grilled bologna, wicked good burgers, corn dip, bread pudding with caramel, Really awesome curry sausages, abts, sausage dip, cookies, and fresh from Alaska Salmon brought in by Griff. I am sure I am forgetting some things but it was all good for sure.
I had a great little parsley party with Kim from Smoke on Wheels. It was so cold out (6 Celcius) that we decided to do our boxes up Friday night in the comfort of the trailer with some nice hot tea. It sure makes box making go fast when you are chatting with a friend.
I took very few pictures as well. Just did not have the time. The kids had an amazing time with the Good Smoke girls and Angela. Thank you all so much for helping to look after our kids. They had a blast going through the corn mazes, looking at pumpkins and doing all the kids activities.
The highlight for us scoring this weekend was the dessert category. We got 1st with another 180 perfect score. THat was cool. It was a new dessert I was trying out so I am glad it seemed to go just fine. We also tied for 3rd in the side dish category with Can't stop Grilling but lost the tie and came in 4th.
Huge Congratulations to Kim & Andy for the GC and all others who got calls. Fun times for sure.
Thats it thats all for now. I need to go and thaw out plus catch up on some ZZZZ Our next comp will be Georgia for the Best of the Best on Halloween.
I will however be on Canada AM for the Canadian Thanksgiving showing people how to BBQ turkey and all the fixings.
Many thanks once again to our wonderful sponsors. Traeger Canada, Hovey's Gourmet Meats, Big Rock Brewery, Alcan. – We appreciate your support.
Pictures from OINK