This past weekend after our brisket class I had various briskets in stages of completion. I also have had a case of bacon and I felt like doing a bit of playing …..
I took a fully smoked flat of brisket (at room temperature) and cut it into 11/2 inch cubes. It was already moist and delicious but I wanted to take it up a notch.
I wrapped each brisket cube with slices of bacon to form a bacon wrapped brisket bomb. Then I placed the brisket bombs in my Traeger on a frogmat for 1 hour at 225F then I turned them and smoked them for another hour at 225 F. I used Oak and hickory pellets.
I glazed them with a homemade BBQ sauce that I use for competition.  Oh my flip. These things are awesome. Seriously awesome.
**Please note they are not nearly as dark as the picture shows. Thats just my horrible picture taking.
Juicy moist smoked brisket wrapped in a layer of crispy double smoked bacon and topped with a sweet and spicy BBQ sauce.  They are cubes of awesome yummy goodness.
The brisket was re-seasoned with Smoky Mountain Smokers Chipotle BBQ Rub, & Plowboys Bovine Bold for a power packed flavor combination. It was injected using Butchers BBQ Brisket Marinade.  There were a few other ingredients as well…. but those are some competition secrets I would rather not share :0)
I make thousands of ABT's each year. Yes thousands for demonstrations family parties and well I just love them.
There are countless recipes for ABT's all over the net. Everyone has their own variety whether they have lil smokies in them or leftover pulled pork. One of my favorite varieties is roasted garlic 3 cheese ABT's.
I make roasted smoked garlic in batches of 36-48 at a time. I prep lots of them at a time to make it more convenient for myself later on. BBQ buddies from ALCAN work great for this. Their perforations allow lots of the smoke flavor to come through. Simply slice the top off sprinkle on some salt & pepper and drizzle with EVOO. I then use one of my Traegers or Charcoal grills and keep the temp at an even 350F (I do these indirect) for about an hour. I prefer to use hickory pellets or wood chunks for flavoring.  The garlic bulbs are done when the color turns a nice caramel and they can be easily squeezed out.
For more specific instructions check out this great tutorial on HOW to Roast Garlic.
Roasted Garlic bulbs freeze well. I freeze them individually for a multitude of uses from pasta to ABT's and everything in between.
200 Roasted Garlic Cheesy ABT's you will need:
2 onions finely minced
1/2 cup BBQ rub (use whichever is your favorite)
1 cup grated parmesan
1 cup grated romano
1/4 cup dried chives
1/4 cup finely chopped fresh savory
1.5 kg (3.3 lbs) cream cheese
100 jalapeños cleaned & seeded cut in half lengthwise
4 large bulbs of roasted garlic
I use a food processor to do this in two batches. Its really easy. Just dump half of everything in and pulse away until everything has mixed well. Pour into a large ziploc bag and then repeat with the other half of the ingredients. Please note you should taste test each batch to ensure the spice mixture is flavorful enough. As with all BBQ rubs the sodium levels vary greatly as does the sodium level in Parmesan cheese so adjust wherever necessary.
Then set up a station in the order you make them. For the jalapeños I always lay them cut side down while I prep the other ingredients. This helps to get as much water out of them prior to assembly.
I buy cases of bacon- not packages.  I buy Petit Goret Maple Smoked Bacon in a 5 kg (11lb) box.  If I can't get this brand I look for any other food service box of bacon that has an 18/22 (slice count per pound) on it. I prefer using thinner bacon to wrap ABT's.  For other applications I prefer my butchers bacon.
I do this whole procedure in batches of 50. I lay 50 jalapeños cut side up and fill with my cream cheese mixture using a ziploc bag with the corner cut off.
Then its just a matter of wrapping them and stacking them snugly into pans.
It takes me about an hour and a half to make 200.  I freeze them for up to one month. I don't advise going over one month as I don't like the texture of the cream cheese after that. The less time in the freezer the better. If you are doing a party or heading to a competition pot luck etc its really nice to have these ready well ahead of when you need them.
The long awaited BBQ book featuring the Bacon Explosion is going to be available May 4, 2010  on Amazon !
The grill geeks Jason Day and Aaron Chronister became friends over the flames of the grill – they have been teammates on the award winning competitive BBQ team, Burnt Finger BBQ for years. Barbecuing and competing together, they realized they were a match made in hog heaven.
I have had the chance to review the book and it covers so much. The cover with its shot of a Bacon Explosion will get your mouth watering. It only gets better and better. While I believe that there could have been more pictures the content is solid.
Something that is really unique is a section that states that included with the book is a password necessary for accessing the members only area of the companion website run by the authors. BBQAddicts.com is full of additional recipes and ideas that coincide with the recipes and information within the book. (my password was on page 223) Thats even more value for the price of the book!

I also appreciate the beer and wine pairing recommendations with many of the recipes. Its a great idea.
Here are the Chapters in the book:
Chapter 1- Equipment Methods and Techniques
Chapter 2- Bacon
Chapter 3- Parties and Tailgates
Chapter 4- Burger Heaven
Chapter 5- Fatties for every occasion
Chapter 6- The Liquor Shelf
Chapter 7- International Barbecue
Chapter 8- Leftovers
Chapter 9- Wives Girlfriends and mistresses
Chapter 10-Desserts
There are lots of recipes and fun anecdotes to review. What a great book to own or to give as a gift.  I HIGHLY recommend this book for the recipes. It is not just some glossy book that will sit on the shelf and look pretty. The recipes are clear easy to understand and adaptable to any grill.
A while back I had the opportunity to interview Jason about the book and the whole phenomenon that is the Bacon Explosion:
Ill be posting that interview on the day the book is available for sale in May. It was a great interview.
Just a reminder this weekend i'll be here for 3 demonstrations daily in the Traeger Grill ZONE!
Ill be doing demonstrations on:
Boneless Skinless Chicken Thighs stuffed with cream cheese, pimento, onions, garlic, & spices all wrapped in Bacon!
MOINK Balls (Bacon wrapped meatballs rubbed & sauced!)
Cajun & Pineapple juice injected pork loin sandwich with caramelized onions and grilled pineapple
Hope to see you there!
When I was travelling through the US last week I came across two items not normally seen in my everyday shopping and 0f course I had to buy them. Why? because they were bacon inspired. Anything with Bacon is pretty much good in my books so these could not be passed up.
First up bacon Gumballs. Because who doesn't like a mouthful of bacon. ?? 32 pieces of bacon flavored gum. !!!
Second bacon Gummy strips. <<<<MMM I love gummy candies.  These are not good gummy candy. I'll stick with the gummy worms. Sadly no bacon flavor just the visual effect of eating a slice of bacon. Not a good strawberry taste either. What cracked me up about this was the very stern instructions on the back:  Do Not attempt to fry or microwave.  WTflip.
Was craving a comfort dish so decided to make my ultimate Mac n Cheese. I only make this dish about once a year. Its a real treat to eat it. This year I made one for tonight and another for the freezer. It freezes and keeps well for about a month. (1 month is about as long as it has ever lasted in our freezer)
Ingredients
1 lb dry elbow pasta cooked (*please do not boil past about 7 minutes this should be just a little harder than al dente)
6 cups Colby Cheese Shredded
1 cup Cendrillon Goat Cheese Shredded
1/2 lb bacon
1 small red onion diced
1 tablespoon dry mustard
1/2 c flour
1/2 c butter
2 teaspoons smoked paprika
2 tablespoons dried chives
1 teaspoon granulated garlic
1 teaspoon fine grind black pepper
3 cups skim milk
2 cups 1/2 & 1/2 cream
salt to taste *depending on the cheese you use this can vary wildly
For the topping
1 pkg 170 gr panko bread crumbs
1/4 cup melted butter
1 teaspoon smoked paprika
I start by melting the butter then adding the flour on medium heat. I cook the flour and butter mixture for about 5 minutes. Then I add the milk and cream. Make sure you keep an eye on it so it doesn't scorch the mixture. I usually have it on about medium low.
Fry the bacon in small pieces. Remove from the bacon fat. Fry the onion in the bacon fat. Don't even think about draining in the bacon fat from the onions.  Bacon fat is wickedly good in Mac N Cheese. Just add the onions and the warm bacon fat to the milk and cream mixture and whisk to combine.
Really it is really simple from this point on. Add everything else (other than the cooked bacon) and cook until all of the cheese has melted. I prefer the Colby and the Cendrillon since they give it a great deep cheesy flavor. I consistently whisk this making sure there are no lumps.  This is where you should be taste testing for salt. Since the salt levels can vary so much in cheese it will be left up to you to determine how much.
I used two corelle dishes for layering.I use a layer of macaroni, a layer of the cheese mixture then sprinkle on some of the bacon. Repeat until both dishes are full.
For the topping simply melt the butter and mix with the Panko breadcrumbs and the smoked paprika. Spread liberally on both casserole dishes.
Place on a cookie sheet and bake at 350F for 30 minutes. Make sure to let this rest at least 10-15 minutes.
This is great cold the next day or even made into mac balls rolled into flour then an egg wash and even more panko then deep fried. Its creamy bacon cheesy goodness.
I was inspired today from The Original Bacon Explosion™, the world famous bacon-stuffed, bacon-wrapped Italian sausage.
I also had a pound of bacon in the freezer and some ground beef I found as well. I have done a few weaves of bacon before. On a few dessert recipes as well. This worked out extremely well.
Ingredients:
3 lbs ground chuck
1 lb bacon (to wrap)
4 scallions finely chopped
1 teaspoon finely minced garlic
3 tablespoons BBQ Sauce
2 tablespoons Sisters Secret Fragrant Chili's
1/2 lb good aged old cheddar
Bread crumbs to bind.
I mixed together all of the ingredients and added just enough bread crumbs to bind it together.
Then using a loaf pan as my mold I placed plastic wrap in the cavity. On a cutting board I made my bacon weave. I had 3 slices left over from the pound.Then I just inverted the cutting board over the loaf pad and let the bacon drape in.
After this step it is simply filling in half the ground chuck mixture, placing the cheese with the center, and covering with the rest of the ground chuck mixture.
Once this step is accomplished just adjust the bacon slices to cover. I used the remaining 3 slices of bacon to ensure I had full coverage on the bottom.
This needs to chill in the fridge for a couple of hours.
When your loaf is chilled remove from the mold. I placed mine on my frogmat. Just to make my life easier.
My Traeger grill was set at medium high heat. (300F) I used apple pellets.
I took it to 160F internal temperature.
Ok I admit I tried to wait. Really I did. My impatience got the best of me and I cut into it. OOey gooey cheese came out. I should have waited at least 15 minutes.
It still made for a great dinner.
LOL so this is how it rolls. I was at the Home Hardware Trade show this past Sunday Monday and Tuesday. I love doing this show. Its loads of fun and hardwork rolled into one. It was a bit quieter on one of the afternoons and so a friend (Mark Bianco) of mine from another booth popped over with some chocolate. I just happened to have a pound of bacon and a great assortment of Traegers to work on !!!!!
So this is where it all began. With generous donations from the folks at the Cadbury booth & Hershey's (thanks very much Phil and Aaron) we got started on this program.
The day before we had done a preliminary run and I took things to a whole new level the following day tweaking our procedure.
Heres some pictures of how we got them done. They were wrapped in 3 layers of bacon in total. In the experiment we found that 3 types of chocolate (we tried all total 6 different types) came out on top for sure. Our favorite choices for bacon wrapped chocolate bars would be Crispy Crunch, it was awesome – seriously awesome. I was thrilled. For sure. Then came the Hershey'smilk chocolate bars. I stacked 4 of them together. It worked really well. But them the ultimate completely ultimate bacon and eggs occurred. I took the Cadbury creme eggs and wrapped them in bacon. Oh My GOODNESS!!!!!!!
Seriously insanely good. The gooey center combined with the chocolate covering topped with the bacon was just out of this world. I know this has been done by baking before but never has it been done on a BBQ!! The BBQ Crisps up the bacon so wonderfully and the light smoke flavor is just the icing on the cake. Wow.
Pictures of all these bacon goodness and chocolate adventures: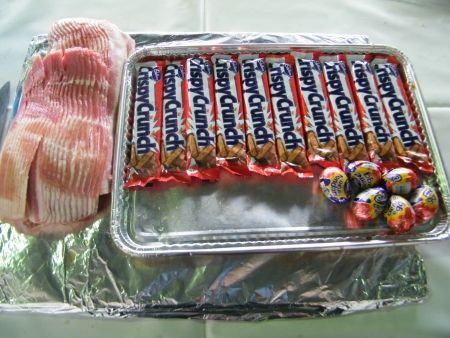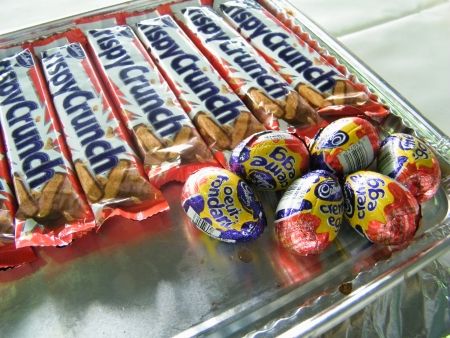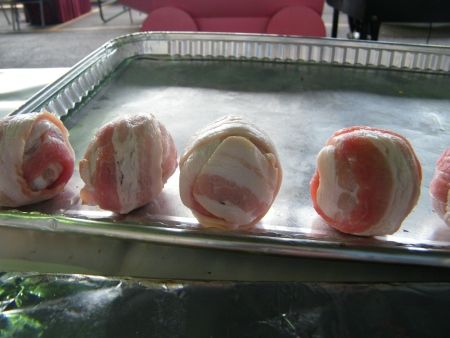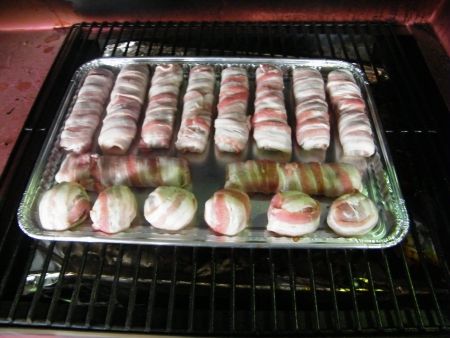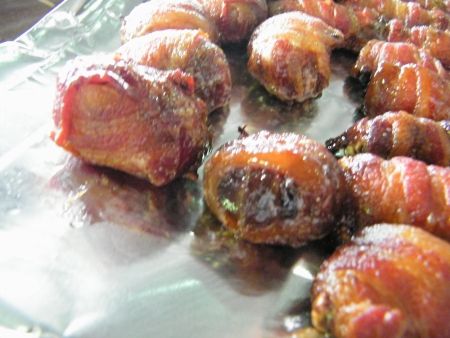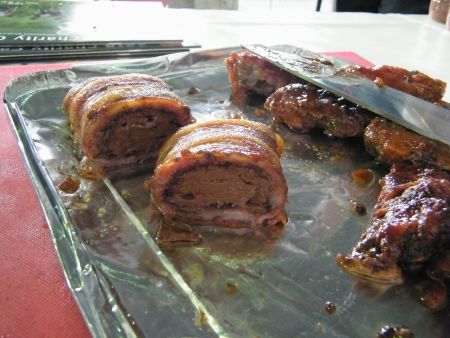 Please note the first 15-20 minutes the tray was on the grill then we removed them from the tray and put them directly on the grill. I would suggest if you do it use frozen chocolate bars or eggs to start. WE had the traegers at 225F and used Hickory pellets.
Also I would like to say the very first person to ever eat this creation was none other than Mike Holmes from Holmes on Homes. LOL now that was funny.