Well we woke up in Memphis this morning. Thankfully without a hangover from last night.
Yesterday we started driving from Barrie Ontario Canada and we pulled up here in Memphis about 25 hours after we started. Now its only a couple more hours till we get to Little Rock Arkansas.
Yesterday being St. Patrick's Day it was fun to see the festivities at Silky O' Sullivan's on Beale St. It was a lot of fun to watch the festivities.Then we headed back to Pig On Beale. Still terrific food, fun staff, and great atmosphere.  If you go to Memphis make sure you go eat there.
My husband really wanted some Memphis BBQ since he didn't come on the trip last month. I was craving a steak. Had to cave to his request. Really it wasn't much of a cave. Vlad is one of the most incredible people on the planet. He goes out of his way to do everything he can to support my BBQ habit/obsession/career.  He really enjoyed his BBQ feast. Plus he had enough leftovers to do at least 2 more meals today LOL.
One of the highlights of this trip besides seeing everyone will be seeing  My Sister in Smoke Angie Quaale.  She is flying in today from BC to hang with us this weekend. That is awesome. So happy she is coming. Last year my friend Tim Brown from Can't Stop Grilling came with us. His team is the only other Canadian team that will be in Little Rock this year. I plan on doing everything I can to beat him.
So we are off to do the final leg of our journey to compete in Little Rock Arkansas. There are 225 teams that are competing for $100,000.00 in prizes. I sure hope the Olympic Own the Podium program applies to Competitive BBQ'ers as well. I believe. LOL I can barely type that without cracking up. OK in reality I believe that I will do my best. I believe that- if I can- out of this entire trip – be proud of my turn in boxes, and get a call that would be cool. But I can dream. Hell yeah. I can dream.
Its a New Year !!! All the best to you and yours!`
Well 2010 is shaping up already to be the busiest I have ever had. In one month I`ll be driving down to Memphis for the
NBBQA Conference
. I can`t wait t see some of my dear BBQ friends and to make another BBQ crawl. I`ll be eating a whole lotta salads between now and then (as soon as today is over) . It will be pure protein overload for sure. Additionally I will be attending the Myron Mixon class. Unfortunately due to time constraints his whole hog prep is not available. I'll have to pick that up on another time.
Then in just a few months we will be off for the first competition of the year
Smoke on the water
in Little Rock Arkansas. This time however instead of flying down we will be driving. That should be an interesting weekend for sure. Its being called the worlds richest contest – $100,000 is a lot of money. I have been trying a few new things practicing for this competition ahead of time. I hope to do better this year.
Our
schedule
is getting rapidly filled up for 2010 already. It will be an awesome year for BBQ.
To start my year off right I am taking an idea from Huck JR and Huck Sr. I did a radio interview with them on their show Hucks Hut a while back and they were talking about their New Years traditions.
They mentioned their love of black eyed peas cooked forever with pork and greens. Sounded great to me so I researched a bit on the net about this Southern tradition.
Wiki
has an interesting write up about this as does
about.com
.
One of my New Years resolutions is to stop running out to buy every ingredient if I am missing a few and substitute with what I already have. So I had the peas but what about the rest? A quick check of my freezers and cold room gave me some decent substitutions. I had bacon, chorizo, onions, lots of spices and I had a package of fresh baby spinach to substitute for the collard greens.
So here it is my homage to this lovely Southern tradition. Its goodness in a bowl. Comforting for a snow filled New Years day and delicious.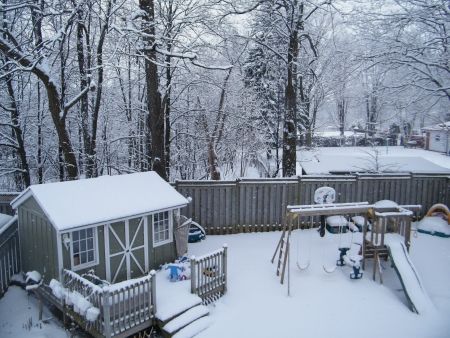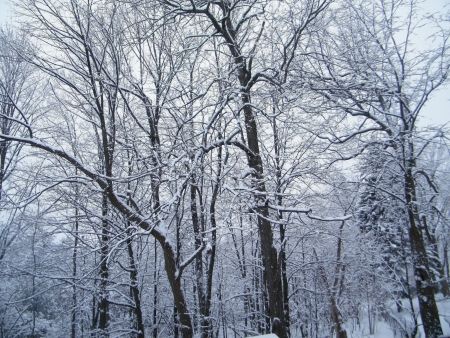 Heres the beautiful chorizo I have. I love chorizo. I love the way the oils and paprika ooze out of it when cooking. So flavorful.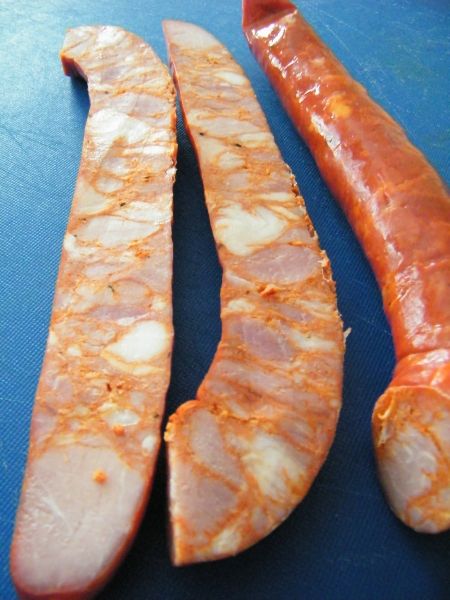 Chopped up the chorizo, a pound of bacon, and some onions.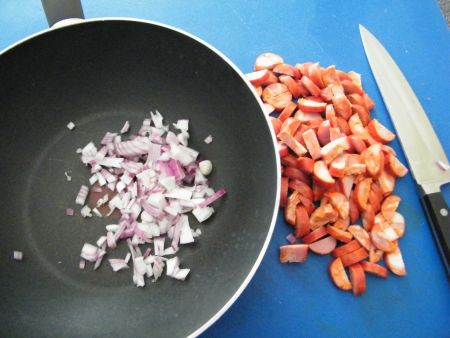 Peas got started yesterday, my advice to you is boil them forever but no salt in the pot till after they are tender. I do one fast boil, then change the water and another slower simmer. I also reserve the liquid from the second boil to add back in.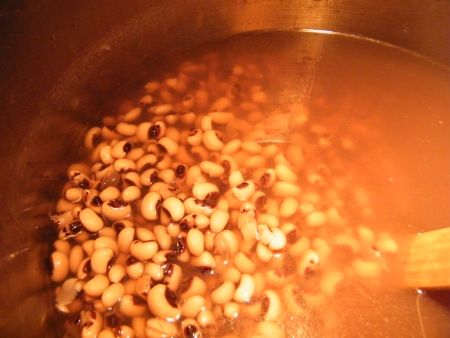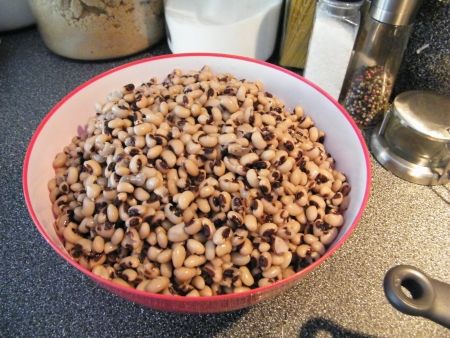 I fried up the chorizo onions and bacon together. MMM whole house smells great.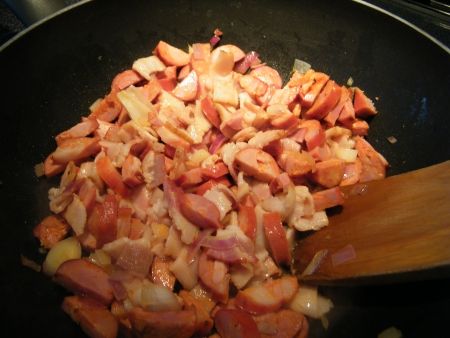 After this throw everything back into the pot. I added some salt, pepper, vegeta, dried chives, parsley as well as some celery salt. The amounts are up to you. This isn't a recipe. This is just using what I had around the house. Lastly I added the spinach. Just to wilt it. We served it up and everyone enjoyed our new favorite New Years tradition.