Day 23- 25 Days of Christmas BBQ Blogging……
I received in the mail today a product sample of Frogmats.
I opened the package to find two very lightweight mesh sheets that claim to be non stick and perfect for delicate items for the BBQ or grill.
From their website the description:
We have all experienced the frustration of grilling delicate foods on the Bar B Que. The food immediately sticks to the grates and tears or crumbles when you try to turn it. The food falls through the openings in the grate and you have one big mess.

Frogmats solve this problem. Food will not stick to the Frogmats and is easy to turn without crumbing.

Frogmats are great for preparing fish and Ka Bobs. Fish will lift off the Frogmats with ease as does the vegetables in Ka Bobs. The open matrix of the Frogmats will eliminate to a large degree any food from falling through the grates.

The Frogmats will not pick up odors from fish,. therefore each time it is used there will be no left over taste.

Frogmats are designed to perform in indirect cooking methods. Do not expose the Frogmats to direct flame.

Our Frogmats are FDA compliant for direct food contact.

Easy to clean with a warm water spray by the outdoor hose or in the kitchen with sink sprayer. The Frogmats will last for years.

Prepare picture perfect fish dinners like the pros with Frogmats

Frogmats are USDA approved for food processing and handling, and are FDA compliant (21 CFR177.1550). In addition, the fabrics can operate in temperatures from -400°F (-240°C) under static conditions and -100°F (-73°C) under dynamic conditions up to 550°F (288°C).
The timing for me worked well as I had a new experimental BBQ item I had made for tonight. Heres the link to the sausage wrapped hard boiled eggs that were prepped yesterday.
Frogmat on the Traeger Lil Tex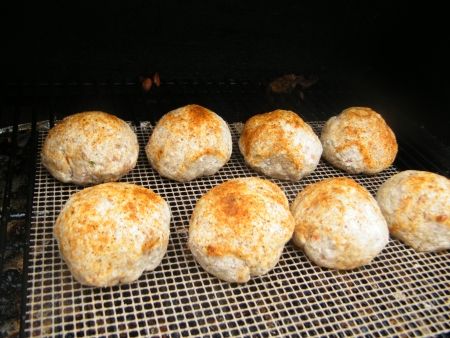 Frogmat with sausage balls.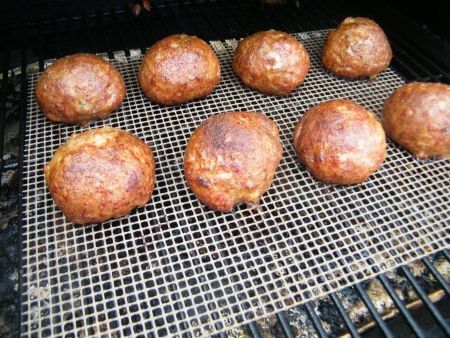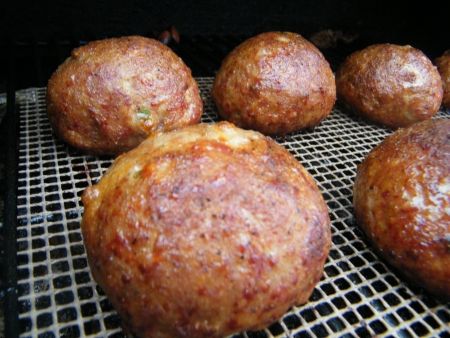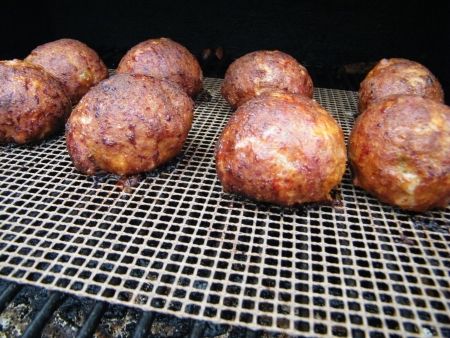 I have to say they worked great. Absolutely non stick from the cheese that was gobbed out at the bottom to the grease that accumulated. I think these are an excellent product for the BBQ. I will also be using them in my oven. I already own silpat sheets and these will just add to my arsenal of non stick happiness.
Additionally the website claims are accurate in regards to cleanup. I washed mine in the sink and it was simple and easy with no scrubbing involved. Gotta love anything that works well and cleans up easy.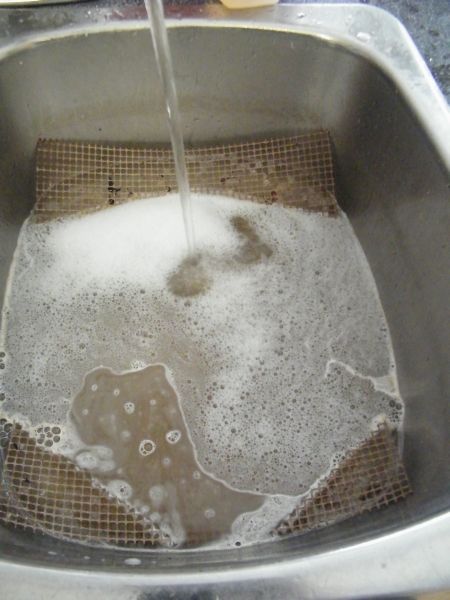 Easy Clean up
They are available in a variety of pre-cut sizes to suit your individual BBQ needs as well as custom sizes.
Bottom line I would recommend them highly, I have a few other projects in mind over the winter with them such as jerky.
_________________________________________________________
Now as for the rest of my day it was a whole lot of prep for tomorrow Christmas Day and some great eats from tonight. Heres the pics.
Yummy Abts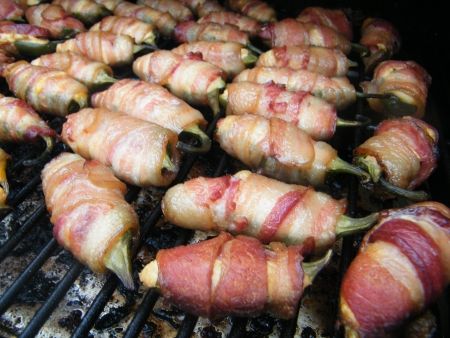 Prepping the brine for the 4 turkeys
Potatoes and Sweet Potatoes prepped for Christmas Dinner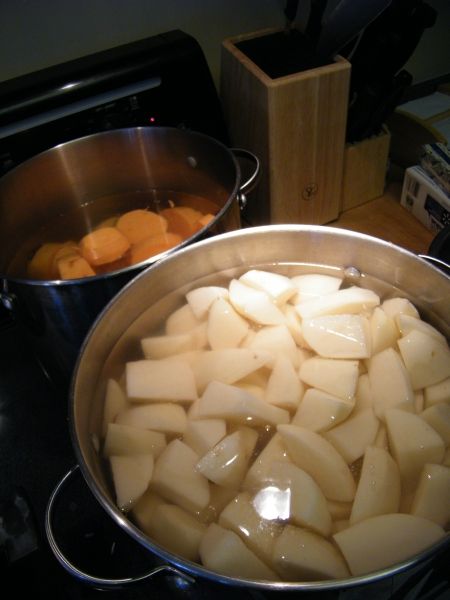 Acorn squash with butter cinnamon maple syrup and brown sugar.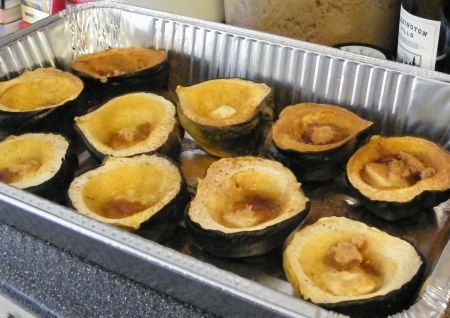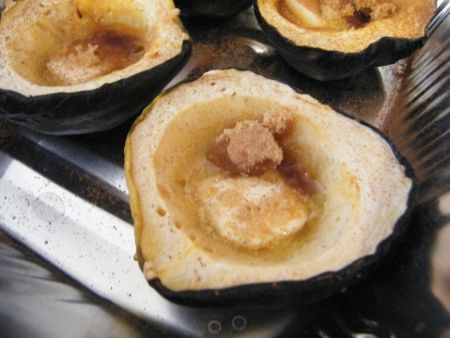 Par boiling the parsnips to get them ready for the grill tomorrow.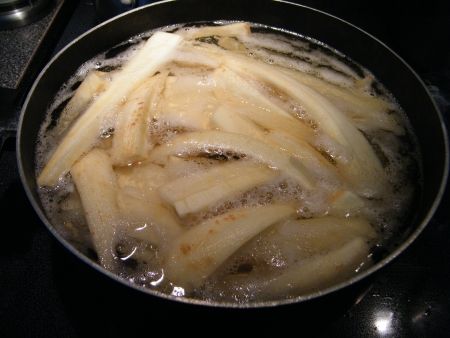 Some of our Christmas Eve Eats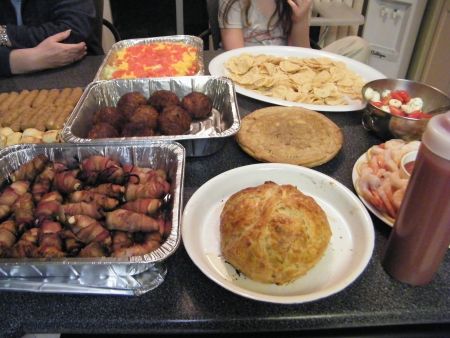 A couple of Tourtieres (done on the traeger)
MMMM the eggs rocked however next time more cheese.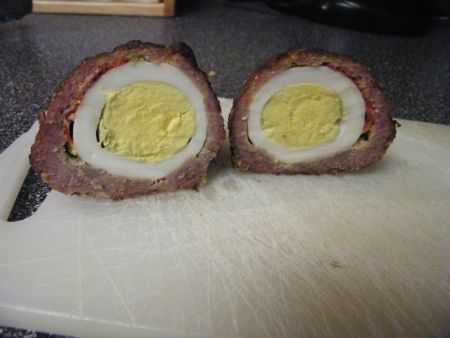 Libations.
Some cheeses and fruits and more munchies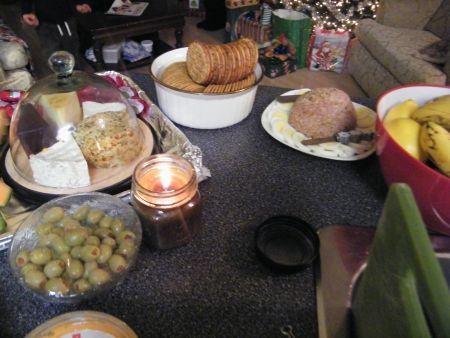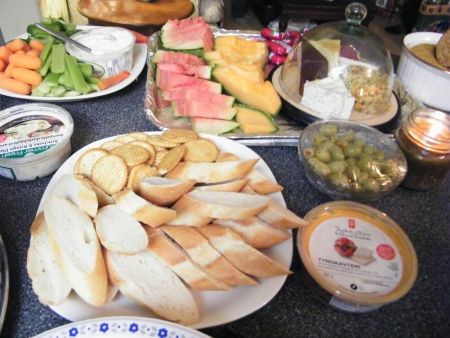 Awesome Taco dip. So very yummy. Thanks to my friend Louisa for bringing it over!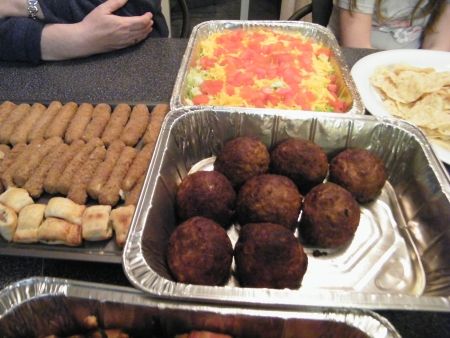 My favorite insalata Caprese.
Wicked good. This puff pastry with brie, fig and walnut wine preserves plus a ton of smoked garlic knocked it out of the park. Just awesome.
Thats it for tonight.
Merry Christmas eve everyone.