Gotta say we were really spoiled overall in our BBQ adventures. Everywhere we went we had great conversations tours of pits and one on one time. Much more so than if we had been on an organized tour. These personal stories were just incredible to hear. At one of the courses I was intrigued to hear about the marketing behind Southside Market the 3 generations of Bracewells. Well it just so happens we ended up there. I apparently need to experience "guts" specifically Elgin Hot Guts or so the men told me.
The Bracewells have been making sausages for years. I mean over 123 years. Wow. They have a great facility that we toured with Bryan who is now the CEO. Bryan took us through everything. He was incredibly generous with his time. We didn't miss a single thing from the packaging to the pits to the holding rooms to the racks waiting for more sausages. We got to tour all of their pits. The ones they use for the USDA approved sausages to the ones they use for their briskets and store sausages. IT was wonderful. The care they put into their meats and business is evident everywhere. It is in the way every single person in there smiles. It's in the way they make you feel at home even though there is ample room for 200 you feel – like you are at a beloved kitchen table. Then there was the meat counter. I think I drooled over the selection. It was awesome. I would shop there in a heartbeat.
So moving on to the food. We got to the end of the extensive tour and Bryan was more than generous with a tray that weighed more than I thought possible.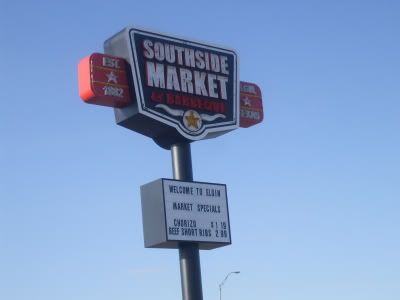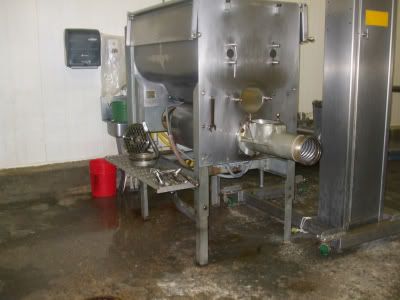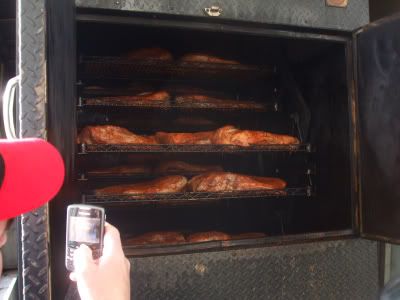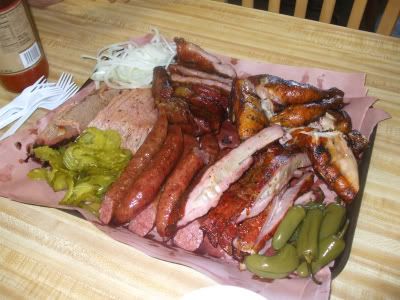 Kelly loved the Brisket. I have to agree with him and the sausages of course. Chris just liked everything or so it seemed. The look on Joey's face was priceless. He wanted to stop you could tell but he just could not. Dave by this time was so full from the other locations that he just got a few nibbles. Protein overload would be an understatement. The food was exceptionally well done. Great smoke good flavour tenderness etc. I would go back to eat there anytime. However there was one minor glitch in the program. There were pickled jalapenos. Now I like jalapenos but this truly was the hottest jalapeno I have ever eaten ever. Usually I have no problems with jalapeños however the scoville rating for this one must have been off the charts. I had tears coming down the heat was so intense that my mouth felt like it had a heartbeat of its own. Got the legendary fiery red lip burn and the back of my neck started to sweat. Tried to resolve it with bread then some ice cream but this lasted quite a while. I must say however the guys were quite amused to say the least and were laughing the entire time. Southside was a truly wonderful way to end this bbq pilgrimige.
Go to www.divaq.ca for the rest of the Friday pictures.