Its a rare evening when we can go out with some dear friends in the city without the kids. Our restaurant of choice rarely changes. We like On the Curve. a LOT.
I have had more get togethers in this restaurant that any other. I had my bachelorette (many years ago) evening of debauchery here as well. It is no surprise to me that this restaurant has received many awards for their food, drinks and club.There were 6 of us this evening for our getogether. My beloved husband Vlado, my SIL Mary my BIL Johnny and our dear friends Ken & Jen. All of us have been many times before together.
HIP Restaurants, an acronym for; Hospitality Inspired People was founded in 1999 by Brian Meikle, President and Master Chef Olaf Mertens, Vice President. Since then, along with co-owner and Director of Operations, Mark Williams they have opened up a total of 3 restaurants: On the Curve, Ten, and West50 Pourhouse & Grille
I had not been back to On the Curve since their renovation in August. I wanted to try out some of their new menu items and see what they had done to the interior. I also wanted to be reassured that our favorite place had not gone on to become too high end or too trendy. I personally like they have a dress code and have managed to keep it upscale without feeling like I needed the newest Gucci purse or Louboutins to fit in. On the Curve has always achieved the delicate balance of being an upscale restaurant with a great menu -that seamlessly transitions into an upscale club in the evening.
I have always loved their drink selection. We started the evening with some nice cocktails. I opted for their Sex and the City – Vodka, Triple Sec, Champagne, cranberry juice, and fresh lime. I love any drink that has fresh lime in it. My drink of choice is typically a Vodka tonic with lots of lime. I am not a fan of sugary sweet drinks.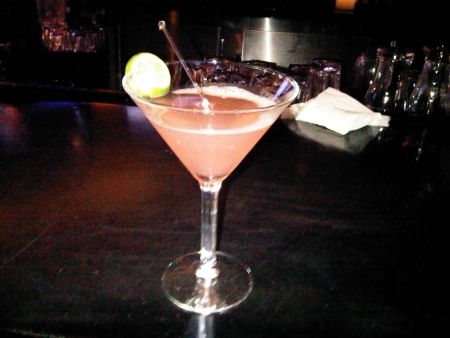 This was a really nice drink. Wasn't too sweet. However throughout the night this drink changed into something more resembling cherry cool aid. Each time (4 times) it was ordered it changed completely. We started joking we wondered what it would look like next. At first it was served with lime slices had a tart edge to it and was pale pale pink. By the end of the night it was served with lots of cherries and was super sweet. Not sure whats going on there.
The menu has a good selection. It is not a huge menu. I don't like places that offer 100 items. I would much rather have a smaller menu where the quality is better.
Our starters for the evening were:
Coconut Shrimp: with orange horseradish marmalade sauce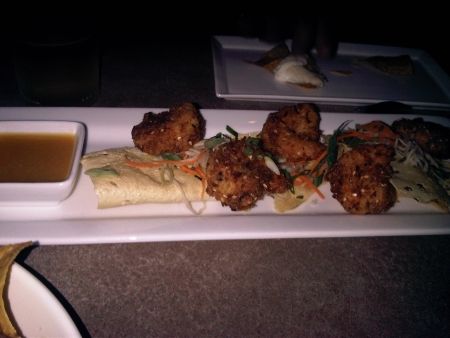 The big fat shrimp were cooked perfectly. The shrimp were not overly sweet. The texture of the coconut was lovely. The sauce was fine but I wanted to taste the horseradish. There was no kick to it.
Falafel Funnel Cake: chickpea polenta is fried & then topped with chopped tomato salsa,parsley, chili sauce & garlic cream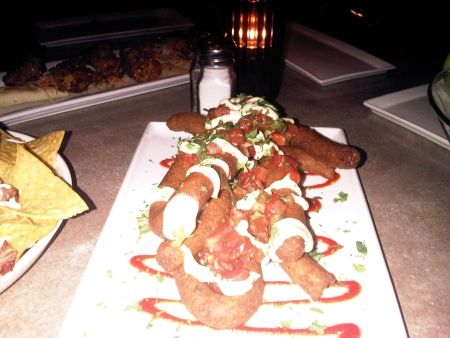 This is much heavier than a funnel cake. Not the most visually appealing either. To put it bluntly one in our party said it looked like a pile of poop with toppings. So once you throw those comments and expectation of lightness out the window this dish rocks. By far my favorite flavor wise. The chili sauce on this rocks. Great bite to it. The garlic cream is awesome. The balance between the freshness of the tomato salsa, and sauces is heavenly. The texture of the polenta is meaty. I would eat this as a vegetarian entree in a heartbeat. It is very substantial.I think the biggest problem with this dish just lies in the name. It was closer to looking like a pile of Churro versus looking like a funnel cake. Funnel cake also gives the impression it will be light and airy.
Nacho Plate: roasted chicken or smoked beef brisket topped with cheese, jalapeños, green salsa, tomato salsa & sour cream (we opted for the brisket)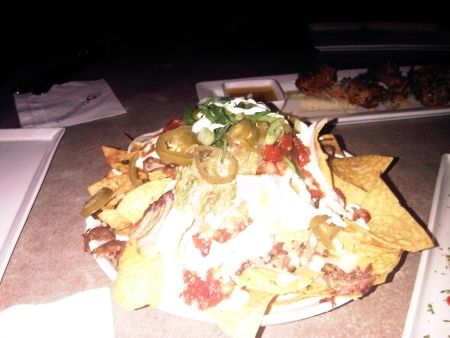 This was the guys choice to have. They had enjoyed Nachos here before. Now we think they have improved on them. Everyone agreed these nachos were killer. The brisket was sliced paper thin. My only lament would be I wanted more brisket on it. Considering that I like meat so much this should not come as a shock to anyone.
Charcuterie: House pate, cured meats, & artisan cheese served with burnt
honey & thyme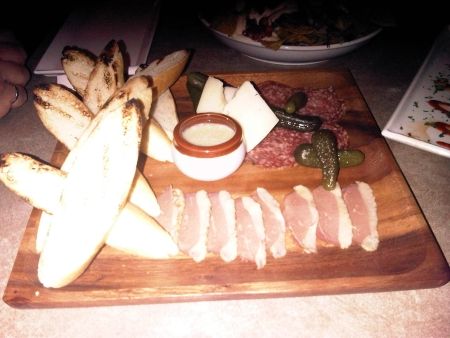 With my love of meat I was not going to pass up their charcuterie platter. I realize everyone is doing this these days. There is a reason for that. Its all about the meat. Yummy. The house pate has a really lovely layer of delicious fat on top. Cracking into it I was so pleased to see the beautiful pale pink smooth as silk pate. It was divine on the lightly toasted breads. The meats were fine on their own. I think however the waitstaff should know about the meats and cheeses they are serving on the platter. Not knowing where the artisnal cheeses came from I asked. Unfortunately the gentleman could not tell me but it was soon rectified and he returned telling me the locations. As you can see from the picture there was no honey or thyme (there were pickles though) on the platter. I would have loved a drizzle of honey on the platter. They were MIA should have asked for it but the natives were getting restless. I was taking my time enjoying this platter
.
I am going to apologize right here for the quality of the pictures. Using a blackberry in the restaurant is not the most ideal. Especially since they dim the lights and use candles everywhere.
Moving on to dinner I knew what I wanted before arriving. I had looked online at their menu and had emailed Olaf about his recommendations. Figured if anyone would steer me in the right direction it would be him. He is a passionate foodie I have had the pleasure of meeting. He also loves BBQ.
Personally my dinner was
Beef Tenderloin: organic beef crusted in peppercorns & served with
Abbot's Gold cheddar, poached egg & Canadian smoked bacon $37.00

The beef ordered medium rare was cooked perfectly. The flavor of the beef was very nice. However I could not find any peppercorns on it. None. Nada. Zip. If you look at the picture you can see there were none on it. Don't get me wrong it was a well cared for piece of tenderloin but it was lacking in spice. Ugh. I like the bite of peppercorns and tenderloin. Two of us ordered this dish and neither of us had the crust of pepper we were looking for. The poached egg was cooked perfectly. I love eggs. Eggs and beef belong together in my world and bacon well it just makes everything better. I'd like to direct your attention however to the picture once again. That pile of mashed potatoes was the surprise of the night for the entire table. We all LOVED them. Now you would think something as simple as mashed potatoes would not be the talk of the table but it was.The secret to their incredibly delicious potatoes is cheese curds. That beloved ingredient mostly found in poutine has made it into their mashed potatoes. I would go again just for them. They are seriously amazing.
Here were the other dinners of the night that I got to sample. (its a good thing we are close friends everyone was trying each others dishes)
OTC Pot Roast: slow-braised beef chunk & vegetables served in its own juices & topped with horseradish cream & crispy onions with our cheese curd mashed potatoes $21.31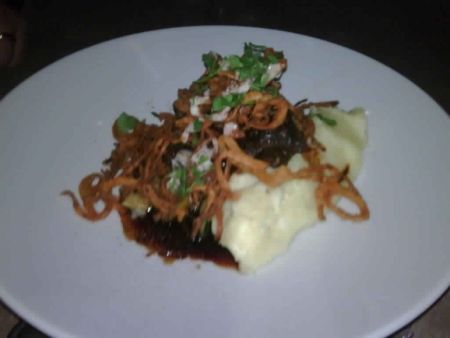 The beef was fall apart tender moist and scrumptious. An awesome dish with a nice cream and crispy onion straws. Great hearty dish.
NY Strip Loin: grilled 10 oz. AAA steak served on our cheese curd mashed potatoes &
signature ragout sauce & then topped with crispy red onions $28.96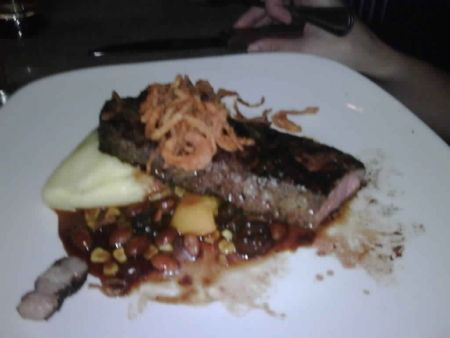 The two people who had their steak loved them and I can understand why. The steaks were well cooked and they tasted just like you would expect a top notch steak to taste. The ragout was very flavorful. Lots of texture as well. Once again those yummy mashed potatoes were served and they were excellent with the ragout.
Penne: "Bourbon street" spicy blackened chicken, pork andouille sausage, shrimp & a trilogy of vegetables tossed in a creamy sambuca sauce $18.93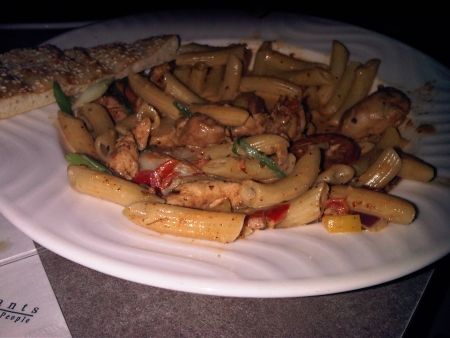 This was one of the best and worst dishes of the night. Let me just begin by saying that we had to send the original version of this dish back. My SIL Mary had ordered this dish. Mary being one of the most polite people I know did not want to but I insisted. It is one thing to forget the peppercorn crust, to forget the honey drizzle and thyme you can still eat …but her pasta was not cooked. Period. Now before you go thinking that we like our pasta overcooked and mushy let me just say that Mary is Italian. Her mother still makes the absolute best pasta I have ever had al dente as it should be cooked. This pasta was not cooked at all I could not get a picture of the bite we took. It was still white and hard. So off it went back to the kitchen for another round. Many apologies were given. I don't ever think it is wrong to send a dish back. As long as it is done while being polite and being understanding to the time it will take to remake it. It is not the servers fault. This is a kitchen issue. I hate seeing people take things out on the waitstaff for the kitchen. That's just wrong. Period.
So the dish returns and it is great terrific wonderful even. The perfectly cooked sausage, shrimp and chicken each add their own unique flavor to this dish. It has a tangy sweet with a bit of heat flavor profile. The veggies added a nice bit f crunch. The Sambuca sauce is worth the drive alone from Barrie to Mississauga. I wish I had ordered it. So much flavor in one bowl all married together beautifully. I am so glad I got to taste it. WOW!
I enjoyed all of these entrees with Inniskillin 'Niagara Series', Reisling – VQA Niagara Peninsula It was a very nice wine. I'll be buying it at the LCBO for sure.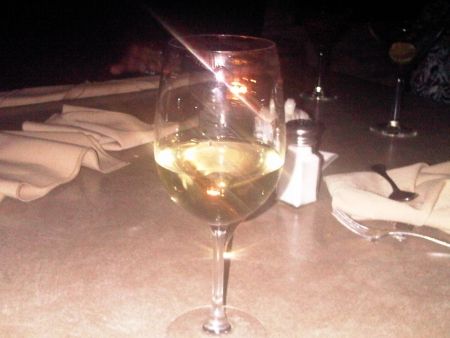 Now on to another favorite part of the meal…dessert we ordered two off the menu for the table
Banana Pecan Egg Rolls: crispy fried bananas rolled in pecans & white chocolate then
topped with a toffee caramel sauce $7.61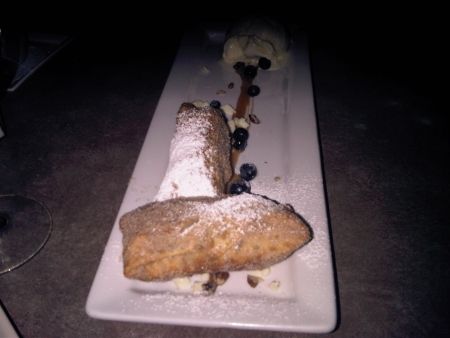 Just order it. That would be my advice. I am having a serious love affair with this dessert. Its just so appealing to me. MMMM Caramel. The texture contrast between the creaminess of the bananas and the crispy outer shell along with the pecans just works beautifully. It was also served with a scoop of one of the most delicious vanilla ice creams I have ever had. It was like eating silk. Really really great tasting. What I didn't get was the scattering of fresh blueberries. They were horribly sour. They just don't need to be there. They don't fit. The pecans and the caramel sauce do this wonderful dessert enough justice.
Now as we received this dish I asked for what their home spun ice cream flavour of the week was. Problem was the server did not know. She didn't even offer to find out. She said she thought it was some chocolate and cookie thing she wasn't sure at all and then she admitted to us she didn't pay attention to what the chef had told her. Ugh.
The last dessert was quite the showstopper visually.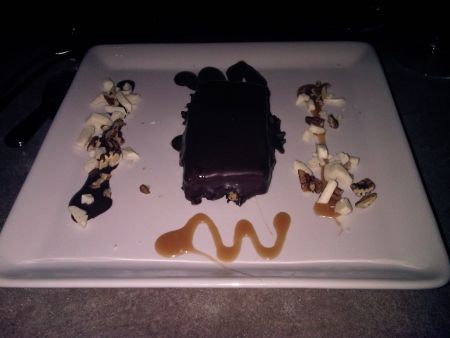 Homemade Chocolate Bar: our version of an old favorite – peanut nougat mousse, salted
peanuts, burnt caramel & then covered in dark chocolate $8.73
Once we all hacked into this dish.. it was great. But it takes a lot of work to break into the dark chocolate shell. There is no way to eat this without impailing it with a steak knife to get to the goodness within. Inside you have a decadent but light mousse. The chocolate was of good quality but there was a lot of it. Very thick. Loved the salted peanuts with the caramel. Now I know salted caramels have been done in lots of places but there is once again a reason it tastes good. This was a nice end to the meal. Considering the amount of chocolate the salt and the peanuts balanced everything out wonderfully.
That ended our lovely meal. I really should have asked about the honey, thyme and peppercorns. It would have given the restaurant an opportunity to correct it or to explain it at least. They can't fix what they don't know about. They were really minor blips in the night. The meal overall was great. Other than lack of knowledge the waitstaff were extremely attentive. Not hovering just attentive. From the front of the house (the hostess who took our coats) to the back of the house (security and bar) they aim to please. Even the busboy (who looked like a young Buddy Holly) was incredibly polite and unobtrusive when clearing our table. It is what we expect when we go there. It was a Saturday when we went and as per usual it was PACKED. Wall to wall people. Every single table was full plus two Christmas parties. Thats a lot of covers in one night. Other than that the waitstaff just needs to learn their menu. They may have been new. It is in their best interests.
Now I have to tell you about the inside since their new reno. In the restaurant section it is so comfortable to eat there. The sumptuous booth we shared was awesome. The lighting is beautiful and the ambiance is lovely. The woods are rich and the walls are a variety of deep shades. It was a great reno.
Moving on to the club and bar area the new sound system rocks the house. The multi flat screen tvs are turned off later into the night and the graphics display was great. Everything is understated elegance but none of the stuffiness. It is a big evening for us to go out like this. To come out enjoying it time and time again says something about the ownership. They take utmost care of you when you are there.
We will be back. For sure. You can bet on it.