Jamie Geer Jambo Pits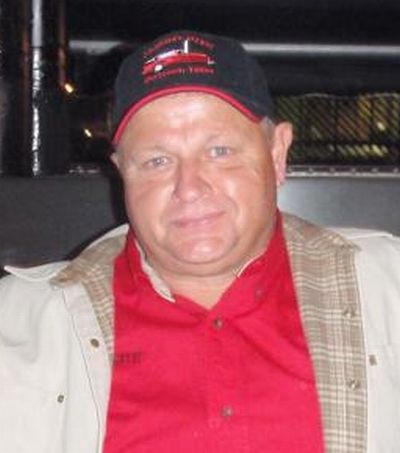 Talking with Jamie is like talking to a BBQ Comedian. I can say truly it was one of the funniest BBQ conversations I have had in a very long while. He is a mix of good ole boys club Texas drawl personality with the acumen of an astute businessman. He has more one liners than anyone I know. He may crack a person up but he knows the score fo' sure! Right now he is busier than a one-toothed man at a corn-on-the-cob eating contest. (How do you like that line?? Jamie?)
Jamie builds pits. Not just any pits. He builds the pits that many people dream of owning. He builds
Jambo Pits
. They get noticed everywhere they go. They are compared to being the Lamborghini of the BBQ pit world. They are not mass produced but crafted individually. To hear him talk of his beloved pits it's like he is talking about his own children.
Jamie Geer on TLC BBQ Pitmasters
From his own website he describes his pits:
Jambo Pits are the best smokers money can buy. That's a bold statement, but the results speak for themselves. Many of the best competition teams in the country cook on our pits. There's a reason those teams have chosen us since 1989; quality and consistency, and workmanship. Jamie Geer isn't just a great pit builder, he's also a great cook.






Only a short time back Jamie was a serious competitor on the competition barbecue circuit. His trophy case is full of big wins. Jamie's cooking skills are a big reason why Jambo Pits are such great cookers. He knows how a pit should cook and he builds pits that way. However, they're not just great cookers, they're easy on the eyes as well. Jambo Pits are not mass produced. Perfection takes time.

With top quality materials and attention to detail, Jamie builds these pits one by one. From insulated fire boxes, torque flex axles, chrome wheels, white letter tires, custom coatings and paint to stainless steel hinges, handles and work surfaces, these pits are a true work of art. Pull into a competition or your neighborhood with a Geer pit in tow and forget about going unnoticed. These pits will turn heads wherever you go. There is nothing else out there like a Jambo Pit.
His pits are currently being used by himself and two others on the TLC BBQ Pitmasters show. Tuffy Stone and Johnny Trigg both use a Jambo Pit. Tuffy's is a gorgeous red while Johnny's is a beautiful baby blue. I have seen both of these units up close and personal on a few occasions and they are truly pits that would be worthy of a
museum.
While I am most certainly a pellet head without a doubt I would love to play on one of these. I bet after the pits are featured more and more on the show his phone will be ringing off the hook, his email with be filling up even faster than it is already.
He also described in great detail that it almost broke his heart to build a Jambo Pit with a pellet modification for Candy Weaver. But he did it.
Q- Why did you come out of retirement in 2008 to make Jambo Pits full time?
JG- I had worked as a sheet metal worker for many years for the same company. The owners had gotten divorced and the man who ran the business took it from a multi million dollar company to peanuts in a short while. I could see the writing on the wall. I knew I could make good pits so that's what I did.
Q- Where are the pits fabricated?
JG- I do them at my shop beside my house.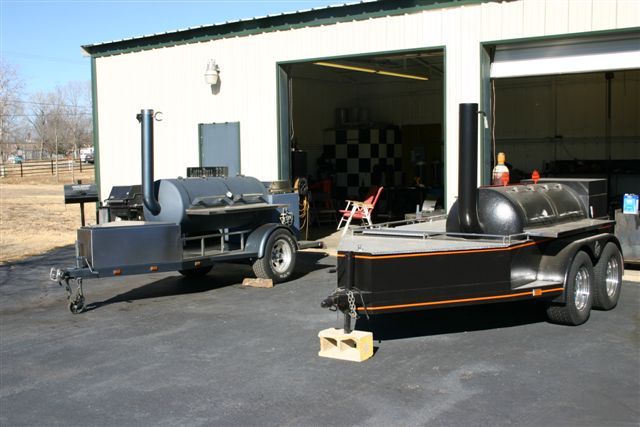 Q-What are the specs of a Jambo pit and trailer?
JG- Pit & Trailer Specifications
Standard Pit Features:
• Cooking chambers are 5'4" x 26", fabricated from rolled 7 gauge carbon steel. We never use manufactured pipe.
• Insulated firebox – 7 gauge exterior and ¼" carbon steel
• ¼" steel firebox door
• Heavy duty grates
• Stainless steel hinges, handles and work surfaces
• Ashcraft adjustable temperature gauge
• Chrome stack
• Sherwin Williams 1500 degree coating on firebox and cooking chamber
Trailer features:
• Torque flex axle
• 2" x 4" x 11 gauge rectangle tube frame
• 2" Bulldog hitch
• Bulldog gear driven trailer jack
• Safety chains
• Custom paint
• Chrome wheels and outlined white letter tires
Polished stainless steel trim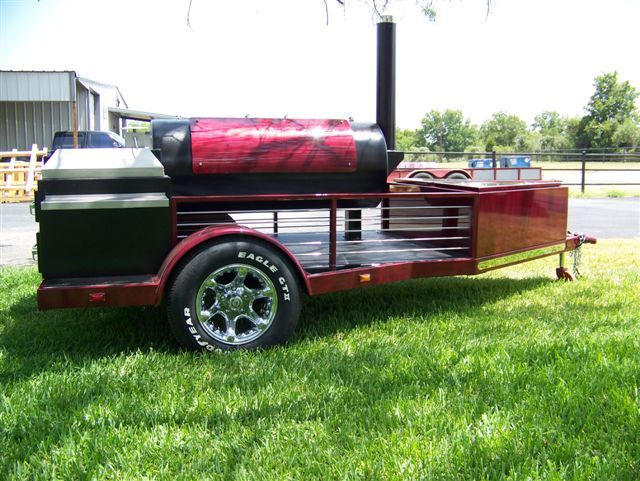 Q-What does a
Jambo Pit
cost.
JG-We start at $5500 for the economy model and about the most expensive one we ever did was about $12,000. I don't know why but people think they are much more than that.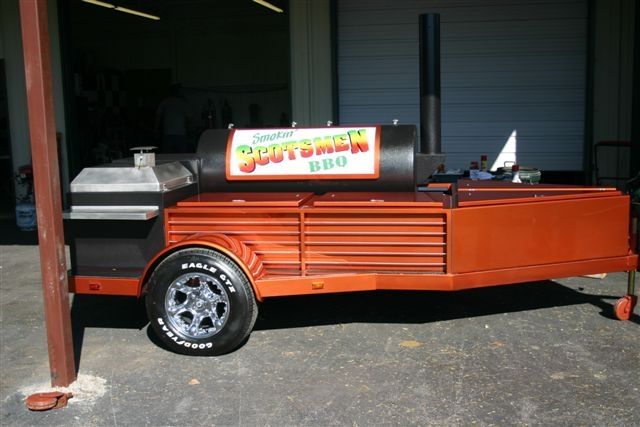 Q-I hear that it can take many months to get a Jambo pit. How long can a person expect to wait before they take delivery of a Jambo Pit.
JG-Right now we are working on a 6 week delivery.
Q-Who purchased your first pit after coming out of retirement in 2008.
JG-John Markus did actually. (Exec Producer of TLC BBQ Pitmasters) He was the first. His color is of a vintage car paint I used.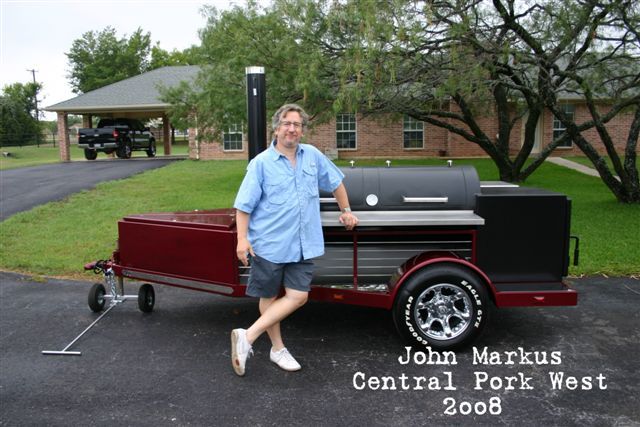 Q-Is that how you got to be a part of the show?
JG-Yes well since he bought my pit he knew me and well that how it was.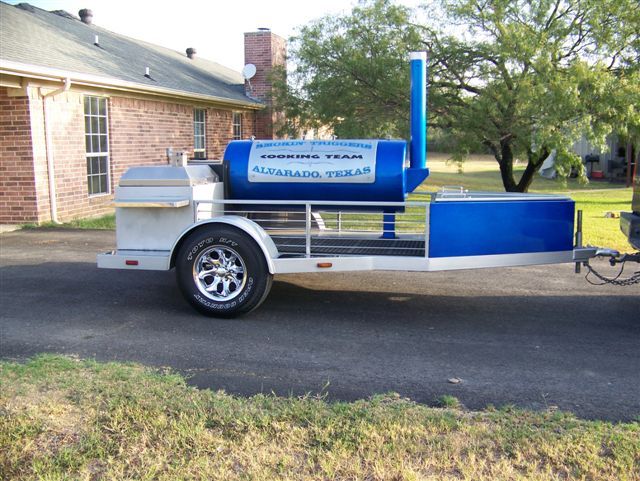 Q-What was the biggest challenge for you doing the show.
JG- I think the biggest challenge for me was that I had to learn to talk in complete sentences. (Now seriously at this point I was laughing so hard it was near impossible to write- to hear him say this was pure comedy) I mean seriously I had to learn to explain things to not just say uh huh and nod I actually had to talk.
Also I have to say that the travelling (20,000) and the being away from the family and the business were a challenge. But I would do it again for sure.
Q-Where were you in episode one?
JG- Well now I know that I am in future episodes more. I know I am in Episode #3That's pretty much all I can say.
Q-How was it in Mesquite?
JG- Well me an Jerry King were taking bets ($1.00) on how hot it was gunna get. We put that ol thermometer on the ground and it just kept going up. Through the first storm there was a lot of wind my awning had come up so I had to jerry rig it to get it closed. Then that night – Sure as shit I thought were going to be electrocuted. I mean we (Brian Catalina – Producer &, Matt from Original Media) were holding down an easy up tent (Johnny's) me looking like a Spider monkey and all and Brian was the one you hear yelling on the TLC Clip "we are going to die!!!!
We watched Paul Petersen fall asleep. He was just plum tired out not drunk. Just wiped right out. I talked with him about his ribs. He was slashing the backs of them not taking the membrane off. He knew he was done for on those ribs fo' sure.
Q-What did you think of the cast and crew of the TLC Pitmasters Series?
JG- I think very highly of them all. I had some great talks with people. That Paul did some cooking for us and it was so good it would make a mule stand on his head. IT was really good. I got along with everyone. They were all good people. I got to know them all more and more. I also learned some competition tips from the teams that I will be using in the future.
Q-Will you be competing more in 2010.
JG-Yes I will be. Going to get back in the game. I was proud of how we did this year coming back into it so quickly.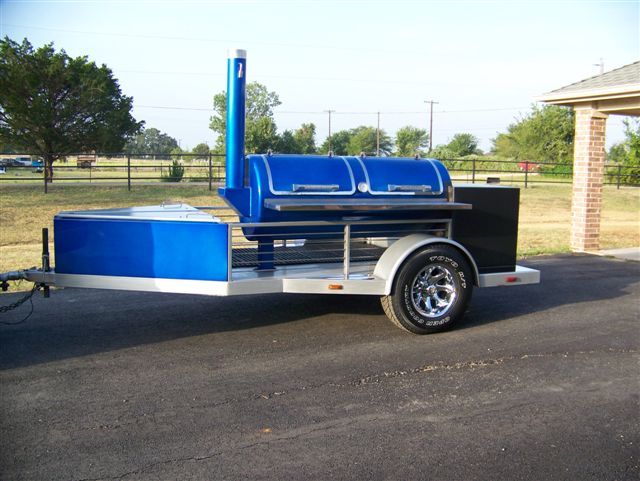 Q-What was your most proud accomplishment in your past BBQ Competition history.
JG- I would have to say that getting a 180 at the 2002 American Royal Invitational was a highlight. Then doing it again at the Open the next day.
Q-Whats your best advice for competition BBQ'ers that you can share.
JG-Buy quality meat. Start with that first. I also use an electric knife to cut with. Mostly though buy a Jambo pit. Donate to Jamie LOL.