Boston Hills BBQ Competition.
Hot Sticky Humid Crap Bark but KARMA is back!!!
So we are off and back from another competition. This time we are in Boston NY. Nice location at the foot of the Appalachian Mountains.
On Thursday night we did the typical drop our children off at the in laws (who BTW are the most amazing loving people we are beyond blessed that they take such good care of our children) . However this time I was wired. So wired that we (ok really it was me) decided that instead of trying to go to sleep like any other sane rational person would have done that we would drive to Boston and get there somewhere around 1-2am. I just figured since I was up we may as well be driving. I must say we are enjoying these new Northern comps. It is terrific to be able to do one and not have a 10 hr drive home.
Mike from Giggling pigs organized this one with lots of assistance from the Patchin Fire Dept. and a ton of volunteers!! Great job!!
As we drove this one we got stopped at the border and we were asked to pull into the dreaded detainment area. I figured it was going to take hours for them to search through our truck and trailer. In reality it was a simple matter of them just checking through the coolers and another discussion about BBQ and BBQ competitions. On more than one occasion after going through the border we have fed the border patrol at a competition. They always seem very enthusiastic.
So we get to the quaint town of Boston and boy does it shut down at night. Found the location from Jack (Jack is the name I gave to our GPS. I am sure those of you who know me know why I would want my GPS called Jack.) and within 15 minutes we got a personal meeting with the sheriff. He was really nice and wished us well – I had the distinct feeling he was bored out of his tree and was just looking for someone to chat with.
We crashed for the night and started setting up in the morning. Weather wise it was HOT. HUMID and sticky. I knew I was in for a challenge with the butts and briskets. I am still working on those issues and how to combat them. I can BBQ really nicely in -30 degree weather but humid and hot always poses a problem. Just a learning curve that I am working through. Have a case of briskets coming soon to practice with.
You know once again pulling up and seeing familiar faces makes the trips worthwhile. Loved seeing Julie and the Family, Regal, Yabba Dabba, the entire WITT Family and their adorable precious boys and everyone else. Its just terrific to see these folks more often.
Setting up the trailer was not a problem at all. The Lovely's were the KCBS contest reps for this one and they finished meat inspection for the 3 meats we had at the time. We still needed to get chicken. Ugh. Chicken hate trimming it but I am getting much faster.
We got our chicken from Them Ohio City Boys Pit master Rob but as muck would have it the pieces were just too small.
So what to do??? Enter Dave Witt to the rescue with his BJ's Warehouse card.
Off we went with another rather fun guy Andy from Smoke on Wheels. I had the distinct pleasure of making their acquaintance this trip. He and his wife Kin and their family are lovely people.
At BJ's we got something called Perdue chicken thighs and a few other things of importance such as Cosmo's in a box!!!
Back to the site….
The best potluck I ever had. Mexican themed and it was awesome. SO many great dishes—too many to name but terrific to see everyone all around participating. Our contribution was smoked salt rimmed margaritas. Desperados also came along on the margarita ride and we had nice fresh limes as well.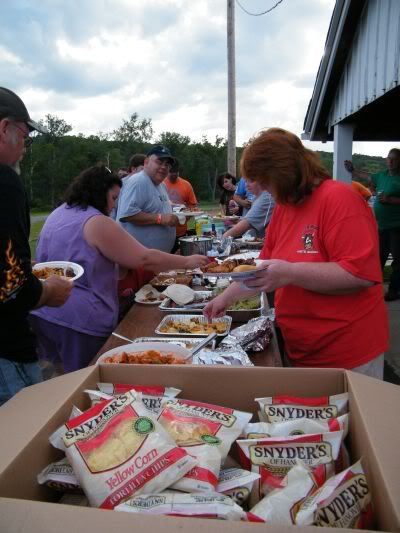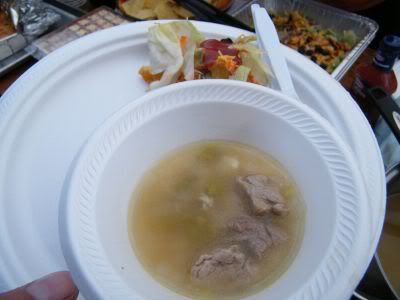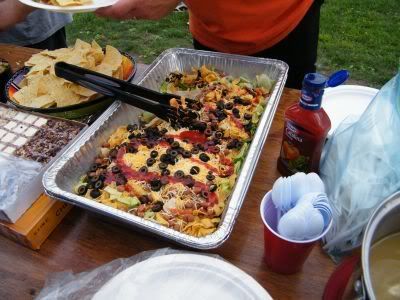 Got things trimmed with the chicken and into various brines. Things were looking up. About 10 pm I put on some ABTS and Moink balls. Plus nachos closer to midnight. Tim Brown from Can't stop grilling reminded me that maybe going back to making the midnight munchies would bring back the Karma. I believe in BBQ Karma.
I also will say (because I know he reads my blogs) that Brian Nevels PIGGLES were the best new snack I have had to try in a LONG time. They were surprisingly good. I will be trying to make them in the future.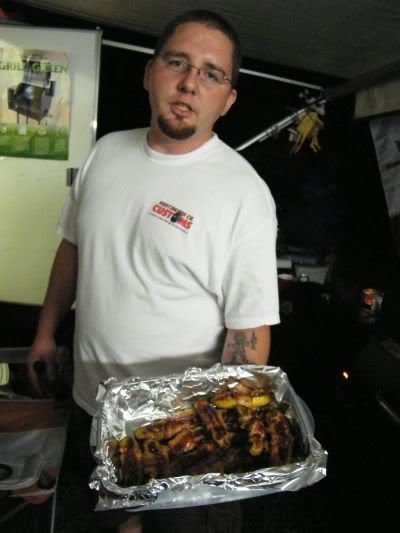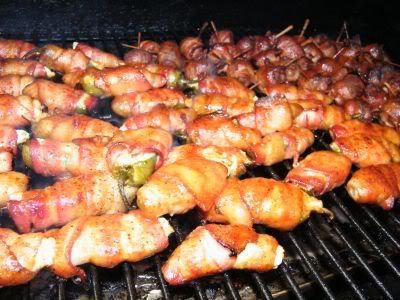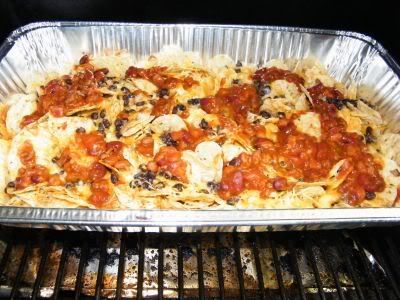 After we had some visitors and enjoyed a few sodas it was time to get the meat on. The AIR was thick with humidity. Off for a quick nap and then watched the cookers till the early morning hours. Had one brisket rush through but other than that everything ran rather smoothly.
Breakfast
Well the US peeps know how to do breakfast at a comp right! Enjoyed sausage gravy and Biscuits at Smoke on Wheels and then had a delivery!!! The team next to us delivered eggs Benedict hash browns and BACON!! Wow. I am lucky.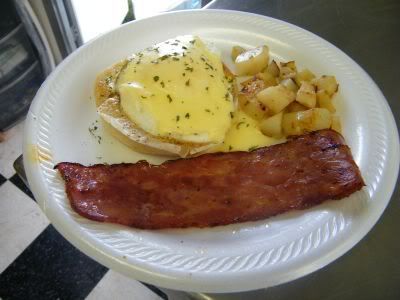 Of course there was the traditional Jack Shot. Whoever came up with this is terific. The Jack seriously gives me goosebumps every time I take a shot.
So without boring you with more details everything ran fairly smoothly. Boxes got turned in on times etc etc. Nothing too out of the ordinary. I thought the brisket had good flavour and appearance was great but texture was wayyyyy off. Same with the Butts.
I was really pleased with the ribs and the way the chicken box looked.
Got everything cleaned up hitched up and packed before awards. So much so that for the first time ever I went and had a nap before awards!!!
The Awards went really really really fast. We took a 3rd in Chicken and ribs. Less than 1 pt between all three in ribs. And then we saw the scores for the brisket and butts. We deserved them too. 15th & 20th. Ugh. Great to See Can't stop grillin take awards and of course Uncle Bubbas BBQ. I love seeing people getting awards. It's so much fun!!!! Congratulations to Smoke on Wheels for the GC and to Transformer BBQ (Such a consistent team) for the RGC.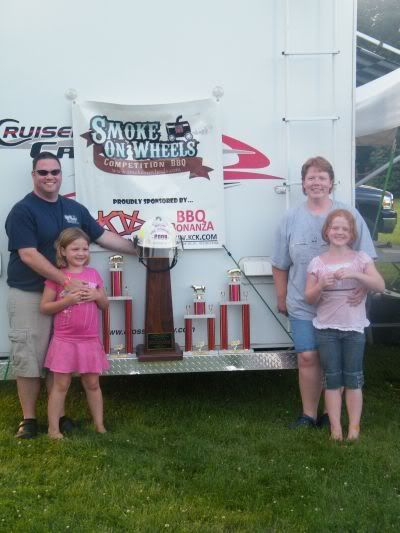 WE stayed for the Saturday night festivities to make sure we could get a good nights sleep. Our daughter had a soccer tournament and we wanted to make it back in time to see her play. Nice of the organizers to provide free beer and pizza to all the teams. The night went by quickly. Crashed out at about midnight. Four beers did me in and I was wiped out.
The morning brought a bit of rain… wish we could have stayed for the NEBS grilling contest. Thanks to Mr. BoBos and THem Ohio City Boys for the coffee in the AM.
Trip home was nice and easy with only 3 hours total drive time.
More pics of the comp are here: