Today for a change of pace I decided to stuff some calamari. I really like grilled calamari as it doesn't seem to get that rubber band taste as long as it is not over grilled. This dish was a nice light change from some of the heavier BBQ meats.
My fish monger sadly is closed on Mondays so I had to purchase frozen calamari. These are readily available these days in most grocery stores. After washing them and removing the fins and tentacles I seasoned these with salt and lemon pepper.
The filling for the stuffing was;
200 gr. ricotta
1/2 c leeks finely chopped
1/2 c shrimp finely minced
1/4 cup chopped basil
3 cloves garlic
lemon zest (I zested approx 1/2 lemon half went into the mixture and half on top of calamari before grilling)
salt & pepper to taste
lemon pepper
olive oil
and lastly just enough italian bread crumbs to bring it all together. Depending on what type of breadcrumbs you use this will vary.
In a sautee pan heat a couple of tablespoons of olive oil and the whole garlic cloves. I turn the cloves and remove when they are browned all over. Do not discard.
Add the leeks and the shrimp and saute until the shrimp are just beginning to turn pink. Remove from heat and add the remaining ingredients. Using a fork smash up the browned garlic and also add to the mix. Cool this mixture slightly.
Fill each individual calamari leaving 1/4″ at the top.
Secure ends of the calamari with a tooth pick.
Before grilling drizzle the calamari with olive oil, lemon zest and lemon pepper.
Grill just until the calamari are moderately firm to the touch and the toothpick slides out easily.
The meal was really simple. Sauteed rapini with olive oil, garlic, salt, pepper and julienned red pepper strips. Firecracker shrimp (olive oil, garlic, red pepper flakes) and some lemon slices completed the meal. A nice simple meal for Monday.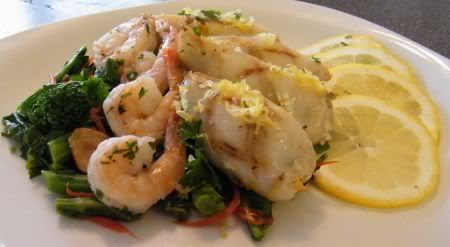 A few more picures can be found here.