Well its a real nice day here in Texas. About 28 degrees sunny as heck. Heard we were having a snow storm at home though. gotta like that. I don't mind missing the snow. Been a fun filled busy day so far.
Started with the Meet the Masters class.
First up on my picks list was Paul Kirk and how to write a cookbook.
I have been working on one for the past year and a bit and it is a whole lot harder than I had originally anticipated. Paul is a straight forward sort of guy and the 1/2 hour we got to spend with him flew by. he has plenty of experience in this area with his past books and offered some really solid advice on what to look for in a publisher and format.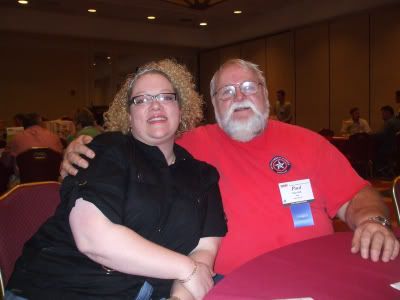 Next up was the Legend himself Mike Mills and the PR strategy he employs to help build his brand. He and his daughter Amy have worked hard at promoting the 17th str. group of restaurants as well as his ventures in las Vegas (Memphis Championship BBQ) and New york (blue Smoke). The advice we received will certainly help us int he future with advertising and promotion and we are going to get working on some as soon as I get back from Texas.
Last but certainly not least was a guy I have always admired Mike Davis. At one point he started laughing and asked if I had a credit card cause he was going to charge me more for all the information I was trying to not so subtly extract from him. LOL I figure heck I am not going to have this opportunity anytime soon so i may as well ask as much as I can. Figured the worst he would say was nothing so I gave it all I could. Spent quite a bit of time past the half hour talking about a lot of BBQ stuff. He and his wife run their time tables for comps very similar to what we do. there were many parallels. Now if I could just win as many as they do LOL
The afternoon was filled with visits to BBQ restaurants, 4 in total.
The following are my reviews. Just my own opinions. The locations were very different from place to place.
Texas Rib Kings restaurant had really nice decor. Very friendly staff and decent coleslaw. Nuff said.
Truly I would hang out at this place in the summer. Great old time bBQ Joint feel to it. Great murals on teh wall and generally just a place that feels like it has some history and depth of character. Brisket ws decent nothing special, sausage was decent nothing special but overall it was a good place to get to experience.
What an interesting place. First of all the design of the building is terrific for indoor and outdoor dining and drinking. There are more intimate nooks and wide open spaces. Staff are all REALLY friendly. The beers are terrific. They craft 5 or 6 at a time with different kinds of hops etc. they have a brewmaster on staff who is realy fun to talk to and has a vast knowledge. The bbq was ok. I wasn't a fan of the sausage but I iliked the brisket. They have cool t-shirts. Sauce was nice and twangy. Tried the hot and it seemed to just have more heat than any flavour. However the BBQ and the beer combined would made this a terrific place to hang out.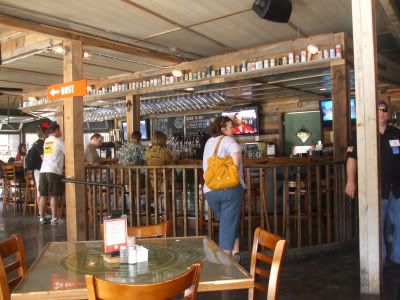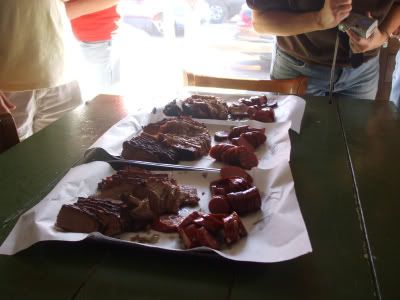 This chain of BBQ restaurants exceeded my personal expectations. I went in a pessimist. I will admit it. I thought the place was actually too clean. I have the vision that all decent BBQ places should have some grease somewhere on the windows. that the floors should not necessarily be level and that some signs should have rust. Rudy's comes across as a bit antiseptic. However more in a good way. The food was quite good. The sausages had a terrific snap that I expect when you bite into it. Plus the jalapenos sausage seemed to have a good balance. The plain ones other than texture didn't do much for me. The brisket was tender and seasoned well. the turkey was moist and flavorful but the prime rib and the ribs were surprisingly good. I had the sauce last like I do at all places and it was really reminiscent of Pee Dee River Swamp Sauce (however theirs is better) so that was good too. Gotta thank a few of the guys that helped finish off all the food I bought. I just had to try well just about everything. Their nana pudding rocked.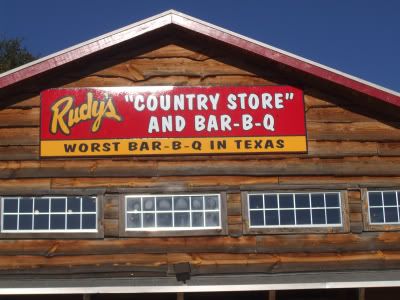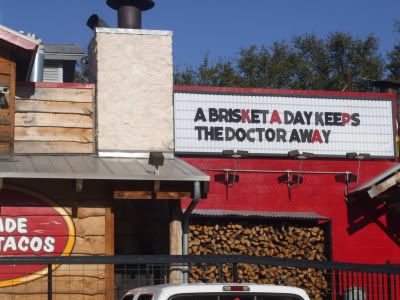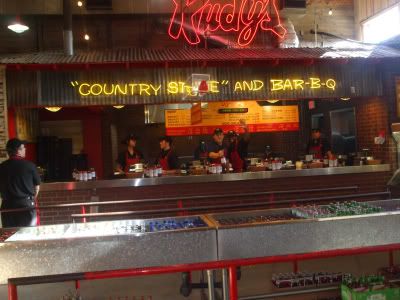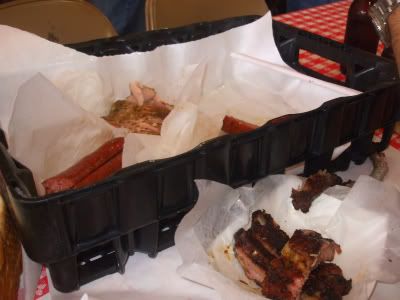 Go to www.divaq.ca to see the rest of the pictures from this day.
Now off for the evening to have some beer and some salad. LOL