You know we all have those days where we wake up craving something or another. Today being Sunday I wasn't feeling the normal pancakes for breakfast routine, the break out the good coffee program (I can't drink Kicking horse everyday) or even the lazy read on the couch for a few hours and hang out with the kids sort of day. I wanted meat. Specifically I wanted smoked meat. Now I know I have an overabundance of great equipment in my backyard and yes it wouldn't have killed me to throw on a brisket or what not. Goodness knows my freezer is always stocked and there is always Hovey's Gourmet meats a short drive away to fill my carnivorous cravings. However none of that would have cut it today. I wanted Caplansky's Smoked Meats.
I had read Corey Mintzes last review of Caplansky's . I figured it was about time I finally went now that the new location settled down.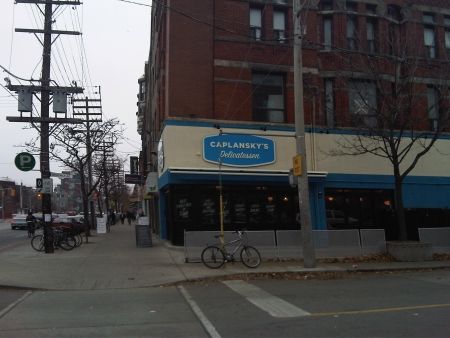 So the 5 of us (yup the whole entourage 3 kids – 3,5,11 and Hubby)arrived in the early afternoon hours. The place was full but a table large enough to accomodate our brood emptied out shortly. Each waitstaff greeted us warmly. Nice. Its always great to walk into a place with 3 rambunctious children and feel comfortable.
Nice and clean with terrific ambiance. Additionally I got to meet Zane the owner. He is very personable and chats openly about the restaurant. The flooring is original. The light fixtures original and the ceiling is awesome. Just a great feel overall. Not tacky not overdone just a good deli feel.
I knew the menu ahead of time. I knew what I wanted to try which was almost the whole menu. First of all though must make the tiny terrorists happy. Sadly they don't have their beverage of choice milk (why don't you have milk??) yet but they settled for some delicious freshly squeezed orange juice. Then of course they must have Kosher hot dogs. They arrived very quickly however due to a shortage of Hot dog buns it was served on a bun large enough to accomodate 4 wieners. No worries though. Our kids rarely eat the bun. (Zane told me he ran out just after we were served the dogs to buy some more proportionate buns) The hot dog had a nice snap to it. Good flavour. Decent dog for sure.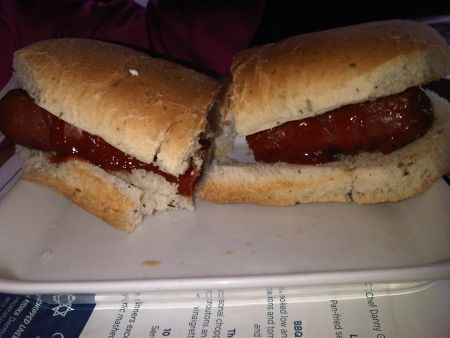 Then something I wanted to try but I admit was leery of for a couple of reasons.. The smoked meat poutine. I had read on some other forums about the lack of squeaky curds on the poutine. Seriously ?? I have no idea what these people were referring to. As anyone who imbibes in that O so Canadian delightful dish of fresh cheese curds, fries and gravy — the curds always loosen up and lose their squeak when warm. Ugh… Can't stand BS crap reviewing like that (if the lack of squeaky curds leads you to dislike a place then please do us all a favour and crawl under a rock) . Back to this poutine….. My concern was the level of salt and the ratio or curds fries and gravy. Smoked meat has never been known to be in the reduced salt category. Then with the additional bits of fries and gravy could it be done???
Hell YEAH!
It was damn good. Yup. Damn good. The ratio of curds to perfectly cooked fries to the decadently indulgent gravy (awash with succulent morsels of smoked meat) was in my opinion completely perfect. I personally like the texture of the gravy – it sticks to the fries and the curds. The balance of this humble dish is to be applauded. We finished it off mumbling (after I will admit a bit of a tug of war on who would get the plate next happened) to each other how good it was. I do believe the hubby guy licked part of the plate off in secret. It sure looked clean when we were done.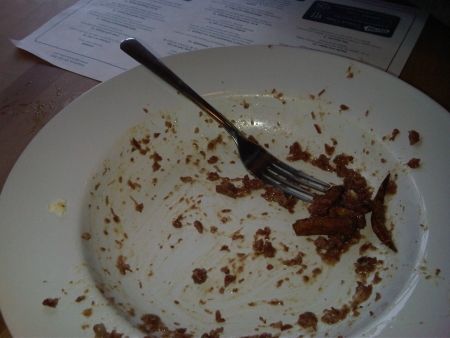 Next up was our oldest daughters choice – BBQ brisket on a bun. I will fully admit I am a complete brisket snob. Texas brisket is another carnivorous category I crave. There has rarely been a brisket that I have enjoyed near as much as the simplicity of a salt, pepper and garlic brisket from Texas. I also hate sauce on brisket preferring the meat to stand on its own merits. Caplanskys unfortunately (to me and my snobbish attitude) serves theirs with sauce.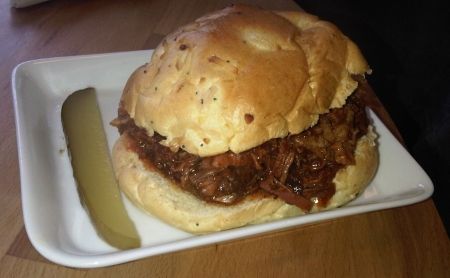 The other part that annoys me about brisket is that a lot of so called BBQ joints make it taste like pot roast. Thankfully (even though it has sauce on it) at
Caplansky's
they do not treat it like potroast. It tastes like BBQ. The sammie was a great combination of the point and the flat. Since they are such distinctive parts of a whole flat of brisket it was great to see them both included. The fat was sublime. Melting in your mout due to the thin slices. (Hand cut or deli sliced I could care less as long as it tastes good) Their Southern Pride Smoker is certainly doing its part of the job well. It is not mushy. It has nice pull and good texture with a light smoke flavour. The addition of the onions is a wonderful accompaniement. It is an extremely generous portion of brisket served with a simple non offensive BBQ sauce on a pleasantly plump onion bun. I still think it should be served without sauce. Or at least give the option. I do believe this BBQ brisket could have stood on its own without the addition of sauce. I always say I am not here for the sauce I am here for the meat. Let me decide about the addition of sauce.
Moving on…
Zane recommended the Smoked meat hash. In his words all his cheffy friends like it and thought I would too. He was right.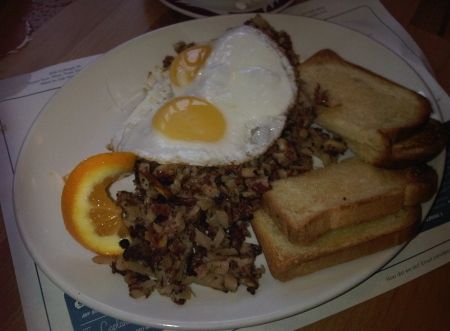 I dont think there are enough places that serve a good hash these days. More often than not the hashes arrive soggy with little texture. Thankfully Caplanskys has elevated their hash to a complete delight. Mine was served with some great challah. The eggs were perfectly cooked sunny side up and the resulting ribbons of beautiful golden yolk when impaled by my ready fork added to the incredible texture contrasts to the onions potato and board leftovers. Ahhh now this was a dish you could get lost in. It was like a warm hug on a cold fall day. It was my Grandmother in her kitchen telling me to come try her hash all over again. I think I am in love with this dish. It was lovely. I am sure I could wax poetic even more so about this dish but darn it – just go your self and get it. You won't be disappointed.
You would think that would have been enough but this being a lazy Sunday and a gluttonous one at that we didn't end there. (Ok the fact is we were also on our way to pick up an eliptical machine and somehow in my brain I figured well anything else I eat Ill just work off this week. Yes I know this is fantasy. Ill live with my own reality pfft like I would miss out on trying more meat.)
No we went even further in our taste of Caplansky's we got the Caplansky's Combo Now this is a great assortment of their Smoked Meats (Montreal, Tongue, Chopped liver, Turkey, Salami) and some terrific Rye bread. We also ordered the latkes.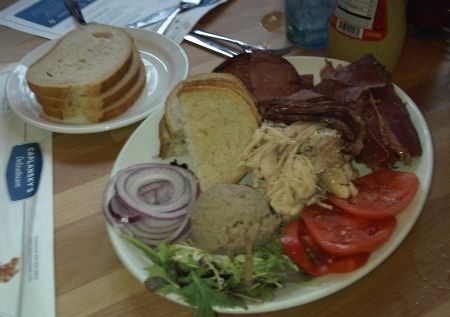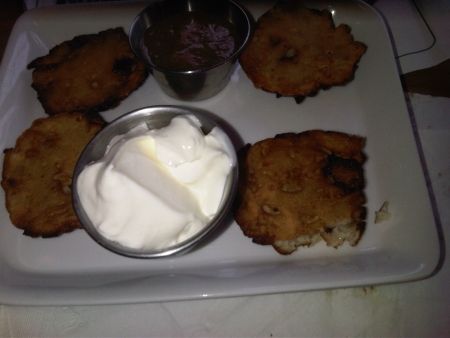 Let me discuss the latkes first. I was disappointed in them. They are served with a decent enough apple sauce and we asked for sour cream as well. They are not offensive in any way – they are just not memorable. For some reason I had high hopes of the ultimate latkes being served. The size is fine, they were cooked properly but they were nothing special. They lacked the oomph. The oomph that the meat is bringing to the place.
The Caplanskys Combo is a great way to try many of their meats. The tongue was melt in your mouth delicious. The texture was akin to a silken beef. Lovely. The Montreal (or should it be Zane) smoke meat was awesome. Truly awesome. The crustiness of the edges gives such a great mouth feel. Zane said he had been working on the consistency and was very pleased with the meat for the day. Once again he was right. The cure is great. Not too salty not to offensive just right. I don't know what other accolades I could heap on it. The same goes for the Chopped Liver. Sheesh all I could think of as we were smearing gobs of it on the rye was how much I wished both my Mother and Grandmother were still alive so I could bring them here. We shared such a love of smoked meats and I remember as a kid going to the original Shopsey's on Spadina. They would adore this place. The Chopped liver has an incredible depth of flavour. It has a gamier edge than most I have had. It works though. I wanted some slices of hard boiled eggs with it . Just the way I always ate it. The rye bread (Silverstein's) doesn't take anything away from any of the meats. In the end it adds to the overall enjoyment factor with its texture. The salami was really decent with a bit of char and crusting. It and all of the other meats received an additional oomph with the mustard assortment: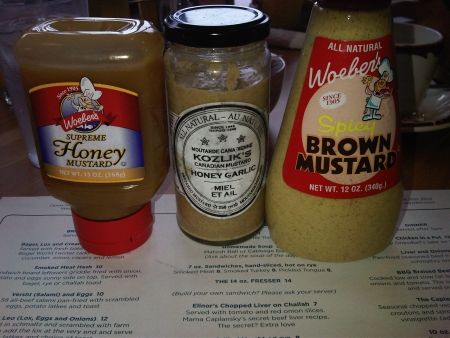 I've left out one of the meats from the combo platter– the smoked turkey. Now I have done loads of smoked turkeys. I know how hard it is to keep it moist at the best of times I have often brined first then smoked to give myself that insurance that it would be moist. This turkey at
Caplansky's
rocks. I asked Zane how they hold it. He says they simply keep it in their own juices on the steamer. Its a very mildly smoked turkey with great flavour. Turkey can be oversmoked very easily. I was shocked to learn that in his combo of woods he uses Mesquite. I have had lots of spectacularly oversmoked food using mesquite. I was thoroughly impressed with the delicate flavours of the turkey considering the wood used. Kudos to them.
Last but not least we tried some desserts that they do in house.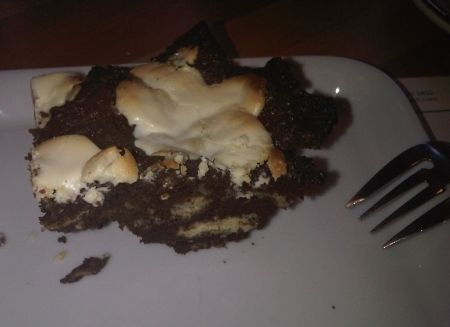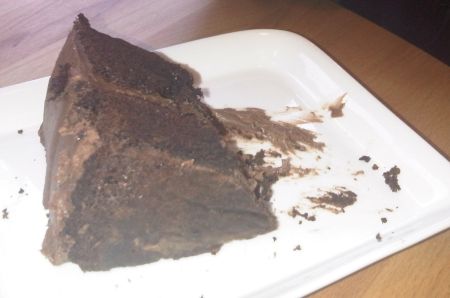 Bread pudding is one of my all time favorite desserts and since they had a chocolate bread pudding on the menu I had to try. Unfortunately it was one of the last remaining pieces and was not that good. It was burnt on the edges and the texture was gritty. Ill just leave it at that. ugh.
The last item was their fudge chocolate cake. Now this is a dessert I would go back for. It is extremely dense however it is not overly cloying with sweetness. It was a nice end to the meal but I wish we could have ordered a glass of milk or 3 (it was a huge slice and none of us had room for more than a couple of bites) to go with it.
The service we received was just fine. The waitstaff did not make us feel rushed or hurried in any way. Our waters were refilled, additional coffee brought out and everyone was asked more than once if everything was ok. Something to note though- out of the two tables next to us one table was largely ignored (against the window) and the other was visited regularly. Had I been the couple at the table near the window I would have been really ticked. I found it to be good value for the money. Its not cheap its not expensive. Good food deserves fair prices and I think they charge that.
Zane sat with me for a bit at the end of the meal and we discussed the meats and the meal in general. I did not know Zane before we walked in but I am sure I will be getting to see him again in the future. I have promised to bring him a BBQ care package (ribs, ABTS, and I am sure more tidbits of course) the next time I am in town. There are still many other terrific looking dishes I saw being delivered to other tables. (So many I wanted to try – that if I could have come back in a couple of hours I would have LOL) If I lived in this neighborhood I can see how I could eat 3 meals a day there and be content.
It was the perfect way to spend a Sunday as a family. I am so glad we went.