I have been intrigued about Borealis Grille & bar since reading a review in the Toronto Star about their dedication to eating local fare. They do their utmost to source local food.
We (Derek Don & I ) decided to try it out since we were all staying in Guelph for the Home Hardware Spring Show.
When we pulled up the parking lot was quite busy. Always a good sign to me. The Restaurant has a really nice feeling from the rough beams on the ceiling to the local artists pictures on the walls. Our booth was very comfortable and I liked the light fixtures done by a local artisan a lot.
Here is what we ate and my review of it all.
I started with a mint Julep. These are rarely on a menu so I was looking forward to it. Oh my goodness. Could not taste any mint whatsoever. Whoever made it was really heavy handed with the bourbon. My guess was there was at least enough bourbon in it for 2 or maybe 3 mint juleps. Was able to drink it about an hour later when some of the ice had melted and watered it down a bit. The guys both ordered caesers and they liked them immensely especially the bean.
We started with 3 appetizers
Flatbread – True North
Ground Bison, Field Mushrooms, Caramelized Onion and Monforte Baumanís Smoke Cheese
This is an incredible flatbread and probably one of the best I have ever eaten. The textures were wonderful and the overall flavour was terrific.
Three cheese artichoke dip-A Blend of Local Cheeses warmed with Breads and Crostini -just a nice dip but nothing to knock your socks off.
Roasted beet Salad- This was probably my favorite out of everything I had tried at the restaurant. This salad was perfection. The beets were not overly roasted so they retained their shape and texture integrity. The salad was dressed nicely with Niagara Baco Noir Vinaigrette . Not too much not too little. The goats cheese and the sunflower seeds were a wonderful contrast to the beets. The menu stated there would be hazelnuts but since I prefer sunflower seeds it was fine with me. I would eat this salad every day if I could.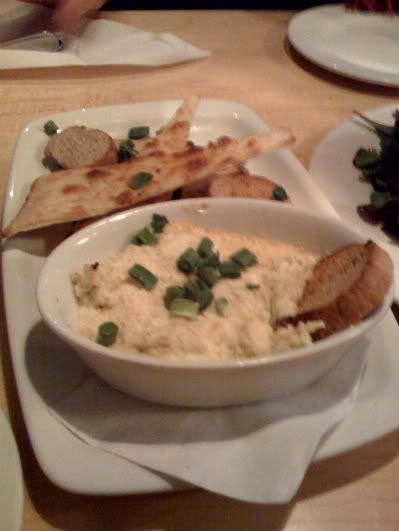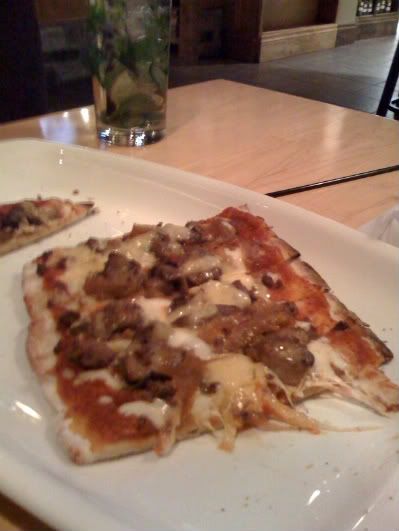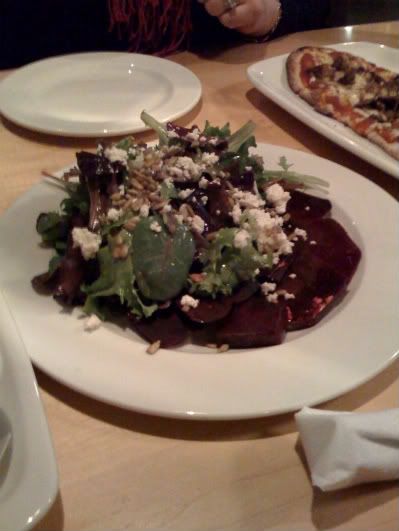 Moving on to Mains.
Ordered a bottle of Malbec. It was fine. Waiter seemed to have a few issues opening though.
The guys both ordered the 12oz prime rib. I don't understand why they are grilling it. It does not make sense.The waiter for some reason came to "warn" us that the prime rib that was ordered rare may be overdone and it would be closer to medium. >???????? The weird part though is when it got to the table it was absolutely rare. Not sure why he would feel the need to warn us.
We all shared though. One of the prime ribs (Dereks) was rare and done wonderfully (see note above) . The vegetable medley was terrific. The thyme gravy did nto have much thyme in it though. Nice use of white turnips and colorful medley of peppers. The twice stuffed potato was just ok nothing special nothing offensive.
However the other prime rib was really absolutely overdone around all of the edges. It had a horrible acrid taste like you were biting into a piece of wood vs meat. I don't know what happened to this one. It was ordered medium rare. It was so bad that I had to spit out my bite. I tried both sides and it was the same. The middle was fine so we did not send it back to the kitchen. We probably should have though.
We had to ask the waiter to bring steak knives and also the horseradish they forgot both. The guy who delivered it blamed it on having a bad night and apologized both times.
I ordered the carbonara. Farfalette Carbonara Wellington County Double-Smoked Bacon, Organic Eggs and Parmesan Cream Sauce – It was perfect. It was like eating silk on pasta encapsulated with an incredible bacon smokiness. Ugh only one thing marred this perfect pasta the side of grilled bread that was served with it was stale. I did not eat it. It was tough and well…. stale.
My apologies for no pictures of the mains as soon I get them from Dereks phone I will post ****
We ordered two desserts. The ultimate butter tart and the pecan butter tart. Both were fine but really nothing special. The plating was nice. Wish these people would contact Adrienne Ross from Smokin in the Igloo. She makes the best butter tarts I have ever had in my life and she does them all splendidly on a BBQ!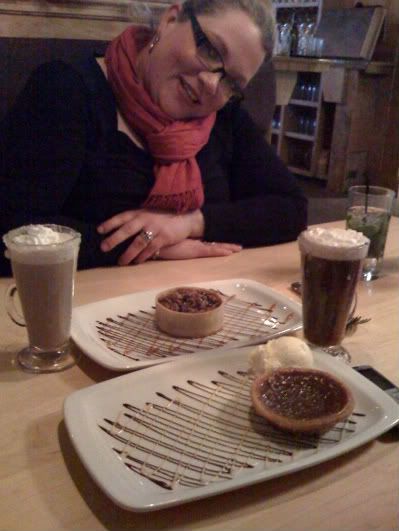 Also ordered baileys coffees and spanish coffee. They were fine. Seriously if they had messed up these I would have been horrified
Overall it was a decent visit. The service was very very slow though. The waiter rarely came back and when we were still eating the appetizers they put all of our entrees on the table rather quickly. The dishes were not cleared much at all. He didn't seem to think to take them whenever he passed us by which was often.
In addition we were in a booth. The last booth before the bar and there is a wait station right behind it. I would advise the staff strongly that when people are sitting in that booth they be courteous with their tone and language. We could clearly hear the one waiter swearing about some issue he was having and it wasn't good at all. This happened a few times. Annoying.
I would really like to go back and try again. Maybe the waiters were just having an off night. I like the ambience of the place. There are dishes on the menu I would really like to try. Even the BBQ I would like to try. I would recommend the restaurant.
I am glad we went if only for the carbonara and the salad. THey were my personal highlights.