I got a craving for some Rouladen with a BBQ twist. A good friend of mine Gary Trotter owner of Traeger East was kind enough to share some of his rouladen last year at Christmas. I have been wanting to try his recipe with some adaptations for the BBQ ever since.
Ingredients
1 kg thinly sliced top round beef
1lb bacon cooked & drained sliced(1/2″ pieces)
3/4 cup dijon mustard
1 red onion sliced thinly
6 dill pickles cut into thirds
4-6 cups beef stock, aus jus or gravy of your preference
2 tablespoons oilive oil
180 gr mushrooms sliced
1-2 tsp garlic pepper
salt & pepper to taste
My top round was sliced into 18 very thin pieces in the shape of rectangles.
For each slice spread the dijon mustard to cover completely the sprinkle with the garlic pepper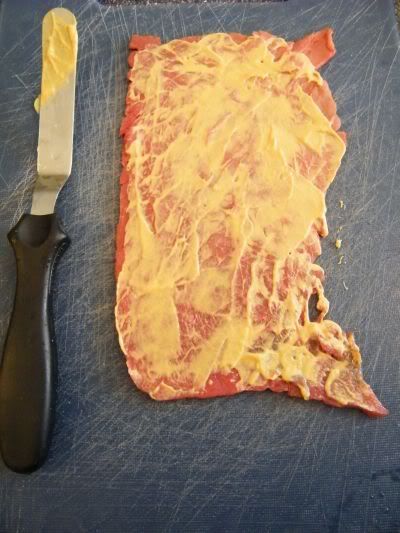 At one end of the beef place one slice of pickle and onion. (Now you can also add a slice of cooked bacon or use the bacon at the end crumbled in the gravy)Roll the bundle tightly securing with two toothpicks. Continue with the rest of the slices until all are rolled and ready.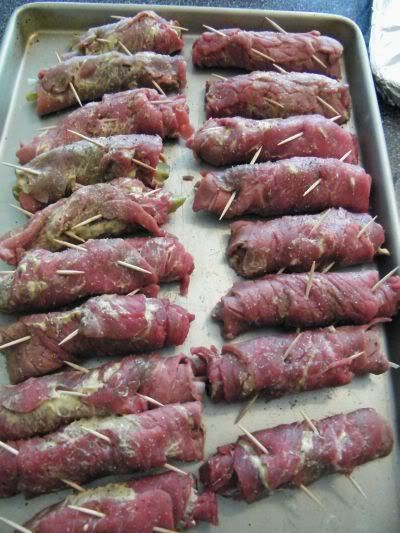 Preheat the grill to 275F
Place all of the meat rolls on the grill for 10 minutes. Turn over the meat rolls then grill for another 10 minutes.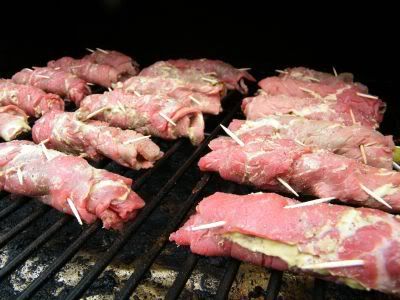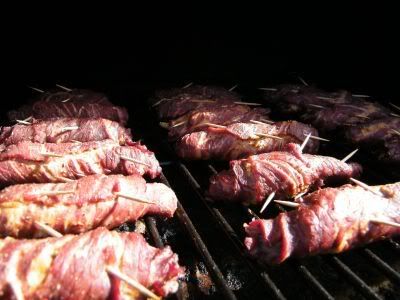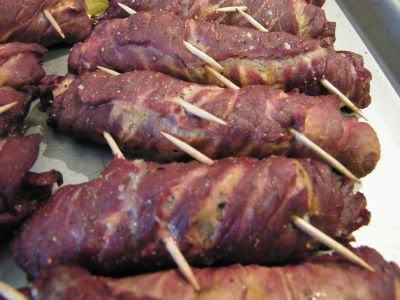 While the meat is grilling sautee the remaining onions and mushrooms with the olive oil. Season with salt & pepper.
Remove the meat from the grill and transfer to an oven proof container with lid.
Cover with sauteed onions, mushrooms and gravy. Top with bacon.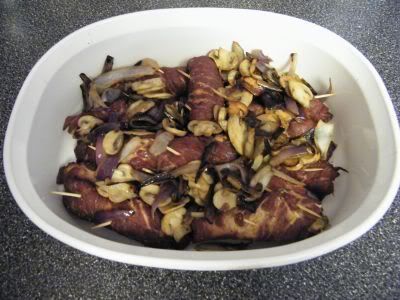 Preheat oven to 300F
Bake in oven for 2 hours.
Once finished remove toothpicks.
We served this drizzled with the gravy onions mushrooms and bacon and smashed red potatoes and steamed veggies.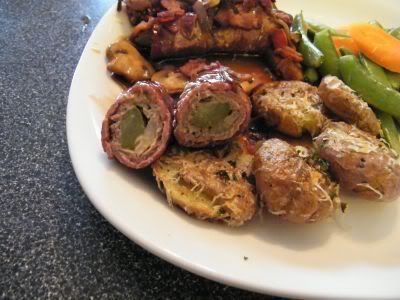 One Response to "BBQ Rouladen"