When you practice a lot like I do, you end up with a lot of ziploc or foodsaver bags in the freezer of various leftover competition meats. I practice chicken the most out of the 4 competition meats. So there is always a variety of chicken cuts and pieces from various projects I have been working on in the freezer. This brings me to an ongoing challenge of leftover management. There should be a course in this LOL. I love pasta. My hips are a testament to this.
so pasta and chicken are a natural pairing in our house.
One of my all time favorite recipes for chicken lasagna comes from Les Noiracochon – The Black Pig BBQ blog. Mike Kerslake (Qfan) did this recipe and it completely blew me away the first time I tried it. This is my own version of creamy lasagna goodness.
Diva Q 4 Cheese BBQ Chicken Lasagna
Ingredients
For the tomato sauce:
2 tablespoons olive oil
4 cloves garlic
1 large carrot shredded
1 28oz can strained tomatoes
8 ounces mushrooms sliced
1 tsp granulated garlic
1 tsp granulated onion
2 leeks finely sliced
1 tsp brown sugar
2 tbsp basil chiffonade
salt to taste
6 cups BBQ chicken shredded (skinless boneless)
1 cup tomato based BBQ sauce
Ricotta mixture:
600 gr ricotta
1/4 tsp nutmeg
1/4 cup romano cheese shredded
1/2 tsp freshly ground black pepper
2 eggs
Mozzarella cheese shredded *(approx 4 cups)
Gran padano cheese shredded (11/2 cups)
**Bechamel sauce (2 cups) Optional
(Please note I used Mario Batalis recipe but omitted the nutmeg as I was adding nutmeg to the ricotta)
1 8oz box oven ready lasagna (yes I cheated)
In a heavy bottomed pot heat the olive oil on medium and brown the whole garlic cloves. Remove cloves when browned all over. Reserve.
Add the mushrooms, leeks, carrots and cook until softened. Add tomatoes garlic and onion powders. Smash up the cloves of garlic with a fork and add to sauce. Depending on the acidity of the tomatoes you may want to add the brown sugar. Cook on medium at a simmer for at least 1/2 hour to bring together the flavours, reducing it and thickening the sauce. Add basil in the last moments just before removing from stovetop. Cool. This may be done the day before.
Toss the 6 cups of chicken with the BBQ sauce. Use your favorite tomato based sauce. This should be at room temperature.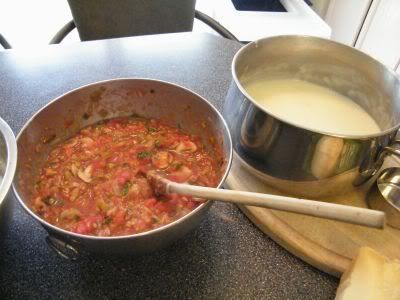 Mix the ricotta with the eggs, romano, nutmeg and pepper. Set aside.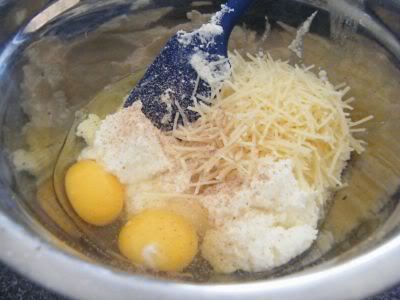 After this is it very simply an assembly line.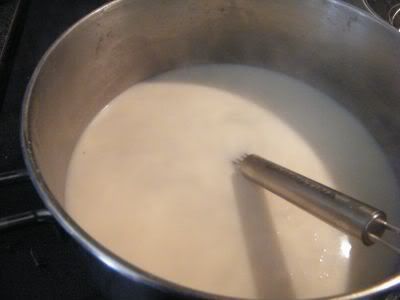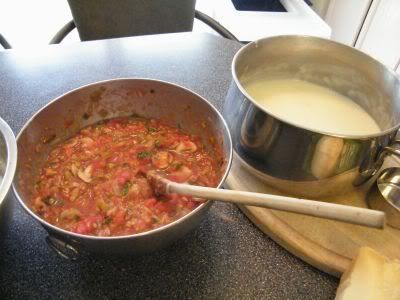 I started with some sauce in the bottom of a 9×13 glass pan. This recipe will yield 2 8x 10 pans of lasagna but I only have a 9×13 and a smaller one so use what you have. I prefer my sauce to have more texture but if you don't like a chunky sauce use an immersion blender to puree till smooth.
Then I layered on the first 4 sheets of pasta. (Seriously I know its not that great to use those oven ready sheets but if you feel the need to boil then cool your sheets all the power to you and if you really want to be all gung ho make your own sheets of pasta but truly I live in the real world of food and family and this just works for me)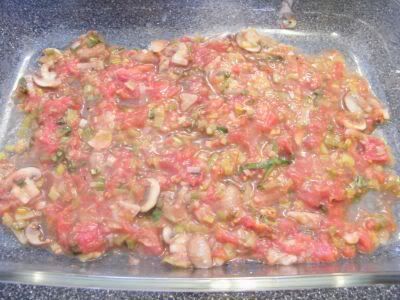 Covering those with a layer of bechamel. (I used approx 1 cup)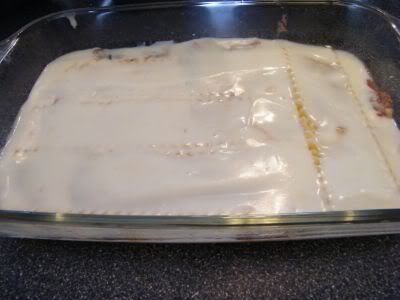 Then the meat layer. It is a very generous layer of BBQ chicken: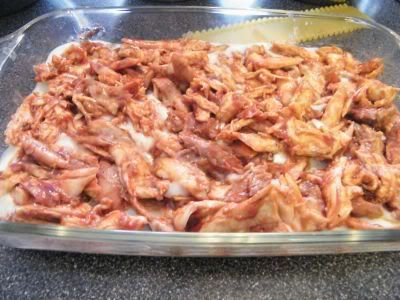 After the meat layer another layer of pasta sheets and now spread out the ricotta mixture. Smooth it out making sure it gets to all 4 corners. It annoys me to get a piece of lasagna from the corners that ends up being all pasta and no filling. Be thoughtful of those corner recipients.
Then another layer of pasta and sauce covered in gran padano and small shreddings of chicken. I like the way they come out of the oven in all the golden gooeyness. Its kind of like a blanket of cheese with wonderful surprises of BBQ chicken underneath.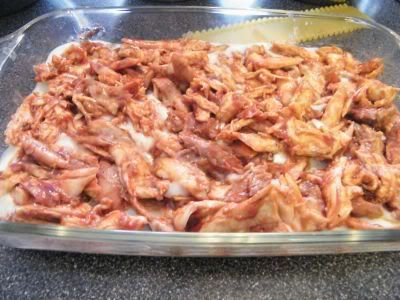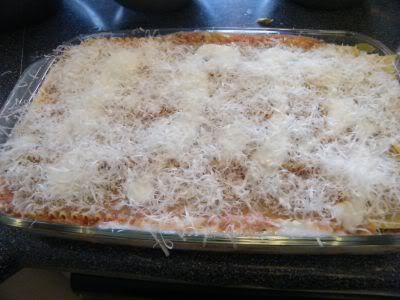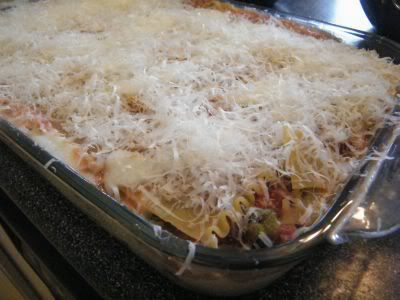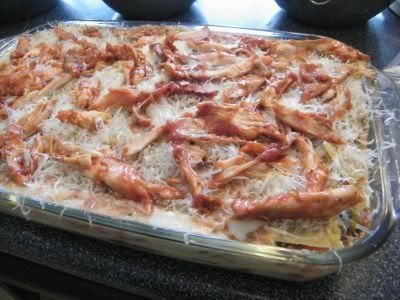 (now you will note the measurements for the mozarella and gran padano are approximate. I can't stand recipes for lasagna that give you this miniscule amount of cheese to cover. Who in their right minds writes those? Use as much as you want as much as you like. This is Not a diet food. This is a kick your shoes off get comfy and dig in kind of meal. Diets be damned.)
And then the final layer of mozarella. It was a thick layer LOL.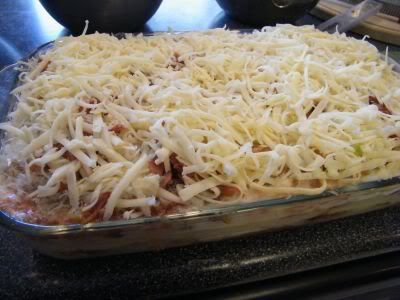 Off to the oven at 425F for approx 20-30 minutes until everything seems to be golden and good to go with bubbles of sauce at the edges. You will notice I lined my pan with foil under the pan of lasagna. I am notorious for overstuffing things. Must be all that xtra cheese I like LOL. Hence the safety feature of a foil pan underneath. While I may love the loads of cheese-scraping it off my already sad looking oven is not something I enjoy. Every pan and oven I know is different so use this as a guide only. Seriously its done when its done. Grab a glass of wine and take a peak every couple of moments.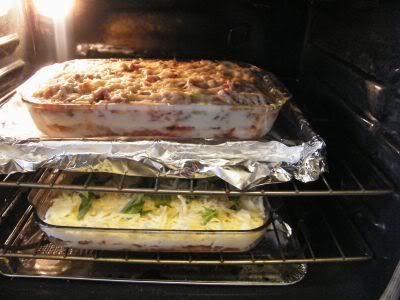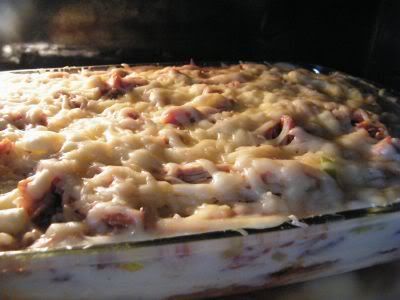 Finished lasagna of BBQ Chicken and cheesy goodness. I forgot to take a final pic of a sliced piece. I was too busy enjoying it and a glass of wine. Just whatever you do hold back resist the urge to slice into it immediately. Sit back have a couple more sips of wine talk on the phone etc etc. Just wait at least 15 minutes and let it rest. The slices will come out much nicer.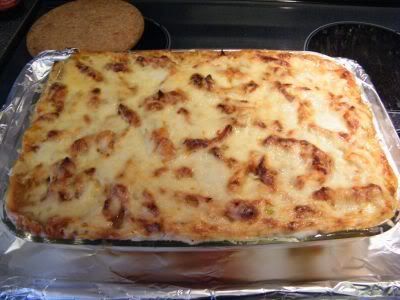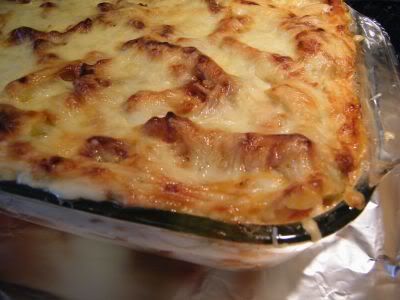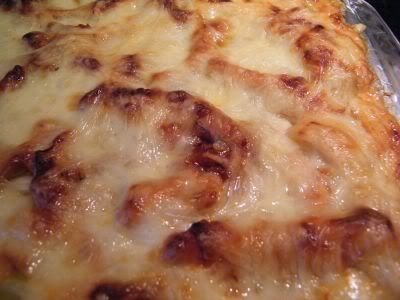 One Response to "BBQ Chicken 4 cheese Lasagna"