Yup you read the title right BBQ Borscht. One of my favorite things to do is put a BBQ spin on just about any recipe. I like Borscht. Its a wonderful earthy meal in a bowl type of dish that certainly reminds me of my Grandmother. I also wanted more meat. LOL I just can't help it. I am a carnivore.
For this recipe I wanted the BBQ aspect to enhance not overpower my soup but just give a nice "hug" of smokiness.
Please note this is not a recipe you can whip up in an hour. This needs to be finished over 2 days to be done properly.
Ingredients
Beef Shank cut in two pieces (how much is up to you but if you can't get a whole shank at least 3-4 2″ slices of shank will do)
8 cups beef broth (add more if you want it more "soupy"
1 large onion peeled quartered
6-8 beets peeled quartered
6 carrots peeled chopped (My kids like carrots so I used a lot)
4 russet potatoes washed peeled and cubed
3 cups thinly sliced cabbage (I used red but use whatever you like)
1/2 cup chopped fresh dill
1/2 cup red wine vinegar
1-2 cups sour cream
Salt & Pepper to taste
Using your BBQ whether it be pellet, charcoal, or *ack* propane you are going to want to BBQ the beef shank and the beets on medium to low indirect. If using chunks or chips or pellets I would recommend hickory. Additionally under both the shank and the beets you are going to want to place an aluminum pan to capture the delicious juices.
I BBQ'ed the beets (at 250F) until they were just shy of tender. Iloved how they looked like beautiful rubies on the grill. This was about 2 hours. The reason not to take them to that tender fall apart stage is that I prefer to have chunks of beets in my soup. If you want them to dissolve more continue to BBQ them low and slow until they are soft enough to your liking. Then simply remove to a bowl and chill till the following day.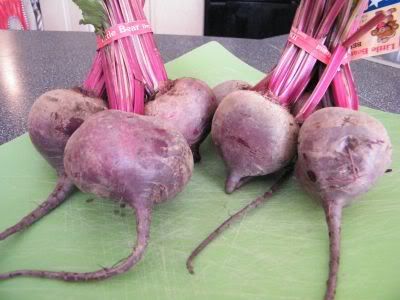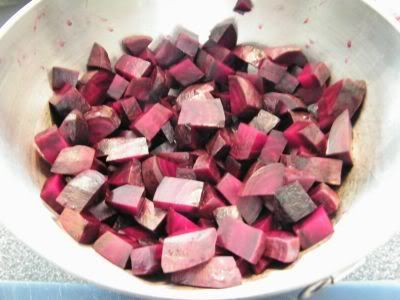 For the Shank I simply removed some of the outer membranes & fat then covered it in salt & Pepper and let it BBQ for about 6 hours.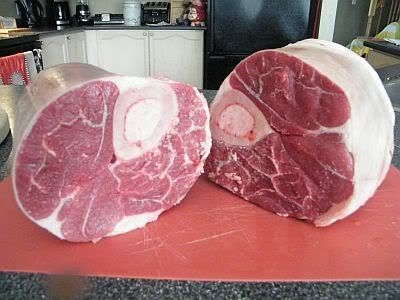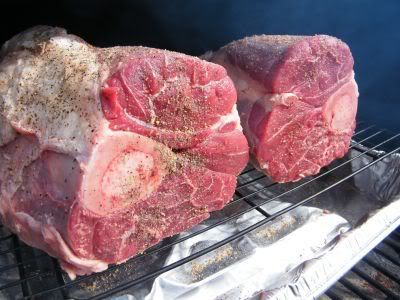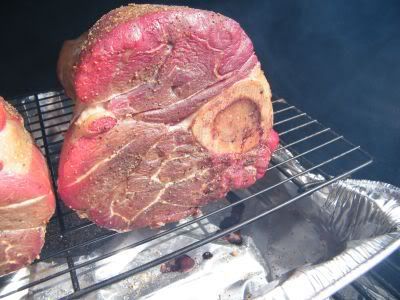 (Can I also just add here that I took some of the marrow out in all its cardiac arresting goodness and had a bit of it on toast points It was FANTASTIC!!!) I love marrow its a wonderful cooks treat.
After the Shank has been BBQ'ed I remove it to a large stock pot cover it with the 8 cups of broth and add the onion. I then boil this until the meat is falling off the bone. This can take upwards of 2 hours. When the meat is tender enough I strain the broth removing the meat, bones and onion. I then return the broth to the pot and chill overnight until there is a layer of fat that has risen to the top. I removed all of that fat and discarded.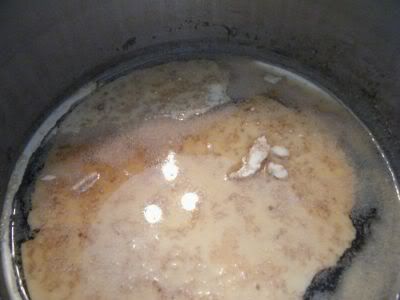 Once the meat is cooled enough I like to slice and shred it thinly. This also goes in the fridge overnight.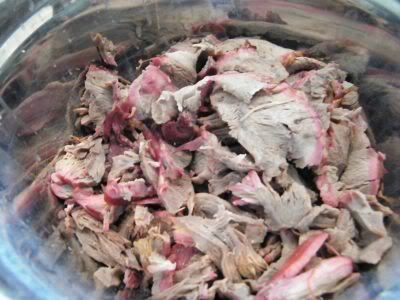 On Day 2 of the Borscht it is really easy to bring everything together. All you need to do is to bring the beef broth up to a moderate simmer and add all of the other ingredients except the sour cream, red wine vinegar and dill:
Cabbage thinly sliced, Potatoes Cubed, carrots chopped and Beets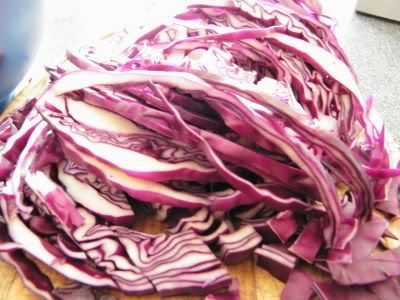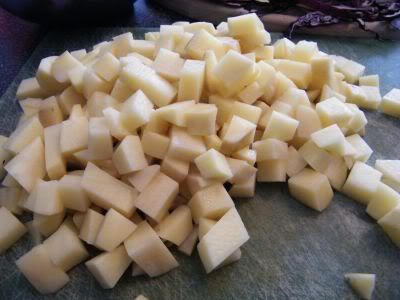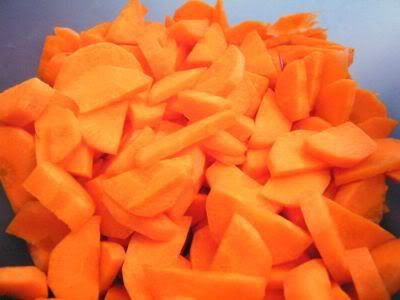 Add the meat back in at this point as well.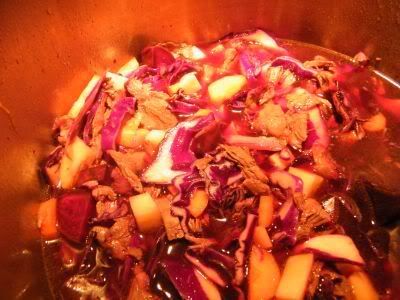 I continued this at a nice simmer for a couple of hours until the potatoes and the cabbage are soft. As you can see this is a very thick soup lots of love in there!
Just before finishing I added the red wine vinegar and stirred the soup. To serve simply dole out a generous portion top with a few tablespoons of sour cream and some of the fresh dill. The BBQ added a really nice smoky flavor layer to this soup. I will do it again. Enjoy.
One Response to "BBQ Borscht"