America's Best BBQ: 100 Recipes from America's Best Smokehouses, Pits, Shacks, Rib Joints, Roadhouses, and Restaurants
by Ardie A. Davis & Chef Paul Kirk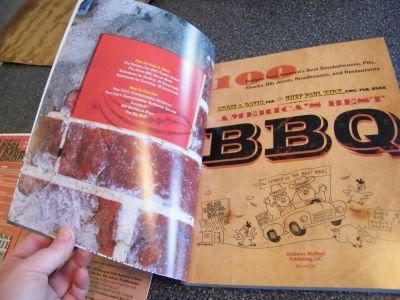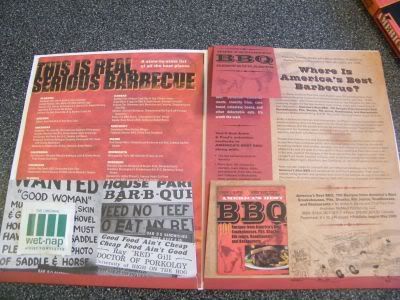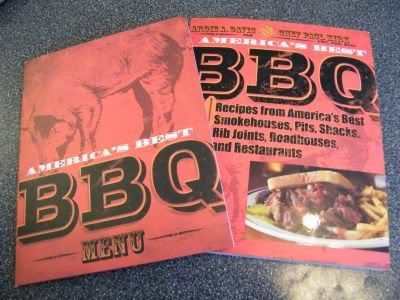 I eagerly anticipated receiving this book in the mail. I love reading BBQ books more than anything else out there. I wanted to give this book my full attention so I have spent the last week delving into its pages to give my review.
Both of the Authors (Ardie A. Davis & Chef paul Kirk) share a lifelong passion about BBQ. They have travelled thousands of miles throughout to explore multitudes of BBQ joints. In all actuality this book is more like a beloved Zagats guide to BBQ. Except its better. This chronicles many of the tales behind the pits. The stories which just seem to overall enhance the BBQ being served. Truly for the people within these famed and not so famed locations BBQ is a way of life.
There is no doubt in my mind that both of these authors have the chops to rank 100 of Americas Best BBQ. Agree or disagree with the list but their own personal lists of accomplishments is impressive:
Ardie A. Davis – aka Remus Powers, Ph.B. is a freelance writer and award-winning barbecue expert. His illustrious BBQ career has spanned decades. He is is the founder of the renowned American Royal International BBQ Sauce, Rub, and Baste Contest, as well as the Great American Barbecue Sauce, Baste, and Rub Contest. He is the author of two previous books, The Great BBQ Sauce Book and the Kansas City BBQ Pocket Guide, and writes monthly columns for the National Barbecue News and the Kansas City Bullsheet, official newspaper of the KCBS.
Chef Paul Kirk – aka Baron of BBQ Paul Kirk is the esteemed recipient of many of the barbecuing world's highest honors and has won over 400 cooking and barbecue awards, including nine World Championships. He was the champion of the American Royal Open (the world's largest barbecue contest), The American Royal Invitational, The Jack Daniel's Invitational, The World Brisket Championship, and BarbeQlossal – The World Pork Championship. Among his distinguished titles are CWC (Certified Working Chef), Ph.B. (Doctor of Barbecue or Philosopher of Barbecue), and Ambassador of Barbecue, Order of the Magic Mop. He is widely known as the Baron of Barbecue. Kirk is also the menu developer and consultant for the acclaimed New York City restaurant, RUB: Righteous Urban Barbecue.
The books outer cover is brilliant. Its a menu with their own personal BBQ lists, state by state lists & a wet nap (LOL very apropos) and a couple of inserts of recipes. Its a fantastic idea and gets you in the mood for more quirky fun parts of the book- built in BBQ smudges etc. etc. The layout has been well thought out it is intriguing and doesn't detract from the writing.
As you browse through the book one thing becomes very clear very quickly. While this may be a dream list of BBQ joints and filled with loads of pictures personal stories and general BBQ stuff – there are some serious recipes in here. Serious as in the fact they were able to get some of these recipes to begin with. I don't know many pit masters that like to give out their best recipes-but this book is filled with them. From the "Legend" Mike Mills Apple City BBQ Sauce to an incredible Smoked Prime Rib recipe from Kelly & Roni Wertz from their restaurant 4 Legs Up BBQ & Steakhouse. There are 100 recipes that would inspire anyone to make terrific BBQ. From the backyarder to the competitive BBQ'er there are recipes in here for everyone.
The book has been chaptered sensibly. Starters, Main Dishes, Sides and Condiments and one of my personal favorites Desserts. Then they take it in a different direction. They discuss their personal favorite BBQ joints (top 10 lists), Legacy recipes, BBQ basics and how to start a BBQ business.
Then they cover off what a challenge it was to go through all of the BBQ restaurants they have visited and singling out 100 of Americas best. They pay homage to joints that didn't quite make it for whatever reason in a Chapter called places they like to visit. I can help but smile at this chapter. Its sort of like a band aid for bruised egos. I wouldn't want to be left off this list if I was a US BBQ restaurant owner. Going further with this band aid they also acknowledge a list of places they have not been to yet but would certainly like to go. It certainly leaves room for a subsequent follow up book to this one.
From cover to cover the pictures and the passion about BBQ these joints have, will leave you craving for some terrific BBQ. I came across the page from Louie Muellers and I was instantly taken back to my own personal Texas BBQ pilgrimidge earlier this year and craving their brisket…..that wet nap on the menu cover will come in handy for the drooling which is almost certain to occur reading this book.
My only critique would be I just want more. I would want to see more pictures of the families behind these acclaimed joints. It is already jam packed with pictures. BBQ is like that though one taste and your hooked one picture and you want to see more. Unfortunately there is only so much you can put in one book. Hopefully as mentioned above they have a whole bunch more BBQ joints they still want to visit. There should be a follow up to this…
This book would be great for everyone to include in their own personal repertoire of culinary books. Not just BBQ afficionados.